The Back Story
The popularity of the Cigar Snob photoshoots is an amazing phenomenon. Besides being our most "read" section in the magazine, both in print and online, it is also the section that engages the most conversation with the folks we come across out in the wild. Especially when we're able to sit down for a smoke and tell old war stories over a drink. Inevitably the stories people want to hear the most are the ones about the unbelievable adventures we've experienced while producing these shoots. Since I've been in the middle of just about all of the madness, I've put together a behind-the-scenes look at some of our craziest moments on location.
---
The Italian Job
NOVEMBER/DECEMBER 2017
Featured brands: CAO Italia & Cohiba Macassar
Serendipity
When the marketing team at General Cigars said they were interested in featuring their CAO Italia and Cohiba Macassar cigars with our beautiful models in Italy we were instantly on board. Little did we know the logistics alone for a project like this would be like none other that we'd ever experienced. The first thing we did was reach out to our longtime friends and collaborators at Diamond PR to see what properties they thought would be a match for this project; luckily they represent an amazing resort in Northern Tuscany – The Renaissance Tuscany Il Ciocco Resort and Spa. And as luck would have it, the general manager is a cigar smoker and fan of Cigar Snob. Pack your bags!
Planes, Trains, and Automobiles
During the planning stages of the shoot, most of my time was taken up coordinating travel for a team of 8 people from different parts of the world and getting them to Barga, Italy, where the Renaissance Tuscany Il Ciocco is located. Barga is a small medieval town in the mountains of Tuscany, about a 2-hour drive from the metropolitan city of Florence. Luckily everyone would be traveling in and out through Milan, the nearest major airport hub. So in order to get to our resort, we would need to book and coordinate separate planes, trains, and automobiles to get the crew of 8 to our final destination at the same time. In my case it was Air: Miami – London (9 hours), London – Milan (2 hours), Train: Milan – Florence (2 hours), Car: Florence – Barga (2 hours). To complicate matters, everyone had a different return itinerary. For example, I was going to meet my wife in Milan, the photographer was flying to Paris, Erik was staying in Tuscany for a few days then going to Bologna before heading back home. On and on, every itinerary was unique and every time something changed it set off a chain reaction.
Cinque Terre
The shoot called for two days of shooting in two locations. The first was at the Renaissance Tuscany and the second was in picturesque Cinque Terre. Specifically, in the town of Manarola, which is absolutely breathtaking in every sense of the word. Normally we plan one full day of location scouting before the crew arrives. In addition to planning the shot schedule, the scouting day also ensures that we won't run into any surprises that could put a stop to the shoot. There have been times when we've had no choice but to wing it and bypass the scouting day but for this shoot, we made it non negotiable. Thank God we did.
When we arrived to scout Manarola, the guard at the gate informed us that no vehicles, other than those who live in the town and had a permit, were allowed to drive past the gates and into town! Without being able to drive the equipment down to water level, we would have a half-mile walk down a winding tourist-filled walkway down a steep mountainside carrying about 600 pounds of luggage/equipment. Even worse, we'd have to lug the stuff back up the steep walkway at the end of a full day of shooting. No bueno. In spite of this, we decided to soldier on and descend into Manarola to scout it because getting to this point and not doing it would be criminal. NOTE: Manarola in person is even more awe-inspiring than what you've seen in pictures but also incredibly crowded with tourists.
We found the shots and came up with a shot schedule then walked back up the steep and winding walkway with two things on our minds: the first was that we cannot pass up the opportunity to shoot here and second that if we have to carry equipment up this walkway it very well may be the last shoot we ever do. They will have to bury us in Manarola. We reached the gate with renewed resolve. We would figure out a way to have the equipment driven down and up even if we had to bribe, steal, or… you get the idea.
We approached the guard's shed and noticed there was a different guard on duty. He was intently watching something on his phone so we waited for him to notice us. In the meantime we were discussing options and ideas in Spanish. Before we could react, the guard had jumped out of the shed and was now standing closer. He was looking at us in what looked like shock or horror, it was hard to read his expression. And he said abruptly, "Ustedes son Cubanos?" Are you Cubans? I felt an instant relief. It turns out that he not only spoke Spanish perfectly but loved traveling to Cuba and had been there 11 times. "I'll be there again next month!" he proclaimed proudly. When we finally got him to stop talking about his favorite spots in Cuba we asked about transporting equipment into town. "There's a service that my friend operates that does that, he charges 20 Euros for a full van load." Our Cuba-loving friend even coordinated the pick-up and drop-off times with the van. Needless to say, we bought him a beer and shared cigars with him on the day of the shoot.
The Key
As you can tell from the images on these pages, the shoot was a success. The team celebrated that evening way into the night, and on the following morning we were running late for our train out of Florence. I was tasked with getting us from our resort in Barga to the Santa Maria De Novella train station in Florence and we only had one hour to get there. It's a two-hour trip. The plan was to drive directly to the station and drop me, the model, and the photographer off so we could go into the train station while Erik would keep the rental and do a travel editorial in Bologna. Miraculously we managed to get to the train station two minutes before our train was scheduled to depart, even with all of the construction and detours in Florence. The drop off was hectic. We jumped out of the car with luggage/equipment in tow and frantically ran into the station while Erik jumped into the driver seat of the rental and drove off into the Firenze sunset without any customary goodbyes. Feeling accomplished, the crew and I arrived at our platform and found our train still there preparing to leave.
"What a relief," I'm thinking to myself, and then my phone goes off – it's Erik…."You kept the car keys!" he's yelling. "I drove off and the car shut off about 2 blocks away!" A million terrible scenarios run through my mind but I decide to jump off the train and run back onto the terminal and put the keys somewhere for Erik to find and hope to run back in before the train leaves. I run into the nearest cafe and attempt to explain the situation to the cashier who hopefully will be able to hand off the keys to Erik. Unfortunately the cashier is an old Italian lady who doesn't speak English and can only make out there is a frantic American waving a pair of keys in her face while he rubs his head (trying to describe Erik's bald head) saying a bunch of things in a terrible Italian accent. It would have been a classic scene in European Vacation. She reluctantly half-accepts the keys. I call Erik who is sprinting over from two blocks away, "Go to the Moka Cafe, first cashier on the left, she's got em!" Little did I know that there were multiple Moka Cafes in the station, but he found the right one and I guess I didn't do so bad at describing him because the bewildered Italian lady knew exactly who he was when he walked in.
African Adventure
JULY/AUGUST 2015
Featured brand: La Aurora
No Animals, No Babies
We've shot animals in the past, dogs for the most part – it's always been a bad idea. I have a rule we try to never break for a variety of different reasons: no pets and no babies. It's hard enough to deal with diva models at times. There's no need to bring more personalities that are impossible to control into the mix. However, we were presented with an opportunity to feature the La Aurora Untamed line of cigars with actual exotic animals you would find in Africa so we jumped at the opportunity.
Our production crew is always made up of the best and brightest talent in order to get the absolute best quality in the images we publish on our pages. My job is to put these teams together and my main focus is always on finding the best people. So when we needed a stylist to get the perfect feel for an African safari look we were trying to accomplish, I knew exactly who to call. In order to protect the stylist's identity, we'll call her Jane. I reached out to Jane and explained the project leaving out a few small details here and there, like the fact that there would be animals involved. Immediately she agreed and excitedly began to plan for our upcoming "African expedition." Our expedition involved driving to Ocala to one of the biggest exotic animal trainers on the East Coast. The idea was to shoot the models with a variety of wild animals including giraffes, zebras, camels, African porcupines, and ostriches just to name a few. Some time had passed and much progress had been made since I had initially spoken to Jane when all of a sudden it hit me – "OMG! I completely forgot that she is a hardcore animal activist and is dead set against keeping wild animals in captivity."
It was too late in the game to make any changes so I would need to break the news to Jane and hope she would be ok with it. "So I forgot to mention something. There'll be animals in this shoot," I say to her as concisely as possible. To which she responds, "I love animals!" I continue, "These are wild animals in captivity but they're cared for with the highest standards and have been saved from certain death conditions. They're going to look great in the pictures. Please trust me on this one." Jane replies, "I trust you. I'll do it." Crisis averted.
The Day of Reckoning
The day of our production comes and everything is going smooth. We are a few shots into it and everything looks great, our models are wonderful, and the weather is perfect – what else could you ask for? Thus far we've shot the models with a giraffe, a zebra, and a porcupine. I'm talking to one of the stylists about the clothes for the next shoot when the head trainer asks me, "Where should we set up the barricades?" Barricades? "Why do we need barricades?" I ask. "It's the ostrich, he has a temper." Out from the back of the property comes a dusty pickup towing a horse trailer that gets backed into the area which was barricaded. As it gets closer to us we can see that the trailer is rocking violently as if there is an enormous mythical beast trying to escape. I look over at Jane and her face is flushed with concern. Back and forth the trailer bangs. When it finally stops rocking two strong cowboy-looking handlers go inside the horse trailer and quickly close the door behind them.
The banging and rocking and sounds of physical struggle rise to a crescendo and then the moment of truth – release the beast! The back door slams open and out emerges this behemoth of a bird with its head and neck covered in a large white athletic tube sock, the one with the red stripe! It's the strangest sight you'll ever see. It looks like a deranged sock puppet on top of a prehistoric turkey! The cowboys attempt to wrangle the bird as they each hold on for dear life, but they're getting ragdolled by this thing. In the middle of this bizarre puppet show I happen to notice the ostrich now has a small scrape on one of its shins with a drop of blood rolling down its leg. I think to myself, "I hope Jane doesn't see that, she's liable to call in the activists and shut this place down." Then one of the cowboys reaches up and yanks off the tube sock from the ostrich's head. I'm not sure what a happy ostrich looks like, but I can assure you this one is not. He looks pissed!
Poor Jane is horrified. She can't bear to witness the ostrich frantically racing around inside of this makeshift pen angrily swiping and pecking at anyone and anything within reach. I look over and she is under a large tree sobbing while being consoled by another crew member. It breaks my heart. The rest of the crew is speechless. I'm wondering how in the world we are even going to get this beast on frame without it pecking at the model. I walk over to the photographer who is standing even farther away from the ostrich than most and ask how he thinks we should shoot it and he mockingly hands me the camera. I finally come to my senses. "Let's move on," I say. Are camels aggressive?
No animals were harmed in the creation of these images. Except for the nick on the ostrich's leg, which they tended to immediately after we moved on to the camels.
Jane is living a happy and healthy life after the minor incident that took place that day and is still a valued member of the Cigar Snob crew.
Cabo San Loco
MARCH/APRIL 2016
Featured brands: Fuente Fuente OpusX & Don Carlos Personal Reserve
The Permit
They were making us jump through hoops at the Mexican embassy to get the permit that would allow us to take photo/video equipment into the country. No matter what I did, I just could not get the paperwork approved. It was as if they had never been presented with a project like this before. Are we the only ones who have ever flown into Cabo San Lucas to take pictures for a magazine? This cannot be. They could not understand that the photographer owned his own equipment, yet the magazine was producing the shoot. What was so difficult? The only solution the embassy could come up with was to find a common denominator – so they suggested I sign for the equipment as if it was mine since I was heading up the production and would be on the same flight into Mexico. I was tired of the back and forth and thought, "Fine, as long as you hand us a permit after this long and arduous process, let's get on with it." This technicality would rear its ugly later on.
You Have My Word
In the weeks leading up to the shoot I kept hearing from the agents representing the two models that we needed to take extra special care of them when flying into Mexico City. There had been instances where their models had been put in dangerous situations and they wanted us to avoid that scenario at all costs. Truthfully I wasn't exactly sure how I'd be able to "protect them" if I personally would not be escorting them. But since we weren't going to shoot in Mexico City I assuredly told them, "Absolutely we will take care of them! You have my word." Most of us had connecting flights to Cabo through Dallas, except for one model. A tall and gorgeous young woman from Serbia who did not speak a syllable of Spanish. Sure as the night follows the day she misses the last flight out of Mexico City to Cabo. She's stuck having to spend the night with no one from our team to help her get through this. Could she survive the night in Mexico City and avoid everything the agents warned me about? I promised them that I would take care of her and there is nothing I can do to fulfill that promise. My stress levels are now officially through the roof and I am just praying that she makes it through the night unscathed. Oh and God, if she can also make it to Cabo in time to salvage the shoot, that'd be great. I'm not the most religious guy but I prayed hard that night.
Land's End
The entire idea of shooting in Cabo was based on one specific image we had in mind – we were there for our "money shot" – the Land's End arch. It's the iconic rock formation shaped like an arch where all of the breathtaking images of Cabo are taken. We were thinking: model, cigar, arch – BOOM! It doesn't get any better than that. Erik arrived a day early to scout our ultimate selfie spot – as we typically do on road trips. I arrived the next day and as soon he saw me he said, "We have a problem, this ain't a piece of cake. I was able to get a fisherman to take me out and check out our spot. First of all to get the shots we will need to get onto a beach that is only accessible by boat and happens to be a protected beach so there is no docking or anchoring, so we will need to jump off in knee-deep water and carry all the delicate and hard-to-replace gear up onto the beach." He gave me a good scouting report except for one minor detail: the waves are hellacious! And to throw a little adventure into the mix, our photographer is deathly afraid of boats and sharks.
Surf's Up Dude
We arrived at the beach on a front-loading boat Erik was able to hook up and the scene was reminiscent of the North Shore in Hawaii. I put on a happy face but I was concerned as I watched the massive waves crashing over and over again. The boat captain told us he would try to get us as close as possible to the shore and we should try to get as much gear off on each run because the waves will not allow us to get everything off in one try – it seemed like a sensible plan. We let the model, hair and makeup artists, and fashion styling team off the boat first as we watched and wondered how in the world we would get the gear ashore.
Here's how this works: the boat captain waits for the right moment when a wave is coming in and gets the boat as close as legally possible without touching the sand – remember, it's a protected beach. He yells for people to climb out of the front of the boat until the surf starts to pull the boat back and he yells over the revving engine to stay put. He does this a couple of times and the women are now off the boat and onto the beach and it is just our scared-shitless photographer, Erik, me, and tons of equipment in the boat. It's go time.
Francisco, the boat's "first mate," is going to stay on the beach and from the chest high (not knee-high) water we will hand him the equipment cases and he will run them up to a safe spot away from the surf. The plan is to do this over and over until everything is on the beach and dry. Sounded
doable but in practice, it is nearly impossible to keep our balance as the waves push and pull us while we hold heavy equipment over our heads and pass it to the waiting arms of Francisco. We forge ahead, storming the beach with a seemingly endless amount of gear.
It is going so well….until suddenly it isn't. A not-exactly-waterproof case holding the camera and all of its lenses is floating away in the Sea of Cortez! "Oh my God! The camera!" I yell. The photographer, who instantaneously and miraculously loses his fear of boats and sharks, swims after it and is able to reach the bag and pull it back out. "What happened?" I ask. Unbeknownst to us, while we were handing Francisco the cases, he was not running all of them up to the safe zone. When a particularly large wave came in, it reached a couple of cases and pulled them into the surf. The most critical, of course, was the one it pulled farthest out. We finally carried it up to safety and immediately opened it. Everything was wet.
While we were on the beach with wet gear and diminishing hopes, the model who had missed her connection the night before was landing safely in the airport in Cabo. Prayer 1 answered, she was safe. Now we just needed her to get to Land's End in time to incorporate her in the shoot and for the camera to survive its Sea of Cortez skinny dip. It felt like hours as we waited for the camera to be dry enough to test. We had a backup camera but the wet one was the one we needed for the most important shot, the money shot. We changed our shot schedule on the fly, started shooting the other shots and kept hoping that the main camera would come to life. And eventually it did! Although there was sand and salt in every crevice of the camera and lenses, it worked. The model arrived, we got the shots, and life was good. The celebratory post-shoot dinner that night was extra-special.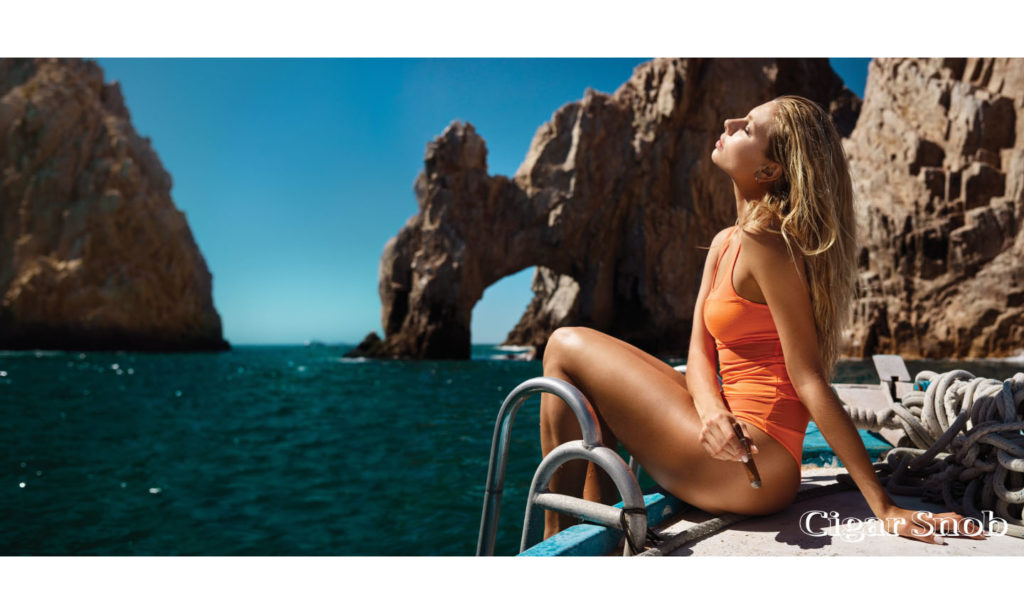 The Weight of Paper
The photo shoot was a smashing success by all accounts. Off to the airport we go. I'll be dropping off the crew and I'll be sticking around to get in a few days of much needed rest and relaxation with the wifey who is scheduled to land in a couple of hours, after all it's my birthday and I had just produced a killer shoot under dire circumstances. I park the rental car and start helping Erik and the photographer lug the obscene amount of equipment over to the ticket counter to see the team off. Maybe I can even get in a round of golf while I wait for my wife. I allow myself to dream. As I say my final goodbyes to everyone, the photographer comes up to me and says, "We have a problem." I hear this a lot. "They are not letting me fly back with my equipment," he says. It turns out that the permit headache we worked around at the embassy is about to wreak havoc on my birthday plans. According to the airport Customs agents, since I signed for the equipment, I'm the only person allowed to fly out of Mexico with it (insert expletive here)! Unfortunately, the photographer needed his equipment in Miami the next day for another job, otherwise I would have kept it until I returned 4 days later – not that I would have enjoyed being responsible for over $200k worth of equipment left in my hotel room but I would have taken that option.
No matter how much we argued, cajoled, and pleaded; the only solution was for me to leave Mexico with the equipment. Keep in mind my wife is in the air on her way here. Lack of flights forced us to book a flight for me into Ft. Lauderdale (making stops in Dallas and Atlanta along the way), Uber to Miami Beach to hand deliver all 8 cases of heavy-ass gear to the photographer (insert every expletive in my vocabulary here). Then Uber back to Ft. Lauderdale in the wee hours of the night to catch a flight back to Cabo with connections. At this point it is now my wife who is alone in Mexico, and she's worried because all I have reported since I landed in Cabo are horror stories. She barely likes to go to the bathroom by herself let alone be solo in a foreign country. Under any other circumstances I would have stayed put right there in Miami Beach and called it a day but I would probably be served divorce papers the next day. Happy birthday to me. I arrived in Cabo exactly 24 hours after I had initially attempted to drop off the crew the day prior. Yes you read all of the above right, I flew halfway around the world in a day to Uber a camera, lenses, and some lights because of a piece of paper they made me sign at the embassy – 'tis the life of the producer. Hope you liked the shots.
The Perfect Shoot
MAY/JUNE 2013
Featured brand: Nestor Miranda Special Selection
The recurring theme in all of these adventures will always be some unexpected problem that rears its ugly head. Havoc always seems to pop up at the most inopportune time; when we have everything on the line and everything to lose. We always figure out a way to recover, but unfortunately it's very rare for a production to go off without a hitch – it's the nature of the beast. Then in the May/June 2013 issue, the stars finally lined up perfectly. It's what I like to call our perfect shoot, but it didn't start that way.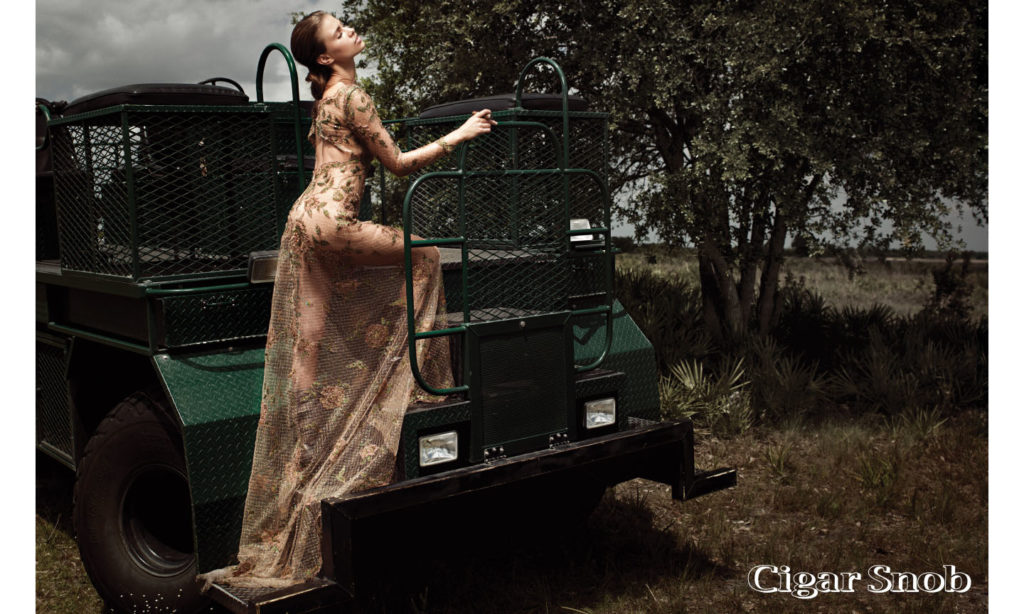 I'm going to let you in on a little trade secret. As much as I would like to take credit for how great our pictorials look, the reality is: it's all about the model. If you don't have a beautiful girl, you don't have anything. (Don't get offended when I say girl, that's how they are referred to in the fashion business.) When we set out to create magic for our Outdoor Issue, I was able to secure Pine Creek Sporting Club (pinecreeksportingclub.com), an amazing location with everything you could ask for in this type of shoot. However, after countless castings we had still not found the right model. We prefer to have everything lined up so that the photographer just has to show up and fire away but on this one, I was running out of time. Thankfully I got a call from the photographer, David Benoliel, saying, "Ivan, I have ze (the) girl." He speaks with a very thick French accent. "OK I'm listening…" although the idea of shooting a model sight unseen scares me like you can't imagine. I dig a little deeper. "David this is an outdoor issue and she'll have to be sexy in the heat and humidity. We've secured an amazing location and we can't botch this." With unwavering confidence he replies, "She is ZE ONE." I still don't even know who he's talking about, let alone seen an image of her.
He sent me the portfolio of Yara Khmidan, who in 2013 was a relatively raw and undiscovered talent just starting out in fashion. David, who is an incredibly talented and accomplished artist himself, had so much conviction about this decision that we went for it. Since then, Yara's become a shooting star in the industry with major campaigns for Victoria's Secret and Guess to her credit. I like to think we beat Victoria's Secret on this one.
Chateau De La Fuente
SEPTEMBER/OCTOBER 2018
Featured brand: Fuente Fuente OpusX
No Model
Remember how I said the model is the most important aspect of the shoot? Well we almost didn't have one when we flew down to the Dominican Republic to shoot at the iconic Chateau de la Fuente. Producing these shoots is a very stressful undertaking. And when it involves travel even more so. Most of the time the stress level of each shoot disappears once the shutter starts clicking – that means we're off and running. So, when I got a call from the model agency the evening before the shoot, my heart stopped. I hesitated slightly before answering the call. I could feel the bad news coming. "Meagan didn't make her flight out of LA." Silence. As calm, cool, and collected as I could be I proceeded to ask, "What do you mean she missed her flight?!"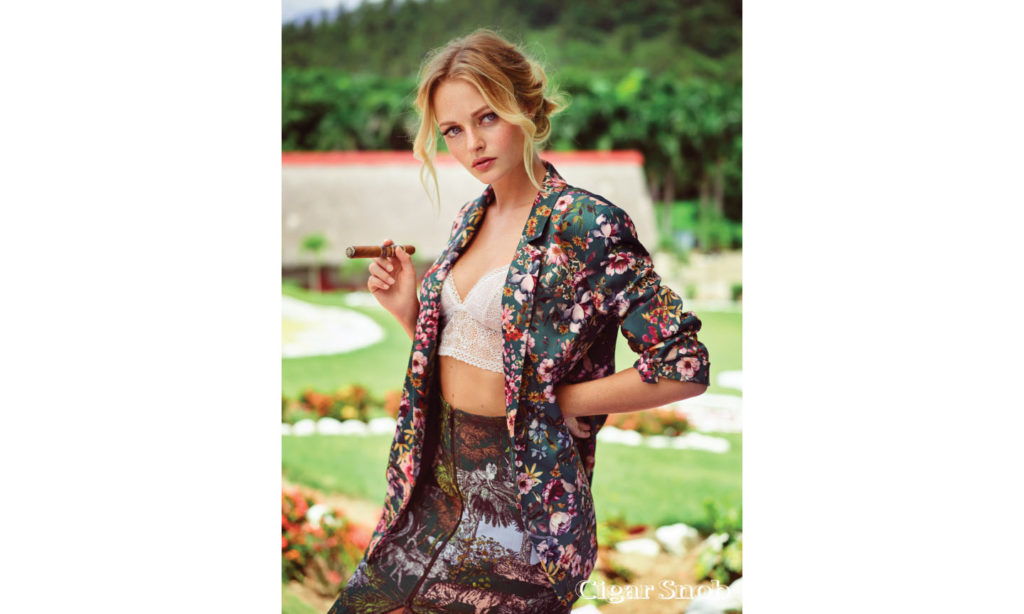 The model, who lived about 40 minutes away from the airport, realized she had left her passport at home when she arrived at LAX. Honest mistake, terrible timing. The reality is that we just can't start changing things mid-stream once the plan is in play. There are way too many elements that need to happen on schedule or else it all falls apart. If it all falls apart everyone flies back home and we are on the hook for all the expenses and no pretty pictures on our pages. Definitely not happening. I gathered myself and said to the agent, "Listen, the rest of the crew and I have all arrived in the DR and our sponsor Tabacalera Arturo Fuente is expecting us to follow through on the story we have promised. Let me look at flights to see how fast we can get her here. I'll call you back." The agent assures me that she will board any new flight we book and will be at the location as soon as possible.
For a little context: LAX to Santiago, DR is not a hop, skip, and a jump away. It's a long trek which involves connecting flights and there aren't multiple flights coming in each day. In other words when it comes to Santiago, Dominican Republic, LAX is no JFK. Next flight into DR won't land until 10:30am the next morning. This means that at best, she lands at 10:30, gets her bags, goes through Customs, and takes transportation to get her to where we are. It would not be until noon or so. She would then start her hair and makeup which takes another 2 hours minimum and then start trying on clothes. For lack of a better term – it would be a shit show. Not to mention the poor girl would understandably be beaten to hell from all the travel then would have to work frantically and into the night. Not the best scenario.
Luckily, this story has a happy ending. The Fuentes and their incredible team were able to accommodate us by pushing everything back until the model arrived. We ended up with an incredible shoot that is constantly talked about. And the cover, with Meagan in a green dress inside one of the Fuente aging rooms, is one of the most successful images we've ever produced. And in case you were wondering, Meagan is a total sweetheart and was very apologetic and professional throughout the shoot. To this day she is still one of our all-time favorite models to work with.
---
Click HERE to check out out other stories!