New York City is one of Cigar Snob's favorite cigar destinations. No, there aren't many cigars being made here. And no, there aren't many non-cigar establishments that are still cigar friendly. And yet, there seems to be no shortage of top-quality cigar clubs and lounges around here.
At least, that is, in Manhattan. That's why, every other time we've been in New York City to work on travel stories, we've spent practically all our time there rather than crossing over into other boroughs, where cigar lounges are harder to come by. This time around, we landed at LaGuardia Airport and headed straight for Brooklyn.
Brooklyn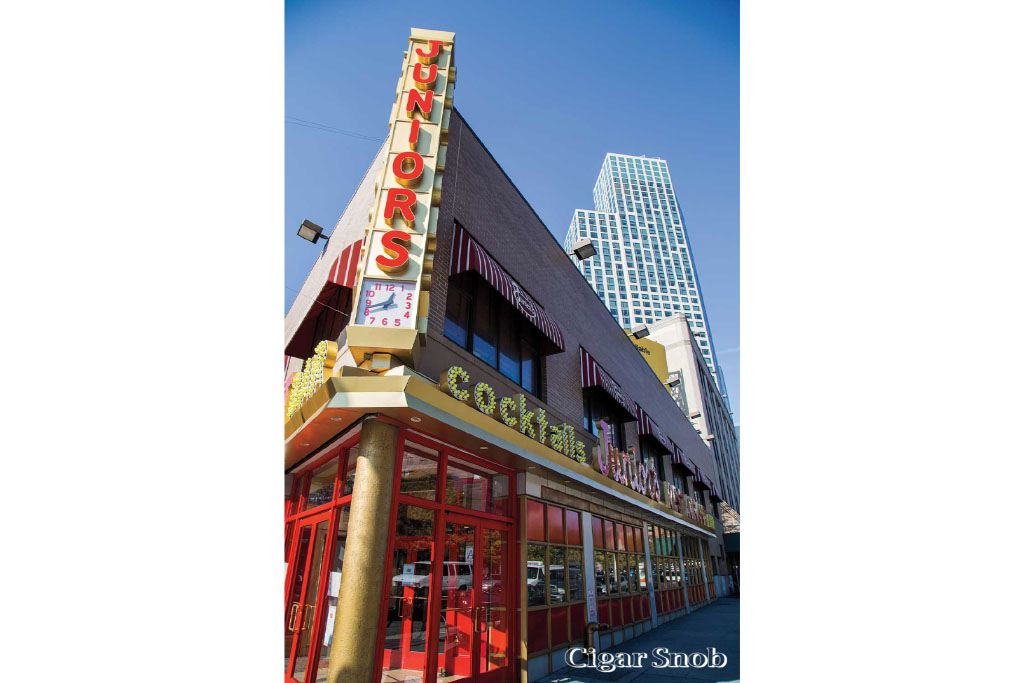 When you think of Brooklyn as a travel destination, you don't think of cigar hangouts. There's a good reason: there aren't many of them. What there is, however, is a number of vibrant neighborhoods teeming with youth, culture, and small businesses. Considering we arrived pretty early in the morning, the first order of business was to refuel with some breakfast at Junior's Cheesecake on Dekalb Avenue and Harry Rosen Way (aptly named Cheesecake Corner). Junior's now has four locations, but the one on Cheesecake Corner is the original. It opened in 1950, and the Jewish diner remains an old-school Brooklyn landmark.
We know this thanks to the guy who suggested we drop in and served as our guide for most of the day: David Diamante. If you're an NBA fan, there's a chance you've heard David at work; he's the voice of the Brooklyn Nets, calling games and riling up fans at every home game in the Barclays Center. He also does lots of work in boxing and other sports.
For now, though, our focus was off the hardwood and on our menus. Our publisher Erik Calviño and I opted for traditional breakfast options: Eggs Benedict and corned beef hash, respectively. David went with a trio of small pastrami sandwiches and flagged down our waitress when he realized there was something missing from our table.
"You can't eat at a Jewish deli without pickles and beets!"
The dining room is a classically '50s deli space. All kinds of people come through here looking for the comfort of not only cheesecake, but matzo ball soup, brisket, tuna sandwiches, and egg creams. Even though we were on the opposite coast, it felt a little bit like we were right back in Hollywood at Canter's Deli, which we visited in our last issue (September/October 2016).
Junior's is old Brooklyn, but not as old Brooklyn as David's family. From Junior's we headed into his cigar lounge, Diamante's Brooklyn Cigar Lounge, which is just a 15-minute walk away, a couple of blocks south from Fort Greene Park.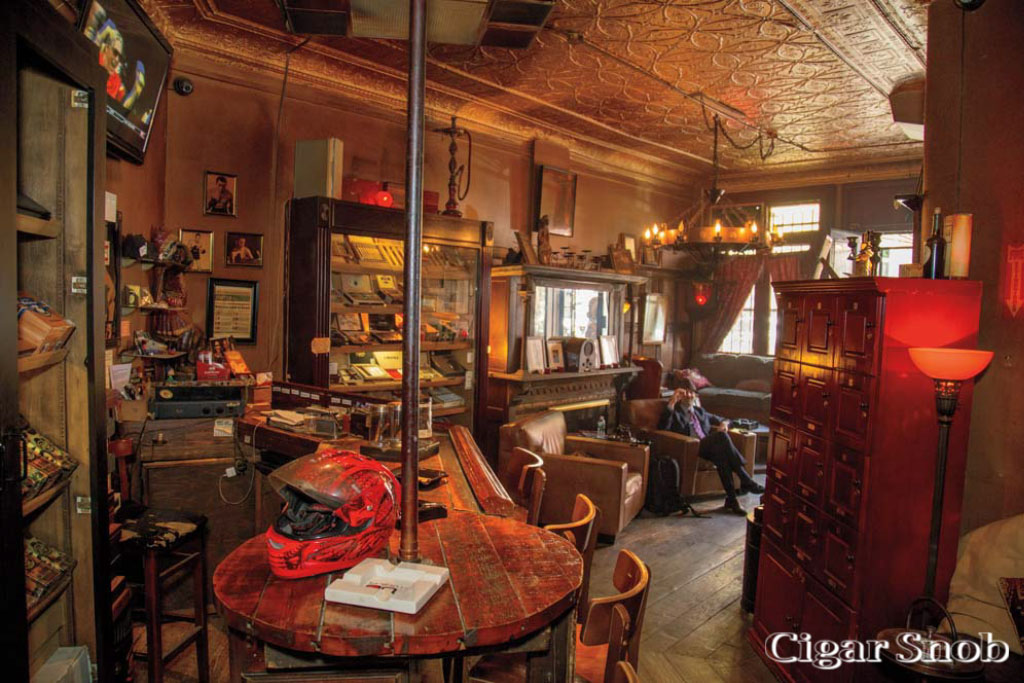 "They came here in 1868. My grandfather almost lost his leg in the park down the street. My family has pictures of this neighborhood when it was all cobblestone and horses," David said. Everywhere you look in the lazy-L shaped lounge, there are pictures of his grandparents, great uncles, and other members of his family tree. In some cases, they're posing — often with cigars — in front of buildings that are right here in the neighborhood (although my favorite shot might have been the one in which a number of his relatives are on a Cuba-bound boat in the early 1900s).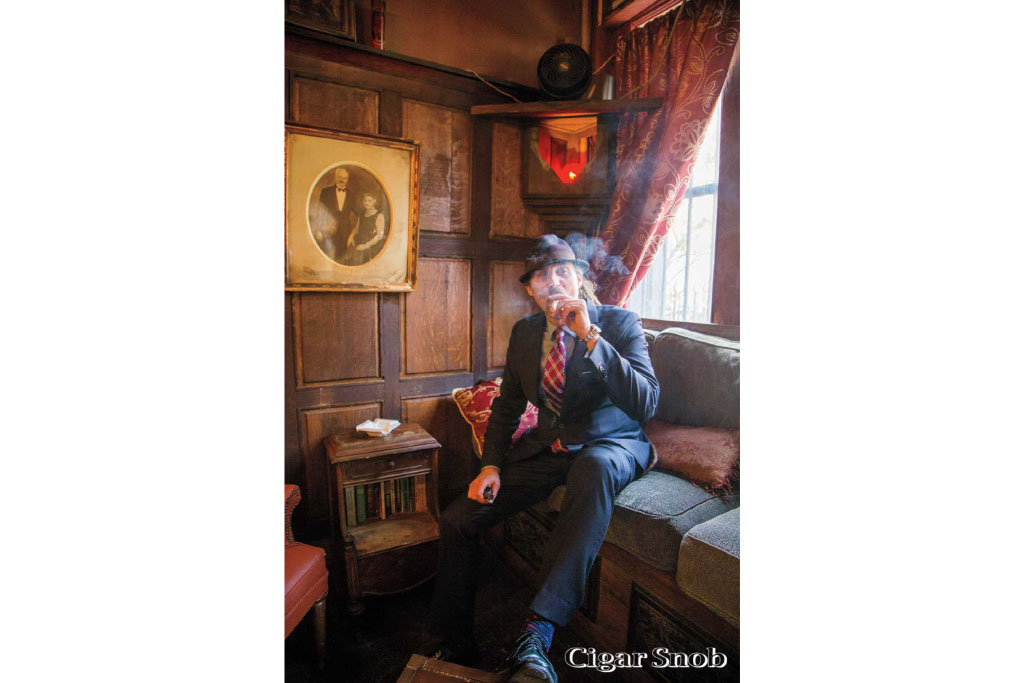 The Chief, as David affectionately refers to the cigar store Indian who, with little to no apparent con- cern about the fact that most of his nose is missing, greets customers outside the front door at Diamante's, calls out to you as you approach the storefront, which is nestled among a string of those iconic Brooklyn brownstones.
"I love that history. Every city has its own style and flavor. San Francisco has Victorians; in Brooklyn we have brownstones," David said, adding that a lot of work went into ensuring that the space ended up with the kind of character he's always wanted to see in a cigar lounge. "This used to be a tax office. Nobody wanted the space. It had plywood floors, there were holes in the walls, but it's about knowing what things are and having a vision. I knew what was here and what I could make out of this."
Aside from the tin ceiling and the masonry on the fireplace, not much is original here. David worked with a Massachusetts carpenter to create custom wall paneling, a bar, and much of the seating and other furniture from reclaimed antique wood, making the lounge both nostalgic and a reflection of his own family ties to the neighborhood. The shop has a modest but frequently changing selection of cigars. It's not big, but there's enough variety that just about anyone should be able to find something they'll enjoy here (we smoked some Don Pepín Original, Padrón 2000, and LFD La Nox). The layout was well thought out and makes the place feel bigger than it is while still retaining a sense of intimacy. You can come here to smoke with a friend or — on some nights — catch a game with a crowd of sports fans. More on that later.
TIP: The house blends at Diamante's Brooklyn Cigar Lounge are pretty damn good.
After a chat in the lounge, we lit our second round of cigars and David led us on a quick walking tour of the area. While the brownstones still abound, David's lounge is one of the few parts of this neighborhood that really feels "old Brooklyn." This area is younger, more hip, and less attached to some of the nostalgia and comfort that started our day at breakfast.
"In this neighborhood, one of the things that's happened is what some people like to call gentrification. I don't like to make calls on whether that's what's happening or whether it's a good thing, but the neighborhood has changed a lot. You're not going to find that old Brooklyn in this neighborhood," David said.
Within walking distance of Diamante's, you've got great eateries and bars like No. 7, Prospect, Mullane's, and Walter's. They're all small neighborhood spots with tons of new-Brooklyn personality and the kinds of fresh ideas that you get in a place this youthful and creative. The neighborhood is also home to a vibrant art community, including galleries, museums, and even Spike Lee's production company, 40 Acres and a Mule Filmworks. The prominent facade of the 40 Acres offices features a large mural memorializing Bill Nunn, who played Radio Raheem in Do The Right Thing and died in September 2016.
The perfect weather made it feel criminal to smoke inside, so when we were through with the tour, we pulled some chairs out onto the sidewalk outside Diamante's and finished our cigars before parting ways — David to the Barclays Center, where he would prep for that night's game, and us to our next stop.
Blew Smoke opened in 2013; it's just a block away from the intersection of Washington and Atlantic Avenues, about a 15-minute walk from the Barclays Center. While it's similar to Diamante's in terms of the sizes of their lounges and cigar selections, Blew Smoke feels like a more modern place. That's intentional.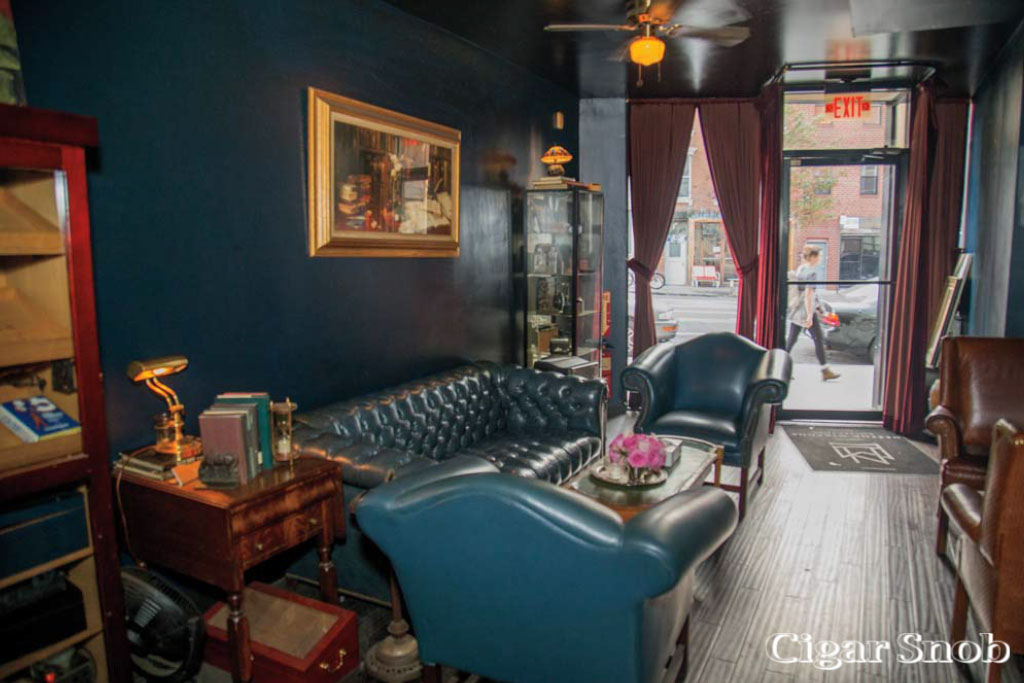 "As early as 2010, we found there was a community of smokers that didn't reflect the image of what used to occupy the old cigar lounges," said Gloria Blake, who is one of Blew Smoke's four owners. "I used to travel a lot for work, and I would visit cigar lounges all over the world. This place is really a culmination of all the things I always thought I would want to include if I opened a lounge. It's sexy, but still masculine enough for a man to feel comfortable."
From the furniture to the wall colors and the bar (which is BYOB), Blew Smoke feels like it was designed with more "lounge" in mind than "cigar" — and that's kind of refreshing. It reflects another side of the neighborhood and its history, working as an excellent complement to Diamante's for residents and visitors alike.
TIP: Friday nights are ladies' nights at Blew Smoke.
If you're in the neighborhood and drop in for a cigar, Gloria recommends you check out Ode to Babel, a bar and lounge that caters to the arts crowd. Also check out Bearded Lady, a '50s style diner that features creative cocktails, and Milk River, a multi-level international fusion restaurant with a focus on Jamaican and Asian cuisine.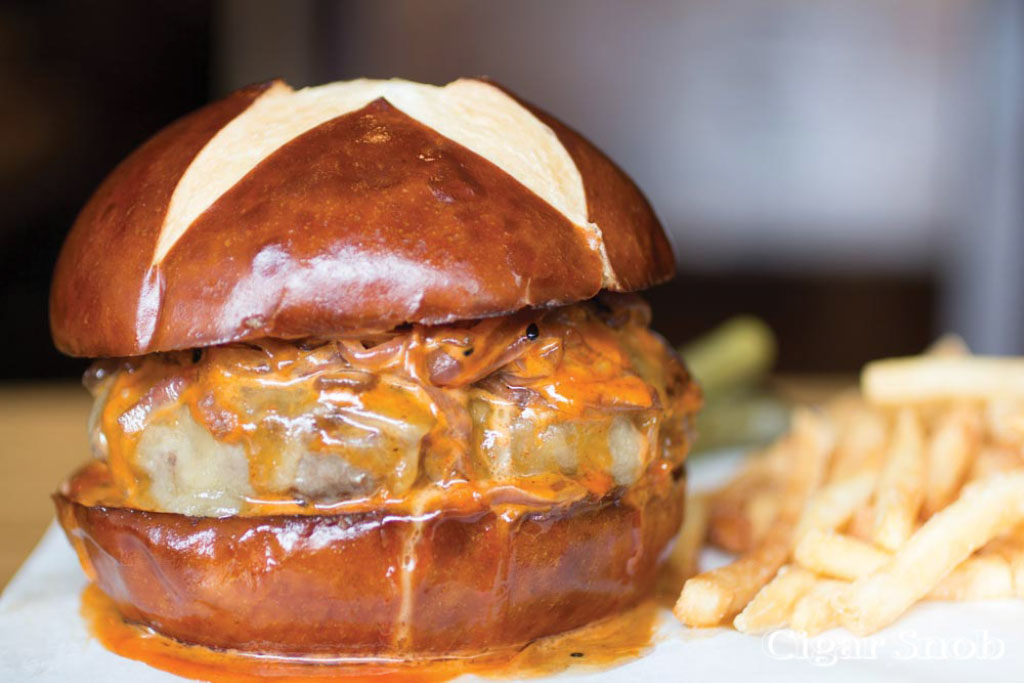 Hungry from a day of smoking, we started walking back toward the Barclays Center on Fulton Avenue, keeping an eye out for a promising restaurant. That's when we came across Emily. Something about that name connotes daintiness. That name doesn't inspire much confidence in a couple of guys looking to fill their bellies after four or five cigars.
Ignore the name. Emily — which has two locations — is a great little coal-fired pizza joint that also features "rustic small bites" and a phenomenal dry-aged burger. Erik and I each had a pizza, and we knew from the look of them that our practically random dinner choice was solid. The pizzas have that smoky char that comes from the coal fire, and all the toppings were top-quality. A girl at the end of the bar who looked about half my size grinned when a waiter put a massive burger (and fries) in front of her. She downed it in no time.
From Emily, we headed to the Barclays Center for a Brooklyn Nets game. Once in our seats in the lower bowl, we waved to David from across the court to let him know we'd made it.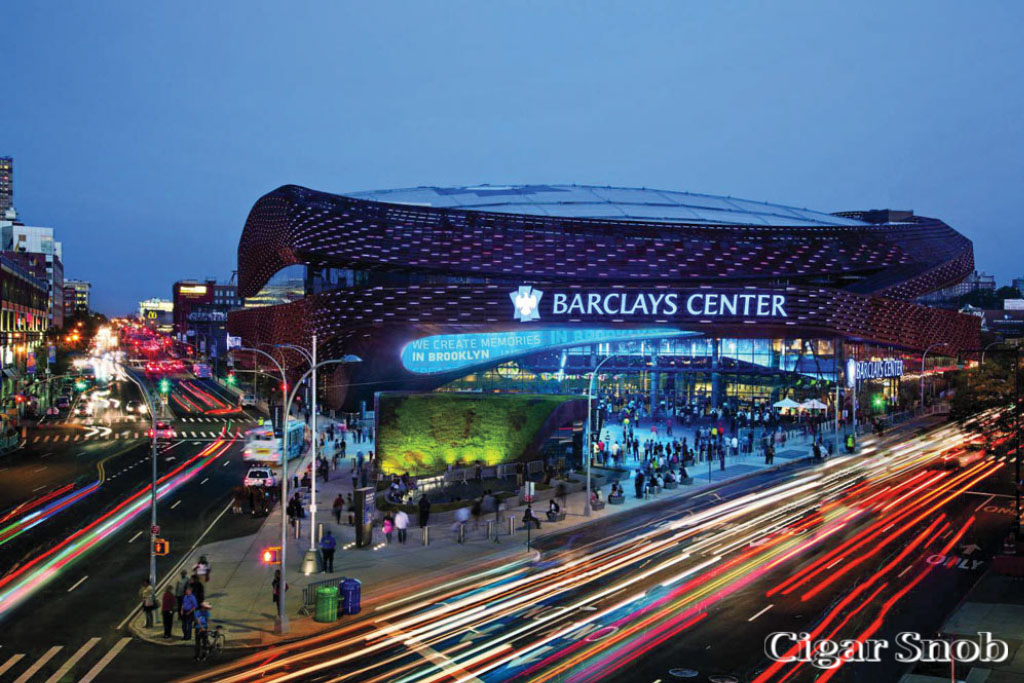 Barclays Center, home of (among other things) the Brooklyn Nets
"I try to be the sixth man and bring the crowd into it," David said. "You really see these players' chests puff out. By the fourth quarter, they're exhausted, but if you get the crowd into it, you can squeeze that last bit out of them."
Knowing the guy on the microphone gives you a whole new appreciation for that aspect of watching a game live, but David was far from being the star of the show. In fact, while the game stayed close throughout (they were playing the Pistons and, while David won't admit it, neither team on the court that night is much of a contender this year), none of the players ended up being the highlight for us either.
No, the highlight of the game was an old man we'd only heard stories about: Mr. Whammy. He's at every home game in a seat near the baseline, and he's got a magical hand gesture he does — especially during opponents' free throws — that guides the ball away from the rim. Of course, you have to say the magic word.
"MISS!"
The ball rattles off the side of the rim. "I got one!" yelled Mr. Whammy.
A much younger Brooklyn fan sitting right next to me yelled out to him to provide encouragement. "We believe in you Mista Whammaaayyyyy!"
Mr. Whammy beat the Pistons 109-101.
The game aside, the Barclays Center is a must-visit arena. Whether you're here for sports, live music or anything else, the building is impressive in its design, and they've managed to find a place for it that really puts you in the thick of a lingering crowd after the event. Very cool for anyone who wants to be immersed in Brooklyn. This night, everyone was lining up to take pictures with a statue of one of Brooklyn's favorite sons, Captain America.
We ended the night back at Diamante's. David had invited us over to hang with some of his regulars and watch the tail end of Game 7 of the World Series. We don't need to tell you how that went.
As we sat there watching the height of sports drama, I couldn't help wondering whether Mr. Whammy had made it home just in time to tune in when it was tied 6-6. Maybe the Cubbies got a little help countering that curse.
Manhattan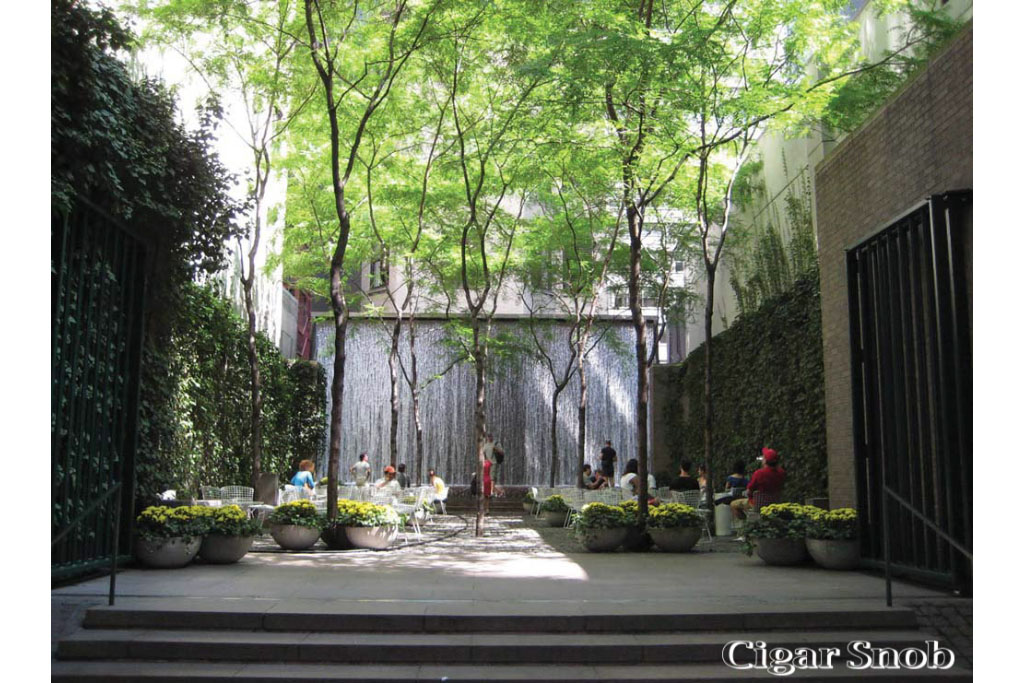 Paley Park is a world-renowned urban space, and it's cigar friendly.
We spent all of day two in Manhattan, where we were staying at a hotel in Midtown. We headed north a bit to get our coffee fix (and some breakfast pastries) at a Le Pain Quotidien on E 53rd St. between Madison and 5th Avenues. In case you're not familiar, Le Pain Quotidien is a bakery-restaurant chain. They're all over New York (and a number of other cities), but we made it a point to come to this one so we could take our food next door to Paley Park.
At just 4,200 square feet, Paley Park isn't a place you'll spend a full day, but it is world famous for being one of the best-designed public urban spaces in the world. The privately owned public space was financed by the William S. Paley Foundation as a memorial to William's father Samuel. It's clean, with landscape and architectural features spaced out enough to avoid feeling like clutter that clashes with the city that surrounds the park. Still, falling water, trees, and open views to skyscrapers make for a setting unlike anything most cities can claim.
Anyway, this seems like an appropriate place to stop and take in some scenery in light of the park's cigar industry connection. Samuel Paley was the creator of the first La Palina cigars. When he retired, he took the brand with him. His son William S. Paley made the family famous as the CEO who built CBS into the radio and TV network we know today, and William's son Bill Paley went on to (among other things) bring back Samuel's cigar brand.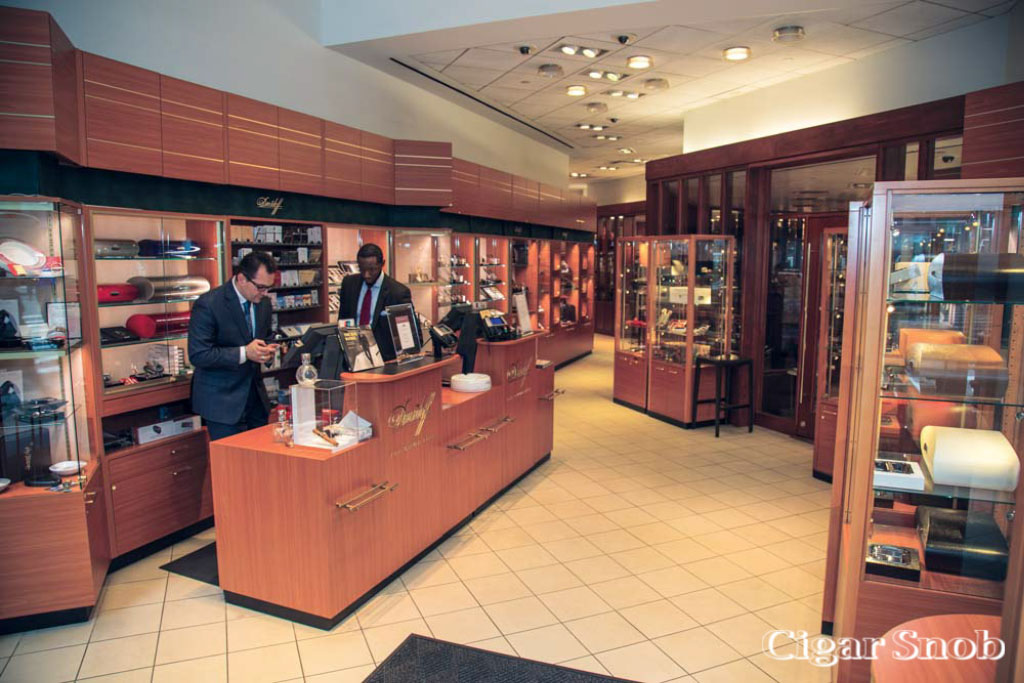 Davidoff of Genevea Since 1911 on Madison Ave.
Our coffee cups empty, it was time for a cigar and they don't sell them at Paley Park. We walked over to Davidoff of Geneva Since 1911 right across Madison Avenue. The is one of three Davidoff stores in Manhattan, and they're among the city's premier destinations for not only cigars, but also ultra-high-end cigar accessories and men's goods. As you've probably guessed, the walk-in humidor prominently features all sorts of Davidoff cigars (like Davidoff, Camacho, and Avo), but also products from many of the other elite luxury cigar brands (My Father, Padrón, Fuente, etc.) and a number of boutiques.
The main event here, though, is the lounge area with windows looking out onto 53rd St., which makes for some great people watching. There are no domino tables or bar seating here; this isn't the place to go for a party. But that also means this is a setting that's also usually quiet enough for you to get some work done (although there's a rule against making phone calls here), read the paper, or watch the news.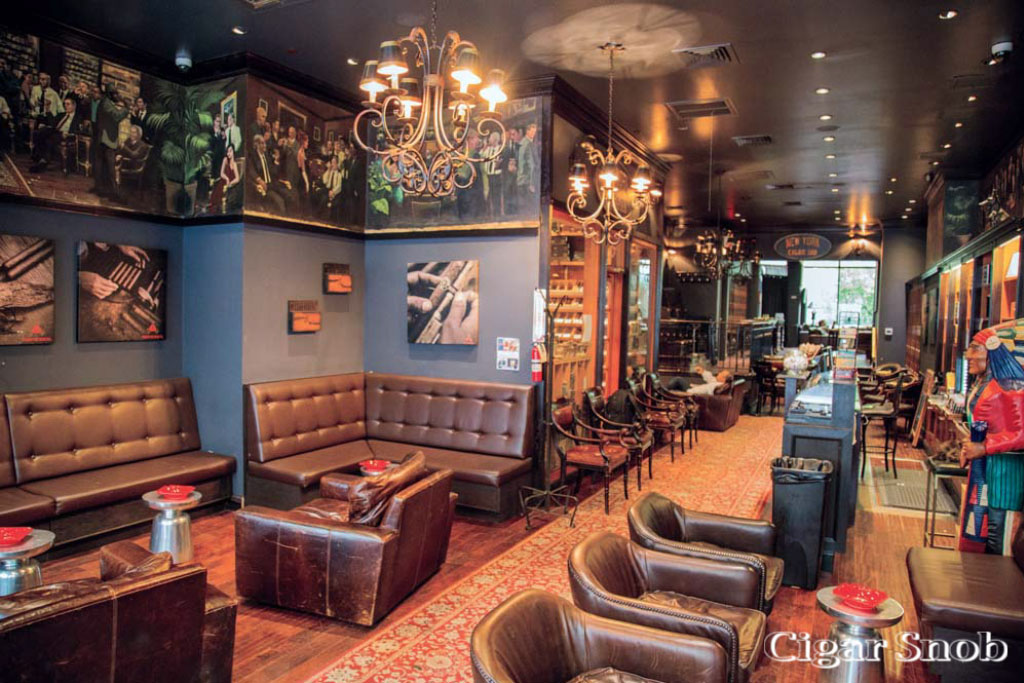 Casa de Montecristo by Cigar Inn on 2nd Ave.
Our next cigar stop, on the other hand, is tailor-made for bigger crowds. Casa de Montecristo by Cigar Inn has two locations, one of which is on 2nd Ave. just a 10-minute walk from Davidoff's Madison store. The night before our visit, Jonathan Drew had been holding court here, signing boxes and rubbing elbows with smokers at a Drew Estate promotional event. This morning, the place was much quieter and the staff were getting through organizing the humidor.
Partly because this store is such a destination and partly because it's now owned by online retailer JR Cigar, Casa de Montecristo by Cigar Inn has lots of brands and specialty formats that you just won't find in your town's brick and mortar stores. If you're a collector or just like trying new things, you'll want to spend some time perusing the selection. Consider asking the staff to give you a quick tour and point you in the direction of those products that are exclusive to this store.
After JR took ownership of the store, it got a major facelift. Since the last time we were in New York, the place got lots of new furniture and the area closest to the front door was converted from being retail space to being a lounge area with a great street view. Two other distinct lounge areas and natural light coming in from the back area make the store feel even more expansive than it already is. After business hours, this is one of the more lively cigar spots in the city.
From there, we headed to the Nat Sherman Townhouse on 5th Ave. and E 42nd St., where we met with Michael Herklots, the company's VP of retail and brand development. But before we settled in for cigars, Mike had some secrets to share with us away from the Townhouse, albeit reluctantly.
"You guys are going to let the cat out of the bag when you run this story," Mike said. "I have this place I like to go for lunch, but I'm always vague about it when people ask where I'm going. This is a real hidden gem."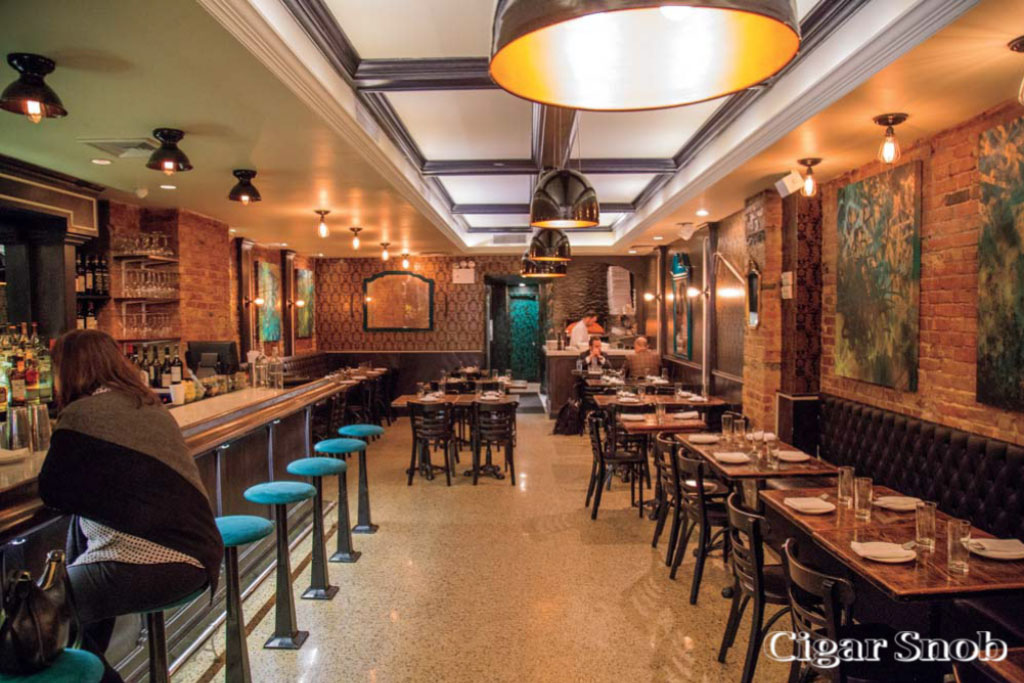 The dining room at Nino's 46
Needless to say, we were excited with a set-up like that. So when we walked into Nino's 46 and saw that it was just a five-minute walk north of the Townhouse, we wondered how it had managed to stay under the radar (at least by Manhattan standards). Once we walked in, it started to become clear.
"This place used to be a very different kind of restaurant. They did sandwiches, and that kind of casual lunch food," Mike said. "But they had a fire. When they rebuilt, the owners' kids got involved and changed the concept."
Sure enough, you'll walk into Nino's 46 and find that the glass sneeze guard you're used to seeing at New York sandwich shops and casual pizza joints is still there. You have to walk past that before you see the dining room and bar near the back, where the dim, but not quite romantic, lighting, art and exposed brick class up the place while still keeping the environment as casual as the hearty comfort food on the menu. We sat at a table near the wood-burning oven and let Mike take the wheel.
"We're going to eat. A lot," he said. "But we'll start with some wine."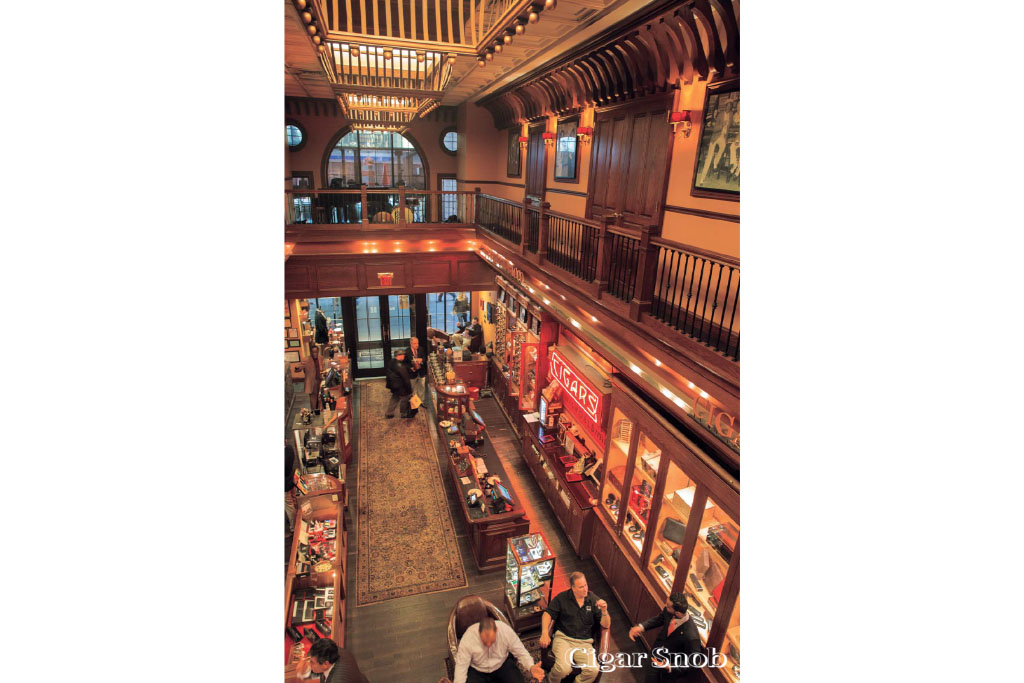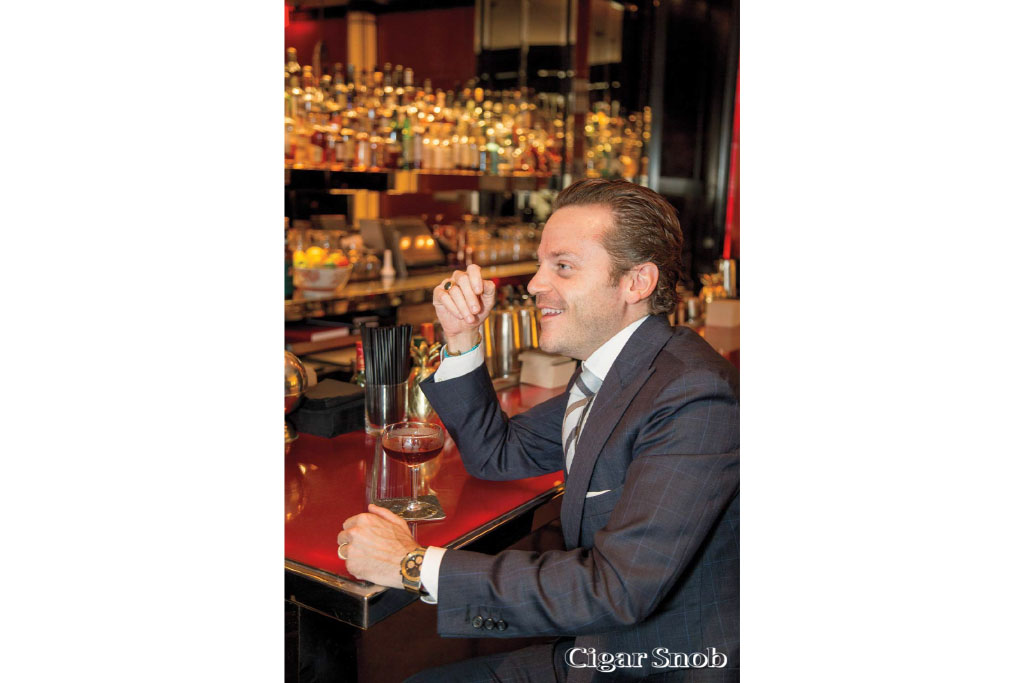 We started with a bottle of Mocali Brunello di Montalcino, moving on to an arugula salad, a pizza, orecchiette, spaghetti, some heirloom tomato soup, and finally a bread pudding that was topped with Nutella and mascarpone. Everything fresh, everything cooked to perfection.
The food was excellent, but what was truly startling about this meal was the fact that the entrees were priced between $10 and $16. That's beyond reasonable in Manhattan, but if you'd been there with us and experienced the quality firsthand, you'd know it's insane.
Next up: cocktails at The Lambs Club, which you might recognize as one of the renowned restaurants owned by Geoffrey Zakarian, who we profiled in the January/February 2015 issue. Our recommendations: try the Sasha's Tale (Templeton rye, rubarbo, vermouth, averna, absinthe rinse) and the Gold Rush (bourbon, lemon, honey).
Feeling more than ready to sit down, light cigars, and not move a whole lot for a while, we made our way back to the Nat Sherman Townhouse while smoking some Panamericanas in the 5×50 Epicure format, which is perfect for this kind of New York City stroll. After settling into the lounge, we moved on to some Nat Sherman Timeless and enjoyed an impressive cigar industry impersonation by Mike. We can't tell you who he did, but we can tell you we were in stitches, he did it so well.
Unfortunately, Mike had a flight to catch early the next day so he couldn't stick around for the rest of our romp through Manhattan. On the other hand, though, we were very fortunate to be able to meet for dinner with someone who appears elsewhere in this very issue of Cigar Snob: restaurateur Alessandro Borgognone. He invited us to dinner at Lidia Batianich's restaurant, Felidia, which is a place of great significance to his career. Alessandro grew up around the restaurant business, but it wasn't until he spent time working in that kitchen that he discovered his passion for the industry. It was also appropriate given his perspective on the New York food scene.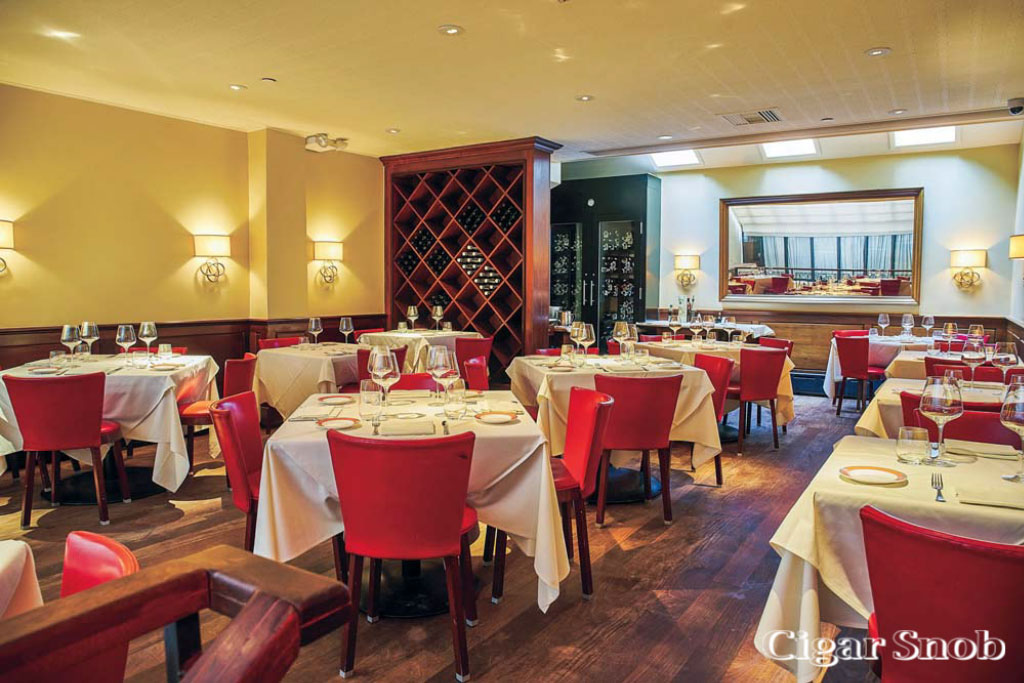 "The city is moving toward a greater appreciation of classics," Alessandro said. "This place is a classic."
Our meal was essentially a tasting menu that included Nantucket Bay scallops; Ravioli stuffed with veal and pork and topped with truffle; paccheri with goat ragout and andouille sausage; roasted veal tenderloin; and all manner of decadent, delicious things. We paired it all with a bottle of wine: Conterno's 2009 Barolo Cascina Francia.
It's no wonder this place inspired him to pursue a career in food. Today, he's known for — among other things — having transformed his own family's restaurant, Patrizia's, into a highly respected group of four restaurants, as well as for having opened Sushi Nakazawa, which has become the city's hottest sushi restaurant.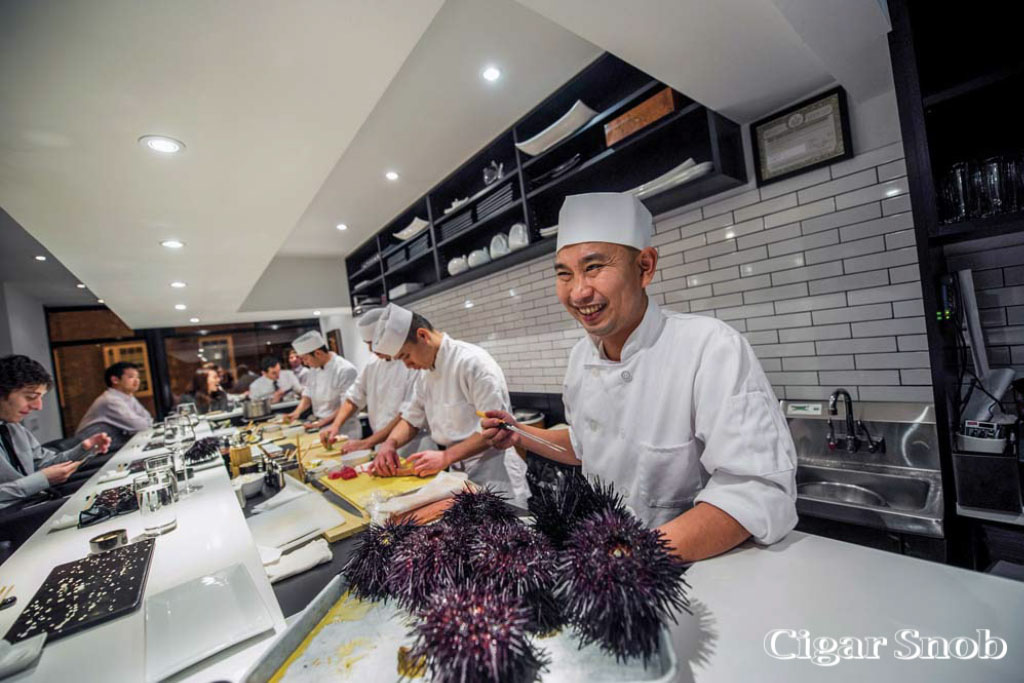 Alessandro wasn't able to join us for a cigar after the meal, but he did make sure to recommend his own neighborhood shop in Staten Island.
"Carmine's Cigars," he said. "It's on Richmond Road in Staten Island. It's a lovely place. But what makes it really, really lovely is the majority of people that go there are blue collar. They're in the fire department, they're police officers, small business owners and so on. The conversation is amazing. And the day that I don't want to spend by myself smoking, I smoke there."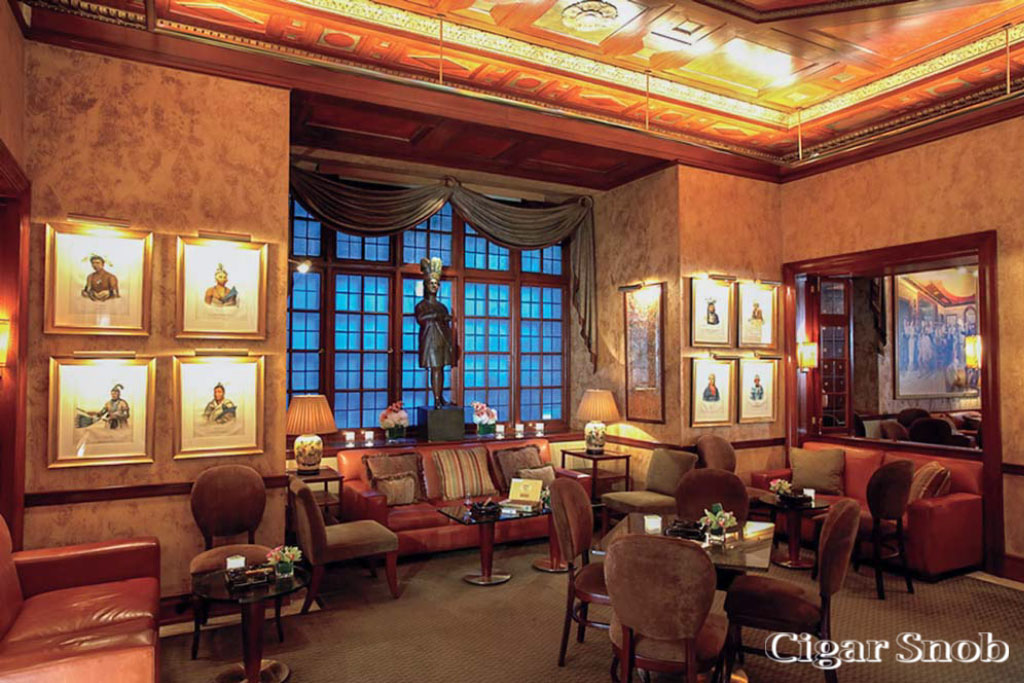 We ended our last night in New York at Club Macanudo, which is on the Upper East Side on the corner of Madison Ave. and E 63rd St., near the south end of Central Park. If you love cigars and you have not been here, you need to add it to your to-do list immediately. A diverse crowd gathers in this luxurious setting for cigar smoking, great drinks, and top-notch service. It's great for dates, business, or a night out with friends. Most notably, though, it's one of very few places in New York — or anywhere, for that matter — where you can eat, smoke, and drink indoors.
TIP: Make sure you won't be turned away because you don't meet the requirements of the dress code. "Club Macanudo requires gentlemen to wear collared shirts. Tee shirts, athletic attire/sneakers, shorts and ip ops are strictly prohibited," according to the Club Macanudo website.
We met with a few friends: Nick Nanavichit, whose Nsolo Consulting Group is behind some of the coolest cigar brand packaging and swag you can get your hands on; Brian Shapiro of Oliva Cigar; and Brian's son Aaron. We started off smoking Macanudo Inspirado Orange before moving on to the Oliva Serie V Melanios that Brian had brought along. We caught up, reminisced, and found excuses to toast with each round of Old Fashioneds, losing track of time as anyone might when there are friends, drinks, and great cigars.
---
Click HERE for more travel stories!