The Back Story
Mark Twain once said the coldest winter he ever spent was a summer in San Francisco. Although I'm not sure he ever actually said that and it wasn't quite summer yet, I get where Twain or whoever said that was coming from.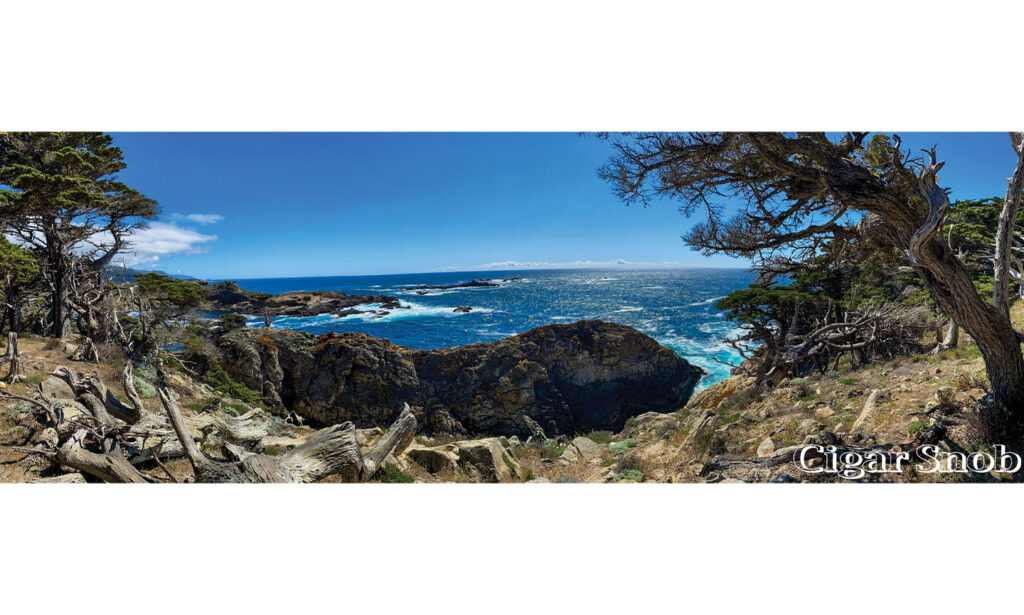 On The Ground
The moment we set foot on the tarmac at Monterey Regional Airport in California, I tell Erik Calviño (Cigar Snob's publisher and editor), "Holy shit it's cold. I thought it was supposed to be 65 degrees?" and he responds "It is."
Sun is shining, not a cloud in the sky, looks like a beautiful spring day – yet how can it be so bitterly cold?
We were in California to produce an ambitious photo shoot in the breathtakingly beautiful Big Sur featuring the Australian bombshell Bianca Richards smoking Oliva Cigars. So we have a killer location, excellent cigars, and a drop-dead gorgeous model. What could go wrong?
Big Sur is an 85-mile stretch of land in California's central coast. The day before shooting we spent the entire day navigating those 85 miles looking for the ideal spots to shoot and at the end of it all, I felt good. We'd driven in circles, climbed, hiked, and crawled to find the perfect locations, but we almost didn't get to capture any of it.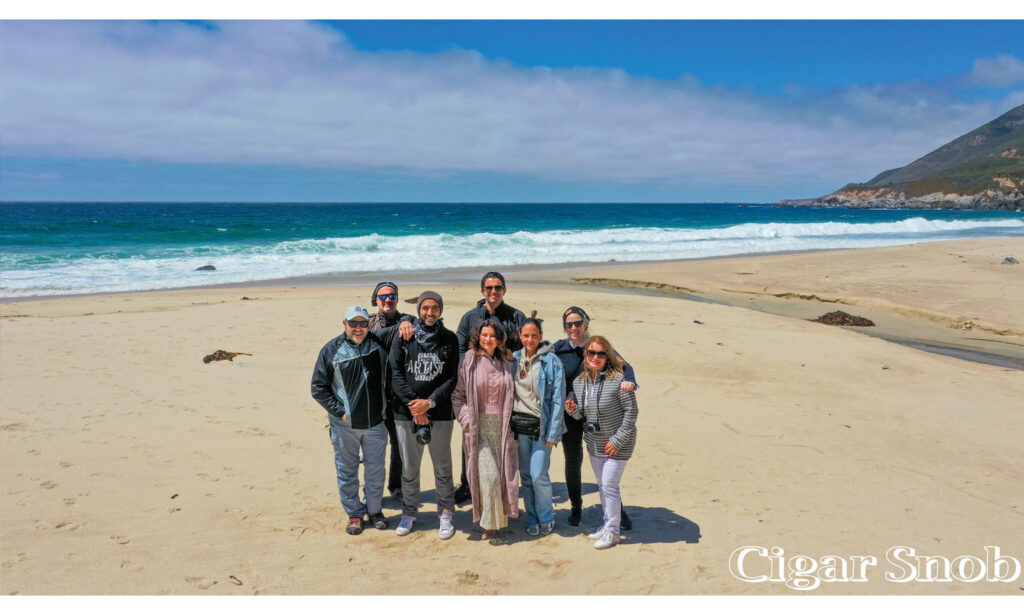 To Pull or Not to Pull
I'm just going to come out and say it; I had the bright idea of not pulling film permits for any of the locations for this project. There. I said it. I decided against it and it almost ended up coming back to bite me. In the industry they call this "going guerilla," where productions shoot in certain locations without permission. Not that we were doing anything illegal, but some places require documentation in case an accident were to happen resulting in damage to the location or otherwise. Nevertheless, no matter how needless it seems, nor how arduous or expensive the application process is (it's almost always pricey), you should always have permits. We always, always, always pull permits, including our last big production in Utah. It was similar to Big Sur in that we were in an expansive, remote area. Because of the remoteness of the Utah desert, we were never asked for a permit, heck we hardly saw anyone else while we were out there. Getting the permits in Utah was a gigantic waste of time and money but we did it because we always pull permits… almost always.
I figured this one time, with Big Sur being so large and secluded, we would be just as unnoticeable as we were in Utah. Also Big Sur's coastline is made up of a series of state parks, one after the other and I didn't know exactly which ones we'd be shooting until we scouted and by then it was too late to submit documentation.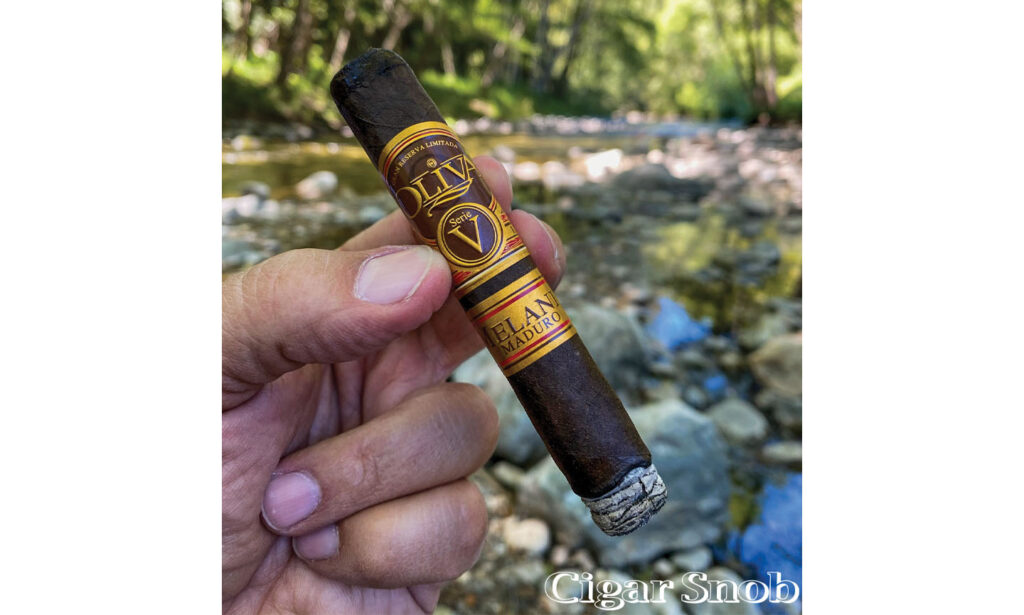 Toplezz Trouble
You can expect pretty much every Cigar Snob production to start in the same manner every time. We start with what we like to call "layups." Layups as the name implies are nice and easy shots just to get warmed up. They are usually pretty straightforward, basic shots that get everyone comfortable and confident for the long day ahead. The wardrobe is standard, the backdrop pretty straightforward. It's always like this. On this fine day though, right as we were about to hit that first layup, our photographer David Benoliel turns to me and says in his serious but suave French accent, "I think ze model should be toplezz for this foto." Hold on; did he just say toplezz? Ok, forget everything I said about starting off with layups. We're about to come out of the chute with guns a-blazing at Point Lobos State Park.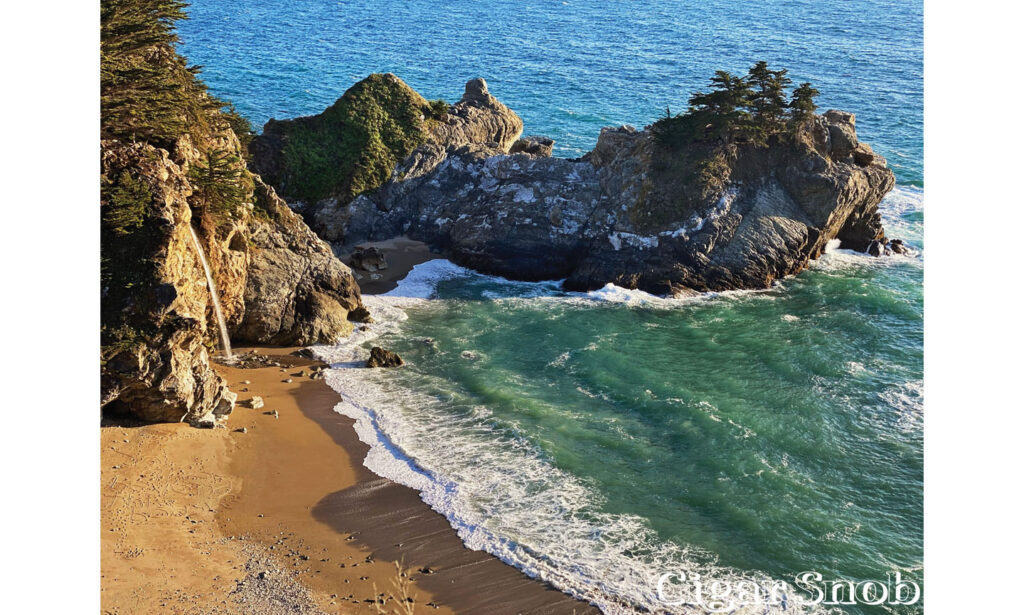 ---
NOTE:
We would never run a topless image but sometimes we run certain shots that are quite sexy, not nude sexy but in order to get it to the optimal sexy point it may require a model to be topless.
---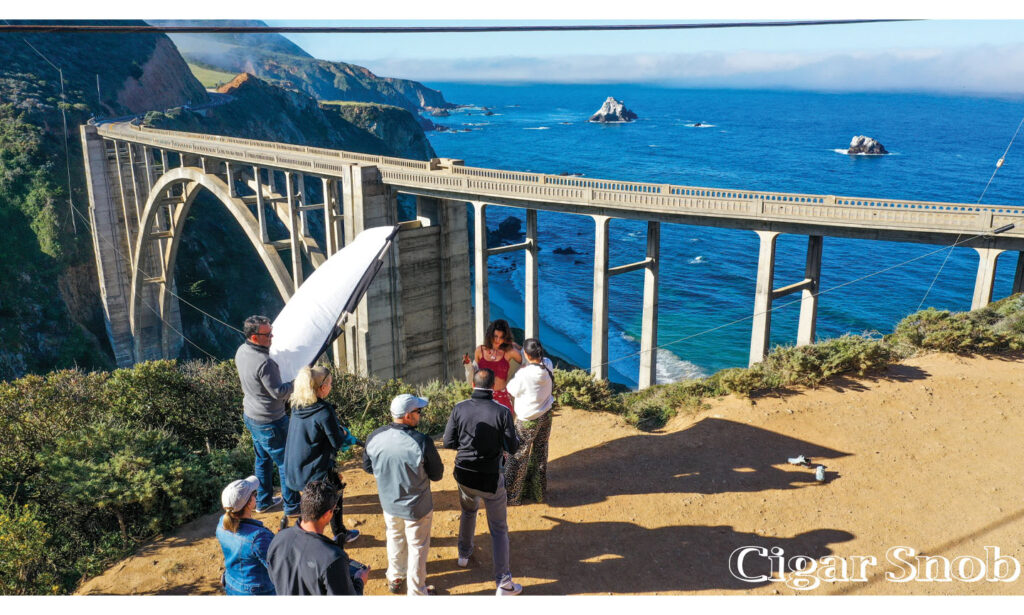 Let's take stock of the situation; we've forgotten about layups, we're in a state park, which to my amazement was full of people hiking early on a Tuesday morning, we didn't pull permits, and we've gone toplezz. So there we were, suns out guns out, in plain sight of seemingly every husband and wife hiker team west of the Sierra Nevadas. "Howdy!" I nonchalantly greeted all the passersby. Nothing to see here, I thought to myself. To their credit, everyone who hiked on by pretended they couldn't see a half-nude goddess perched on a giant rock smoking an Oliva Serie V Melanio. Maybe these nonworking Californian hikers were used to seeing this type of thing every day… not quite.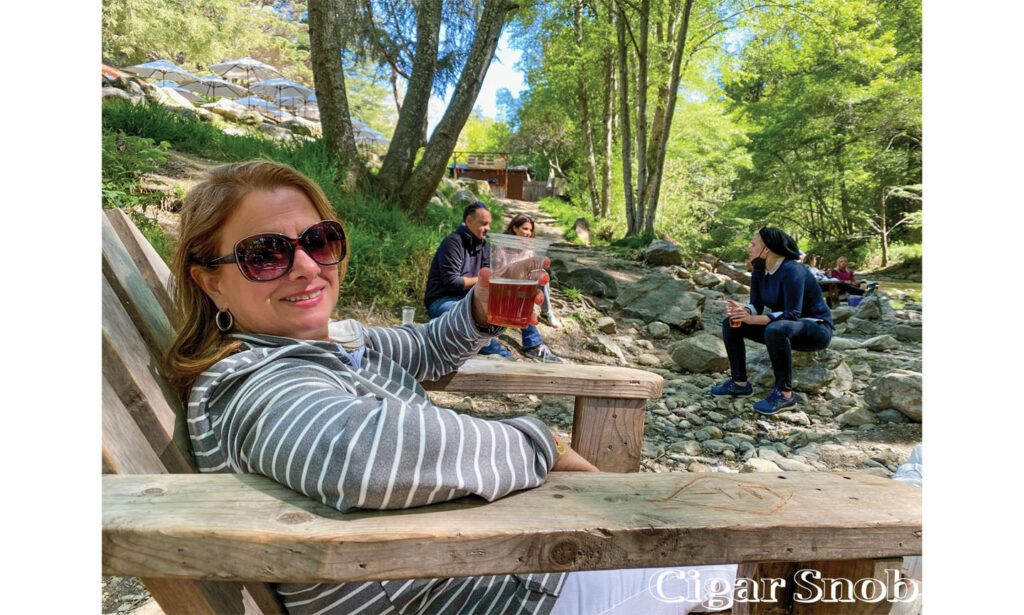 In the blink of an eye I see far off in the distance what seemed like a frantic man in a brown uniform racing in our direction. I'm sitting atop the aforementioned giant rock holding a scrim that looks like a giant sail in the wind and straining my eyes to get a clearer look at who is hurrying towards us and it hits me, it's a park ranger. In an instant I knew what happened. One of those unemployed hikers must have caught a glimpse of a boob, gave us a fake smile, and hightailed it to the nearest ranger post to report what most certainly was described as something along the lines of The Porn Shoot Atop Big Sur Falls.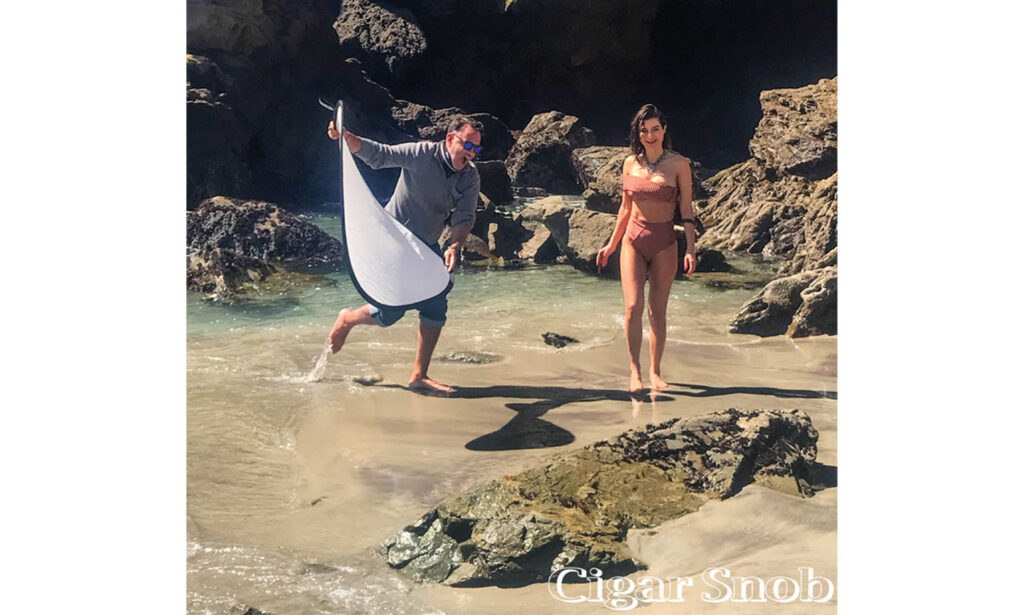 Plan B
I took solace in the fact that we managed to get an amazing shot before we got the boot. It was meant to be a layup but we ended up dunking. But now we might be up Schitt's Creek thanks to the unexpected monkey wrench. I decided, or it was decided for me, that it was time to roll out. "Let's get out of here and hit the next park then we'll work our way south from there." I told the team. "And for God's sake, can we keep the model's clothes on from now on? Who goes topless when its freezing cold anyway?"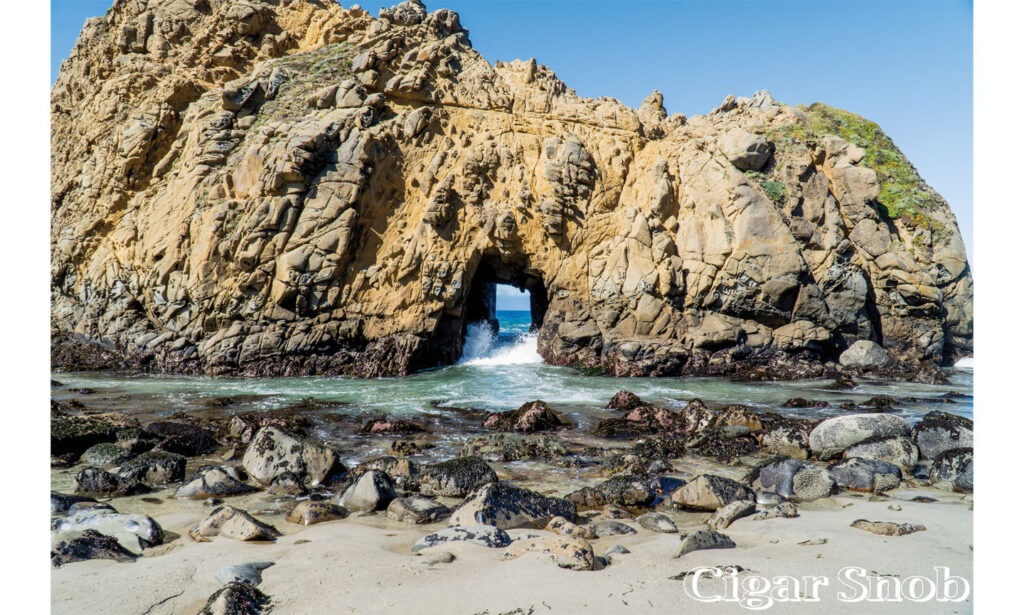 ---
Click HERE to check out our other stories!