Cigar Snob Magazine May/June 2014
What's in the magazine
Our team made its way to The Volunteer State for this issue's travel section, where they scoured the state for the best barbecue, whiskey, beer and more. Of course, we'd never leave cigar shops out of our guide. If you have plans to head to Tennessee, you'll want to see this first.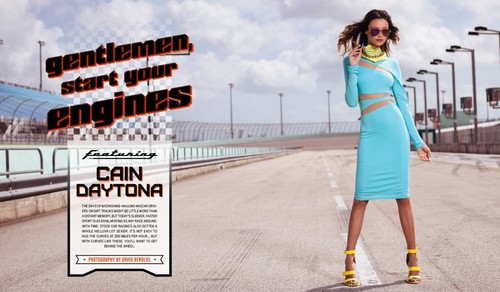 Of course, there are some things that are more difficult for outsiders to gain access to. While the big cities on either coast play "speakeasy," Tennessee is still keeping the very real tradition of moonshine alive. In "Spirit of the Smokies," written by Senior Editor Nick Jiménez, you'll learn about the rich history of the region's notorious illicit booze. There's a lot more to it than you think; we gained a whole new appreciation for white lightnin'.
We stuck to the Tennessee theme with our two Smoking Hot Cigar Snobshoots. For one, we took model Vanessa Andrade to Homestead-Miami Speedway, an integral part of the story of NASCAR (which was born, by the way, from the lead-footed tradition of hauling moonshine). Fittingly, we had her smoking Cain Daytona.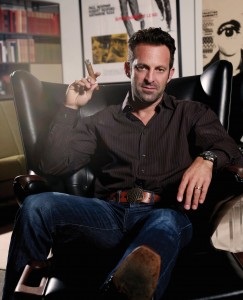 In Waiting for the King (featuring Oliva), we took a more upscale approach, imagining what it might be like of our favorite blue-suede-shoe-wearing rock god had a sexy cigar snob waiting for him at home. The "sexy" part was easy to pull off with the help of Danielle Knudson (check out the magazine cover at the top of this post), who you might recognize from just about everywhere thanks to her being the face of Guess Jeans.
In this issue's First Cigar interview, we went back to fast cars and spoke with Scott Waugh, director of Need for Speed (which stars Breaking Bad's Aaron Paul) and Act of Valor. He started his career as a stuntman, which gives his action flicks a crazy-thrilling feel. We talked about his start in show business, his unconventional path to the director's chair, and — of course — his first cigar. If you ever need to light your cigar while jumping a car over some school busses, Scott's your man.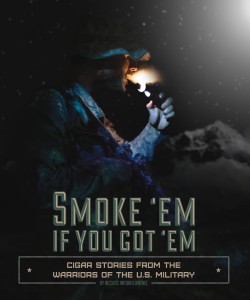 Act of Valor, as you might know, starred real, active duty members of the U.S. military. The armed forces are packed with compelling stories, and we put just a handful of them in"Smoke 'Em If You Got 'Em." Some are stories of celebration. Others are stories about remembering fallen friends. In all of them, cigars play a role. We even had our own resident spacial forces snob, Danny Díaz, suit up for the title page photo.
We went whiskey crazy in our Perfect Pairings this issue. Find out which cigars we smoked with Breckenridge Bourbon and Jack Daniel's Single Barrel Select.
There's plenty more in here, including an interview with singer/songwriter Rose Falcon, a Brand Breakdown featuring Davidoff cigars (including our No. 1 cigar of 2013, the Davidoff Nicaragua) and our account of the time we spent tagging along with the Camacho Torch It Up Road Tour as it made its way across Tennessee.
–
Click HERE to shop our other back issues!