Interview by Sean Chaffin
Like many fans of the Old West, there was just something about The Man With No Name for a young Billy Gibbons. The 1964 spaghetti western Fistful of Dollars hit home with theatergoers and made Clint Eastwood a star. The chiseled looks, the poncho, the guns, the cigar – Eastwood's character just oozed cool. The ZZ Top guitarist and front man couldn't shake the image of that cigar-smoking antihero rebel he'd seen on screen.
The teenaged Gibbons saw a bit of himself in this wild west rogue. That attitude would be seen in his music years later and that cigar smoking would be part of his life as well. Gibbons' own stogies have now become synonymous with his on-stage persona. Regularly sporting a Stetson hat only added to his look.
"It was Clint and that sawed-off cheroot that captured our imagination back to the antiquity of the Old West," he says of growing up and checking out Eastwood on screen. "You know, it was an imagination of the gunslinger days from Texas up to Tennessee and back out Tucson way."
The Old West wasn't the only inspiration for lighting up. True to Gibbons' blues roots, music played a role as well.
"I had also seen blues legend Lightnin' Hopkins many times smoke a stogie on stage earlier and that mark of swagger impressed me," the 71-year-old says of the Texas blues legend. "The question of where to get something cut square at both ends fell firstly on deaf ears until a few vendors took deference to our desire and brought us what we were calling, 'those irregular things.' Come to find out, there's quite a wealth of fine smokes that might not look like much, yet the delivery can certainly satisfy."
When partaking of a cigar himself, a few of Gibbons' favorites include Partagas, Royal Jamaica, Montecristo, and H. Upmann. His personal preference leans on the smallish side though larger Winston Churchill smokes are also a regular indulgence. A victory cigar has also become a big part of shredding onstage during any ZZ Top performance.
"We usually close our shows with our intrepid guitar tech, Mr. Elwood Francis, coming out front and center stage and giving my Romeo y Julieta Mini a light while I'm bashing a solo," Gibbons says. "Although brief, it's a nice way to relax and charge up while working."
Texas Rock Roots and Beyond
The Texas rock legend was born in Houston in 1949 and music permeated the Gibbons household. His father performed as an orchestra conductor and concert pianist. Rock and blues legends inspired Gibbons in his early years. At age 5, his mother took him to an Elvis Presley concert and at 7 he sat in to watch a B.B. King recording session. Little did he know, King would be recording with that same youngster years later.
After performing with several bands in the 1960s, the guitar virtuoso formed and fronted ZZ Top with Dusty Hill (bass and vocals) and Frank Beard (drums). By the mid-1970s with the release of Tres Hombres, ZZ Top exploded on the rock landscape with hits like La Grange and Tush.
The '80s brought even more fame. The band's Eliminator (1983) and Afterburner (1985) albums sold more than 15 million albums combined. MTV viewers ate up hits like Gimme All Your Lovin, Sharp Dressed Man, and Legs, garnering the trio major awards and accolades. Gibbons and the band toured the world and even appeared as an Old West house band alongside Michael J. Fox in Back to the Future III. A ZZ Top show became the hottest ticket in town, but Gibbons still takes pride that he's stuck to his roots in the Lone Star State.
"We're, of course, all from Texas but, more importantly, of Texas," he says. "There's an independent streak that typifies the state. Years ago, we used to be grouped in with other bands as 'southern rock,' but while Texas is, of course, in the South it's its own thing so we always realigned that categorization to reflect that fact."
Back in the Studio
Gibbons shows no signs of slowing down. In 2018, he released his second solo album, The Big Bad Blues, with his band the BFGs. This followed 2015's Perfectamundo. Fans of ZZ Top's blues sound will appreciate the hard-charging, guitar strutting with Gibbons' understated yet growling vocals.
On June 4, Gibbons will release his third solo album, Hardware, with the first single West Coast Junkie already available for download and on streaming services. The song is a rip-roaring delight, taking listeners on a California surfing safari by way of the Lone Star State.
Gibbons produced the album along with Matt Sorum and Mike Fiorentino. Sorum is a veteran of Guns 'N' Roses, Velvet Revolver, and the Cult and also serves as drummer. Guitarist Austin Hanks joined Gibbons and Sorum for the album's core band, and all three also recorded The Big Bad Blues.
The new album comes with more rock-tinged elements than that album. Recorded at Escape Studio in California's high desert near Palm Springs, the environment seems to have played a major influence on the Hardware sound and vibe.
"The desert settings, replete with shifting sands, cacti, and rattlesnakes makes for the kind of backdrop that lends an element of intrigue reflected in the sounds created out there," Gibbons says. "We holed up in the desert for a few weeks in the heat of the summer and that in itself was pretty intense. To let off steam we just let it rock and that's what Hardware is really all about. For the most part, it's a raging rocker but always mindful of the desert's implicit mystery."
Music and More
After decades performing, it's obvious Gibbons still loves shredding on the guitar and putting lyrics down on the page. Despite a pandemic shutting down live music, the artist stayed busy recording and writing. As a songwriter, what goes into his process?
"Sometimes it's a riff that springs to mind or a lyric fragment," he says. "It can also be a title where it requires having to figure out the meaning and bring it to life. There's not any sort of set pattern to it, so chalk it up to spontaneity for the most part."
That approach has served him well. Along with ZZ Top and his solo work, Gibbons has collaborated with numerous artists through the years ranging from Def Leppard's Vivian Campbell and Queens of the Stone Age to Kid Rock and Ronnie Dunn. A couple artists stand out when looking back on his varied career – Jeff Beck and B.B. King.
"In recent times, getting to play with Jeff has been especially gratifying," Gibbons says. "I've long thought of Jeff as a true fret master. And, along the way, we got to play with B.B. King and that's something to keep close to the vest over the years, especially since I got to see him record when I was just a young kid, thanks to my entertainer dad. When I reconnected with B.B. decades later he specifically remembered that kid from the session way back when."
Gibbons also has a few collaborations away from music. He's a major investor in the award winning Pura Vida Tequila. The premium brand is based in Houston and receives nice reviews among tequila connoisseurs.
"We became friendly with the brand's founder, Mr. Stewart Skloss, who explained that his aim was to purvey a fine, uncompromising product – 100 percent blue Weber agave," Gibbons says. "A few sips later we were convinced that it's a 'first cabin' beverage."
Along with tequila, Skloss and Gibbons have also teamed up with Houston-area restaurateurs Ken and Christina Bridge to launch Tres Amigos Cafe y Cantina in the city's Garden Oaks area. The eatery debuted in April and serves up classic Tex-Mex as well as Pura Vida margaritas and Texas beers.
Fine spirits and food apparently mix well with blues and rock 'n' roll. Gibbons has also teamed up with musician and ZZ Top collaborator Tim Montana for Beez + Teez Whisker Bomb Pepper Sauce. Buyers can spice up any meal with the original flavor or the "Have Mercy Hot" blend.
Hot sauces, restaurants, and tequila don't take up all his efforts, however. Gibbons still has plenty of time for music. A new ZZ Top album is in the works and he's excited, although he can't divulge any details just yet.
The band is also gearing up to hit the road with plenty of U.S. and Canadian dates. A residency at The Venetian in Las Vegas is also planned with shows already announced for October, 8, 9, 13, 15, and 16. Sin City is always a fun stop for Gibbons, Beard, and Hill. Band members have been known to play some poker on the road and Vegas offers a unique atmosphere.
With the coronavirus pandemic ebbing, fans will be glad to see live music returning. That goes for Gibbons and ZZ Top as well. When the band hits the road, you can bet this sharp dressed man will be lighting up plenty of cigars along the way.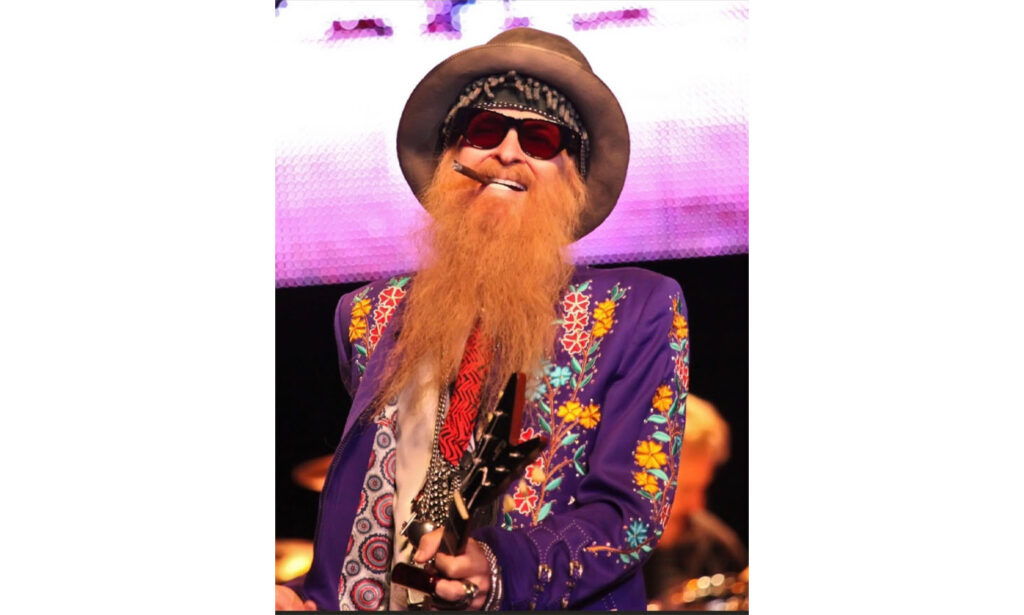 ---
Sean Chaffin is a freelance writer in Crandall, Texas. His work appears in numerous websites and publications. Follow him on Twitter @PokerTraditions.
---