Merging Manliness, Patriotism and Weaponry in the New South
Warrior Poets
Tucked into an obscured industrial park in the Atlanta suburbs, two college pals are trying to retool the way the world looks at masculinity.
The offices of Warrior Poet Society look like a mish-mash of a Dwell magazine profile and a Guns & Ammo cover, all steel furniture, exposed ceiling and black paint with a wall devoted to some impressive weaponry.
Just as apparent, though, are the stacks of books: A Napoleon biography, David McCullough's 1776, "To Hell and Back," Audie Murphy's classic WWII memoir, "The Art of War," a Fifth Century Chinese exposition on conflict, a dash of war fiction and some classics.
Warriors and poets, in fact, make sensible bedfellows to Evan Temple and John Lovell, who founded Warrior Poet Society in 2016, housing it first in their basements as they constructed philosophy and structure. It would be faith-based, male-tilted and appealing to guys with varying interests. Survivalists, gun aficionados, protectors, husbands and fathers, not necessarily in that order, would be their audience.
Video, social media, podcast and the written word would be their medium. Tactical training at different levels, from beginner to advanced, would be offered.
And within two years, they had gathered enough of a crowd to move out of their basements and into the industrial park, taking not only the two room office but another conference space in another building. That space also houses a small gym, heavy on the weight lifting equipment, and a large floor safe well-stocked with armored vests and weapons.
The centerpiece is a bevy of video offerings, available via subscription. Some are hard-core training minifilms, while others are scripted and humorous, sometimes including shooting things or light-hearted skits. Almost all are connected to a concept of manliness and family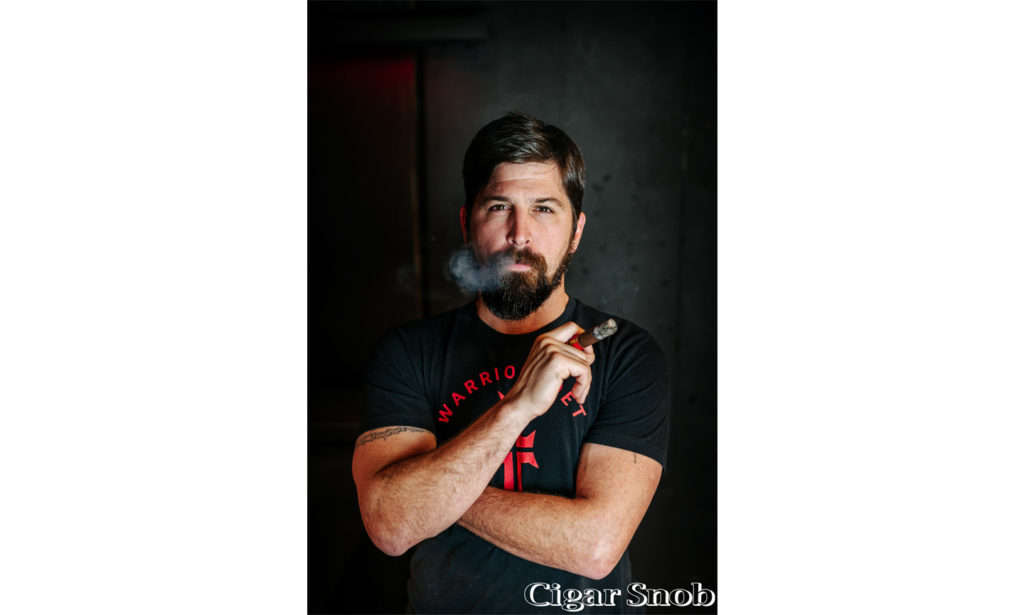 "We're making a Disney Plus of masculinity and violence, but in a wholesome way, not with all the negative connotations that people tend to attach," says Temple, a stocky 39-year-old who grew up in Georgia. "Masculinity and violence are key tenets of all kinds of positive things, including firefighting, even rock climbing. When a firefighter is running out of a burning building with a baby, well a fire is a very violent situation, and it takes real courage to run into that. And we want to develop that type of masculinity."
Temple is the artist of the duo, a degreed and pedigreed graphic designer who digs fine aesthetics and martial arts. Lovell, also 39 years old, is a wiry, bearded, bundle of energy and a military veteran, part of an elite Ranger unit that carried out special operations in Afghanistan and Iraq, where he deployed five times. His talents when he left the service were weapons training, door kicking and jiu-jitsu, with a side interest in business.
The two met while both were students at Georgia Southern University in the mid-2000s. After both finished college, Temple worked some graphics design jobs while Lovell and his wife, Rebekah, went to Costa Rica to serve as missionaries for four years, sometimes living hand to mouth. They had their second son while there, and returned to the states nearly broke.
"I smoke about ten cigars a year and I don't think that's healthy. I should smoke 20 a year, as I need more relaxation."

– John Lovell
But Lovell saw the fallow period as an opportunity and the chance to be the entrepreneur he had always wanted to be.
"I was doing training, teaching tactical teams, SWAT and military units," Lovell says. "And I was seeing these gun industry messages that were disingenuous and lopsided. This chestbeating hyper-masculine bravado that led people to believe we were soulless super soldiers, which is just not true. I wanted to be a successful human being more than a successful soldier. And I wanted to shift from training military and police to teach regular folks with a holistic approach that is real and honest and allows them to grow as men. To be a lion and a lamb, a lover and a fighter."
And a warrior and a poet.
Lovell had experience as a public speaker through his weekly bible classes in Costa Rica, which were also offered on video.
So he and Temple decided to join forces.
"I was a branding guy and he was a front man, and we knew we could combine and make something really cool," Temple says. It was a medium that is made for Lovell, who has a brash but earnest outspokenness and a courageous conviction.
Today's Warrior Poet Society is a flashy website, a dedicated broadcast network, a merchandise portal and a blur of social media. The marketing also promotes the monthly training sessions offered by Lovell, from single day basic weapons handling to the two-day "one man clearing," which requires some previous weapons training. And you have to bring your own quality semi-automatic weapon. Glock provided.
The exercises are carried out both on their home turf and on the road. The training ground in Georgia is a 45-minute drive from Warrior Poet HQ in Adairsville on a forested 50-acre tract of land that includes a storefront village, the skeletal remains of a burned out car and a shooting range.
The village is a dream scenario for any kid who has ever played soldier, with beige stucco storefronts and doorways perfect to provide cover to lay in wait.
The roadshow training goes where their patrons demand, including Florida, Tennessee, Texas and Alabama.
"It's funny to shoot your friends in their private parts."

– John Lovell, in "Ranger Games" an episode on the Warrior Poet Society Network.
"The people who come to see us are people who want to protect others," Lovell says. "They've seen school shootings, these kinds of things, and they want to be able to responsibly rescue and help others. "
We met a few days after some overzealous protestors breached security at the U.S. Capitol, as they rallied against the Electoral College count formalizing Joe Biden's election victory in Congress.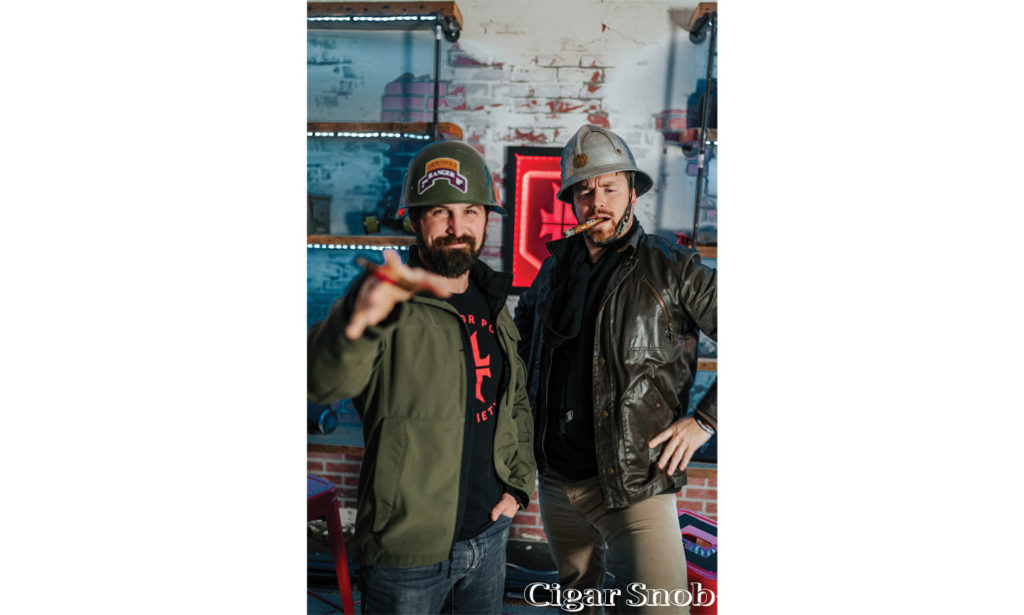 Advocates and media, both from the left side of the political aisle, contend some of those protestors were armed and had some extreme views. Although carrying a weapon is not unlawful, nor are particular political stances, today's cultural climate is a disagreeable, contentious stew that disallows reasonable discussion.
As such, gun advocates, to some, are unreasonably deemed to be out-of-control extremists.
"We've seen this kind of action from left and right over the past year," Temple says. "BLM, Antifa and then this. We don't want any kind of riots or violence or anything. We say, 'you need to be a dangerous person in an extremely controlled fashion.' We don't want them to be wrapped up in politics and we don't amass guns for some kind of show of force."
Warrior Poet Society survival training may or may not draw such individuals, depending on who you ask.
"I don't see those guys a lot," Lovell says. "It's priced at a point where you'd have to be pretty committed to get in."
Not so much, Temple says.
"We get meatheads and airheads sometimes," he insists. "We have to give them some special attention, and we help them develop some safety habits along with a healthier philosophy."
The poet part of the society is what centers them, and that concept allows them to impart a refined gentleness. And leads to more cultivated life pursuits which of course leads to cigars.
"Evan has always been fancy and sophisticated," Lovell declares.
"I am, I suppose," Temple agrees. He enjoys cooking, fine bourbon, good wine, and, not least, a premium cigar, a passion he developed at about the same time Warrior Poet Society was formed.
He's gone from smoking a few a year to one a day and buying a humidor to store some of his favorites.
"I have slowly become part of the cigar culture," Temple says. "I started with the Acids and the Nubs and worked my way into the Camachos, so I got into the lighter Honduran tobacco. Now, I'm finding I enjoy the full-bodied cigars."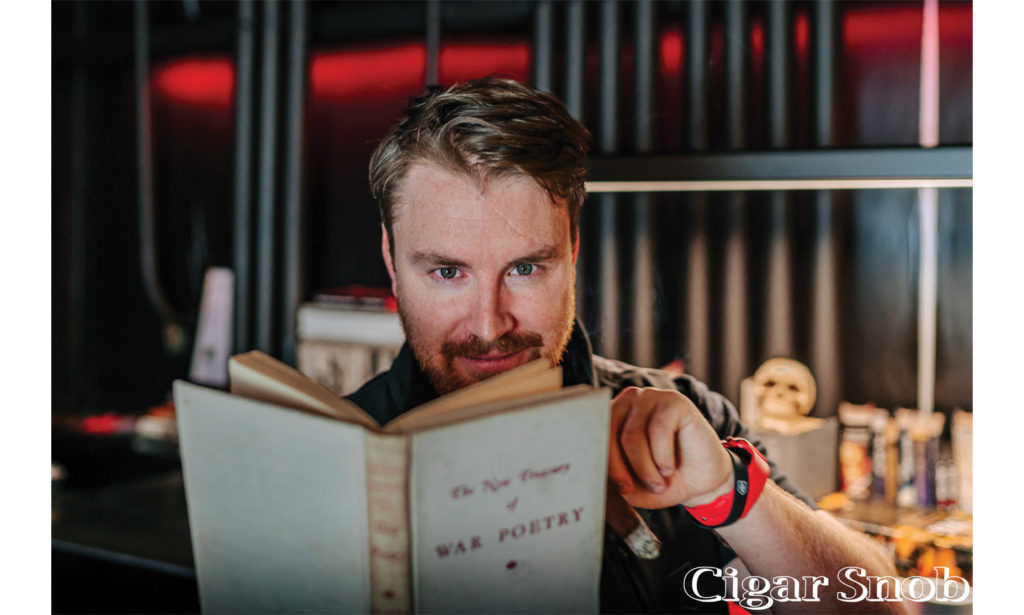 Lovell, who prefers Walmart over Target, Waffle House over fine dining, savors the leisure of a smoke more than the cigar itself. He is a follower of Charles Spurgeon, a British Baptist preacher, and C.S. Lewis, a British theologian. Both were outspoken cigar lovers.
"Someone once asked him, 'Mr. Spurgeon, when do you consider cigar smoking in excess?'," Lovell recounts. "Because biblically, we're not supposed to do anything to excess. And Spurgeon says, 'when I smoke two at a time.' "
So based on his own research, he says, he does not believe that a cigar is damaging.
"I smoke about ten cigars a year and I don't think that's healthy," Lovell says. "I should smoke 20 a year, as I need more relaxation. I am just starting to appreciate quality. But for me, it's more about the friendship, peace, camaraderie and reflection that naturally arises."
Given their fealty to a good smoke and the culture around it, the considerable line of Warrior Poet Society merchandise includes a cutter manufactured by Italian firm FOX Knives, a stainless-steel number that weighs in at a feathery 25 grams and comes with a leather case.
And there's more stuff, anticipating that the same type who likes to hustle and shoot and strategize also, generally speaking, enjoys having some decent gear.
Warrior Poet Supply Co. is the brand's online store, and yes, there's camo. Hats, vests, hoodies, all come in the vaunted varying green. There are also ankle medical kits, tactical pens (you can break glass with the tip as well as write with it), gun belts, holsters and backpacks, all bearing the WPS logo.
The brand started its upward, profitable climb in 2017 and continues to blossom with a growing fondness among Americans seeking to get back to the land as the sweep of COVID has merged with political polarization.
"I was the branding guy and he was a front man, and we knew we could combine and make something really cool."

– Evan Temple
Most people don't think the end is near, but the idea of being both a warrior and a poet…
"There's this divide between old world values and this new precipice that hasn't mixed well," Temple says.
This is where they hope to stick as a brand and as a movement.
"We are aiming to achieve some communication between those two sides, where we can live peaceably," Lovell says. "Warrior Poet Society welcomes anyone… if you are living for a higher purpose and are ready to sacrifice in the defense of others, if you can meet those two criteria, you are one of us."
Photography by: Jordan Gensler
---
Click HERE for more personalities!