Dallas by the Horns
Three cowboys—their horses in full gallops—stand up in their stirrups as they rush to lead cattle across a small stream. They've been at it for a long time now and, despite the looks of determination in their faces, they haven't gotten very far. That's got a lot to do with the fact that these cowboys and the cattle they're driving are life-sized bronze sculptures. Even if they did manage to start moving, they would only make it to the sidewalk before hitting downtown Dallas. I'm told cowboys and cattle don't do well with rush hour traffic jams.
The sculptures at Pioneer Plaza, in Dallas' convention center district, were put there as part of a massive monument to 19th-century cattle drives that took place along the Chisholm Trail and the Shawnee Trail (also known as the Texas Trail). At different times, the two trails were crucial to the cattle economy of the region. On some level, that cowboy culture still defines Dallas, even if the city's last remaining cattle drive is staring down a skyscraper-packed urban center fueled by Fortune 500 companies and oil money. Cigar Snob art director Andy Astencio and I flew into Dallas to get an up-close look at the city, its cigar scene, and how it's all evolving.
Brisket, American history, and '80s rock
Having gotten an early start to our trip, we were pretty hungry by the time we'd dropped all our stuff off at our hotel. A meal was in order. We met with Dallas area tobacconist Dan Schmitt and asked him to take us somewhere we could overload on barbecue; best to get our fix right out of the gate. We headed to Deep Ellum, a small arts and entertainment district just outside downtown Dallas, to eat at Pecan Lodge. It's got all the energy you would want from a casual restaurant in a hip, youthful neighborhood (just a five-minute drive from Pioneer Plaza), but the food here is as simple as what you'll find in even the more bare-bones barbecue joints. I had the brisket (When in Texas…) and it was some of the most melt-in-your-mouth beef I'd ever had. We also sampled sausages, which are ground and stuffed on-site. If you drop by, you'll want to make it a somewhat early lunch, not only because Dan tells us the meats are in such high demand that they sometimes just run out of it before closing time, but also because the portions are so generous, you'll need the extra time to work up an appetite for dinner.
Stuffed to the brim, we waddled back to Dan's car and headed to the Sixth Floor Museum at Dealey Plaza. The one-of-a-kind museum's name is as simple and profound as the moment in history to which it connects its visitors. Approach the south side of the museum from South Houston Street and you're retracing the path JFK's convertible was on moments before Lee Harvey Oswald shot him from the building's sixth-floor book depository. Dan recalled his own experience discovering—as a transplant from Pittsburgh—just how significant that day remains in Dallas' collective psyche.
"I think we're far enough removed from it now, but I'd say there were open wounds for decades," said Dan as we moved through the main exhibit, which touches on everything from the social climate of 1960s America to the conspiracy theories surrounding Kennedy's death. "Texas is a very patriotic state. There was and there continues to be disbelief about what happened that day."
When the elevator doors open on the building's sixth floor, you find that the museum does an excellent job of bringing all the staple of a historical exhibit (think video clips from the day of the assassination, scale models of the crime scene, news clippings, and lots of literature providing a cultural and political backdrop for the event that took place here) together with the original look and feel of the book depository that America's most infamous and mysterious gunman used as his perch. It remains structurally unchanged, and while the area surrounding the window Lee Harvey Oswald fired through is blocked off by glass, you can get a pretty clear sense of what he saw by looking through the other windows just feet away. Just outside the museum, at the intersection of Houston and Elm, a slew of tour guides (or panhandlers) offers tours of the path that JFK's convertible took. A steady stream of tourists snaps photos of a white X marking the spot on the street where the first bullet hit its target. Less than two blocks away is John F. Kennedy Memorial Plaza. It's a striking memorial comprising four tall walls and a pedestal with Kennedy's name on it. JFK's image is totally absent from the memorial—a stark reminder of his untimely death.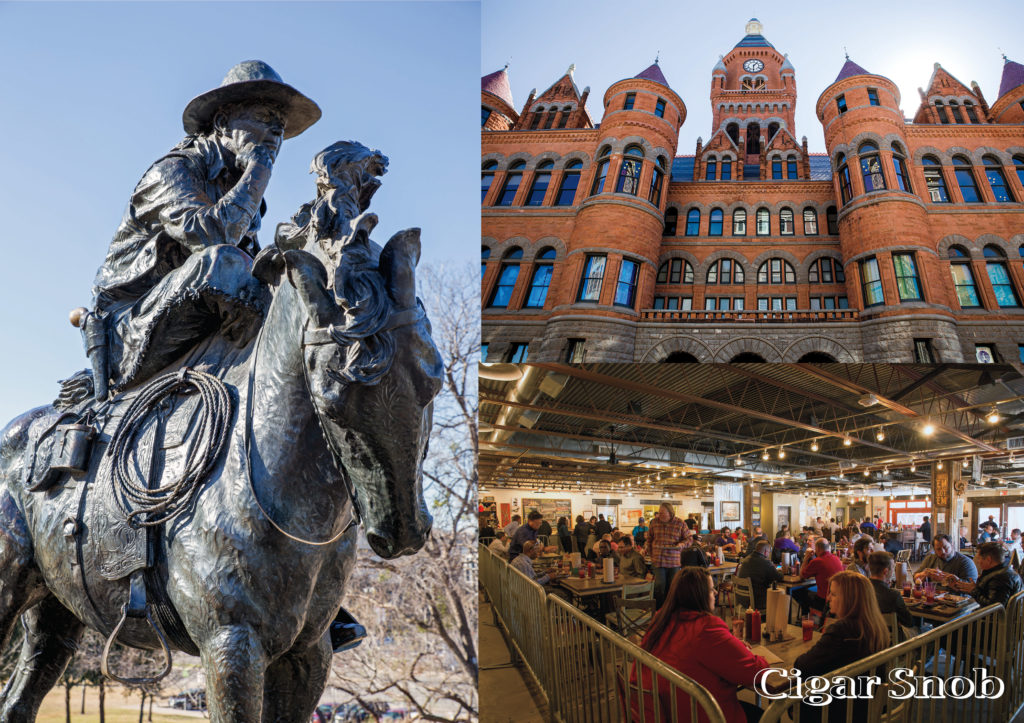 It's a little morbid, but no more than any of the country's great war memorials. What sets this little pocket of Dallas apart from any other American historical destination is the fact that you don't have to even close your eyes to picture the scene. A story most people are too young to remember feels incredibly recent here.
Of course, there's a lot more to Dallas' history than presidential tragedy. Right across from the JFK Memorial is a model of the 1841 log cabin home and trading post built by Dallas founder John Neely Bryan. Among the biggest American cities, it's possible none goes to greater lengths than Dallas to call out its most rustic beginnings. Similar monuments dot the area surrounding the city, from the log cabin in the center of Grapevine to the longhorn sculptures that mark various points on the old cattle trails.
It's rare for us to make it past lunch without lighting a cigar on one of these trips, so we hopped back in the car with Dan to visit some of his Up In Smoke stores. Dallas—like so much of the rest of Texas—is unusually dense with tobacconists. Even in a market like that, though, no single cigar merchant covers more ground around here than Dan does.
Up In Smoke was born as a father-son business. Dan, whose pre-cigar professional background is in the pharmaceutical industry, had moved to Dallas with his family, using his kids to lure his parents over from his hometown Pittsburgh. He and his father Lou had talked about going into business together assuming they would be selling "widgets" to big-box retailers—something that played to their expertise. Instead, they ended up finding the fun was in becoming tobacconists.
"I was on the executive team that launched Nicorette and NicoDerm, so I went from getting people to quit smoking cigarettes to getting them to get up in the morning and smoke cigars with their coffee," said Dan, puffing on a Padrón 1964 Anniversary Series Natural during a chat at his store in Dallas' Lincoln Park neighborhood. The store, like most others, has a humidor packed with cigars. The selection skews to the high end and is respectable in size. This Lincoln Park store—which was recently updated with brighter colors and more modern furniture—is indicative of the direction in which Dan wants to take his other stores (including any he hasn't opened just yet).
Since its founding, the company has grown to include six locations scattered about the Dallas metro area (two in Dallas proper, along with stores in Frisco, Irving, Highland Village, and Lewisville). Sadly, Lou had fallen ill at about the time Up In Smoke got started. While he saw the plans he'd made with Dan materialize in their first grand opening, he died less than a year later. In his memory, Dan worked with My Father Cigars to create a Flor de las Antillas Lancero. Lou was especially fond of that vitola.
"I was able to get one of the samples to my dad that March, just before he passed away (in April)," said Dan. "On Father's Day 2014, we did a soft launch of the bundles and then on September 11—which was my dad's birthday, though he never really celebrated after 2001—we did the official launch as a tribute to my dad."
Nowadays you can also get the Flor de las Antillas Lancero at Stogies World Class Cigars in Houston. If you're in Dallas, you'll have to get them from Dan.
We took sometime to take a driving tour of the suburbs north of Dallas with Dan before our next cigar. Before leaving Dallas, though, we made a stop just five minutes away at the Southern Methodist University campus, which includes the George W. Bush Presidential Center. It's home to the George W. Bush Presidential Library and Museum (which is exactly what it sounds like) and the George W. Bush Institute—which is part think tank, part advocacy group, and part leadership development organization. When they leave office, all presidents set up places like this (the Clinton Presidential Center is in Arkansas, naturally). They're a major draw for political junkies and history buffs of all stripes.
Of course, your trip can't be all about libraries and museum exhibits. Less than 10 minutes east of that same Up In Smoke store is Dallas' Top Golf. Golfers all over know the chain with nearly two dozen locations nationwide for its bowling-alley-style take on driving ranges. Dozens of bays (think "lanes" for golfing) offer you a place to hit balls into a range covered in targets that resemble massive dartboards. It's all scored, so the competitor in you will have the satisfaction of knowing who won, but it's all made fun enough for even the most inexperienced golfer to enjoy. Plus there's booze and great food.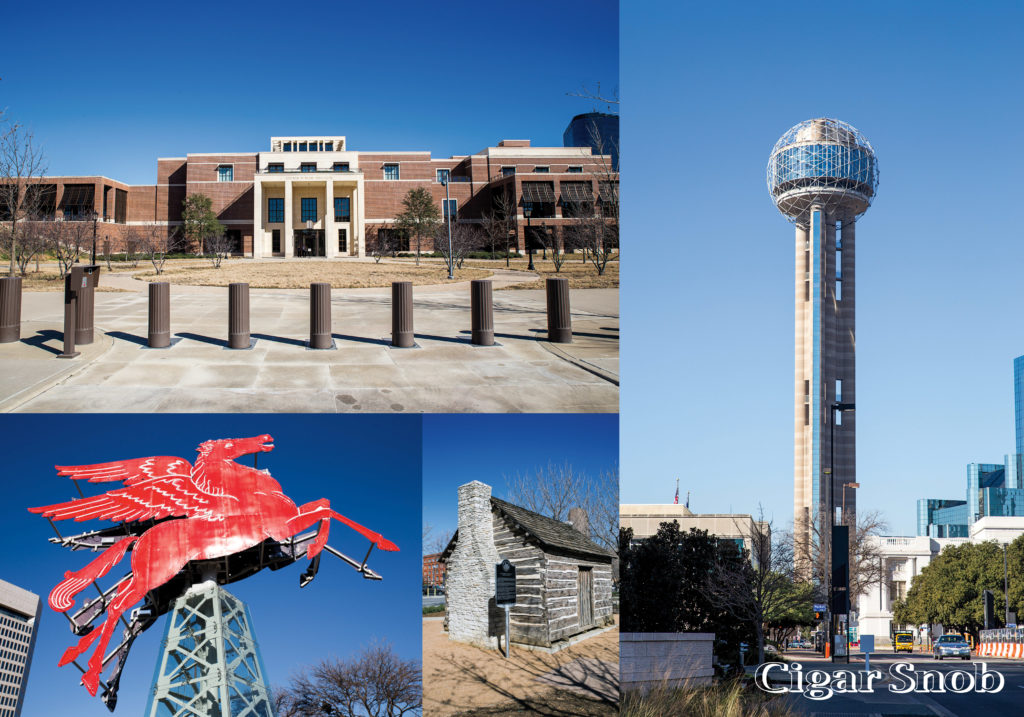 Moving farther north, we pulled into Southfork Ranch in Parker, Texas, just east of Plano. The ranch is now a swanky event venue. There was a time, though, when the ranch was the home of the Ewing family on the TV series Dallas. When we passed through, fans were emptying out of tour buses to tour the grounds and see the house they'd gotten to know through their TV sets for 14 seasons from 1978 to 1991. From there, we headed north, driving by Allen High School's $65 million football stadium. "Crazy, isn't it?" asked Dan, amused by the looks of absolute bewilderment on our faces; it's the biggest stadium in the state built for use by a single high school.
We saw a few more sights before stopping at Up In Smoke's Frisco store, where both the humidor and lounge are far more spacious than the other two we visited. By now, I was able to see just how Dan's experience in consumer goods and managing supply chains had come in handy in his career as a tobacconist. No single humidor contains an immense number of cigars, but that's because he's managed to expertly tailor the contents of each one to suit the preferences and buying habits of each store's clientele. Of course, if he doesn't have what you need at one store, cigars can move from location to location easily with enough advance notice.
Dan also manages at least two other very small humidors in the Dallas area. The first is at Twin Peaks' Addison location. Twin Peaks—in case you're not familiar—is a mountain lodge-themed chain of breastaurants (competing with the likes of Hooters and Tilted Kilt) with more than 70 locations nationwide (and one in Russia). The company's based in Dallas, so no metro area has more locations. While you're not dealing with white tablecloths here, the food really is a cut above what you'll find at the competition. What sets this location apart from all the others, though, is that it's serving as a sort of pilot for including cigar lounges.
"The cigar bar at Twin Peaks in Addison is a really cool place to get a 29-degree beer, top shelf whiskey, some good food and, as their tagline goes, scenic views," said Dan.
The fact that there's a cigar lounge here has impacted the rest of the bar's menu as well. While that top-shelf whiskey might not have sold well enough for Twin Peaks to bother stocking it before they brought in a humidor, there's now an excellent variety of high-end bourbons and single malt Scotches (try ordering Macallan 25 at Hooters). The lounge isn't huge, but it's big enough for a small bar, a few high-top tables and a big leather couch in front of a big screen TV. Plus, you can bring your own cigars so long as you're eating and drinking. Naturally, the—ahem—"scenic views" that Twin Peaks likes to boast about make for a nice change of pace from your typical cigar lounge.
The other small humidor Dan stocks is at Gas Monkey Bar N' Grill, which shares its name with Gas Monkey Live (the adjacent music venue) and Gas Monkey Garage (GMG), the shop featured on Discovery Channel's Fast N' Loud. Gas Monkey Bar & Grill is a large bar designed to remind you of the custom body shop it's named for. Way down at the end, just ahead of the doors that lead to the large outdoor stage, sits the humidor that Dan worked with GMG's Richard Rawlings to create: the back end of an old, beat-up cargo van, adapted to serve as a cabinet humidor. it's a simple idea, but still one of the coolest ways to store cigars I'd ever come across.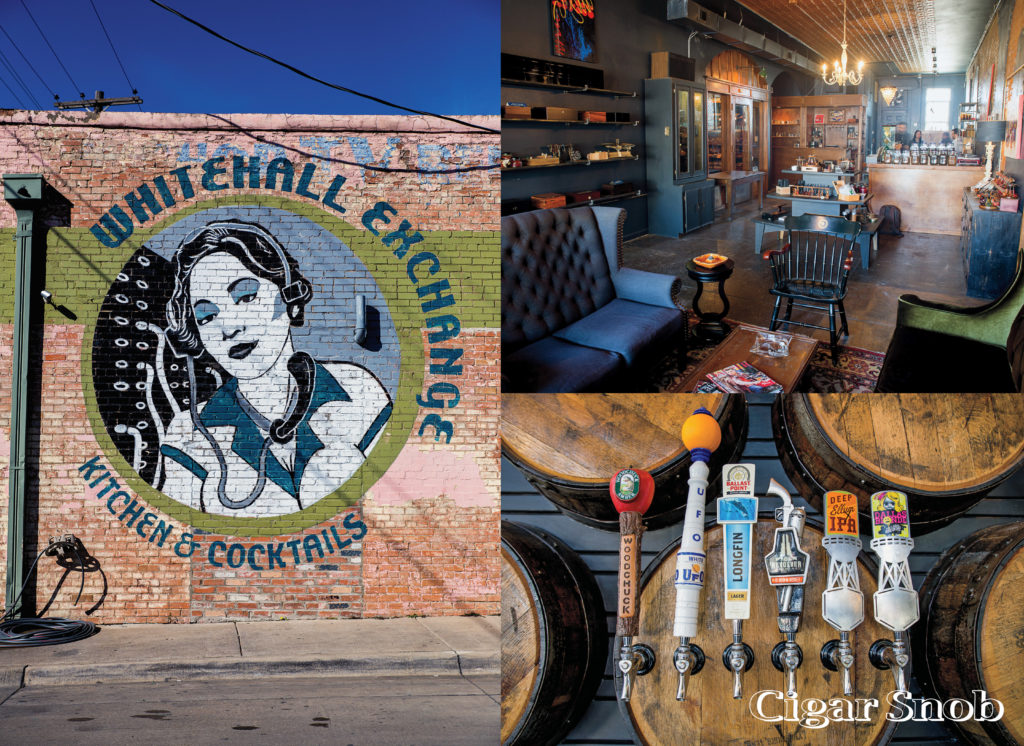 We each pulled one of the house cigars, which Dan tells me are made by A.J. Fernández and are packaged in tins with Gas Monkey's iconic monkey logo, and headed outside for some music. As it turned out, that night's act was Y&T, the Oakland metal band known for '80s hits like Don't Stop Running, Summertime Girls, and Rescue Me. While this night brought in lots of the big hair crowd, a quick look at the Gas Monkey calendar will tell you that the stage plays host to all sorts of acts. Mobb Deep, a tribute band called Fan Halen, Tech N9ne, and Flogging Molly are all scheduled to play there at some point this year.
A few cigars, several whiskeys, and a lot of rock ballads later, we all decided to call it a night. Andy and I stopped at a Whataburger (neither of us had ever been to Texas' own fast food burger joint) and picked up some grub to settle our stomachs after a full day of alcohol and tobacco. We learned an important lesson on our first day in Dallas: Whataburger is no way to settle your stomach.
Art, cigars, and animal pelts
With one day left in Dallas, we'd done plenty but seen little of the city's cigar scene. We had also mostly limited our time to the areas northeast of downtown Dallas. In an attempt to begin to round out our D-Town experience, Andy and I packed up our camera gear and set out for the Bishop Arts District, which is situated southwest of downtown Dallas, right across the Trinity River (and Trinity River Greenbelt Park, which is a great stop for anyone looking to work a scenic bike ride or run into their schedule). It had been recommended by a college friend of mine and it turned out to be one of our favorite neighborhoods of the trip.
Back in the 1930s, the area was home to Dallas' busiest trolley stop. Today, it retains some of the aesthetic of that era. That's thanks, in part, to the fact that all the shops, bars, restaurants and boutiques in the neighborhood are independently operated. There's lots of old red brick, bike shops, cafés, and murals everywhere you look. We had breakfast at Oddfellows, a centrally located restaurant that not only fits the neighborhood perfectly, but also serves breakfasts hearty and meaty enough (I had the short rib hash, which includes a salsa and jalapeños) for other big cities' hipsters to take umbrage.
From there, we made our way to Cigar Art, which turned out to be perhaps the most attractive cigar shop in town. The trio of young friends who opened this store (Marco and Kelsey Cavazos—whom are married—and Russ Hargraves) was truly lucky when it found the location, with its partially exposed brick walls and tin tile roof. They've taken a great foundation and added a paint job, lots of custom furniture, and a walk-in humidor to create a one-of-a-kind cigar spot.
"We had heard a lot that the initial plan you have is never what you end up with," Russ said. "But this is exactly what we had in mind. What we wanted was a very relaxed, quiet space where people can hang out, smoke cigars, and meet what I think are the most interesting people in the world: cigar smokers. That's why there are no TVs in here. We get more compliments than complaints on that—except for on big game days. We wanted something that felt old, felt vintage, but with a cigar selection that's new and interesting."
Right by the window facing the sidewalk, a lone cigar roller from Cuba—who took a break to chat when he caught our Cuban accents—was hard at work making two of Cigar Art's house brands. A third, named Lucy Corina after Kelsey and Marco's first daughter, is made at a factory in Estelí and finished in spent bourbon barrels in a back room at the store when shipments come in.
"We like people to come into our store and see how cigars are crafted," said Kelsey. "Marco was the main person behind blending. He's the reason that happened. We make the Bishop Arts cigar and the Lucy Corina Hepburn in house (while the original Lucy Corina is made in Nicaragua)."
Having just had a serious breakfast, we weren't able to take Russ' lunch recommendation. If you're around here and in the mood for a sandwich, though, there's a little restaurant (more of a shack, really) right behind Cigar Art called Sí Señor, and they make a Cuban sandwich and coffee that have become favorites for the shop's regulars.
As we walked down the street from Cigar Art, we ran into a very cool little bar and restaurant called Parker Barrows. Though there are a number of craft beers on tap (including several local options), my interest was piqued when the bartender on duty mentioned he made a good Manhattan. Sure, it was only noon, but I had research to do. So I ordered one and downed it before we made our way to the next stop on our Dallas cigar tour.
We made our way 25 minutes north to go back into Addison, where we visited Kent Pennington at Elite Cigar Cafe. Chances are you have nothing even remotely like this place near your home.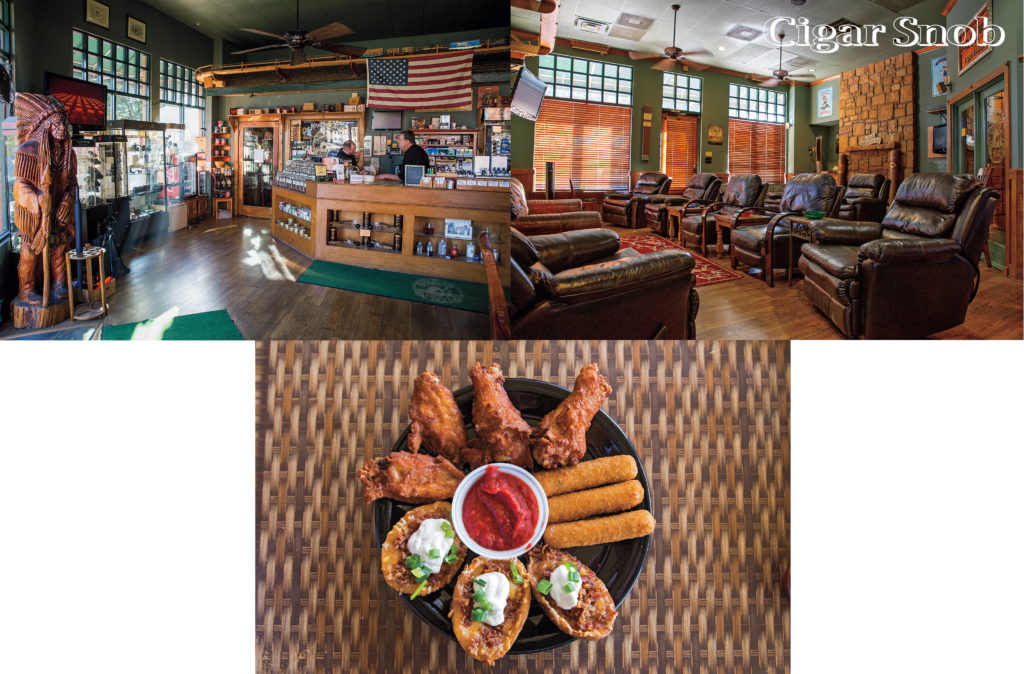 "We can eat, drink and smoke here. It's one of the last bastions left on the planet," said Kent during a chat in Elite's private lounge area. "And we have a true full bar—30-plus Scotches, 50-plus beers, 6 beers on tap, with full coffee service. Then on the menu side, we have everything from breakfast tacos to ribeye steak."
Truly, Elite is a place you could spend all day in without really missing much. And if you're skeptical of the food at a place with "cigar" in the name, don't be. We saw the kitchen and tasted the food for ourselves. They're pulling their own pizza dough, cutting their own fries, and breading their own chicken. Even the Cuban sandwich—which is an unapologetically nontraditional take on the Miami favorite—was delicious.
You can enjoy all that great food either at the bar, at one of the large dining room's booths or tables, or on the 80-foot-long patio. This is a full-fledged restaurant, despite the fact that Elite's primary business is cigars. And boy do they have cigars. Elite's was the biggest selection we saw during our tour of Dallas (although, to be fair, we weren't able to visit all the stores in this giant cigar market). The fact that you can pick out and buy your cigar from a business that will also cook you a killer chicken wing and pour you local beer is pretty great. Of course, the fact that you can stay here all day doesn't mean you should. There's plenty to do in Addison, whether you're chowing down at one of the area's hundreds of restaurants or taking swings at one of the nearby golf courses.
Just a few minutes away is another unique Dallas cigar experience: House of Cigars Factory. Willy Martínez and his wife Nicole (who calls herself an "honorary Latina" who's fallen in love with Hispanic traditions) used to have a place in Tampa's Ybor City neighborhood. Now, they bring Dallasites their own blends, made by hand right in the shop by Cuban-born rollers, all of whom have worked at factories in Cuba. We spent some time chatting with (and probably slowing down) one roller who'd arrived within the last year after spending a long time rolling for Partagás in Havana.
"We consider ourselves a boutique microfactory," said Nicole. "To me, that's an art that really hasn't been celebrated as much these days in the industry. I love that we have our rollers right here on site making cigars so that people can see the techniques used to actually build them. One of our missions is to celebrate and educate those who aren't aware of the rich Latin traditions that I've fallen in love with."
Among those traditions: music. Willy's a retired percussionist and uses House of Cigars—which has a small stage that sits just a few inches higher than the rest of the floor—as his personal party space, hosting live musicians weekly and even bringing in the likes of Tito Puente, Jr. when they're in town. The Martínezes' small shop boasts an unusually mature manufacturing process for a place this size. Cigars make their way from the rollers' tables to an all-cedar aging room. Once they're ready for sale, they're moved into the walk-in humidor, which is actually a tiny stand-alone structure at the back of the shop.Inside, all their cigars sit, unbanded, in trays. They're a bit pricier than what you might find at a typical tobacconist, but they're unique and the quality is consistently high. I know this because I had at least three of them; if you're in the mood for something on the lighter side, try La Jefa.
We headed south toward Dallas Love Field Airport. Blue Smoke of Dallas, another great area tobacconist, is practically across the street. The walk-in humidor is cramped as hell, not because it's small, but because they've packed so many cigars in there that they've put cabinet humidors in places that leave heftier smokers no choice but to shuffle around sideways. The cigar selection includes lots of boutique brands (a point of pride for the staff and ownership). Blue Smoke also has the distinction of being one of the few shops in the country with an Espinosa-branded lounge area. Lots of comfortable seating and a large TV make this a great place to stop for a cigar after you've landed at Love, be it to get some work done or just to unwind before starting your trip.
Next, we went to Grapevine, where —just north of DFW— Ole Grapevine Cigar & Tobacco Co. is the neighborhood's preferred purveyor of stogies. Their lounge is large, comfortable, and relatively quiet since Grapevine, despite being right up against the airport, is on the sleepier side. Perhaps the best reason to come here for your cigar, aside from the convenient proximity to the airport, is the bar next door. Tap-In Pub & Grill is owned by the same people who run Ole Grapevine, and they're as good at pouring drinks and making pub fare as they are at running a cigar shop. Given the golf-inspired name they gave the bar, it's worth noting that if you love both golf and the Dallas Cowboys, Ole Grapevine is the place you'll want to pick up cigars on your way to Cowboys Golf Club, the only NFL-themed golf club in the world. The 18-hole, par-72 course features dramatic elevation changes and a star-shaped putting green (naturally). Those of you who are less enthusiastic about the team might consider Grapevine Golf Course which is just a few more minutes north.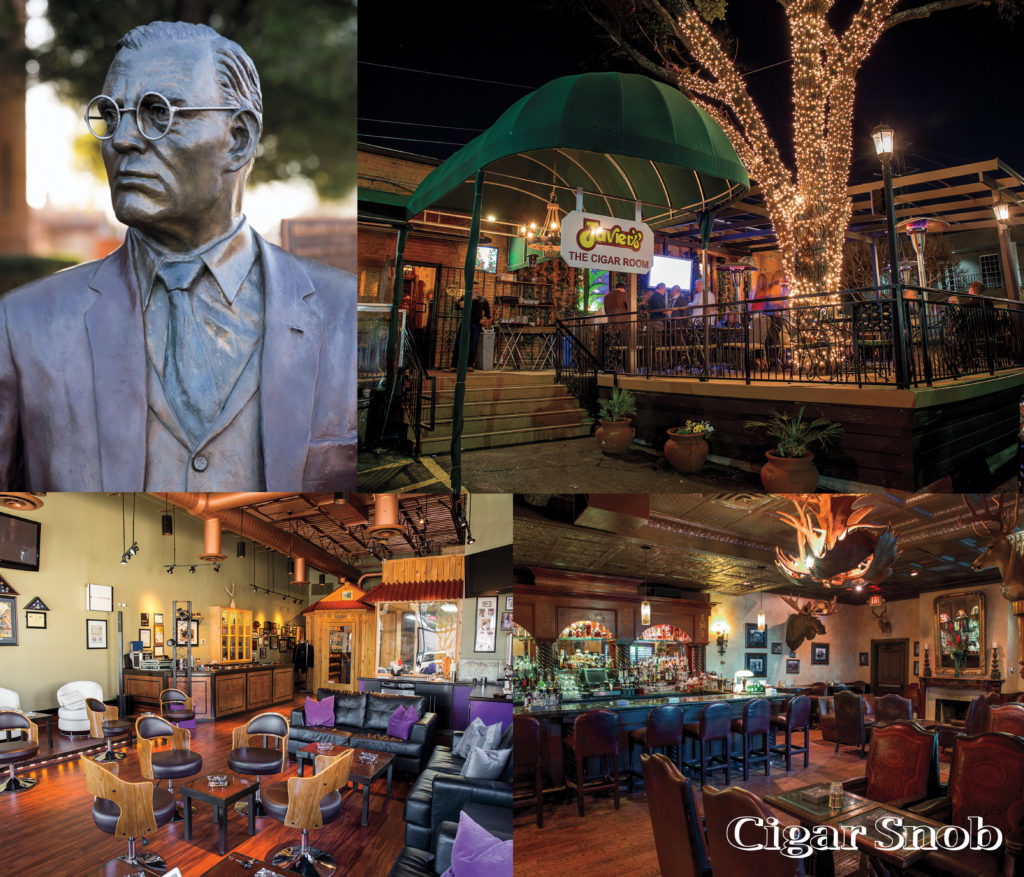 As the sun went down over Dallas, we made our way back east to the city's affluent Highland Park neighborhood, where Javier's Gourmet Mexicano has become a fine dining and cigar institution. It had been recommended to us numerous times during our visit, but we couldn't have imagined just how special this upscale Mexican restaurant and cigar bar would be.
Inside the restaurant feels more like a safari-themed lodge than a Mexican restaurant. Low, warm lighting softens the effect of all the exotic animal pelts hanging from the walls. Drawn by the name, I ordered the Filete Cantinflas, which is named for Cantinflas, the legendary Mexican actor and comedian who found success in the U.S. with movies like 1958's Around the World in 80 days (for which he won a Golden Globe). His namesake dish is a thin tenderloin filet stuffed with chihuahua cheese and seasoned butter. It's all topped with a chile sauce and avocados. I've never enjoyed a Mexican meal more than this one. Lucky for us, owner Javier Gutiérrez was able to add this dish to the menu when he hired its inventor, who had been a chef in Mexico City, where he came up with this recipe for Cantinflas.
The star of the show here, for our purposes, is the adjacent cigar bar. It is the single most beautiful cigar bar I'd ever seen attached to a restaurant, and it was packed to the brim with a diverse crowd of people. Men, women, young, old, fat, thin, pretty and ugly. The indoor bar is spacious and luxurious, while the large patio area offers a great place to enjoy an after dinner drink away from the crowd inside. The cigar selection is small, but is sure to offer something for just about any palate. That said, the stogies here are pricey—though you expect that from a swanky bar with a small humidor, and it's nice to know you'll have access to brands like Padrón, Ashton, Macanudo, and Arturo Fuente if you don't bring your own.
The next day, before catching our flight out of town, we got breakfast at Ellen's Southern Kitchen in downtown's West End neighborhood. The biscuits and gravy were great (again, when in Texas…) but I found myself eyeing Andy's French toast. The bar had a nice selection of whiskeys and it was clear that this would make a great happy hour stop if we were to stick around town longer. From there, we made one last cigar stop at Town & Country Cigars, which is just west of DFW. The selection is ample, but more notable for quality. I noticed a number of cigars I don't tend to find at other shops and packed up a few to bring home with me (for instance, La Palina Goldie). We had a good time talking with the staff and regulars over cigars and coffee before packing up our gear and heading back to Miami.
Over the two days we were in Dallas, we were running around nonstop. If there we learned anything (other than how unwise late-night Whataburger can be), it was that things are not only bigger in Texas, but they're also much better than you might imagine. The city has a reputation as a business hub, but Dallas—at the risk of sounding cliché—really does have it all, from history to food to art to cigars. And we knew as we boarded our flight out that we had barely scratched the surface.
---
Click HERE to check out our other travel pieces!
---