Taking in one of the Americas' cultural capitals in under 72 hours
by Nicolás Antonio Jiménez / Photography by Andy Astencio
Mexico's in the news a lot these days in the U.S., but not usually for reasons or in contexts that would entice you to vacation there. Whether it's drug cartel violence, migrant caravans or border walls, the United States' neighbor to the south doesn't get much good press. That's undoubtedly part of the reason why the reactions I got from friends, family, and even others at Cigar Snob in the lead-up to our trip to Mexico City were so different from what we heard going into flights to, say, D.C., Seattle or New Orleans. It was a mix of skepticism and concern — like we were planning on writing a story about a vacation in a war zone.
It's true that there are dangers in Mexico that don't exist — at least not on the same scale — in the United States. People in Mexico City who tell you the risks there are the same as in any major city in the world are overstating the safety at least a bit. But it's also true that Mexico City, like any city, can be perfectly safe if you put a bit of thought into where you go and when. After all, besides being Mexico's capital, this is one of the world's cultural, business and culinary capitals. While American news media are hyperventilating and treating the entire country like it's on fire, residents of Mexico City are going about their usual business.
Mexico City is massive. With a population of nearly 9 million in the city proper and a metro area population of about 21 million, it's comparable to New York City in that any one neighborhood is a world unto itself. So rather than spread ourselves too thin, art director Andy and I focused on just a few narrow areas of the city — and even that put us in the position of having bitten off more than we could chew.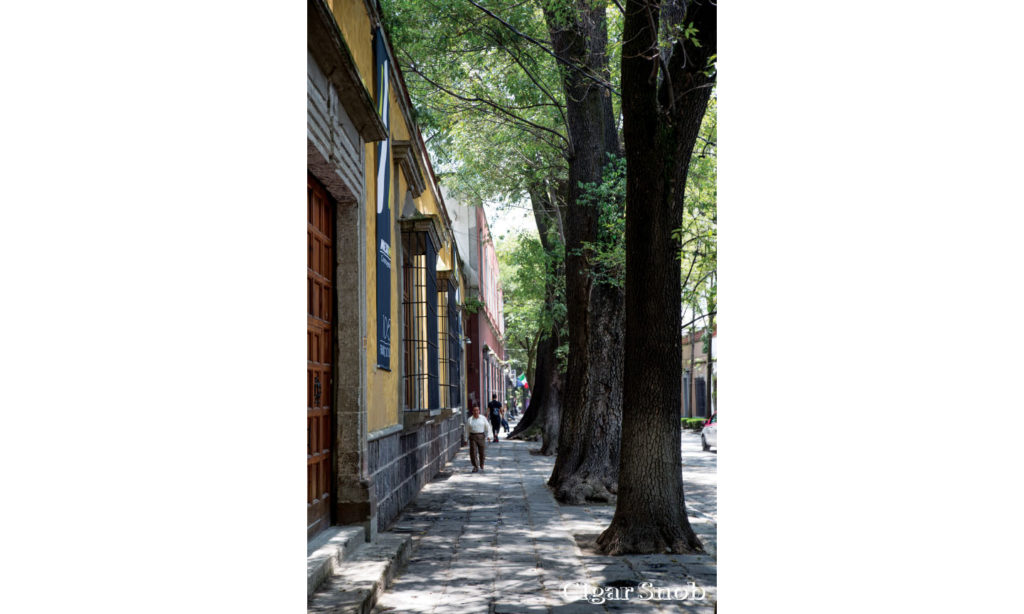 Coyoacán
After landing and taking an Uber to drop off our luggage at an Airbnb we rented in Polanco (more on that neighborhood later), Andy and I headed to Coyoacán [co-yo-ah-CAN], a municipality that brings together old-village charm, a world-class research university (National Autonomous University of Mexico, also known by its Spanish acronym, UNAM) and a slew of cultural institutions, museums and galleries. It served as the first capital of New Spain between 1521 and 1523, and though it was incorporated into the Federal District when the district was expanded in 1857, it has managed to retain its historic character — from the architecture to the cobblestones — despite all the urban sprawl radiating from the center of Mexico City.
We met my dad, who happened to be in Mexico City on business, for a late breakfast at Aurelia, an open-air café nestled into a corner of the courtyard at the Casa de Cultura Jesús Reyes Heroles, a sprawling estate that has been the home to various prominent Coyoacán families since 1780, when the land was also home to the owner's small paper factory. By 1985, the Mexican government had acquired the property and designated it for use as one of the city's casas culturales, or cultural houses. It's home to art exhibitions, concerts, book readings, and musical recitals, among other events. If you're a traveler on an off day, though, it's worth a visit just for a picturesque and historic backdrop for breakfast. The sprawling courtyard is beautifully landscaped and is loaded with sculptures. Plus, there was a security guard at the main entrance of the cultural house, so it's a good way to ease into your time here if you're still feeling skittish about the safety issue.
TIP: While you don't need to worry much about drug cartels and kidnapping in Mexico City so long as you're being responsible and listening to advice, we did hear time and again that petty theft was an issue. Kick the habit of leaving your cell phone on the table through the whole meal and make sure any backpacks and other stuff are in a safe spot. We never felt like we were being targeted by pickpockets or anything, but we heard the warnings often enough that it seemed worth making the adjustments.
While I had anticipated that we'd need cash, I didn't realize we'd need it so soon. As luck would have it, we'd arrived in Mexico City at the tail end of a technical glitch at one of the two companies in the entire country that processes card payments. Just days earlier, there had been lines blocks long for cash at banks. A freak thing, but still … a reminder that it's best to have at least a little cash with you, even when you're not in the sticks. Fortunately, a few hundred bucks goes a long way in Mexico, where a U.S. dollar is worth about 20 Mexican pesos.
TIP: Standard tips in Mexico's restaurants are between 10 and 20 percent of the bill.
After our meal, we walked east along Avenida Francisco Sosa, past more art galleries, small restaurants and beautiful homes. It's a bit like walking through Georgetown in D.C., except it all feels a little older and, of course, more Spanish-influenced. There's cobblestone all over Coyoacán, so you'll want to make sure you're walking through here in comfortable shoes. After a few blocks, we hit the Jardín Centenario, a public park built to mark the hundredth anniversary of Mexican independence. It's famous for the coyote fountain at the center of the garden; Coyoacán's name comes from the Nahuatl (the language of the Aztecs) for "place of coyotes."
The adjacent Plaza Hidalgo is yet another park space that's supposed to be the second most visited plaza in the city after the Zócalo (we'll get to that). There are sculptures and gardens and musicians and all the rest. And the plaza is located right in the heart of historic Coyoacán. But the presence that towers over the plaza is that of the Iglesia de San Juan Bautista, or Church of Saint John the Baptist. It figures, after all, that one of the most important Spanish colonial cities would be loaded with centuries-old churches. Construction here started in 1522 and lasted 30 years. The church was rebuilt in 1804 and remodeled twice in the 1900s. If you're into taking in and photographing old colonial structures — especially religious ones — this is a place you need to stop into.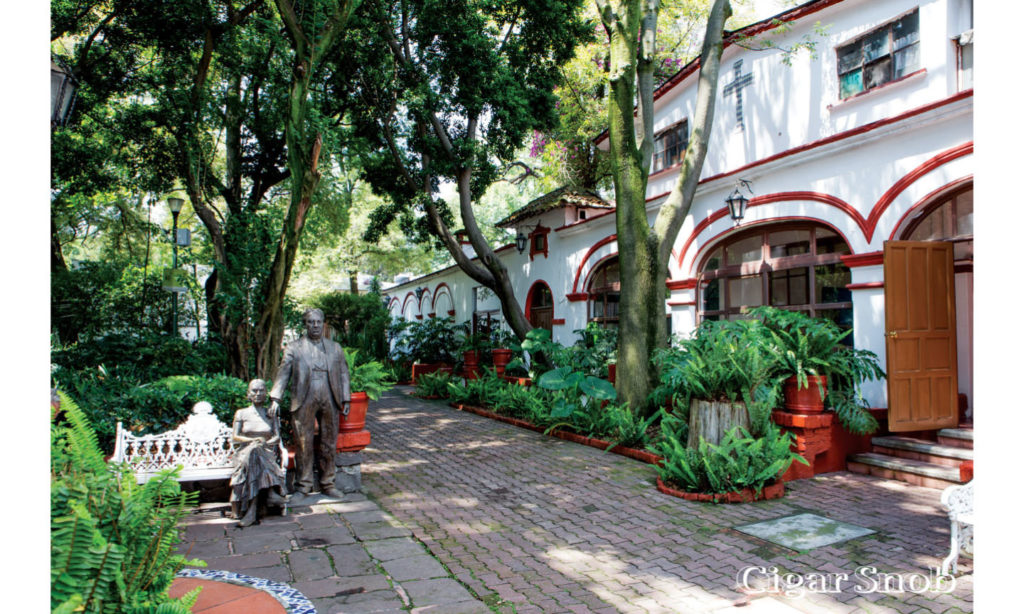 Mexico City is known for being a world-class food town. One of the things that separates its dining scene from so many other cities' is the wealth and breadth of ways you can dive into Mexican culture through its cuisine. At the more accessible end are the ample street food and markets, and Coyoacán has a market of its own that should be on your to-do list. El Mercado de Coyoacán is one of the markets that actually feels like a "market" in the pure sense. Some others, like Mercado Roma, which we stopped through on our last day in town, come closer to resembling high-end food halls. But this one has everything from produce to butchers to lunch counters, all packed tightly into a large warehouse that covers a square block of the historic district. These places are great for large groups, especially if you're willing to take your time eating your way through one shared dish at a time. You'll find places that specialize in quesadillas, oysters, octopus, juices, salads … and that's just the food inside. Right outside the walls of the warehouse, there are street vendors selling everything from tacos to grilled corn and fresh fruit. Both inside and outside, there are other shops here that make this a great place to buy gifts for anybody to whom you don't want to return empty-handed back home. I stopped into a shop where the owner was making clay Day of the Dead figures by hand and got my goddaughter one depicting a skeleton shrink taking notes about his skeleton patient lying on a couch.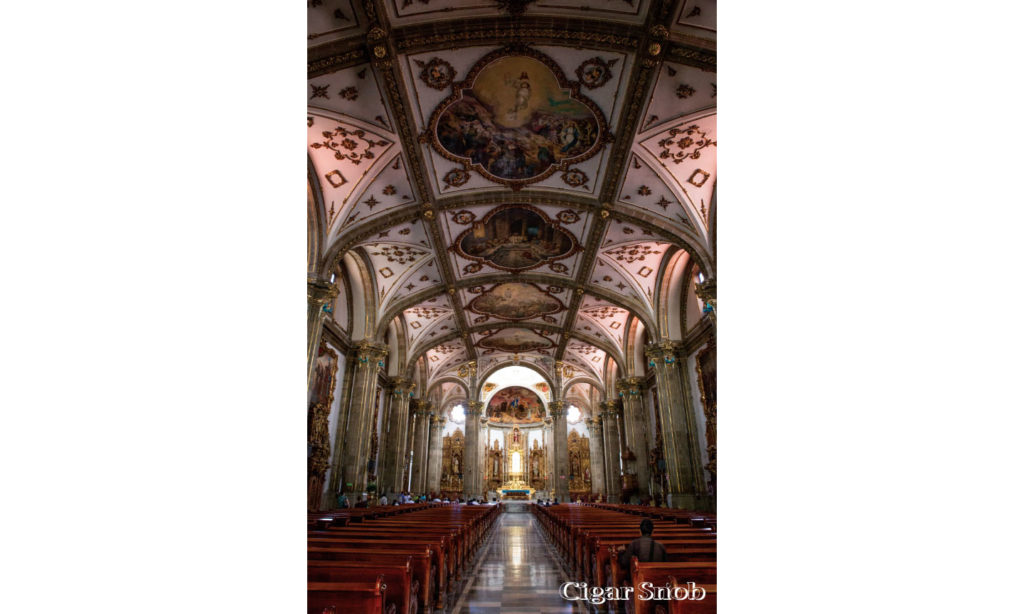 We walked south through some of the residential portions of Coyoacán to take in more of the architecture and pop into shops and galleries. The idea had been to stop into the Frida Kahlo Museum, which is at the house where the iconic painter and her artist husband Diego Rivera called home from 1929 to 1954. It's a bright blue building, and as you walk through, you encounter a number of their artworks, personal effects and art collection. At least that's what we would have seen if the line to get in hadn't been so insanely long. A queue of Frida pilgrims wrapped around the block in one direction and stretched several doors down in the other. We passed on that whole thing primarily because of time constraints, but truth be told, I was all too happy to have found a practical excuse to keep my money from any institution related to these two communist icons (Kahlo once went so far as to decorate one of her corsets with a hammer and sickle). We did, however, include the Parque Frida Kahlo in our stroll through Coyoacán, and that was plenty for me in terms of the Frida experience. That said, if you're a bigger Frida fan than I am, you might consider making it out early for this museum to avoid the lines.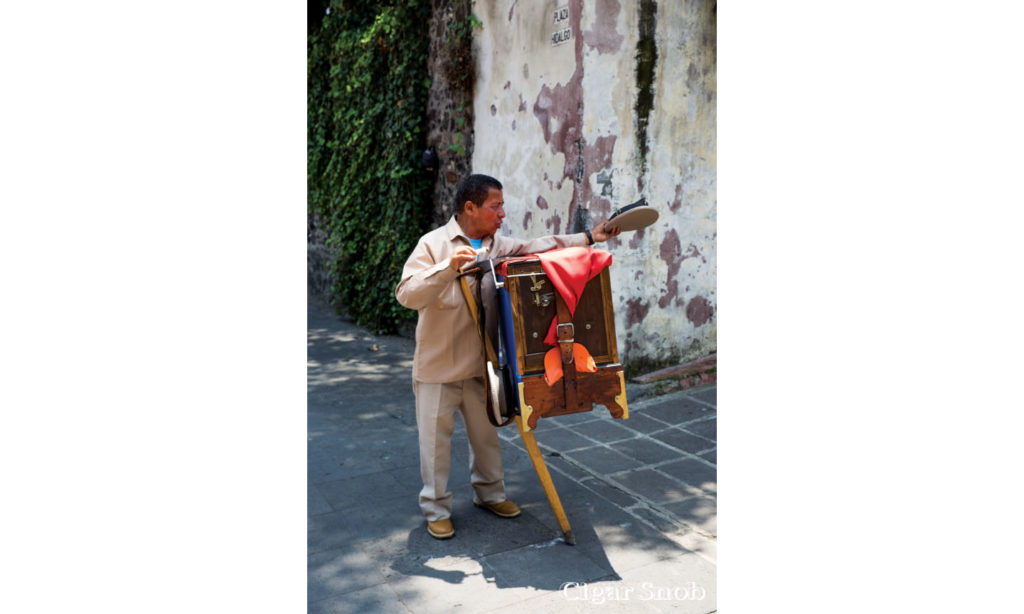 We stopped into a restaurant called Amarcord for some afternoon cocktails. Andy and I both ordered Mezcalinas, which are made with mezcal, simple syrup and fruit juice; his was tamarind and mine was mango. It's pretty much a Mexican Daiquiri, but on the rocks. Once lubricated, we made our way back up north for an early (for us) dinner at La Santa Gula, a Maltese restaurant with a surprising amount of character per square foot. That's owed largely to the larger-than-life character who is the flamboyant owner of this place. My dad had insisted we pay La Santa Gula a visit for this purpose, and the guy came through in a big way. At various points throughout the meal, this guy was bouncing from table to table, telling people in his heavily Italian-accented Spanish about his own Maltese origin story, insisting that people order dessert, and promising that this or that dish would be free if you didn't like it. We went with the beef bolognese stuffed arancini, a roast beef sandwich, a timpana (Maltese meat pie) and some profiteroles that were on the house and which the owner just would not let us leave without accepting. The food and service were top notch, especially for a casual lunch café, and the personality behind it all made it exactly the sort of experience you want when you're exploring a new place and trying to keep the mood elevated after a long travel day.
It was after this meal that we met with a guy who would be our companion for much of the rest of our trip. When I posted on Facebook soliciting recommendations from friends for our trip to Mexico City, one of them got in touch privately asking whether we were interested in hiring a driver during our stay. While I normally wouldn't go for that sort of thing, it did seem like being in a foreign country with all the camera and interview recording gear we tend to lug around might be more comfortable if we had a driver we could trust with it as we popped in and out of places. As it turned out, our driver, whose name is Juan, spent about eight years with Mexico's special forces. Juan Soldado (Juan Soldier), as we'll refer to him from here on out, made our unusual style of travel a whole lot easier.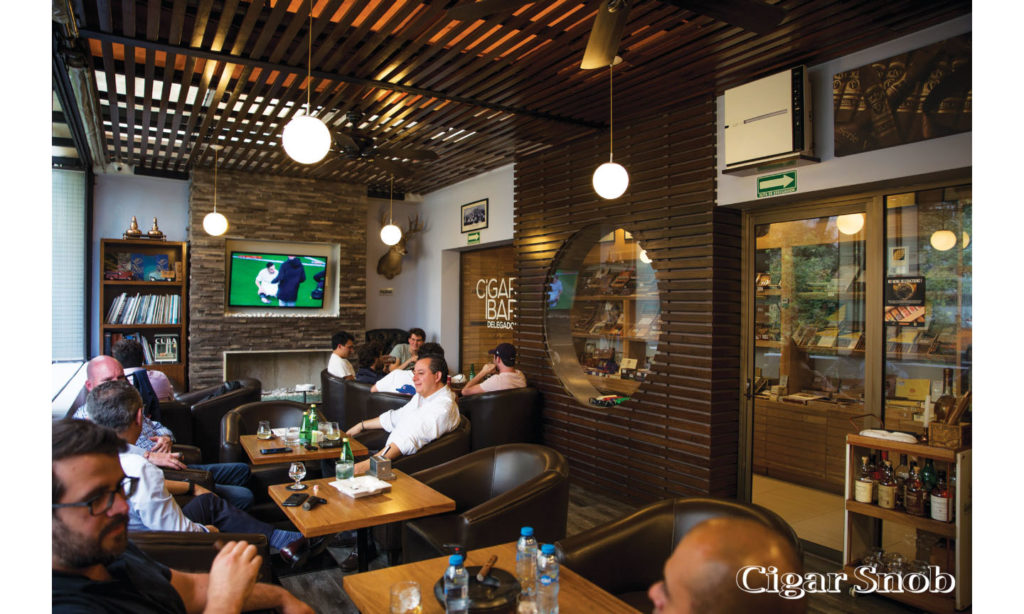 Juan drove us back to Polanco, where we made our first cigar stop of the trip at a place called Cigar Bar Delegados. The cigar bar is small, with room for maybe 20 people, and even then it feels a bit cramped. That's actually part of the charm of this bar, though. It sits on the third floor overlooking one of Polanco's more modern, trendy streets from above some restaurants and across from an apartment building. When you reach the third floor, you're greeted by a red phone booth; obviously a little out of place, and the big "Cigar Bar Delegados" sign right next to it does a lot to soften the speakeasy effect, but still, it's always fun to walk into a bar through a hidden door in a phone booth.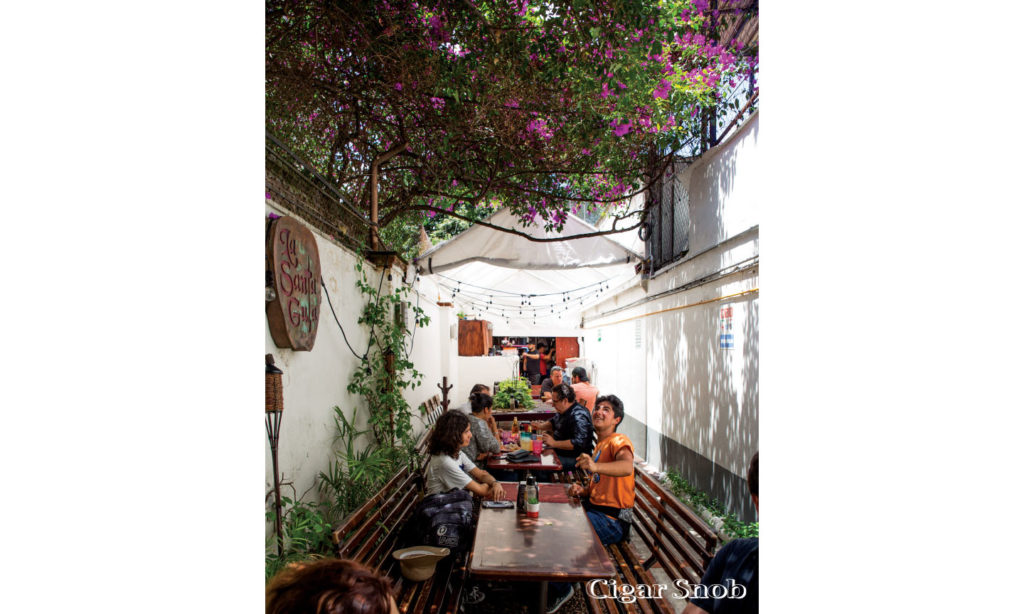 Juan's not a cigar smoker, but after convincing him to leave the car and join us for drinks (which did a lot to set the tone for the rest of our time with him), we headed up, through the phone booth, and into the bar, where there's a walk-in humidor almost as big as the bar area. The cigar selection was excellent, especially considering the size of the place and the fact that about half of the shelf space was taken by non-Cuban brands. There's a good selection of Oliva, My Father, Drew Estate, and Rocky Patel to name just a few of the companies represented alongside Cuba's Habanos products. The bar is also well appointed, with an excellent selection of mezcals, bourbons, Scotches, beers and wines.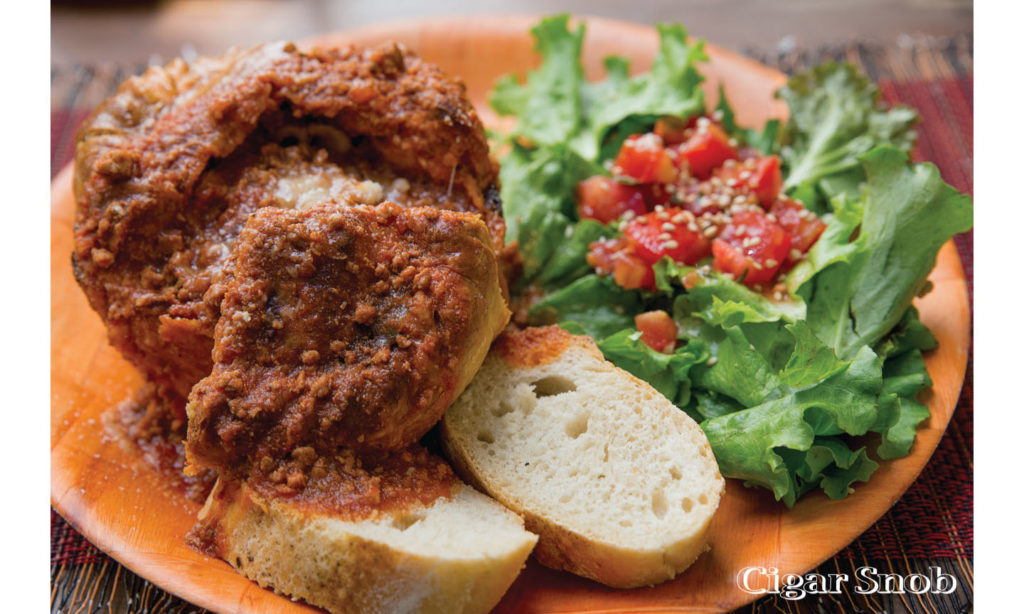 Maybe the coolest thing about this bar, though, is the retractable roof. It's a brilliant system consisting of a few slats that slide out from over the liquor shelves and across the whole seating area, so when the weather's good, this becomes more of a rooftop patio.
After a couple of smokes and two rounds of drinks with Juan — during which he told us some of his war stories, which are very different from anything you'd hear from American veterans — he suggested we get a little drunk food. We weren't quite there in terms of need for drunk food, but who needs to actually be drunk for that to be a good idea late at night? On Juan's recommendation, we capped things off at La Casa de Toño, a chain of (mostly) 24-hour diners whose specialty is pozole, a corn-based Mexican stew with pork and other veggies. Whether you're curing or evading a hangover, this seems like the right move. Though it is a chain, this is a local favorite and has even been written up by Bon Appetit. If you don't think you have it in you to find a location, you should be able to order through Uber Eats, but going into one of the restaurants has the added benefit of putting you in a typical late-night hangout. It's kind of like stopping at a Waffle House after a long night at the bars … except with stews and quesadillas.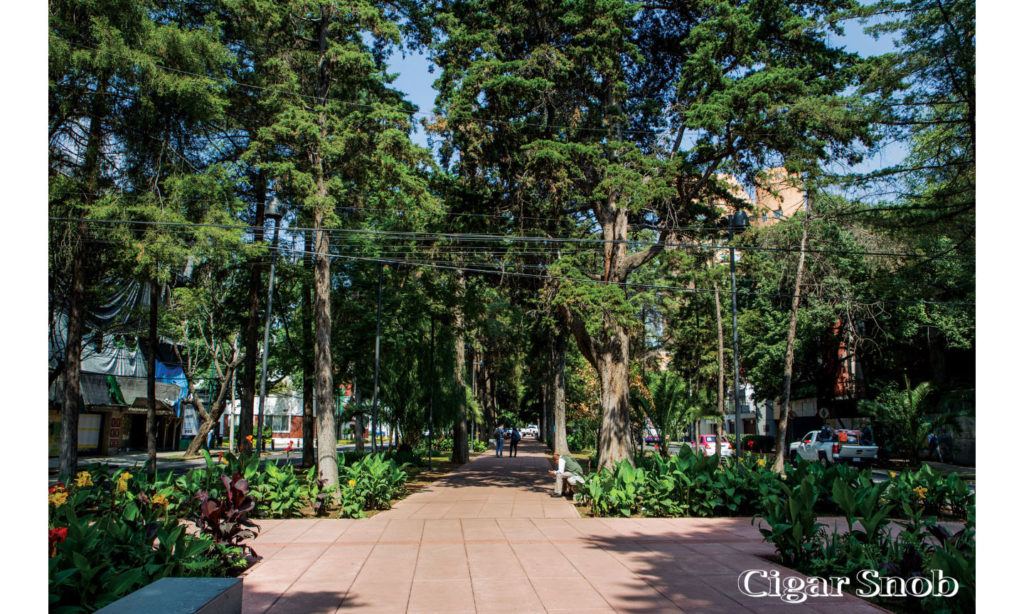 Polanco
If our first day in Mexico City was heavy on colonial history and art, our second took a pendulum swing in the other direction toward Mexico City's modern, cosmopolitan and luxurious side. Polanco is home to expensive real estate, high-end shopping reminiscent of Beverly Hills, and a high concentration of celebrated restaurants in the world, including several with Michelin stars and appearances on the list of The World's 50 Best Restaurants.
The apartment we rented on Airbnb put home base a block from Cigar Bar Delegados, near the west end of Polanco, half a block from Avenida Presidente Masaryk, which is one of the neighborhood's main arteries and along which you'll find some of the most expensive real estate in the Americas. To get a sense of what I mean when I refer to the luxury in this area, consider that if you were to walk from this apartment to Avenida Presidente Masaryk and stroll just a few blocks east, you'd walk by stores like Tiffany & Co., Louis Vuitton, Salvatore Ferragamo, and Gucci after passing the Aston Martin dealership right outside our door.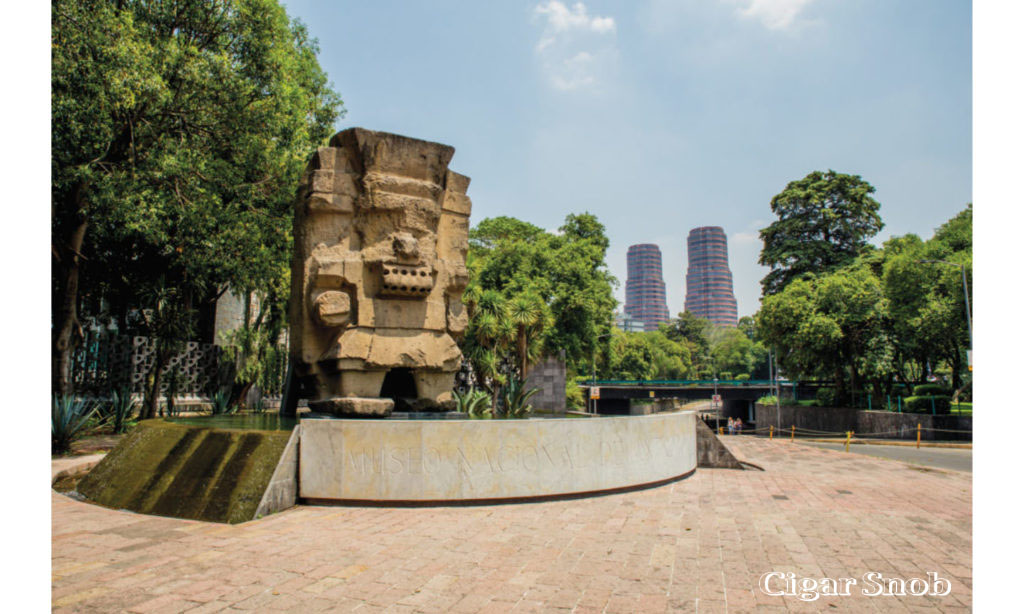 Of course, none of that was in our research budget for this trip. But we did have a perfect view of all those Aston Martins when we crossed the street in the morning and had huevos rancheros at Maque, which also has locations all over the city, but feels like an independent café. We sat outside at a table on the sidewalk. If you're a people watcher, Polanco's Maque is a great place to start your morning. You're a quick walk from main roads, but isolated enough that it's not too overwhelming a place for a leisurely breakfast.
The fact that this area is known for high-end shopping doesn't mean you need to break the bank to enjoy it. Filled up and caffeinated, we decided to explore some of Polanco's public spaces. And there are tons of them. We lit a couple of cigars and started almost at the west end of Avenida Horacio, which runs east-west just north of Presidente Masaryk. It's a two-mile stretch of lush park space situated between the two sides of the avenue. It was along this road that Andy and I both found ourselves struck by how green this town is. I don't mean that in the sustainable energy or environmentalist sense. I don't know much about that at all. I mean that it's very literally green — and in a way that seemed so unusual for an urban center and even more so for a financial district. It's one thing to have lots of parks, but there seem to be impressive trees and vines and gardens just about everywhere you look here.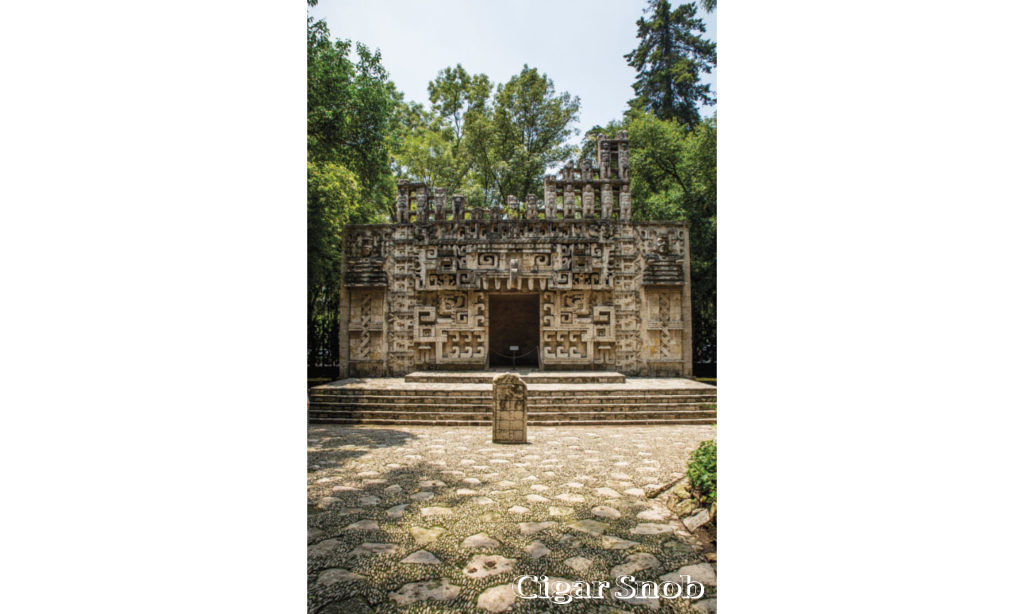 At about the halfway point of that two-mile stretch, the long green space bubbles out into Parque América, where you'll find, for some reason, statues of Rotary Club founder Paul Harris and Bolivian patriot Pedro Domingo Murillo. It's also next to yet another iconic church, Parroquia San Agustín. The Cubans and Cubaphiles among you might want to pop in here to check out the shrine to Our Lady of Charity, the patroness of Cuba, which has a Cuban flag hanging behind it.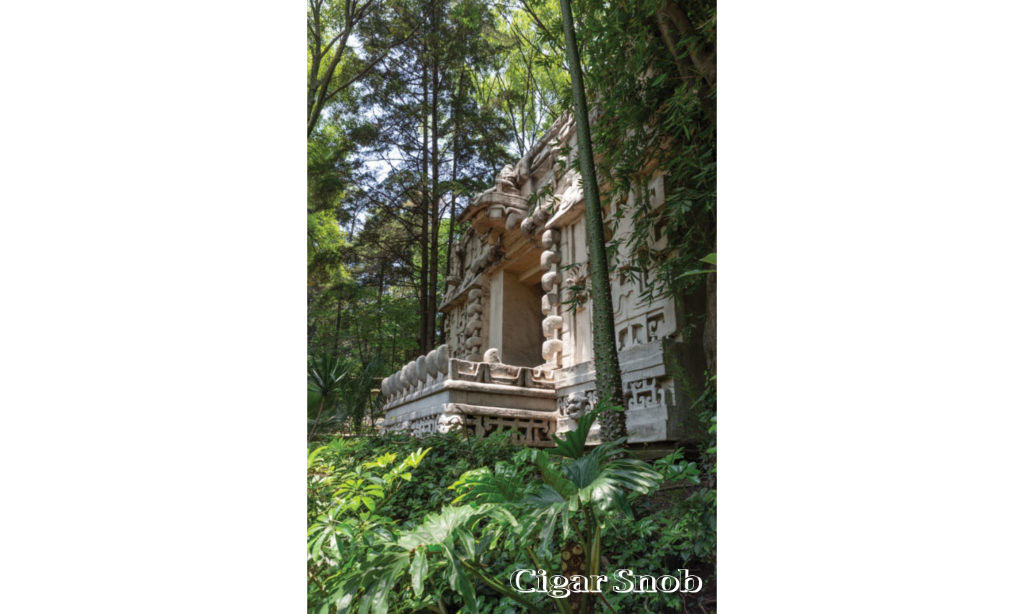 Rather than continue the walk east, we turned south and hit Parque Lincoln (named for Abe), which features statues of Abraham Lincoln and Martin Luther King, Jr. as well as an amphitheater and yet more gardens. Just a block farther south is the Jardín Winston Churchill. As you might have guessed, there's a statue of Churchill at one of the corners of the park.
By now we're on Avenida Paseo de la Reforma and we have time for one more thing before we head to lunch. To the south, we have the Bosque de Chapultepec (or Chapultepec forest), a 1,700-acre city park that includes a zoo, museums, and monuments of all kinds, including one to Cuban national hero José Martí. But we opted to go north because we'd heard too many great things about the National Museum of Anthropology and we also knew it might be easier to speed through that self-guided tour than to wander aimlessly through a "forest" and make it to lunch on time.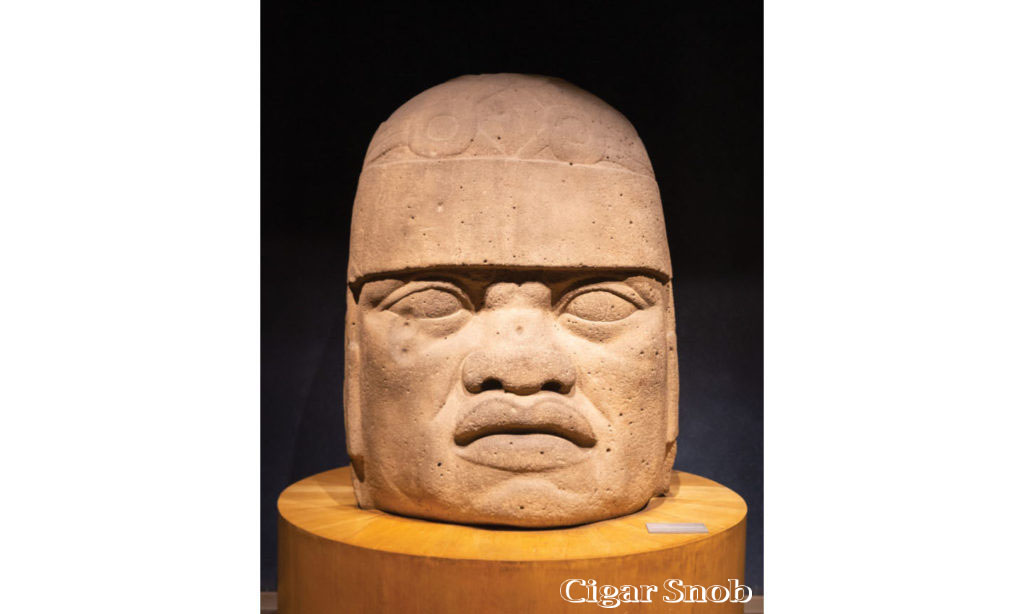 The anthropology museum is every bit as impressive as we'd been told. And it's something that you just can't compare to any experience you'd have across the Atlantic or anywhere north of Mexico. To have such a vast collection of artifacts from the area's pre-Columbian civilizations — from the colossal Olmec heads to the Aztec Sun Stone, which is probably the most famous piece of Aztec sculpture — in one place makes the museum a rich, deep dive into a culture that we don't tend to see in this kind of detail in the States.
For lunch, we took another kind of deep cultural dive, as we lucked out and were able to get ourselves a table on very short notice at Quintonil, which has the no. 24 spot on the most recent list of The World's 50 Best Restaurants. Pujol, just a short walk away, is no. 12; and, in fact, Pujol is one of the restaurants where Quintonil chef Jorge Vallejo cut his teeth as a chef. From the street, Quintonil is an unassuming place compared to the more imposing entrance at Pujol. And even when you sit down, the dining room doesn't quite tell you that you're in for a meal that you'll remember for a lifetime. But that's exactly what a lunch at Quintonil is — a love letter to Mexico and its native ingredients that's as inventive as the chef who wrote it.
We met here with Alejandro Suárez, a tobacconist and cigar distributor in Mexico, and each of us went with the tasting menu, a nine-course journey through Mexican flavors unlike anything Andy or I had experienced before. There was the seared mamey with caviar, a nopal (prickly pear) ceviche, the massive deep-water grilled shrimp with a grasshopper marinade, the beef with pico de gallo, and bone marrow seasoned with cocopaches (a beetle that's a regional delicacy). At the risk of sounding corny, each dish was its own revelation that also made you feel like you were better equipped to understand the rest of the food experiences you would have in Mexico. And while some of those ingredients might sound intimidating or off-putting, I'll note that some of this stuff sounded alien to me and I was shocked at just how comfortable I found myself with all of it. The staff at Quintonil also did a stellar job of explaining not only the dishes and how they were made, but their role in the story that Vallejo was telling about Mexico.
Should you plan a trip to Mexico, a meal at Quintonil should be high on your list of priorities, and you should absolutely not wait and hope you get as lucky as we did getting a table.
Andy and I rode in Alejandro's car to our post-meal cigar at Casa Turrent, a Turrent-branded cigar bar back on Avenida Presidente Masaryk where practically the entire selection consists of Turrent products. While the selection is limited to one manufacturer, the Turrents make some fantastic cigars, and it would be a little weird to leave smoking them out of your Mexican cigar bar tour. What better place?
"Obviously it's a different market here," said Alejandro as we smoked our cigars and drank The Balvenie on the deck overlooking the street out front. "The Mexican market has been oriented toward Cuban cigars for a long time, but people are wanting to try new options. It's interesting for us [as distributors] because we've been waiting for this for so many years. Obviously, the Mexican cigar industry is not as mature because we're not a production powerhouse, but we have our own culture in tobacco and we're proud of what we do. I think it's going in the right direction."
We were joined shortly thereafter by two other friends: Juan Soldado, who regaled us with more stories of his confrontations with gangs at Mexico's southern border and his short stint in Colombia "hunting" members of the FARC; and Roberto Escobar, one of the actors in Amparo, the immersive theater production about Havana Club Rum that we've written about extensively here ("Cuban Spirit," May/June 2019). Roberto was in town to shoot a Mexican TV drama called El Señor de los Cielos, in which he's had a role for several seasons.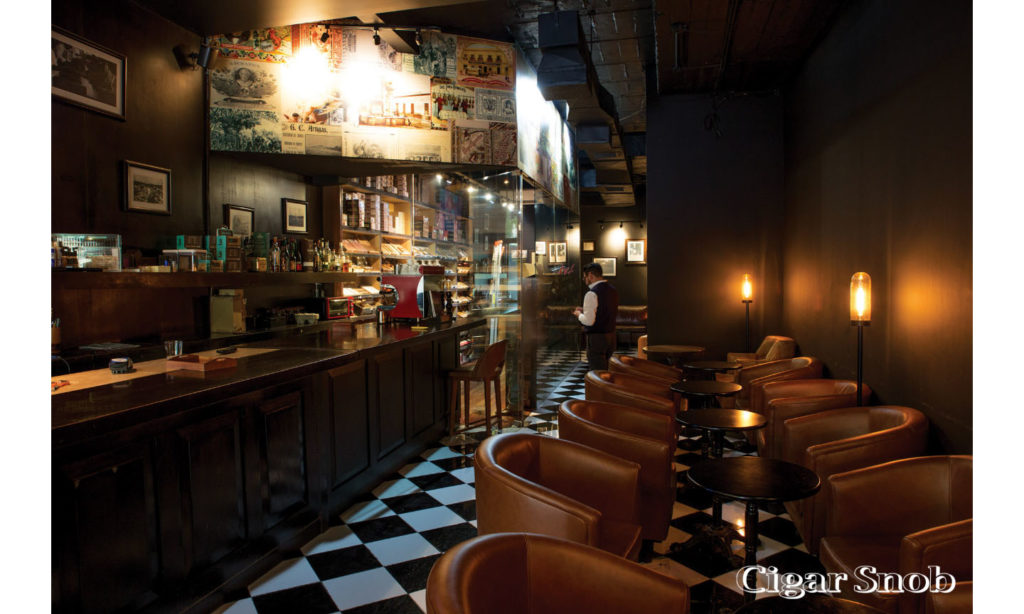 When it began to get dark, we parted ways with our friends and followed Juan Soldado to his car. Because we had such limited time in Mexico, we hadn't made plans to give a day to the historic center of the city, where some of the most recognizable landmarks are. But we wanted to make sure that we at least saw these places up close.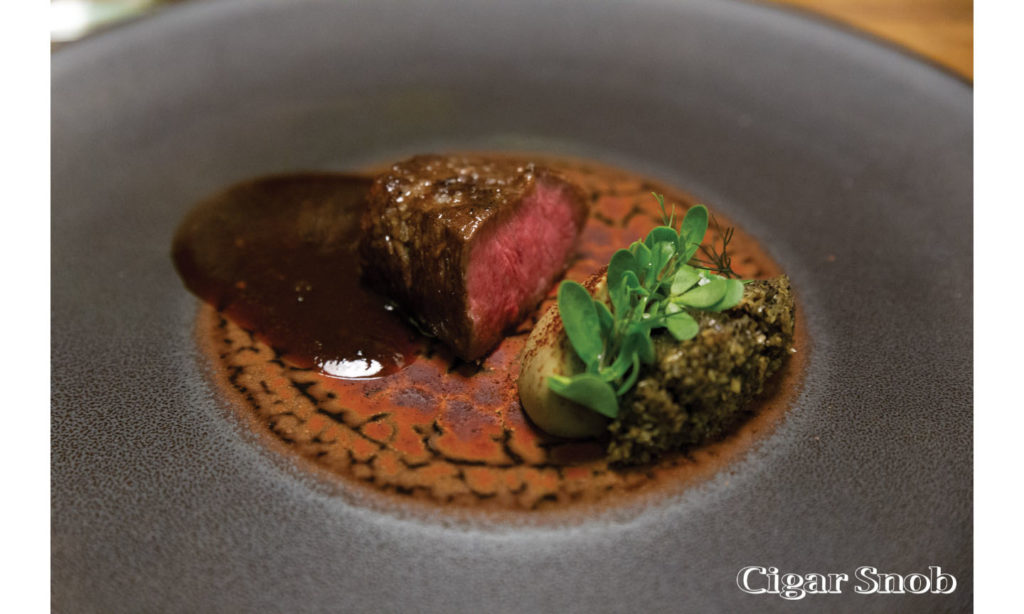 And that was our first real run-in with heavy traffic in Mexico City. The 5- or 6-mile trip from Casa Turrent to the historic district — specifically the Zócalo — took about 45 minutes. Which is to say that you should do everything you can to avoid hitting the road even within sniffing distance of rush hour during your time in Mexico City.
The Zócalo — whose formal but seldom used name is Plaza de la Constitución – is the city's main square. It's an expansive square bordered by Mexico City's Cathedral, the National Palace, the supreme court and other government buildings.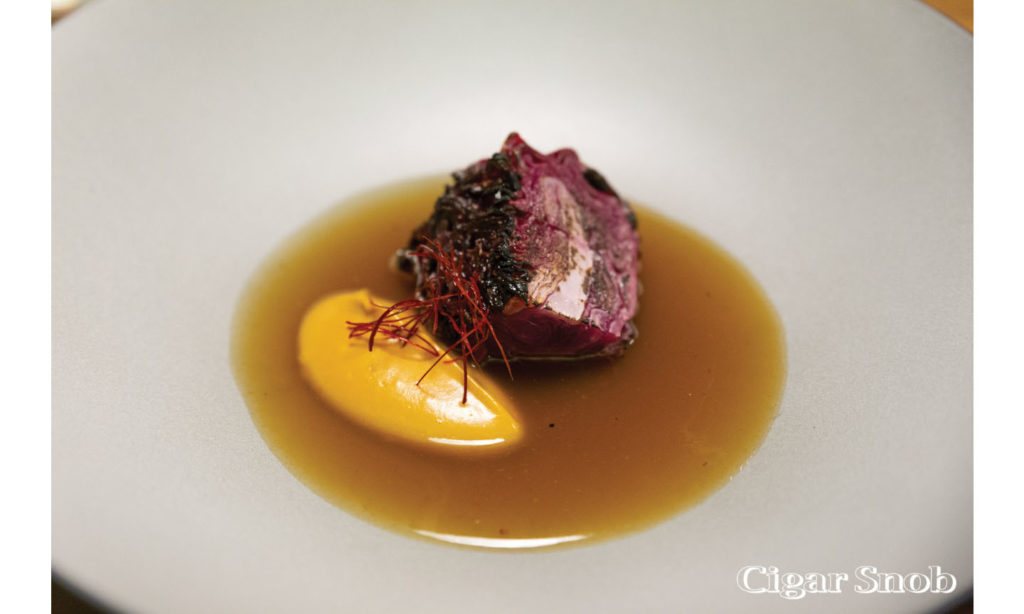 Maybe most interesting, though, is that less than a block away you'll find the ruins of an ancient temple. Not only has this site been the seat of Mexican government since the colonial days, but it was also the main ceremonial center in the Aztec City of Tenochtitlán, where the Mexica people ruled over the Aztec empire.
As we left the historic center of the city (unfortunately, we only had time for a brief stroll and some photos before it started to rain) Juan mentioned to us that the outskirts of this historic district sometimes become the stomping grounds of gangs looking to intimidate people and engage in some petty crime late at night. Another reminder that while it's safe in most of the city, you don't want to wander aimlessly through every part of town. Use your head, and also use Uber rather than hailing cabs on the street to get around.
A friend in Coyoacán got in touch asking whether we were interested in drinks and a late meal, so we headed back to that colonial town and met her at Pepe Coyotes, a late-night diner specializing in heaping plates of flat-top grilled meats and cheese. Really, it's about that simple, but it was damned good. The signature "Pepe Coyotes" platter is steak, chorizo, pork chop, diced ham, bacon, onion and cheese … served with tortillas just to make sure you hit all the major food groups. You can also get tacos al pastor here, and they let you know with the rotating al pastor pork cooking right at the window against the sidewalk.
Juan Soldado (stuffed from having ordered the Coyote Hambriento or "Hungry Coyote") dropped us back off at the apartment, and we rested up. Tomorrow, a half day, would start with a totally different experience that got a laugh from just about every Mexican with whom we shared our plans.
La Central de Abastos and Roma
Our last morning in Mexico City started with some packing, as we weren't going to have much time to get back to the apartment before our check-out time. When Juan Soldado arrived to pick us up, he looked at us more than a little puzzled.
"Are we still doing this?" he asked.
Throughout the trip, we'd gotten similar skepticism and surprise whenever we mentioned that we planned to spend time at La Central de Abastos. It's Mexico City's largest wholesale market. In fact, it's the largest such market in the world, with more than 30,000 tons of merchandise — primarily foodstuffs — passing through the 810-acre market every day. It's a sprawling network of enormous warehouses where vendors sell everything from fresh produce to seafood to dried peppers to paper plates, and the sheer pace that it takes to keep a place like this moving and productive — especially when so little is automated — is dizzying.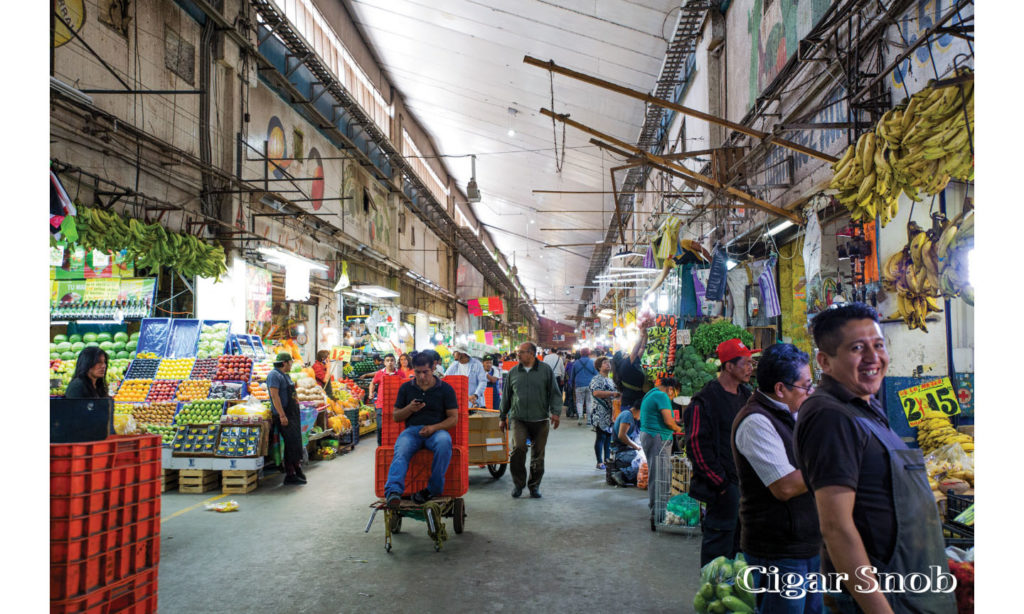 Mind you, we found it to be dizzying despite our having arrived close to noon — well after the time when the buzz in the market is at its peak. Since so much of the purchasing here is done by smaller markets, restaurateurs and other businesses that have to be ready for their own customers at normal business hours, La Central de Abastos really starts to get going before dawn. But if you show up later on in the day like we did, it's a playground for any foodie who also loves a good deal and wants to be able to get to know how the city eats; about 80 percent of the food consumed in Mexico City is sold here. I didn't go too nuts, but I did pick up about three quarters of a pound of a variety of dried peppers for a buck and change.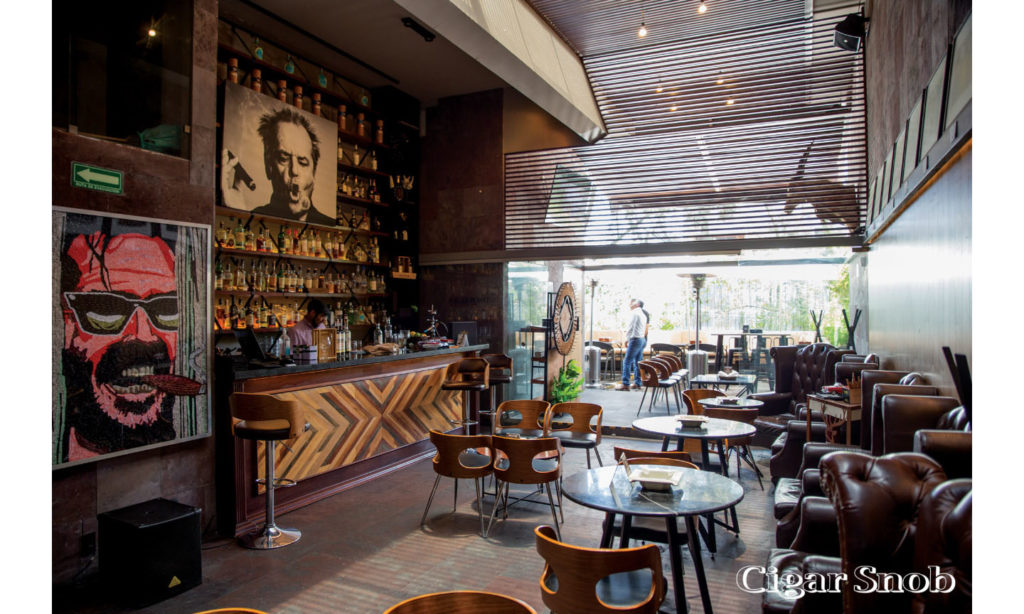 At most hallway intersections, La Central has small lunch counter-style restaurants where you can get tacos, quesadillas, sausages, and all kinds of other stuff. The outside of the seafood portion of the market is even more welcoming to diners, with full-fledged open-air restaurants offering some of the freshest seafood you'll find anywhere in this inland city. We had chicken quesadillas and were blown away by the quality of food we were getting for the price. Not only were they cheap (we paid less than $5 USD for two quesadillas and two tacos, all of which we split with Juan Soldado), but they were also delicious, probably because this tiny restaurant has bargain access to all the ingredients they can imagine using within walking distance.
Some important things to keep in mind if this sounds like a good time to you:
This is not a tourist attraction and they're not used to foreigners here, so you shouldn't assume that you'll be able to get by without speaking Spanish. In fact, it's really easy to get lost in this place — so you shouldn't assume you'll be able to get out without speaking Spanish.
Security was really weird about our cameras. To be honest, we pretty much disregarded requests to stop taking pictures, but you should know that if you're seen taking a lot of video and photo with more than a cell phone, there's a chance someone will ask you to stop.
La Central is a massive facility and its importance to the city's economy means that security is pretty good here. We never felt unsafe. But it is located in Itzapalapa, one of Mexico City's roughest neighborhoods. In some years, about one in every five Mexico City murders was committed in Itzapalapa. So take an Uber here, make sure you have a fluent Spanish speaker in your group, and don't stick around the neighborhood for no reason when you're done at La Central.
TIP: Lots of things at La Central de Abastos are only sold in bulk quantities. Pack a light duffel bag to bring your peppers back home.
Our last stop before our flight back out of Mexico City was, naturally, a cigar bar. Cigar Point, where Alejandro Suárez is a partner, is located on the third floor of Mercado Roma, the main market in Mexico City's Roma neighborhood, just to Polanco's southeast.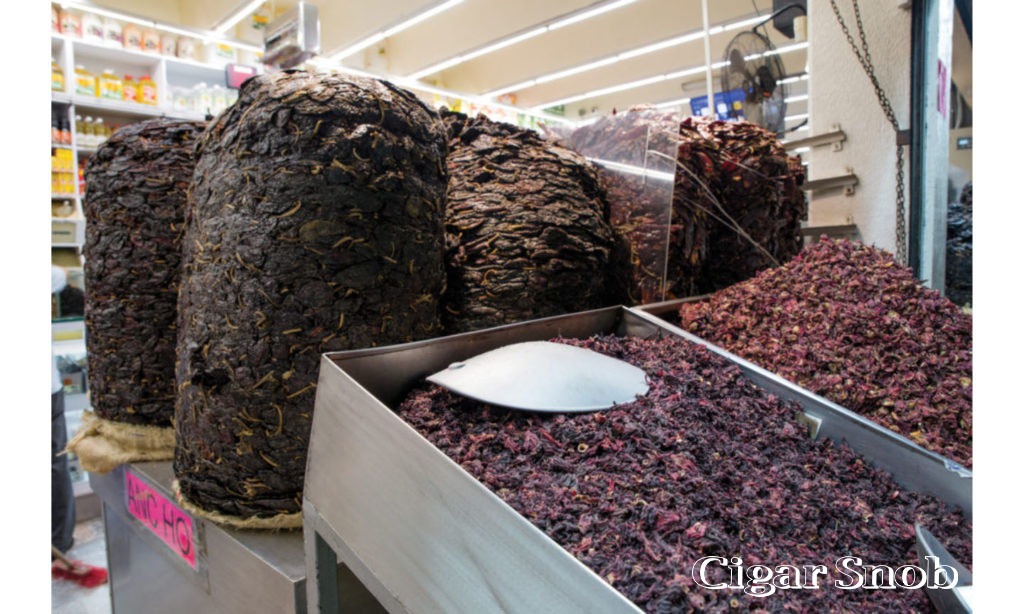 Mercado Roma functions more like a modern food hall than a farmer's market, with restaurants and coffee bars packing the floor. That makes it a great place to eat lunch just before or after your cigar. Alternatively, you can order food from the cigar bar and have it brought to you, which is what we did when we had a handful of small tacos with our cigars and mezcal.
Cigar Point might be the coolest cigar bar in Mexico City. The high ceilings, large open-air deck area and artwork (some paintings depicting Jack Nicholson, photography from Cuba and other pieces) make the bar one of the establishments that are helping make cigars cool in Mexico City among young professionals who don't want a herf to mean they miss out on a night at a hip bar. The spirits selection is also impressive. We sampled a few mezcals just to make sure we'd experienced all the variety our bodies could handle before our flight. The cigar selection closely resembled what we found at Cigar Bar Delegados — which figures since so much of the inventory is distributed by Alejandro's company.
And so ended our quick romp through Mexico City. If you've never been to Mexico outside of beaches and resort towns, it's a city that will challenge your assumptions about what life in Mexico looks like. It's loaded with culture, beauty, and flavors that help set the tone and define the character of a hemisphere. Even within the neighborhoods we explored, we were barely able to scratch the surface (for instance, we never touched Polanco's plethora of Argentine steakhouses or most of Mexico City's nightlife). But we did come back home with a new perspective, a long to-do list for our next trip, and a bag full of peppers.
---
Click HERE for our other travel pieces!
---