If Charleston, South Carolina had a politically incorrect office in its chamber of commerce, Jon Whitley would be its leader.
"I'm into alcohol, firearms and tobacco," says Whitley, owner of five of the city's cigar lounges and stores and a former Green Beret who also owns a gun shop in suburban Mt Pleasant.
He stands behind the counter of his Coastal Firearms on a spring morning preparing for the day, a Springfield Hellcat 9mm on his right hip and freshly lit cigar in his left hand. He's just poured a visitor a sample of some home brewed, 130-proof brandy, a concoction he created from the remnants of bottles of wine from his lounges.
Whitley's first customer of the day pulls up in a shiny blue customized Corvette and buys hundreds of dollars in ammo. The sun is shining, a breeze ripples the grove of oaks outside the shop and the temps are going to hit the 80s.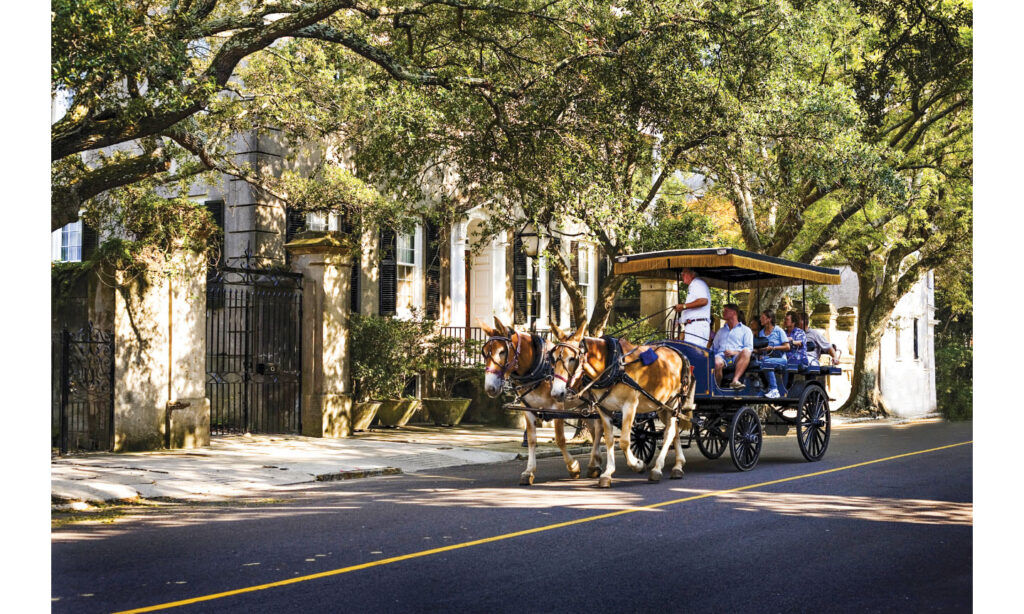 It's already looking like a good day.
Charleston is a town that lures visitors by the millions each year with good days, consistently ranking near the top of travel polls as a go-to destination for travelers. For decades, Charleston has been considered a must-see place for a complete Southern culture sweep, a reputation that gives it a larger-than-life image.
And this bastion of the Old South has lots of room for feisty individualists like Whitley, who has smoked cigars since Reagan was president.
The lowland setting of Charleston – about 19 feet above sea level – gives way to diverse sightseeing that features famed plantations and a harbor area that highlights Fort Sumter where the Civil War began in 1861. Harbor cruises are among the most popular attractions, sunset sails and dolphin watching optional.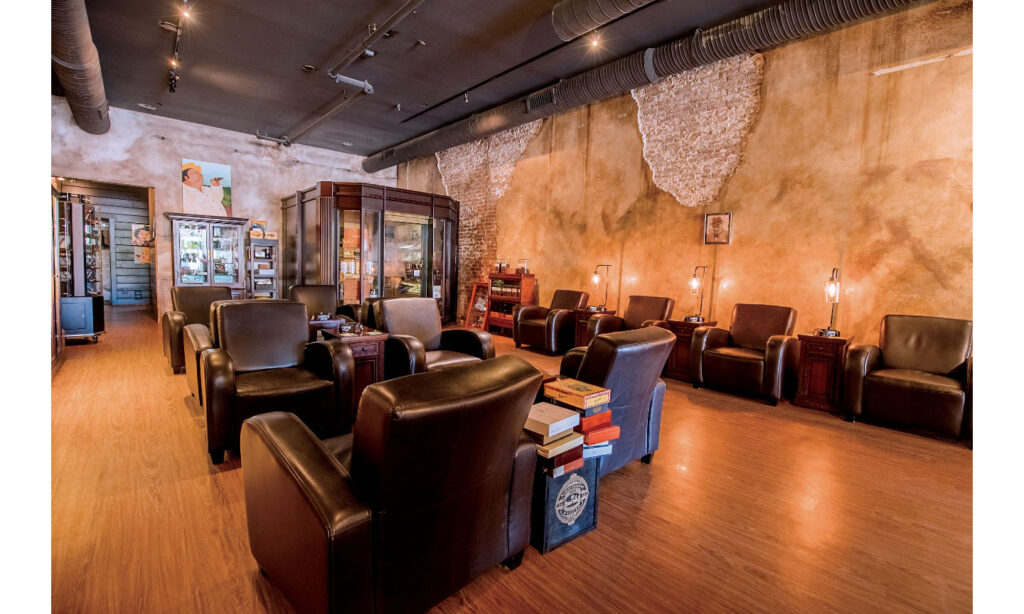 The city also offers a familiar downtown area: If Broadway in Nashville, Beale Street in Memphis, 6th Street in Austin and Bourbon Street in New Orleans are your things, a long night of loud revelry on King Street is for you. Food, booze and live music makes evenings in Charleston a festival for the senses. But that night scene is a contrast to the laid-back vibe of the city, and doesn't reflect the sensitive and refined culture that defines the folks who live here.
Refined means little without some primo cigar experience, and Charleston checks that box as well, from the long oak bar at Whitley's Charlestowne Tobacco & Wine on King Street, in the middle of the tourist maelstrom, to the smaller confines of King's Leaf Cigar Lounge a few blocks south.
Both Whitley and King's Leaf have locations outside of the downtown, where locals plunk down and smoke and talk and work. It's a necessity in a tourist town; ensure a presence on the well-traveled path of visitors but make sure the hometown folks have a place to enjoy the cigar life where they live.
On King Street, "we get all kinds of people coming in to smoke with all different levels of experience," Whitley says. "In the other stores, there are more regulars and people who smoke more frequently."
Complementing the cigars is the restaurant scene. The city has long been known as a foodie haven, featuring dozens of quality places to eat, both low and high brow. It's a competitive market; the state was featured by Anthony Bourdain in a 2007 No Reservations episode, and two of the Charleston eateries featured on the program are now closed.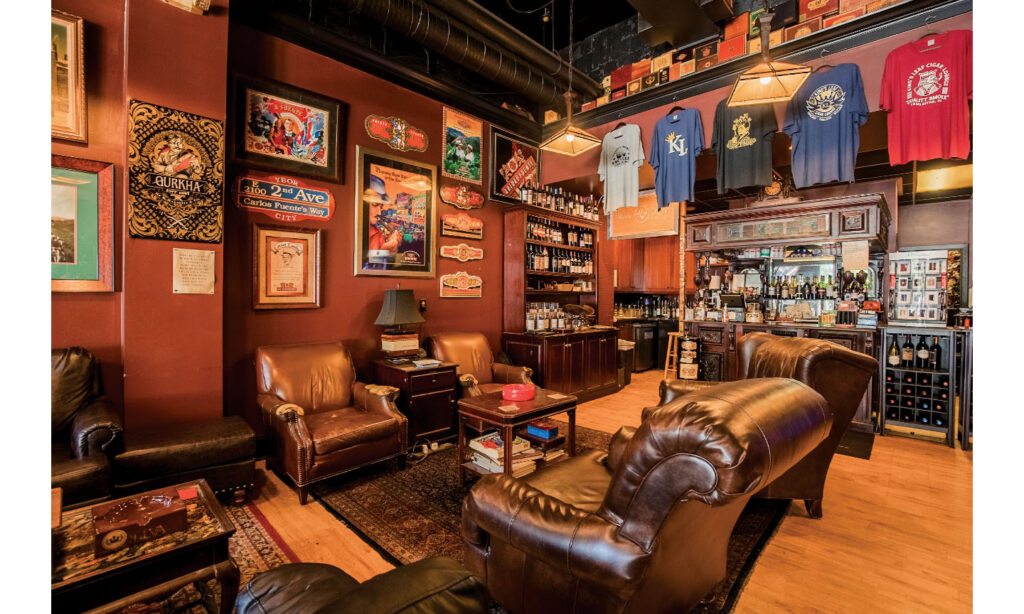 The Darling Oyster Bar took advantage of that competitiveness when it succeeded a failed eatery in 2016 in a prime spot on King Street. The Darling features a 14-seat raw bar overlooking street traffic and two spacious, high-ceilinged rooms with another perpetually busy bar in the middle. The Darling has white-tiled floors, brick walls and stylishly utilitarian décor, along with wooden tables and a clutter that says, 'we love a lot of grub here.'
The menu is simple and you know that shrimp – a staple in these parts – are going to appear on your plate at some point. Shrimping has been part of the local economy for a long time, and starting in May, you can wander down to the ports and see the boats come in, brimming with the day's catch.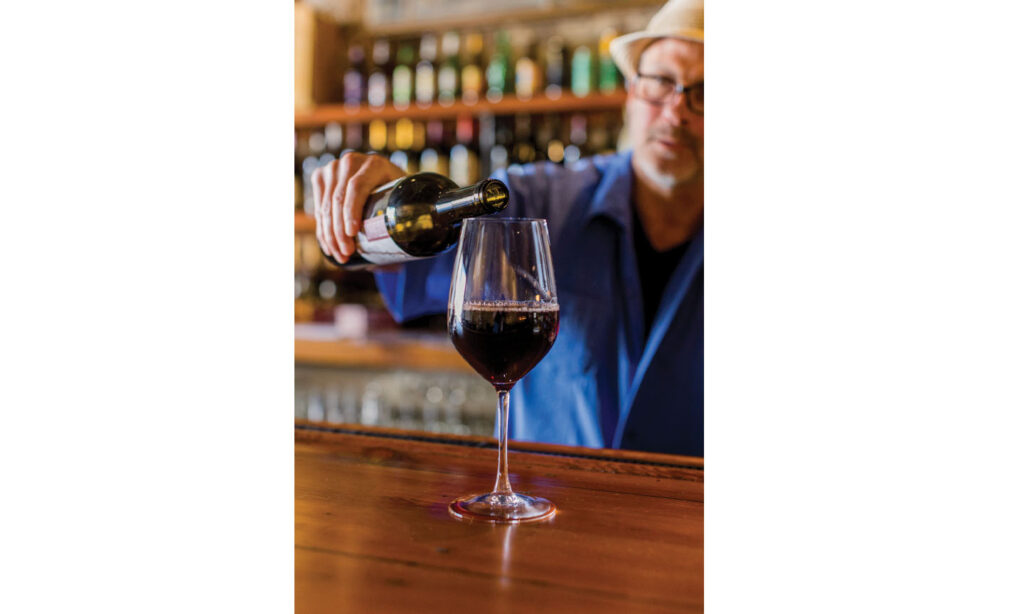 We get a few Lowcountry oysters that were pulled by locals from up to 18 feet down, to get an idea of what they have that the northern waters don't. It's immediately apparent what they offer – a briny flavor that only the smaller oyster can deliver. To the oysters we add a popular Darling dish, the creole shrimp, which offers a generous heap of smallish crustaceans over rice that wilts into a tasty risotto under a tangy, mustard-based sauce. The sauce is a lesser-known local flavor dating back to the state's German settlers. It usually basks in the shadow of more heralded items including the bountiful shrimp, but restaurants take pride in their mustard sauce. The Darling has something to crow about, as its heavy reliance on the condiment over its richer counterparts in Memphis, for example, makes a nice dent in the palette. Add to the meal some kale slaw tossed in a buttermilk dressing and dashed with sliced carrots and it's a full dinner. The kale is uncooked and stiff, and even the most ardent greens grazers may not dig the texture. Yet it tastes so fresh and clean that the dressing should have come on the side.
After dinner, we stroll south and find Nick Howard, the manager of King's Leaf Cigar Lounge, sifting through stacks of boxes of cigars, mostly major brands, that stuff his compact humidor. The downtown store, one of three King's Leaf locations, is a Needful Things of cigars, weathered and homey, cramped in a lived-in way. The leather chairs are cracking in places, the chess tables are creaky and the décor is mid-20th Century museum, with vintage signs, cigar boxes and rustic light fixtures, along with ceiling fans lazily swinging as they turn.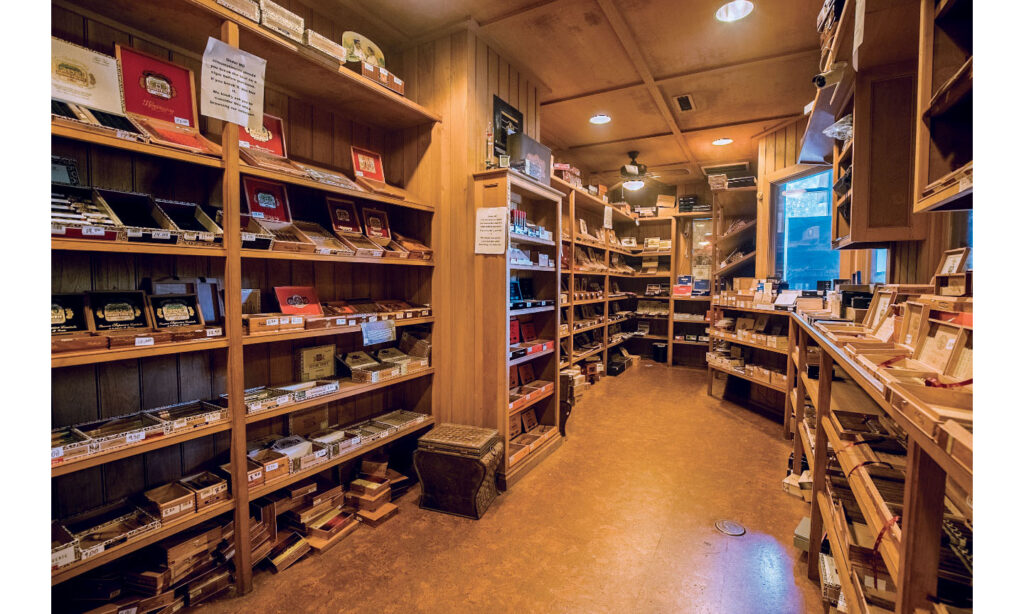 We grab a Punch Clásico and a chair and watch the parade of folks come in, most of them from other places. A couple guys are taking some time down from a convention, another guy from Myrtle Beach mentions he's been here a few times. Concerns about what can be transported on an airplane come from a couple guys buying some smokes.
"The town itself is a tourist-based economy," Howard says. "We get some locals here but everything lives and dies with tourism and Charleston is always voted as one of the top tourist destinations in America. So that's this location."
Downtown King's Cigar is about 1,500 square feet, while the other locations range to 3,000 square feet.
One of those other places is "across the bridge," as Howard calls it. Which reminds us that Charleston is a peninsula, sandwiched between two rivers, the Cooper and the Ashley, with the Atlantic Ocean a straight shot through the harbor.
For a run to the King's Leaf in West Ashley, we're joined by Tom Peterson and his son Eric, who have made the two-hour drive from Hilton Head, where the Petersons run Carolina Cigars.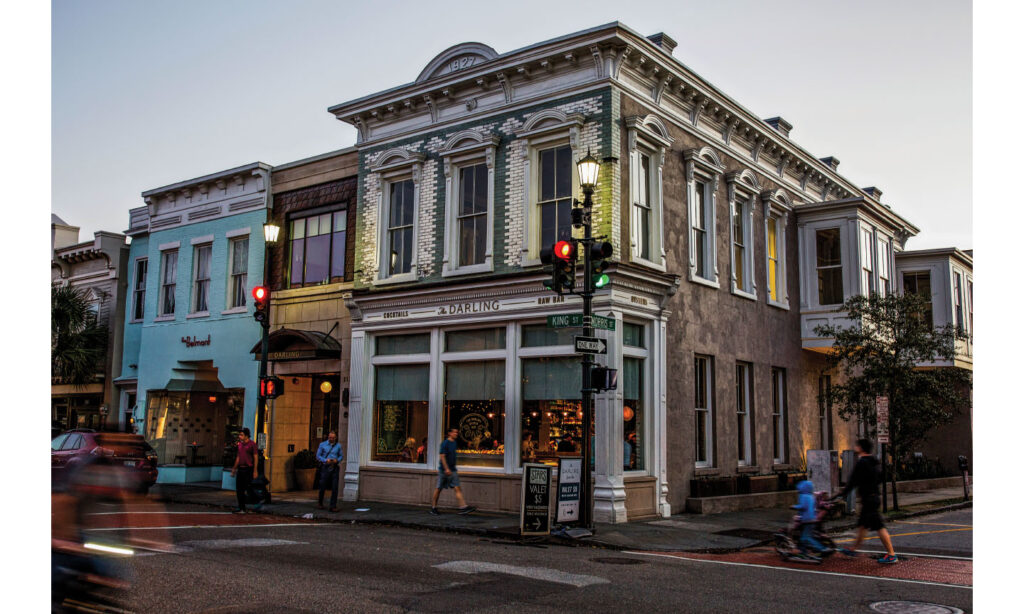 Tom is an ebullient, glass-half-full guy who has fallen into his dream
and never fails to take the time to appreciate it. He spent 16 years as a commodities trader in Chicago, followed that up with 23 years as a Chicago fireman, and in early 2020, bought Carolina Cigar.
"It's been a dream come true to be here and be in this business," Tom says. He'd been to Hilton Head on vacation and liked it so much he bought a house there, renting it out with the idea to live in it after retirement. The local cigar shop had been in business since 2008 and he'd stop in when he was in town.
"If you ever want to sell this place, let me know," he told the owner at one point. Peterson wondered, just what if it happened, what if he really called. Was he ready to upend his life in Chicago and be a cigar merchant?
In early 2020, the call came.
"I knew why he was calling when I looked at my phone and I almost drove off the road," Peterson says. "I was ready to take the chance."
He, Eric and his wife, Carrie, run the shop, which has done better than he dreamed.
"It's the best job I ever had," he says.
The West Ashley King's Leaf Cigar Lounge that is 15 minutes off the peninsula is a different world than the downtown establishment. It's a large, clubby open room with hardwood floors, set in a strip mall. There is a pool table, a dartboard and two Golden Tee video games to one side, a long series of leather chairs to the other, with coffee tables strewn with Car and Driver magazines. The humidor is beefy, and the booze is a solid selection of canned beer, a couple of drafts, or wine. South Carolina cigar lounges are hamstrung by a law that requires food to be served in order to allow liquor.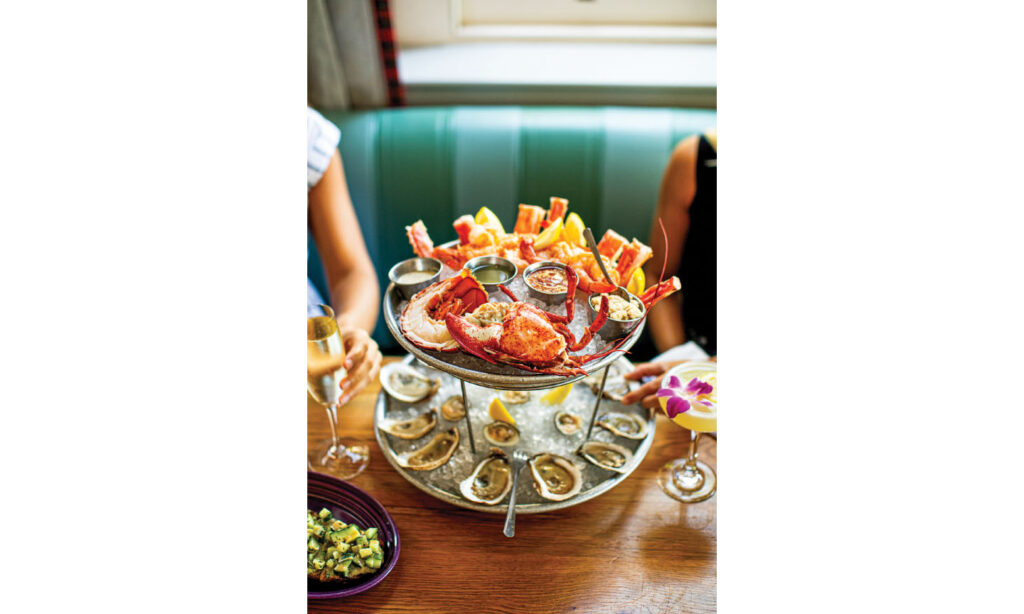 We pull something from the humidor – I get a favorite, a Tabernacle Havana Seed CT #142, and watch the locals. Golf is on the televisions, as required by law, while a couple guys work on their smokes and laptops at the same time. Another couple guys in deck shoes come in from the links and grab some cans of Cigar City Jai Alai IPA and some sticks. Yet another guy works over the Golden Tee machine. It's 1:30 in the afternoon and the sun shines in.
"The other two stores we have are more hometown regulars, everyday guy type of places that are more like Cheers, with lounge rats and all," Howard says.
It's time to eat and the state's favorite dish is on the menu.
Shrimp and grits is the elephant in the room, food-wise, when you get here.
To begin with, grits are crucial for the state. So much so that in 2000, a bill was introduced in the statehouse to make grits the official state food of South Carolina.
The bill declared that "every community in the State of South Carolina used to be the site of a grist mill and every local economy in the State used to be dependent on its products and grits has been a part of the life of every South Carolinian…"
It wasn't enough promo talk to get the measure approved but it's the thought that counts and almost every eatery has some form of shrimp and grits, which are boiled corn meal that can either be great – or a disaster.
Some South Carolina natives prefer catfish and grits, or even steak and grits, says Aïda Rogers, a former food writer who was among the locals who dined on-camera with Bourdain during his 2007 visit.
"It started with people sending their kids to get shrimp, which is everywhere here, and they would come home and that would be breakfast, shrimp and grits," Rogers says. "Then someone elevated it and you can get it with spices, sausage, all kinds of things."
Slightly North of Broad – we love the acronym it goes by, SNOB – is a converted warehouse in the lower reaches of the tourist district. It's got a big wooden bar, white tablecloths and a wide open kitchen at the back with a chef's table.
It's time to check into this Carolina favorite.
The shrimp and grits came with ham and sausage that joined the shrimp atop the bed of grits. While some grits are creamy and massaged as to become a soup, these were in between, firm to the tooth as a good al dente pasta should be. The smallish shrimp were excellent, chewy and full of flavor. The only thing lacking was spice, always a culinary conundrum in a tourist area. A side of hot sauce, which was Texas Pete, oddly, brought the plate to life.
My experience with shrimp and grits is limited. But I still remember, after almost 20 years, a plate of the stuff I had at a now-defunct restaurant/ bar next to a railroad track in Starke, Florida, the name of which I cannot recall. It was magnificent enough to stick with me. Catching up to that is a tall order.
A 10-minute walk north from SNOB is Lianos Dos Palmas Cigars, but if you're looking for a post-meal smoke, forget it. This place is a tiny storefront and a big window into the rolling of cigars. The only thing to let you know what's behind the door is a single word on the plate glass window facing the street: Cigars.
While the face of the shop is
unwelcoming, walk inside and
you're greeted first by a black-and-white bulldog, then by a friendly-faced woman who welcomes you in Spanish, then turns back to toil at a rolling table next to her gentleman colleague, who never looks up from his rolling.
The small room is filled with plastic bins of tobacco, leaves hanging, and the floor littered and display cases jammed with the stuff. On the counter sits trays packed with cigars of all kinds and sizes, including Double Corona, Churchill, Torpedo, Robusto, and Petite. In addition to the singles, they're available in bundles and boxes.
The place buzzes with hurry, and it's a lot to take in with one gander. Between the leaves, the rollers, the dog, the amazing selection and the rather impatient fellow behind the counter, we're looking and feeling like tourists rather than the seasoned smokers we are.
Lianos Dos Palmas is one of a few U.S. establishments, probably under 100, that hand roll in-house, and that in Charleston, South Carolina, there are at least two people who put "cigar roller" on their IRS tax form, making it a special thing.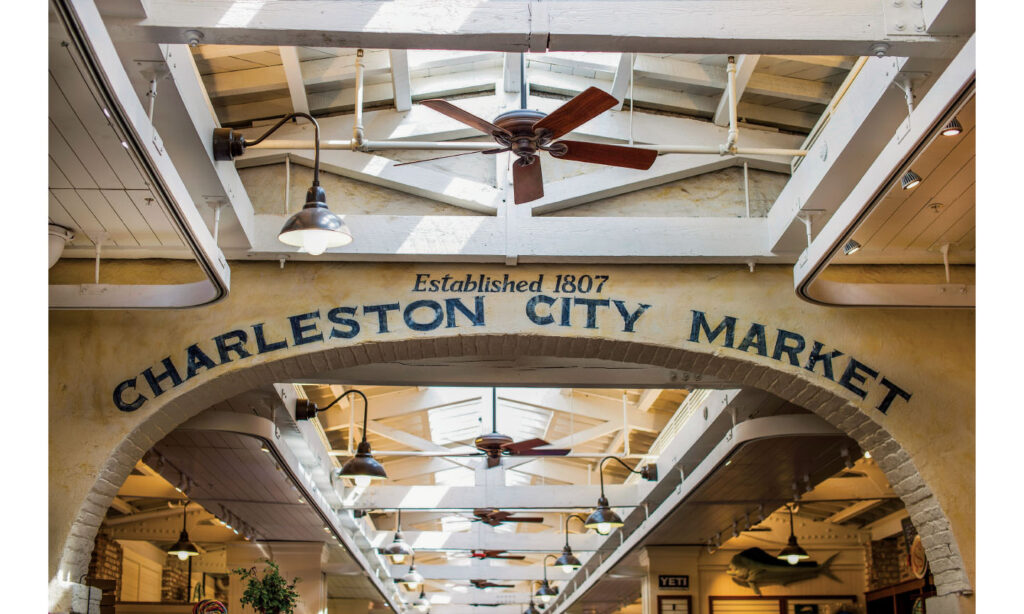 For the record, the Panatela with the Ecuador Connecticut wrapper that I grab turns out to be excellent. Go to Lianos Dos Palmas for the smokes, not the socializing.
More affable is Charlestowne Tobacco's Jon Whitley, Charleston's cigar maestro, gunsmith and lounge owner, who owns Charlestowne Tobacco & Wine and four other cigar establishments in addition to Coastal Firearms.
Whitley, 58, spent two decades in military service and was deployed around the world, leaving with the rank of major. His first cigar was a Tampa Nugget he smoked during basic training in 1982. He kept with the low rent smoke until he got a lesson in upscale.
"In 1985, I was in officer candidate school out on field exercise and lit a cigar, to keep the bugs off," Whitley recalls.
His commander came by and asked what he was smoking and when seeing the cheap smoke, pulled it from Whitley's mouth, threw it on the ground and stomped it out.
"I thought he was against me smoking, but instead, he reached into his pocket and pulled out an H. Upmann and gave it to me," Whitley says. "And I've been smoking premium cigars ever since."
When he settled down, the native of Fort Mill, South Carolina found work in Charleston. Whitley was an HVAC guy selling cigars to bars and restaurants on the side when he realized that being a middleman wasn't for him.
"I opened my first store in 1999, and saw a lot of opportunity around here," he says. At the time, he was a volunteer deputy sheriff with the Charleston County Sheriff's Department, working with the SWAT and undercover narcotics teams.
"We all smoked together and I thought 'I could make this work.'"
Whitley's shops all have a modest yet upscale touch, with the furniture clean and new, beer and wines that are fine but not fussy, and the cigar selection wide without pandering.
It personifies Charleston, a place where you can get dirty without trying but still enjoy the better things.
His downtown lounge is a narrow, well-restored storefront with exposed brick walls and ceiling, hardwood floors, a long bar and a primary humidor at the back with two more brand new humidor cases stocking the overflow.
He's got nine reds by the glass and plenty of bottles, complemented by a smaller selection of whites and sparkling wines, as well as a wide array of beers by the bottle and on tap.
We're drawn immediately by the Palmetto Secession Robusto, a heavy hitter made for Whitley by Alec Bradley and brought to market in 2015.
Later that evening, we find Halls Chophouse for a late dinner. It's a noisy, teeming two-story with a classic menu and likewise classic service. We're seated upstairs and the roar in the room, bouncing off a brick wall, makes conversation lively and animated, at the least.
The wine list is a book, suitably heavy on the reds, with the internationals divided into northern and southern hemisphere and the domestics leaning on Napa Valley.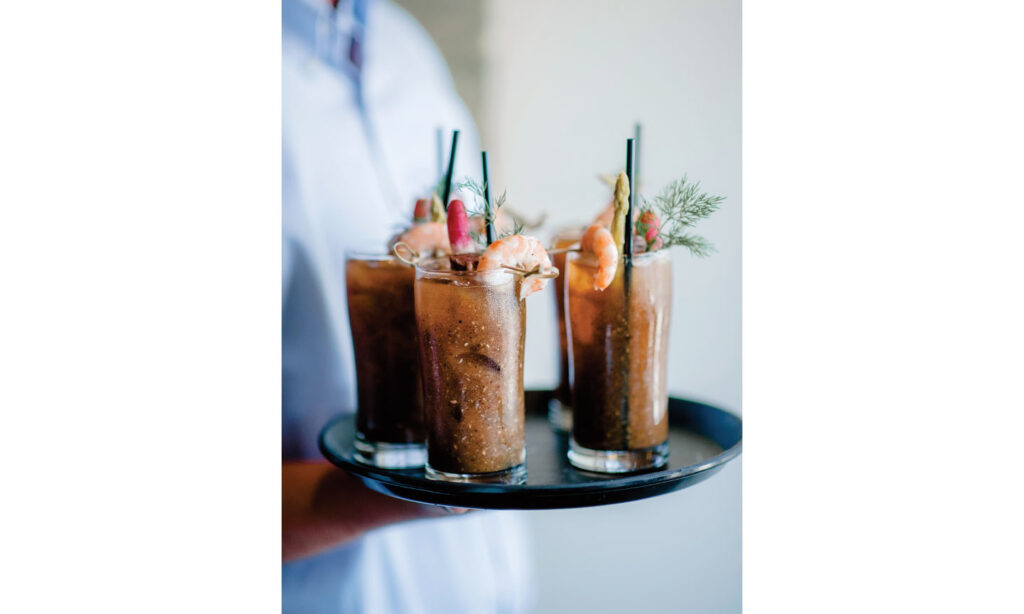 The menu is obviously beefy, and seafood is an afterthought yet ambitious. We didn't take the lobster thermidor and still came out fine, as the scallops came with an extra sear to bring out the natural flavor, served over a bed of vegetable risotto. A good half-dozen of these gems, which the menu says hail from Nantucket. Season there ended in March and this was late April, so fresh isn't a deal here. But nice food is, and the scallops are worthwhile.
The next day, we take a walk to Marion Square, an historic one-block park in the center of town. It's the site of the British capture of Charleston in 1780 during the American Revolution, a hairy 42- day battle that ended up with the Brits taking over the place for a couple of years.
The square is also the original site of The Citadel military college, opened in 1842 with 20 students and now housed a couple miles away with 3,700 students. But if the history makes your eyes cross, the scenery opens them, as the vast courtyard comes in a shade of bright green that throbs with intensity, the outer ring of the park ringed with palm trees, fountains and monuments.
It's a good place to enjoy a smoke and let the sun do its thing.
The Charleston cigar market is varied enough that there are plenty of options and room to grow. King's Leaf handles the young adult crowd while Charlestowne takes a lot of tourists and older smokers.
"It's competitive, but I don't pay attention," Whitley says. "I just focus on what I need to do, try to keep innovative and give the other guys their niche."
For Howard at King's Leaf, "we don't actively try to find a [young adult] customer, but it's more of a trend. We've seen that demographic visit our shops, which is fine – you need new blood if you want to move forward.
On the way out of Mt. Pleasant, looking for a quick bite, we hit the See Wee Restaurant, a Jon Whitley recommendation. It's a former general store that dates back 100 years, with weathered, well, everything. It teeters when you walk, and a generous back porch has plenty of room to sprawl with a bowl of excellent tomato-based fish stew and an iced tea (unsweetened, yes, I'm a Yankee). The stew is flecked with whiting and the See Wee is as unpretentious as Whitley.
It's a fitting sendoff from a region of the country that is content with itself, hardly trying to be something it's not and populated by people who mostly follow that same sentiment.
People say Charleston is getting fancy and expensive, and if so, that's the progress that it wants. For us short timers, it's no worry, as the next plane is just a few minutes away. Meanwhile, we leave with a memory of good smoking, fine food, excellent company and a place with a rich history.
---
Click HERE for more stories!