America's Best Tapas
By: Carla McKirdy
The delicious world of tapas has evolved over the years from what was likely a very simple and pragmatic solution to a fly in the drink problem to incredibly flavorful morsels to a marvel of molecular gastronomy. The meaning of the word itself hints at its origin: tapa, in Spanish, means "cover." In the old days, innkeepers are said to have served their customers adult beverages with slices of bread on the rim, which served to keep flies out. Little by little, innkeepers realized that when customers were served a little something extra on top of that boring slice of bread, they'd drink more. So they started competing with each other, adding more and more toppings on to it. Other versions of the story involve small plates instead of bread slices. Yet another involves King Ferdinand II of Aragon asking an innkeeper for a slice of ham to keep flies out of his wine and sparking a trend (as royals tend to do).
Yet another legend involves King Alfonso X of Castile, known as Alfonso the Wise. He was sick, and the time's brilliant medical minds recommended he drink wine throughout the day, along with little bits of food. When he was in good health again, Alfonso decreed that no Castilian taverns should serve wine without adding a bit of food on the side.
Which story you buy is up to you. The point, though, is that tapas were born out of some practical need or another and evolved into their own food category. Today, tapas are much more than bread-based appetizers or simple cold cuts. The word can be used to refer to something as plain a plate of olives or as elaborate as a small serving of paella. Any side dish that accompanies a drink can be called a tapa. The size is the key, as well as their main appeal; the diner can sample small selections of different dishes in a single sitting.
Each region of Spain has adapted this custom to fit its own heritage and traditions. Other groups who have populated the Iberian Peninsula, such as the Moors and the Sephardic Jews before the Inquisition, have also left their mark on Spanishtapas. Basques took them over, began presenting them on skewers and renamed them pintxos. Galician tapas, on the other hand, predominantly feature fish, which is no wonder given Galicia's strong seafaring tradition. And finally, there were the Catalans, who took tapas to a new level of refinement.
The biggest and most recent catalyst in Spanish cuisine's skyrocketing to international fame was the Michelin-starred restaurant El Bulli. The restaurant was the cradle of molecular gastronomy (the style of cooking that emphasizes creativity and the chemistry of a given meal), and its chef Ferran Adrià experimented with food and flavors, delivering them in unexpected forms that mesmerized the privileged few diners who could get a much-coveted reservation. Even at €250 a plate, 2 million diners vied for seats every season. Only 8,000 were fortunate enough to get them.
Much to the chagrin of food lovers worldwide, the days of the El Bulli restaurant, which revolutionized Spanish cuisine and made it famous around the world, are over; it closed in 2012. But we were left with something far greater: the rich culinary heritage of Spain is taking the U.S. restaurant scene by storm, thanks in part to a horde of Ferran Adrià disciples. From Seattle and Miami, you're almost always sure to have a Spanish restaurant nearby, and there is no better way to enjoy the variety of flavors this cuisine has to offer than by ordering (and maybe sharing) a selection of tapas.
So gather your most adventurous food-loving friends and follow our guide to the best tapas the U.S. has to offer.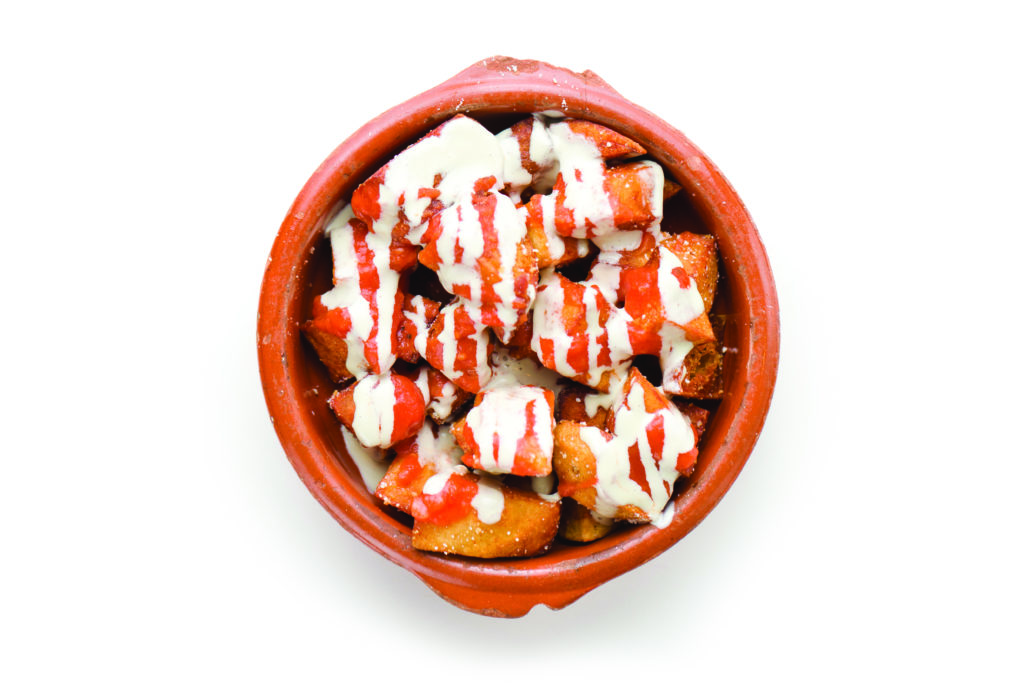 Patatas Bravas
The Iberian Pig -Decatur, Georgia
Don't call them French fries. Patatas bravas are much more than that; these cubes of diced potato are double-fried and served with a spicy tomato sauce. The perfect amount of zest and kick to accompany a freshly poured caña (small glass of beer). At The Iberian Pig, a quaint Spanish restaurant in the outskirts of Atlanta, they have mastered the art of these spicy Spanish potato cubes.
---
Erizos de mar con pipirrana
Jaleo -Washington, D.C.
Sea urchin is a delicacy in Spain. During a visit to the sunny beaches that extend along the Iberian coast, it's not unusual to see youngsters jumping into the water and coming back up for air with treasured sea urchins in hand. Back on the beach, they slice them open and squeeze lemon on them, devouring them right away. Jaleo's urchins might not be that impossibly fresh, but they more than make up for it with the accompanying diced peppers, vine-ripe tomatoes, cucumbers and trout roe. A savory delicacy that will transport you to the Spanish seaside.
---
Spanish ham on toasted bread topped with tomaca
BCN Taste & Tradition -Houston, Texas
BCN Taste & Tradition hooked us when we learned chef Luis Roger got his start at El Bulli before going on to open his own place deep in the heart of Texas. Of his former boss, he says, "Working under Ferran Adrià changes your life forever. From him I learned the need to preserve the fundamentals of traditional cooking and ingredients as a base for new dishes." BCN's pièce de résistance is the simplest of all dishes: the Spanish Fermín Ibérico ham (48-month cured, acorn-fed ham) on toasted bread that comes topped with tomaca —a delectable tomato purée. Only an El Bulli-trained chef could manage to create a masterpiece out of a simple staple of Spanish cuisine.
---
Gambas al ajillo
Rincon 38 -Minneapolis, Minnesota
Great Spanish tapas are as simple as they are flavorful. In no other dish does this come to light more than in gambas al ajillo, which are langoustines sautéed in garlic, pimentón and white wine. When done well, they achieve mouthwatering results. And at Rincon 38, chef Hector Ruiz delivers on point.
---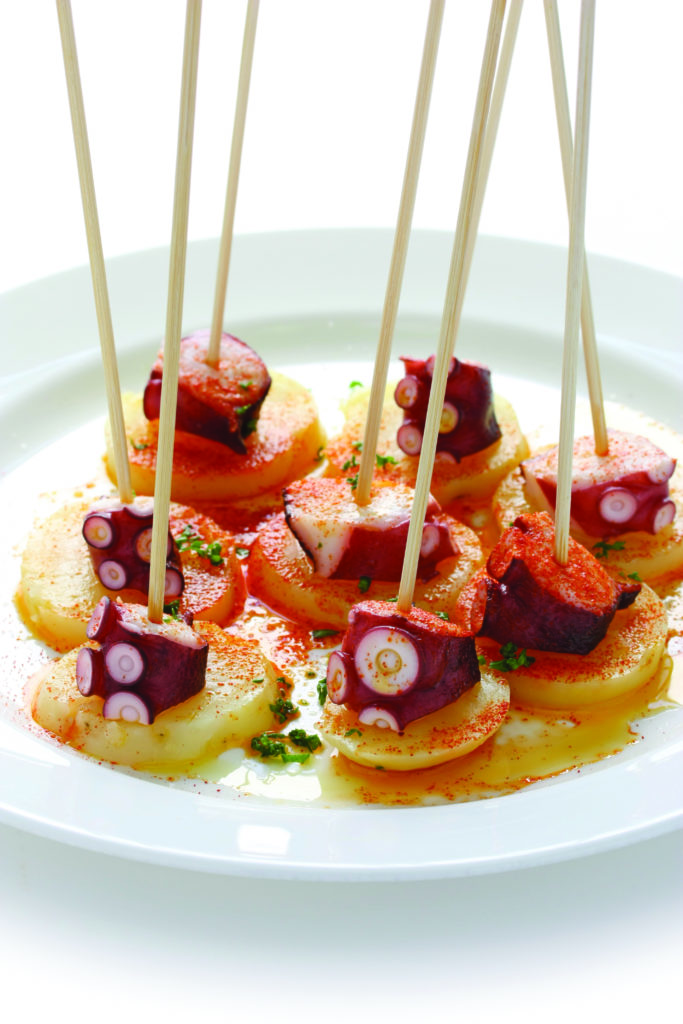 Pulpo a la gallega
Toro Bravo -Portland, Oregon
Simply stated, it's octopus, Galician style. Chef John Gorham serves the boiled and diced octopus unassumingly, accompanied by potatoes and a selection of spices, just like in Spain. Seafood lovers will delight in knowing that Toro Bravo works with local farmers and fishermen, adapting the menu based on product availability. It doesn't get any fresher than this! And just in case you leave feeling inspired and you'd like to recreate some of their tapas dishes back home, you can pick up their cookbook on your way out.
---
Tabla de jamón Ibérico de bellota, Cinco Jotas
Xixón -Miami, Florida
This savory ham plate offers a generous selection of expertly cut slices of Cinco Jotas ham, which some say is the best Iberian ham in all of Spain. This award-winning ham from Jaburgo is just one of the true delicacies Xixón offers. Although there is nothing like following Spanish tradition and ordering a board of first-rate Iberian cured ham and assorted cheeses, diners can also enjoy it another way: their huevos rotos con jamón —or "broken eggs with ham" —is just one of the many delectable alternatives.
---
Tortilla Española
Cúrate -Asheville, North Carolina
The El Bulli alumni have taken over the tapas world, and their queen is chef Katie Button. Her menu offers an array of Spanish delicacies, but her expertise makes this among the best places to enjoy this typically plain dish of egg, potatoes and onion. Tortilla is a ubiquitous dishin Spain, whether at the tapas bar or at home. Chef Button's classic tortilla española, or Spanish omelet, is really something. Her secret? More than basic ingredients, this dish requires a steady hand and a watchful eye —plus a few additional secret ingredients. Chef Button wouldn't live up to the hype that comes with being an El Bulli alum otherwise.
---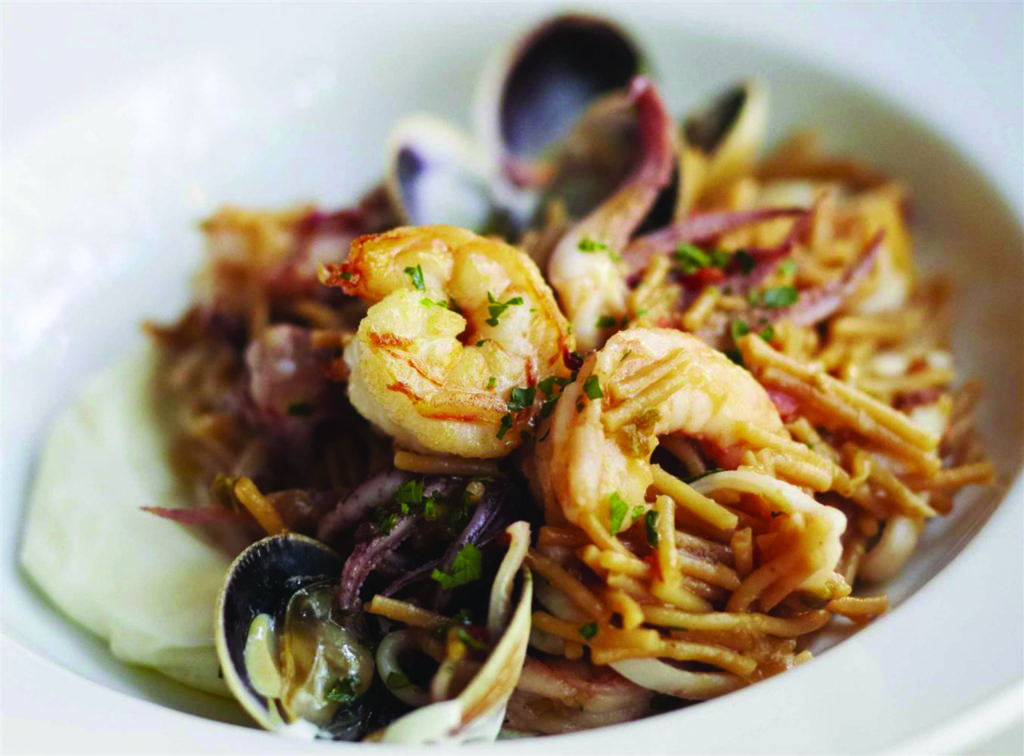 Fideuà
La Vara -Brooklyn, New York
Diners who yearn for tapas off the beaten path would be wise to make a beeline for the Sephardic-Moorish delicacies that this tapas restaurant has to offer. Spain's Jewish cuisine is especially rare since pork-free kitchens were treated as red flags when Jews were forced to convert in 1492.
The bold couple behind La Vara, Spanish chefs Eder Montero and Alexandra Varj, have kept what remains of Spanish-Jewish cuisine alive in Brooklyn. Together, they have already set up two successful tapas restaurants, and with their latest addition they know they're onto a winner. They've just earned their second consecutive award from the Michelin New York guide. Ask just about anyone and they'll tell you the fideuà, a Valencian-style seafood noodle paella —with shrimp, clams and squid —that comes in a tapas-sized serving, is to die for.
---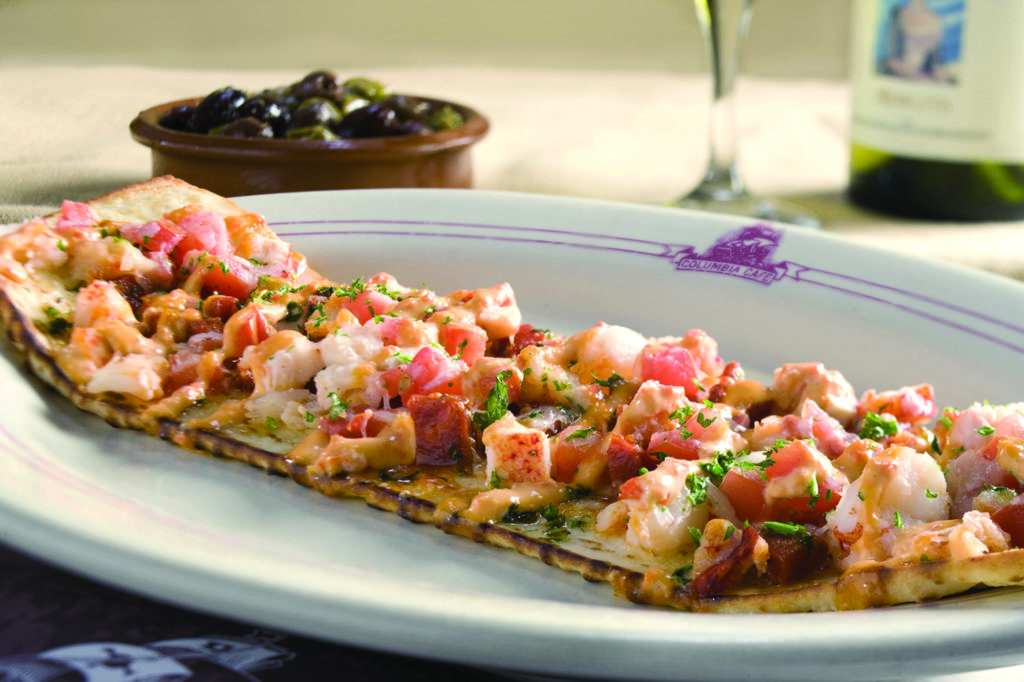 Coca de langosta
Columbia Restaurant-Ybor City, Florida
The setting is modeled loosely after Spanish Mudéjar-style palaces, which are characterized by architecture with a heavy Moor influence. Here, you'll enjoy a generous slice of Andalucía, starting with a veritable Spanish tapas feast and followed by a fiery flamenco show that livens up the evenings. The star of the show is Columbia's scrumptious coca de langosta. It's a flatbread overflowing with tomatoes, Spanish chorizo, Manchego cheese and lobster meat; it becomes even more decadent when all the ingredients are baked together and the house sauce —piquillo pepper alioli —is drizzled on top. The sizzling juices of this crispy delight make the flavors come to life on your palate.
---
Croquetas de jamón serrano
Pintxo-Seattle, Washington
A culinary phoenix, this restaurant arose from the ashes of another Spanish favorite, Txori. Pintxo, in the Basque language (also known as Euskera) means a small snack —but always with a bit of added local flavor. The Basque people like to do things differently, and it's no exception at Pintxo. For starters, they feature a compact menu with the usual suspects: tortilla española, patatas bravas, and the cult favorite, croquetas. When fried to perfection, these croquettes stuffed with serrano ham and béchamel sauce are a sumptuous treat —crunchy on the outside, while warm and gooey in the inside, oozing with the salty and smoky flavor of serrano ham.
Indeed, any patron who dares step into a Spanish restaurant is spoiled for choice. If you are easily overwhelmed by the wealth of choice found in Spanish cuisine, keep it simple by ordering any of these Spanish classics. Tapas fit every appetite. Whether you just want an appetizer to munch on or crave a hearty meal, don't forget to accompany your dishes with a traditional drink, such as Rioja wine, a caña, or a sangría. ¡Salud!
---
Click HERE to check out our other travel pieces!