Riding shotgun along a country road in Talanga, Honduras, we crossed a small bridge and he said, "This is where the property line starts." As we zoomed by it, I looked past him out the driver side window to see a vast, impressive landscape and said, "That's amazing. How far out does it stretch?" His reply gave a glimpse of the scale of the organization's growth. But the manner in which Oscar Valladares responded encapsulates why he is a breath of fresh air in the cigar business.
"To the left it stretches out to the foothills of that mountain range you see way out there," he said with a childlike excitement mixed with humility that comes from having your feet planted firmly on the ground. He appeared slightly embarrassed as he said, "But you'll get a better view when we get up higher because to the right, you really can't see the end of the property, it's on the other side of those hills." I hadn't considered that rather than skirting the edge of his property on this road, we were instead bisecting it – the expansive swaths of land were on both sides. By now we had traveled a good way past the small bridge and we were still only part of the way through it. "Will you let me know when we get to the end of it?" I asked. We turned off the road before ever reaching the other side of the property line.
Oscar Valladares and his uniquely packaged cigars first entered the American cigar smoker's consciousness when Jim Robinson of Leaf & Bean in Pittsburgh started importing the Leaf & Bean by Oscar as his house cigar in 2013. But Oscar's journey in premium cigars didn't start there; the road took a series of twists and turns before finding its way to internationally distributed cigars, a vertically integrated tobacco operation, and a globally recognized brand synonymous with quality tobacco and unique packaging.
At every step in the history of Oscar Valladares Tobacco & Co., there was one pivotal person who unlocked the next turn.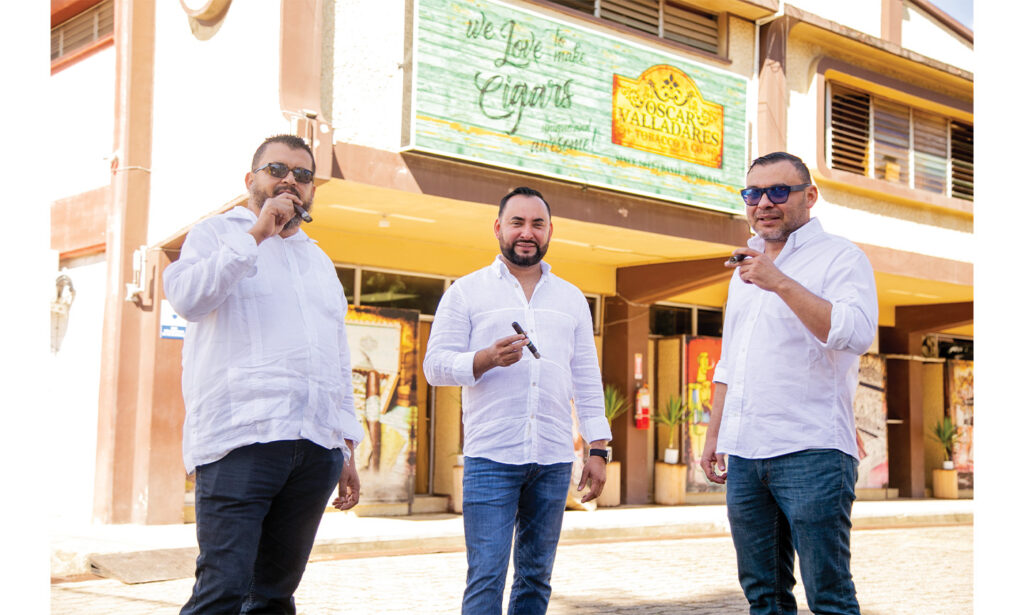 Turn 1: Mauricio
The first rudder to steer Oscar towards a life in premium cigars had nothing to do with cigars at all. Mauricio, a good friend working as a tour bus operator in Tegucigalpa, recommended Oscar for a part time position at the travel agency. Oscar was studying hospitality and tourism, so the money and experience were high on his list of priorities. He started by working the phones, making reservations and coordinating travel plans for tourists.
Before long Oscar was a mainstay at the agency, picking up hours to the point that he abandoned his university studies in exchange for real-life lessons in the field he had hoped to get into with a degree.
"It must've been five or six months into the job when my boss came to me asking if I could drive one of the company's large, 30-passenger buses. I had never driven anything that big but I said yes."
All of the company's drivers were already on assignment, as were all of the small buses. The company had a repeat customer with three guests waiting to be picked up at the airport and driven to Danlí. The only option was for this unnecessarily large bus to be driven by Oscar, a phone reservation agent.
Turn 2: Rocky Patel
The repeat customer needing a pickup at the airport was Rocky Patel, who was bringing his cousin Nimish Desai, Keith Meier of Cigars International (at the time), and Erik Espinosa to see his operation in Honduras. "I had no idea who these guys were,"Oscar said. "The only thing I knew was that I was struggling to drive that huge bus."
The trip involved taking Rocky and his group from Tegucigalpa to Danlí, a city mostly new to Oscar, and acting as a tour guide as they visited different spots in and around the city known for its tobacco prowess. "I didn't know my way around and I struggled with the bus but we made it work and they had a good time." Oscar had never smoked a cigar in his life, but when Rocky gifted him one, he accepted it, smoked it, and enjoyed it.
The group spent several days in Danlí with Oscar and a friendship took shape. "All the guys were great on the trip but Rocky and I really connected. He told me that he would be back with many groups in the coming months."
As he assisted on those group trips, Oscar began to assume more responsibilities; coordinating lodging, ensuring there was plenty of alcohol and food for guests, and, of course, taking them to the fields and factory tours. The work he was doing with Rocky's groups was even starting to make its way to his other tourism work.
When Rocky was not bringing in travelers, the agency made Oscar a tour guide for non-cigar-related groups from the U.S., Canada, and Holland. "These were regular tourists who wanted to see Copan, Mexico, Guatemala, and all kinds of places throughout Central America. Also there were charities who gave healthcare services to the needy in Honduras and I took them around as well. On every trip, whether charity or regular tourism, we'd always take them shopping and I noticed that they'd always want to buy cigars to take back, but also to enjoy while on the trip." He worked out a deal with a small factory in Copan and started to sell their cigars to the tourists and charity groups.
"That's where my fascination with cigars really took hold. Because I had been doing the trips with Rocky and seeing the process firsthand, I knew a lot of information that helped me sell." He didn't know it but he was starting to figure out what worked, what didn't, what customers liked, and how best to convey information about blends.
He sold cigars at an astounding clip in a market not known for heavy volume in cigar sales. Up to now he'd only been selling cigars from the small Copan factory but emboldened by his success, he asked Rocky to give him the Rocky Patel distribution in Honduras. "I thought he was crazy," Rocky said, "I told him 'cigars don't sell in Honduras.'"
There were no cigar stores in Honduras at the time, so Oscar made small display humidors and put them all over the country's tourist attractions. "I put them in bars, restaurants, hotels, clubs, basically anywhere where there were tourists." In all, he set up 75 humidors. Each had three customer-facing boxes of cigars and on the clerk side he put a sticker with S, M, or F on it – S for 'suave' or mild, M for 'medio' or medium, and F for 'fuerte' or strong.
Sales skyrocketed to the point that even Rocky was beside himself. "He told me I don't know what you're doing but you've sold more in Honduras than my distributor has in all of Latin America," Oscar recalled. As a result, Oscar was given the distribution of Rocky Patel Premium Cigars in all of Latin America and the Caribbean.
As good as it was going, he was spreading himself a little thin. "I was still working as a tour guide for the agency, still running the groups for Rocky, and now distributing cigars throughout Latin America." At times, he didn't see his family for weeks, and the job juggling eventually took its toll on his family life.
Rocky eventually offered Oscar a full-time job at the factory. He would still run the groups but also work as a quality control supervisor in the packaging department. "During that time I learned a lot and met a lot of people in the cigar world. From the time I started doing the tours for Rocky, I met so many cigar store owners and customers. Then while working in the factory I met people from every level of the cigar-making world in Honduras and Nicaragua." While he did meet and interact with an inordinate amount of people in the cigar business, one in particular would have a profound impact on his career and his life. .
Turn 3: Bayron Duarte
During that time, Rocky Patel's cigars were being made at Honduran American Tobacco SA, or HATSA. As part of the tours, Oscar would bring consumers to the factory to see them being made. On most occasions, Rocky took them through the factory while Oscar remained on the bus.
Any time Oscar's bus pulled up to HATSA, one of the factory's supervisors would come out to greet him and chat while the group toured the facility. The young, affable supervisor was Bayron Duarte.
"Oscar's bus always had a cooler with refreshments in it and I love Coca-Cola," Bayron said. "I would spend a few minutes with him and we'd talk over an ice-cold Coke, that's really how our friendship started."
Eventually the friendship grew to where they were meeting after hours and enjoying cigars together. During those sessions, Bayron shared not only his background in tobacco with Oscar but also his lofty ambitions to one day start a factory of his own.
Unlike many young Hondurans who saw tobacco and cigars as a way to make ends meet, Bayron's love of the leaf had deeper roots.
"My mother worked for Don Estelo Padrón until I was about five years old. She cooked for them and since their daughter was already older, they took me and my sister in as if we were their kids. In fact, we used to call them papito and mamita. Even after we moved away when my mother went to work for another family, he would always ask us to pass by whenever he was in Danlí so we could spend time with him."
Estelo Padrón, whose brother José Orlando founded Padrón Cigars, moved to Danlí in 1971 to work at HATSA. There he oversaw all aspects of cigar production, eventually becoming a partner in the company before it was acquired by General Cigar in 1998.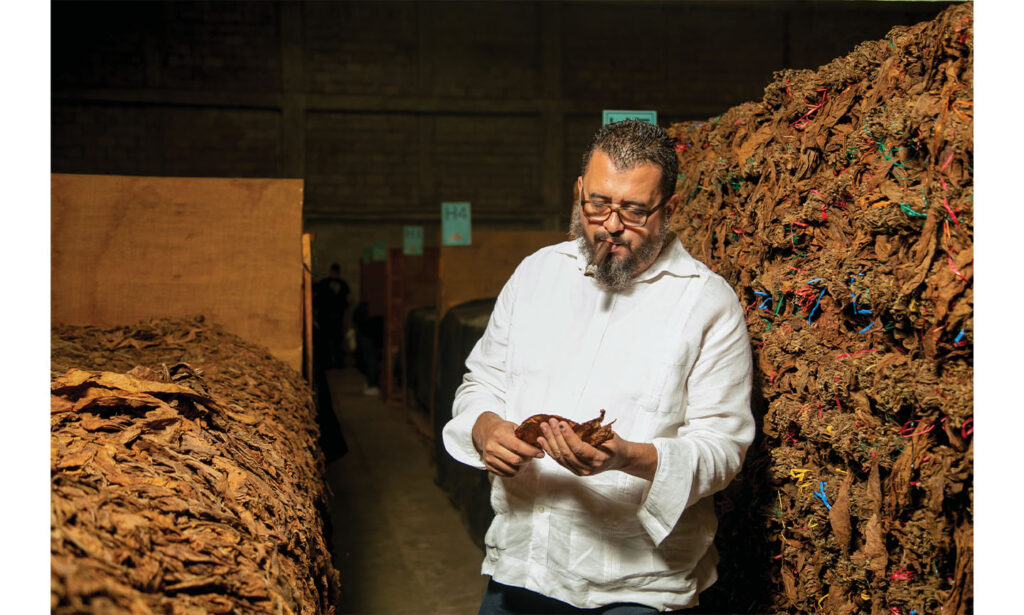 "Years later when I started working in the factory as an adult," Bayron said, "the older workers would tell me stories about how the Padróns would dress me just like Estelo when I was little, with a guayabera, linen pants, and white shoes. His brother José Orlando had a small factory nearby in a place called El Rugido and they would get together there in the afternoons to play dominoes and smoke cigars. And they would ask me to sing because I liked to sing and they said it brought them luck. I still have some keepsakes from that time that I treasure dearly but that passion and love for cigars was instilled in me by Don Estelo."
The Padróns planted more than a love for tobacco in him; they fostered in him an ambition and entrepreneurial spirit that set him on the path he's followed to this day.
"Once while I was working as a roller at HATSA, my boss asked a group of us what kind of job we saw for ourselves in the future. When he came to me I said the truth. 'I want to own a factory like this one or bigger.' He scoffed at the idea but I never stopped believing and working towards that goal."
After HATSA, Bayron went on to work as a quality control supervisor for Oliva Cigars when they opened a factory in Danlí. Then in 2010, he set out to fulfill his dream and started Danlí Honduras Cigars, operating out of his home with a couple of friends.
"We started making cigars out of my daughter's bedroom and then moved to a bigger space that we rented. The idea was to launch a small brand and just grow it little by little."
That may have been the idea but the reality was far from it. It turned out that Bayron's soon-to-be ex-friends/partners struggled to move the product.
"We made cigars of good quality, that wasn't the problem," Bayron said. "It's just difficult to sell cigars. Actually it's really difficult to sell cigars!"
After a year of almost no sales, they agreed to shut down the factory and dissolve the company.
Bayron had left a good job at a big cigar factory to follow his dream of owning one and he had crashed and burned.
---
In the meantime, Oscar's distribution company in Tegucigalpa had grown to the point that he took on partners to help him operate it while he still worked at the Rocky Patel factory, running the tours and doing double duty in the packaging department.
His new partners had been in the distribution business long before him, giving Oscar confidence that this venture would succeed. He put his head down and got to work, trusting that things would go well. For three years he worked at Rocky Patel in Danlí and as far as he knew, the distribution business was cruising.
Until he noticed that it was actually careening off the side of a cliff. "Once I started to see that the numbers didn't add up, I got concerned and went to our office in Tegucigalpa to investigate," Oscar said.
He found that the company had no money and no inventory, but even worse, they had a sizable unpaid debt with Rocky Patel for product that had been purchased on credit. Oscar declines to blame his now ex-partners. But he had a situation to deal with.
"In 2010 when I figured out what was happening, I set up a meeting with Rocky and told him that I could no longer work at the factory because I needed to tend to my distribution business. This was difficult because Rocky had helped me so much, but this was the only way that I would be able to repay the debt. My idea was to move my family back to Tegucigalpa, take control of the company, and sell like a madman in order to pay off the debt. I gave myself the goal of paying it all back in one year."
And he did just that. The debt was repaid. While the business wasn't making money, he'd brought it back to level and, more importantly, made things right with Rocky. Once he'd accomplished that, he gave up his share of the company. He didn't have the energy to fight or the funds to get attorneys involved, so he cut ties.
A rejuvenated but unemployed Oscar Valladares returned to Danlí in 2011 to find that his friend Bayron's small factory, Danlí Honduras Cigars, was about to go under as well.
The two friends spoke daily, working on a plan to join forces. Bayron's ability to make excellent cigars was unquestionable and Oscar's sales and distribution prowess spoke for itself. But they'd each burned through all of their savings just to get back to square one.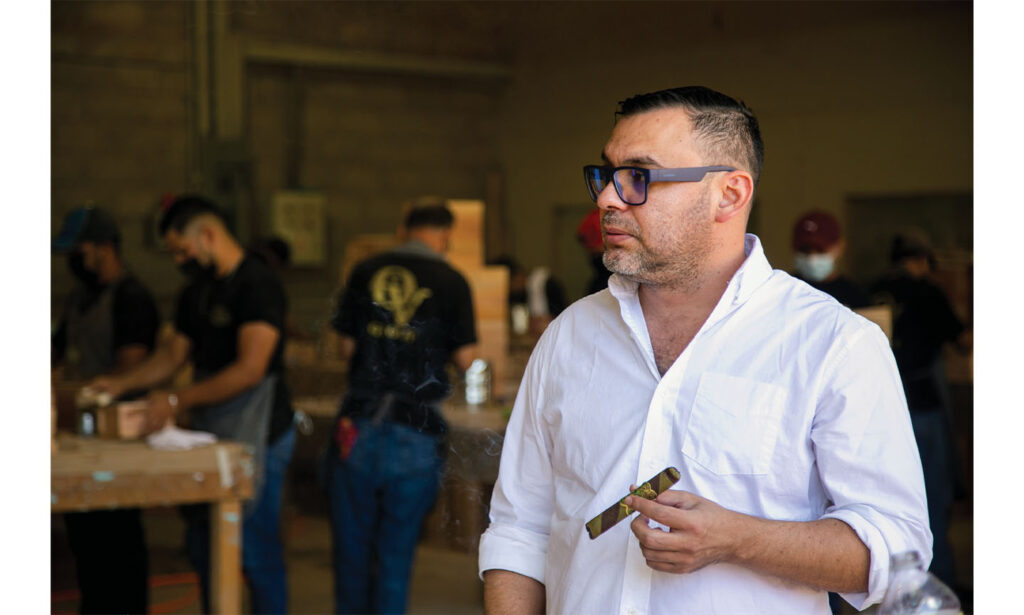 Turn 4: Hector Valladares
Oscar's younger brother Hector graduated from the police academy in Tegucigalpa in 2005. He wasn't much into cigars, actually preferring cigarettes at the time, but he admired his brother's entrepreneurial spirit and courage. He'd often brag about his brother's exploits in the cigar business to his friends in the police department.
"In the police department they'd order cigars from Oscar through me," Hector said, "and I always delivered the cigars. But the money would somehow never make it back to Oscar." He delivered the line with that chuckle that anyone with a mischievous younger brother knows all too well.
Things were progressing nicely for the young officer as he rose through the ranks in the police department. Shortly after graduating from the academy, Hector had purchased a home, gotten married, and started a family in Tegucigalpa.
Then in 2011 his brother Oscar called with an opportunity. He was seeking a third partner to open a small cigar factory in Danlí with a storefront to attract cigar-loving tourists. Oscar explained how Bayron's factory went under for lack of sales and his distribution business had been run into the ground by mismanagement despite robust sales. The market was there. The only thing they needed to make this work was the investment of a third partner.
Hector, who had always admired his big brother's entrepreneurial drive, saw this as an opportunity to be a part of something special. He did what many aspiring small business owners have done to fund a startup; he borrowed against his home. He admitted that "It took some convincing on the home front but my wife supported the idea but not without asking one more time. After she'd agreed to it, she looked me in the eye and asked one last time, 'you're sure about this, right?'"
The importance of this decision was deeply significant.. Hector and his family had done everything right, he'd worked hard and they had a good life, and he was suddenly going to put the only real investment they owned on the line.
In order for this to work, they would need to produce good cigars, make sound decisions, and, hopefully, catch a break. It didn't take long for that break to come, and it stemmed from Oscar's days of doing tours for Rocky Patel.
Turn 5: Island Jim
With Hector's investment, the trio opened a small factory and storefront across from the central park in Danlí in 2011. "The idea," Oscar explained, "was that the customer could see us making the cigars and would buy them right there." They had one pair of cigar makers working and made mostly un-banded cigars. Sales didn't take off right away. "There were many days when we didn't sell anything. We had to just store the cigars and hope that more tourists showed up tomorrow."
They soon came up with a concept for a brand to celebrate the "end of days" in the Mayan calendar, calling it simply 2012. It was to be a limited edition; only 2,012 boxes would be made. The box contained 20 cigars, 19 of which looked normal but the 20th was covered with a raw tobacco leaf stamped with "to be smoked on December 21st, 2012." If you remember the doomsday talk of the time, many were predicting that there would be a cataclysmic end to the world on December 21st so if you smoked the 20th cigar on that day, that would either be the last cigar you ever smoked or the cigar you smoked to celebrate that we were all still here.
As novel as the idea was to set up the 2012 box in that 19 + 1 configuration, the game changer was the packaging innovation of using a tobacco leaf to protect the 20th cigar instead of using cellophane. Oscar's voice hit a new level of excitement as he aptly declared: "That cigar changed everything for us."
In the early part of 2012, Oscar received a call from the owner of a cigar shop in Pittsburgh he'd met several times while running the Rocky Patel tours. Jim Robinson, aka Island Jim, from Leaf & Bean called Oscar to give him a heads up that he was going on another tour of Danlí with Rocky. Oscar apologetically let him know that he was no longer working at the company. "I told him that I had started a small factory of my own in Danlí." Jim promised to stay an extra couple of days after the Rocky tour and stop by for a visit. Oscar chuckled at the thought of even calling it a factory. "The place was really small, you could walk in, turn around in 360 degrees, and see the whole operation. It looked more like a garage than a factory."
As humble as it was, Jim took one look at that leaf-covered cigar and knew that he'd struck gold. He bought 30 boxes of the 2012 and effectively became the first retailer to carry an Oscar Valladares product in the U.S.
"We even had a party via FaceTime from Danlí to Pittsburgh at midnight on December 21st to celebrate the end of the Mayan calendar. We smoked that special cigar and had an instant connection with the Leaf & Bean customers."
On the heels of that virtual event, it was Jim's idea to create a house brand for his shop around the tobacco-covered cigar concept. The store was called Leaf & Bean and this cigar was covered by a leaf, it was perfect. They called the house brand Leaf & Bean by Oscar. "I didn't want to put my name on it at all," Oscar said. "I thought that it should just be called Leaf & Bean, but Jim was not having any part of that. He told me that if it didn't have my name on it, he wouldn't place the order." It wasn't difficult to convince Oscar at this point, since Jim's order of 5,000 cigars would give this tiny factory the boost it needed. "I wasn't going to argue with him."
Jim's insistence was based on sound reasoning; he felt that many cigar retailers in the U.S. already knew Oscar from the tours, and in the future if they wanted to sell the brand beyond his store's private label, having Oscar's name on it would be beneficial.
"It happened exactly as he said. He predicted it from day one," admitted Oscar. The initial order of 5,000 cigars sold out in less than two weeks at Leaf & Bean and by the end of that first year they'd sold around 15,000 cigars, a humble but encouraging start for the fledgling cigar company that had grown to two pairs of cigar makers.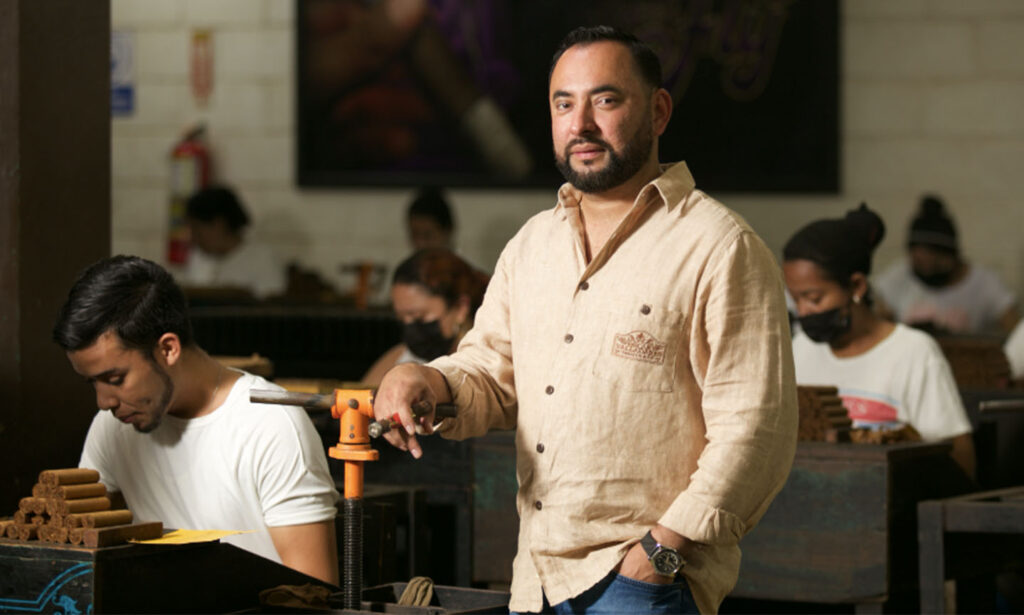 Before long, the brand was changed from Leaf & Bean by Oscar to simply Leaf by Oscar and Jim began distributing it beyond his store to retailers all over the country. After only four months of selling to retailers, the factory had outgrown the small space. "We moved to a larger space," explained Oscar, "but after two years we outgrew that space as well."
The company was on an astronomical growth trajectory fueled by a single brand hatched from a novel packaging idea that became an overnight sensation in the cigar world.
Turn 6: The Oscar
The buzz generated by that cigar suddenly made Oscar a household name not only among cigar shop owners but also consumers. Soon after, Oscar was faced with the same question that many successful small brands have: "What's next?"
The dilemma introduced a complication, as Leaf by Oscar was a brand that grew from being Leaf & Bean's house cigar that was now being distributed nationwide by Jim's distribution company. Oscar wanted to manage his own sales and distribution of the new lines. They figured out a solution that worked for both parties and in 2016, The Oscar was born, distributed by the newly formed Oscar Valladares Tobacco & Co. out of Houston.
The Oscar smartly incorporated some of the raw tobacco components of the Leaf without causing confusion and garnered instant high marks from publications including Cigar Snob, with the maduro version securing the #12 position in the annual Top 25 with a score of 92 in 2019.
Oscar's creative solutions to thorny business issues allowed his U.S.-based distribution company to gain a strong foothold in the marketplace. He surrounded himself with a small but dedicated team at the office and a hard-working and effective group of sales reps that pushed the brand to new heights.
The release of The Oscar was followed by additional successful launches including SuperFly, McFly, AltarQ, Cicerón Edition, and Wild Hunter in addition to numerous store exclusives that endeared Oscar and his company to retailers and consumers alike.
In recent years, Oscar Valladares Tobacco & Co. has acquired the brand rights for Leaf by Oscar, effectively bringing all of the OV brands under one roof. The Oscar Valladares 10th Anniversary was released in late 2022.
Oscar Valladares Tobacco & Co.
Today, Oscar Valladares Tobacco & Co. produces an estimated 5 million cigars per year from tobacco grown mostly on its own land in Jamastran, Talanga, and Copán. The company also operates four retail locations in Honduras, including one at the new international airport in Palmerola, Honduras. In 2019, the company opened a European distribution center in Hechingen, Germany where cigars are shipped to 35 different countries.
Co-founder Bayron Duarte is the company's master blender and head of production. His blends and fastidious attention to detail provide the quality cigars needed to succeed in the increasingly competitive world of premium cigars.
After retiring from the police department in 2016, co-founder Hector Valladares joined the company full-time to head up brand development, packaging, and retail operations. He's the creative force behind the packaging of such brands as SuperFly, McFly, and Wild Hunter. He also established a relationship with world-renowned Honduran artist Cicerón, resulting in the sought after Cicerón Editions.
Co-founder and president Oscar Valladares is the face of the company and manages the sales and distribution aspects of the business. He initially moved to Houston in 2016 to be in better contact with U.S. customers, his tireless work ethic, fearless spirit, and shrewd decision-making have provided leadership for the company while his knowledge of every aspect of the cigar-making process have given him a notable advantage in sales.
I found that while researching this company, visiting their operations, and speaking with the men and women that make up this collective, there was a serendipitous energy running through it. Oscar's saga began with that bumpy bus ride to pick up Rocky at the airport, continued when both Bayron and Oscar shut down their respective businesses in time to join forces, and blossomed with the timely Jim Robinson connection.
While the company's story embodies the cliché, "everything happens for a reason," its founders aren't leaving anything to chance. "You definitely need a little luck," Oscar said, "but without working as hard as we do every day, I don't think we'd get very lucky."
---
Photography by Tete Aleman
---
Click HERE for more personalities!