CULINARY ACE BURSTS ONTO CIGAR SCENE WITH HUGE PERSONALITY AND FLAVORFUL BLENDS.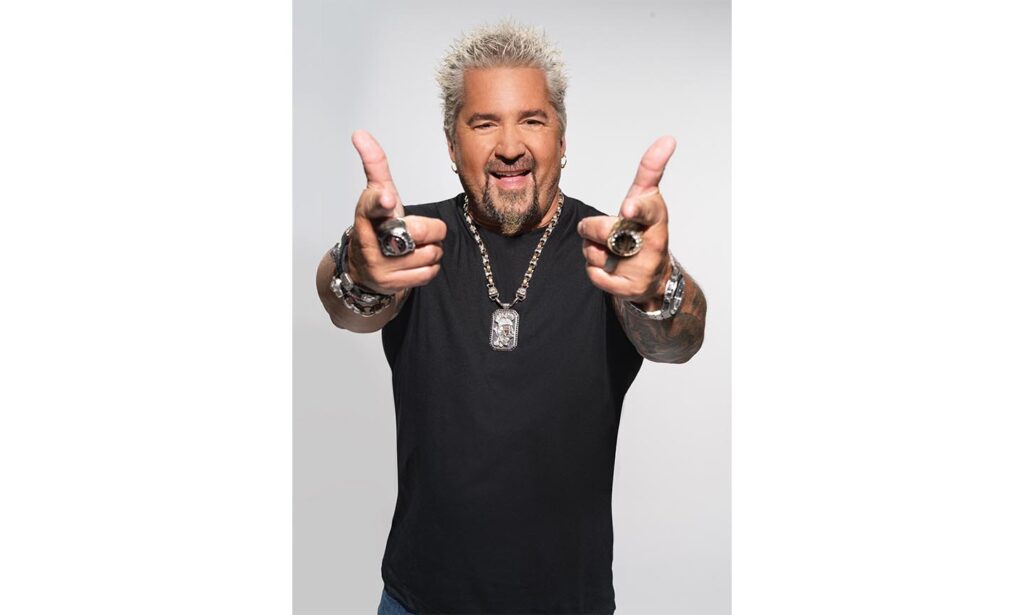 Guy Fieri isn't much for casual interests. Be it food, wine, spirits, or cigars, his is an immersive pursuit.
As a youth, he knew he wanted to be a chef and restaurateur. He cooked, read about food and recipes, and lived it, starting at age 10, when he opened a soft pretzel cart.
As an adult, as his name in culinary circles grew, he wanted to engage in other projects that delivered to the best of his ability.
The Knuckle Sandwich, released last year by Espinosa Cigars, is a result of Fieri's cigar passion, over 30 years after he had his first premium cigar as a post-college youth. As he indulged his taste for cigars, he studied the culture and craft of the leaf and its many facets.
The result is a flavorful smoke that made its unofficial premier at South Beach Wine & Food Festival in Miami in February 2022.
At the Premium Cigar Association's annual convention and trade show in Las Vegas a few months later, Fieri showed up and celeb pandemonium broke out.
"The line for Fieri's autograph wrapped around several booths," Cigar Snob reported from the floor of the show. "The frenzy over the autographs reached a point where Espinosa had to shut it down prematurely. It was a madhouse in the best kind of way for Espinosa."
Fieri (pronounce it fee-eddy) comes with a story. Yes, he is that flamboyant, tattooed, conversational television show host, a loquacious hawker of all things culinary, best known for his Emmy-winning Food Network show "Diners, Drive-ins and Dives," a perennially green-lit show that has been on the air since 2006. In those 600-plus episodes, Fieri is a magnanimous host who travels America in search of compelling dining in a quintessentially American Chevy Camaro SS. The show is an unbridled trans-fat celebration but carries appeal to anyone with a palate, refreshing in its candid capture of roadside cuisine. Mac and cheese muffins, alligator ribs and bacon-wrapped meatloaf mix with Filipino, Thai and other, less indulgent fare.
That said, Fieri, 55 years old, tells Cigar Snob that among his favorite foods are "vegetables, when prepared correctly."
He lives in Northern California and South Florida, and married his wife, Lori, in 1995. They have two sons, Hunter, 25, and Ryan, 17. Fieri chronicles select parts of his life on Instagram (2 million followers) and Twitter (3.5 million followers).
His tequila portfolio is Santo, created with former Van Halen vocalist Sammy Hagar, and his Hunt & Ryde wine out of California's Sonoma Valley is named for his sons. And his restaurant empire includes eateries that cater to big American eating, including Guy Fieri's American Kitchen and Bar, in locations from Foxwoods Resort Casino in Connecticut to the Burbank, California airport, Guy Fieri's Pizza Parlor in Virginia and the cruise-centric Guy's Burger Joint.
Fieri started in restaurants as a teenager, working at the Red Lion Inn in Eureka, California before heading to college at the University of Nevada at Las Vegas, earning a degree in hospitality science in 1990.
He worked in the minor leagues for a time, but like an overachieving fastball throwing phenom, Fieri quickly ascended, starting his first restaurant in 1996, Johnny Garlic's in Santa Rosa, California. As he moved through the eatery entrepreneur world, in 2005 Fieri submitted a demo tape for a talent call from Food Network.
"My name's Guy Fieri, my friends call me Guido," Fieri tells the camera in his audition tape. Then, he points to the camera and says, "And you can now consider me your friend."
He won and a friendship, if there can be such a thing in Hollywood, was launched.
Cigar Snob: What can you tell us about your cigar history?
I've been into really good cigars since 1990. I came out of college, and I smoked cigars but not good cigars, not well-maintained cigars. When I graduated college, I ran a restaurant in Long Beach, a big corporate restaurant, and there was a cigar place down the street from my house. On my day off, I'd ride my bike to the cigar shop. I also would read about cigars, I read Paul Garmirian's book [The Gourmet Guide to Cigars]. I made a humidor. I saved my money and bought some Hoyo de Monterreys, I fell in love with cigars. When I opened my first restaurant in 1996, I went to the local cigar shop and asked to buy cigars wholesale to have a cigar patio. This was back when you could do that in California. And finally, I made a trip to Cuba and got some education there. Cigars have a mystique and an energy. I don't slow down very much and when I get to have a cigar, it's the best respite I can get. You need the right setting. I usually smoke on my patio at home, I have a house in Florida and in Northern California. I would love to have a cigar room at the house, my wife won't let me smoke inside.
CS: How did Knuckle Sandwich come about?
It was always something I wanted to do, but I knew from having a small winery and the tequila that it wasn't something just to become a brand stamp. I have too much expectation of involvement and didn't want to be involved in a way like, 'here's some cigars and let's brand them Guy Fieri.' So I had to convince my managers that this was OK to do first. People misunderstand cigars, it's not a vape pen, it's not cigarettes. In cigar appreciation, there is a lot going on. So I got the blessing from everyone and when I got my star in Hollywood [in 2019], I said I want to do this cigar and I started putting the word out. Through The Squire in Santa Rosa I met Tim Wong from Espinosa and he said he had a guy who could help. He said, 'you need to meet Erik Espinosa.' So I came to the South Beach Food and Wine Festival, and we met. And we stayed friends as we investigated how we could embark on this cigar. We finally came up with the Habano that we now have. We put the name under Knuckle Sandwich, which is my big company, everything else falls under that. We've never put that on anything, it's too sacred. But after smoking the cigar and considering what we made and my relationship with Erik, it deserved it.
CS: We'd be remiss if we didn't talk food for a second…
Both my parents were great cooks and I recall the first time we had lamb. We had taco night, with the Lazy Susan and all the containers of ingredients we could spin around. Then I saw the Joy of Cooking cookbook and I looked at it and said, 'they tell you all this?' It's a manual, it tells you how to make meatloaf. It was a big epiphany. Then I went to France as an exchange student and their school lunches were better than anything I had as a regular meal in the U.S.
CS: You've got cigars, television, a huge public profile. What thrills you at this point?
Anything that has to do with my boys. We just got done going to the Super Bowl, and the NBA All Star game. My youngest son is into cooking and it's great to see my nephew's music career do well. We do everything for our kids, and the older I get the more I feel that's the most important thing. We have our foundation and I enjoy being able to take the [influence] that I have and the energy and the scope and applying it to help others.
CS: What's next on the cigar front?
We've started and now we can keep going. The cigar has been a big project that has always been the quest. It's been on the radar for 20 years. This is not a short play, we're constantly in the think tank of where we're going to take this. We won't go into mass production, and while we want to be recognized, it doesn't mean we need to sell in terms of the biggest volume. When I started with Erik, I was very clear that I didn't want a celebrity branded cigar. I didn't even care if my name was on it. It [is] the way I also see myself in the food industry, in that you do it your own way in your own style as great as you can and believe in what you say and do.
---
Knuckling Down: Erik Espinosa talks about the genesis of his cigar with Guy Fieri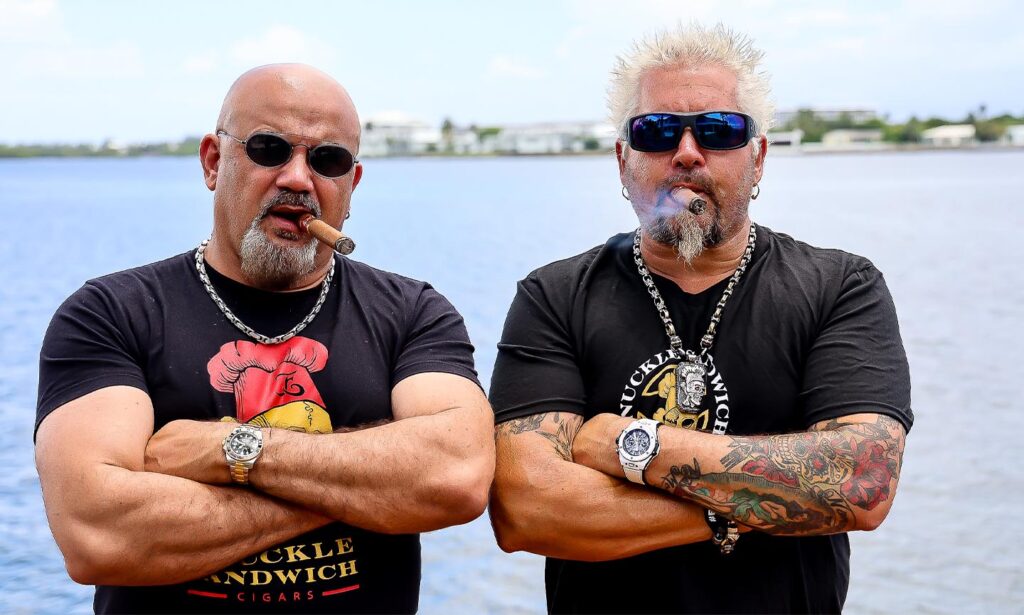 Erik Espinosa
Cigar Snob: Tell us about that first meeting with Guy
Erik Espinosa: He didn't want a real big company to do that because he felt he would get lost in the shuffle, and he'd done a lot of research on us. He wanted someone our size that could make a great cigar. So I went to meet him at the Loews Hotel on South Beach, this was 2020. It was a 10 a.m. meeting and he was there at 9:45 with a bottle of his tequila. I brought him some cigars and Cuban pastries. We went outside and sat down to talk and started feeling each other out and I immediately decided I was dealing with someone who reminded me of me. His energy, his work ethic. And I've had this thing where I write on Facebook that I'm tired of people telling me I look like Brad Pitt. Guy told me he did the same thing when he was in Europe, people would tell him he looks familiar and he'd say, 'yes, I'm Brad Pitt.' We both came up with that.
Plus, he's a family man, and I judge my friends by how they are as a father. We hit it off.
We also smoked, and I handed him a cigar, a lighter and a cutter, and he put the cutter on the table and said, 'I don't use a cutter.' He doesn't use a cutter; he bites the end. He'd passed test No. 1.
We met first on a Thursday and then we met again on Saturday at the Food and Wine Festival in Miami.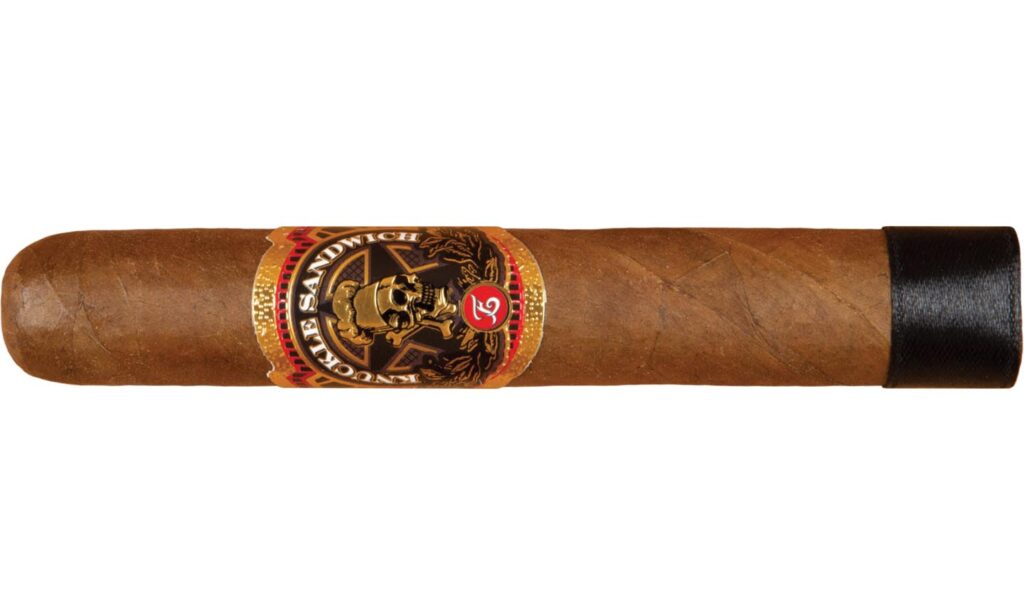 CS: What do you want to do next with Knuckle Sandwich?
Espinosa: We came out with the 55 [celebrating Fieri's 55th birthday] in January and sold it out in two seconds. The brand is very hot, and most brands don't last that long. But we had a phenomenal year and it's still going; we keep selling and ordering more. Guy has been great about everything. He's gone everywhere we've asked and he's never let us down. We're looking at the PCA again and maybe the Rocky Mountain Cigar Festival. I wish he could do more, but I get it, he's a real busy guy. People love him, we'll be doing something, and he never turns anyone down, asking for pictures and whatever. If he has to keep moving, he'll invite the person to walk with him for the picture. He's done what he has to do to make this brand successful, he doesn't sit on the sidelines. It's been a great experience, and he's now more than a business partner, he's now a friend.
---
Click HERE for more personalities!