As a record producer, Jack Douglas has over the decades helped create music by John Lennon, Cheap Trick, Alice Cooper, and myriad other culture shapers. Douglas is the man behind the hits, including Aerosmith's "Walk This Way" and "Sweet Emotion," two of the 70s' most impactful songs.
The songs put platinum on his wall and influenced popular music genres from rock to rap. Douglas, 77 years old, is most recently the music producer for Martin Scorsese's latest rock doc, "Personality Crisis: One Night Only," about David Johansen, a.k.a. dance schmaltz hipster Buster Poindexter, of 1987 hit "Hot Hot Hot" fame. More film scores and production are on the table.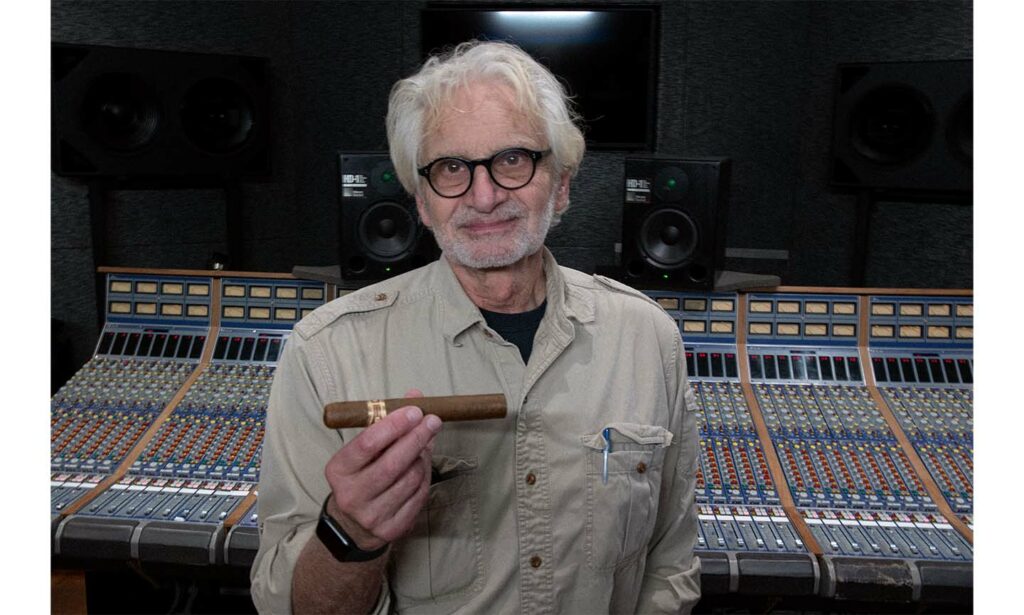 "I love working and have always been attracted to film scores and film music," Douglas says in a phone interview from his son's Los Angeles home.
Away from the studio, Douglas is a passionate cigar connoisseur, with a circle of smoking companions that includes actors Johnny Depp and Kevin Bacon, and Aerosmith's Joe Perry and Steven Tyler.
"Aerosmith used to have a road case that was a humidor," Douglas says. While Douglas still tends to the vagabond travel schedule of an artist, he spends much of his time with his wife – married since 1995 – at his home on the Hudson River in Nyack, New York.
"I like living out there, it's in the woods on a dirt road, no one is around us," he says. "I can be in Manhattan at my office in 20 minutes. And I can have a cigar while I make the drive in."
His love of cigars began in 1995, when Douglas took part in a weekend seminar by Sterling Men's Group, an organization devoted to defining for patrons the meaning of masculinity in contemporary culture.
"At the end, all of us got together in a room and the guy heading it up, [A. Justin] Sterling, brought out cigars and we all smoked," says Douglas, who was kicking a decades-long cigarette habit. "I'm sure the cigars were not the best, but it was amazing, this ceremonial smoke with 100 men, many of whom probably never smoked a cigar in their lives. And it bonded us all, it was almost primitive."
One of his colleagues at the seminar, though, worked at Davidoff in Manhattan, and wisely counseled Douglas, a New York native. He invited him to his store, and Douglas, whose life was a blur of recording studios, big and often eccentric personalities, and all their conflicts and, not coincidentally, substantial financial reward, had found a new passion.
"I went in, and he told me, 'these are good cigars.' He had the greats, of course. He pointed out the Montecristo #2s, and turned me on to my favorite cigar of all time, Opus X. He showed me how to appreciate a cigar, going through the wrapper, filler, binder. I found I liked the Connecticut wrapper."
While Douglas spent time, like many smoking New Yorkers, at the now-shuttered Grand Havana Room on Fifth Avenue, the Davidoff of Geneva Lounge on Madison is still a favorite haunt for Douglas.
"I go in and buy a shorty and watch these guys reading the Wall Street Journal," he says. It's where Bacon was a member and Douglas smoked with actor Kevin Chapman and would occasionally see Rudy Giuliani and Al Sharpton. Douglas made more friends in cigar circles, the way cigars create a community.
"We used to go to Armand Assante's house, and he had a great selection of cigars, and we'd smoke with the guys from the Sopranos," Douglas says.
The cigar trail had its origins for Douglas as a youth, "since two of my heroes smoked cigars – Ernie Kovacs and Groucho Marx."
When Douglas eventually met Marx, lunching with the diminutive, aging comedian at the Polo Lounge in Los Angeles, "he had the cigar along with a beautiful blonde, who he said was his nurse."
Meeting heroes, cigars with the stars had a humble beginning, launched with a willingness to be humble.
He began as a musician, first as a coffeehouse troubadour, then venturing to Liverpool in the mid-60s to just breathe the same air as the Beatles. He played around town for a few weeks, then headed back to the U.S., playing in bands with moderate success and serving a term in the mid-60s as bassist in one of Chuck Berry's many road bands ("he didn't pay us well at all, we didn't care, and he knew it").
After enjoying some time checking out studios as a musician does, Douglas in 1969 landed a spot at the Record Plant, which had opened the previous year with the Jimi Hendrix Experience as one of its first clients. The studio was already being upgraded. But Douglas wasn't pushing faders.
"I started as a janitor at the Record Plant in New York," he says. "I got a foot in the door with a hand in the toilet."
To increase his chances of getting a break, Douglas enrolled with the Institute of Audio Research, a trade school for audio production. Classes were held in a Midtown hotel room.
Douglas patiently waited his turn, sitting in a corner and watching the process. Using his audio training, though, he was also stashed away in an editing suite, cutting jingles, dubbing, and fixing whatever came his way.
"I was taking notes the whole time," Douglas says. "At the same time, I was scoring the original ABC Afterschool Special shows, so the janitor was composing scores for TV shows."
Years passed quickly, and he cut the demos for an early Billy Joel. The Who came through and in 1971 he engineered early versions of what became "Who's Next." The same year, he met Lennon, who was recording "Imagine." Douglas scored an engineer credit.
He moved to the engineer desk in the main studio. Douglas was always around, and when someone mentioned a band from Boston that needed some help, Douglas became the man. He produced Aerosmith's "Get Your Wings," in the winter of 1973.
It has since gone three times platinum.
In the best circumstances, a producer is a de facto babysitter, contributor, buffer between the corporate label suits and the artist and, on occasion, a good friend.
Through his diligence, amiability and work ethic, Douglas kept working with Aerosmith as they became the biggest band in the U.S. They often called him the sixth member of the band.
Douglas was finally a big name in recording circles, sought out and welcomed to any session. Even A & R people took his calls.
In 1976, while visiting relatives in Waukesha, Wisconsin, Douglas asked his hosts what kind of entertainment the Milwaukee suburb of 50,000 had to offer.
"The Sunset Bowl," he was told, and headed over there with his brother-in-law. The evening's entertainment was a band from nearby Rockford, Illinois, Cheap Trick. They knocked him out. He called Tom Werman, a junior talent guy at Epic Records, and advised him to check into the raucous act.
Things worked out and Douglas produced the debut, self-titled Cheap Trick album. The group was so rich in material that two songs that would soon define Cheap Trick were saved for another day – "Surrender" and "I Want You to Want Me."
"I think we recorded 30 songs in two and a half weeks in New York, and I put those on the back burner for the next album," Douglas says.
A couple years later, in 1979, Douglas was called one night to come by Producer's Workshop in Los Angeles where Pink Floyd was recording "The Wall."
"One of the guys in the band, I can't recall which, maybe it was [guitarist David] Gilmour, asked if I could do them a favor and go to this Air Force base in the desert and record some helicopters and jet fighters," Douglas says. "So I headed to Edwards Air Force Base. When we told them we were doing it for Pink Floyd, they let us do whatever we wanted."
In the summer of 1980, Douglas became close with Lennon and Yoko as they recorded "Double Fantasy." It was released three weeks before Lennon was murdered in December 1980. On the eve of the death, Douglas and Lennon were working on another project and signed off at the studio for the evening. Lennon was dead hours later, shot by a crazy person. The death shook Douglas for years.
Over his storied career at the board, he has played a role in an estimated 200 million sold albums over the years; Douglas has a copy of every album he's been part of.
Working as a producer means keeping up with every latest software improvement and gadget, which he does, and is still learning. The man who has recorded across the spectrum, from Miles Davis to Mountain, aspires to more.
"The work always controls me," Douglas says. "But that's because I let it. And I do that gladly."
---
Click HERE for more personalities!