NFL STAR TALKS ABOUT THE BIG HOUSE, LIFE ON THE VINE, AND MOVING IN THE MIC.
Charles Woodson's in the prime of his career, which says something for someone with a Heisman, a Super Bowl ring and a Pro Football Hall of Fame "Ring of Excellence" in his rear view.
His seat at the table for Fox NFL Kickoff on fall Sundays is cementing his role as a broadcaster, a career the 46-year-old Woodson barely considered during his 21 years as a collegiate and pro football star.
And star is the correct term, as the accolades rolled in the longer Woodson played, starting with three years of college football at the University of Michigan. He was a two-time All-American selection and capped his time at U of M with the Heisman Trophy in 1997.
Over his 18 years in the NFL with the Oakland Raiders and the Green Bay Packers, Woodson was a nine-time Pro Bowl selection, 2009 Defensive Player of the Year and part of the 2011 Super Bowl champion Packers. A more recent feat – and fete – is Woodson's election to the Pro Football Hall of Fame in early 2021.
For the induction ceremony, friends, and family from Woodson's hometown of Fremont, Ohio, made the two-hour trek from the Toledo suburb, population 16,000, that sits 15 miles from the shores of Lake Erie.
Woodson credited his family, friends, teammates, and coaches for his successful gridiron trek.
"We were a Heisman Trophy winner together, we were national champions together, we were Super Bowl champions together…" Woodson said in his address in Canton.
Along the way, Woodson, whose candid, assured charm and considerable self-awareness eased his transition to the TV screen, became a student of the finer things. As a member of the Raiders, he trained in Napa Valley and became curious about the valley's cultural signature.
"Everyone was drinking wine, all ages, male, female, whatever, drinking wine was the thing to do," Woodson tells Cigar Snob. "I didn't know anything about it and started hanging around people who were into it and started exploring."
He began socializing with area vintners and soon launched Charles Woodson Wines, starting with a vintage 2001 Merlot developed with international winemaker Gustavo Gonzalez. 
In 2019, he came out with Charles Woodson's Intercept, producing Cabernet Sauvignon and a Red Blend from Paso Robles and a Pinot Noir and Chardonnay from Monterey County.
He also developed an interest in brown liquor, starting Woodson Bourbon Whiskey, which led directly to the Charles Woodson Charity Golf Tournament, which debuted in October in Las Vegas, featuring a VIP pre-party at Eight Cigar Lounge in Resorts World Las Vegas.
"A lot of guys in sports smoke cigars," he says. "You don't see it since they might be in a lounge smoking or somewhere that they can be amongst friends and talk."
Woodson appeared on Fox NFL Sunday the day after the tourney in a forest green blazer. "I feel like money," he proclaimed to his panel colleagues, referring to the success of the tourney, which raised funds for select charities. 
A LOT OF GUYS IN SPORTS SMOKE CIGARS," HE SAYS. "YOU DON'T SEE IT SINCE THEY MIGHT BE IN A LOUNGE SMOKING OR SOMEWHERE THAT THEY CAN BE AMONGST FRIENDS AND TALK.
We talked with Woodson as he landed in Las Vegas to begin the tournament, and spoke of football, becoming an oenophile, winning and life. Our chat started with a story that shows a man who understands how quirky life can be.
"I went to a Michigan game during my recruiting trip in 1994, my cousin and I drove up to Ann Arbor," Woodson says. "We were going back to Fremont after the game and said 'let's get out of here before the game lets out and all the traffic hits the road. U of M was up by almost two touchdowns with a little over two minutes left. We got in the car and turned on the radio to listen to the end of the game and Kordell Stewart takes the snap and throws it and next thing you know, Colorado wins the game [with six seconds left]. We had missed the end of one of the classic college football games. And my cousin and I, it was dead silence in the car."
It would be one of the few big plays he'd miss over the next three decades.
Getting Started 
I had two recruiting visits, one to the University of Miami and the one to U of M. It was really a big deal for me to fly to South Florida, that was the moment I said to myself, 'holy cow, I'm being recruited by the 'Canes.' I ended up at Michigan and, you know, when you're getting recruited, everything is positive, like 'you're the guy.' I went to my first practice at Michigan and there are 20 [defensive backs]. Who are all these guys? I told myself that I had to work hard to get noticed. But at first, I was a freshman and not starting and that was the only time I got discouraged.
Playing at the Big House 
I had been to Ann Arbor for camps as a junior and senior in high school, so I had been around a little bit. But the first game at the Big House, walking out of that tunnel for warmups as a freshman, people are filing into the stadium and you're going about your business on the field, and you don't notice the crowd. Then you go back in and put on your shoulder pads and come back out and I had to take a big breath – there were 106,000 people, the stadium is packed. I knew there were big expectations, and it was unbelievable for me, the most I had played in front of before was maybe 10,000 in high school playoffs.
Going Pro 
That was just the dream for me, like a lot of other kids. As a kid you'd say, 'hey man, I'm going to the NFL,' but it seems so far off. Then once I got to college and began to play, you see the guys you play against getting drafted. You say, 'if they're going, I'm going.' I won the Heisman (in 1997), and we went to the Rose Bowl against Washington State and won the national championship, so what else could I do at college? I hadn't been spoken to about going pro, back then you couldn't even contact players through the school, although people did find a way behind the scenes, I think, in some cases. But I got out there and was drafted [fourth overall] by Oakland. I just wanted to be drafted high.
Playing in Green Bay 
In Oakland, there was a lot going on, a lot of places to get to fairly easily. You had other pro teams, lots of places to go and see. In Green Bay, it was just the Packers, you're in the middle of Green Bay and that's the whole focus. It took some time to feel the love in Green Bay, but everyone knew you and it was a small town. I was one of the higher profile guys and I lived downtown in a condo and there were restaurants around me and I'd be there all the time, I got to know people who were fans of [the Packers] and sit at the bar, order food and wine and talk to the people, it was a real community.
On wine 
It started when I was with Oakland, being in Napa Valley for our training camp. For a 21-year-old to get drafted and then spend three to four weeks in Napa, we started visiting different restaurants. I fell in love with the culture of wine and Napa Valley. The great thing about wine is that it's very conversational. When you sit down with a bartender, a winemaker, a restaurant owner, you can end up talking about wine and how it's made, the variables in terms of how each year things affect the process. There is so much to learn and understand that you find out pretty fast that there is no way to know everything.
By the time I got to Green Bay, I had a [wine] label and at the time, it wasn't something the vast majority of guys thought was cool. They would see me, though, and start asking questions. So, we'd be out, and people would ask me what to drink, and that was great. Now, you see lots of other guys I played with connecting to wine. Will Blackmon is studying to be a sommelier. Three Fat Guys is a wine label started by Tony Moll, Daryn Colledge, and Jason Spitz who played on the Packers. That started from me, in part.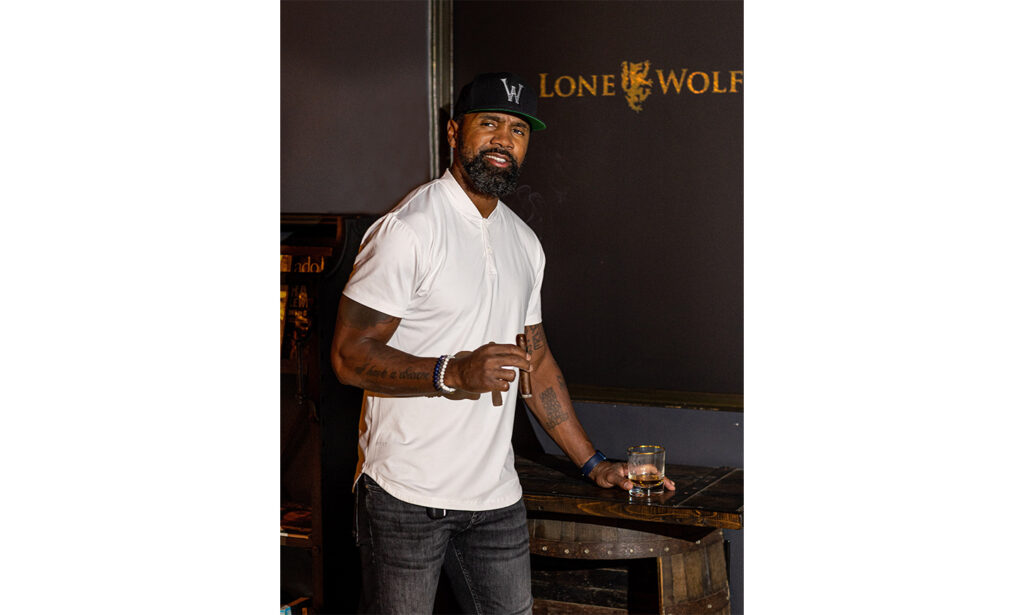 On cigars 
For me, it's one of those things where there's an occasion that pops up. Early in my career, you smoke a cigar every now and then with friends who are into it. Cigars are for me very similar to wine and whiskey in terms of having a taste profile. Like for me, I like my whiskey neat and with wine, you know you aren't going to drink it fast and that's the way cigars are to me. You light it and there's no rushing. It's going to take time to burn how it's supposed to burn, and you can sit and relax and reflect. It's a way to slow down. I have a humidor and often grab one and go out to the golf club where I live. I sit outside, enjoy the view of the lake there and talk with whoever is out there. Right now, my favorite is the Davidoff Escurio Gran Toro.
Staying Pro After Football 
I didn't know what I wanted to do when I retired. It wasn't until the last couple of years, I had read articles about players at the end of their careers who might be good on TV and saw my name pop up. I had never considered it before I got onto a couple of shows on the NFL Network, so when I retired, I hired an agent and we had a couple meetings with networks and the next thing you know, I was signed and getting into it. I have been talking in front of cameras my whole life and had no problems adjusting, but the feedback from producers was a big help, they can really give you pointers. You have to build chemistry on set, know when to interject, but it happens once you learn how your teammates talk and operate.
Explaining the Super Bowl nerves 
Think of it like a boa constrictor that gets tighter with every breath. You start the season and there are Sunday games, Monday, Thursday, and things are pretty loose at that point. There's a lot of attention but there are also a lot of games and it's fragmented. Now you get to the playoffs, you have fewer teams, fewer games and much more attention and focus on each game. That's when the pressure starts to tighten, that snake is constricting a little. Then you win the division, then the championship and you have four teams left. Then the Super Bowl and everyone is just watching you, and the media, with its cameras, and the whole world is watching, that snake is tightening, and you have to take these little breaths. And once that game starts, whoever can control his nerves the best has the best chance. If you lose, you will have to start all over again. If you win, all the pressure is off and you can go to the next season relatively carefree, you're the champs. You can relax at least for a moment. 
---
---
Click HERE for more personalities!