He rolls out of his room bright-eyed and clean-shaven at 7 AM although he's reportedly been up since 5 AM. Efficiently he enjoys coffee and a sufficient breakfast chased with a couple of vitamin supplements and is out of the dining room before the clock hits 7:30. He rolls his wheelchair close to his beater SUV equipped with mud tires, opens the door, gets close enough to get one hand on the steering wheel and the other on the grab handle, and at 84 years old and without much use of his legs, pulls himself onto the seat of the small SUV. With the car door still open, he starts the engine and pulls it up far enough to be able to close the car door, which he does, then looks over at me with an expression of, "Are you going to get in so I can get to work or do you plan to walk down the hill?"
Julio Rafael Eiroa is the 84-year-old founder of JRE Tobacco Co. A life-changing plane crash in 1977 left him semi-paraplegic and temporarily forced him to retire from his life-long passion of growing premium cigar tobacco. That didn't last long and he came back with a vengeance, eventually acquiring Camacho in 1995 and bringing on his youngest son Christian Eiroa to help run the sales and distribution for the brand in the US. Together they made Camacho a household name in the cigar business until 2008 when they sold the brand and the cigar factory to Oettinger Davidoff. No longer worried about making or selling cigars, Julio poured all of his energy back into his growing and tobacco processing operation, which was not part of the sale. He supplied Camacho with tobacco until the purchase agreement ended. In 2016 he launched JRE Tobacco Co. and the Aladino, Rancho Luna, and Tatascan cigar brands, this time with his oldest son Justo Eiroa handling sales and distribution. I visited their operation in Las Lomas in the Jamastran Valley in Honduras for several days in August of this year. It was my first time back in the complex that was once known as Camp Camacho but now goes by Camp Aladino since 2010. 
I am well versed in Julio's Cuban guajiro (farmer) manner of communicating. It's a no-nonsense approach that brings back a vivid nostalgia that for me is hard to shake. When he speaks it's as if I am listening to an uncle or family friend from my youth. I hope this vantage point allows me to share insights about Julio that shine a fresh light on his journey, his brands, and most importantly to him, his tobacco.
All of the quotes from Julio were translated by me and gleaned over hours of conversations mostly in car rides, on his terrace, in his office, and in tobacco warehouses.
Making Faces 
For as long as Julio Rafael Eiroa can remember he has wanted to be in the tobacco business. It even says so in his Admiral Farragut Academy high school yearbook from 1954. Although the yearbook staff said that the young man nicknamed "Viejo" (old man) was a "Good man on the dance floor as well as on the baseball diamond," HE listed his ambitions as "Attend Spring Hill College and go into tobacco business." Coincidentally, the yearbook listed his most characteristic action as "Making faces," which is exactly how he's communicating with me on this fine Jamastran morning from the inside of the SUV.
I can be excused for needing a moment to process the feat that I had just witnessed as this 84-year-old living legend of the tobacco business pulled himself unassisted into an SUV from a wheelchair. Entirely too late for his liking, I eventually jumped into the passenger seat and went for the ride down from his hilltop home inside the Camp Aladino complex. We passed the guest rooms building where I had stayed on my previous visit and I can see a team of workers putting up the walls of a structure destined to be a tobacco warehouse. He's constantly building, incessantly adding room, one day it's a tobacco warehouse, another it's a curing barn; he simply does not stop building. "I love to build stuff myself," he tells me after I marvel again at another structure that has gone up since my last visit, "but I'm not building because I love to do it, we need the room for more tobacco!" His eyes light up as he rattles off numbers from his latest crop proving that he needs more room. On the 700-acre farm he has 53 curing barns, among them is the oldest tobacco barn in Central America, and 26 greenhouses. While in the pre-industry (tobacco fermentation, aging, and sorting) I counted about 13 structures plus another for the box factory and another for the cigar factory. Additionally the complex has its own machine shop where they make or repair everything from tobacco presses to homemade evaporative cooler units, there's a water treatment plant, and a mechanic's garage – anything that will help the complex run self-sufficiently.
Julio speaks English well enough but we converse only in Spanish of the rapid-fire Cuban variety replete with double entendre. His is a unique argot shared exclusively with other members of his generation of Cuban tobacco growers, most of whom are gone but all of whom spent more time in Central America than in their homeland. These are men who were born on tobacco plantations in Cuba, worked as kids in tobacco to help their families, then fled the island when Fidel Castro's diabolical dictatorship began stripping away freedoms and nationalizing businesses. Many of them, Eiroa included, eventually made their way to Central America where the Honduran and Nicaraguan governments sought to develop a tobacco and cigar industry through grants and loans hoping to create jobs by filling the void left by Cuban tobacco. Although Julio left Cuba for good as a college-age young man, he speaks with a distinct Pinareño (a person from Pinar del Rio, Cuba) accent sprinkled with Honduran Spanish words absorbed over almost 60 years in the country.
The Journey 
Self-reliance and resourcefulness are recurring themes in Julio's life. After his father Generoso passed away circa 1951, it was up to 12-year-old Julio and his older brother Generoso Jr. to continue operating the family's La Victoria farm. And they managed to do it; the farm produced tobacco exclusively for the venerable Perfecto Garcia factory in Tampa uninterrupted from the 1920s until La Victoria was nationalized by Castro's regime. When the whole family left Cuba in 1960 and moved to Tampa, Julio got a job at Perfecto Garcia, the factory that his family had been supplying with tobacco. He did everything at the factory, referring to his position as un mil usos, a Cuban-slang term used to describe someone that does anything and everything that he's asked to do without an official position. The job allowed young Julio to get up close and personal with every aspect of this major cigar making operation, at times a little closer than he would have liked. He tells stories of cleaning bathrooms, washing dishes, and doing everything in between in that very manner I mentioned earlier and without a trace of shame or indignity; it had to be done and he did it.
—
"In 1963 I had just returned from military service in Korea and was quickly hired by Oliva Tobacco Co. (Tampa-based tobacco grower/broker) to review a tobacco sample sent by a supplier." The tobacco sample came from piloto Cubano seeds smuggled out of Cuba by the legendary Jacinto 'Tino' Argudín and grown in Argelia, Honduras. "When Oliva purchased the crop, they sent Gerencio Cura (a Cuban tobacco farmer) and I to sort the tobacco and finish processing it in Honduras." He says this part of the story with no greater emphasis than the one about cleaning bathrooms at Perfecto Garcia but this is a turning point.
He was just 25 years old and although he was born on a tobacco farm and worked it from a young age, he hadn't directed a tobacco sorting and processing operation before. He had just returned from the failed Bay of Pigs invasion and a US Army tour of duty in Korea, and was about to touch down in a country he had never been to, to manage a tobacco operation for the first time. If you did this today you'd find no shortage of experienced local tobacco workers with a solid foundational knowledge of the tasks at hand, but in 1963 Honduras, the tobacco business was in its infancy. For most sane people this would be considered a difficult, if not impossible undertaking but to Julio, this was exactly the opportunity he'd been dreaming of since leaving Cuba.
It wasn't all wins and success however. Upon completing the sorting operation for Oliva, he proposed a growing test in another part of the valley. He picked out a five-acre plot and set out to test-grow tobacco for Oliva. "I was not aware of how hard the wind blows in certain parts of the valley." In spite of his best efforts, the 20 to 30 knot wind wreaked havoc on his test.
"It was a complete disaster," he says with an embarrassed chuckle. He harvested and cured what tobacco he could but it failed to cover costs. He was now alone in Honduras and no longer employed by Oliva Tobacco, but something that founder Angel Oliva said during a visit to Danli, Honduras stayed with Julio and in some way inspired him. During a conversation over lunch with Argudín, Oliva's assistant Pepín González, and Julio, Angel Oliva stated that the crop that he had purchased was "As good or better than Cuba." Oliva was rightly considered an authority on Cuban tobacco; his company had been supplying Cuban leaf to cigar manufacturers since 1934. His praise for Honduran tobacco would drive the young and ambitious Julio Eiroa to better days.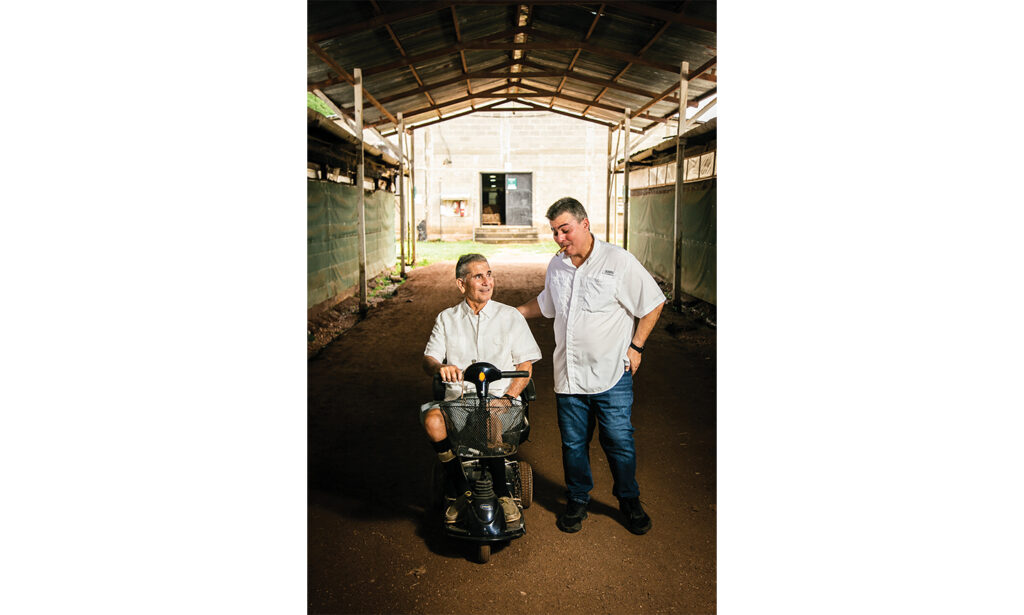 "The lady who I rented from owned land that she was struggling to protect. Squatters would invade and she could do nothing about it." Julio asked the elderly woman to allow him to test-grow on her land if he kept the squatters out but she worried that this young man would get himself killed. "She was a very sweet old lady, the daughter of a famed writer. I was a friend of her nephew and when he would visit her, she'd invite me over for dinner." It took persistence on his part but eventually he convinced her to let him grow on a quarter-acre of her land." She said yes and just like that he was back in the game.
To call this quarter-acre "land" seems like a stretch. I asked Julio what kind of land it was and he couldn't help but laugh at my question. "Land? It was thick jungle! There was nothing but monkeys, mountain lions, and leopards in there. The only land in the Jamastran Valley that you would consider good for planting at that time was the plot in Argelia that Argudín was growing in." Allow me to fast forward for just a moment here but that land in Argelia is where Julio's Finca Corojo is located on today.
He managed to plant, harvest, and cure about 4,000 plants on the lady's quarter-acre and as soon as it was ready, he set off for Tampa, tobacco samples in hand. He dreamed of coming full circle and securing Perfecto Garcia as a customer, just as his father had once done but he needed more than a customer to make this work. He offered Manuel García a partnership stake in his tobacco-growing venture. García promised to buy all of the tobacco he could produce but was not interested in partnering at this time. Undeterred he visited Corral Wodiska, at the time one of the largest cigar factories in Tampa and makers of the popular Bering brand of cigars. It didn't take long for them to see the quality of the tobacco. "Within 30 minutes of tasting it, we shook hands and had a deal." It was time to get to work.
I asked Julio what that tobacco was like; I wanted to know if he could recall the flavors and aromas of that Cuban seed tobacco grown on virgin Honduran land. His answer sent me reeling. "I don't know, I didn't smoke in those days." I couldn't let that go. It didn't add up that he did all of this at great personal risk and investment without knowing if it was any good. "Naturally I had a lot of help." He had developed a close friendship with Tino Argudín. "Tino and his men would come by and give me pointers constantly, in fact the first seedbeds that I used were Tino's and he had to teach me how to use them, we didn't do that in Cuba." He went on to explain how back then in Cuba, the farms would buy the posturas (young tobacco plants) ready to go in the ground. In contrast, every major tobacco farm that I have visited throughout my travels in this business has grown their own posturas by way of their own seedbeds.
"Within three years, we were producing practically all of the wrapper, binder, and filler for Corral Wodiska's cigar factory."
Although the relationship soured after some time, the experience proved beyond the shadow of a doubt that he was now a bona-fide tobacco man. He was living his dream and he proved to be quite good at it.
He went about methodically acquiring land and installations including the prized 700-acre farm in Argelia and before long he was the largest supplier of candela wrapper in the world.
"Then I had the accident."
—
La Fabrica 
All of the buildings in the complex are wheelchair accessible and when we arrive at the bottom of the hill, where the Fabrica de Puros Aladino (cigar factory) is located, Julio abandons the SUV and transfers himself over to a scooter that was brought out for him. He waits for no one, doesn't bother with niceties and definitely doesn't wait for anyone to open the door; before I'd finished saying hello to people who I vaguely remember from over 10 years ago, Julio was at his desk firing up samples from a private label blend that they are working on.
I don't want you to get the wrong idea, he's a jovial, well-mannered man who is beyond welcoming and generous, but this is his workday and we are burning daylight. He works with the diligence of someone whose boss has it out for him and understandably so. He has a limited amount of time in his workday and he's involved in every aspect of growing, processing, and aging tobacco as well as cigar production and blend development and maintenance. When I finally made it into the office, he and Justo were poring over production numbers. I decided to give them some privacy and wandered over to the factory floor. This entire building did not exist in 2010 so this was all new to me. It was impeccably clean and well organized with about 40 or so pairs making cigars. Central American cigar factories typically work in pairs; one person bunches and the other applies the wrapper. I walked into the packaging area and noticed a neat stack of paper-wrapped cigar boxes sporting Cuba Aliados markings. It turns out that during my visit the factory was finalizing a shipment of the Aladino-made Cuba Aliados that was unveiled by Oliva Cigars at the trade show earlier in the year.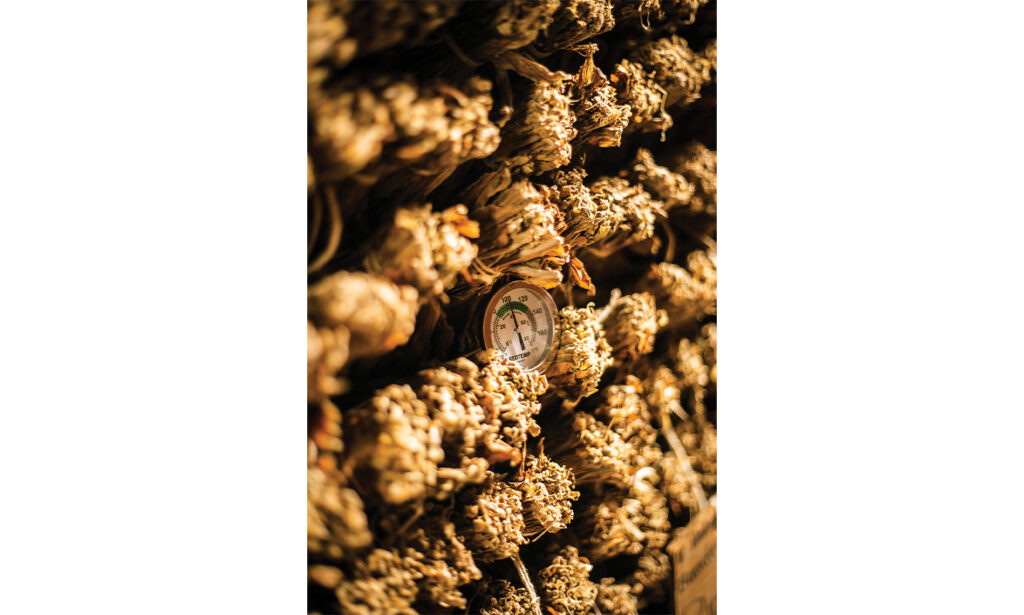 I returned to the office and this time found the father and son tasting and comparing three blends. Each unbanded sample had a handwritten identification code on the wrapper. This is a common practice when comparing unbanded blends in a factory setting. I was handed the same three and given instructions about what they, and now we, were looking for. I watched these two men go back and forth about the tiniest details and offered my tie-breaking opinions until they settled on the final blend. I am a firm believer in the adage that how you do anything is how you do everything, so for me, this was a positive sign of where this company is headed.
Julio doesn't mince words. When I asked him what it was like to work with his sons he stopped me dead in my tracks and clarified, "They work for me. Let's be clear, we work together on this but I'm the boss." He went on, "It was that way when I owned Camacho and Christian joined me and it's that way now with Justo." As you can imagine, that is not what I was asking about. As someone who runs a business with my dad, I wanted to know what it was like for him and his sons to work together, I just didn't word it right. When we finally got down to the question: "They are both affable, hard-working, and natural born salesmen. The difference is that Christian learned over a number of years from one of the best salesmen to ever work in the cigar business – Sal Fontana. Justo has had to figure this out on his own but I'm happy with how we're growing." At 56 years old, Justo is no stranger to running sales operations of different sizes and scopes. He owned and operated a water bottling plant that went toe to toe against Pepsico in Central America, and then managed export sales for Campbell's Soup in Coral Gables, Florida, all before joining his father at JRE in 2016. Couple that with his agriculture education at El Zamorano, perhaps the most prestigious agriculture school in Latin America. It's as if he had been training for this opportunity all of his life.
Cigar Making 
He crashed his Cessna 185 in 1977 and had to be away from his farms for an entire year. His operation had grown to 1,200 acres of tobacco plantations producing 1.5 million pounds of premium cigar tobacco per year, a hefty sum by any measure.
"Before the accident, I had focused all of my energy into producing excellent tobacco to meet the demands of the most important factories in the cigar business." As it relates to the tobacco business, this is true but this wasn't the only thing he had going on. He was a powerful businessman in his prime with deep contacts in military, government, and finance. He brokered the sale of jets, he advised US military officials in Honduras, and he hosted lavish parties where he'd fly guests in himself from all over Central America to liven up the scene in rural Danli.
While reminiscing with me over cigars on his terrace overlooking the Jamastran Valley he tells me how, "Just about everywhere I had to go, I just flew there. It was a wonderful time, if I had to visit one of our farms that was a 30- to 45-minute drive by car, I'd just fly and get there in 5 minutes." I get the sense that he jam-packed a lifetime's worth of living into a decade during those years.
After the accident he dipped his toe in cigar making when he purchased the Perfecto Garcia cigar factory in 1980. "Their sales had dropped tremendously from about 50 million cigars per year at their peak to about 7 million cigars when I purchased it." He managed the factory, supplied it with tobacco, and after two years he'd brought sales back up to over 8 million cigars. "And we did it without any salesmen," he proudly points out. The U.S. Tobacco Co., who had tried to acquire Perfecto Garcia in the past, came calling and he sold it.
He had not only overcome his physical condition but also proven to himself that not only could he grow world-class, Cuban seed tobacco in Honduras and do so successfully, he'd also gained valuable experience in cigar making. The latter would come in handy soon.
A deal gone sideways in 1987 left him holding the bag with 400,000 pounds of tobacco and a farm full of employees counting on him for work. He decided to take cigar manufacturing into his own hands and along with three partners, established Agroindustrias Laepe. They started mostly making private labels for US wholesalers, and then acquired the Baccarat and La Fontana brands. After Simón Camacho passed away, he was offered an opportunity to purchase the brand and he jumped at the chance. By now he'd bought out his partners and brought in his youngest son Christian to manage Caribe Imported Cigars (their US sales and distribution operation) under the tutelage of Sal Fontana. "With Sal's help, the excellent quality of the cigars we were making, and Christian's gift as a salesman, the business took off. By the time we sold to Davidoff in 2008, we were operating at a net profit of over 30%."
He sold and went into retirement in the Bahamas.
—
It wasn't growing season during my visit but there was plenty of tobacco in the warehouses. "Do you want to see the Cameroon crop?" asked Julio who was obviously dying to show off the fruit of his labor and as he zoomed out of the office I could hear the excitement in his voice. Justo was equally pumped and we made a quick left out of the factory and into a large warehouse about half full of pilones (an organized pile of tobacco in fermentation). A group of men is working the pile and when Julio, Justo, and a supervisor pull up to it, they know the routine without him having to say a word. The supervisor nods at one of the men, the man reaches into the pile and hands the supervisor a sample of the tobacco, the supervisor confirms the seed variety and priming then jams his face in between the leaves and approvingly hands it over to Julio for inspection, followed by Justo, then the visitor.
There's a palpable respect and deference for Julio, the kind that comes from admiration and trust. It's not my first rodeo in a tobacco-processing warehouse and I've witnessed this scene play out many times before. I've seen just about every flavor of this boss to supervisor to low-level worker interaction. I observe the way that the men greet Justo; it's been about a month or so since his last visit and they tease him about it. They make fun of his weight gain and his father eggs them on every chance he gets.
Past the pilones is another large room; this one is well lit and full of women sorting tobacco into little piles by grade, size, color, and thickness. Tobacco sorting is usually done by women; their delicate hands are perfect for handling the leaves, which at this stage can be delicate and their eyes are said to see more shades than men's. We come up to one of the tables where Cameroon wrapper is being sorted and it is a thing of beauty. The tobacco is reddish and clean looking and smells like something you'd want to eat. "Are you sure this is Cameroon?" I had to ask to make sure that we were in fact looking at Cameroon tobacco. The leaves were not nearly as toothy and delicate as most of the Cameroon tobacco I've seen being sorted. Julio responds, "When you feed and nurture a baby and give it lots of love what happens? The baby gets fat, healthy, and happy right? The same thing happens with tobacco."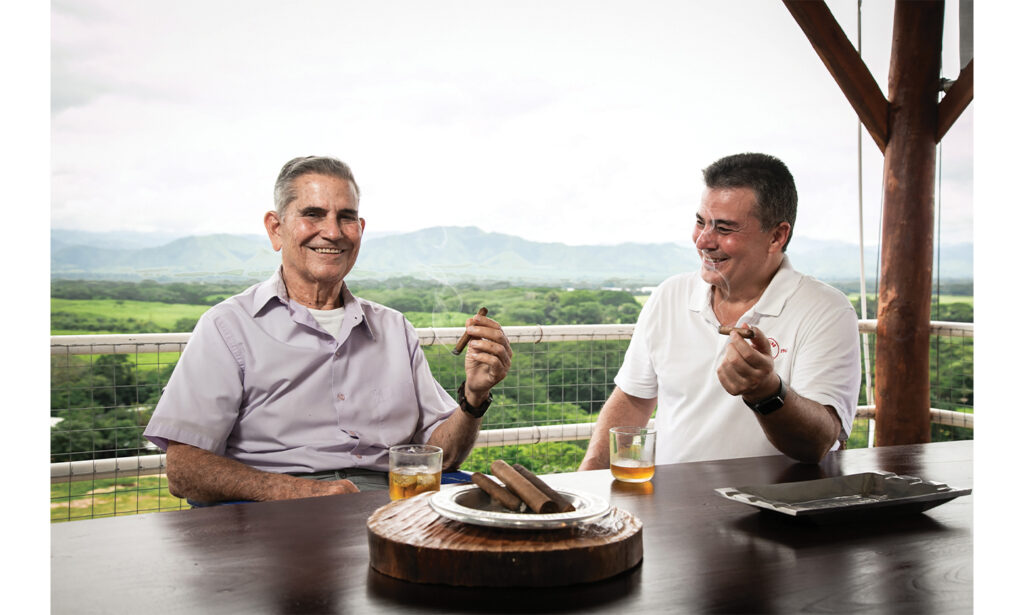 Cameroon is the name given to this tobacco seed varietal often sought after for its qualities as wrapper tobacco. But Cameroon wrappers are usually broken down into two basic groups, African Cameroon and New World Cameroon. African Cameroon literally comes from the west central African country and is usually the realm of the Meerapfel family who essentially saved the varietal from extinction. New World Cameroon uses the same seed varietal as African but is grown in places like Ecuador, Dominican Republic, Nicaragua, and in this case Honduras. Most of the Cameroon wrapper grown by JRE goes into their Aladino Cameroon line.
We made our way out of the sorting room and into a warehouse that was about ¾ filled with tobacco. Then another and yet another that was similarly less than full. I asked Justo about the nature of these partly empty warehouses. "My father believes in spreading the risk. If a warehouse catches fire or anything like that you minimize the loss. It also allows plenty of room between pilónes for his scooter." Spending time with Julio, Justo, and their team, you get the sense that everything is done with intention and an abundance of keep it simple-style common sense. While Julio and Justo were preoccupied with one of the tobacco piles, I asked one of the supervisors, "Who's really the boss around here?"
"It isn't Don Julio or Don Justo," he said, "the real boss here is Sandra."
To understand this answer, you have to know a bit of the history. Sandra Ochoa has been working with Julio Eiroa for more than 31 years. She was a young woman, fresh out of college where she studied to be an elementary school teacher. She started working as an administrative assistant for Mr. Eiroa while attending law school. As she gained experience and tenure, her influence within the company began to spread and today she's the general manager of the entire Honduras operation. From an operations standpoint, she oversees the day to day for the tobacco plantations, tobacco processing, box factory, and the cigar factory. If that isn't enough, she also runs the operation for CLE Cigars, Christian Eiroa's cigar factory in nearby Danlí.
Perhaps more relevant to why she's considered the boss is the fact that when Christian and Julio sold Camacho and Julio "retired" to the Bahamas, Sandra stayed behind making it all work. The workload and stress level during the transition almost broke her will but throughout the process she led the workforce with grace and a steady hand.
Later that evening speaking privately with Julio, he echoed the sentiments of the supervisor saying, "The workers respect me, but they fear Sandra. They call her 'La Comandanta' (female commander). She runs everything here."
While Sandra is "the boss" of everything, her baby is the company's box factory. Consumers don't see this but the reality is that the supply of well-made cigar boxes can either make or break a cigar making operation. You can imagine if the cigars are made and ready to ship but there are no boxes for it, you have a problem. Conversely if you have too many boxes of a particular brand or shape but the cigars are not ready, storage space becomes a problem. When running smoothly, the two separate factories perform a well-choreographed dance that isn't seen by anyone other than those at the very top of the organization.
To date Aladino has kept the profile of their boxes pretty classic and standardized to make them "shelf-friendly" for their retail partners but you get the sense that Sandra wouldn't mind flexing a little every now and then. "We can make boxes to compete with anyone," she says, "and we've proven it." She rattles off complicated boxes they've made for customers with gusto, showing me pictures from her phone as if she'd expected me to doubt her. I've never doubted this amazing woman's abilities since the first time I met her back in 2010.
—
Coming Out of Retirement 
From his home in the Bahamas Julio would call and check in on the tobacco but it wasn't enough. He started flying back down more and more, making sure the harvests were going as planned. He couldn't stay away.
For someone in Julio's condition, the flight and transportation from the airport to the farm is excruciating. In 2014 he'd had enough and moved back for good, taking over 100% of the growing operation again. At this point Davidoff had already stopped purchasing tobacco from him so he put together a small cigar factory and started training rollers to make the kinds of cigars that reminded him of the Cuban cigars of what he considers the "Cuba's golden era," 1947 to 1961. You can see those dates on every Aladino label and box as homage to the glorious tobacco of that time.
He named the small factory and brand Aladino after a popular movie theater in Danlí that had closed. The name has always struck me as odd; for a man and a company that does everything so intentional, why Aladino?
"I remember from the old days how important it was for a brand to have a name that was easy to remember and pronounce," he explained during one of our conversations. "Aladino reminds people of the old story and is easy for English speakers to pronounce." It's as simple as that. As usual he's right; it works.
In recent months the company has started to bring on the next generation of Eiroas into the fold. In addition to Julio, Justo, and Justo's wife Vivian Flefil Eiroa, who runs the company's Miami-based sales and distribution office, two of their three daughters have joined the company full-time. Their oldest, Vivi Eiroa, runs the company's marketing and international business development, and Andrea Eiroa runs the company's accounting department.
On my last night in Camp Aladino, the family had all left and it was just Julio, Sandra, and me smoking rechasos (rejects) in Julio's room. Not surprisingly, he only smokes rejects rather than taking grade A cigars from the production. I'd managed to ask every question about his personal history, the tobacco and cigar operations, and everything in between. I asked him one final question: How it felt to have the next generation be part of the company. He let a smile creep into his face just a little and said, "It's a joy to have them be part of the business." 
---