Steve Wilkos has for 15 years been a staple of prime-time afternoons as the gruff but lovable host of the aptly named "The Steve Wilkos Show," a television production in which he plays emcee, mediator and referee in fraught relationships between spouses, lovers, sons, daughters, dads and moms tackling issues such as prostitution, drug addiction and spousal abuse. This is often carried out with some yelling and crying, with Wilkos handling the former and the guests the latter. Wilkos stands 6-foot-4 and has been known to toss a chair or two during the heat of the show, an intimidating and entertaining show of force.
Yet he's appropriately sensitive. As a Marine veteran and former Chicago police officer, he knows both sides of an argument.
Wilkos fell into the entertainment world by moonlighting, first working as security on the set of the Jerry Springer Show which was based in Chicago in the 90s, using his vacation and comp time from his police officer job.
Pretty soon, he became Springer's private security guard, traveling the world in high style. The streets of Chicago took a hit when Wilkos retired from the department in 2001 to do television full-time. He landed his own show in 2007 and is now a legend of daytime car-crash TV. (Sample episode title: "Did He Cheat Because I Transitioned?")
Wilkos, his wife Rachelle, who is the executive producer of the show, and their two kids 16 and 18 years old, are living the dream in Connecticut, not far from where the show tapes two days a week. Other than that obligation, he's got plenty of free time to smoke cigars, play poker, and take care of the family. Oh, and he has summers off, more time for golf and riding his beloved motorcycles.
"Not a bad gig," he says. The man is a typically understated Midwestern boy done-good.
---
Pre TV Career:
When I was growing up my dad was in the army, a paratrooper in Korea. He was this superhero to me. Back then, the guys in my neighborhood didn't go to college after high school. I was a screwup in high school, like a lot of kids, and my dad says, 'get in the military, see the world, meet people.' It was the best decision I ever made. That self-discipline carried forward the rest of my life. It set me up for everything, to never accept failure, always hustle, never quit.
I got out of the Marines in 1989 and got on the [Chicago] police force in 1990. Again, I was following my dad; he was also a Chicago cop. I took the test and scored number three out of 30,000, so for a guy who didn't do all that well in high school, I did pretty well. The reason was the reading comprehension. I've always been a good reader.
My first call was to go get a guy who was wanted for pouring boiling oil over his girlfriend's head. Someone saw him in an abandoned building, and it was so unreal to have this as my first call, I was wondering if it was a test call. But we got there and I took out my gun and he was in there and came flying out, I said 'freeze' and he complied. I sure didn't want to shoot someone my first day.
Dipping a toe in the television world:
I never wanted to be in entertainment. I was a young cop and wasn't going to get rich doing that, so I worked any security side job I could, nightclubs, Kmart, anything. One day my buddy said 'hey, there's a side job tomorrow for the Jerry Springer Show.' I had no clue who Jerry Springer was, but I went for what was supposed to be one day. I worked that, and a week later they asked me to work again, the guy who ran security liked me. They kept calling me and one day the security guy didn't show up and I was standing there and the producer asked me if I wanted to run security for the show and I said 'yeah.' They liked that I was reliable. They could pick up the phone and I would be there at the drop of a hat. Even before I did things like get on a plane to go find someone, I would be able to sit in a chair at a hotel and babysit a guest.
Everything changed in 1997. We were in Daytona Beach for a spring break show and the
executive producer said, 'why don't we shave your head?' My hair was already short and receding, so I said okay, and right after that, my popularity on the show exploded. So I got more responsibilities.
When the Jerry Springer Show became huge, I started traveling with Jerry as his bodyguard. We went all over the world, London, Amsterdam, Mexico, Jamaica. The travel with Jerry was much better than it was with the Marines, although I was still working for the police department. The show taped in the morning, so I would be done by 3:30 in time for my police shift that started at 4 p.m.
One day I came home covered in blood from making an arrest and my wife was shocked. I explained that not everyone puts their hands up and agrees to be arrested. I'd always seen myself as a policeman, not an entertainer, but I decided to stop working at the police department. I was already really invested in the show.
On cigars:
My grandfather is the first memory, I don't think I ever saw him without a cigar. I never tried it, maybe a puff off one. Then in the Marines, we would have these nights where the guys would smoke cigars at dinner. I couldn't afford it then, but I got the idea. When I became a policeman, my partner was a cigar smoker so we'd go get some cigars and smoke them in the car, which probably wasn't so great for the next guys that got the car.
Then when I connected with Jerry, he was a cigar smoker, and this was in the mid-90s, when you could still smoke in restaurants, so we'd go out to dinner in Chicago and smoke after eating. I really started getting into it traveling with Jerry. We'd be able to get Cubans when we were in London and I'd be bringing them back to the states. Plus, I was starting to do well when I signed my first contract with Jerry in 1998, so I could afford nice cigars.
More on cigars:
Alec Bradley. I just got into those. I was at a Big Smoke in New York, and it was like trick-or-treating, I got my little book and went around the trade show and got all these cigars to try. So I'm at the Alec Bradley exhibit and talking to this guy there and I'm telling him how Alec Bradley is my favorite cigar, and he gets curious. He says, "Really? Well, I'm [Alec Bradley founder] Alan Rubin." He was so generous, he gave me some cigars and still sends me a box occasionally.
More recently, I was on vacation in the Dominican and I picked up a lot, some Romeo y Julietas, some Montecristos, some La Flor Dominicanas. Every year we go to the Caymans and I always get some Cubans, some Hoyo de Monterreys. I smoke a lot more during the summer. During a golf game I smoke two or three every 18 holes. In winter, I smoke on Wednesday nights. My country club has poker night and they allow smoking in the men's locker room.
Steve Wilkos, Outdoorsman:
I'm a city guy, but I never spent a minute in our apartment when I was growing up, I was outside, riding bikes and whatever. In the Marines, we were always out in the mountains training, and I liked the element of it. Even now, we have a lake house in Wisconsin and one in Connecticut. My favorite spot in the world is the Cayman Islands. We've been going every year since 2007. There's not a lot to do, so a week or two is all you need. I've been to other places for the outdoors, Costa Rica for the wildlife and the water, we went up to Montana and went skeet shooting and fly fishing, it was great seeing elk and bear.
The future:
My dad retired when he was 56 and moved to Florida and spent 30 more years in retirement. I started thinking about how I want to spend the rest of my time, and the only bad thing about doing this show is being in Connecticut. If I lived in someplace like Miami, I'd do it for as long as they wanted. When we first moved here, I couldn't wait to be done and retire, but my dad had told me not to rush into retirement. So it's good here now. I show up to tape, we have a green room, my clothes are laid out for me, there's food. I'm lucky, and I really do enjoy doing the show. I'm not working 40 hours a week in a factory. We have enough time off for interests. We have another year left [on his current contract], but I'm prepared for them to tell me when I'm done.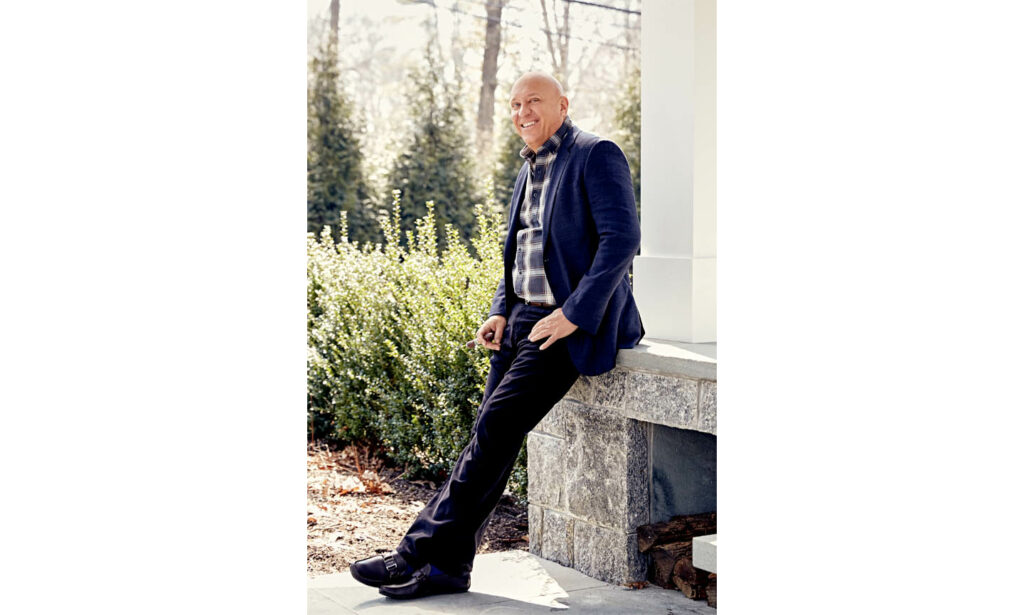 ---