Cigar photography and marketing strategist Manny Iriarte announces "Fuente The Opus X Society," a line of luxury products and accessories from cigar brands Arturo Fuente.
The lineup includes humidors, leather goods, drinkware and luggage and the first of the products will be presented next month at the Premium Cigar Association trade show in Las Vegas, which runs from July 9-13.
The collection is headlined by the "El Rojo" y "El Azul" collections, which use the red and blue colors from the Fuente Fuente Opus X red and the Fuente Fuente Opus X 20th Anniversary blue brands.
It includes ashtrays, lighters, coffee mugs and a crystal drinkware l by Glencairn whiskey glasses and traditional rock glasses. For more details, including availability, see theoxsociety.com.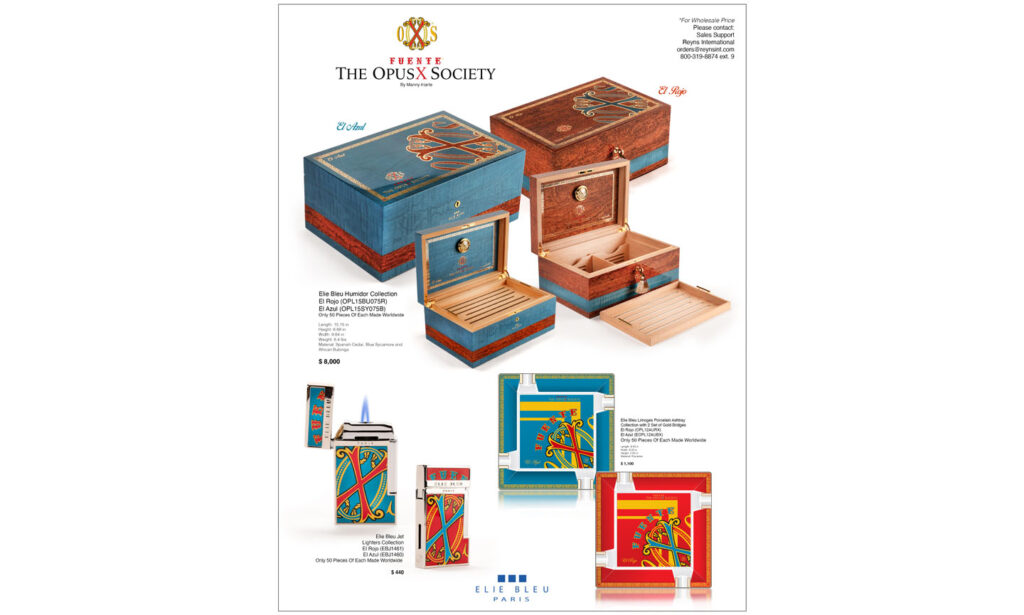 El Azul Humidor
El Rojo Humidor
Opus X Society Duffle bag
Opus X Society Glenacairn, Rocks Glass, & Mugs
Opus X Society Lighters, Cutters, & Ashtrays
---
Click HERE for our latest news!