ORIGIN: U.S.A
Kentucky Straight Rye
11o.4 Proof
ORIGIN STORY
Established in the summer of 1881 by business partners Elijah W. Worsham and Capt. J.B. Johnson in Henderson, Kentucky, E.W. Worsham & Co. Distilling began producing Peerless Whiskey soon after. The business struggled, producing at its peak a lowly 400 barrels per year. In 1889, following Elijah Worsham's death, the distillery and its Peerless brand of whiskey was sold to a young, local businessman named Henry H. Kraver. Kraver was a dynamo, wasting no time in upgrading machinery and adding buildings, and before long business was booming. In 1907 Kraver changed the name to The Kentucky Peerless Distilling Company and expanded Peerless' wholesale distribution to Chicago and St. Louis.
By 1917 the distillery was a well-oiled machine producing 200 barrels of Peerless per week, until the nationwide buzzkill of Prohibition struck. After 36 years, Peerless Whiskey stopped flowing for the first time since 1881 and wouldn't flow again for a century.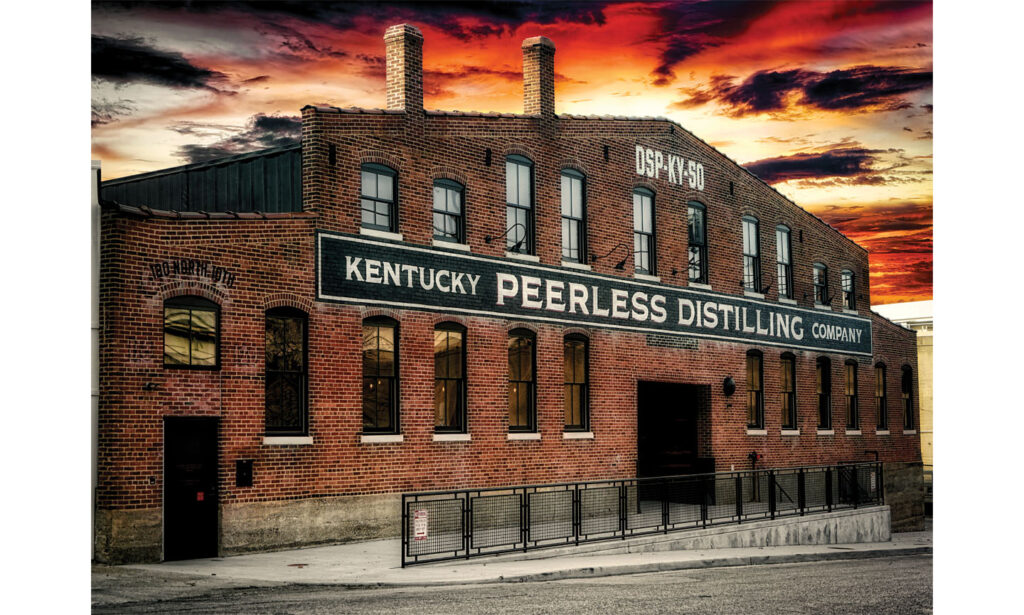 TRUE REVIVAL
In 2014 Kraver's great-grandson, Corky Taylor, had sold his business and was living the life of a retiree in Sarasota, Florida. "I walked the beach for a year and a half, it was the most depressed I've been in my life," Taylor said in a 2019 interview with Bourbon + Magazine. That's when he and his son Carson, a successful builder, decided to revive his great-grandfather's brand. Here's where the story takes a turn from many "revival" stories. The Taylors didn't want to just bring back the brand, they wanted to do it right. "We decided as a family that we weren't going to go out to one of the big distilleries, buy a product from them, put it in a bottle, and say 'Oh by the way this is Peerless.'" They went all in from building a distillery from scratch in downtown Louisville, milling grain, fermenting, and distilling on-site. They also rescued the original distillery's federal distilled spirits plant license, number DSP-KY-50; for context today's license numbers are in the 20,000 range. They mashed, fermented, distilled, and barreled their whiskey and patiently waited. Two years later and roughly 100 years after the last bottle of Peerless came off the bottling line in Henderson, the revived Kentucky Peerless Distilling Company unveiled the Peerless Kentucky Straight Rye Whiskey to the world
WINNING
It didn't take long for the awards to start rolling in for Peerless, landing on Whisky Advocate's Top 20 list in 2017. Not only was it the only craft distiller on the list but it was the only rye whiskey to be recognized. It hasn't stopped there. They were recognized again as the top rye in 2018 and have been written up numerous times in national and international publications in their short history. As we know from the premium cigar world, it takes more than patience, hard work, and snazzy packaging to keep this up, and that's where head distiller Caleb Kilburn comes in. The young, first-time head distiller's talent and work ethic coupled with the whiskey's impressive run of success prompted the Taylors to name him master distiller in December of 2018.
TASTING NOTES
Talking about tasting notes with a product designated "single barrel" can be tricky since there will be differences from one barrel to the next, so keep that in mind. This Peerless Single Barrel Kentucky Straight Rye Whiskey (Single Barrel Selection for Total Wine & More) has a nose of rich, buttery vanilla, toasted rye bread, oak, and a hint of banana lurking in the background. On the palate, the 110 proof is well integrated by flavors that match the nose and layers on additional waves of tea, black pepper, and rye spice and a long finish. I found that adding a couple of drops of water took away a little bit of the zip that I like about this rye but at 110 proof no one should criticize you if you decide to do so. That's the beauty of barrel proof whiskey; you can customize it to suit your palate.
Cigar Pairing: AJ Fernandez San Lotano The Bull
PAIRING NOTES
This spicy and intense whiskey overpowered many of the cigars we tested with it but met its match when we landed on AJ Fernandez's San Lotano The Bull. The whiskey's high proof and spice have a mouthwatering effect that laid down the perfect base for the cigar's earth and pepper core leaving you with tons of leather and roasted almond from the cigar while accenting the bananas and vanilla in the rye.
---
Click HERE to check out our other Perfect Pairings!