North Carolina's capital city is part of a sprawling academic haven. But it's also a hive of history, interesting eating, and some downright eclectic cigar possibilities. We trekked to Raleigh and walked away with some surprises.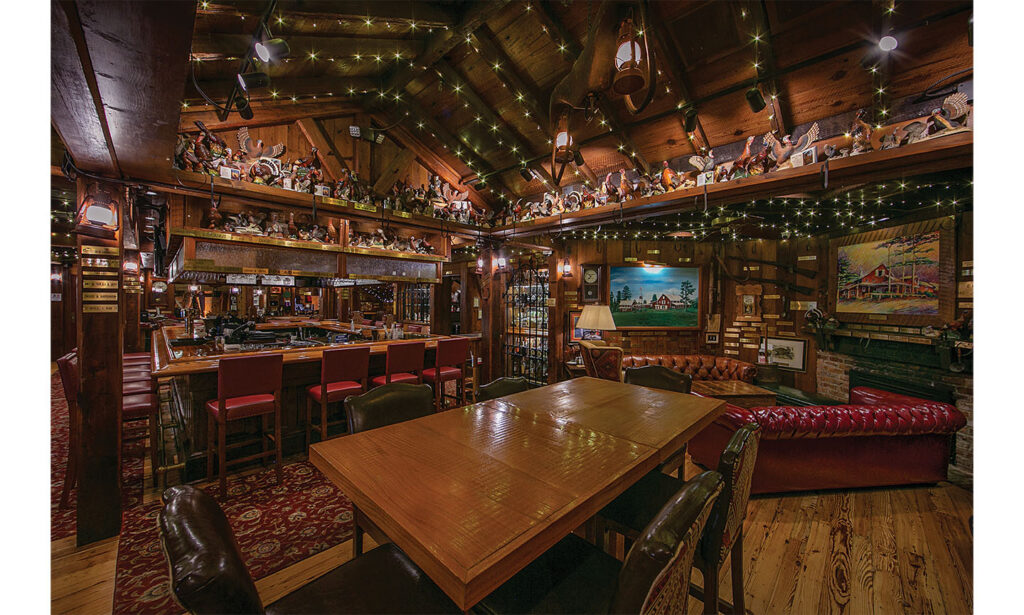 Havana Deluxe is not Havana nor is it deluxe. Instead, it is a splendid little bar tucked into a happening spot of the city where bartender Stump, a stocky fellow sporting a ZZ Top-worthy beard, will set you up with a smoke and a drink.
"This place is a bar with cigars" is how he frames the joint, which has served up drink and smoke to Raleigh locals for 25 years.
It's the perfect antidote to the sometimes-fussy formality of the area, known as the Triangle, best known for academics and research, thanks to three major league research schools in Duke University, North Carolina State University, and the University of North Carolina at Chapel Hill.
The Triangle is part of a state weaned on tobacco, and cigarettes made the state wealthy. The paint on some of the old tobacco buildings is still there, and the heritage is still widely noted in the museums and tourism literature.
Cigars, though, were never really part of the deal. That comes now. And Havana Deluxe helps.
You won't be channeling your inner, low-life Bukowski, as Havana Deluxe mixes the best of worlds, high and low: a selection – around 125 varieties – of brown liquors, a small humidor filled with greatest hits and a clientele that comes ready to smoke, drink and chat. It's dark and old-school clubby, with dim yellowish overhead bar lighting that reminds of Pulp Fiction. There are TVs, but nothing obtrusive, leaving the conversation to create the atmosphere.
The tiny humidor is curated by watching what patrons smoke and then filling that need. It's not self-serve, so we have Stump pull an Oliva Serie V Melanio for us.
We eye the vast wall of bourbons, then the 11 beer taps, which include Pabst – for the stray college students – and 10 local beers and order up an Endless River Kolsch from Mother Earth Brewing in Kinston.
"My wife's gonna kill me," says one customer, a tech employee who is two Old Fashioneds in and ready to experiment with some scotch whiskey that goes for $50 a pop. Another customer seeks a smoke that is "light and short," which Stump promptly answers with several suggestions.
The place starts getting crowded and then ebbs, then jumps back. It's clear some people are making the rounds while others make this their first and only destination.
Some bring their own smokes – "that's fine as long as they just buy a drink," Stump says.
The crowd is a mix of old and young, novice smokers and whiskey tasters, social and introspective.
The evening ends with the place, a single, open room that holds around 100 people, full and animated. The walk back to the hotel was through streets filled with revelry, as Raleigh gets its night on with open patios filled with beery cheer.
We'd started the day at RCU, the Raleigh-Durham Airport, about 12 miles out. First travel tip for RDU – take Southwest if you can. The terminal is large enough for the airline's local growth, which is taking its time, while the other terminals get jammed.
Near the airport is one of the best of the local lounges, the Apex Cigar Lounge, a single-story farmhouse set on two corner acres. It was once a tobacco farm and spanned over 100 acres, and remains relatively remote. Over the years, tracts were sold but today, this patch is just right for what is called for, beckoning the owners of Apex Cigar Lounge five years ago when it moved from its downtown Apex location a few miles away.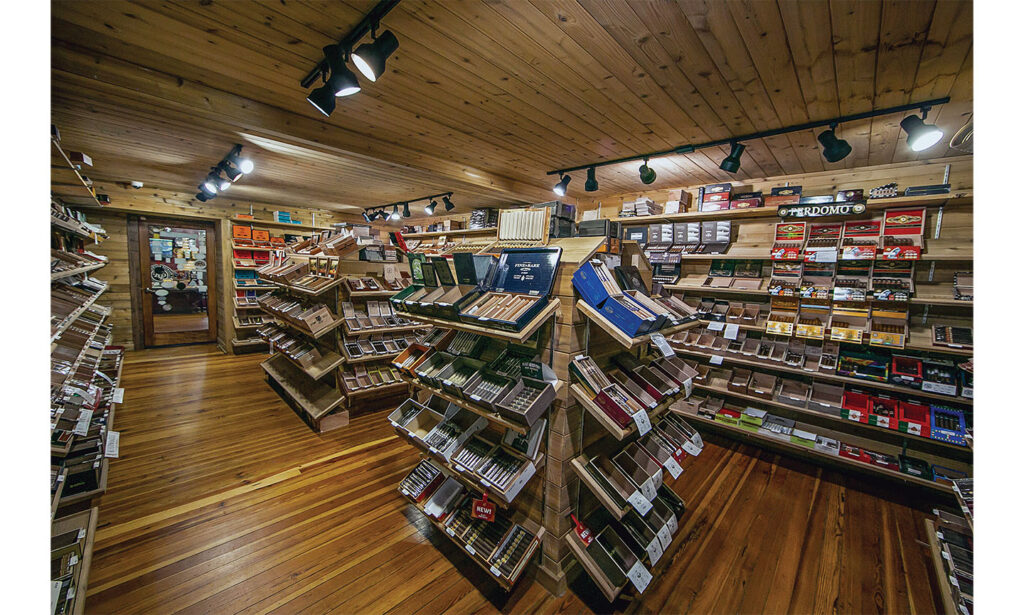 The place is staffed by friendlies who are eager to find you what you want and give you plenty of room to stretch out once you've found it.
"People often get off the plane and are looking for a place to go and see us as a place to smoke and head over," general manager Shawn Simmonds says.
They no doubt see the cigar store Indian in front, freshly repainted and proudly announcing that haters are not welcome – no one has complained to anyone's face – "just one person on Yelp," says Manny, a retired American Airlines employee who now spends a couple days a week pulling a shift at the lounge.
Inside, the spacious humidor is filled with the same thing most others are – "whatever we can get and when we can get it," Shawn says. "We've got the space and we can sell much more. We just need more product."
The main lounge is narrow and lounge chairs line the perimeter and a smaller lounge – the quiet room, someone notes – is toward the back of the house. Out the back door is the real attraction when the weather is decent, which is much of the time here.
The showpiece is an $8,000 all-weather big screen TV with a heavy-duty sound bar beneath it, a setup that can be heard and seen from 50 feet away. Tables, chairs, and ashtrays are at the ready and active during any sports event. More seating underneath the magnolias and oaks, which form a small gazebo around the side of the house and then, to the back, wide open space that is used for events – at Apex, that means live music, in-stores and most recently, wrestling, as one of the lounge employees is a professional wrestler. In the 95-degree Southern heat, a ring was set up and the place was filled with heartily smoking fans.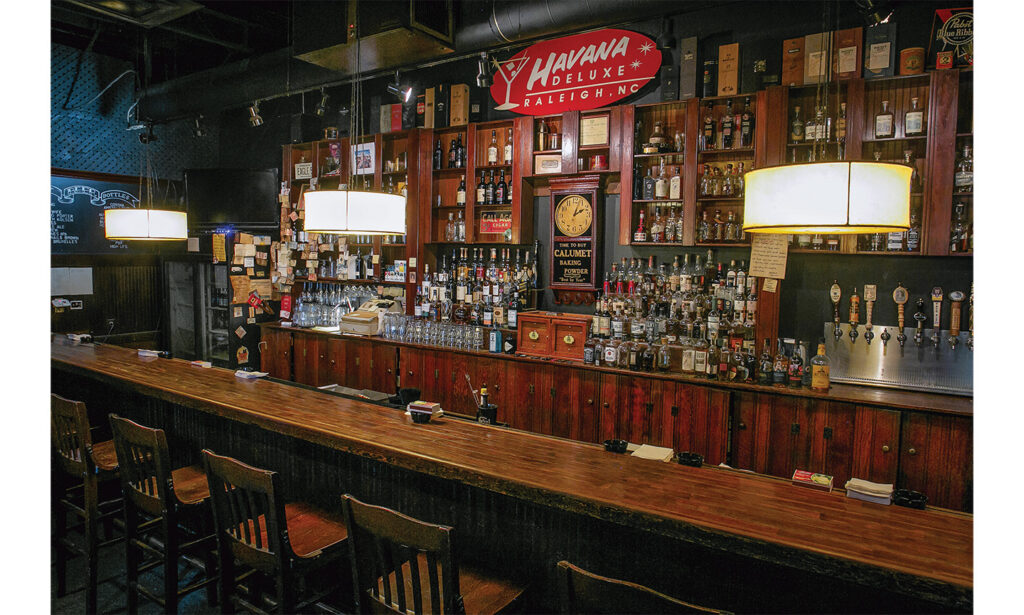 We fire up a Crossfire Habano, a boutique that's been given a spot on the humidor shelf thanks to the dearth of more prominent names.
"This is their chance," Shawn says. "That's the upside of the shortage of product – the boutiques can all say they have an opportunity."
Sitting on the front porch, traffic zips by on the nearby highway, and the flow of movement takes hold. We're here.
For anyone in a hurry, nearby RJ Tobacco boasts a fine, small humidor, with mostly mainstream premiums. Travelers looking to stock up for their visit will find something they like there. We pluck a couple. We haven't even checked into our hotel but we're hungry and we go where anyone who loves smokes and steak should head. And it's literally around the corner.
Angus Barn is legendary in foodie circles for its prominence in wine circles – its 1,650-selection wine list has landed it on Wine Spectator's annual Grand Award list for decades. With 28 sommeliers at Angus Barn, you're going to get directed to something righteous.
But the Angus was once a nowhere place on a nowhere slice of 50 rural acres, picked up for a tidy fee of $6,750 in 1959. The restaurant opened the next year, and the legend began. The place burned to the ground in 1964, though, and the rebuild proved to be even more popular than the original.
The Angus Barn seats nearly 700 people, and with a main building, a huge parking lot and a pavilion for special events, the Angus Barn is one of the most happening culinary places in town.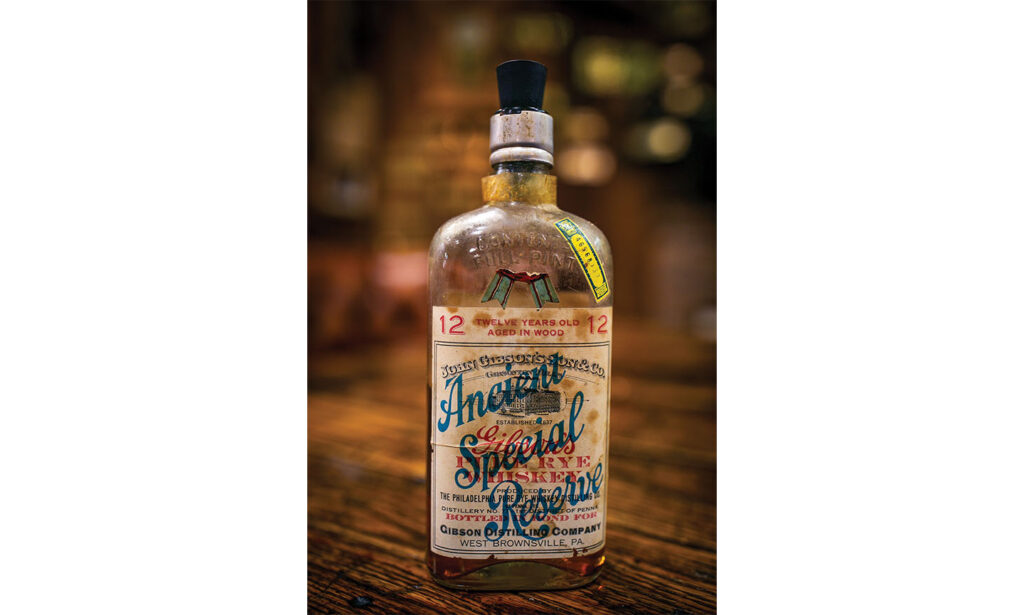 We head to the upstairs of Angus to the Wild Turkey Bar & Lounge to grab some dinner. It's named for the 600-plus Wild Turkey decanter collection that is on display throughout the bar, in glass cases overhead, in corners and around the bend.
The menu is standard issue carnivore. We pull up a cushy leather bar chair and order a 10-ounce prime rib, some sauteed spinach and a glass of Malbec. We eat the beef, more rare than medium, and dig into the spinach that is swimming in butter. And we watch everyone else.
One woman orders oysters Rockefeller and a dirty martini with blue cheese olives. The guy across from us orders a mountain of food, with a heap of mashed potatoes obscuring a filet, washing it down with two double gin and tonics. The fellow next to me orders beef ribs that come stacked and looking like brontosaurus ribs on the Flintstones.
"Looks like I'm going to be here a while," he says, not without some buyer's remorse.
After the feed, we wander downstairs and look at the cigar list. They are kept in a small humidor at the entrance and the list is sitting on a nearby table. More of the hits, but also the Angus Barn, a barber pole Robusto produced by Gurkha and featuring the face of founder Thad Eure Jr. on the label. We buy one in the Angus Barn general store, which includes meats, shirts, and other Angus-related goods, and ask about where we smoke this feisty looking cigar.
"Oh, sure, I'll take you to the Meat Locker," drawls an agreeable hostess. And we make the trek, through the main kitchen right in the middle of dinner rush – oysters are being shucked over here, ribs are being sliced over there, busy hands are plating salads and dishing soups everywhere.
We're led to a literal meat locker, and she peels open the steel door to reveal a beautiful little space, with tables, TVs, all set up for smoking. We choose the sidecar, an outdoor patio extension of the Meat Locker, to sit and enjoy the humid summer night air. One couple is out there. He's clearly had a meal and is having a post-feast smoke. It's allowed at the Meat Locker.
On our way to the Meat Locker, we saw a little winding stairway leading down and our interest is piqued. Torture chamber? We ask the hostess for more information. She finds a guide, who leads us down the narrow stone stairs to the musty, 55-degree wine cellar and we are in full tour mode – there are 25,000 bottles, some collectables under lock and key. Two private rooms downstairs are used for private events and wine training for the servers, and they look positively medieval in a good way.
The sensory overload is in effect – we have to get to the hotel and stash the bags.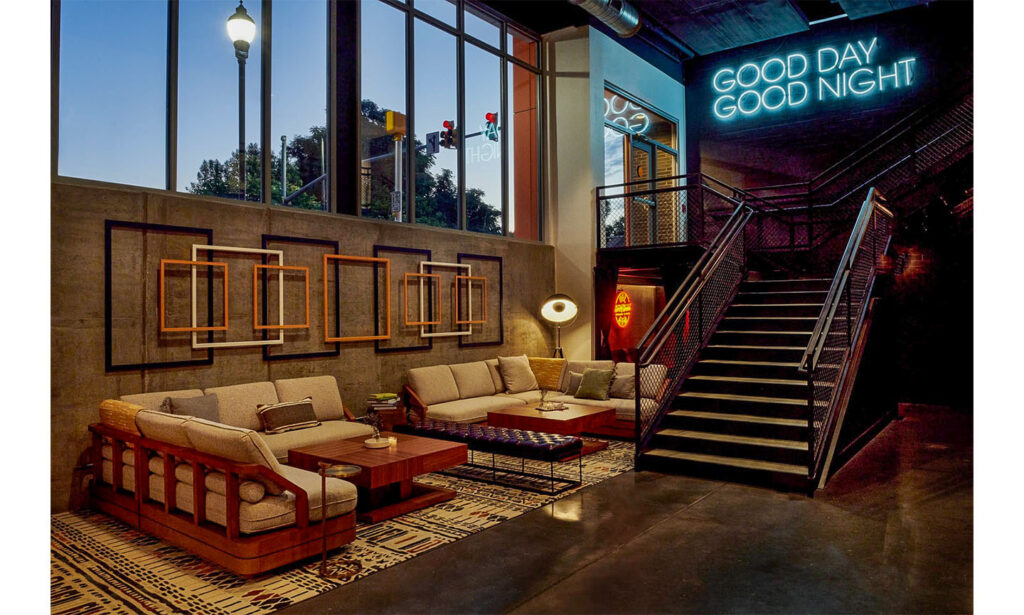 We stay at the Casso, formerly Hotel 83, formerly the Original. Marriott bought the 126-room property about three weeks before we arrive, as one of its Tribute Portfolio line.
As can be expected, the transition is a mess, as they almost always are. It would be easy to say they are taking defeat from the jaws of victory, as the hotel is nicely laid out, but the basics are being overlooked – check-in is confusing, parking even more so. But the design, from the concrete floors to the lobby bar, is perfectly contemporary and, at least to this guest, welcoming.
The move to Marriott, though, bodes poorly for guests – read the various travel blogs for the Marriott move from pleasing guests to pleasing investors – full disclosure, we are both. We'll take a dividend cut in exchange for some basic frills. The rooms are small enough to ensure you'll want to get out and see the town, which is filled with opportunities. These are micro but well-done, with new flooring, fresh bathroom tile and platform beds.
The Casso is set in midtown and close to everything, so the slight inefficiencies are workable and, as we know, travel is not, and should not be, smooth. Being in a location that makes for easy access to the town is a blessing.
One of the perks is that it is set on the rail line, and we love the sound of trains in the night. We take it as a good sign.
The next day, we are ready to tackle Raleigh on foot. It's a walkable downtown, filled with a mix of shops, eateries, and grab-and-go food places. We could spend a day consuming and perusing.
But we're history buffs and landing in the capitol city, which Raleigh is, means a walk to the statehouse. State capitols are often a trove of history and ambitious architecture, and Raleigh is exhibit one, with its original capitol building, a stone edifice done in a Greek style, fully intact. The building is surrounded by various monuments and tributes, including a statue of the three U.S. presidents that were born in North Carolina – Andrew Jackson (1829-1937) James Knox Polk (1845-1849) and Andrew Johnson (1865-1869). The grounds are overhung with oaks, elms, and magnolias and while the building is relatively small, the insides are a look at how efficient the construction process was in 1831, when the capitol was rebuilt following a fire.
The three-floor building features stone floors and steps, generous use of hardwood and a cantilevered gallery on the rotunda's second floor. The legislative galleries are redone immaculately, down to the maroon carpet with yellow stars. Every room has a fireplace, and it took 28 of these stone behemoths to heat the building. The outhouses have been removed from the grounds, but man, that must have been inconvenient.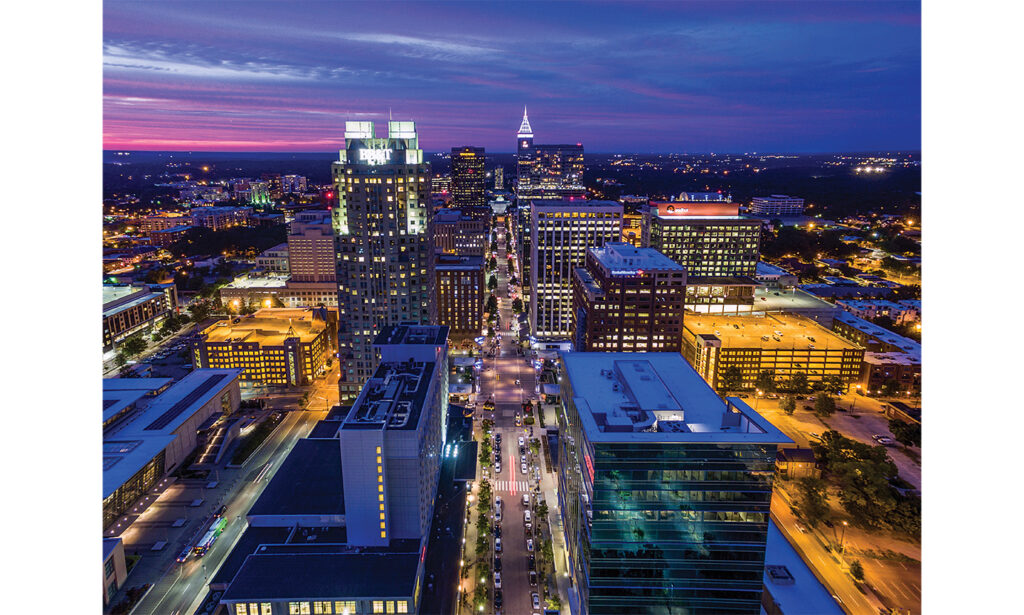 The state's General Assembly no longer meets there, having moved in 1961 to a larger, less ornate building at the end of the state complex quad, which also includes a nice-looking North Carolina Museum of Natural Sciences and the North Carolina Museum of History.
We spent a good two hours wandering the grounds, taking in the building, talking with the armed guards. Time to find another place for a smoke. Capitol Smoke was half a mile away, with two other locations around the state and one in Richmond, Virginia.
What a happy accident. We entered a head shop that had a masterfully underappreciated humidor attached. The selection of bongs and pipes alone is staggering, as if Seth Rogan and Cheech and Chong decided to pool resources. It's set in an urban strip of stores but stands out on the aural noise of its neon sign, a bright beacon among semi-blight.
Inside, the smoking area is two antique couches and a chair, all stained and worn, set on a similarly weathered rug. These scraps sit in the middle of the store, so the folks buying Delta 9, vapes and smoking accessories can wonder what the hell these crazy people are smoking.
But the humidor is perfectly maintained, and the stock is beyond anything we've seen in town, an abundance of premium inventory that indicates that perhaps the locals are distracted by the stoner possibilities and aren't convinced of the goodness of this trove. We're tempted by the Rocky Patel Gary Sheffield 500 Home Runs cigar, but we pull an Alec Bradley Blind Faith Robusto and sit down on the stained chair to watch the show. A guy comes in and offers some free, just pulled green beans (!) to whoever wants them. Another woman eyes the pipes and asks manager Luke Titus if they have an ATM.
"It's outside," Titus says. "It doesn't look like it works but it does."
Still another guy comes in, suit and tie, and orders up some Delta 9, a cannabis edible that offers the same effect as a legal marijuana gummy.
Titus is a devoted cigar smoker of six years who wants to learn more. He just started the job this summer and is already excited to put the humidor in order. Right now, there are facings that go nowhere or are too high on the shelves to read. He has regulars who buy premiums, but he acknowledges the other goods represent the bulk of his sales. And he sits on this large stock of Drew Estate, Padron, My Father, Oliva, and Alec Bradley.
In North Carolina, most lounges are BYOB, but not this place. No booze allowed.
"That would go wrong real fast," Titus says.
Make no mistake – this is a place to score some good smokes in Raleigh.
For lunch, we wander back toward the Casso and check into the Roast Grill, a joint that has been serving since 1940, and looks it. Roast Grill offers one thing – hot dogs. And it's cooler for what it doesn't have than what it does – no ketchup, no cheese, no mayo, no kraut, no chips, no fries, no relish. You order a hot dog and it comes with yellow mustard, onions, slaw, and chili. The end. To drink there are icy Cokes in the 6 ½ or 16-ounce glass bottles. It's cash only. To consume your order, you sit at one of seven stools at a counter or one of two tables behind that. And it's great.
The guy next to us ate his in a bite and got on his phone to someone, likely someone else who knew the good stuff: "I just devoured one, you need to get over here. It's a hole in the wall."
It's a five-minute walk to Raleigh's Union Station, a quietly reimagined terminal that is an excellent representation of modern redesign. While it cost us, the taxpayers, $100 million, it's a wonderful place and similar to some of the finer rail stations in Europe.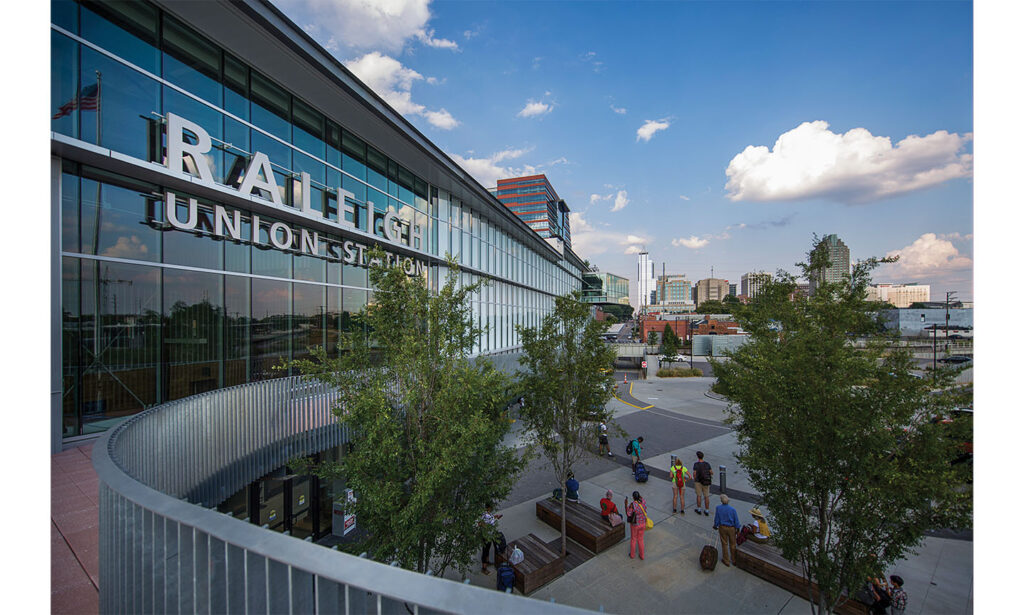 The station is as big as a Boeing airplane hangar, a wide and tall expanse that features iron beams across the ceiling, polished concrete floors and seating of all kinds, from wooden benches to cushioned chairs and sofas and tables with chairs in between. The east wall is all windows, allowing daytime light to illuminate the finely coiffed interior.
We check and are surprised to find that for $14 round trip, we can hop an Amtrak train to Durham and check out the home of the Durham Bulls, a team Hollywood turned into a national treasure in the 1988 movie Bull Durham, starring Kevin Costner, Susan Sarandon and Tim Robbins. The AAA minor league Bulls still play in a new park that is part of a massive corporate development, Aloft Hotel included, a few blocks from the original Bulls ballpark, which is now a community ball field.
We're in, and the 30-minute ride through mostly railroad-track type stuff – wrecking yards, impoverished living, car lots and industrial parks – is oddly relaxing.
The terminal in Durham is small and well-done, with some museum-style history boards, modern design with exposed ceiling beams, concrete floors and simple benches.
It's a five-minute walk to the Bulls' new park, creatively named the Durham Bulls Athletic Park, a generic ballfield that nonetheless gleams in the sun like a new dime, surrounded by big companies that entertain clients on decks overlooking the field. The gastro gem in this outlay is the Tobacco Road Sports Café.
Tobacco Road dishes out high-quality bar food to folks who sit on a terrace overlooking the ball field. We had a fine Caesar salad with shrimp, but the showpiece was a dish of spicy coleslaw. It was the vinegar-based slaw that we love so much, and the heat was just right from a tabasco infusion. The bar itself is a gem, with the obligatory TV screens all around but also a small bullpen area of cushy lounge chairs with personal screens and drink holders that would not be out of place at any reasonable cigar lounge.
As we noted, the Triangle area has colleges – we're reminded because we saw Bluto Blutarsky walking down the street with the word on his shirt – which means…nope, not education, but sports.
A ticket to a Duke University basketball game is hard to come by, given that the NCAA powerhouse is legendary in victory circles. The team still plays in Cameron Indoor Stadium, built in 1940. The building is pleasingly rustic and well-maintained, and, if you are in town and lucky enough to snag a seat, pre-game at the Washington Duke Inn & Golf Club on the campus. The Bull Durham Bar serves a great Ahi Tuna appetizer and features a selection of booze, from top shelf unoaked French white wines to local beers.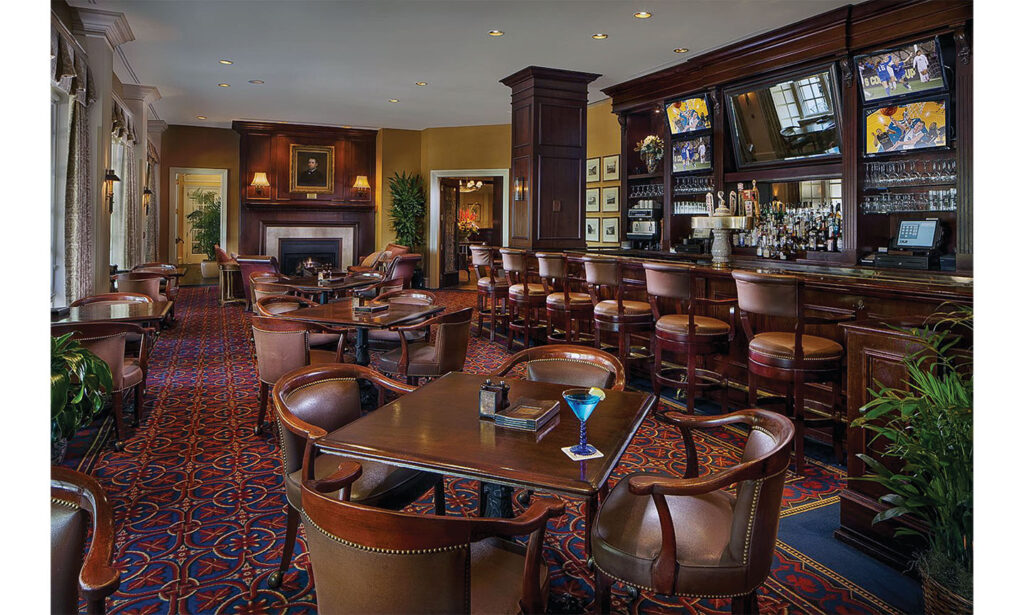 It's a terrific perk to have Durham, which is still developing, as a place to hit up. The town, home to Duke University, offers a generous variety of restaurants and small shops, although it has a way to go before catching up to Raleigh. Plus, we got hit up twice for money by street dudes in our two hours there versus zero times in Raleigh.
While we're on sports, Raleigh's Carolina Hurricanes have a rabid local following, unlikely as it seems. But the city's only pro sports team won a division championship last year and is enjoying that ride.
Raleigh is a pleasant place – surely benign praise, but sometimes low-key is good and you won't find yourself striving to see something Raleigh-centric or leaving the place thinking that you missed a crucial part of that city's heart. A good smoke on the porch of the Apex Cigar Lounge, some fine food and another cigar at the Angus Barn, and time spent at Havana Deluxe watching the life is about a perfect day, done easy.
Photography by Chris Hildreth / Rooster Media
---
Click HERE for more stories!