The parched heat of the Southwest? Forget it. This cool Palm Springs haven delivers a smoking oasis, lofty dining and gaming amid the arid environs of the Coachella valley.
Palm Springs, Calif. – You go down Bob Hope Drive to Dinah Shore Drive to Gene Autry Trail. Unless you're a World War II veteran – thanks for your service and congrats on nearing the century mark – or a Hollywood history buff, this sprawling desert enclave is a confusing slice of time travel.
Even at the Palm Springs airport, the old days are on parade – a Muzak rendition of "I Heard it Through the Grapevine" and other classics are the house music. After reading of the self-guided Sinatra tours, hearing of the bevy of Hollywood elite that landed here in the 60s and seeing the midcentury modern architecture around the town, it's all too much of a time machine.
But a little east of downtown off of Interstate 10, the Agua Caliente Resort Casino Spa Rancho Mirage, a 16-floor slab of contemporary concrete, sits on a sandy, arid piece of land by the Agua Caliente Band of Cahuilla Indians, part of the tribe's 6,700 acres in Palm Springs city limits and one of three casinos it owns and operates.
But the Rancho Mirage version is special.
Inside, along with the incumbent attractions that have been part of casinos for as long as any of us can recall – food, live entertainment, sports bar, high and low stakes games, slot machines and booze – is a tribute to both the days of Sinatra and today.
The Pivat Cigar Lounge, with simple electric lemon-colored lettering on a deceptively and likewise simple storefront, is tucked into a hall around the corner from The Steakhouse, the casino's celebrated eatery, and just off the elevator bank. And it has touches of both the then and now.
"We took that old-school cigar lounge, with dark material, dim lighting, leather furniture, and blended it with new, trending, modern touches, so it has that current essence along with the feel of a man cave," says Sandy Josephson, vp of food and beverage at the Agua Caliente Casinos.
For sure, the stone countertops, recessed lighting and wood floors are a nod to today, as are the array of 75-inch TVs that are fixed on sports. A wall of video gaming machines and a couple of live blackjack tables are separated by banks of stuffed leather seating and a marble-topped table adorned with ash trays, cutters and – did they know we were coming? – issues of Cigar Snob magazine.
The 3,000-square-foot, 90-person capacity lounge opened in 2018 after casino managers and personnel noticed that among the considerable traffic at its outdoor smoking areas were those indulging in premium smokes.
It was named Pivat (pronounced Pee-vaht) by the Agua Caliente tribal council, which is Cahuilla for "smoking tobacco." Josephson says that several cigar brands have approached the casinos in hopes of attaching their name to the lounge, but "it won't happen. This is our brand, and it is very close to our heart. We are happy to sell all cigars in our lounge, but it will remain our lounge."
He noted that the lounge has relied largely on word-of-mouth – a casino with a cigar lounge? Unthinkable in anti-smoke California.
"One cigar smoker hears of it, tells another and then another," Josephson says. Indeed, we had a smoke at a friend's Los Angeles backyard three days before, a Hollywood honcho who has smoked for years. His troupe occasionally goes to Agua Caliente's other casinos, ending up in the parking lot for a cigar. Not anymore.
"I'm going to have to check out that casino rather than the rated "G" one we've been hitting," the friend emailed us after hearing of Pivat.
We relay the message to Josephson.
"And that's been working for us since we opened," he says.
The humidor features 400 facings and 15,000 cigars, from the familiar favorites including Davidoff, Oliva, and Montecristo, to a small sampling of boutiques. Lockers run $1,500 a year and membership means cigar discounts.
The bar sits across the room from the humidor, with some gaming at the bar itself and an array of whiskey, single malt scotch, bourbon, and white liquors behind it. Pivat has its own Makers Mark brand, used in several of its smoked cocktails. If you want to have a steak with your smoke, you can order off The Steakhouse menu and have it brought to you.
The sizable outdoor area features palm trees with the circumference of a linebacker, planted as part of the landscaping, an impressive use of the tropical foliage. It's a true outdoor lounging area, with upscale patio furniture around more TVs, and room to walk around. On our evening visit, the patio was empty – 104 degrees and windy will do that – but it's clear the place is comfortable once the temps drop in the fall. Some people lament the summer heat, but when fall comes and every day is dry/sunny/80s, they forget. Timing your visit, if the heat bothers you, is important.
If you want to split your smoke and feed, you can walk the 30 feet and sit down in The Steakhouse, which is suitably dark and cool, with plenty of hard wood, purple carpet streaked with strands of red and black, and cushy leather booths.
The menu is advanced steakhouse, with seven selections of steak cuts, Prime Chateaubriand, Wagyu New York Strip, and a bone-in bison ribeye in case you aren't feeling the cow. The seafood choices include lobster tail, scallops, crab legs and a catch of the day.
Appetizers ran to the fish side, including sashimi, burgundy escargot and some well put together crab cakes, which came with a remoulade but needed nothing but lemon.
With the temps outside, a heavy main dish just didn't seem right – we opted for catch of the day, some sea bass that was nicely grilled.
The wine list is comprehensive, catering obligatorily to red lovers, and the Bonaccorsi Family Pinot Noir, not too dry, set off things nicely.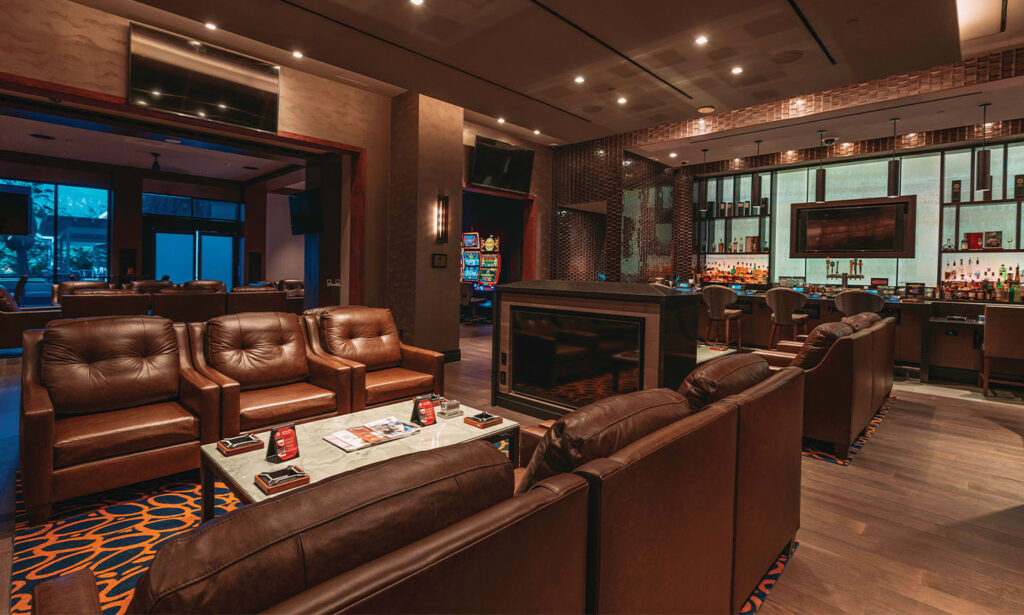 Later in the evening, after walking the grounds and before calling it a night, we returned to Pivat for a last look, given we had less than 24 hours in the place.
We ordered a vodka martini straight up and dry – simple and easy, and appropriately Rat Packish, given the location. It was excellent, and as we sat, sipping and smoking, we were reminded of the old nightclub joke about the bar that "made martinis so dry they were finding dust in the men's room." Again, appropriate given the location.
If we needed to hear jokes, though, there's a good chance that Agua Caliente's 2,000-and-change capacity entertainment venue, The Show, will have something along those lines and more. On our visit, the upcoming comedy slate included Jim Gaffigan and Jim Jefferies, both high on our laugh list. Past performers include Brian Reagan and Jerry Seinfeld, so they are booking the A-list. We also noted Tom Jones on the schedule – is that possible? That seems particularly part of the long-gone era, again coming back to life in Palm Springs.
The Agua's sports bar, 360 Sports, is nearby, and like so many other sports joints in casinos, is a study in calm dreams and steady drinking, eyes fastened on the screens for a blip or score in whatever contest has money on the line. The 360 offers 2,300 square feet of TV screens, with a huge wall as the centerpiece. It's visually impressive and while sports betting isn't legal in California – what is? – it's a comfortable and roomy place to settle when the casino sounds get to be too much. Coincidentally, state voters in November will weigh in on a couple measures to legalize various forms of sports betting – expect a typically West Coast hullabaloo no matter the results. Meantime – we have that app.
Agua Caliente's hotel has 340 rooms, and you'll want one of the 58 rooms with a balcony overlooking the San Jacinto Mountains, which our 10th floor quarters had, with a view to the west and the sizable swimming pool below. It's an intoxicating delight to watch the shade of the rocks turn from mauve to tan and into shades of yellow as the sun rises and drops.
Internet posters on travel sites appear reluctant to fire up a cigar on their balcony, fearful of local restrictions – it's "California law!" – but enforcing that would be entrapment. Sometimes you just have to bend the rules. And not get caught. We had a wonderful Montecristo White Series Gordo that we bought at Pivat and with that, we watched the mountains bathed in moonlight and the headlights on the interstate that appeared as tiny dots as traffic shuttled east to Phoenix and west to L.A.
Take a jog south off I-10 and it takes you toward the Imperial Valley, with its groves of citrus and dates, lettuce trucks and roadside stands for date shakes. The towns are bedraggled Americana agricultural outposts, and they warrant the 45-minute drive. The towns that scatter over the landscape – Brawley, Niland, Westmorland – are remnants of a vibrant old west and well worth seeing. Salvation Mountain, a hill covered in colorful hues of acrylic paint, is outside Calipatria and a beacon in the desert.
We've been to this part of the southern Mojave desert with a pathological obsession since the 90s, most recently a couple years ago, noting in a Cigar Snob story in fall 2020 our visit to Joshua Tree National Park, previously name-dropping Pivat and Fame Cigars and Wine as go-tos.
There are a number of other smoking options in Palm Springs, but Pivat gave us what we wanted. So, we missed the Mirage Cigar Lounge and its popular Thursday night poker and upscale private membership club, and the Hydeaway Cigar Club, both within 15 minutes of Agua Caliente. Next time stops, for sure, as the interest in cigars in this area continues to blossom.
For the a.m., the Waters Café is the first option. While the service is a little curt for solo diners, the square horseshoe bar is interesting if only for its stab at Hard Rock-ish musical décor – and while guitars signed by Adam Levine and 70s pop band America along with Jimmy Buffett's microphone don't exactly scream cutting edge, they make sense in the benign setting. A drumhead signed by Mark and Bob Mothersbaugh of Devo was suitably weird in this context.
Josephson, Agua Caliente's food and bev vp, was an occasional smoker before he began to curate the humidor at Pivat, "for golf, and it turned into something I truly enjoy now," he says. "I compare it to wine, with the flavor ranges of mild and medium and beyond."
He attended the Premium Cigar Association trade show in Las Vegas this summer and met with reps from Alec Bradley and Espinosa, among others, so expect some additional offerings from them in the coming months.
Pivat is also expanding its accessory line, which was part of the PCA visit as well.
With the new stuff coming in and a lounge that has already doubled in size in just four years, is there room to grow?
"If the demand is there, we'll find a way to do it," he said.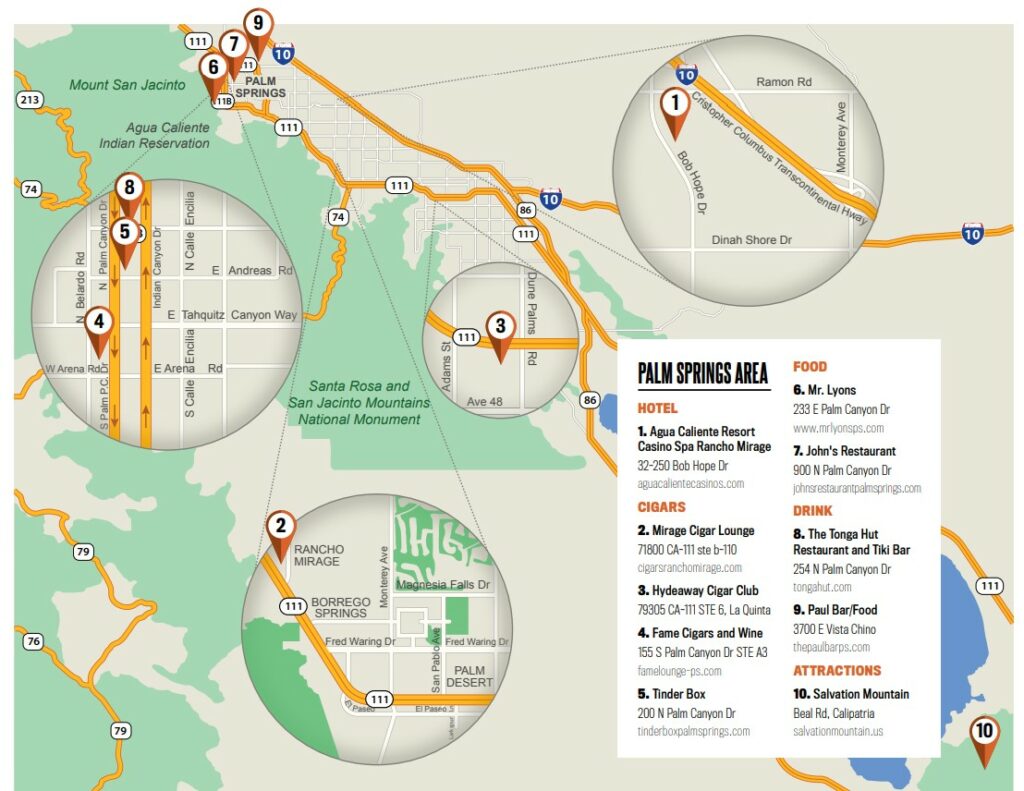 ---
Click HERE for more stories!