There's more to Curaçao than the historic pastel buildings, azure blue waters, and pink flamingos, although those could be reason enough to go. We visited the island while producing the photo shoot for this issue and came away with so much more.
---
My knowledge of Curaçao is limited; I knew it had been a Dutch colony, has a famous floating bridge, and has produced several major league baseball players including former Braves centerfielder Andruw Jones. At the behest of a trusted friend, I worked with the tourism board's PR company to make this trip happen. But now that I was about to spend a week on the island, I wasn't sure what I was going to find. During the three-hour flight from Miami, I fully engrossed myself in Curaçao research.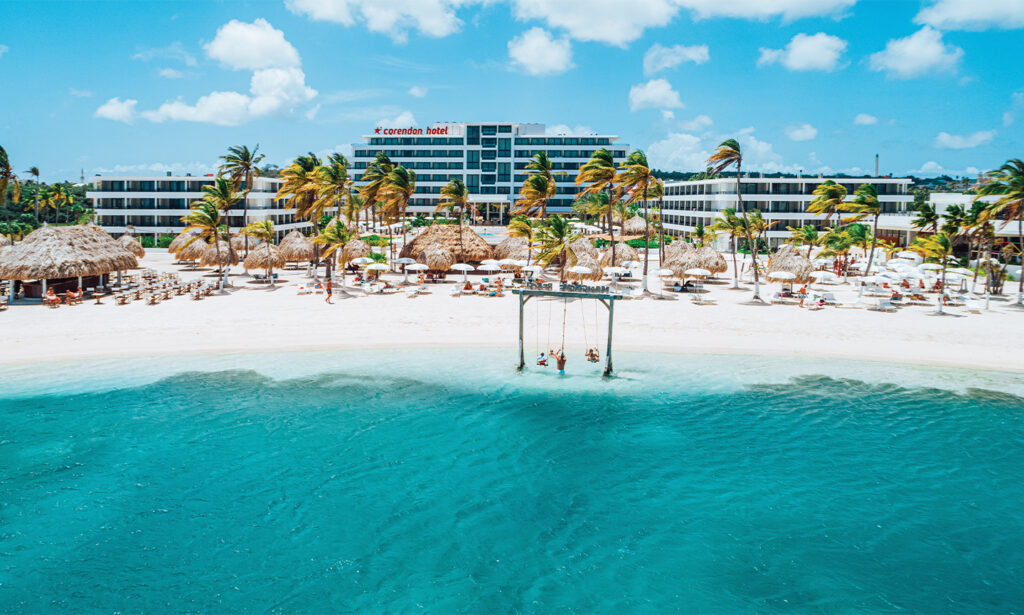 We were travelling to Curaçao to produce a photo shoot and travel story, and the tourism board would be helping us make it happen. Photographer, David Benoliel, and the shoot's producer, Ivan Ocampo, were already on the island scouting locations with the help of the local tourism board's Reggie Tokaay. Flying in with me were the models, stylists, assistants, and my sister Jamilet Calviño (Jamy), who in addition to assisting on the photo shoots, would stay with me after the shoot to explore the island's cigar scene.
We were greeted at the airport by the tourism board's Dewi Pomario (pronounced Day-Wee), our tour guide, location specialist, sugar momma, and spiritual leader for the trip. Her easy-going nature coupled with her profound knowledge of the island made her an asset to our team. She taught us, with some success, the local language of Papiamento with an emphasis on what is unquestionably the island's favorite and most frequently used word: "dushi". I won't lie; this one took some getting used to at first. It sounds just like the negative word in the U.S., but in Papiamento it means 'good' in the highest possible form, and it is used interchangeably as adjective and noun, sometimes in the same sentence. We got the hang of it and by the time we left the island we were throwing around "dushi" without a care in the world.
Home is Where the Cobra is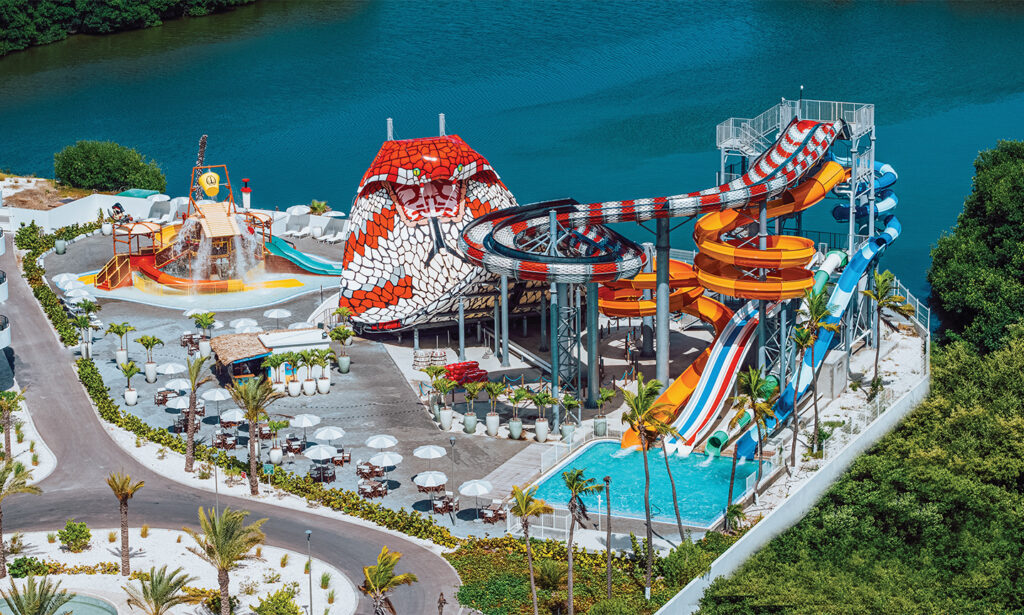 Dewi drove us to our home base for the week, the Corendon Mangrove Beach Resort, an all-inclusive resort in the Otrabanda neighborhood. As we drove up to the entrance it was impossible to miss the waterpark sitting off to the side of the parking lot, featuring a giant cobra head spitting water from its fangs. My sister looked at me without a word, but her look said, "Oh yeah we're doing that." We were greeted with a delicious, fruity, welcome cocktail as we checked in through the open-air, breezeway lobby. Just as we were wrapping up the check-in, Ivan and David returned from their scouting mission. We unloaded our stuff into our rooms and met up in the hotel's coffee shop.
In addition to a litany of coffee options, the 24-hour coffee shop also offers a variety of small sandwiches and desserts as well as a full liquor bar. They've got a repository of books and magazines that we made sure to stock with copies of Cigar Snob.
With everyone now safely at the resort, we had some time to kill before our dinner reservations, so we walked to Rif Fort for a smoke. The fort is located at the entrance to St. Anna Bay, a 10- to 15-minute walk from the Corendon Mangrove Beach. It was built in the 1820s to protect the island from invaders in conjunction with the Water Fort on the opposite side of the bay. During those days the bombproof Rif Fort was armed with 56 cannons, barracks, and a gunpowder magazine but a short 200 years later it is a tourist attraction and UNESCO World Heritage site that houses several shops and eateries. Its open-air configuration made it a great spot to smoke our La Aurora 300 Cameroons as we enjoyed the view.
Speaking of the view, we climbed up one of the turrets to have our first glimpse of the Punda neighborhood across the bay, which is when Jamilet's love affair with the Queen Emma Bridge began. "There it is!" she exclaimed as soon as she had eyes on it, and it took some convincing for her not to run across it right then and there. The pontoon bridge is unique in that it swings open when ships enter the bay, hence its other name The Swinging Old Lady. We'd be back to see her soon.
Dushi Sushi and Cigars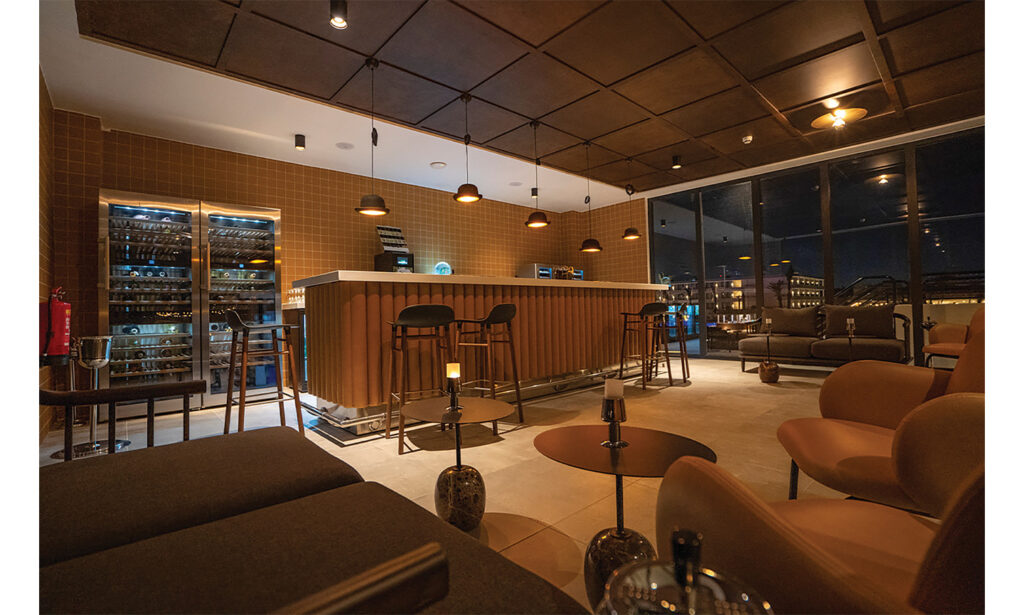 If you plan on visiting the Corendon Mangrove Beach Resort, make sure to call well in advance of your arrival and make your dinner reservations before they fill up. We were able to book a last minute resy at the hotel's sushi restaurant, cleverly named Dushi Sushi. This was our first night breaking bread as a team so there were a lot of introductions and storytelling of shared photo shoot horrors and successes. The sushi was just OK but I'm a little spoiled in that department, but the restaurant's location is superb. It sits just a few feet from the crashing waves and downstairs from the resort's cigar bar, The Don Cigar Lounge.
---
Dushi (pronounced Dooshee)

Noun: sweetheart, darling, gentle soul, my dear, lover, sexy beast
adjective: good, great, awesome, tasty, cool, sexy, hot
Origin: It is believed to come from the Spanish and Portuguese word 'dulce' meaning sweet.
---
We headed to the lounge to see what's what. We could hear a ruckus as we came up the stairs; a group of Dutch tourists had taken over a large table on the rooftop terrace and were having a blast, loudly drinking beer by the bucket and smoking cigars. Men and women in their mid-thirties enjoying cigars and drinks while on vacation in the Caribbean; they didn't realize it but just the sight of them made my night. "Do you have room for a few more?" Ivan asked half-jokingly. Being a premium cigar smoker is like belonging to an international club where everyone is welcome regardless of nationality, race, or creed. Their response is proof of just that. With no hesitation, one of them yelled, "Welcome!" as they quickly made room for us.
A couple of beers in I snuck away from the group to get a look at the inside of The Don Cigar Lounge. It was cozy with leather seating on either side and a full bar in the center. Like all of the bars on the property, you can order any of the all-inclusive drinks, but in the lounge you can also order higher end wine and spirits a la carte. The cigar selection is limited to mostly Cuban cigars from a refrigerated humidor with a couple of exceptions from the Dominican Republic. I spent some time speaking with the attendant about cigars and although he had only been smoking premiums for a couple of years, I came away impressed by his genuine desire to learn more.
At a time when more and more hotels and resorts are going tobacco-free, it's refreshing to know that the Corendon Mangrove Beach Resort not only welcomes cigar smokers but also makes special accommodations for us.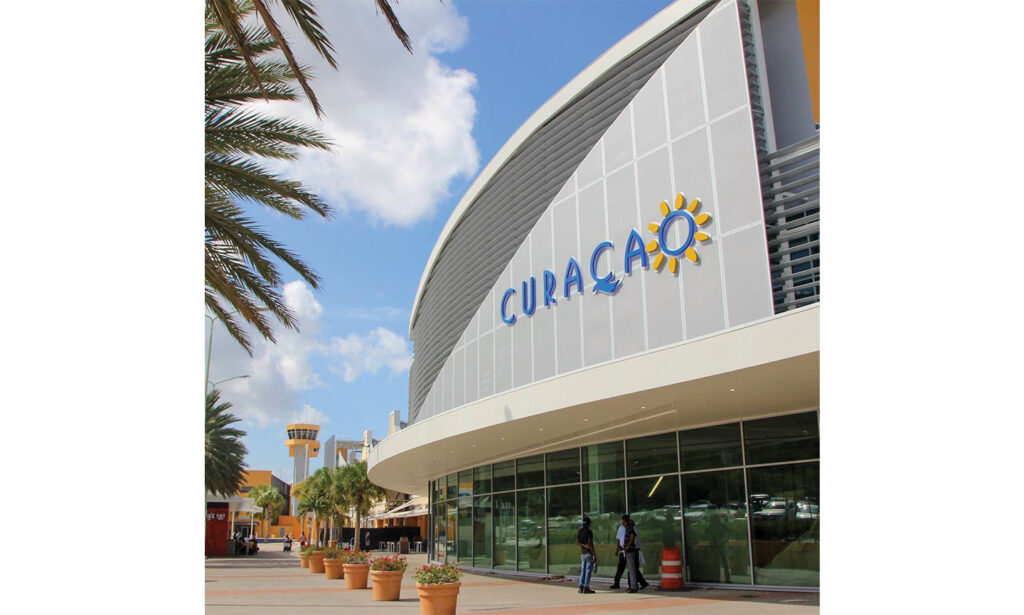 Bright and Early
The only thing open at the resort when we loaded Dewi's van with gear and wardrobe as we headed out for the shoot the next morning was the 24-hour coffee shop. At this early hour, there is no one manning the shop so you get your coffee from the machine, which makes surprisingly good coffee. We piled into the van and hit the road by 6:30 a.m. on our way to the first location, the beach behind LionsDive Beach Resort in the Bapor Kibra district, about 15 minutes southeast of the Corendon.
Dewi had coordinated with LionsDive to reserve a cabana on the water for us to set up for the first few shots. The model for this day was Lena Radonjic, a gorgeous young woman from Montenegro; we paired her up with the León Jimenes Connecticut. The cigar is mild and creamy, which worked perfectly for this early morning smoke with nothing but espresso in our systems.
The shots were coming easily but as the morning wore on, the beach started getting busy. We moved the shoot over to Chill Beach Bar & Grill, a few paces from where we were shooting to start the day. While LionsDive has a distinctly Dutch Caribbean feel to it, Chill Beach Bar & Grill is pure Key West. There are license plates and handmade signs clustered on every corner, hammocks hanging from palm trees, and chairs on the water's edge. We were right at home. We ordered a few beers to use as props and before long we were drinking the props. I heard somebody say, "Do you think we need a piña colada for the next shot?" We needed to get away from this place; the chill vibe was infectious.
We jumped back in the van and hightailed it over to Mundo Bizarro in the colorful Pietermaai District. This place blew us away from the moment we drove up to it. It feels like a Cuban corner of Curaçao; the mural of a cigar-smoking Cuban lady, the Cuban tile on the floors, the mosaic tile Bacardi bar, and the purposely dilapidated-looking exterior, all scream Old Havana. Our team couldn't get enough of this place, and we shot in front of Mundo Bizarro, just inside, against the bar, in the archway, and upstairs on the balcony. It's the kind of a place where everywhere you turn you find some other bizarrely interesting artifact, mural, or piece of furniture.
By now, the lack of food was catching up with us. During the balcony shot at Mundo Bizarro, I was on the second floor with the model and stylists. I turned around for a moment to admire the view of the tile bar from above when I heard a thunderous crashing sound behind me. I know that balconies fall in the real Old Havana all the time but thankfully this wasn't the real thing. I snapped around to see one of the stylists had missed a step and taken a nasty spill knocking down a light stand and God knows what else. I ran over and thankfully she was fine, just some scrapes and a bruised ego. Clearly, it was time to break for lunch.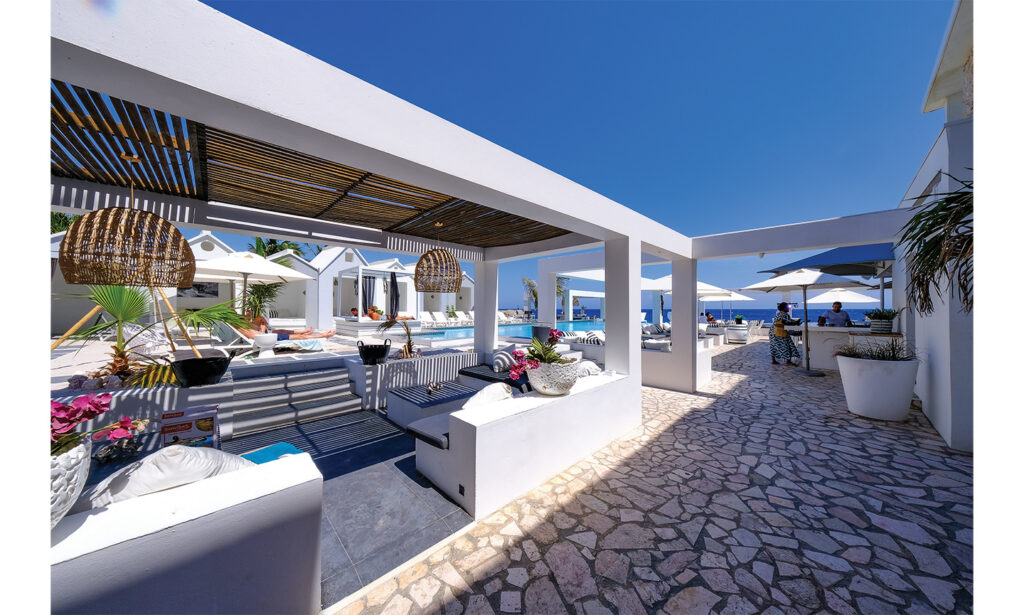 We took a short ride to Saint Tropez Beach Club. Styled like a chic Mediterranean resort, the pool area of the Saint Tropez felt like the kind of place that's ideal for a couples getaway. Dewi had reserved an ocean view table for us, and the landscape and the food was just what we needed. The seafood pasta that I ordered was spot on; the pasta was perfectly cooked, as were the shrimp and fish. A typical photo shoot lunch involves a variety of cold cuts, salads, fruits, nuts, and cookies for David the photographer. This was living high on the hog with an ocean view, and I savored every minute of it.
The picturesque homes in this district are known for colorful murals and creative paint jobs so we spent the next chunk of the day driving from one cool-looking house to another shooting and moving before heading into Punda, the island's historic district. As soon as we drove up next to the Queen Emma Bridge I could see Jamy bursting with anticipation. "There it is!" she called out again with giddy excitement. As soon as we parked she made a beeline to the bridge with an ear-to-ear grin. It's a unique pedestrian bridge made even more interesting by the fact that people are allowed to stay on it as it opens for boat traffic, assuming it's a small ship coming through. The bridge is hinged on the Otrabanda side of the bay and swings open with the help of diesel engines that push the pontoons to open on the Punda side. We marveled at the bridge and got back in photo shoot mode. We took a couple of shots in Punda and wrapped up shooting for the day. We split up after getting back to the Corendon; some went straight to the pool while others rested. I wandered over to the beach, found a chair near the ocean, and fired up one more León Jimenes Connecticut with my toes in the sand and watched the sunset.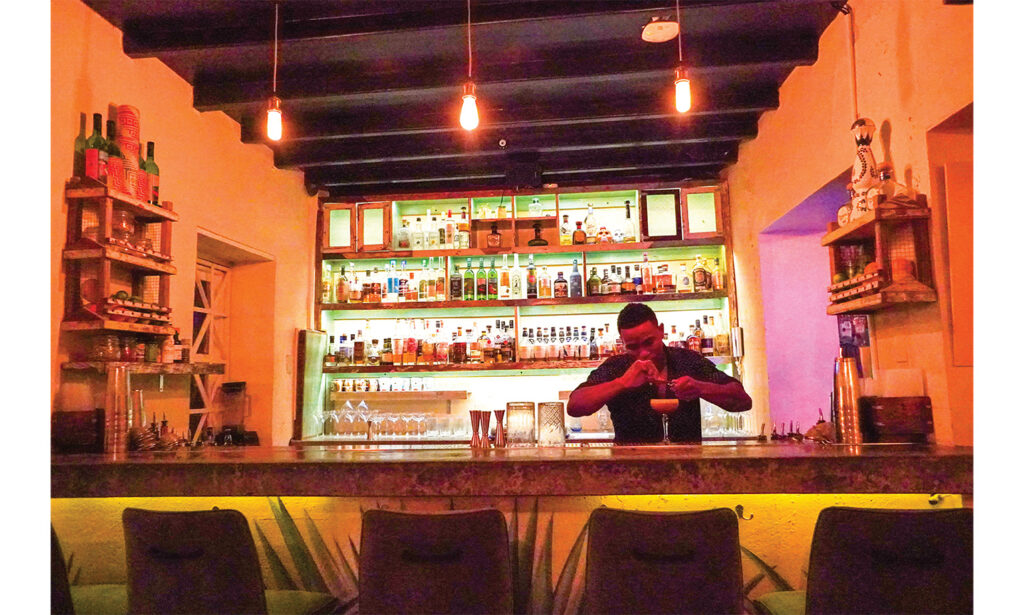 Rested up and ready to hit the town, we pulled up to Mosa/Caña Bar & Kitchen for an 8 p.m. dinner reservation. You can imagine the sight of this crew consisting of Dewi, the magazine staff, photographers, stylists, and two outrageously beautiful women walking into one of the hottest spots in Curaçao. The entire place put down their forks, knives, drinks, and cellphones to take in this interesting mix. I say they looked up to see the whole crew but that's not really what happened. The two models had a gravitational pull on every eyeball in the place.
The restaurant used to be two separate "sister" restaurants; Mosa doing tapas style dining paired with exceptional wine, and Caña serving up Latin fusion dishes with an amazing cocktail and spirits menu. Around the onset of the pandemic in early 2020, they joined forces to become Mosa/Caña Kitchen & Bar. While I don't know what it was like before, it's a must-visit now. Our evening there was one of my favorite dining experiences of recent memory. The food was flavorful, exciting, and adventurous. The tuna tartare came with a scoop of ginger ice cream in the middle. The sous vide rum ribs were a pile of sticky, sweet, pork goodness. And the duck confit tacos with cranberry salsa, avocado, and radish blew my mind – I haven't stopped thinking about them since that night.
After dinner, everyone except me ordered or shared desserts, as I opted for a rum flight. One of the owners and certified rum nerd, Wesley, came over to ask a few questions before preparing the flight. He came back with a three-rum flight that knocked my socks off, combining something different from a distillery I know well, a rum from a distillery I was dying to try but hadn't found, and a superb rum from a distillery I didn't know existed. That's pretty much as good as it gets in my book.
We capped off the evening at the Corendon's Flamingo Beach Bar enjoying live music and cigars with our new Dutch friends from the previous night.
Round Two
In the infamous words of Yankees legend Yogi Berra, this was "déjà vu all over again" as we were back in the saddle for another early morning shoot. This time we headed west towards Kenepa Grandi Beach, a 45-minute drive through sparsely populated areas.
We arrived at a parking lot that didn't look like much until we walked to the overlook. The nearly infinite shades of blue were breathtaking in the morning sun. It was early enough that we were the first ones at the beach. We decided to take advantage of this situation and rushed down the stone steps to prepare for the first shot. Attracting tourists and locals, this beach is one of the most popular on the island but as we stood alone on the sand admiring the beauty, a couple of little piglets trotted in to see what we were up to. The cute little guys snorted and rooted around and, finding nothing of interest, went on about their business.
When it was time for us to get on with our business, our model Alice Palay strode down the steps almost glowing. I think David saw this as well and wanted to start shooting immediately. Jamy handed Alice a lit León Jimenes 300 Cameroon and the shutter started firing.
We moved from shot to shot swiftly because the light was perfect, the location was amazing, the styling was on point, and Alice is not only outrageously beautiful but an absolute pro. We had her stand barefoot on top of a jagged rock but when we saw that it looked painful, David offered to shoot in such a way that she could wear flip flops and not see them in the shot. "No I can do it, shoot it however it looks best," she said.
By now the beach was starting to fill up and every time a family came down those stone steps, we got a kick out of the wife's reactions to the husband's jaw-drop at the sight. When you're shooting on the beach and the facilities are either not available or too far away, the model's wardrobe change happens on the beach with the use of a changing tube or towels. Every time the tube went up, you could see the crowd's attention shift to the model and stylists; a swimsuit would fly out of the tube, a swimsuit would drop into the tube, and out came Alice with a new look. By the time we had exhausted every shot at Kenepa, you could almost feel the disappointment from the beachgoers.
We headed south to Cas Abao Beach to have lunch and catch our breath after the morning hustle. Cas Abao is different than Kenepa in that Kenepa is a public beach while Cas Abao is a beach club where you pay to use the beach and facilities. Think of the types of amenities behind a resort. The fee is about $6 per car to access the beach. Everything else is a la carte, but they have dive gear, jet ski rental, beach chairs, and even a massage on the beach. Cas Abao is fairly large and well maintained. When Dewi said we could have lunch from the beach's food stand, I imagined we'd be eating cold hot dogs or ham and cheese sandwiches, because that's what it looked like would be on the menu. I was pleasantly surprised, though. It's not that we scored a gourmet meal but the fare was simple and solid. I had a chicken skewer sandwich with garlic aioli on a fresh baguette. that was damned delicious.
We rented a wetsuit and snorkeling gear for a shot of Alice looking like a Bond girl and when I went to return it, the young woman receiving it said, "I noticed you didn't actually use it to go diving, you just took pictures with it, you don't have to pay for the rental." It turns out the young woman was Brigitte, the owner of B Diving & Watersports. If you ever make it down to Cas Abao drop in and say hello for me.
The ride back to the resort was quiet, as most of the crew slept. We'd had an excellent two days of shooting, as both models were a pleasure to work with, and our crew was top notch. We got every shot we wanted and enjoyed great cigars on both days, so the trip was already a success. But we had unfinished business. The business of the giant king cobra water slide in the parking lot?
Ivan, Madeline (hair and makeup artist), Jamy, and I dropped off our gear at the hotel and met up at the cobra. What a blast! You grab an inner tube, climb up several flights of stairs, and slide down the twisting and turning slide, which drops you into the cobra's mouth while the fangs shoot you with water. It's an exhilarating ride that we couldn't get enough of, and I'd recommend it for any adult or reasonably aged child. While you're catching your breath, there's a little bar with tables and umbrellas. We ordered a few beers and chilled out while watching people freak out as they dropped into the cobra's fangs.
Celebratory Smokes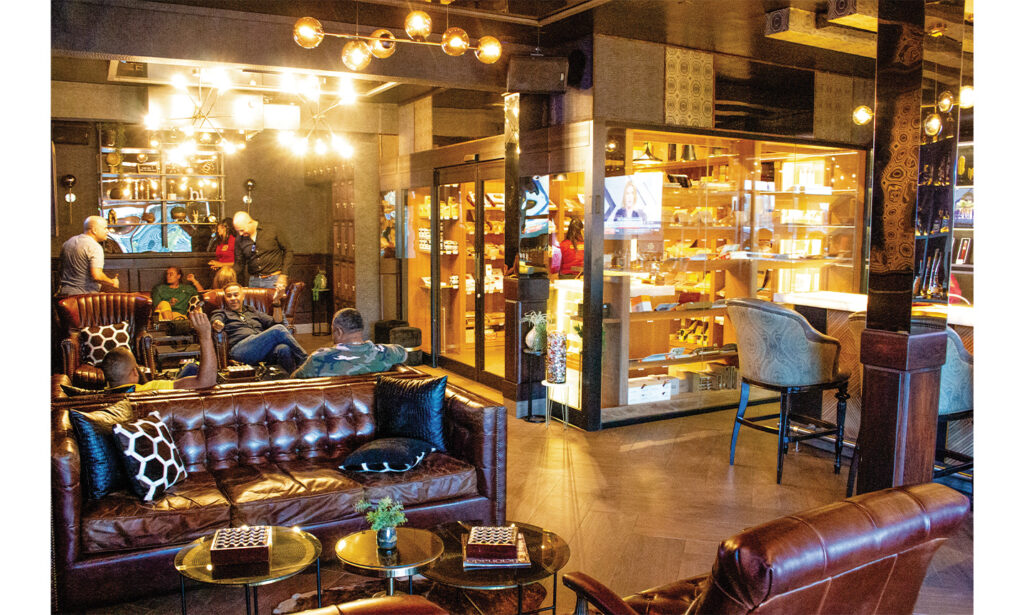 We had one final dinner planned for the group to celebrate a successful shoot but before that, Dewi set us up with a visit to La Casa del Habano Curaçao. At Cigar Snob we don't visit LCDHs very often, so I didn't know what to expect. What a pleasant surprise. Owner Steven Van Buuren and his staff welcomed us into a beautifully appointed cigar bar. Their selection of spirits was exceptional, the ambiance was fantastic, and the humidor was impeccably kept.
La Casa del Habano stores are individually owned franchises that sell only Cuban cigars distributed by the Cuban government's Habanos Corporation. This ensures that you won't be buying a fake Cuban at a LCDH. However, each store is run by the franchise owner and in the case of this one, Steven and his team have done a phenomenal job of making the lounge feel upscale and elegant while not being stuffy or overbearing. In terms of the cigars, I was impressed not only by how well stocked the humidor was but also by how reasonably priced the cigars were. The ambiance and good vibes were infectious to the point that Dewi and Madeline got in on the act, smoking their first premium cigar thanks to Steven.
We proceeded to dinner at Omundo Restaurant & Bar. We would be smoking cigars to end the evening, so they sat us on their back terrace. Omundo has a unique menu in that there are dishes that are available every day but then each day of the week has a different theme. For example, Mondays are Mangiamo (Italian), Tuesdays are Sexi Mexi (Mexican), Wednesdays are Tapas Night (Spanish) and on and on. We were at Omundo on a Thursday and what do you know, it's Viva Cuba night! I don't know if that was planned by Dewi or just a coincidence but knowing her, it was probably her idea.
The service was excellent. Our waitress was a young lady with a tremendous knowledge of the vast menu and an incredible memory. She took each order without writing anything down. Keep in mind that we were a big group. She didn't get a single detail wrong. The cool thing about this menu that they have is that we were able to order local favorites like funchi fries, piri piri wings, and bitterballen but also get Cuban style tostones with shredded chicken on top and crispy pork belly or as Cubans say chicharron.
We toasted to a job well done, joked, and laughed with each other, and took an obligatory group shot. It was the end of our run together and it had been a good one. The next day, we would see them off and Jamy and I would stay behind and spend another couple of days with Dewi exploring this island paradise.
Missed it by that much
The crew headed out to the airport in the morning, and Jamy and I headed back to the Queen Emma Bridge. She'd clearly not had enough and was hoping that we'd be lucky enough to stay on it when it opened. We were taking our time on the walk over, until we heard the bells alerting everyone to either get off the bridge or stay on while it opened. We broke into a sprint and…well, we almost made it. We stood there watching it open without us while Jamy gave the bridge operator a sad puppy face. I don't know if it worked on the guy or if he was just teasing her, but the bridge stopped opening for a second, looked as if it was coming back, and then kept opening all the way. Spoiler alert: try as she might she never did get on the bridge while it was opening.
We eventually walked across the bridge into Punda. We'd previously been there but we'd been shooting rather than exploring. We found the Cigar Emporium on the Gomezplein (Gomez Plaza) and looked inside. It's a small store with a selection of Cubans. The walk-in humidor's door was propped open, and I'm not sure if it was to let air in or humidity out, but it didn't inspire confidence. I spoke to the lady briefly and decided to continue exploring.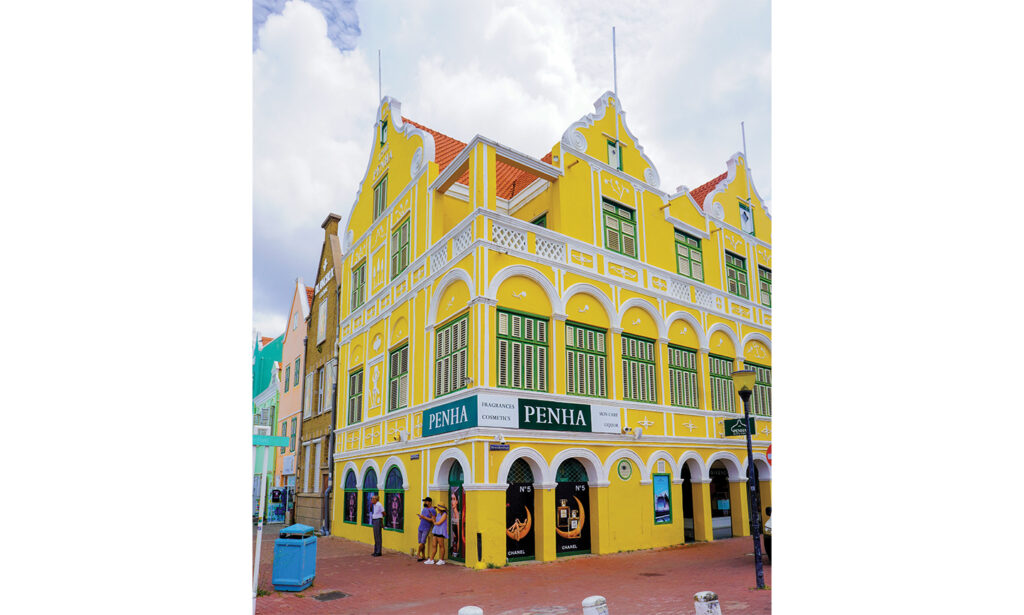 Punda is the first settlement on the island, and it is unquestionably Curaçao's cultural ground zero. It has an interesting dynamic in that it is overflowing with tourists when cruise ships are at port, as was the case when we were shooting Lena on day one. On this day, however, the streets were much more relaxed, and we saw more locals enjoying the variety of shops, cafes, and restaurants. One thing we did miss but we kept hearing about was Punda Vibes, which happens every Thursday evening and involves street performers, and a fireworks show over St. Anna Bay.
Back at the hotel, we met up with Dewi who had scheduled a sunset catamaran ride for us. She took us over to BlueFinn Charters where we boarded their 75-foot sailing catamaran, joining a large, diverse group. The ship has a bar in the center with beer, wine, and a variety of rums including Ron Barceló Imperial from the Dominican Republic. As we were getting ready to set sail, the captain laid out the ground rules and as he was wrapping up he asked, "Does anyone smoke?" I looked around waiting for someone to raise his or her hand, but no one did. The captain continued, "In case anyone changes their mind and wants to smoke, do so over here," pointing to the area right next to him. The captain's helm is towards the back of the ship and smoking there would ensure that the smoke didn't bother the non-smoking guests. I made my way to the bar, got myself a Barceló Imperial, and continued over to the "smoking area".
As we cruised south along the coast, the ship's crew served some delicious snacks, including ridiculously good pulled pork sliders. We turned into the Spanish Waters harbor, admiring the homes along the waterfront, and turned back around to exit the harbor in time to line up for the money shot. Watching the giant fireball drop into the ocean's edge while being propelled by the wind on this massive ship was a bigger thrill than I expected. Living in South Florida near the ocean, we're kind of jaded, but I must admit it was a magical experience. The captain and crew of the BlueFinn were top notch and I wouldn't hesitate to take an even longer trip with them.
We docked in time for our dinner reservation at Bambu by Just, located at Madero Ocean Club. We'd had so much food on the sunset cruise that we kept it light, enjoying mostly appetizers and drinks. The cuisine at Bambu is an Asian/Caribbean fusion that complemented the hip atmosphere perfectly.
We took the short walk back over to Mambo Beach Boulevard to visit Don Caribe Cigars. The tourist atmosphere at this time of the evening was electric. There were young people dancing to DJ music, slightly older people relaxing on beach lounge chairs, and the entire boulevard was slammed with people of all types. We stepped into the cozy, well-appointed shop that is Don Caribe and were immediately welcomed by Gershwin Bronswinkel, the elder statesman at Don Caribe. The humidor was small but diverse with, one half of the stock hailing from Cuba and the other half from the DR, Nicaragua, and Honduras. I asked the young lady working the humidor to make a recommendation and she pulled the Rocky Patel ALR and said, "Our customers have been saying really good things about this cigar." She wasn't a cigar smoker herself, but she claimed to ask her customers a lot of questions to be able to answer these types of queries. I eventually let the cat out of the bag and commended her for her efforts.
The prices at Don Caribe are slightly elevated, but this is typical in a high-traffic, tourist heavy area such as Mambo Beach. I loved two main elements of Don Caribe: the humidor offered cigars from Cuba and a lot of great brands from the free world like Rocky Patel, Oliva, Fuente, EPC, and Alec Bradley to name a few, and I appreciated the energy that the tourists brought. In the hour or so that we were there, we got into conversations with a couple of Dutch tourists in town for a wedding, an American tourist in Curaçao on business, and a group from Colombia on a weekend getaway. They were all having drinks from the bar and enjoying a variety of cigars from every corner of the premium cigar market. It was a thing of beauty.
Last Day in Curaçao
Dewi picked us up after breakfast. By now she had ditched the van and we were riding in a slightly easier to maneuver sedan. We headed back out west to check out Shete Boka National Park on the north-facing coast. The name Shete Boka means roughly seven pocket bays and refers to the seven distinct ways that the ocean has cut into the jagged limestone coastline. It was a blistering hot day and we decided to visit the two most impressive "bokas".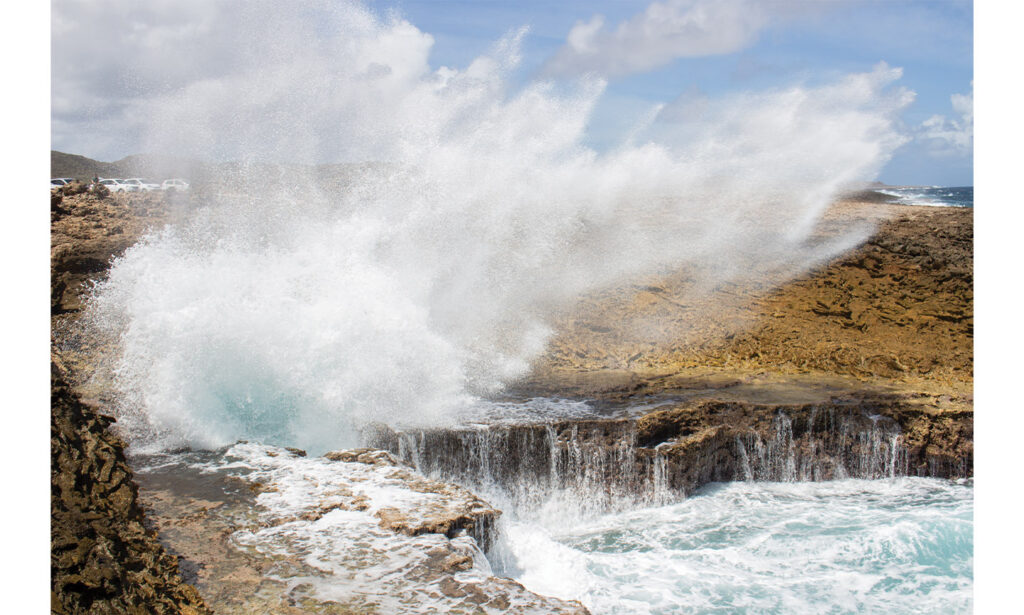 We started with Boka Pistol, and it is an awe-inspiring sight. Every few seconds a wave crashes into the coastline, gets funneled into this small cut, and water is shot out of a "pistol," often exploding high into the air. It is an impressive show of force from Mother Nature. With more time and the right type of sun protection, we would have hiked over from boka to boka but we were on a mission to squeeze the most out of our last day, so we headed over to Boka Tabla. This one is not for the faint of heart. The waves have cut out an underground cavern that fills up with every crashing wave. You climb down the stone steps and take turns going all the way down. If you're claustrophobic, don't attempt this one. Otherwise, it is cool watching the water level rise inside the cavern with you in it. It feels like the water is going to breach the barrier and soak you, but just as the level gets to the edge, it subsides. Dewi told us that when the tide is high they simply close this off for safety reasons.
We bought some refreshments from the park's little stand and headed to our next stop, the quaint Playa Piskadó. This small beach was not meant to be a tourist attraction. It is a secluded area where local fishermen clean and sell their fish. The fish cleaning station means that there is an endless supply of fish parts constantly being thrown into the ocean. This may sound kind of nasty to swim around in, but it never gets to that because there is a group of sea turtles that have made this beach home and feed voraciously on the fish bits before you even see them.
Today, Playa Piskadó is on every visitor's guide to Curaçao because the experience of swimming with these majestic turtles is so magical and memorable that the beach was bursting with tourists as we parked. There is a stand where you can rent a mask and snorkel along with a dry bag for your mobile phone. The water was crystal clear, and the sea turtles were everywhere. Although the dry bag for the phone sort of worked in order to record, I kicked myself a hundred times for not bringing the GoPro. Don't be like me, bring a GoPro, because they are impossible to find on the island.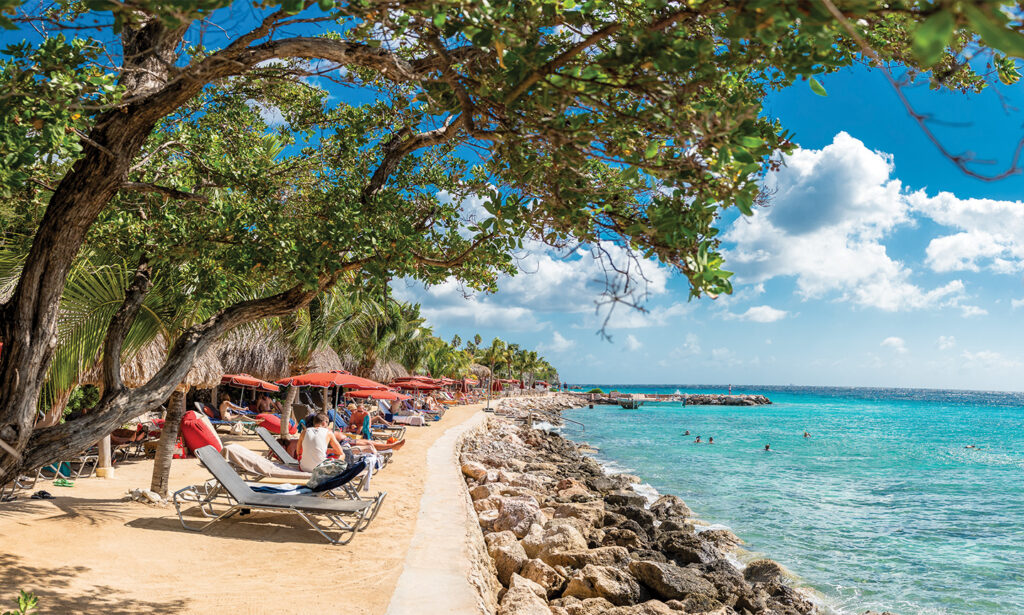 We'd worked up a wicked appetite by now and we headed down to Karakter Curaçao inside of Coral Estate Resort about halfway between Playa Piskadó and our home base at the Corendon Mangrove Beach. The place is beautiful, and the food and drinks were excellent. We shared several great dishes but the Karakter Jerk Chicken was one of the best things I had on the trip. A flavorful jerk chicken with a fried egg on top accompanied by rice and beans, fried sweet plantains, avocado, pickled onions, and mango salsa. The combination of savory jerk seasoning with the richness of a fried egg, the acid from the pickled onions, and the sweetness from the plantains and mango was a symphony of flavor.
As we left Karakter, I had to look at the real estate listings at the Coral Estate office. I would buy a vacation home here just to have that dish again! We made our way back to our resort with our heads full of memories from this day but looking back, I thought about how swimming with the sea turtles became the first bucket list item that I checked before I knew it was even on the list.
We were winding down this trip but there was still one more night in Curaçao and one more cigar lounge that we wanted to visit. Let's go to Bandido! Sitting on the corner of an office park in an industrial part of Willemstad is Bandido Cigar Lounge. Like many of the heartening things I'd seen during my week in Curaçao as they pertain to cigars, this lounge made me feel like the cigar scene is maturing on this island. By virtue of its location in a business district as opposed to a tourist destination, this place gives locals a place to relax, have a drink, and enjoy cigars from Cuba, Dominican Republic, and Nicaragua. The cigar selections are still limited but managing partner Daniel Pereira is working to tweak it with every passing day. He's also been working with a Dominican manufacturer to make his house cigar, which I enjoyed with an IPA from a local brewery called Tiki Mas Serbes. Bandido has quickly become a local's hangout with the sort of relaxed, unpretentious vibe that Daniel was looking for when he and his partner founded it.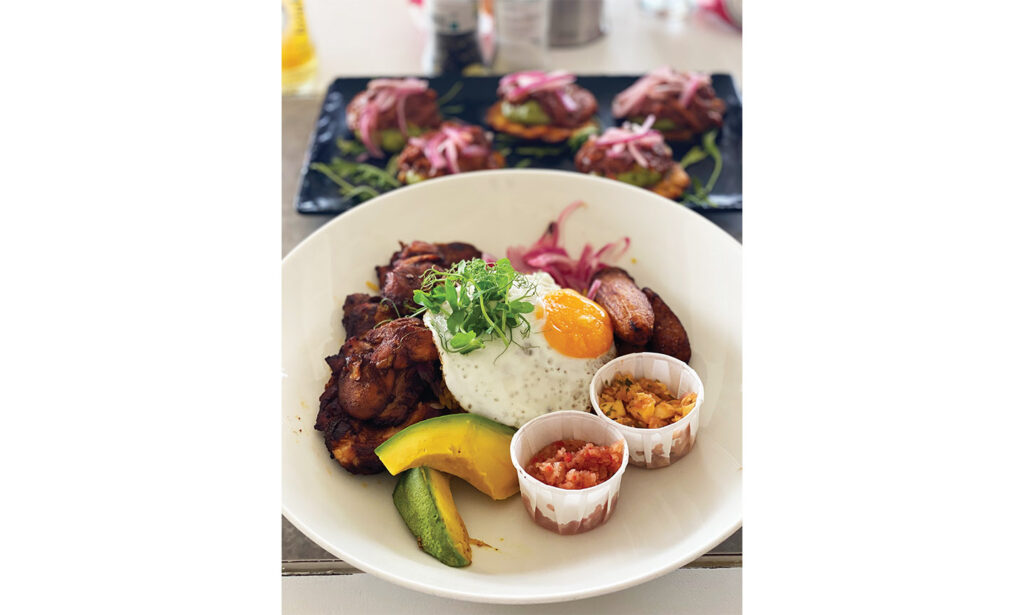 We wrapped up at Bandido and made our way to one of Curaçao's most exciting new concepts that combines food, craft cocktails, local art, and music: Bario Streetfood. The open-air food court located in Otrabanda is made up of different kitchens and bars serviced by one wait staff. There's a kitchen that focuses on lionfish dishes, the invasive species that terrorizes reefs throughout the Caribbean. There's another that's made up of all vegetarian options, another with international food, and of course one for desserts. We took our seats on the rooftop, giving us a view of the party below. We happened to be at Bario on the night that they were celebrating their one-year anniversary, so the party was poppin'.
It was a fitting end to an incredible week of memorable experiences, successful photo shoots, a bunch of excellent cigars, and an island full of new friends that I can't wait to come back and visit. Thank you Curaçao: I needed that.
---
Click HERE for more stories!