At 2,200 square feet, the smoking space at Redland Cigar Club & Lounge in suburban San Antonio is big enough to suitably house five Brooklyn millennials. But never fear – there's smoking, some man-ribbing and open air just outside the garage doors – all kryptonite to a lot of citybillies under 40.
"This is like an exclusive club, except everyone is welcome," says Travis Young, one of eight people – half of them military veterans – who collectively own Redland, which sits at the end of an industrial park 20 minutes north of downtown, 100 yards off the main road. "That's the thing in this area, there are places to smoke everywhere."
The northern expanses of San Antonio offer respite from the jammed streets of downtown, with its vaunted historical attractions, hotels and bars and constant barrage of star-studded entertainment in and around the Alamodome.
The streets are wider as you head north and begin to explore the burgeoning commercial and residential developments, carved into the limestone ridges and across the barren prairies at the edge of the Texas Hill Country.
Cigar lounges form a ring along the outer northern band of the city, a connect-the-dots stretch of establishments with a variety of smoking experiences.
Along with the cigar joints, new hotels and shopping areas continue to pop up as the population shifts. The newness is shiny and clean, the roads often jammed but the journey, as usual, is worthwhile.
For a summer trek to San Antonio, the state's second-largest city after Houston, we headquarter in the near north reaches of the city at the Estancia del Norte San Antonio, a retooled Doubletree that opened in April after a $10 million facelift.
The five-story hotel is an expansive throwback to Mexican-style resorts, with a white stucco exterior, lots of black metal lattice work, low slung ceilings, terra cotta and Pueblo rugs, with a color scheme of brown and all its varieties. It is a hospitality hacienda, featuring an open court in the middle that defines the space, with a full-sized pool, outside dining and areas to just hang to soak up the sun. An imposing antique black iron elevator creaks slowly up from the pool.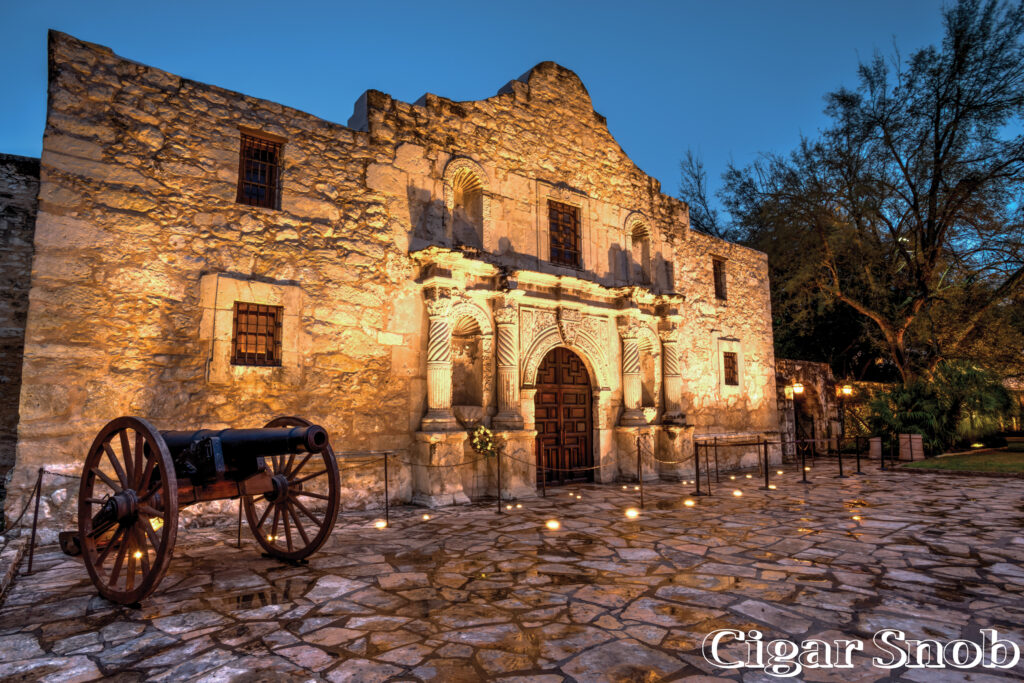 The surrounding area is filled with corporate headquarters and single-family neighborhoods – some with tentacles to California, somewhat disdained by locals. The landscape is filled out by an endless blur of shopping and eating, and the highways, while crowded at certain hours, provide smooth access to any place in the city.
The well-done roads, a steady influx of new residents and new money give rise to a lively, varied cigar culture that includes a large number of military, both active and retired, who mix in the lounges with local merchants, musicians, business folks and plain old retirees.
The locals usually stick with their nearby smoking places, which are never far away. Club Humidor and Finck Cigars both have three locations, while places like Cigar Pointe, 1911 Cigars and Redland keep their outposts solo. On the west side, 1911 Cigars, which opened in 2019, is opening the door to smoking establishments in other parts of the city.
Redland opened in 2014, and the cooperative went to work to create a suitable space to smoke and socialize, with TVs and traditionally enveloping leather sofas and chairs. Redland claimed for some time it was the largest cigar lounge space in Texas, until Cigars International created two superstores in North Texas with mega lounges.
The Redland humidor features plenty of mainstream brands, but prides itself on its stock of lesser knowns. MJ, the Redlands on-site expert, makes a smart suggestion: an Esteban Carreras Connecticut White Label Coronita. It pairs favorably with a Dr. Pepper. While San Antonio is permissive on smoking, it doesn't allow bar service, so alcoholic refreshments are BYO everywhere.
The lounge is big enough to make it feel like a high-ceilinged clubhouse, with lights on dim, the AC purring and everything, including chatter, on low volume. A couple of guys sit in theater chairs watching a series of athletic things, while a handful of folks consider the world in another section.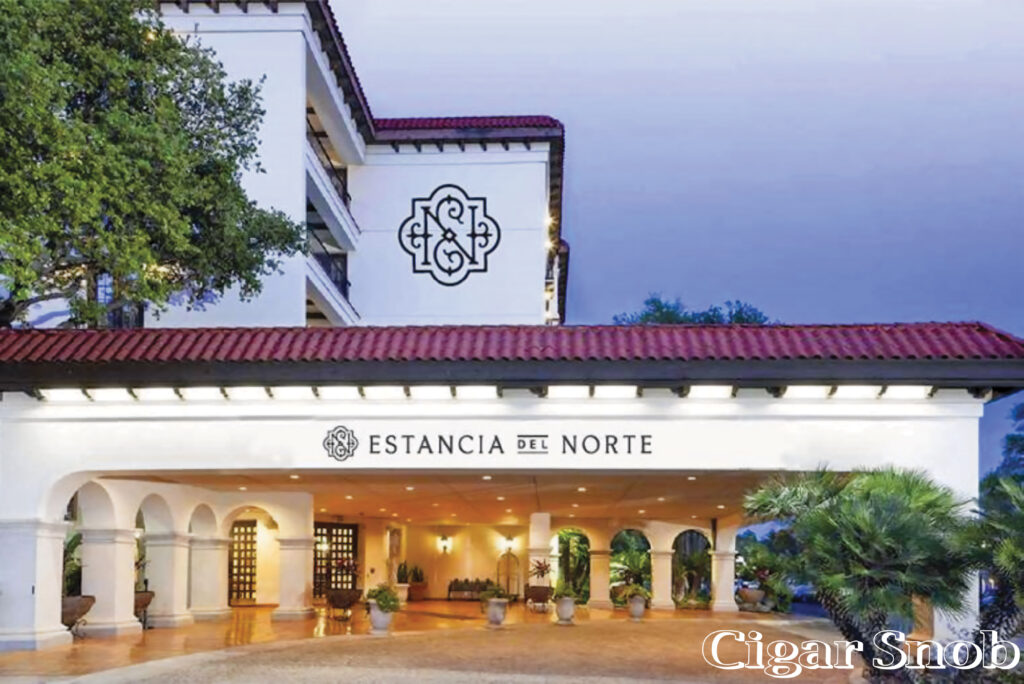 Travis Young traveled the world during his 21 years of duty, including stints in Tucson, Arizona, Alaska, Omaha, Nebraska and Italy. He started smoking 20 years ago, encouraged by a neighbor in Italy and a brother-in-law who works in the industry.
At Redland, the talk on a Tuesday night goes from geography to local customs to sports to cigars.
"We get people from all over town to come in," Young says. "And you see different crowds at different places, and clearly Finck and Club Humidor are the big gorillas."
The Redland, with its comfortable, clubby friendliness, is a starkly different place than Club Humidor, which features elaborate sponsored lounges and humidors that are dedicated to the big brands.
The Club Humidor farthest north, the Thousand Oaks store, sits in a strip shopping center off a winding road, a settlement of commerce surrounded by single-family homes and apartment complexes. What Redland is to the obscure, this is to the establishment, a humidor filled with the top-notch cigars that most everyone cites when naming their faves: Fuente, My Father, Rocky, and of course Perdomo, which has branded the two-room lounge. The centerpiece of the lounge is a red-felted pool table. In the other room, there are nine leather easy chairs, some big tables and six dudes are watching some gymnastics competition, talking about fishing and motorcycles.
Out back is the Rocky Patel outdoor space, a fine place for morning coffee, but the Texas heat has everyone indoors.
The music is soft and solid: Gil-Scott Heron, Sly and the Family Stone, psychedelic-era Temptations.
Next door is a liquor store that gives patrons a 10 percent discount and customers rumble up to the shop in pickup trucks, Jeeps and motorcycles.
Club Humidor started when owner Keith Rumbo's father, Ralph, bought a small smoke shop in 1982. Keith moved through the business as it prospered into one of the city's most prominent cigar names.
The branded lounges and the mainstream brands are exactly what Rumbo wants in his lounges.
"We have carried the upscale brands ever since the move in the cigar world moved from the lower end to higher end," he says. "We want people in San Antonio to know this is where you come for those cigars."
The clientele includes lots of military, as does the staff. Joint Base San Antonio includes five military installations, including Lackland Air Force base and Fort Sam Houston.
Veterans drive a lot of the cigar demand in the area.
"I moved here from Virginia after retiring from the military," says Jeffrey, who works at the Thousand Oaks Club Humidor. He developed a love of cigars while serving in Afghanistan, the evening smoke and bottles of Heineken 0.0 – near beer, as the real thing isn't allowed in the country – providing a suitable way to unwind.
"It's a big reason you see so many people come out of the service and into the cigar world," he says.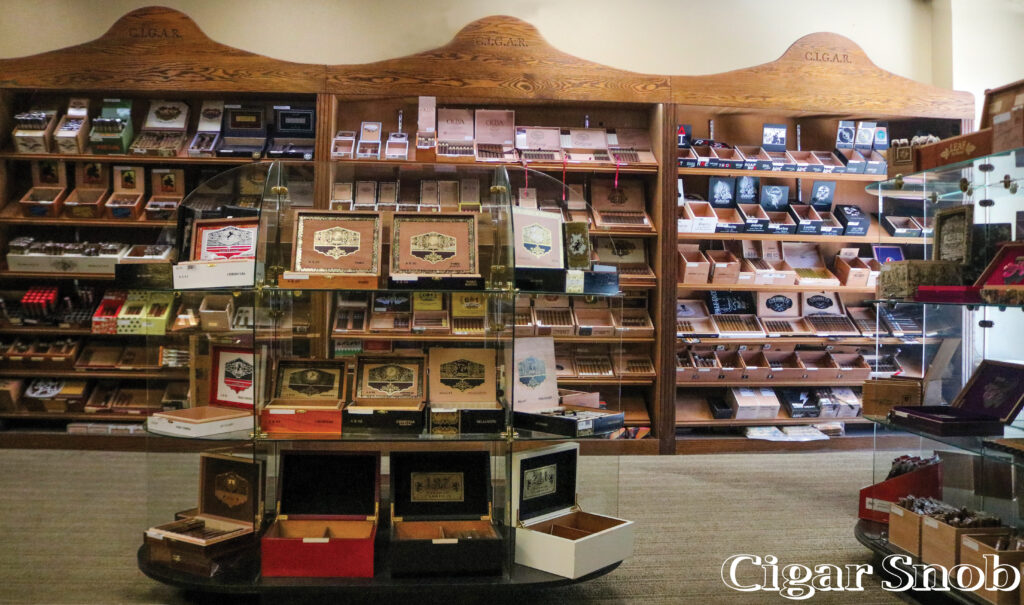 Fifteen minutes northwest is Cigar Pointe, with a humidor filled with boutique brands, some you've never heard of, but will at some point. Gabe Garcia is a former culinary student who turned cigarist, opening Cigar Pointe in 2009.
"I finished culinary school and realized I didn't want to work in the [restaurant] industry," Garcia says. At the same time, he was a cigar smoker and noted that while the bigger lounges had the top names in premiums, "I could do a better job with the boutique niche market."
He opened Cigar Pointe after noticing an empty retail space in the upscale Stone Oak area, just off a busy thoroughfare.
Garcia courts a regular customer base of around 20, people who come in week after week, while others come in almost every day.
"There are always things here you don't find anywhere else," says Turner, a 29-year-old regular, who pitched in to buy the television in the small lounge at the back of Cigar Pointe.
The lounge features a rotation of regulars that includes David, a retired military officer who smokes seven to ten sticks a day, and Larry, a retiree who dabbles in real estate. The leisure class is a favorite at Cigar Pointe, and they are devoted to the off brands, buying obscure cigars for new visitors and spreading the word of the lesser-known.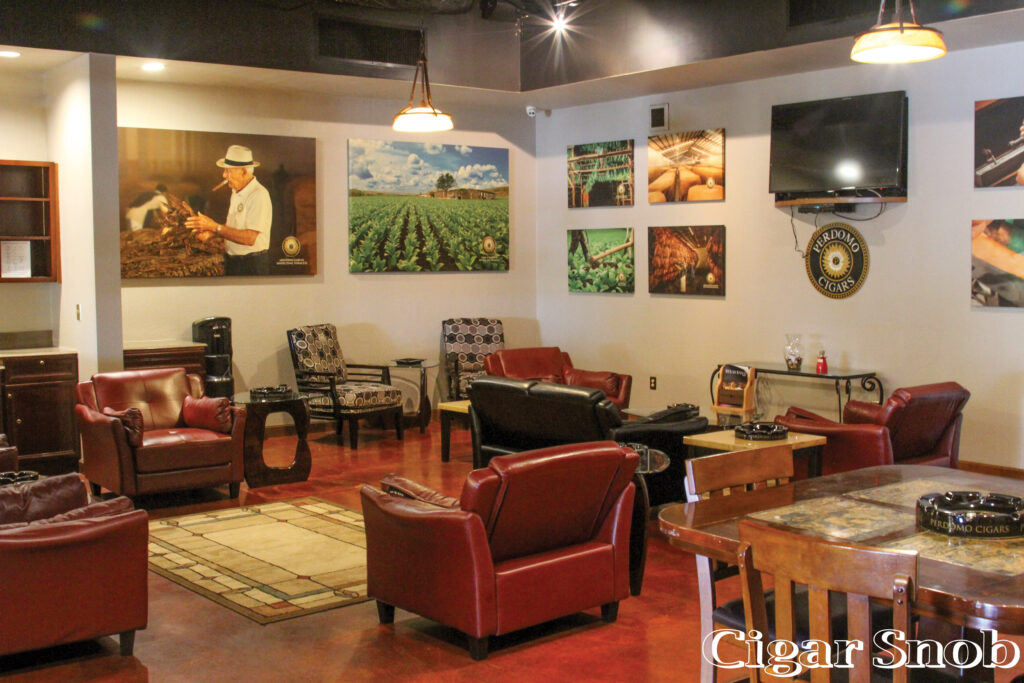 Garcia goes to cigar trade shows explicitly to see what kind of underground there is and what he can discover to bring back to Texas.
"I am always looking for new things," he says. "I have customers that are nerdier than I am. But my palette can weed through some of the stuff that's not so good. I'm a good judge of that, and while I don't always land gold, I feel like I have a good percentage."
Finck Cigars was selling sticks before it was cool, making cigars in its local factory, then moving into retail. It now has three prospering stores with lounges around the city.
The west side store opened in 2006, a red brick cigar bastion with a two-room humidor, a spacious porch and a small lounge. The other stores are also standalones.
The humidor has to be large to accommodate all the Finck product alone – a wall devoted to the Commerce, the Havana Blend, the 1893, and more, 35 brands in all. Most of the brand smokes are priced under $4.
The company for 70 years cranked out hand-rolled cigars in its downtown building before switching to machines in 1963. It shut down production in 2014, as federal tax increases hiked its prices 50 cents almost overnight, making it impossible to meet the low price point through in-house production. It now produces cigars at General Cigar in the Dominican Republic.
"Forever, we were the oldest cigar factory in the U.S.," says Bill Finck Jr., whose great-grandfather, Henry, started Finck Cigar in 1893 with $1,000 borrowed against a life insurance policy.
He places his stores with a strategy to serve in places that will pay for the pleasure. The store closest to downtown, on Broadway, taps "old San Antonio money, the oldest part of the city," Finck says. This is in addition to drawing on the stray flock of tourists or conventioneers, who tend to stay in hotels near the city's Riverwalk, a tourist-infested area that winds through the center of town.
The Broadway shop is a loner stop for a lot of folks, who might take a lunch break for a smoke and to catch up on emails on the large front porch overlooking the street. It's the only one of the three Finck stores that he rents, preferring to own.
"And that real estate is very expensive to rent," he says. The city is popping with cigar interest, though, and he's got a bigger problem than high rent right now.
"Cigar International is coming into town and building a store," Finck says. He's a big customer of General Cigar – both Cigar International and General are owned by the publicly-traded Scandinavian Tobacco Group. With its corporate marketing muscle and national name, he thinks it's going to take a bite from his business.
"I think what has held them back from coming in earlier is that they knew it would create problems for the local cigar merchants," Finck says. The store, Finck says, is to be built in a northwest section of the city near a Topgolf and the Six Flags Fiesta Texas entertainment park.
"San Antonio is a growing city with a rich heritage and a vibrant cigar culture," Sarah Santos, president and senior vice president of Scandinavian Tobacco Group's North America Online and Retail Division, said in a statement, responding to a query from Cigar Snob for this story. "We have had a number of CI Nation customers in that region ask us to open a Cigars International Super Store, and we are extremely pleased that we will soon bring our unique retail concept to the community."
Sitting on the deck of Finck's midtown store, the lure of the city's historical mecca, the Alamo, is overpowering. It's in the heart of the city, a place overrun with people at all times, but at a little more than two miles away…sure.
Amid the ice cream shops, the t-shirt vendors and the chain restaurants is the Alamo Plaza, a heartening educational facility and to a committed autodidact, a rival to the most esteemed university.
A walk through the small village of the Spanish mission, which served as a fort to soldiers on both sides of the Texas Revolution in the early 1800s, is a well-done history lesson. The low-slung buildings are impeccably maintained, and the six information boards to the west of the gift shop – revolution can't hinder that money grab – break down the history of the place, from its construction in the early 1700s to its various historical designations as the origin of Texas statehood.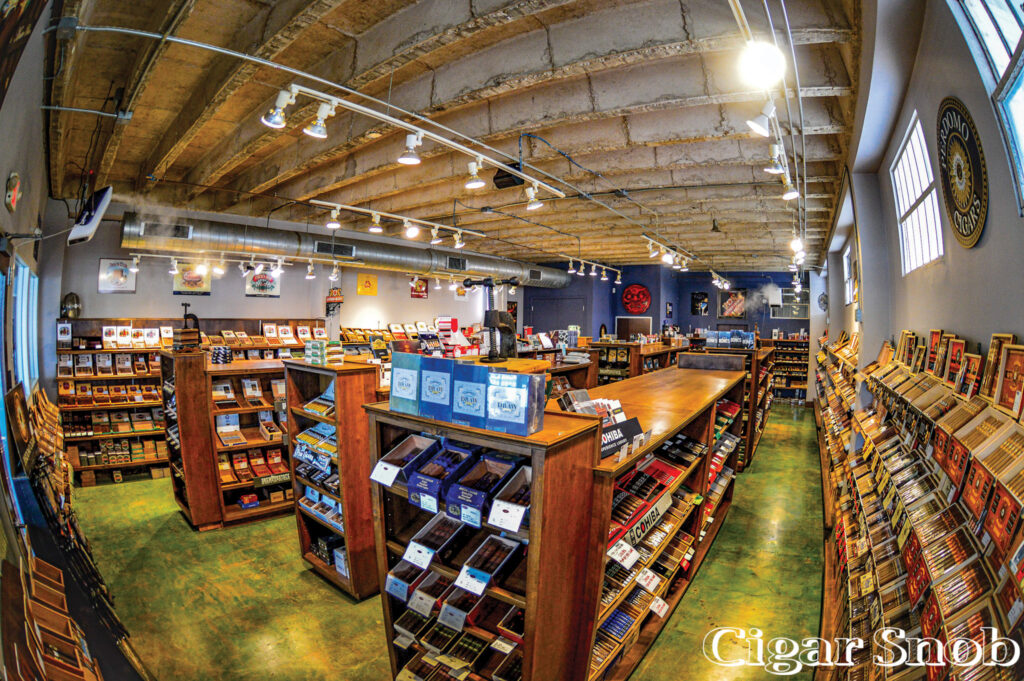 There is construction going on – yes, get this: to accommodate "the priceless Alamo collection of British rock star Phil Collins," according to the Alamo's website.
We spent time considering the fine work of another British rock star: Alamo Plaza is where a drunken Ozzy Osbourne publicly pissed on a Friday afternoon in February 1982, causing his arrest for public intoxication.
Directly across from the plaza is one of many entries to the river walk, a destination for sightseers who wander the walkway along the San Antonio River for food and booze as it winds through five miles of downtown.
You'll find good food there, just as you will in any congestion of eateries in the world. The odds are with you.
But San Antonio's best food is elsewhere.
We've visited places that feature food as part of their destination and message, but San Antonio stands up to any place in America just on the merits of its Latin cuisine alone. The intoxicating array, from taco stands to lofty-aired, small-plated delicacies, keeps the palate primed.
"Hey, that place looks great, but I just ate." That happened.
We'd read of a thing – shrimp ceviche on a beer. This is as good as it sounds, combining two of civilization's best taste treats.
So at El Bucanero, a Mexican seafood stalwart with three locations in the city, we ordered Pachanga, which is a mess of red onion, peanuts, cucumber and fish over a can of Modelo, swimming in hot sauce and sprinkled with chili-lime salt. It's well known in coastal Mexico, but not as easy to find even in the ethnic areas in the states. We could have ordered more, as the messy mix blasted with flavor. Instead, we added to the meal tostada de pulpo, which was two corn tortillas topped with a healthy helping of octopus mixed with diced cucumber and tomato and finished with a spritz of lime.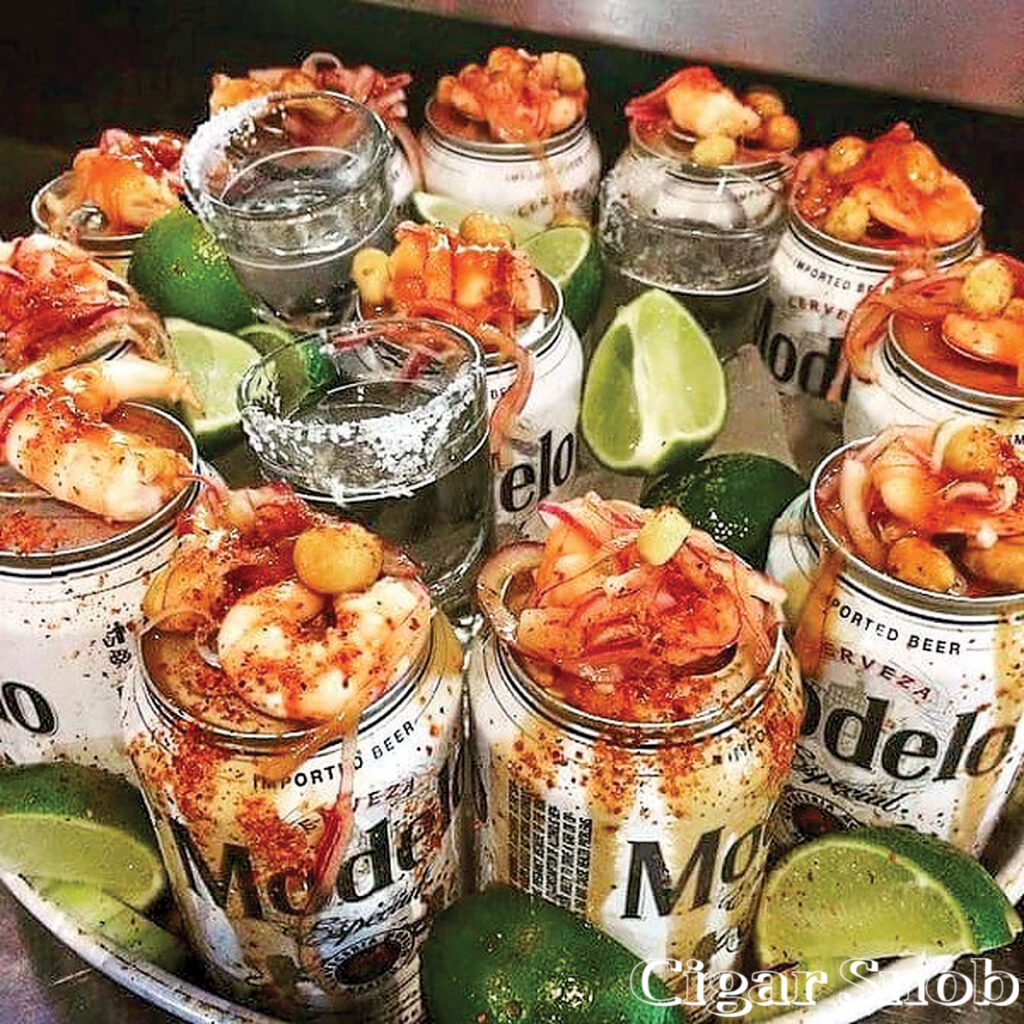 Our gullet moved us onward throughout the visit.
Beto's Alt-Mex dishes up fish tacos with grilled haddock as the center, shredded cabbage with cilantro and lime as the shrubbery topped with a poblano sauce fresh enough to smell the peppers roasting. It was only a balmy 95 degrees, so we sat in the courtyard, a wide expanse of picnic tables, wooden booths and lots of awnings and table umbrellas. An outdoor bar, long enough for six stools and standing room, took up a corner. The place, relatively empty on a steamy afternoon, looks like a festival waiting to happen.
Naco Mexican Brunch, one of what may be millions of taco trucks in the city, knocked out a Chilaquil Mexican brisket taco jammed with avocado that was ripe and ready with the torn corn tortilla turning the whole thing into a messy feast.
We wrap up in San Antonio and head north, but instead of taking the road most traveled, we take U.S. Route 281, rather than do battle with the superhighway that is Interstate 35. U.S. 281, like Interstate 35, will take you from the Mexican border to near the Canadian border, but the expanse just north of San Antonio is a welcome treat, miles of beautifully maintained two-way with rises that show to the west the vaunted hill country that is now beckoning outsiders to the state. You can see the construction and the truck traffic that will inevitably make the Hill Country into another charmless destination for living and visiting, but for now the road has more flavor than such bustle indicates. Taco shops, hot rod outfitters, coffee joints, breweries and upscale indie eateries dot the landscape, a much preferred state of things than the malls, super truck stops and touristy landmarks on the interstate.
Drive from San Antonio to Blanco – 50 miles – and you can get a slice of Texas served straight up.
Circle back to San Antonio and you'll find a group hug among most of the cigar purveyors, an unspoken stay-in-your-lane ethos that allows Redland to create a prospering haven tucked at the back of what looks like a storage facility, along with Cigar Pointe to celebrate the underdog with its humidor full of up-and-comers and Club Humidor and Finck to hold steady at the top.
"It's not cutthroat," says Travis Young, of Redland. "But we aren't exactly sending people elsewhere."
---
Click HERE for more stories!