Puffin' With The Pros At PGA National
South Florida's Top Tour Stop Boasts New Surprises To Match Its Champion Chops
If the wind is right on the terrace next to the big putting green at PGA National Resort, or even if it's not, you can nab an Adirondack chair, spool out a plume of sweet smoke from your favorite post-round stick and expect – OK, imagine – a tiny bit of it wafting into Dustin Johnson's backyard.
Or Justin Thomas's. Or Brooks Koepka's.
Or Rickie's or Rory's.
Or Greg Norman's, Ernie Els's, or Nick Price's.
Or Jack Nicklaus's.
Or, yes, a rehabbing Tiger's.
After all, you've just finished playing the same Champion Course they take on every spring during the PGA Tour's Honda Classic. You've survived its Bear Trap, that trio of back nine holes named, of course, for Jack himself, and generally considered among the Big Show's toughest stretches. In a way, you've shared the air the big sticks breathed while they took dead aim and bagged birdies, and even though your scorecard's numbers – score, tees played, yardage covered – may not reside in the same zip code as theirs, you and your buddies will always have that connection with the world's best that only golfers can make.
The fact that so many marquee names make their homes just a few miles away, in the well-heeled South Florida enclaves of Jupiter and Hobe Sound, only deepens that connection. You're in their backyard, right where you deserve to be.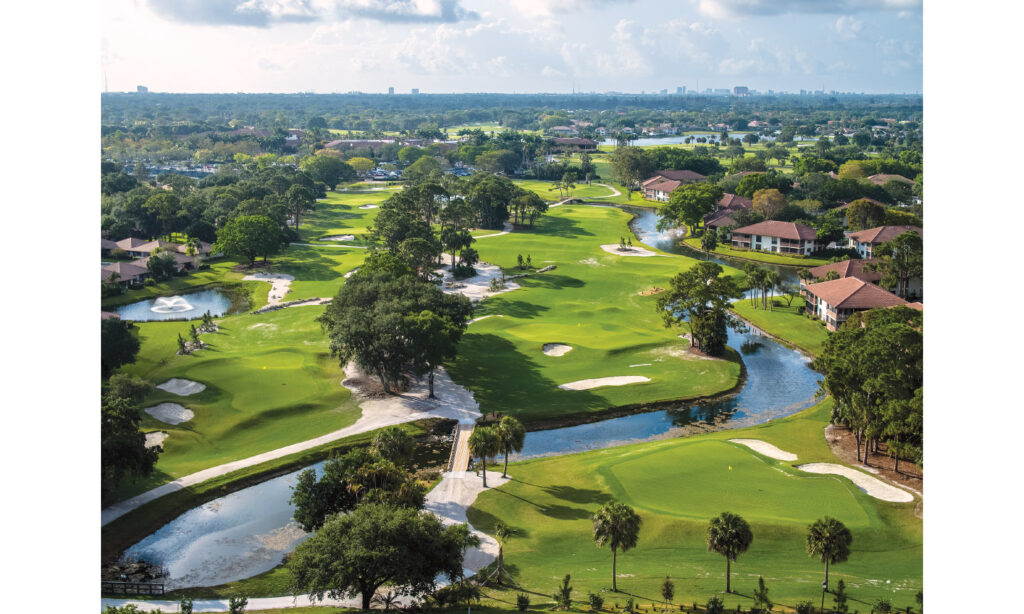 Proximity to the game's biggest stars – and those from other sports, too, including a certain stogie-sporting six-time NBA champion – should be enough to make a trip to PGA National memorable. But it's just name-dropped window dressing. The place stands and shines on its own, now more than ever, four decades since Florida land developer E. Llwyd Ecclestone opened it on 1,800 acres in Palm Beach Gardens, just inland from the Intracoastal Waterway – the state's first major golf destination built west of the Florida Turnpike.
There's much to do and savor and treasure among the swings and puffs and sips and tastes, especially as a $100 million property-wide reimagine/refresh project nears its 2022 conclusion.
But it all starts with golf.
Before heading out onto the resort's three full-length courses – The Champion, The Palmer (as in King Arnie) and The Fazio (as in three generations of them), let's get one thing straight: No self-respecting golf getaway gang will, from this point forward, leave PGA National without playing its two brand new, groundbreaking layouts – the "fun little nine-hole" Staple, which opened July 1, and the aptly named Match, which opens in September, just in time for the biannual ramp-up of Ryder Cup fever.
Both are likely different from anything you've played before, and both are from the mind and heart of Wisconsin-based golf course architect Andy Staples, who has made the most of his first Florida design gig by literally leading PGA National into the future of the game while honoring its competitive past. A key part of that equation means retaining the army of young golfers who are just as liable to record highlights of a round on Instagram or TikTok as they are to keep score with a card and pencil.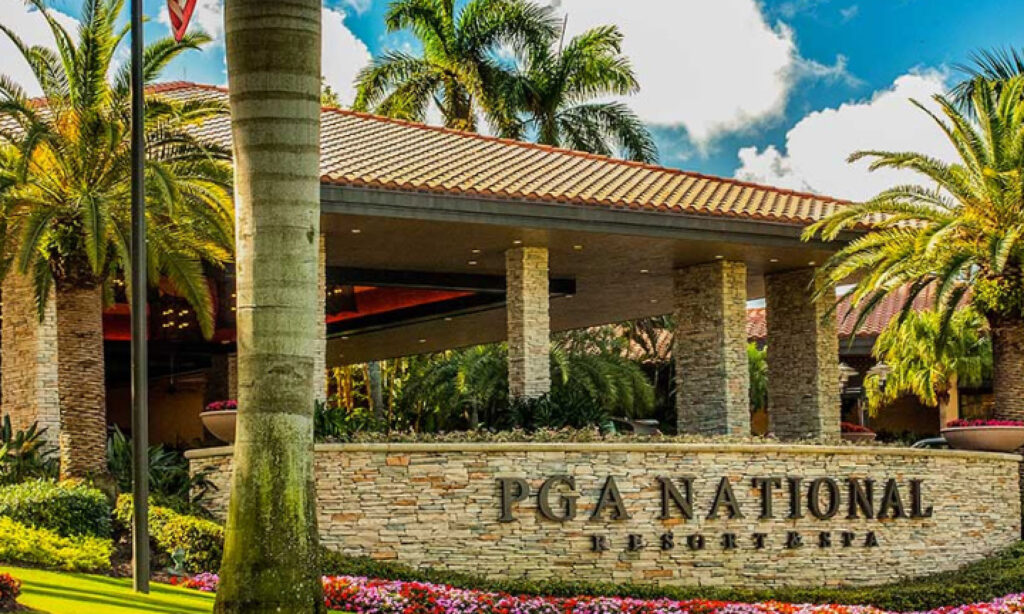 "The golf industry, based on the pandemic, has benefited in the big picture of life with rounds up and everything else," said Jane Broderick, PGA National's club manager, the day after Staples cut the ribbon to open his namesake par 3 course. Broderick has been here since 1986, making her the resort's institutional knowledge incarnate. "So now it becomes, how do you retain that customer you've acquired?"
That's the idea behind The Staple, for sure. Built on the former opening and finishing holes of the property's Squire layout, it's a bold take on the par-three course concept created for pure enjoyment, highlighted by intriguing fast-and-firm shot corridors, and in some cases, difficult to reach shelves on the dramatic, undulating greens. With hole distances ranging from 48 to 130 yards, The Staple is ideal for fast-paced, joyous rounds while using just a putter and a few short irons. Heroic tee shots to hole-in-hole pin locations throughout, a unique figure-eight configuration with crossings at holes 2 and 3 and 7 and 8 – natural meeting points for social interaction with other players – and an outdoor seating experience complete with firepits and a café /bar area: It's the perfect day-ender, even for an eightsome heading out there horserace-style, brews and robustos in hand.
"Golf has [long] been understood as grandfather's game, not really appealing to the young," Broderick adds. "So [with The Staple] we wanted to do something that was different, that put fun back in the game and really created a venue that's more than just the golf course, more than just a par three. It's a social venue."
When Staple went up against Florida stalwarts Nicklaus and Rees Jones to get the job pushing the wet and tired Squire into the 21st century, he clearly stated his intention: "To take it to another level in terms of strategy, playability, and most importantly, the fun factor." He added that he was focused on the "three most innovative trends in the industry – reducing the time it takes to play, increasing player enjoyment, and instilling classic design principles that spur interest in the game of golf."
If The Staple puts that vision into quick-hit action, The Match will take it into uncharted territory. Staple took the Squire's remaining 16 holes and fashioned them into a full 18 whose angles and curves echo those of some of golf's most enduring strategic design concepts, ones that just beg for heroic shots and match-play drama. Penalty areas were kept to a minimum in favor of short grass fairways, chipping swales, and grassy hollows. Tees were modified to accommodate everyone from big-betting sharks to eager beginners, placed in sync with whatever swing speed you're working with. (When in doubt, assume it's in the high 80s-low 90s range, and choose your pegging place accordingly.) Again, the idea is to allow for a more friendly entry to the game – and take the whole self-inflicted pressure-cooker of raw score out of the equation.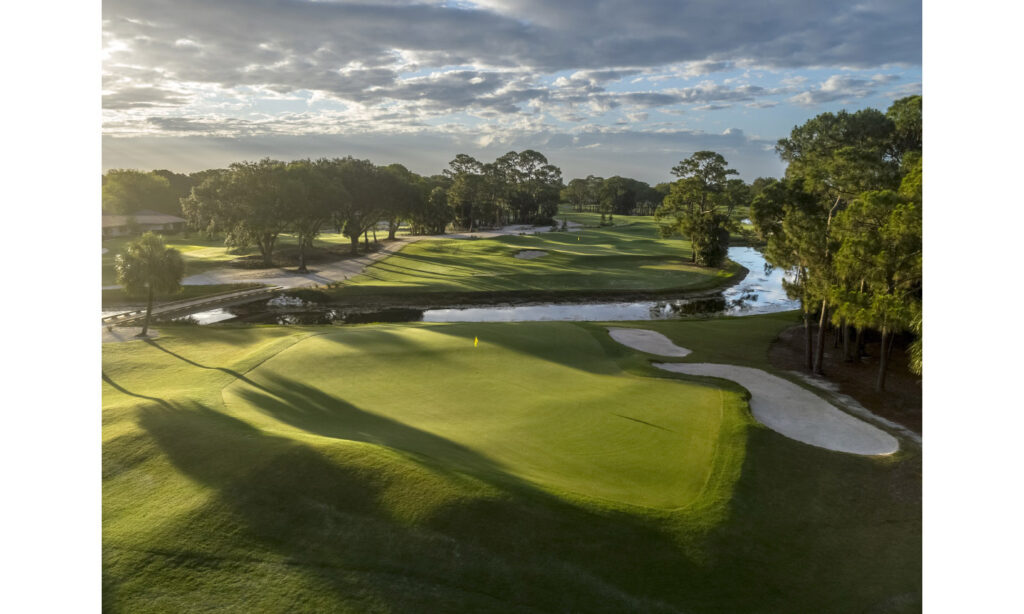 "If you think about it, the game of golf started as match play," Broderick said. "And then, golf courses over the years got longer and it switched to more stroke play. But what are the most popular events? What we watch are the Ryder Cup, the Solheim Cup, which are match play, right? So we're really gonna tap match play, and really encourage people to use match play formats. When they play, we're not going to have seven sets of tees or markings, we're going to earmark the maximum yardage and the minimum yardage, and you can tee up anywhere in between. I look at it as taking the history of the sport and impacting the game long-term."
As for the resort's "big" courses, all three merit a play.
The Palmer is one of the more forgiving at PGA National. It's also one of our most overall entertaining courses for players of all skill levels, especially after a 2019 spruce-up. There are plenty of opportunities for creative shot-making, and picturesque approach shots abound. Paired with a great series of finishing holes (including the stunning par 5 18th), The Palmer golf course is all about risks and rewards; it's genuinely fun and approachable, just like the King himself.
The Fazio opened in 1980 as The Haig, Uncle George and nephew Tom's tribute to five-time PGA champion Walter Hagen. Tom II led its recent renovation to achieve, he said, "that ideal balance where single-digit golfers will be fully challenged while higher handicaps will have a layout ideal for a day of enjoyable resort golf." He increased greens sizes, reconfigured bunkers and added friendlier "play it forward" tees at 3,255 and 4,187 yards – perfect for families, seniors and beginners.
The par-5 4th hole — easily one of the most grueling and difficult of all of PGA National's 90 holes — is enough to make even a PGA Tour pro blush. You? Don't worry about it. Choose your box wisely, relax and let 'er fly.
As for The Champion, a New York Times piece described it as "7,045 yards of venom, a king cobra of a course that rises without warning to strike down the world's best golfers. Snake charmers may have a better chance of taming it than the players at The Honda Classic."
But attempt to tame it you must, and that means keeping it together long before you even reach the Bear Trap holes of 15-17. The test ramps up pretty much right away at hole 2, a tough tee shot with trees lining the left, OB on the right and a fairway-narrowing bunker in between, with a three-club swing on the approached depending on pin placement. Hole 10, a par 5 with a wide landing area and relatively benign green, is probably the best birdie opportunity, but right on its heels is a brawny par 4 demanding a spot-on second shot over water.
Then it's sweet survival mode for the rest of the round, with the Bear Trap waiting with fangs bared and an appetite for wayward golfers on full display.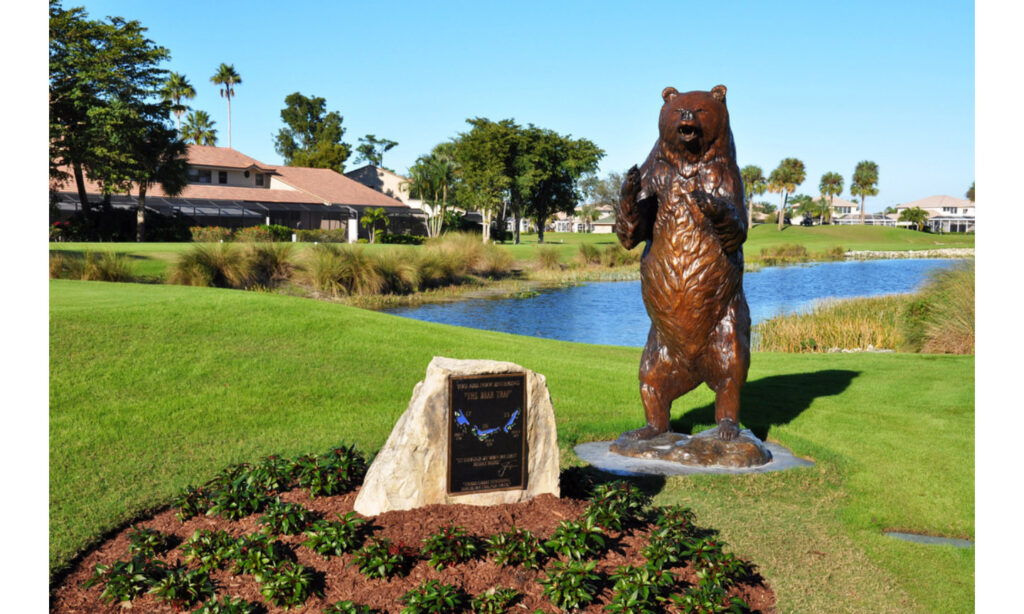 "They're holes that you've got to be precise on, not very long," Nicklaus said when his redesign opened in 2011. "On No. 15, when we brought the water into play, it became a monster. Sixteen, though there's no water, is always a good, strong hole because of the wind conditions. And 17 is just a little nothing flip wedge, but putting it on the water with the wind coming into your face a lot – if you hit it left, you can get out of that bunker but you've got to be careful. Those holes are about precision. They're about guts, what you've got in your chest to finish them out."
So, after stirring The Staple and The Match into the existing trio's heady brew of golfing goodness, how would Broderick put together a multi-day itinerary at PGA National?
First, of course, let's load up that portable humidor with plenty of fairway-friendly sticks from the resort's pro shop selection, or better yet, swing by one of the area's tobacconists, such as Smoke Inn Palm Beach Gardens on Florida Route 786, or Angry Moon Cigars on PGA Boulevard, either of which would also make for a fine post-round wind-down session. Then fire up for the main event: Making memories on PGA National's manicured Bermuda fairways and greens (and, perhaps, making time for a round on The Estate, a Karl Litten design located five miles west of the resort).
"You want to come in on a Thursday or Wednesday – you're dusting off your sticks from the cold weather, maybe, or visiting whatever time of year," Broderick says. "And you pop out for a couple of beers and a cigar and play nine holes on The Staple golf course that evening, just kick back and have some fun. The next morning you get up, maybe you play The Champ. Maybe you play The Palmer, or The Fazio. And in the afternoon, maybe you go out on The Match and settle your bets from the morning."
Somewhere along the way, perhaps you'll glance Rickie Fowler working on his game or sneaking in a quick round with his buds. "We'll see him the most," Broderick says. "The other guys pretty much come around during tournament time, but I think they're going to want to come and play The Match."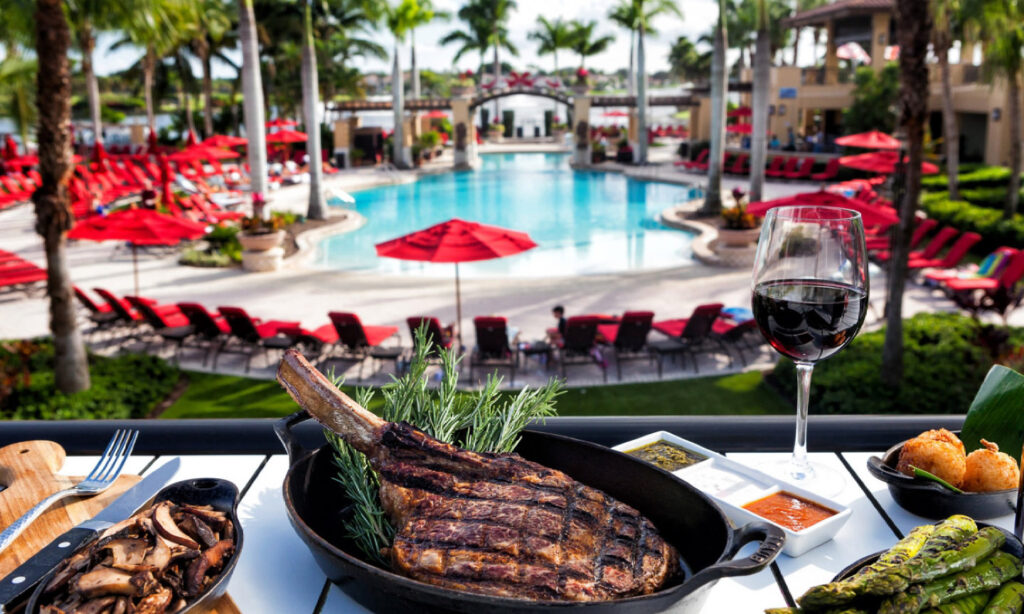 Each evening, it's time to rest up and lather up in your well-appointed hotel room, massage or sweat out any stress in the spa (slated to reopen in early 2022 after a complete overhaul by a celebrated local designer, the other Venus Williams), and find a steak, slab of fresh seafood or other creative dish with your name on it in one of the resort's restaurants, featuring new menus conceived by celebrity chefs Jeremy Ford and Lindsay Autry.
Broderick simply can't wait for the work to end and the amped-up accolades to begin. "All the rooms have already been renovated, they're completely done," she said. "We're working now through the remainder of the property, transforming it into something that most people can't even imagine. And for people that have been involved with PGA National for any length of time, it's turning into something that none of us really could even fathom."
For everyone else, it's high time to go several fathoms deep into the calendar, come up with a week that works, gather the troops and head into blissful golf battle at PGA National, just like the big boys do. They're more than happy to share their rarefied air – and an Adirondack chair – with you, your favorite cigar, and your dreams of going low.
---
Click HERE for more stories!