Destination OKC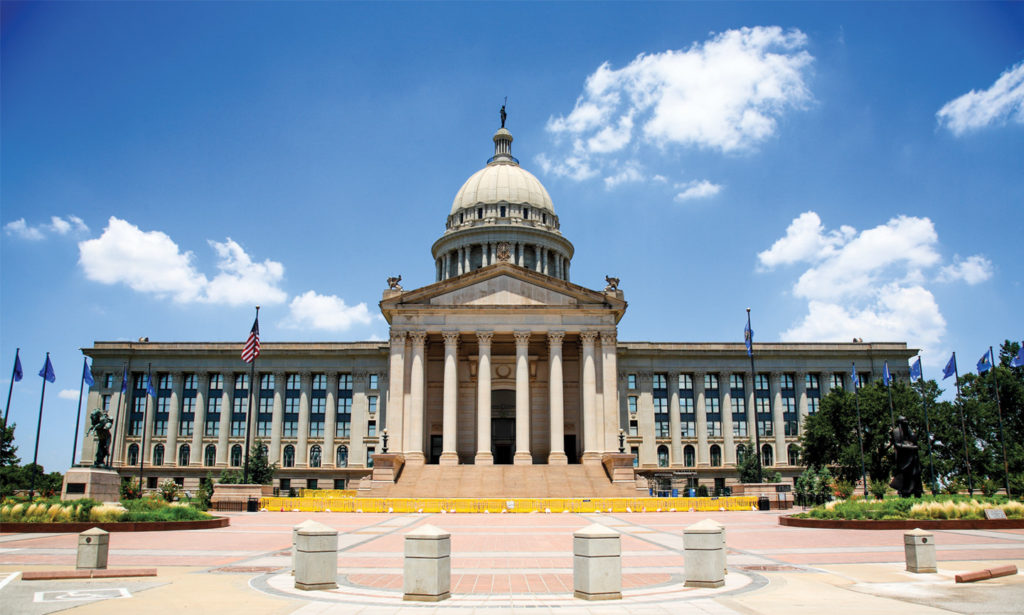 When the sky turns green, you look for the funnel, Kyle Warr says.
In Oklahoma City, one of the most tornado-prone areas in the world, Warr's is the voice of experience. And his experience in the wind-strewn flatlands state is that tornadoes happen. A lot.
"When we were kids, when tornadoes came, we went outside to watch," he says. "It was family entertainment."
When a funnel is about to drop, things get quiet, the winds still, and a green hue bathes the landscape.
"That's when it gets interesting," Kyle says. An hour north of here, in 1991, a twister cranked winds up to an impressive 262 miles per hour.
"But we don't usually take cover, since it happens so much," he adds.
Kyle is our host on a journey through the fine dining and elevated cigar smoking of Oklahoma City, a town that, among other things, is where the first shopping cart was designed, and the first parking meter was installed.
The landscape is peppered with personalities, from Kyle, a born and bred ex-cop, cowboy and musician to a 44-year-old skateboarder who grew up restoring cars and to the jet-setting Anheuser-Busch exec who spent half his career in Southeast Asia, only to retire to the plains. The unifier is a love of Oklahoma's steady, slow pace and the allure of a solid cigar.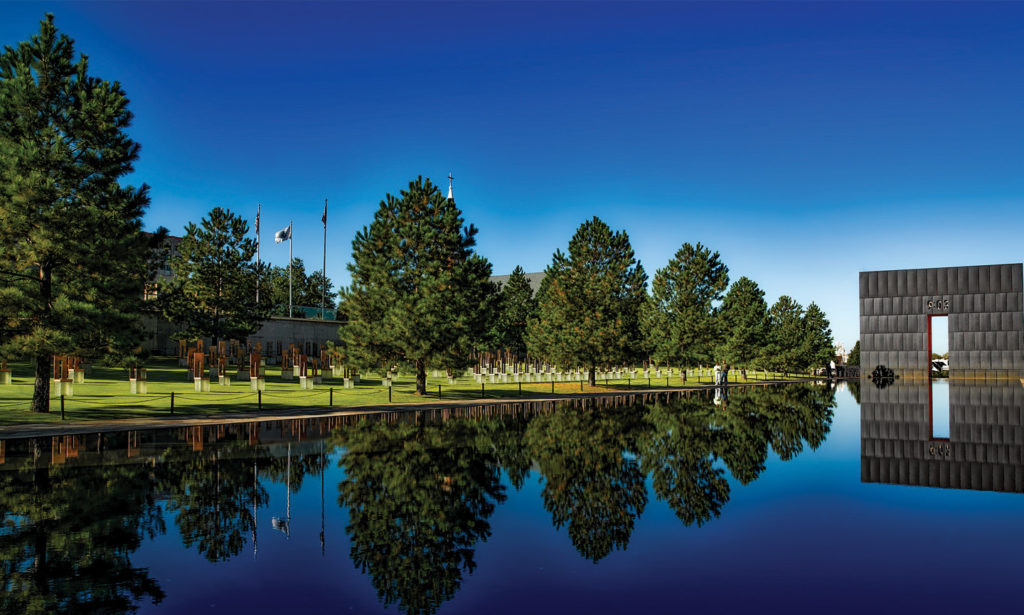 Kyle is the humidor manager at BURN by Rocky Patel after operating his own brick and mortar cigar store for three years. Along the way, he has owned an artist management company, and a guitar shop, and had a piece of an artist touring bus company.
"When I started, I wanted to make sure everyone was welcome to the cigar world," he says as we navigate the wide streets of the city. His shop was RDB Cigars and next door was his guitar shop, Red Dirt Brothers Guitar.
"When dads would drop their kids off for guitar lessons, they'd come next door and have a cigar while they waited, and everyone was happy," he says.
The cigar community here is small, Kyle says – between 500 and 700 people – but the numbers are growing and the potential is bigger.
At BURN, "we create new cigar smokers every day. People come to the bar to drink and want to have a cigar. They see others enjoying it, and even if they don't smoke at first…we want that first experience to be as positive as it can be."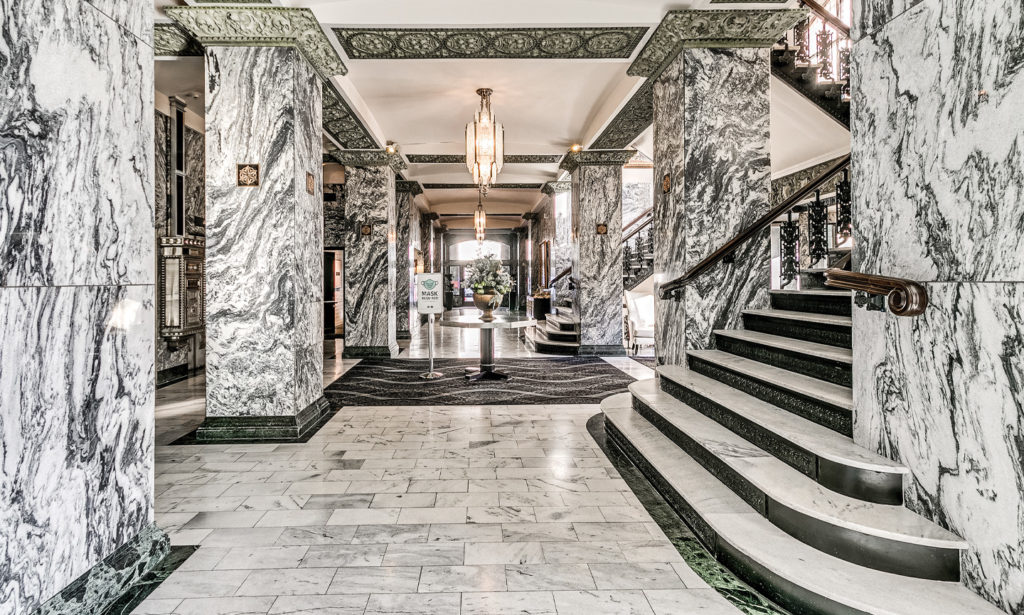 People who grow up in Oklahoma City tend to stay, or at least return. In addition to being plopped down in a prairie overseen by an endless sky, the city takes up parts of four counties and has perks both urban and wild.
Home for a few days in OKC is the Colcord Hotel, at 14 stories the city's first skyscraper when it was built in the early 1900s. When you hear of a historic hotel, it's easy to think of cramped spaces and poor plumbing. Not here – the renovations and updates over the years have been kind to the Colcord. The elevators still have bronze letterbox – often part of the crucial first impression – and the hallways are painted a sleek charcoal with matching carpet, low lit by round, small chandeliers.
The rooms are large for a historic hotel, with built-in USB charging ports anywhere you need.
The driving for this journey is made easier by our kindly upgraded rental; a white Audi Q3, the smallest in the Audi line of SUVs, is just the right size. The monstrous Audi Q7 is a cavernous luxe chariot, handy for carting around a hockey team. The Q5 is one size down, still large and reasonable for a family of four and luggage. For more on the Audi turn to page 48.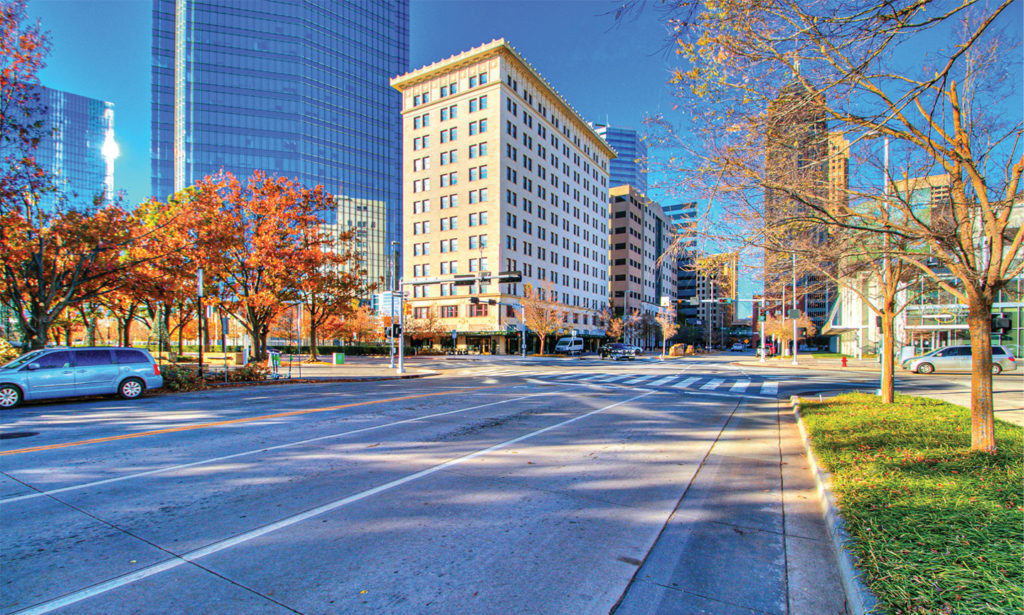 When dining in Oklahoma City, you'd better be packing an artery, because beef is on the menu. There are more cows than people in Oklahoma – 5.3 million to 3.9 million.
Mickey Mantle's Steakhouse downtown is a culinary tribute to Number 7, a steakhouse that drops the pretensions and gives you a large bar with all the dressings, with round booths and tables on the perimeter and plenty of belly-up seating. The dining room is likewise roomy, booths on the side, brick walls (which look exactly like the red pavers found across the street on the minor league, AAA Dodger affiliate Chickasaw Bricktown Ballpark) and 60s-era tile floors. Photos of The Mick, born in Oklahoma, line the walls of both the bar and the dining room, shots of Mick in his civvies hanging with Billy Martin, or in action swatting a ball, running it out, doffing his cap… It's a Yankee fan's victory lap. A smoked, compact filet is what it should be – flavorful without the need for extra seasoning, a bold, mesquite-brewed smokiness in a filet an inch and a half thick. It comes topped with tobacco onions, which is a cool thing to call those twisty little browned thin cuts that get their name because of the texture and color that resembles tobacco. The wine list is heavy on the whites, California varietals in particular. Not wanting to commit a culinary infraction just yet, the Rodney Strong Zinfandel gave the smoky meat a spicy lift.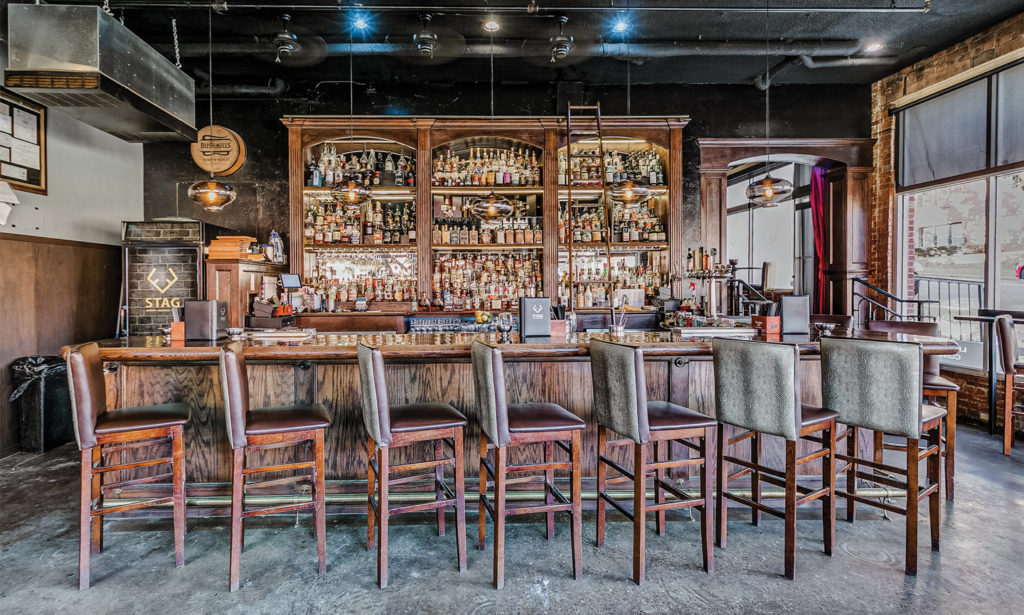 On that ballpark – it's a classic downtown minor league park, built in 1998 and set amid plenty of food and watering options. The season was shut down this year but this is the last stop for most Dodgers before they reach the major leagues, though, so expect it to bounce back in 2021. Statues of Mantle and fellow Oklahoman Johnny Bench sit outside the gates.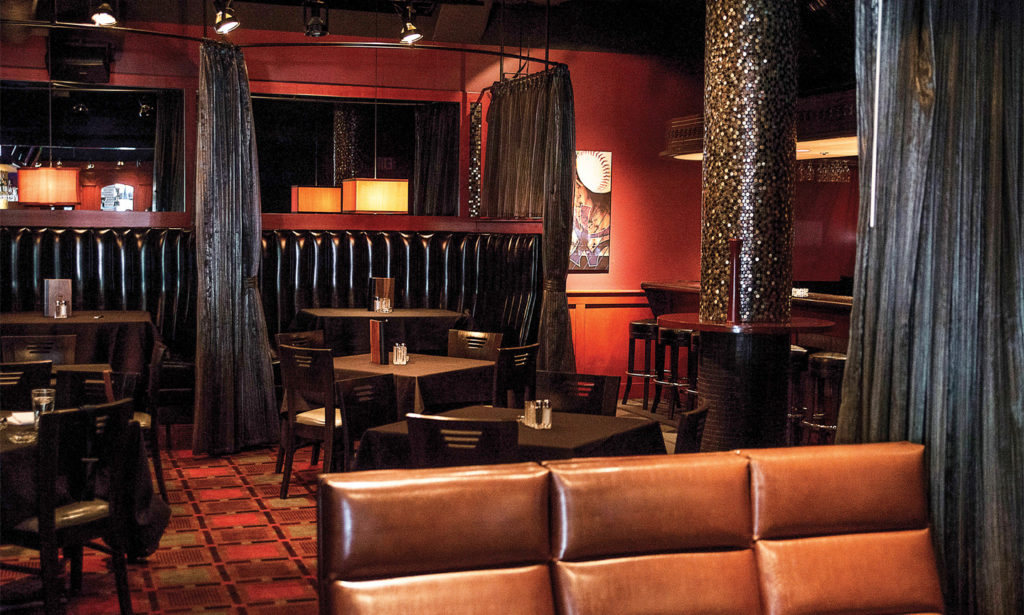 Another contender in the downtown steak sweepstakes is Mahogany Prime Steakhouse, all dark wood, marble bar, and plenty of sharp edges. The menu is beef laden, however you like it, eight cuts and styles, up to the 24 oz. prime porterhouse. The appetizers are largely water-based, including bacon-wrapped scallops, smoked trout dip, and a platter of calamari, crab cakes and shrimp.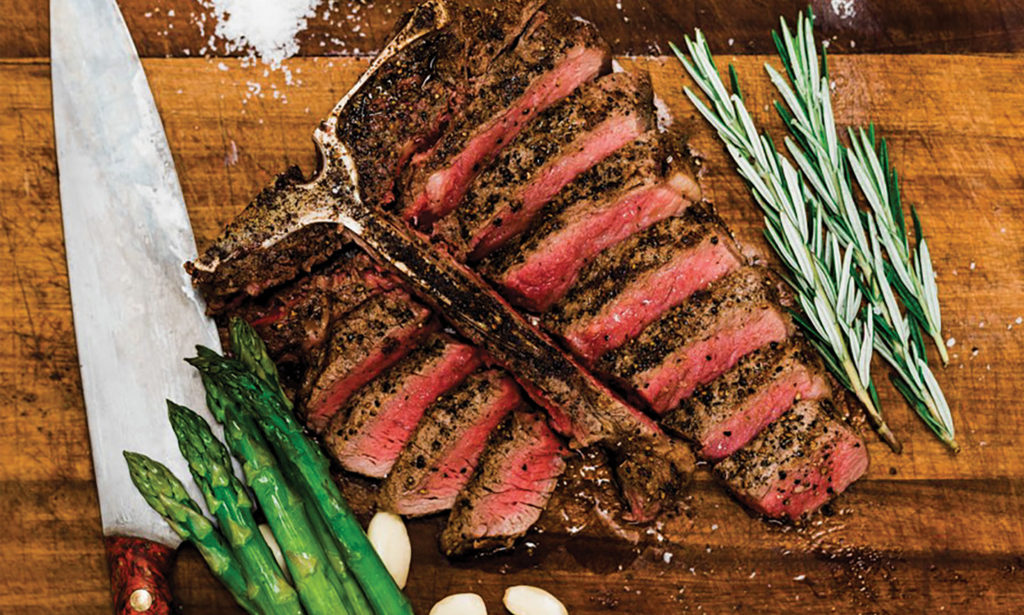 The sea bass was topped with slivered mango, onion and zucchini and dressed on the side with a mango relish. The spinach came with pine nuts, slivered red onion and tons of lemon juice. The wine by the stem came in generous pours, including a reasonable Rickshaw Pinot Noir from California.
These are the places that draw the heart of a city, the travelers mixed with the regulars. The mixing bowl, with fine food and fellowship, give travel a good name.
After food, a few minutes' walk away is Stag Lounge, the lone downtown cigar bar. Stag is a corner bar plunked down in a leafy neighborhood of condos and apartments of a recent vintage. Its thing is the dark liquors, with four pages of scotch and whiskey selections and a constant flow of new spirits.
The humidor is compact, maybe 200 square feet and 400 facings, leaning heavy on the boutique brands but also providing a solid mainstream collection. Selecting an Arturo Fuente Chateau Fuente King T and a club soda – hey, it's 7 p.m. and there's still stuff to do – it's a good time to watch the locals. A couple of regulars come in and head straight to the humidor, grab their favorite unaided, and sit down with a scotch. A few more are there for the drink, and it's clearly not a place about sports watching – bar setting. We'll have a humidor manager."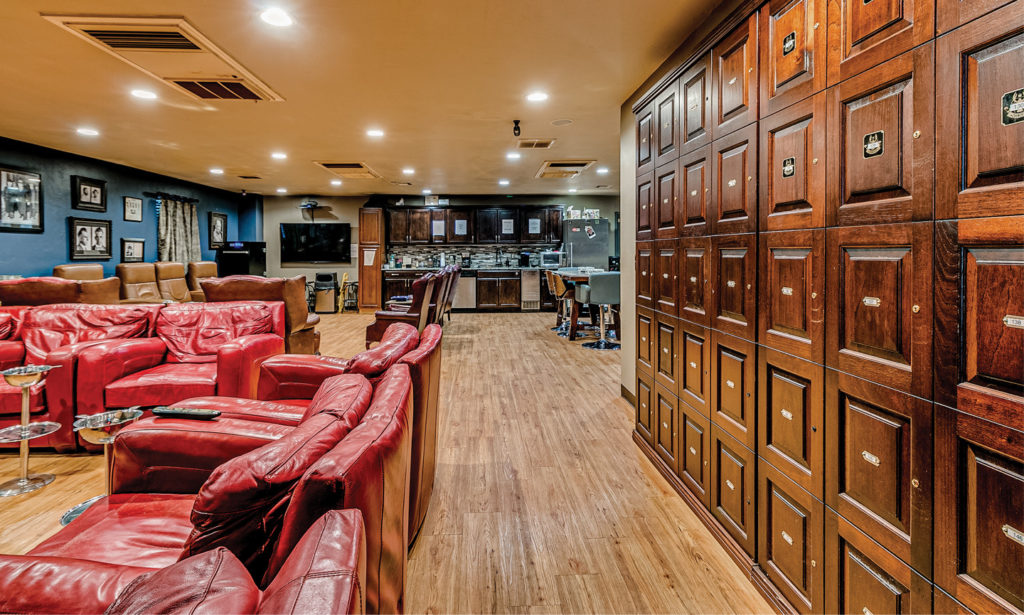 A stop in Oklahoma City will include a stop at the site of the Murrah Federal Building, where the nine-story building was destroyed by a terrorist bomb in April 1995. Sadly, the event is like the JFK assassination in Dallas; it's a crappy thing to be known for, but you have to talk about it. The site of the bombing is now a well-tended memorial plaza and museum, with a reflecting pool and a section of chairs that each bear the name of the 168 people killed in the blast. It's a stirring visit, and walking the grounds where the building once stood is sobering and saddening. The two-block area is a tribute to the first responders and the others that worked to soothe during the weeks after the blast and it's well done.
Kyle, our urban Sherpa, says he doesn't get downtown much yet he's a devout advocate for the city and assures that the best part of the city lies in the wider open spaces.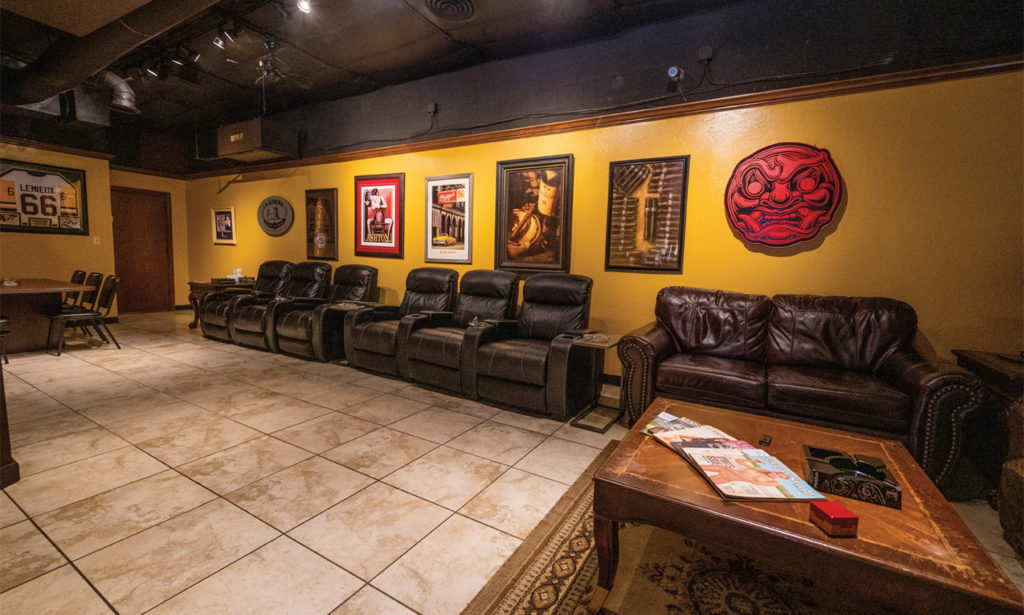 We head to ZT Cigars, a standalone former chicken restaurant that features a large humidor – at close to 1,000 square feet, among the largest in town, if not the largest. The stock is a hit parade of big brands, with boxes stacked to the ceiling.
"I've got a lot of boutique brands, but I also want to carry what the TAA guys are carrying," says ZT owner Todd Naifeh. His best sellers are Drew Estate, Padrón and Fuente, the latter of which he never has enough of, he says.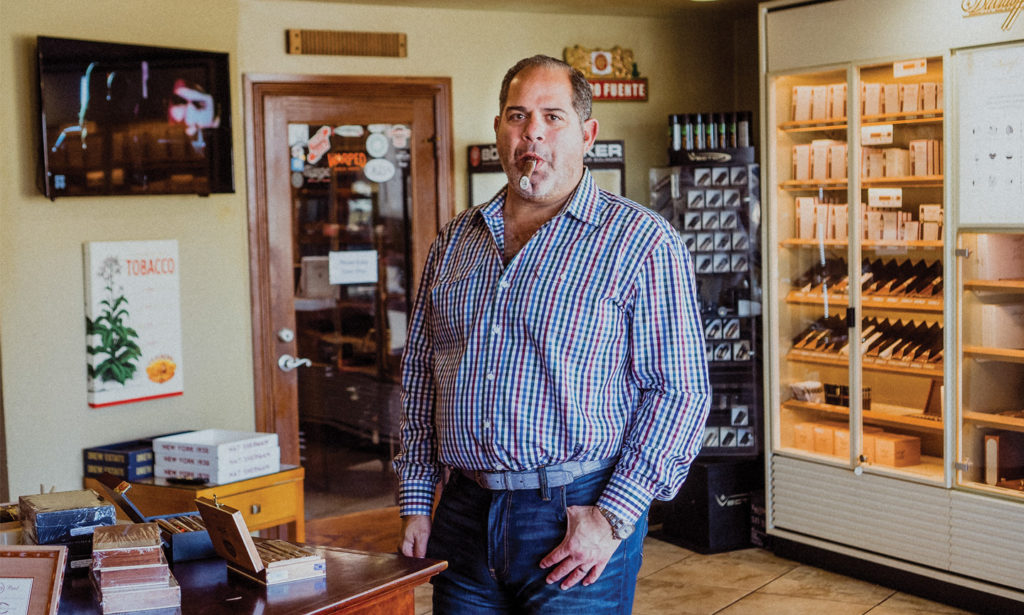 He offers up a couple of Zeak's Reserve, a light smoking, well-aged in-house blend crafted for him by Altadis.
On the yellowing band is an autograph – Zeak Naifeh, Todd's grandfather. It may be the best smoke of the trip.
At the back of the ZT's lot is another building, a cinder block structure that has been set up as a clubhouse, where ZT's customers have more room for some sports watching and conversations.
"I built that for private parties," Todd says. It was used at least a few times a month before the virus.
"But now, I don't think we've had three events there," he says.
The main lounge in the building is a narrow swath of eight traditional chairs, a couch, a table with six chairs and a big TV.
Todd is a big picture business guy – he loves the culture, the personalities, the cigar conferences and the business. Like Kyle, he's an OKC native and got into the cigar world about 15 years ago when he stepped in to manage his cousin's wholesale business.
He quickly decided retail would be a good way to roll, which led to opening ZT in 2010 with its generous space. When he first started smoking in the late 90s, he got his smokes at small shops in the area. The area's first full-on cigar bar, Maker's Cigar Lounge, downtown, shuttered in 2011.
"The real heavy culture has been around here since the mid to late 90s," Todd says. "But it's taken time to get to where we are now. When I moved to ZT in 2010, everything changed, to me. That's what spurred [more lounges]. It was just good timing, there were no lounges."
2nd Street Cigar Co. is 20 minutes and a world away. While ZT – which also has a second location in suburban Yukon – was a sprawling, energetic and well-strewn cigar haven, 2nd Street is a mellow jamming comfort stop that opened its doors in 2018.
It starts with owner Clyde Percy, who sits behind a tobacco rolling table that he built himself, surrounded by golden brown tobacco just inside the door. A licensed tobacconist who gave up his auto refurbishing business and spends some of his weekends skateboarding, Percy does rolling demonstrations on Fridays and Saturdays, and has his house cigar rolled by JC Newman, that he sells in a plain Plexiglass case on the counter for $6.25 and $7.25 a pop.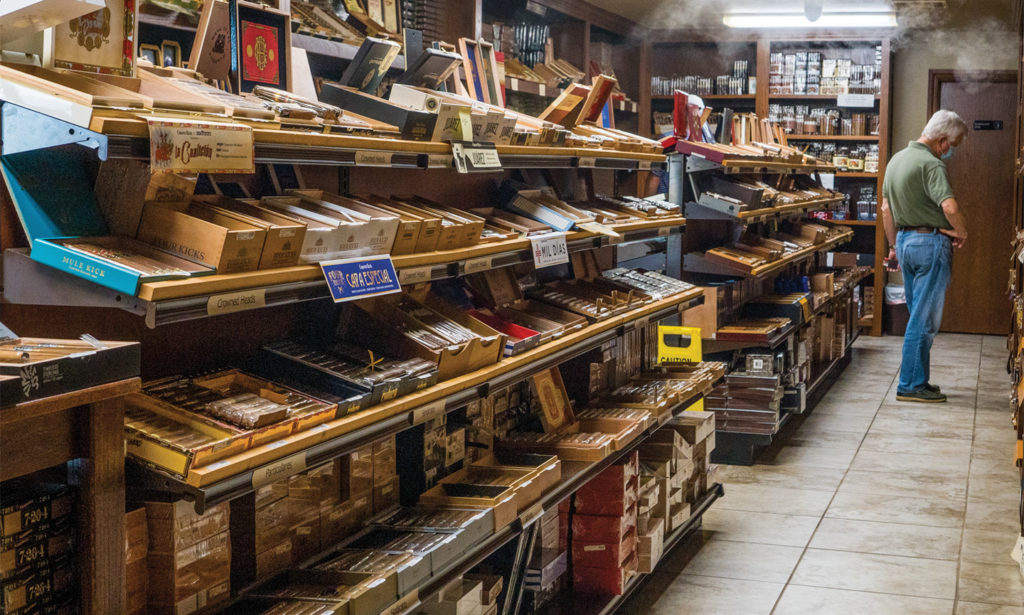 The humidor is a tribute to the obscure.
"Once I ventured into the small-batch stuff, I realized that there were more flavor profiles [in the boutiques]," Clyde says. A pile of tobacco that goes for $100,000 is over the spending power of some cigar makers, and they go in and buy a smaller portion, he says.
"They are able to get more aged tobacco and since they don't pay as much, they are able to try different things. The mainstream brands will always have the same process, and great products. These guys in small batch are using hybrid tobaccos and doing things no one else is doing."
We select a Sinistro Mr. White Robusto and move to the lounge and its 18 easy chairs, with TVs and a group of regulars.
Clyde is a thinker. He's waxing on this day about the potential for cannabis to disrupt the cigar industry. There's a CBD store right next to his, in fact.
"Will the younger generation smoke cannabis instead of cigars?" he poses. A from-the-heart discussion of the pros and cons follows among the group. The consensus: No, because the two can go hand in hand, like a good single malt and a cigar. Which encourages Clyde.
"I think at this time, we have the best cigars ever being made, this is the heyday for the quality prime cigar," he says. "The quality now is unreal. People have done the same thing for years and years, but now to put out a cigar that is going to compete and stand out, you've gotta come with your 'A' game. The stuff coming out of the factories, and the tobacco, is unreal."
It's been almost a day since a solid meal, and the Ranch Steakhouse is a sprawling ode to beef and fine wine, plucking a chunk of its vibe from the 50s – low slung, low light and big booths – with a large patio centered on a huge stone fireplace. We dig into a bottle of 2012 Lan Rioja Tempranillo – the weather has turned chilly and the Spanish reds are in season – and watch the Thursday crowd swell, a cross section of the city's movers, shakers and hopefuls. Kyle has a prime filet and I get some excellent scallops served over a bed of orzo speckled with one-inch stalks of asparagus. The habanero vinaigrette on the side was spicy/ addictive, an excellent complement to each bite.
We drive west from the Ranch, to get a look at Lake Hefner, a water reservoir for the city that doubles as a rec area, stocked with freshwater fish and, even on a day that has turned blustery, pocked with sailboats.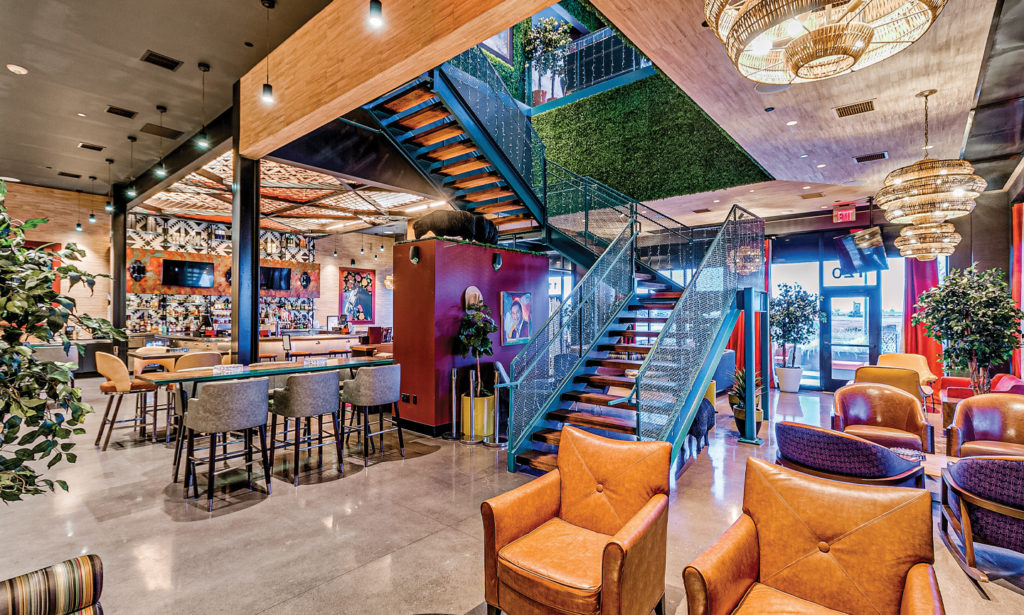 From there, we head north through a blur of upscale development that includes watering holes and more eateries, the traditional mainstays like the Ranch turning to chain dining. It's among this changing landscape that we find BURN by Rocky Patel, set in a splashy exurb known as Chisholm Creek, which features more fine dining and drinking adjacent to a mammoth TopGolf entertainment center.
The two-story BURN is visually arresting, a modern ode to a classic pastime, with a contemporary, deep gray exterior, a spacious, heated patio in the front, and a substantial humidor to the back, bar to the right, VIP lounge with fireplace to the left and a steel staircase leading to an upstairs party room.

The décor is traditional Southwestern, relying on a palette of rust, sand, and dark browns.
Lee Babb is spending his retirement as general manager at BURN after 30 years as an executive for Anheuser-Busch in the South, Pacific Northwest and Southeast Asia. After decades of smoking cigars as a hobby, he's now applying his expertise as a goodwill ambassador for BURN.
A Thursday afternoon melts into evening with a live jazz performer. Yet nothing is hurried, with plenty of time to check the concrete bar, relax with a Rocky Patel Fifty-Five, take extra time to the ritual of selecting and smoking, feeling the place. Even in a relatively cavernous lounge like BURN, the smoking removes any urgency.
"There are really two BURNs," Babb says. "There are the slow times, when you can sit and talk and take time, and then there are the weekends or special nights, when things can be loud and raucous."
Gone for now, though, is a signature special night: the Ladies Cigar Club was launched in June 2019 and was drawing 40 women every other Tuesday evening.
"We'd bring in reps to talk about their products and have people come in and roll cigars and it was hugely successful," Kyle says. "It created cigar smokers, and we were the first BURN to do this, then others were just starting to do it, but by the time they got it off the ground, it was 'rona time."
Crowds are returning and Chisholm Creek is thriving. Within 300 yards of BURN, several high-end restaurants are planned in the coming months. The virus will abate, the ladies club and all the rest will return.
In spending a few days in Oklahoma City, a trinity of cigar experiences can be had – the unique boutique flavor of 2nd Street, the industry power and top of the charts variety of ZT, and the elevated experience of smoking at BURN.
Also to be noted is the up-and-coming improvements of Stag, Wilshire and Omertá. They're looking for the in-between years patron who is ready to check out something new.
It all adds up to a city that is a hub of smoke in the Great Plains. The topography is a mask of sameness, but the humanity is a treasure of variety.
---
Click HERE for more stories!