Digging into barbecue in the most dogmatic corner of the meat-smoking world
There's no U.S. state that's prouder of its distinct culture and traditions than Texas. And while there's a lot to love about the Lone Star State, the easiest part to fall in love with might just be the barbecue.
While the rest of the country frets about sauce, Texas barbecue is all about letting the meat shine. There are three main ingredients: salt, pepper, and something dead. If sauce gets involved, its main role is to ensure moisture rather than to add new flavor. For that reason, while there's room for healthy debate about which region's barbecue is best (don't tell a Texan you're OK with the debate), there's far less room for a debate on which part of the country practices barbecue in its purest form. To experience that pure, unadulterated meat excellence for ourselves, we hopped a flight to Austin, Texas.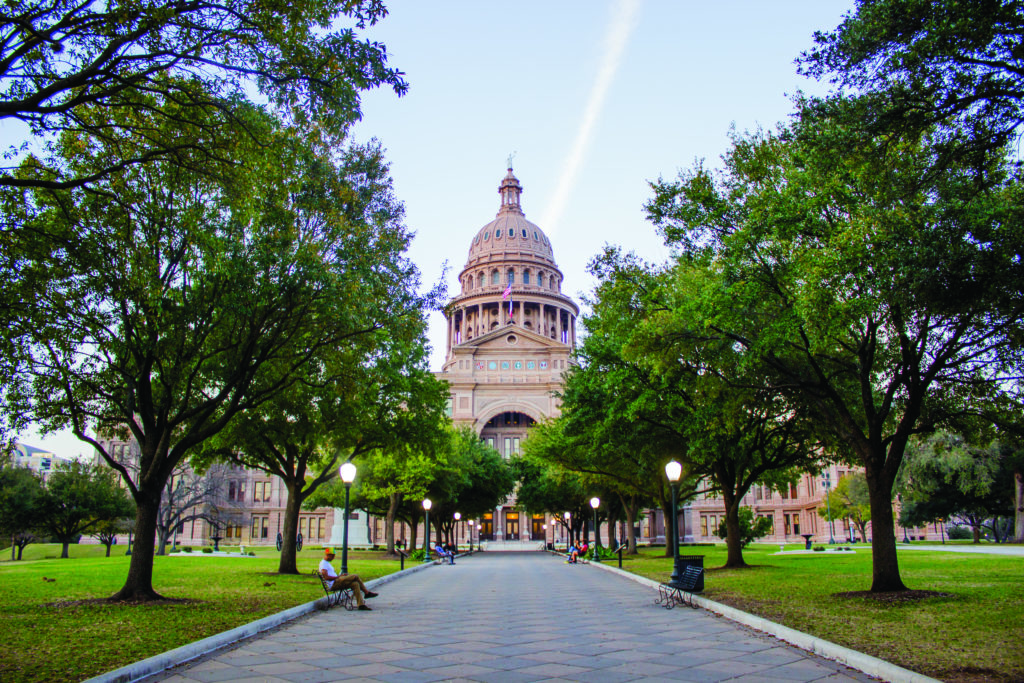 Food for thought
Before we get into our three-day meat marathon, we should go over a few things you should keep in mind if you're planning some version of this trip on your own.
First, you'll need to rent a car. Yes, Austin is a great place to visit and you can get to know the heart of the city well with a combination of walks, Ubers and electric scooters (these are everywhere in downtown Austin). But if you're here for the meat, you'll need to drive yourself because so much of the best stuff is just outside the city.
Second, this trip is best taken with a group of four people or more. We learned this the hard way. No matter how voracious your appetite or how confident you are in the stretchiness of your waistband, if you're covering a lot of ground to get to know as many restaurants as possible, there is simply no way you can sample a variety of meats on your own at each meal and feel good about it at the end of the trip. Part of the fun of this experience is sampling as much of what this part of Texas has to offer as possible — you'll need help.
Third, skip the sides. Maybe not all the time. But most of the time. If you're like me, getting sides is sort of an instinctive thing. But Texas barbecue joints don't put nearly the same love and care into their mac and cheese as they do their meat. Have a bite or two of the sides here and there and order a bit of something if a local insists it's great, but know that if you pass on them, you're generally not missing much.
Fourth, know that you will not taste it all. It's OK to leave some meat on the bone, so to speak, for a future trip to Austin. You'll be back.
Finally, don't let the Texans shame you out of eating things other than beef. Don't get me wrong; the beef is great. But, in my opinion, Austinites' strange hatred for pork and poultry has blinded them to the fact that they actually do that exceptionally well, too.
More than you can chew
I was joined on this protein pilgrimage by Natalia García, a new member of the Cigar Snob team. I'd warned her that, like so much of what we do at Cigar Snob, it's still work and can be draining to do one of these stories, even if it's fun all the way through. She got her first taste of that on our first stop of the trip at Terry Black's Barbecue.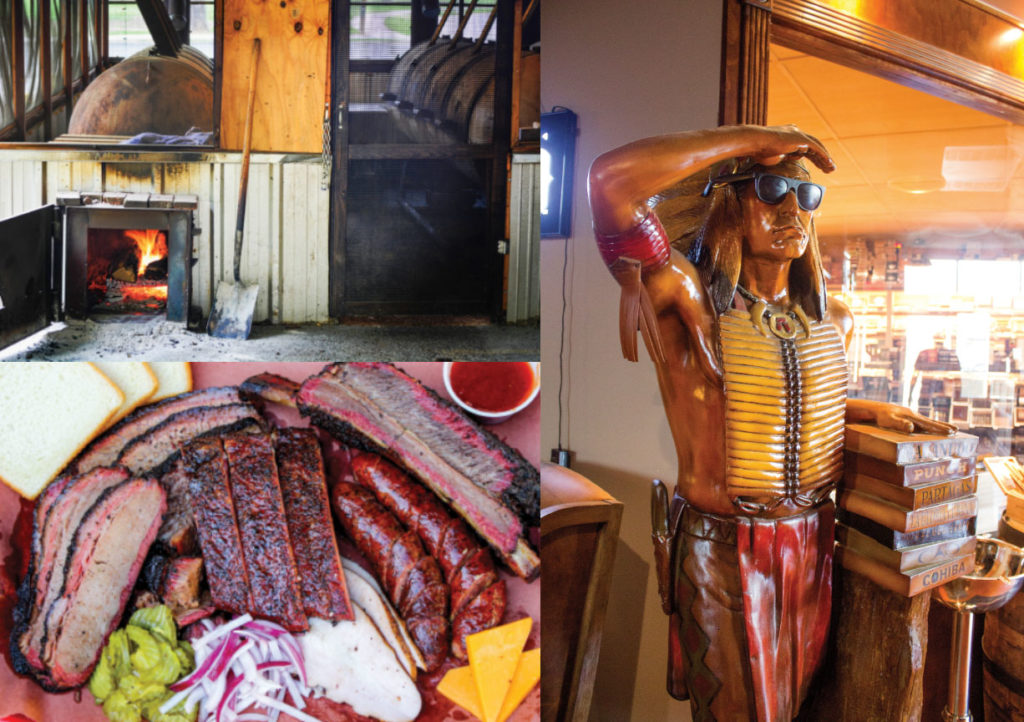 If you're searching online for barbecue joints in the area, you might be struck by the number of times the name "Black" comes up. The Black family has been smoking meats in nearby Lockhart (more on that later) since the 1930s, and Terry Black's represents one branch of the family making the move to Austin to bring the family tradition to the city. The restaurant's namesake, Terry, is the father of the restaurant's founders, twin brothers Mark and Mike Black. They also have ties to Smitty's, another legendary Lockhart barbecue joint, on their mom's side.
Even before considering the food, Terry Black's is a great first stop for a number of reasons. First, it's centrally located, just south of the Colorado River and Butler Metro Park, which has great views of downtown and is a good place to walk off your meal. Second, it's got those family ties to Texas barbecue history. Third, it's one of the most approachable, least rustic of the destination barbecue restaurants in town. Some people care as much about feeling comfortable as they do about the meat, and if you're with a big group, this place is less of a shock to the system than some others might be. Finally, there's loads of merch. If you like bringing home gifts and mementos from your travels, you can get a lot of that shopping done right here while you're in line for food. Shirts, caps, baby bibs, sauces, the whole nine yards.
And yes, there's a line. That's part of the deal for most of these places. So make sure you have your comfy barbecue shoes on, because it's worth every minute. When we made it to the ordering area (having finished a cocktail along the way; these people thought of everything), we got overzealous. Brisket, jalapeño cheddar sausage, chopped beef, mac and cheese, green beans. It's all served on a sheet of butcher paper that's placed on a tray. The tray is a break from the Lockhart tradition of leaving it at just the butcher paper. I guess this is the city and we need to act a little more civilized.
Biting into the first bit of brisket — the juices flowing about your palate and the salty, peppery crust crunching together with the tenderest of tender beef — reminds me a little bit of the late Ralphie May's standup bit about his first time drinking Cuban coffee in Miami. "I could see into the future," he says, with his eyes widened all the way as he gazes off at nothing in particular. This is meat nirvana and we're just getting started. The sausage — maybe the best we had on this trip — has a perfect snap and just the right jalapeño kick. The chopped beef brings a nice change of texture with its saucier profile. It's also emblematic of the way Texas views sauce: if we're going to douse this meat, let's chop it up so it looks like scraps. Nothing drenched in sauces deserves to look dignified, even if it's still delicious.
After weighing ourselves down with the first lunch of the trip, it seemed best to give the meat a few moments to settle, so we made our way to the nearby Habana House location (there's another one north of Austin) for a cigar. The store used to be in a 480-square-foot space inside of a restaurant, but when the opportunity came, Habana House took over the space and now has as its centerpiece a massive humidor with an excellent selection of staple cigars and less-common boutique brands, along with a good-sized lounge area where you can enjoy your cigar. Really, though, you're here for the selection. "This is what it's all about here," said Habana House's Johnny Elizondo, pointing to the humidor.
After the cigar, we took the afternoon and early evening to walk around and photograph downtown Austin, not only because we knew we'd be spending much of the rest of the trip outside the city, but also because the weather forecast called for rain and we didn't want to miss our chance at decent shots of the city. It's a beautiful city, big on character, walk able, loaded with great food and vibrant with the young energy that comes from having a flagship state university and a state capitol a stone's throw from each other. In that way, it might remind you of Madison, Wisconsin, which we visited in our May/ June 2017 issue. There are stellar restaurants, including casual destination barbecue joints like Cooper's and the more upscale barbecue you'll find at Lambert's. We weren't able to work in visits to either on this trip, but I've been on previous visits to Austin and can vouch.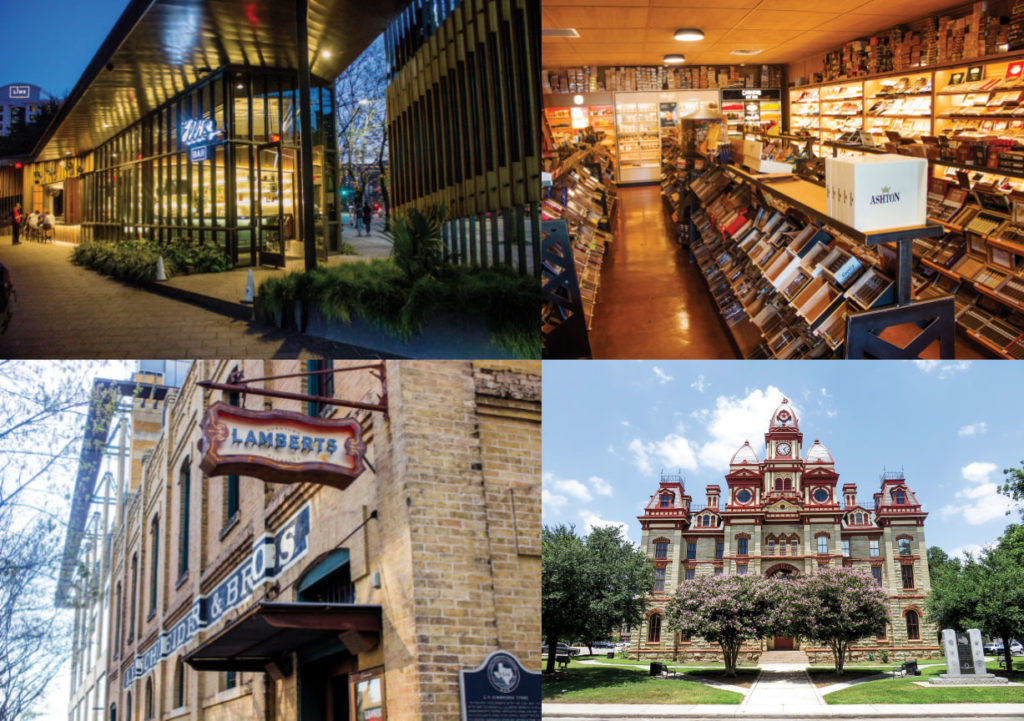 There's also a vibrant bar scene. We made a stop at The Elephant Room on Congress Avenue for a couple of drinks. It's a jazz bar that serves all the classic cocktails (none of their own signature drinks) and has dollar bills pinned to practically every inch of the walls. Just quirky enough to remind you you're in Austin since it's at the basement level and there's no view of the street outside. For more unique drinks with a view of the city, there's Ellis, a mostly open-air bar on Congress Avenue.
A northbound walk along Congress from the Colorado River is interrupted by the city's most prominent landmark, the Texas State Capitol. Like so many others, it's clearly inspired by the Capitol Building in D.C., although this one is, naturally, surrounded by a collection of Texasspecific monuments. If you're a history buff, you'll enjoy walking around the grounds and inspecting each of them.
On our way back toward the river, we made a stop at Cuba512 (a Cuban restaurant whose name is a reference to the city's area code) for the Cuban coffee that we can't help but be drawn to in every city we visit. Like so many others, this one hit the spot, but it's not quite what you're hoping for if you're used to Cuban coffee in Miami — the kind that lets you see the future.
After settling into our hotel, we headed back out for more barbecue, this time at Salt Lick, a large barbecue restaurant in Round Rock, just north of Austin, with a large dining room and a sprawling patio. We went with a pulled pork sandwich, a bison rib and some brisket. Maybe we got the wrong thing, but this might have been the most underwhelming of the meals we had on this trip. Still, it has its place in the scene, as you might want to get Texas pit barbecue at a place with things like table service and plates. Yet again, we'd ordered too much food. If any one lesson came out of this first day in Texas, it was that we'd need to adjust our ordering habits. That adjustment would prove difficult to make on day two in Texas' barbecue capital.
Meat Mecca
There's not much happening in Lockhart, Texas. The small town of about 13,000 people is centered — at least visually — on the Caldwell County Courthouse. The building went up in 1894 and was built in the Second Empire or Napoleon III architectural style, which was popular at the time, but which is more often associated with European opera houses and cathedrals than small-town Texas courthouses. In Lockhart, it's both a defining landmark and wildly out of place. In fact, the contrast between this building and the surrounding town — even right across the street — is so stark that it's become a destination for filmmakers. You might recognize the courthouse from Waiting for Guffman, What's Eating Gilbert Grape, and the HBO series The Leftovers.
Of course, the architecture isn't what brings people to Lockhart. The town is the historic capital of Texas barbecue; the canonical restaurants in the state's beef-smoking history are in this town, just steps away from one another. To put all this in its proper context, let's run through a super-abridged history of the Lockhart barbecue world.
In 1875, Jesse Swearingen opened the town's first "meat market" — a grocery with a butcher. Just 25 years later, in 1900, Charles Kreuz, Sr. bought that market from Jesse for $200. Aside from modernizing the grocery and introducing products like fresh fruits and vegetables, Charles also incorporated smoked meats as a new product. Inspired by his own German heritage, he took Texas beef and pork and smoked it over post oak wood. And just like that, Lockhart's smoked meat legacy began.
When Charles' sons sold Kreuz Market to Edgar "Smitty" Schmidt in 1948, it was yet another pivotal moment. Smitty, who had been Kreuz's butcher for more than a decade, shut down the grocery part of the business and transitioned the business to a new chapter in which it operated strictly as a restaurant. He retired in 1984, selling the business to his sons Rick and Don. But he didn't sell them the building. That was left to his daughter Nina Sells when he died in 1994, which left her to play the role of landlord to her two brothers. As you might imagine, that led to some bitter feuds. Don retired, leaving just Nina and Rick to quarrel with each other over rent hikes and building improvements. In 1999, the brother and sister settled. Rick took the Kreuz name to its current, larger location and Nina reopened the space her father had bought all those years ago, except this time as a restaurant named Smitty's, after the old man.
In a town this size, we're talking about seismic change. People were so concerned about what this might mean for Kreuz, which had been around just under a century, that the restaurant had to employ some symbolic theatrics to reassure them. As part of the move from one location to another, Kreuz pitmaster Roy Perez dragged a bucket of hot coals between the two locations, so committed was the Kreuz side of things to preserving their signature flavor.
Needless to say, these two restaurants belong at the top of your Lockhart to-do list. And for all their shared history, they're actually very different — at least aesthetically.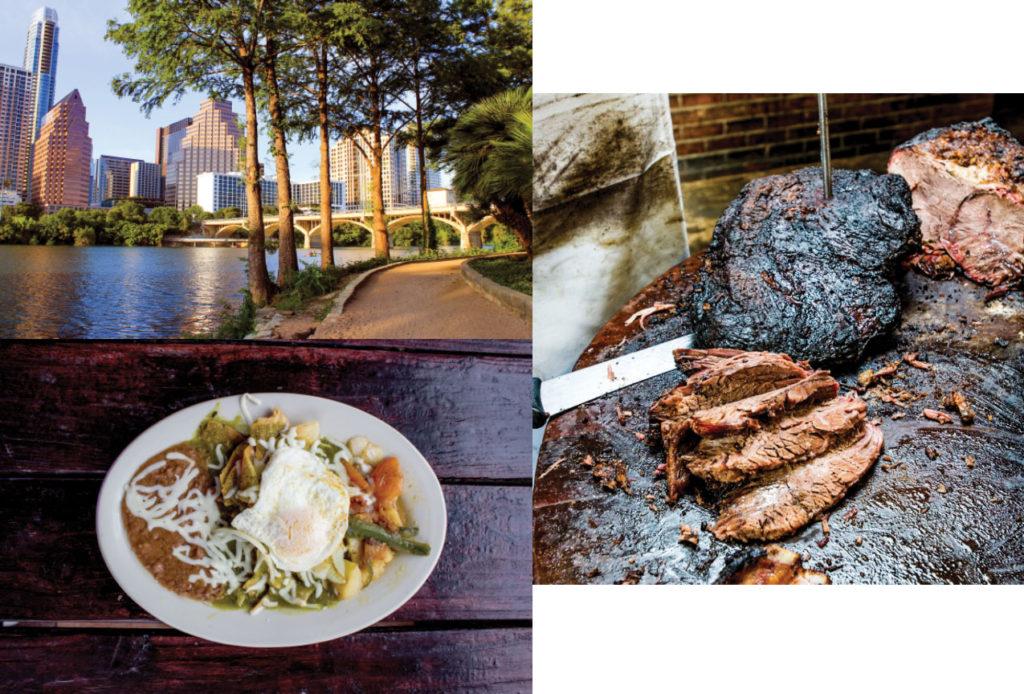 Having that backstory in mind puts the experience of eating at these two places in a whole new light. Smitty's feels much older. You walk into a dark building, through a hall that leads to a barbecue pit area that feels ancient — with the exception of the modern cash registers. At Kreuz, you're walking through a more modern, well-lit dining room with fun signage on the walls — jokes about the restaurant's rejection of barbecue sauces and forks and all that. At both restaurants, your meats are cut to order and then served to you on sheets of butcher paper, the ends of which are crumpled and twisted into makeshift handles that'll help you get your food to your table. Side items are a whole other transaction that happens at a counter in either restaurant's dining room.
Putting the two head to head, it was tough to pick a favorite. Both restaurants had outrageous brisket. We also tried the beef shoulder at Kreuz and the sausage at Smitty's. If I were doing it all over again, I think I'd stick with brisket and double down on that.
Finally, we rounded out our visit to Lockhart with a few bites at Black's, named for the same Black family as Austin's Terry Black's. Black's has been serving smoked meats in Lockhart since 1932. Today, third-generation pitmaster Kent Black is making magic from a pit that his father built in the 1940s. If the reactions we got from some of the locals when we told them about our meal is any indication, nobody had committed quite so grave a sin as we did in the nearly 90 years this place has been in business.
Natalia and I ordered turkey.
It's true! This is beef country. People give you crap about ordering pork. And yet here we were getting a slice from a bird. I'll take the blame. I thought it would be interesting to try something a little unconventional, especially considering how much beef we'd just had and how much more I knew was in our future. And you know what? That was some damned good turkey. It was smokey and tender and juicy and unlike any turkey I'd ever had.
I'd order it again. Sue me. What you're here for is the history. I'm not sure I've ever felt like I was brought closer to a place's history than I was while eating at these three restaurants.
When in RoMa
People tell us they think our office is kind of cool. We have cigars and a nice coffee machine and a kegerator. There's usually a selection of at least a couple dozen spirits to choose from since we typically taste at least that many for research purposes in any given issue of the magazine. But now I understand. I know what a cool office looks like. Because I've been to RoMa Craft Tobac's headquarters in Austin.
After wrapping up our visit to Lockhart, we paid a visit to Mike Rosales, Skip Martin and their team at RoMa Craft. From the outside, it's a nondescript office in an even more unassuming office complex. Once you're inside, you understand that the rest of us have been doing offices all wrong. Every corner of the RoMa Craft office — with the exception of the small area they use to process shipments and fulfill orders — seems like it was designed to make the team want to stick around. From the custom wood desks in the shared workspace (with an Xbox controller on every desk) to the gorgeous bar, complete with a top-of-the-line espresso machine that Mike Rosales (the Ro in RoMa) insisted they have installed. Even the bathrooms feel like something you're more likely to find in a boutique hotel than a cigar company's office.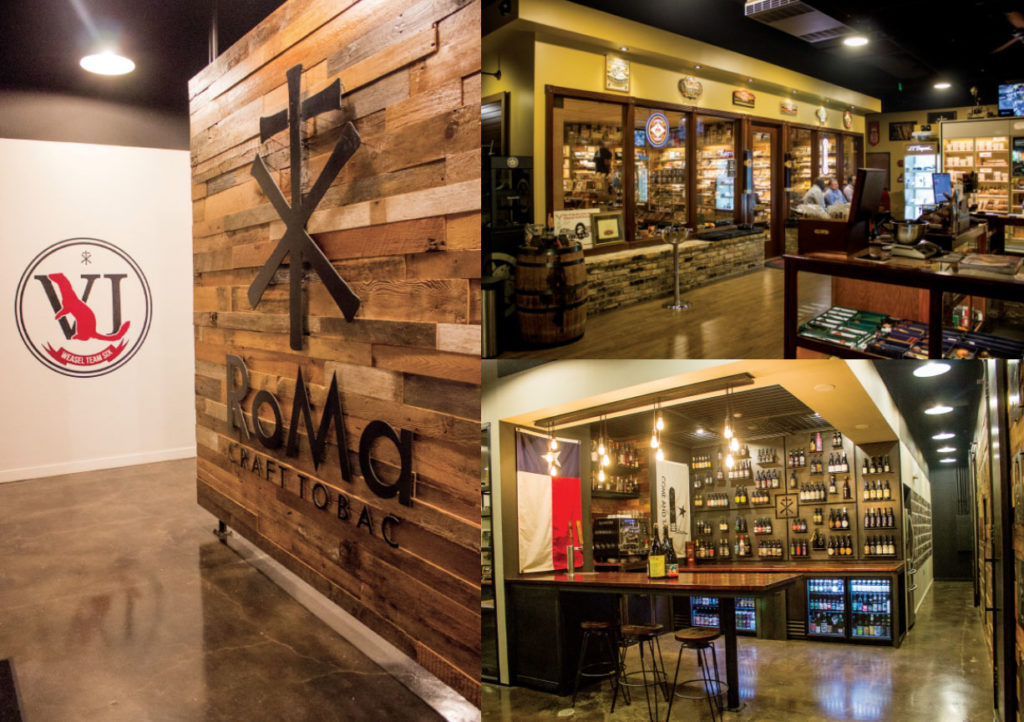 The star of the show here is the bar, where they have an unreasonably awesome collection of beers and spirits. And of course, there's a walkin humidor to showcase the company's cigars. My first thought: "This is incredible, but it doesn't make sense. Who's all this for?" Turns out these guys do about 20 tours a week of their office for people who call ahead to arrange them.
"There's a huge bourbon community here in Austin," Mike said. "The idea is to create a cut and light opportunity to expose the brand, show people how to cut a cigar. They want to learn."
While Skip Martin says that there's not much of a cigar culture in Austin, RoMa Craft benefits from being headquartered in a city of curious consumers who appreciate craft and have a special interest in supporting local businesses.
"There are more vegans than there are cigar smokers in Austin," Skip said. "There's a lot of liberalism here, but it's a Texas brand of liberalism. It's liberal enough where you're probably not going to walk downtown wearing a MAGA hat, but it's not like you're in Portland either."
The limits of Austin's leftism are illustrated in the city's resistance to nannies who would have government regulate this city's favorite kind of smoke. Back in 2015, city officials rejected a proposal that would have required restaurants to keep their barbecue pits a certain distance from residential buildings and install smoke scrubbers.
After a couple of cigars and an extensive tasting session of beers, whiskeys and rums in the RoMa Craft collection, we joined Mike, Skip and their team for dinner at Stiles Switch, which is located in a shopping center north of downtown, in the location that once served as the Emporium pool hall from the movie Dazed & Confused. Today, it's one of the few restaurants in town that keeps the pits running through the night. While most of the other noteworthy barbecue restaurants in town run out of their most popular products during their lunch rush, Stiles Switch is one place you can be sure you'll still have options at dinnertime.
Skip and Mike took the lead on ordering. We all shared in loads of brisket, sausage, and chopped beef. There was corn casserole in there for good measure, but it was hard to pay it much attention considering how freaking good all that meat was. Pitmaster Lance Kirkpatrick spent nine years working under Bobby Mueller at Taylor, Texas' legendary Louie Mueller Barbecue (more on that later), and the time there has undoubtedly prepared him to help build another lasting barbecue institution with owner Shane Stiles, who brought Lance in.
The home stretch
On our final day in Austin, we needed a bit of a palate cleanser from the barbecue, so we started with breakfast at Las Cazuelas, a Mexican restaurant in East Cesar Chavez, one of the city's oldest neighborhoods. Just east of the center of the city, this part of town is primarily single family homes, with about three-quarters of the residents being Hispanic (mainly Mexican). The heart of the neighborhood is the section of East Cesar Chavez Street that runs from Comal Street to Pedernales Street. If you're looking for Mexican and Tex Mex, this is a good place to start your search.
Las Cazuelas is everything you want from a neighborhood taquería. It's an unpretentious diner with an extensive menu that includes Tex Mex staples and some more traditional Mexican dishes. I went with a breakfast burrito, Natalia did the chilaquiles. After breakfast we explored this neighborhood, and South Congress, where there's loads of dining and shopping.
On our way to lunch we made a stop at Zodi'x Cigars in Georgetown (north of Austin) for a smoke. The humidor is well stocked, but the draw here is the huge lounge that sits behind a hidden door disguised as a bookshelf. It's a private lounge, but day passes are affordable.
This might be the most comfortable place to spend the day smoking, especially if you're a business traveler who needs a comfortable place to hang out with a laptop.
At lunch, it was back to another pit, and we were going out on a high for our last Texas barbecue stop. We met Mike at Louie Mueller Barbecue in Taylor, about 40 minutes north of downtown Austin.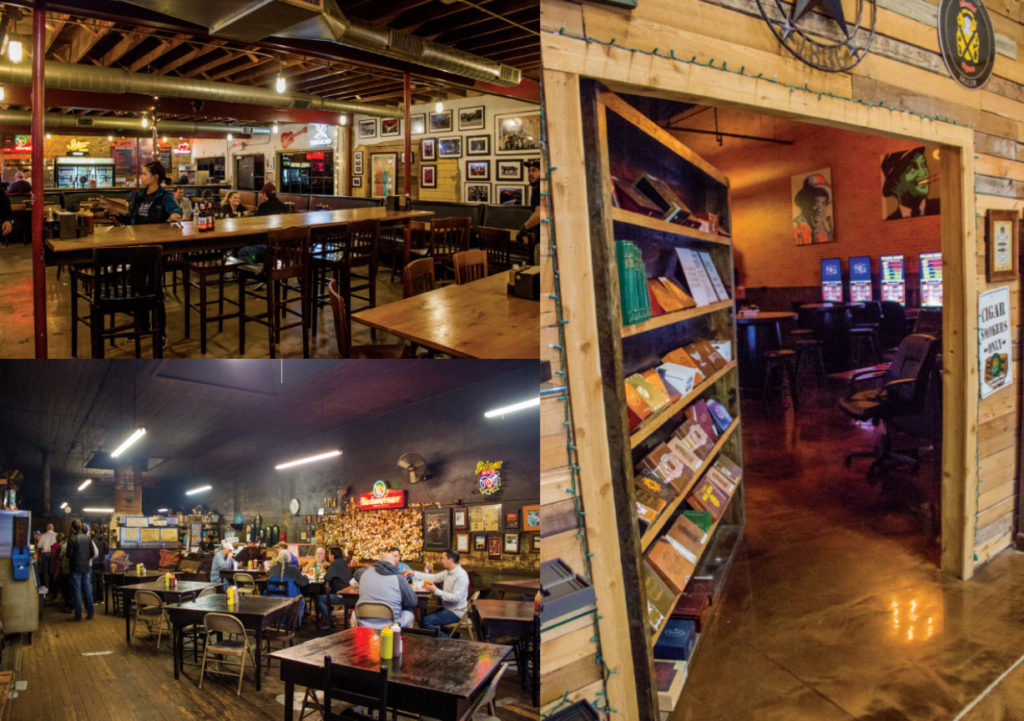 When Wayne Mueller took this restaurant over from his father Bobby — who had taken over from his own father, Louie — he knew his job was to simply not mess things up. That was, after all the year after the James Beard Foundation awarded Louie Mueller Barbecue its America's Classics Award, one of the highest honors in American food. The pressure was on, and Wayne has managed to not only keep the family tradition of excellence alive, but also adopt a role as a barbecue evangelist, touring the country teaching people about barbecue, hosting countless TV crews and web series at his restaurant, and generally taking on a role of ambassador for Taylor's beef-smoking heritage.
When Mike heard we hadn't had any beef rib on this trip, he made it a point to fix that. Beef ribs look like something out of a Flintstones episode. They're massive, with bones that look like they're in there as a practical joke. Because the rib is so large, there's a lot of stuff happening on each of these ribs — lots of variety of muscle and fattiness. But throughout, it's perhaps the best expression of that complex flavor that comes out of a simple recipe: 9 parts pepper, 1 part salt, plus smoke and time.
We headed back to RoMa Craft HQ for some more cigars.
Even after all the eating we did, there's a ton left on my Texas barbecue bucket list. For instance, we never did make it out to Franklin's, a newer restaurant — run by Louie Mueller alumnus Aaron Franklin — that's become a favorite. We couldn't find time (or room in our guts) to squeeze in a visit to Snow's BBQ, a Lexington destination that's been voted the best barbecue joint in Texas by Texas Monthly. And we missed our shot at trying Valentina's, which serves a fusion of Mexican and Texas barbecue that we were excited to check out.
The list goes on and on — and I'll probably never come close to visiting all the barbecue joints in my to-do list. And yet it seems like I know them already, on some level. There aren't many dishes that play this role for a community. Maybe it's the fact that Texas style, in particular, is so pure. Salt, pepper, meat. The rest is heresy. Regardless of whether you're a religious person, it's clear that this kind of rigid dogma can be unifying. Locals, transplants and immigrants all assimilate at least enough to have this one thing tie them together. The most beautiful thing about making this pilgrimage is that all it takes to join the club is an appetite. And maybe a spare notch in your belt.
---
Click HERE to check out our other travel stories!