MR. YBOR'S CITY
In Tampa's cigar making heyday, the city was churning out as many as 300 million cigars a year. If you want some sense of just how many cigars that is, consider that in 2014, the U.S. imported a total of about 310 million. In other words, take every handmade cigar that made its way here from Nicaragua, Honduras, the Dominican Republic and other cigar producing countries, and imagine them all rolling out of factories in Ybor City—a, small upstart district of an otherwise sleepy Central Florida city.
The whole Tampa Bay area still has Vicente Martínez Ybor's fingerprints all over it. The cigar maker, whose vision for a company town laid the foundation for the area's rise, couldn't have known just how much impact he was going to have when he set up shop and founded the city in 1885, having been drawn from Cuba (where he was manufacturing cigars after migrating from Spain) by the port and railroad systems that made it a perfect hub for the Cuban tobacco he'd be receiving and the cigars he'd be sending off to the rest of the States.
Today, the city's cigar heritage isn't just something commemorated on bronze plaques and local public television (although there's plenty of that). While the local cigar scene is a mere shadow of what it once was, Tampa is more of a cigar city than any in the United States and, in some ways, the world.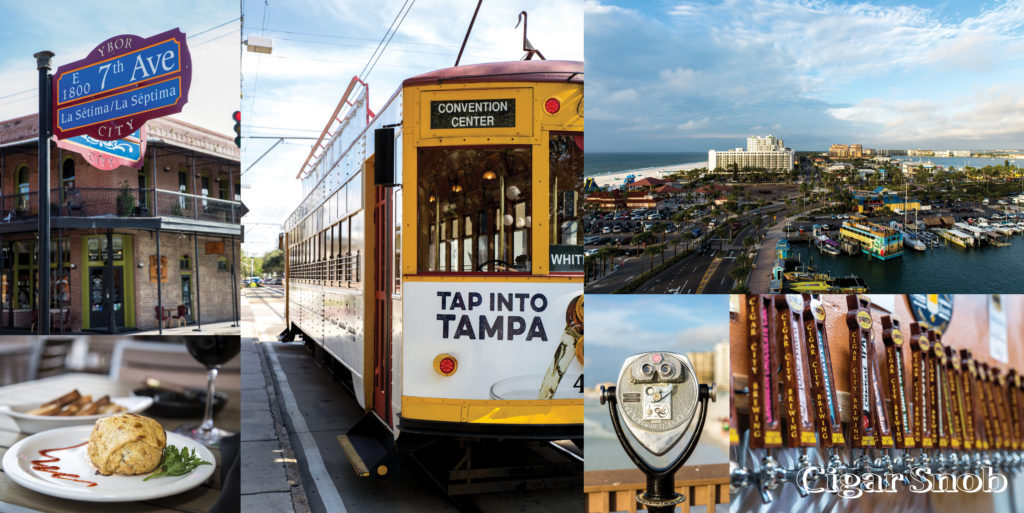 Exploring Tampa Bay
We left Miami and drove about 5 hours north to experience the area for ourselves over a couple of days. No tobacconist has a bigger footprint in the Tampa area than Tobacco Depot, which has 13 locations (tobacco-depot.com). While most of their locations' inventories are heavy on cigarettes and e-cigarette items, two locations stand out as being great for premium cigar smokers: the Tampa store and the Brandon store (about half an hour east of Tampa proper). As we made our way toward Tampa on day one, we dropped into Brandon to pick up a few smokes.
Though the name and a wall covered with cigarettes and vaping paraphernalia might make you wonder whether you should stop by, a couple of steps into the store will put those fears to rest. Tobacco Depot might not have the biggest humidors around, but the quality of the selection is tough to beat. Immediately, we noticed that the store had a great selection of Fuente, Padrón, and Oliva cigars, along with more of Drew Estate's Liga Privada lineup than I'd seen in one place in quite a long time. It's no wonder this has become a neighborhood hangout for smokers in the area, which is home mostly to families and people with some connection to nearby MacDill Air Force Base.
We picked up some cigars and started on our way to Tampa Humidor, which smokers far and wide know for its annual blowout event, Tampa Cigar Bash. On the way, we made a pit stop at Mangú Latin Café. It doesn't look like much, but it's casual, convenient, and affordable. Most importantly, this was some of the best roast pork I'd had in a while. The name comes from a popular Dominican dish of mashed plantains, and the staff, though I didn't expect it, is as Dominican as it gets.
The heavy foundation of Dominican-style rice, beans and pork that I laid in my stomach turned out to be an appropriate first meal—and not only because it was hearty enough to prepare me for a day of heavy smoking. Though Tampa's cigar heritage and culture are most heavily influenced by Cuban and Italian immigrants, it's important to remember that three of the biggest forces in premium cigars—Arturo Fuente, J.C. Newman, and Davidoff—all call the Tampa Bay Area home, and all do much of their manufacturing in the Dominican Republic.
When we arrived at Tampa Humidor (tampahumidor.com), they were gearing up for a Camacho event. The company would be holding the grand finale of its promotional tour for Camacho American Barrel-Aged at the store in the coming days. On this day, though, the shop—which is on Busch Boulevard, just a five-minute drive from the Busch Gardens theme park—was relaxed, with regulars combing through the shelves, pulling cigars into baskets, and sitting at the shop's Oliva Serie V bar for coffee. We took seats at the bar and manager Brian Scholle (who you might have seen traveling the country during his days as a sales rep for Oliva Cigars) made us some espresso and rang us up for the obscene number of cigars we bought. There's a lot of stuff here that you would be hard pressed to find in most stores.
Already a destination store, they're looking to open a second location in the coming months. It'll be more of a nightlife spot, complete with a full bar (the current store serves beer and wine). "We're hoping [the new store will be open] March 1," said co-owner Theresa Howe. "It'll be in Soho on Howard Avenue."
"That's right in the heart of the Hyde Park area," said Brian. "There's great nightlife down there and we're looking forward to bringing a new feel to the South Tampa area."
Until then, Tampa Humidor's current location makes for a great cigar buying experience and a comfortable, casual lounge if you're looking for a cigar-friendly place to enjoy some cigars, beer and wine indoors. While there's plenty to look forward to in a Tampa Humidor location with a large cigar selection and full bar, they won't be the only game in town when they open.
A hop, skip, and a jump away from Tampa International Airport, Davidoff has just opened its largest flagship store in the world, Corona Cigar Tampa (Corona Cigar Store), at MetWest, an up-and-coming area comprising a mix of office towers, residential buildings and great restaurants. When we dropped by, Davidoff's store was still in the final days of construction, but we could tell it would be special. The two-story-high ceilings make the store's 6,000-plus indoor square feet (there are more than 2,000 feet of outdoor seating) feel even more expansive. There's an openness to the place that brings the beautiful bar together with the cigar retail area without ever making you feel like one is crowding the other. The bar hadn't been stocked when we visited, but the shelving behind the bar stretched nearly to that tall ceiling, which should tell you their spirits collection will be nothing to scoff at. It's all the product of a partnership between Davidoff and Corona Cigar Co., which has some of Orlando's most popular cigar lounges along with a thriving online cigar business.
"We're combining the Corona Cigar concept with Davidoff's concept," said Corona owner Jeff Borysiewicz, puffing on a Davidoff Exclusive Edition Tampa. The cigars were blended and released specifically to commemorate the opening of this store. It's a mild blend, which is a reflection of Jeff's own cigar sensibilities. "Davidoff has a high-end, luxurious concept, so it speaks to their brand and their image. We're melding the two by bringing the Corona experience of combining super-high-end spirits with super-high-end cigars. [Corona has] some of the rarest whiskeys in the world and we even do some single barrel bottlings exclusively for us."
We left our chat with Jeff regretting that we hadn't scheduled our visit just a few days later to try some of those whiskeys (you'll have tolet us know how they are), got into our cars and headed to dinner in South Tampa. South Tampa is on the Interbay Peninsula, and you'll be driving right through here if you're driving from Tampa to St. Petersburg. Friends in the area had recommended we drop into a place called Toast Wine & Cafe (toastwineandcafe.com) for a drink. It's a small, standalone, neighborhood place with a good selection of wine and beer as well as a small humidor (just three cigars when we visited, though you're welcome to bring your own) and a great menu with more variety than you might expect from a small place like this. We all sat on the deck with some wine and shared a massive crab cake, flatbreads and a delicious plate of fruits and cheeses prepared by Chef Todd Barbin, who got a huge kick out of seeing our crew bust out the cameras and lighting rigs to photograph his handiwork.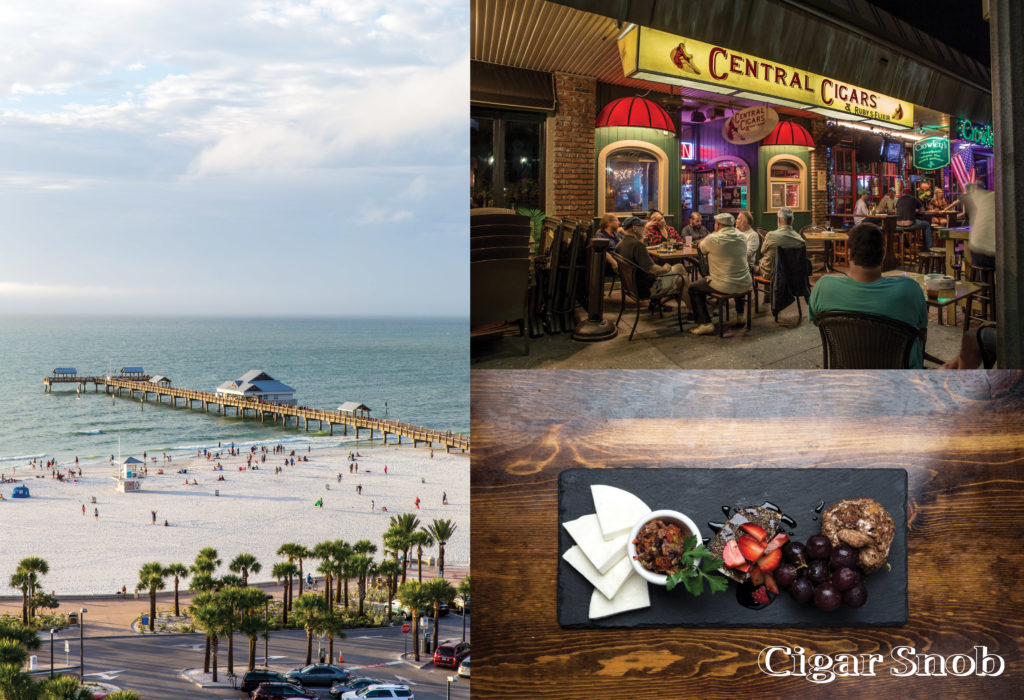 Our bellies full and ready for more cigars and alcohol, we piled back into the car and made the trek to Clearwater Beach, where we stopped into one of our favorite Tampa Bay-area hangouts: Fusion Cigar Lounge (facebook.com/fusioncigars). At the ground level of an upscale shopping and entertainment strip in a heavily tourist and snowbird district, Fusion stands out as a place to party. And that's the way it is most nights. We showed up a little early, though, so we had a chance to sit outside and talk with owners D. Aguasvivas and Ulysses Delgado. The lounge has a full bar and a walk-in humidor with a selection of cigars that isn't quite vast, but is high in quality. In addition, these guys have their own nationally distributed brand called Headlines, which is a Dominican-made cigar that comes in Pennsylvania broadleaf maduro and Habano oscuro-wrapped versions (called "First Edition" and "Second Edition," respectively). It's a smoke that's packaged playfully, but which is well worth your consideration if you find yourself vacationing in the area or come across it on a store shelf.
House brands really are the name of the game in the Tampa Bay area, where tobacconists seem to take a special pride in their own cigars that you just don't see in too many other places. That pride was on full display about half an hour south of Fusion at Cuban Paradise (cubanparadise.com) in St. Petersburg. This store at the southern tip of Madeira Beach feels like it might be more at home in a place like Key West, as the atmosphere is far more beach-bummy than old-Florida. Don't let that throw you, though; Cuban Paradise's cigars are legit. They have a couple of rollers on site, but most of the smokes come from a nearby factory they own. The cigars we had were smooth, flavorful and perfectly constructed. What's more, these guys own the bar next door and you can smoke there. Like the cigar shop, it's as casual a watering hole as any you've been in. That's why we were so surprised to find some of our favorite super-premium rums and whiskeys behind the bar. What could be better after an afternoon on the beach than enjoying a cigar and a great rum without having to worry about changing out of your t-shirt?
We ended our night in downtown St. Pete at Central Cigars (centralcigars.com). If you're looking for a place that offers some urban nightlife and embraces cigar smoking, this is the spot that needs to be on your Tampa Bay to-do list. When we arrived at about 11 that night, the place had a great, eclectic crowd going inside and at the tables on the sidewalk outside. Some had come for the cigars and great drinks, while others were there for the live music at the bar next door, where a local band was playing some of the funk and rock we sometimes wish we had more of in Miami. There's plenty of barhopping to be done in this area. But thanks, of course, to the great humidor (which is heavy on products from larger manufacturers, but also includes some great boutique offerings), this is the place to which you should give most of your night in St. Pete.
It was time to turn in for the night. Looking to refuel so as to avoid going to bed on a stomach packed with little more than liquor and nicotine, we made one last pit stop near our airport-area hotel at Bar Louie (barlouieamerica.com), where we shared yet more drinks (along with some laughs and, thankfully, some food).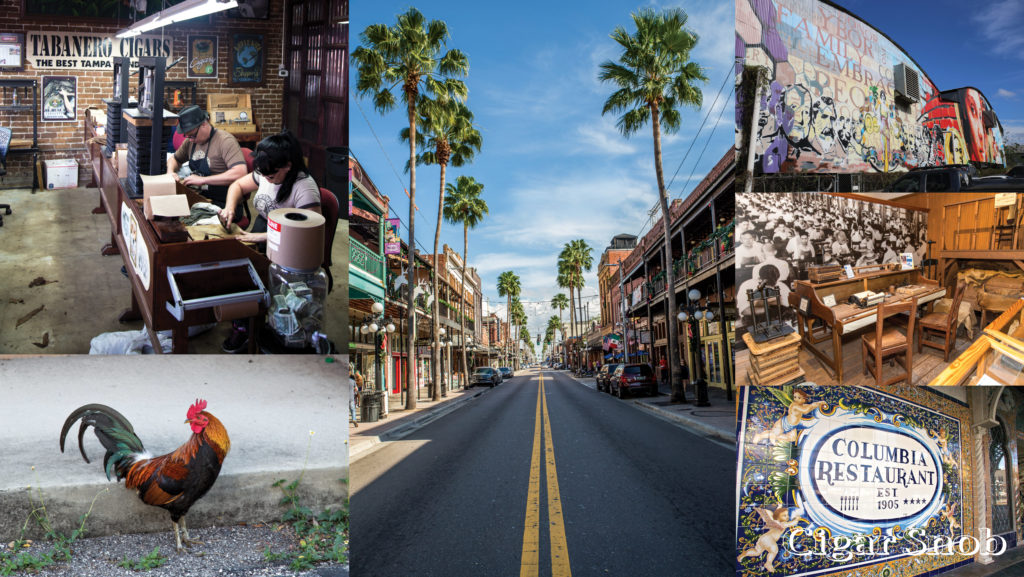 Ybor City
If you're a cigar smoker and you can't have a good time in Ybor City, something's wrong with you.
The neighborhood is the historic heart of American cigar culture. In many ways, it's the historic heart of all cigar culture. When Cuban national hero José Martí was raising funds for the war that would eventually win Cuba's independence from Spain, he did a lot of the work right here among the town's countless Cuban migrants, who had come to Tampa for the opportunity Vicente Martínez Ybor's insanely successful project had created. Perhaps no one on the district's main 7th Avenue strip is more aware of and connected to that Ybor history than Don Barco, the owner of King Corona (kingcoronacigars.com).
"I came into the cigar business 30 years ago. My way into the business was my wife. Her great grandparents were some of the people who [Vicente] Ybor brought in. Her grandfather started in the industry when he was 8 years old and in the late '30s he started a chinchal," said Don. Chinchal is a Spanish word that refers to any tiny shop or business, but it's long been shorthand in the cigar industry for tiny cigar factories. "When I came into the business, my father-in-law Jerry Garcia had come out of retirement to keep the business going. That was with the old company, which was called Tampa Rico cigars. When my father-in-law retired, we started King Corona in this building."
King Corona is in a part of a historic building that used to be home to a women's dress shop, Don said. In the 18 years that King Corona has called the place home, it's evolved from a simple tobacconist to being a landmark and a social hub at all hours of the day. In the mornings, locals and tourists flock here for coffee and breakfast sandwiches. At any other time, you'll find people enjoying tapas, wine and beer (there are more than 50 craft brews here) with their cigars. Among the people we ran into: Felix Mesa of El Galán Cigars and cigar industry photographer and graphic designer Manny Iriarte.
We all had some café con leches and made our way next door to La Faraona (lafaraonacigars.com), which translates to "The Queen Pharaoh." It's another small Ybor City shop run by a friendly Cuban family who make all their own smokes. On a recent trip to the Dominican Republic, we ran into Carlito Fuente at a restaurant. When he learned we'd be visiting Tampa, he was absolutely emphatic about our visiting this store. Once there, we could see why. The people are warm, the cigars are well-made, and it really does represent at least one aspect of Ybor City's next generation of Cuban cigarmaker-tobacconists.
From there, we headed to Arturo Fuente headquarters for a private tour. The building isn't open to the public, but if you're ever offered a tour ofthis office, take it. Or don't if you're easily made jealous when you see how much cooler other people's offices are. Even just driving by is an opportunity to see one of the very best restoration jobs you'll ever come across. Old Chicago bricks were brought in to approximate, as closely as possible, the original look of the building, and the mortar between them was custom made to replicate the original materials and ensure that the current restoration is just as durable as the original construction. Inside, the space is littered with repurposed materials and all the symbology Fuente fans have come to associate with the family. For instance, many of the windows that used to be in the building's outer walls have been installed in interior walls between rooms. One of them even has a small hole in it, which Carlito Fuente remembers putting there with a BB gun when he was a kid. After we were through marveling at other little details—like the gorgeous conference tables made from old cigar presses, light fixturesmade from repurposed cigar factory pipes, and floors that still had the deep, dark color they picked up when they were used to store tobacco—Liana Fuente took us over to one of the Fuente team's favorite weekday lunch spots: El Puerto (elpuertoybor.com), just a five-minute walk south of King Corona.
If this is the Fuente staff's favorite lunch spot, it's a wonder they're not all a hundred pounds heavier. Everything in this unassuming pan-Latin joint was delicious, but the stars of the meal were the ceviche (which was better than what we've had in plenty of dedicated Peruvian restaurants) and the Argentinian-style Parrillada, which is a hot cast iron grill platter that comes loaded with all manner of things that used to walk around. Chicken, sausage, steak, sweetbreads, to name a few. El Puerto is a great option for an Ybor City lunch with a group that just can't decide which Latin American country's cuisine it's hungry for. And it was all pretty affordable, to boot.
We parted ways with Liana (some people, apparently, can't just smoke and drink on a weekday and say work got done). From El Puerto, we headed back to 7th Avenue to walk the rest of the strip. Our next stop was Tabanero Cigars (tabanerocigars.com), which is a must for your visit if you really want to feel like you're having your cigar and Cuban coffee right in the thick of a cigar making operation. About half a dozen rollers were on hand making cigars that would end up in the store-factory's aging area. There's something special about smoking your cigar to the sounds of gears turning, chavetas sliding around a table to cut tobacco, and the skilled hands of a torcedor rolling wrapper onto bunches freshly freed from their presses. Nobody else in Ybor City offers that experience in so comfortable a setting.
Stepping back out onto 7th, we said our goodbyes with Manny and Félix (they were heading back home to Miami) as a busker went to town on his saxophone (he was pretty damn good). With a bit of pep in our step from three rounds of espresso (King Corona,Puerto, Tabanero), we made our way to Columbia Restaurant (columbiarestaurant.com), a Spanish joint at the end of Ybor's main drag.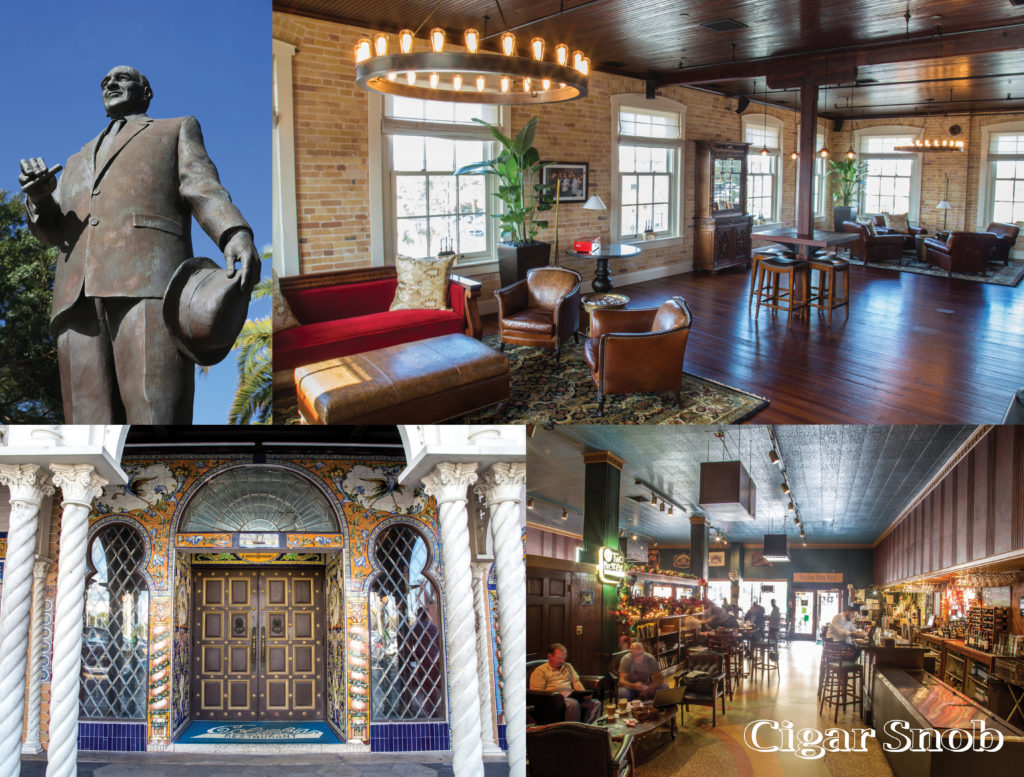 Their five Florida locations (plus two smaller Columbia Café stores) are known for great food. But we were here for one thing only: sangría. Our bartender brought over a pitcher of the good stuff and we downed it slowly, savoring not only the quality ingredients they put in there, but also the break we were getting for a bit. Had we stayed, and had we not still been ready to burst at the seams from all the ceviche and grilled meat we'd had for lunch, we might have ordered some of Columbia's renowned tapas. You can read about that on p. 65, though.
One last cigar stop: as we walked westward, back toward King Corona, on 7th, we popped into an intriguing shop that turned out to be one of our more surprising experiences. Long Ash (thelongashcigars.com) is a modern-looking shop. A few rollers were on hand, even at 7 p.m. or so, making cigars while the management, a couple of young dudes with black t-shirts and tattoos, tended to customers and poured drinks.
"My great grandfather was a cigar roller here in Ybor City," said owner Michael Cincunegui. "He opened his own store—similar to what we have here—and now it's come full circle."
We were impressed with Long Ash Cigars (the cigars themselves, that is), and found that, at a time when so much about cigar culture feels like it's fighting for its life, the best thing about Long Ash is that it represents a hope that at least in Tampa, a young generation feels connected enough to its cigar history to keep it alive by jumping into the fray and make a living there.
Of course, all that hope can make you hungry. So we walked a little more to Bernini of Ybor (berniniofybor.com), where we had one last Ybor meal. And what a meal it was. This building on the corner of 7th Avenue and 17th Street was a bank at one time (as evidenced by the second-floor walk-in safe, which was once a humidor and was converted for wine storage after a smoking ban passed). Today, though, it's serving what some say is the neighborhood's best Italian food. After all, there really is no such thing as Cuban fine dining. If Cubans are responsible for Tampa's smoking well, the city eats well thanks to its long Italian tradition. If you're lucky enough to have dinner here, my recommendation is the Tortelloni Carbonara, a pasta in an indulgently creamy sauce and loaded with Italian sausage, sautéed broccolini, crispy pancetta and toasted pistachios.
The next day, on our way out ofTampa, we stopped into the Ybor City Museum (ybormuseum.org). Our young, enthusiastic tour guide walked us through the exhibit, which features old cigar factory relics and some of the local brands' advertising. There are also artifacts from some of the city's old social clubs and a set of three "casitas" (Spanish for little houses)—or shotgun houses, as some call them—that once were home to cigar industry families and were later moved to this museum property. You can walk through one of them and see it furnished as it might have been way back when. Everything from the kitchen appliances to the living room furniture dates back to that cigar making heyday.
As we left, we ran into a few older volunteers who were sweeping and otherwise keeping the place looking good. One of them was smoking a presidente cigar (a vitola around 8 x 50). The other's cigar was more in the corona range. And that was when it hit us:this is a city—a whole metro area, even—with a real identity, and that identity lives not in tourist brochures or movies that romanticize and hyperbolize some narrow aspect of the culture, but in cigars. And that's owed to the wild ideas Mr. Ybor made reality more than a century ago.
If this isn't a smoker's town, then there aren't any left.

---
Click HERE to check out our other travel pieces!
---