Get in the driver's seat of a stock car on one of the world's most legendary tracks, then kick back in a Daytona Beach hotel that's loaded with racing history.
Daytona Hotel NASCAR experience
by Nicolás Antonio Jiménez
The Daytona Hotel
It takes about four hours to drive from Miami to Daytona Beach. More like four and a half or five if you need to stop for lunch or a bathroom break or both. Those four hours or so behind the wheel of a car —even one like the four-cylinder SUV-ish vehicle I drive, which others at Cigar Snob have dubbed "Turbo Mom" —take on a different tone when you know that you're not only on your way to one of America's racing capitals, but that you'll also be spending a little time in a bona fide stock car on the track at Daytona International Speedway. At least it did when I made that trip myself in October.
Days before this drive, I filled out some forms and signed a waiver —a waiver I did not read. When a scheduling conflict kept our publisher Erik Calviño from being able to take on this task, it fell to me. The Daytona Hotel had reached out to invite one of us to stay at their property and try out the NASCAR Racing Experience. So it fell on me to head to Daytona and see all this for myself. Despite having been born and raised in Florida, I'd never been to Daytona, so this would all be new to me.
Miami has its beaches, but it's not a beach town. Daytona Beach is like so many beach towns in Florida —flat, hot, slow, with wide roads that all seem to lead to the ocean, where the sand draws a healthy mix of tourist families packed into rental cars and locals with varying degrees of experience as beach bums. Some have developed a fluorescent skin tone after years of joining those tourists in their off time.
Daytona Beach's main artery is International Speedway Boulevard. When you get off the highway and make your way toward the coast, it's not long before you hit Daytona International Speedway on the south side of the road. To the north is One Daytona, the shopping and dining complex that houses The Daytona, an Autograph Collection hotel. The hotel doesn't tower much higher than other buildings in the complex, but it is designed to stand out. Its simple rectangular profile with bold accents cutting across the building are evocative of the building at the center of the speedway's stands that houses concessions and box suites, among other things. It's bold, attention-grabbing and in-line with the racing thing without feeling corny or kitschy.
The same can be said for the interior of the hotel. When you arrive in the lobby, you're greeted by designs and decor that leave no room for confusion; you are in a racing-themed hotel. But it's all executed in such a way that it feels like it's more museum than theme park, a well-executed celebration of one of this town's claims to fame rather than a phoned-in take on an obvious gimmick.
The lobby of the hotel comprises three main areas: reception, a bar and a restaurant. The reception area is minimalist, with a couple of reception desks standing freely near the edge of an open area that serves primarily as a display for the first vehicle you'll encounter on this floor. In my case, it was NASCAR driver Denny Hamlin's #11 Camry. The car is parked under a giant, slow-spinning sculpture designed to look like a hubcap.
The lobby area isn't all that big, but they manage to fit in several other replica vehicles without making it all feel crowded. For instance, there's the Bluebird, which Sir Malcolm Campbell used to set five land speed records in the 1920s and 1930s. And then a car that even the most casual racing observers would recognize: Dale Earnhardt, Jr.'s #88 Axalta Chevy SS.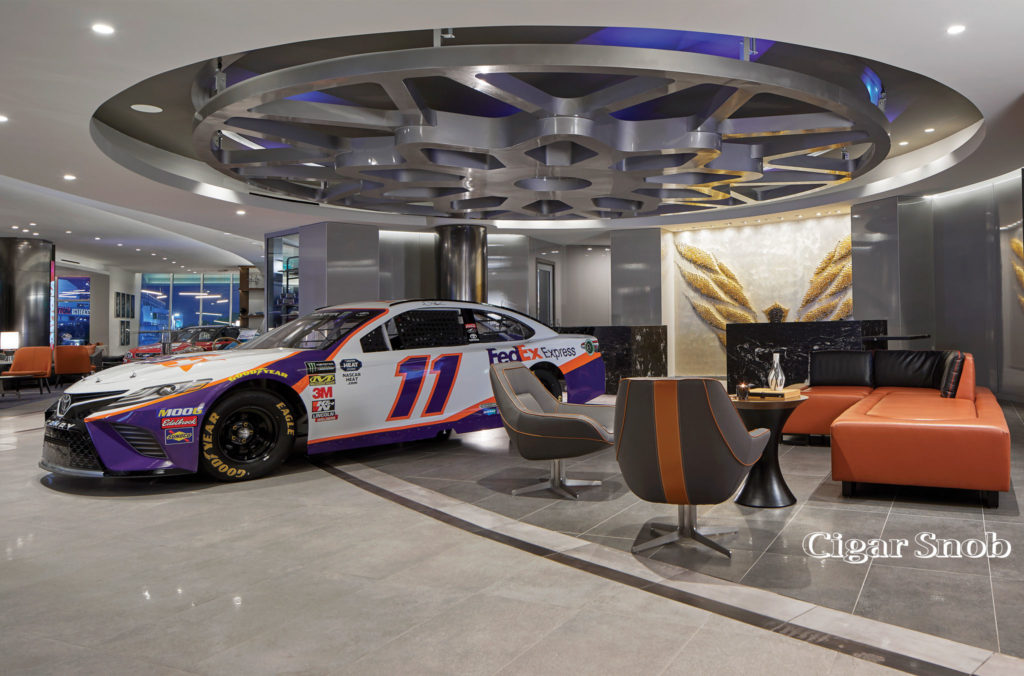 Against a wall opposite the reception desk, along a long stretch of large windows, there's a bar called Blue Flame. It's named for the rocket-powered vehicle Gary Gabelich used to set a land speed record on Utah's Bonneville Salt Flats in 1970. I wouldn't advise you make plans to set any speed records of your own after stopping here, though. The sleek bar has 16 craft beers on tap and a menu of racing-inspired cocktails, many of which feature Sugarland's Shine (the official moonshine of NASCAR). One of those cocktails, the Smokey & The Bandit, is featured in one of our Perfect Pairings. Half of the bar's seating is indoors,giving you a view of One Daytona. The other half is out on a second-floor patio, where you can enjoy a cigar (although you'll have to bring your own) either at the bar or at any of the other patio seating. At the center of the bar, taps and shelving for spirits sit in three large cylinders designed to look like piston heads. This is a great place to lounge and even take in the live music that often plays at the center of the complex's main plaza.
Before I really settled in, I spent some time at and around the bar taking pictures of the cocktail and Cain Daytona that you see on that Perfect Pairing page. Once my shutter finger was tired (I made sure we had plenty of options since I'm not really the photo expert around here and wanted to minimize the odds that I came back to Cigar Snob effectively empty-handed), I lit the cigar and kicked back with the cocktail, getting to know a couple of the racing fan tourists who'd settled into their bar stools while I was in photographer mode. Especially considering that the hotel doesn't have cigars of its own for sale, it was a pleasant surprise that when I asked my bartender for an ashtray, what I got was a bona fide cigar ashtray. It's a small thing, but anybody who's ever been stuck trying to balance a cigar on the rim of a smaller cigarette ashtray knows how much this helps your enjoyment of a cigar —and even your cocktail.
Not all the rooms here do, but my third-floor room had a balcony of its own with either end of the balcony shut off by a tall wall, so I was able to sit out there with a cigar and a drink each night of my stay — all with a view — and not worry about whether the wind would be too details here. They sweat the small stuff, from automotive-inspired upholstery to the notepad that's playfully designed to look like a stack of speeding tickets. Behind the bed, a textured wallpaper mimics the look of your headboard sitting in a wind tunnel for aerodynamics testing (although this might be the last place you want to shave time off your laps). There's also a minibar stocked not only with snacks, but also more interesting hooch than you typically find in a hotel room like this. There's Stillhouse Bourbon (in an oil can rather than a bottle), a couple of small jars of that Sugarland's Shine, ginger beer, a glass-bottled Coke, and some cocktail recipes to help you figure out how to put those pieces together. Just in case, there's also a bottle of red wine.
I'd enjoyed the meal, but I'd also weighed myself down. I went to bed hoping to digest everything quickly. I didn't need any steak and cake weighing me down the next morning at the speedway.
I left the minibar intact, though, opting instead to take a walk around One Daytona. The hotel's dining options are few, but that's because it's practically adjacent to all sorts of options, like Copperline Coffee, Rock Bottom Restaurant & Brewery, and MidiCi Italian Kitchen. The main event in terms of One Daytona Dining, though, is at The Daytona Hotel's lobby restaurant, Sir Malcolm. It's billed as having been "inspired by Sir Malcolm Campbell, the famous British racing motorist." If I'm being honest, I'm not sure I get it. Sir Malcolm was a Brit. The food is primarily American. And, to my knowledge, he didn't have a side gig as a cook. But you know what? Who cared? There's a cool motorcycle at the center of the room and I'll swallow a bit of marketing if it comes with a great meal.
There's a lot to choose from here, and the portions are big. I didn't quite know what I was getting into when I went along with a suggestion that I eat an appetizer, a main course and a dessert. It started with the hot & cold Brussels sprout Caesar, a bowl of Brussels sprouts done two ways. In one half of the bowl, they're flash-fried with herbs and citrus. The other half is served cold, in the style of a Caesar salad, with dressing and parmesan. If I'd polished that off, it would have filled me up. Instead, I left room for the Harris Ranch bone-in filet mignon, served with carrots and a moonshine-braised mushroom demi-glace. It was visually striking and delicious, and the cut was thick enough that I was able to appreciate the steak even through all that rich, bold moonshine mushroom sauce. This was the one dish I made sure to finish; no filet has ever crossed me and lived to tell about it.
Before waddling back to Blue Flame for a nightcap, I was convinced by a waitress to try the Kentucky brown butter cake. Alternating layers of vanilla cake and chocolate ganache and topped with caramelized apple and Sugarland Moonshine maple bacon caramel. It was great, but probably would have been more enjoyable for someone with much more of a sweet tooth than me; that maple bacon caramel is intense. If I were back there again, I might opt for the butterscotch moonshine creme brulee with seasonal berries.
I'd enjoyed the meal, but I'd also weighed myself down. I went to bed hoping to digest everything quickly. I didn't need any steak and cake weighing me down the next morning at the speedway.
Shake and Bake
My orientation at Daytona International Speedway started at 10 a.m., which left me plenty of time to get up, shower and have coffee. I decided against eating breakfast since I wasn't quite sure what to expect from the experience. Besides, I was still feeling the massive meal I'd had the night before at Sir Malcolm.
I made my way to the front desk where reception staff arranged for a shuttle to get me across the street to the Speedway with my camera and Boosted Board in tow.
A word about the Boosted Board for anyone who isn't aware. Boosted is a popular brand of electric skateboard. Each of the two back wheels is powered by its own belt motor. Specifically, I own a Boosted Stealth, which is a long board that tops out at 24 mph. I, a 32-year- old adult person who had never ridden a board of any kind in his life, purchased this absurd thing several months ago. As you might imagine, the board and I (along with the full-face mountain biking helmet I wear while I ride) have been the butts of many jokes at Cigar Snob. On episode 100 of the Cigar Snob Podcast, for instance, we spent some time talking about the fact that my shoulder was in a sling because I'd dislocated it falling off this board then rode another two miles with my shoulder out of the socket so I could have a family member pull it back into place. All of this after a few minutes of failed attempts to fix the problem by slamming my shoulder into things a la Mel Gibson in Lethal Weapon 2.
My plan had been to, first, use the Boosted Board to get around the Speedway, making it easier to get photos from several angles without having to walk several miles around the facility, and, second, get permission from the Speedway people to take this thing for a lap around the track. You know, just for shits and giggles. It became immediately clear, though, that my dreams of riding an electric skateboard around the track would stay dreams. On days when they're doing this Racing Experience thing,there are up to eight stock cars on the track at any one time. I didn't want any part of that. So I started to ride the board around other parts of the facility, just to get photos of the stands, fueling stations, and other Speedway features. That was cut short when security informed me that this sort of thing was not permitted.
I would have to settle for just the car thing. When the time came, I walked to a building near pit road, where I'd join other drivers in an orientation for our driving time. One by one, we were eyeballed by staff who handed us fire suits in our size. They were batting close to a thousand in picking out jumpsuits that would fit us like gloves.
It hadn't crossed my mind until this moment that the day's activity would call for a fire suit. Recall that Erik was supposed to be the one on this trip. Until he wasn't, and I found myself filling out forms and signing a waiver. A waiver I did not read. That waiver might have made reference to the possibility of fire and the need for a fire suit. Who knows? The orientation was led by a driving instructor who came right out of the gate impressing upon us how important it was that we pay close attention to his presentation. Safety was paramount —as you might imagine —and this was information we absolutely needed in order to come out of the experience alive.
Maybe that's not what he said. But it's what I heard. I did not read that waiver.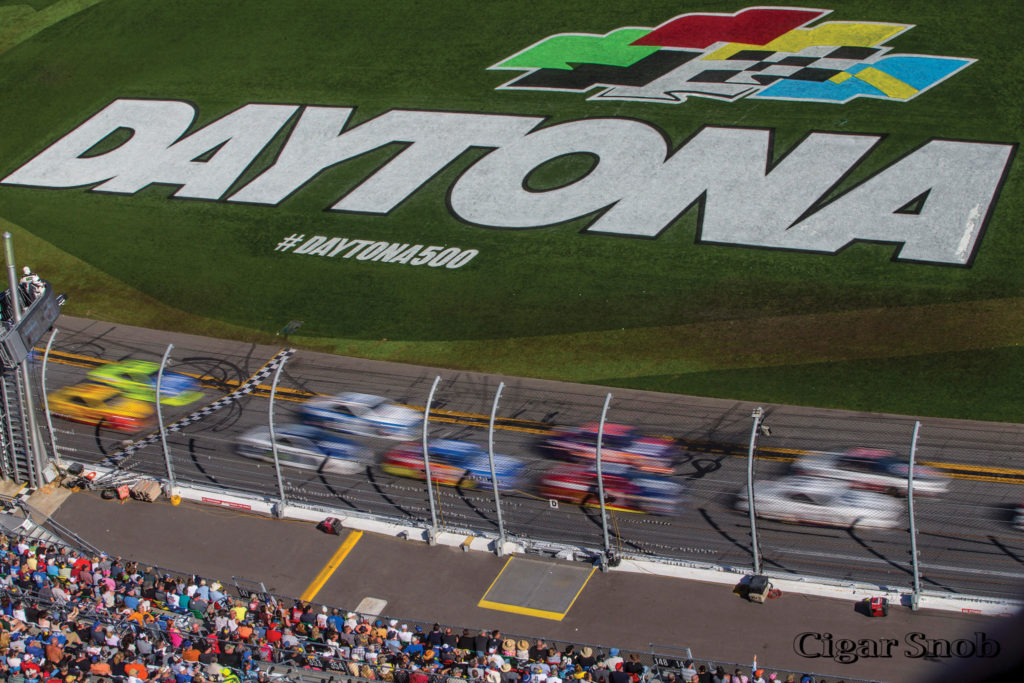 This is a steering wheel. On the back, there is a release. This is how you press it in order to remove the steering wheel. In the event of an emergency, you will need to remove the steering wheel in order to get out of your car.
Emergencies? I look around the room. Nobody else seems fazed by this. It turns out I'm the only person here who's not really a racing fan. In fact, some of these people have been through this experience multiple times at other NASCAR-affiliated tracks around the country.
This is a Hans device.
The Hans device is a carbon fiber yoke-looking thing that connects to your helmet, comes down over your shoulders and then just a bit over your chest. It keeps your head from whipping around.
Press here to release the five-point harness.
That's the seat belt. Or rather, it's a whole bunch of seat belts in one. I'm starting to think I should have insisted on a bigger fire suit. There's no chance I'll be able to deal with a wedgie through that five-point thing.
If you need to get out of the vehicle,pull here to release the window net.
I'll be driving a bona fide racing stock car. There are no doors on this thing.
There is no passing on the turns. You may pass other drivers here, here and here.
Wait a minute. I'm going to be passing people? There are RPM limiters on all of these vehicles, with the limit corresponding to the number of times each driver has done the Racing Experience before. As a rookie, I'll be limited to about 4,500 RPMs, which means my car —if I do a good enough job at this —will hit a top speed of roughly 150 mph.
And, at that speed, I'll be passing people? They let people do this? This is insane. It's getting hotter in this fire suit.
The orientation goes on, transitions into a video that reiterates much of what our instructor said, and then we're all up and walking to pit road. Just before we arrive at our cars, we come to a tent under which staff are finding us drivers helmets that fit right.
"My head is really big," I warn one of them.
"We see all size heads around here," he says. Then he places a cloth on my head —which I assume is just supposed to be the sanitary way to wear a communal helmet —and realizes I wasn't messing around. "Oh yeah. Your head's pretty big."
He reaches for the biggest one they've got and slips it onto my head. Maybe there was more force than "slipping," but you get the idea. It's snug and I can feel the earpieces for the built-in communication unit. A piece of the helmet extends forward along my jawline so that a microphone sits right in front of my mouth. Throughout this process, I'll be in communication with a spotter who's watching the track from above me. One of the most important rules here: do not use your rear-view mirror. Your spotter will tell you when to change lanes, when to pass and when other cars are coming up on you. Since I'm a rookie at this, other drivers with higher RPM limits will be passing me and I need to make sure I'm not in their way.
I clumsily slide most of my body into the car. My head gets a little stuck, and between my lack of flexibility and the size of my dome, I begin to wonder whether I'll ever make it into the seat, but I do. Another guy reaches into the car and begins to strap me in. It's all becoming real now. Once I'm strapped in, I know I'm not going to be moving much until the whole thing is over, so I need to make sure I'm comfortable.
"Give me a second. Do you mind?" I interrupt the dude before he can buckle me in. When his arms are out of the way, I grab the fire suit and my underwear in my fist and give it a good shake to make sure my junk is sitting in a comfortable position for the next eight minutes. "It's really uncomfortable on the …" I struggle, nervous, to find the appropriate term here. "… on the peen." I haven't put my foot on the gas and I'm already messing this up. I doubt Dale Jr. ever announced the discomfort of his peen.
"Hey, let me ask you a question," I say as the steering wheel is being attached to the steering column. "I haven't driven stick in more than 10 years. That gonna be an issue?"
"You think you can do it?"
"I guess I'll figure it out."
"OK then."
He walks away. OK then. This is insane.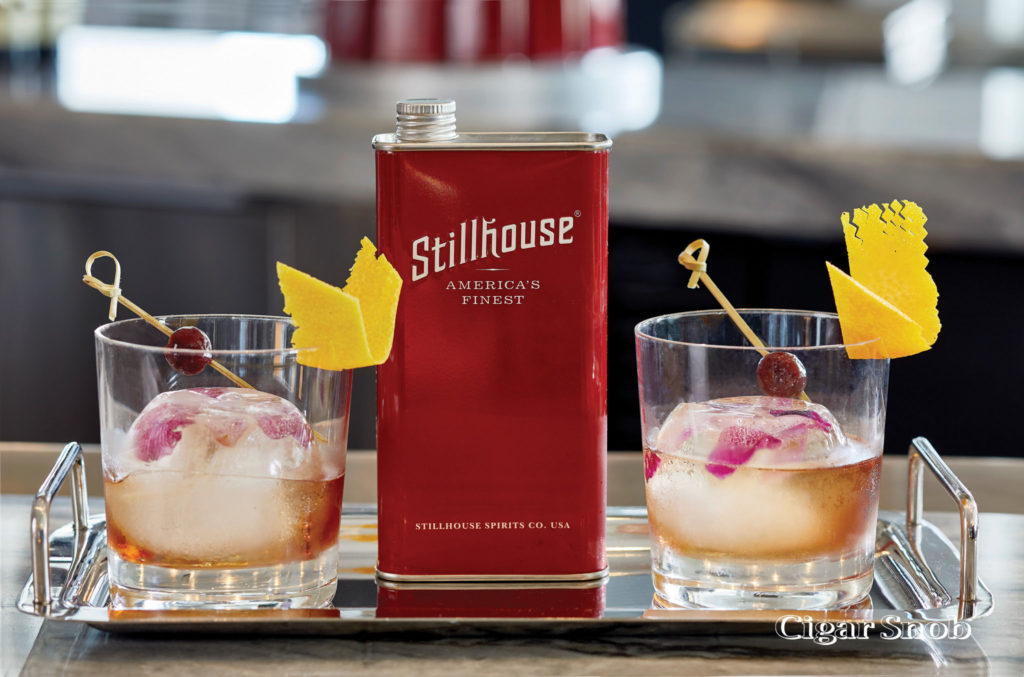 We've been told it's important to get into fourth gear by the time we get to the end of pit road —a distance of roughly 1,200 feet —and hit the track. I was 19 when I bought my first manual transmission car. There was a learning curve; I spent a long time at stop signs and red lights where I stalled out, acting for the benefit of absolutely no one like I was having car trouble and not driver trouble. I got the hang of it eventually, but I'm worried, here on this legendary track, that I might be that guy who stalls out on pit road. But it all comes racing back. Muscle memory takes over and I manage to get into fourth by the time I'm on the track and staring down one of its 31-degree banking turns.
Lots of people have asked me what it was like. I tell them I was caga'o, as Cubans say. I was shitting myself. And I'd do it again and again. I wouldn't even read the waiver.
During the orientation, we're all told you're supposed to ignore the impulse to take your foot off the gas on the turns. It's only natural considering that, on the road, you're supposed to slow down some. But these cars and the track itself, we're told, are designed to handle these turns without the need for that deceleration. It's a strange feeling, but it's true. I do my best to fight my instinct and keep the car roaring at 4,500 RPMs as I make this turn. I can see that the car is tilted, but I hardly feel it. During turns, a pro driver can feel up to 3 Gs, meaning that the force of having the seat run up against your body makes a person who weighs 160 pounds feel like he weighs 480 pounds —and they're feeling that for 500 miles in a race like the Daytona 500. I'm not anywhere near the speed of an actual NASCAR race, but I'm feeling at least some of that.
I'm being sucked into the seat more than I'm being tilted in it. Besides, I'm strapped in pretty good.
In my last two laps, when I finally feel like I've hit my stride, I come up on another rookie driver's car. He's a Brazilian tourist who speaks no English. I know he speaks no English because, when he was handed his fire suit, I overheard this exchange.
"All right. Here's your suit. Take off your shoes, put the suit on, and then put your shoes back on."
"I am a size 9."
I can't be sure, but I have a feeling he missed a lot of the instructions we got about maintaining top speed and keeping a constant distance from the inside line, even through turns. Paolo (that's what we're calling him) was slowing down on turns and allowing the turns to push him out near the center of the track, which made passing him difficult a lot of the time since I was also not supposed to drive too close to the outside wall. It's understandable. This is a weird sensation the first time around.
The spotter in my ear insists I'll be able to pass Paolo halfway through my last lap. With the spotter's go-ahead, I move to my right and pass Paolo. It was a simple move —one that I do multiple times daily on the highway. But being in a race car moving 150 miles an hour and not quite knowing how the other guy's going to react, feeling the rumble of the car as you slip into a sort of tunnel vision … I would really love to read that waiver.
Not long after I pass Paolo, the spotter instructs me to put the car in neutral. We're going to coast into pit road from here.
Lots of people have asked me what it was like. I tell them I was caga'o, as Cubans say. I was shitting myself. And I'd do it again and again. I wouldn't even read the waiver. The experience gave me a new appreciation for not only what NASCAR drivers experience, but also for what draws NASCAR fans to this sport. Since that weekend, I've recommended the NASCAR Driving Experience to anyone I thought would even be remotely interested.
The Wind Down
With all that adrenaline pumping, I needed to settle down some. So I headed to the P.F. Chang's across from The Daytona Hotel, where it had been arranged for me to have lunch. I'd skipped breakfast and my eight-minute racing adventure had taken more out of me than I expected it would. I hopped back on the board and explored a bit more of One Daytona, then headed back to Blue Flame for a cigar and a cocktail before heading out to a local bar to watch a UFC fight.
The next day was my last in Daytona Beach. Having never been here, I figured it would be a mistake not to actually visit the Beach. So before I started the drive to Miami, I took International Speedway Boulevard east, found some parking near the boardwalk and explored the beach area on my electric board, which made it easier to cover a lot of ground. This is a beach that's built for families —with plenty of casual dining, amusements, and even stretches of sand where you're able to pull your car almost right up to the water, eliminating the need to lug all your coolers and umbrellas long distances. A bit south of the boardwalk, there's the Don KiKi Cigars Superstore, so you can pick up a beach smoke if you've already gone through your stash.
Just like that, I was back on the road to Miami, resisting the temptation to test the limits of Turbo Mom.
---
Click HERE to check out our other travel pieces!
---