Southern Spread
IN THE AGE OF HIPSTER FOOD PORN, NERDY MOLECULAR GASTRONOMY, VEGAN THIS, GLUTEN-FREE THAT AND FOODIE BLOGGING, SOUTHERN CUISINE'S ONGOING SPREAD AS ONE OF AMERICA'S HOTTEST FOOD CATEGORIES IS AS UNLIKELY AS IT IS OBVIOUS.
On the one hand, it represents such a rejection of the things we might associate with trendy eating: pretense, status, novelty and urbanism, for example. On the other, Southern cooking is inextricably tied to other ideas that city slicker food snobs hold so dear: technique, indulgence and farm-to-table freshness (to name a few).
Still, there's a lot that diners don't know about what southern food is and isn't. It's a deeper, richer, more diverse and nimble idea than you might realize. And while that might mean the South is misunderstood, it also means that it's got plenty of cards left up its sleeve. I spoke to chefs, writers and restaurateurs to learn more about America's most comforting food and find out what's next for the increasingly popular cuisine.
WHAT MAKES SOUTHERN FOOD SOUTHERN
"I'll tell you about sitting at a Southern table," said barbecue legend Myron Mixon. "It's about family. It's about friends, about neighbors, and most of all — and I think a lot of this country has forgotten about that — it's about manners. You gotta have manners. You gotta have respect for your elders. And all that happened around the dinner tables. The elders always got the first piece of chicken, you said the grace, you didn't stand at the table, you didn't whistle at the table, you didn't talk 'til you were spoken to. It was a time for fellowship to talk about the good things that happened during the day, and that's what a southern table is all about."
As much as Myron loves the Southern table and the family tradition it stands for — his father, grandfather and great-grandfather were all pitmasters, he says — he's made his reputation as "the winningest man in BBQ" away from that table. Myron only got into competitive barbecue to promote the sauce that his parents, Jack and Gaye, were making. He caught the bug, though, started a BBQ company (calling it Jack's Old South) and went on to become the most decorated pitmaster around, winning more than 200 grand championships, 40 state championships, and an absolutely obscene number of barbecue trophies. He's done all that with the classic style of barbecue from Georgia and the Carolinas, which involves using oak and hickory charcoal and those vinegary sauces the region is known for. He's parlayed his competitive barbecue success into a line of high-end smokers bearing his name. I can't say that I've had Myron's cooking, but with a resume like that, you don't need to to trust he knows his way around a pig.
"It's all about starting with great ingredients," said John Kunkel, the Atlanta-raised founder and owner of 50 Eggs. The Miami-based company owns some of the hottest restaurants in South Florida, including the Southern poultry sensation Yardbird in Miami Beach (which recently opened a second location in Las Vegas and is known for dishes like roasted chicken, fried chicken and biscuits and fried okra) and the pork-centric Swine in Coral Gables, where the best bar snack might be the fried bacon and waffles. John says plans for Swine prompted less doubt since South Florida's Cuban community practically guarantees you can sell good pork in Miami.
"I like to think that Southern food was one of the originators of farm-to-table. That was not a catch phrase. That was and still is how people eat in the South in many farm communities. In so much of the South, it's not a trend; it's how people eat," he said. "Everybody's got a garden in their backyard. People have cows and chick-ens and pigs on their land and that is how they eat. It's become a hipster thing to talk about in the culinary world — particularly in major cities like Miami, New York and L.A. — but these are things that have existed in the rural South."
John wasn't raised on a farm himself, but At-lantans certainly aren't insulated from the farm culture of the surrounding areas. And he spent a lot of time with his grandparents, who still have a large farm of their own. It wasn't until he was in his 20s, he said, that he grasped that the rest of the country didn't have the same rela-tionship to food as families like his did — grow-ing vegetables, butchering hogs, sharing some with the neighbors.
Anybody with a Southern food background is quick to bring up family. And it makes sense, doesn't it? After all, it's tough to farm for just one person.
"From a very, very early age — as early as I can remember — I've been cooking," said Dameione Cameron as he recalled his childhood in South Carolina's Lowcountry (whose distinct coastal cuisine has more in common with New Orleans' Cajun cooking than any other Southern fare). He and his partner Troy Rumpf own the Morris House Bistro in Cheyenne, Wyoming. "I remember when I was a kid coming home from elementary school and surprising my parents and my grandparents with dinner on Friday afternoons. Being able to clean game, fish … They all taught me that."
Dameione wasn't just cooking at home. He was cooking homegrown ingredients. His grandparents' half-acre farm provided much of the produce that he and his family worked into their meals. Every person I spoke to about Southern cuisine for this piece pointed to that as a cornerstone of the region's food culture.
The more you talk to Southerners about Southern cooking, the more you realize that the food culture is really more about lifestyles and attitudes than it is about any particular set of ingredients. I turned to a Northerner for a little perspective.
EVERYBODY WANTS TO LEARN ABOUT SOUTHERN LIFESTYLES AND THE FOODIE IS NO DIFFERENT.

MYRON MIXON
"People around the rest of the United States think of Southern food as some unified thing. They might think of fried chicken or grits or col-lards. I think the fact is that Southern cooking is not unified. Just like American cooking is not unified," said David Joachim, bestselling author of cookbooks like Cooking Light: Global Kitchen, Mastering the Grill, The Tailgater's Cookbook and the A Man, A Can… series of books.
"Southern culture is unified; Southerners will identify themselves as Southerners and that spans across several states. That attitude is generally an attitude against the North. There is no Northern cooking. The cooking most people point to (as Southern) is really country cooking. If there's any way to distinguish regional styles of cooking in the South, I would say it's country and city," Dave said, adding that even then, the distinction is really more tied to class than to geography.
That seems like it's up for at least some debate. After all, Southern cooking almost certainly has more African influence than the cuisines of other U.S. regions. Even on antebellum plantations, generations of children were not only raised by but fed by blacks.
But it's also true that the cuisine isn't as unified or homogenous as many people think. There's the Appalachian mountain cooking that stresses preservation through smoking and pickling. There's the seafood-heavy lowcountry style of coastal South Carolina and Georgia. Texas' cattle culture means its food is heavier on the beef. And even Louisiana's French-influenced dishes can be parsed into Creole and Cajun. The strongest thread running through Southern food seems more about culture (and maybe even a little politics) than gastronomy. Whatever the case, aspects of that culture — from Southern hospitality to intimate, family-style eating, and the laid-back pace of country life — have spread quickly.
SPREAD OF THE SOUTH
That 50 Eggs' idea for Southern restaurants in South Florida would be successful was far from a given. While south Florida is about as far lowercase south as you can go in the U.S., it's not quite in the uppercase South.
"South Beach couldn't be farther away from the true South," John said. He remembers the winter when he and his wife decided to leave Atlanta for Miami. They were enjoying the 80-degree weather during a visit to his dad in Florida. "It was a cold, dreary Atlanta winter. We were like, 'Let's not go home."
Having already opened a bakery café and a fast casual Mexican restaurant (Lime Fresh Mexican Grill, a chain 50 Eggs later sold to Ruby Tuesday for about $25 million), he'd begun to contemplate a Southern concept as his next venture. He paid a visit to Brooklyn's Buttermilk Chan-nel, which is known for quality, simple comfort foods. Not all of them are Southern-inspired, but much of the menu consists of things like fried chicken, cornbread and barbecued oysters.
"I thought, 'If they can do this here, I can pull it off in South Florida, where it's not represent-ed at all.' People outright, blatantly said that it would never work," John said. People doubted he could "serve bourbon, bacon and fried chicken in the land of Red Bull, vodka, quinoa and kale. It was just not a no-brainer."
Four years later, Yardbird is one of the busiest restaurants on South Beach. And yes, there are some local seafood and fresh vegetables on the menu for the more body-conscious. But the major draws here are the more indulgent items.
"You could go in there at any time and find a table of good-looking women eating a plate of fried chicken, throwing caution to the wind," John says, laughing at an image he has to have seen a thousand times by now. I've thrown caution to the wind at Yardbird myself, but I doubt I look to anyone like I'm making a special exception.
A number of chefs have come through the Yard-bird kitchen, adding their own touches and in-novations to the menu, but the fried chicken recipe came from John's grandmother.
That fried chicken is the menu's heart and soul, so it makes sense that (in true Southern fashion) the heart and soul should come from family.
"It definitely helped shape Yardbird and Swine and all my other Southern-inspired brands," John said.
At Dameione's 13-table Cheyenne bistro (which, by the way, has a small humidor of its own), diners come from hundreds of miles away. His story is a little different. Having moved to Wyoming, and away from the foods he associated with home, Dameione took to his home kitchen with a deepened appreciation for the food he'd left behind.
"When you live in South Carolina, it's a part of your life. You take it for granted sometimes, and I know that I did," he said.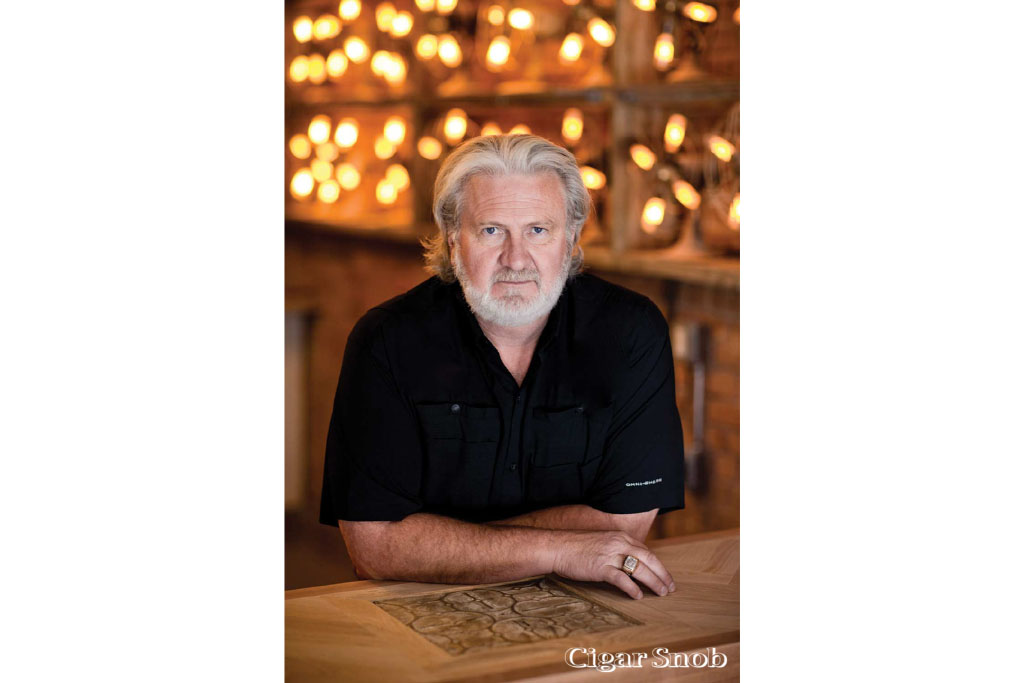 Myron Mixon, the "winningest man in barbecue," has become an ambassador of southern culture.
The more he cooked, the more people he ex-posed to those dishes. The more people he exposed, the more his friends urged him to make the leap from favorite dinner party host to restaurateur. It can be tough being so far away from the source of his inspiration (he can't find some ingredients, like country ham bacon and green peanuts, as readily as he'd like to), but he makes it work. Morris House Bistro serves dishes ranging from macaroni and cheese pie — yet another one of those recipes handed down from a grandmother — to ribeye in a cherry pipe tobacco sauce, which Dameione says he based on memories of the tobacco his grandfather used to smoke. His winter 2015 menu includes items like the lowcountry classic shrimp & grits, crab cakes, Cajun calabash flounder, and rabbit-topped dumplings.
Successful as restaurateurs like Dameione (with his 13 tables in Cheyenne) and Jon (with a formidable restaurant group he expects to expand into several new markets soon) have been, there might be no better or better known ambassador for Southern food than Myron Mix-on. Jack's Old South has been featured on Food Network, Discovery Channel, History Channel, Travel Channel and the Versus Network. Chances are especially good that you know him as a judge on BBQ Pitmasters or from one of his many appearances on daytime and late-night talk shows.
"Craig Ferguson, that was cool. He doesn't have a teleprompter, he just says what he wants to say," Myron said, recalling his appearance on The Late Late Show with Craig Ferguson. The smart-ass Scottish comedian's staff warned Myron that Ferguson wouldn't be able to resist the urge to joke about the Boston butt and "chicken balls" they smoked in trash cans on a rooftop for the show.
The TV appearance with the best visible rapport between host and pitmaster has to have been Myron's visit to the Steve Harvey Show.
"I had a great time with Steve Harvey. That was a great show last year," Myron said of the time he made proctology jokes with Harvey while stuffing a sausage into a chicken breast. "But you know, he understands it. Everybody talks about Southern culture. Well, Southern culture isn't just about poor-ass white folks like I am. It's all about African American people, too."
All that TV face time means that Myron and celebrity chefs like him are in a position to affect the popularity of Southern cuisine. And his authority status isn't just providing casual fans with mouthwatering entertainment. It's put him in a position to spread the Georgia barbecue gospel, especially through the Jack's Old South Cooking School programs that Myron hosts each month in Unadilla, Ga. on Myron's seven-acre compound, where aspiring pitmasters (pros and amateurs) have flocked from all over the world to learn the winningest man's methods.
"I have 100 students in every class. What I'm fixin' to tell you is, anything to do with the South or Southern culture is the hot ticket right now. I don't care what it is — if it's food, if it's music, if it's TV shows — you take a bunch of top reality shows, as stupid as some of them may be, it's all about Southern living," Myron says. It might not "all" be about Southern living, but he's got a point. From BBQ Pitmasters to Duck Dynasty to Party Down South, TV is rife with Southern themes. And that's just reality TV. "You know what I'm saying? Everybody wants to learn about Southern lifestyles. And the foodie is no different."
John has encountered similar curiosity from diners.
"They didn't know what grits or okra were as we were opening up, but we really put an emphasis on service. So many restaurants in South Beach aren't particularly known for that. We knew we would have to explain the food and sort of walk people through the dining experience, but we wanted to have warm, Southern hospitality in a place that wasn't known for that," he said.
TRADITION, FUSION AND NEW FRONTIERS
It's possible that one of the reasons southern food has intrigued the whole country is that — like Southerners themselves — it seems just the right combination of accessible and foreign to the uninitiated. After all, the spiking interest in Southern cooking — and even in Southern spirits and bourbon cocktails — seems to coincide not only with the growth of foodie culture, but also with the peak of the recent economic recession. But whatever the reasons, Southern cooking has successfully permeated main-stream dining and cooking.
"You have everything from Asian to Italian to native Southerners who are giving their rendi-tion of Southern food," John said, pointing to chefs like Hugh Acheson and Edward Lee as examples. "I don't think any of us have to morph or change because most of these flavors and most of what we're seeing in Southern ingredients are so approachable. At the end of the day, the food is approachable, it's flavorful, but it's a broad flavor palate. With other restaurants (like 50 Eggs has done, whether it's Mexican or Asian, we've had to make changes based on the local palate and the local understanding of ethnic cuisine. With Southern food, people didn't know what grits were, and they might never have had okra in their lives, but the flavors were approachable and known to most people. While you might have to do a little coaching or guidance on the menu, people identify with these flavors."
Atlanta-native Chad Anderson is the executive chef at Oak Steakhouse in the Atlanta suburb of Alpharetta (the original Oak Steakhouse is in Charleston, SC). That restaurant is just one example of the Southern fusion that John's referring to. Part of the reason they can get away with innovative Southern elements at an other-wise traditional steakhouse: diner curiosity.
"The diner in the South is, I think, becoming more and more open-minded and branching out to try new things. When people will come in and they don't understand an ingredient or they've never heard of something, there's a lot of education of your diner through the service and through the chefs," Chad said. Some of the Southern-inspired items on the menu include farro, a grain introduced to the South by Italians long ago, and bone marrow bread pudding. He also works local, seasonal produce like celery roots and turnips into dishes. Chad says about 70 percent of the Alpharetta restaurant's menu is his own creation, with the rest being some of the obligatory (but no less delicious) steakhouse fare.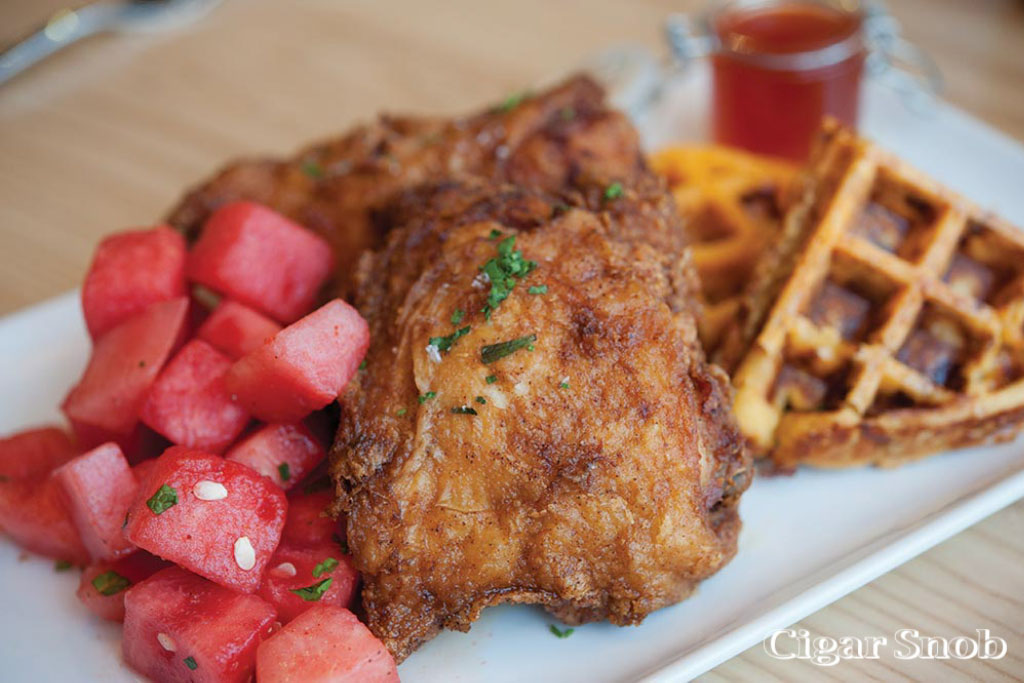 The fried chicken recipe behind the success of Yardbird came from 50 Eggs restaurant group founder John Kunkel's grandmother. Yardbird's original location is in Miami Beach, with a second in Las Vegas and more on the way.
"There's one dish that's probably the most Southern inspired. It's basically like a refined barbecue plate. I take pork shoulder and I confit it, so I cook it in its own fat and oil for several hours. And I press it with a heavy weight over-night. So it kind of compresses that meat. And then the next day we cut it into a square steak or a pavé style. We serve that with barbecue baked beans and a little salad of Granny Smith apples and baby beets."
That sounds fancy, to be sure. But it's Southern fancy. And as the wave of southern cuisine hits new markets (it seems that, every year, a different city's papers declare Southern food the hottest new trend in town), we'll see more and more of this kind of fusion here in the States.
What's more, John and Dameione both say that their successes have affected the broader restaurant landscape. Versions of the peach and bourbon sauce that Dameione uses on his pork have popped up on other restaurants' menus. And 50 Eggs' expansion is serving as affirmation for others who have the same kinds of doubts he did before opening Yardbird in Miami Beach.
"The fact that we've had so much success and are expanding nationwide inspires smaller regional operators to go attack that type of food because they know that it's seen success in other parts of the country. The national and international success of Yardbird and other concepts like it is going to continue to spawn more and more," John said. He intends to open three Yardbird restaurant openings in the near future — two in the U.S. and one in Singapore.
"A lot of people cock their heads back when we say that, but you think of fried chicken in Asia and it's a natural fit."
Myron's also seen the international interest in American Southern cuisine reflected in the attendance of his BBQ course. "The biggest majority of my class now is people from Australia, South America, Europe. We have a lot of people from Asia that come to the class because they see a lot of these TV shows about barbecue. They love Americana. And there's nothing more American than barbecue.
"We had a gentleman who came to my November class. He was from Israel," Myron said. "He bought two commercial (smokers) and shipped them back to Israel to open up a barbecue restaurant. That's pretty cool," he said, adding that a student from Dubai took an entire container of Myron Mixon brand smokers back home with him. "Twenty years ago, you think you ever saw any really authentic barbecue restaurants in New York City? But today they're there. And they're coming every day. Now L.A. is getting on board."
No matter how much Southern food spreads or what it's fused with, the standard bearers will always be those people who grew up in and on the South. It's those people for whom this is most personal — because only they're able to imbue their food with that culture and attitude that's at the core of Southern cooking.
"I remember being a kid and my grandmother or grandpa serving that up for dinner," Dameione said. "It's all about the senses taking over and remembering things. I can talk to you about collard greens or about the macaroni and cheese pie, and I'll enjoy that because that food just makes me feel that those people are still with me."
---
Click HERE fore more travel stories!