A September weeknight at BURN by Rocky Patel in Naples, Florida was soothing and quiet. A musical duo played some Boomer hits, folks in and around the bar area nursed glasses of wine and smoked cigars. Outside, people streamed by the gently rustling palms.
But Florida's coastal areas, even this bucolic snatch of monied beauty off the Gulf of Mexico, are forever taunted by Mother Nature.
The area had enjoyed a fortuitous 18-year stretch, skirting major storms. But a week later, Mother Nature and Hurricane Ian conspired to leave the region a tattered mess of damage and despair. The Category 4 storm carried 150-mph winds, pushing huge waves of water ashore with ease while taking down trees and tossing about unsecured cars, boats, and anything else that wasn't tied down.
Being relatively inland, BURN was spared; the power was out for a couple of days, and the biggest inconvenience was the 10 p.m. curfew enacted to keep the peace.
"We got lucky here," says Nish Patel, EVP at Rocky Patel Cigars. "There was debris from the trees to clean up and deliveries stopped for awhile . But what we did was partnered with a local church and the city of Naples to use about 2,500 square feet of our facility to store generators, sheet rock, food, water and whatever else to send to Fort Myers, where they got it much worse."
Sanibel, Fort Myers, Cape Coral and much of the surrounding beach areas were smacked down with vigor, flattened in parts, portrayed to the world in heartbreaking images that were real life to the hundreds of thousands of locals.
In Port Charlotte, 70 miles north of Naples, Mitch and Shannon Mesenburg reeled. In late 2019, they took over cigaraccessories.com from a friend, a sagging endeavor with lucrative potential. For a real kick, anything cigars was a shiny dime for Mitch and Shannon, both lovers of the leaf.
"We rolled it out just before Covid hit and we were in the works to secure a warehouse and Mitch was talking to a supplier in China," Shannon says. The pandemic stalled that, then Ian stomped in. They coped as best they could.
"We're back up a little but we're limping," Shannon says. "It hit us pretty bad. A lot of our product was damaged, and we almost walked away. This storm was so big, and we lost about $7,000 of inventory."
They'd converted a couple of rooms in their home to store goods – cutters, travel humidors, lighters – and the larger items were drop-shipped from a remote warehouse.
The personal toll of the storm was just as heavy as the business hit – they were without power for a month and still haven't received any insurance money.
It was a massive storm, Shannon notes. "You could fit Hurricane Charley in the eye of this thing," referring to the 2004 storm that wreaked havoc on the region.
Now, they weigh whether it's worth keeping the business going, Shannon says. They are restocked by now but taking it slow.
"On top of everything with the house, it's a lot. But every time I think we're done, something pops up to make cigars seem so great."
Rich Castiano took it on the chin. His three World Famous Cigar Bar locations in the Fort Myers area all suffered damage, with flooding and debris. A fourth location in downtown Fort Myers was being prepared for opening when Ian arrived.
"I was a week away and that one is gone," Castiano says. "Five feet of water inside, it was right by the water, near the yacht graveyard, where there were 50 boats on top of each other."
His other lounges also took in water and wind. The Cape Coral store was flooded and when the landlord showed up, he found mold. The place was stripped to the studs, the humidor destroyed. Another in Estero got off easy, and his other downtown Fort Myers location had three inches of water.
"And we just lost a lot of product," Castiano says. "With cigars and accessories, we lost over $300,000 worth of stuff."
As for his personal ride through the storm, it was easy. "I have a generator, best investment I've ever made," he says. "We had the television on, air conditioning, we barely knew what was going on."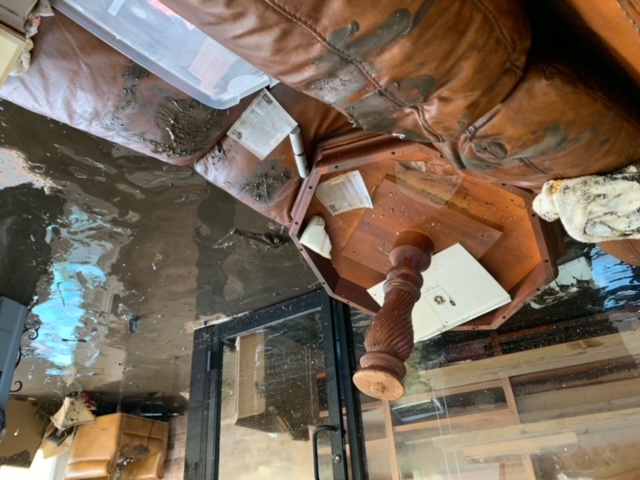 All three locations are now open and prospering, Castiano adds.
"The good Lord above took care of us, and business is good."
A regular storm-of-the-decade story would stop here. Folks were hurt, damage was done, recovery is slow.
But each of the parties we spoke to for this story, despite the damage done, went beyond themselves and extended help to others.
BURN in Naples had a first responders' night, inviting both out-of-state crews and workers from Florida who were toiling 12 hours a day to restore power lines, clean up debris and assist with other infrastructure damage, to come in and enjoy complimentary cigars and drinks.
"We donated a [ton] of cigars to the first responders in Fort Myers Beach," Patel says. "And we gave the first responders coupons for BURN. They worked hard every day and it wasn't under the best conditions."
The Mesenburgs had a crew from Oklahoma helping in their area and extended similar hospitality.
"Some of the crews that came in were not allowed to accept beer," Shannon says. "But a lot of them smoked cigars, and we had our copies of Cigar Snob. We gave them those and they were very happy."
Castiano, the worst hit, found out who his friends were.
"I got a lot of love from the cigar community," he says. "People called, texted, checked up on me. Vendors extended terms for me, everyone really stepped up, and some even replaced product that I lost. They'd say, 'what did you lose?' and I'd tell 'em, 'I lost six boxes of this,' and they'd say, 'don't worry about it.'
"It's amazing, the cigar community, as big as it is, it isn't really that big. But it's very tight-knit."
---
Click HERE for more stories!