Drew Estate's Barn Smokers drop tons of knowledge, cigars, food, and booze on their legions of fans in the company's unique, inimitable style.
Jonathan Drew is like your favorite uncle who liked a couple of drinks on special occasions: he might spill his shot of whiskey on your leg, but you still love him.
Hosting the first Barn Smoker event in over two years in Clermont, Florida, Drew has spent the mid-May Day toasting, greeting and speaking, all the while making sure his 500 guests who paid between $100 and $350 have a good time.
The rousing success of the event means he deserves a little down time under a tree talking with a guest and sipping some whiskey. Of which he needs another, as the plastic shot glass slips and spills, ensuring his guest carries with him a whiff of Jack Daniel's for a little while.
At the Drew Estate Barn Smoker events, coming soon to a tobacco field near you, Drew is the star of the show, and revelry is part of the program.
Drew is the entrepreneurial founder of the brand and he drives the ship, a smart talkin', hip-hop-flavored impresario with business smarts and a knack for creating a festival.
Barn Smokers are a Lollapalooza for cigar smokers, a destination event that brings together people with a passion for a good time and, rather than a fondness for corporate rock posing as indie, attendees who bring a reverence for premium cigars. Their numbers may be limited – about one percent of adults smoke premium cigars – but their fervor is undeniable.
Drew walks the grounds of the Florida tobacco farm, half-toned designers on his nose, gold chain dropping down to his sternum and a white 20 Acre Farm trucker hat on his head.
The crowd mills around, and Drew greets his guests continually. They get a photo, a hugshake, whatever they want, he's open.
But he's pitching the culture of cigars, and ideally, everyone gets a cut of that from the Barn Smoker experience.
"They come for the cigars and get an education if they want it," Drew says. "They get so much more as well, the food, the drink, while getting a look at the tobacco and how it's done."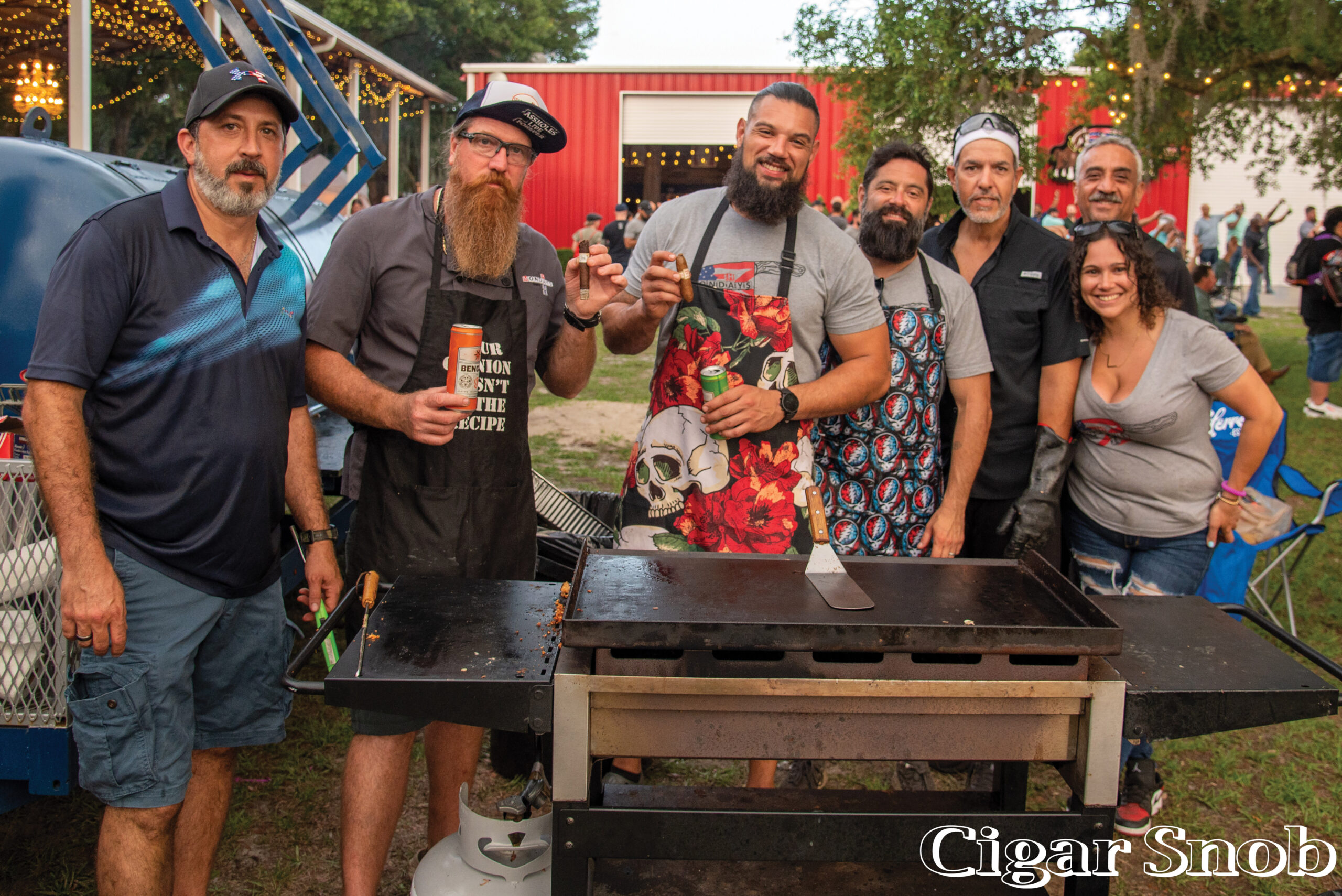 Barn Smokers started in 2014 at a tobacco farm in Hopkinsville, Kentucky and continued to grow over the years, from one event a year to four.
Each of this year's events will be held in a place that cultivates tobacco and gives attendees a deep dive into premium tobacco agriculture.
Clermont is home to Jeff Borysiewicz's tobacco farm, where the president and founder of Corona Cigar Company has planted for eight years, and is also where the tobacco used in Drew Estate's FSG cigars is cultivated.
The road show that is the Barn Smoker moves to Strasburg, Pennsylvania on July 15, to Ellington, Connecticut on Aug. 12 and wraps up with a return to Hopkinsville at the end of September. Altogether, the Drew Estate Barn Smoker will draw an estimated 3,500 cigar fans around the U.S. this year, who will don Drew Estate apparel, smoke Drew Estate cigars, and meet Drew Estate's leadership team.
The Drew Estate Barn Smoker festivals culminate with the Savage Feast in October, a soiree at the Southfork Ranch in Dallas, which will blend a culinary experience with the perks of a Barn Smoker.
"These events are a quilt of America and a quilt of tobacco in America," Drew says. "It's what Drew Estate means. We look at imperfection when we do this, we want to learn as well. But the idea is to give people a good experience while they can see how we run the business, and how we handle our tobacco."
Early morning arrivers to Clermont are wide eyed and ready, despite an open-bar pre-event dinner the night before at the "legendary" Horsepower Ranch in nearby Geneva. The Ranch was decked out in Drew Estate promo, and the brand spared nothing from being emblazoned – even each of the six stalls in the horse barn featured Drew Estate banners hung inside.
The dinner was a full-tilt feast with barbeque done by South Florida celeb chef Karl Hayden (who posted his good time on Instagram, "No sleep lots of cigars and a few drinks"), live music and a swag grab bag jammed with stuff – lighter, backpack, charging port, Dopp kit, sunglass case – all in red and black Drew Estate logos, or DE 25, the 25th anniversary of the brand. It was last year, officially, but Covid halted that, and it's better late than never when it comes to celebration.
Drew started Drew Estate in 1996 as a retail cart at the World Trade Center, and it landed him in Forbes magazine in 2001 in a story on cult brands – he was mentioned in the same breath as Krispy Kreme, Harley-Davidson and Jones Soda and declared, "The day I go mass market, I'm out of business."
But premium cigar smokers didn't listen. And Drew's ambition, always on a long leash, took over. He moved to Nicaragua and slept on floors as he learned the trade, listening to anyone who would dispatch wisdom – some of the same insights he delivers during his talks at the Barn Smokers.
Heavy on mentors, Drew learned two things very quickly: "The technical ability to process and roll tobacco, and how to be a good employer," he says, as fresh in his mind today as when he first learned it.
The brand used schooled, offbeat artists to design bands and boxes in its Subculture Studios. It hired hard-working cigar people with no experience in the industry but with a surfeit of passion. It blared rap music and peppered press releases with unconventional messages. It put the 'rev' in irreverence.
And the hits started coming. Drew had already made a name with the Acid brand of infused sticks starting in 1998, then came Liga Privada, Undercrown, Herrera Esteli…and the hits keep coming.
Which is what draws people to the middle of sultry tobacco fields across America in mid-summer.
---
"Get ready for an education," Joe Gro tells the Barn Smokers as they filter into a circus-sized tent on the Saturday morning of the event. It's the big day and Gro, the digital marketing manager for Drew Estate, is preparing for a long one.
The patrons are drinking cold brew coffee, chewing on breakfast tacos and smoking their eye opener. They are serenaded by a soundtrack of Boomer hits dashed with 90s rap, Ted Nugent to Snoop Dogg and back again. Attendees are awash in cigars, and each table has a miniature bucket with a Drew Estate sticker slapped on it to ash in. They tried fancier ashtrays, but "they ended up walking off," Gro says. People who come to the events are generally well-behaved but anything with Drew Estate branding tends to disappear if it's not nailed down.
Many of the people haven't seen each other for a long time – two years plus in some cases – and greetings are accompanied by more smoking and more fraternizing.
These are the people who are prime for the Barn Smoker, Gro says.
"They start smoking cigars, maybe go to a local lounge, and meet people," he says. The experience becomes social in addition to relaxing. "After a while, they want to learn more about the culture they are getting into."
The Barn Smoker is a chance to get an on-the-ground lesson on how premium cigar tobacco moves from seed to stick.
Three groups, three 20-minute seminars on the fine art of cigar tobacco, move from seed to field, field to harvest and harvest to curing. They are schooled by Drew Estate's top dawgs, starting with Master Blender Willy Herrera, moving on to Pedro Gomez, who is spokesman of La Gran Fabrica Drew Estate, the brand's Nicaraguan factory, and Jonathan himself.
Later, Drew calls these sessions "actuations," a well-chosen word that depicts the learning moments as moving forward. In the curing barn, where a few green leaves hang from rustic machines that were made in the 1940s, Drew explains that most of the tobacco at this farm will be used as filler, which takes about eight months to properly age.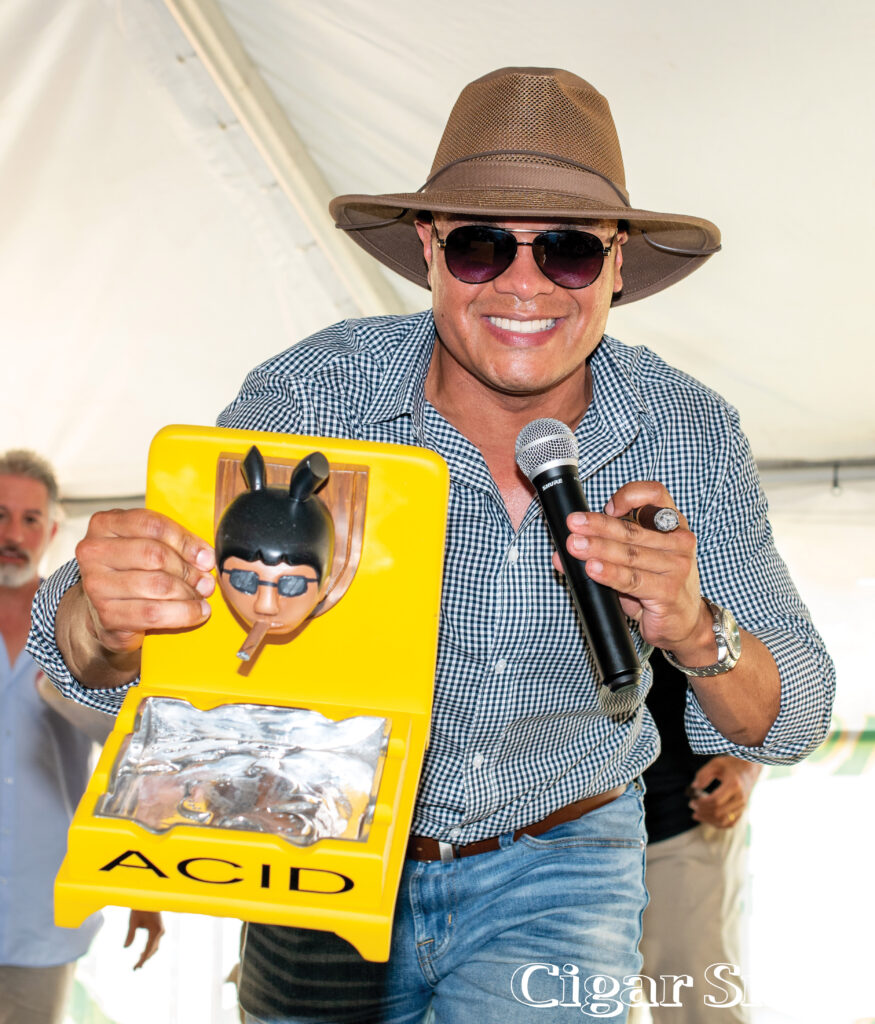 But just as informative, business plays a role in the decision to move the tobacco forward.
"The CFO wants it out the door but the longer we can hold onto it, the better it is, so there has to be this balance," he says.
While the sessions are going, some people are satisfied to sit and smoke and talk and wait until drinking time, which experience has taught the organizers should be after lunch.
But the buffet of booze is impressive, hosted mostly by booth babes who dispense bourbon, whiskey, gin, tequila and rum in sipping cups or premixed drinks in plastic glasses. Maker's Mark, Jack Daniel's, Horse Soldier – it's a dizzying dipsomaniacal blast being dispensed at the same time a local barbeque place with the best name ever begins to showcase its wares.
Pig Floyd's Urban BBQ from Orlando got the gig because it went the extra mile. Reps from the company drove the three-plus hours to Drew Estate's Miami office to deliver a saucerful of secrets, and more. Tables of Pig Floyd coleslaw, plantains, beef, pork, rice, and black beans fed the masses as the sessions ended.
After lunch, guests walked off the food by hitting up the four Drew Estate-branded canopies, under which people could roll their own cigars, roll an oversized die or toss a dart to win a stick, pick up a Subculture Studios tee or, at the Acid canopy, listen to house music at a volume that had the nearby tobacco leaves fluttering as if in a strong wind.
Once through those attractions, it was time to dig into those Drew Estate smokes and get some drinking done.
---
In a Facebook poll in February, a user posed the question: Which Barn Smoker will you attend this year? It went Pennsylvania, Kentucky, Connecticut and Florida. But if Florida's event came in last as far as fan favor, the future is bright.
Things get spirited by the time 5 p.m. rolls around. The raffle, in which the little blue ticket attendees were given becomes potential currency, is shouted out. Humidors are a hot item. Cigars for Warriors, a regular benefactor of Drew Estate, is on hand and modestly thanking everyone for helping in the group's effort to send cigars to U.S. soldiers around the world; a typical Barn Smoker raises between $7,000 and $10,000 in raffle proceeds for the group. This year, with two days of Barn Smokers in Florida rather than the usual one, Cigars for Warriors received $18,000.
As the afternoon winds down, Borysiewicz thanks everyone.
"I hope you learned something," he says.
A few days later, Borysiewicz notes what a success it was. He's pleased so many came to see the place that has hosted Barn Smokers since 2016.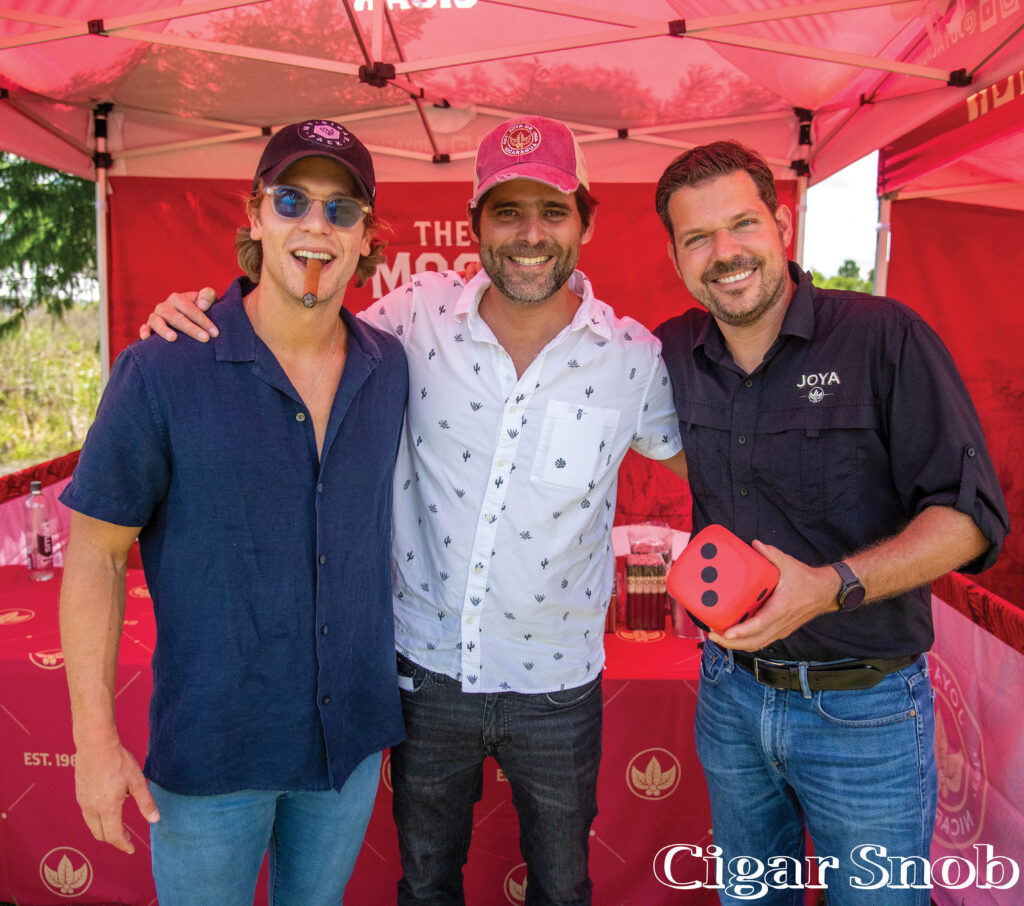 "Barn Smokers always pack the place," he says. This year was the first time they did two separate days – a Saturday and Sunday – due to demand.
"We had to cap the event at 500 people and there was more demand than we could handle," Borysiewicz says. More than that would make the place feel too crowded, and the tent and seating would have been more of a challenge.
The Barn Smoker is special simply because it's a chance to see a working American tobacco farm. Plus, cigars.
"We get requests for tours but it's too hard, since we're a working farm," he says. "But doing something like this, we can really educate everyone on a process that most people don't understand. They know it's a handmade product, but everyone is always amazed at how it all works. And they aren't even seeing all of the process. We're the start, then it leaves the farm."
The Barn Smoker faithful depart clutching cigars and swag, fed and watered.
Drew's business wheels turn as he watches them. He knows the difference between being marketed 'to' and marketed 'at,' and understands he is doing the right thing.
But…
"Imagine being a Yankees hitter and you get three home runs in three at-bats, and that fourth at-bat is a grand slam," Drew says. "That's what we want to be, that last at-bat. But those other homers are good, too."
---
Photography by: Ramon Santana
---
Click HERE for more stories!