TWENTY/ PUSHING THE ENVELOPE / GROUNDBREAKING/ COUNTERCULTURE / HANDMADE / NICARAGUAN/ A CHANGEUP/ INFUSED/ UNWELCOME / ART/ REFRESHING / NONTRADITIONAL / RICH / NEW YORK/ DIVISIVE / SWEET/ HONORING TRADITION / HIP-HOP/ A GUILTY PLEASURE / DISRUPTIVE…
ACID Cigars are many things to many people. But 20 years after the brand launched, what's obvious is that the brand isn't going anywhere. This is our look at one of the most polarizing long-filler cigar brands on the market and what has helped it endure for two decades, even after so many were betting against it.
By Nicolás Antonio Jiménez
It's not easy to become one of the bigger players in an industry and stay cool. But that's something that Drew Estate has managed to pull off pretty smoothly. Show up at any event related to the Miami-based cigar company and you'll find a vibe and a cast of characters that's unlike any you'll encounter anywhere else in premium cigars. Cigar culture is often about tradition (typically Cuban), ritual, refinement and maturity. Drew Estate is New York, it's gritty, it's hip-hop, it's graffiti. The company has always been about outside-the-box thinking. And in premium cigars, the smart money is never on outside-the-box thinking.
None of Drew Estate's brands better exemplifies that penchant for disruption than ACID. As a general rule, Cigar Snob doesn't spend much time on non-traditional cigars like the infused ACID brand, but this is ACID's twentieth year on the scene, and it seemed fitting to shift our attention to a product that's been as polarizing as it is perennially successful.
"ACID was created 20 years ago, in 1999," said ACID brand manager Raphael Gros, "but its inception was actually a few years before. Jonathan Drew and Marvin Samelwere trying to bring something new to the cigar industry at the time. The brand was born under the Manhattan Bridge, as we say, and they were trying to express the new vision, re-imagining the way we craft premium cigars and wanting to express a sense of freedom."
Much of the cigar industry was slow to accept Drew Estate when they were the new kids on the block. And some were downright repulsed by the ACID idea.
"It was born in New York as much as it was born in Nicaragua," Raphael said. "New York has always been the city constantly in movement, reinventing itself, pushing boundaries and moving forward, always looking toward the future. And so I think that they tried to blend that New York feel with the best of the traditional craft of premium cigars."
Jonathan Drew lived in Estelí for years after getting production started there. Even after all that time in Nicaragua and, now, Miami, he's unmistakably New York. Long nights in the factory —many spent sleeping in the factory —and a relentless pursuit of perfection led Drew Estate to seek the counsel of their tobacco elders, who eventually came to understand that this New York-born company wasn't looking to dismantle tradition, but rather forge its own path while honoring and learning from the past.
It's one thing to do that with some funky branding; it's another to have your new path be about infusion. So to the purists, the old heads (this seems like the brand story to use a term like that), that might be a harder sell.
"The traditional people were telling Jonathan that it would never last," Raphael said, "that this burn was going to die very quickly. They did not understand it. But the few shops that started to support it right away were very curious about the brands."
One of those early adopter tobacconists was James George, owner of the Fogue & Bates cigar shops in Tulsa. James got into cigar smoking in about 1991. His palate was trained during the cigar boom, with his first premium cigar being a Macanudo Portofino.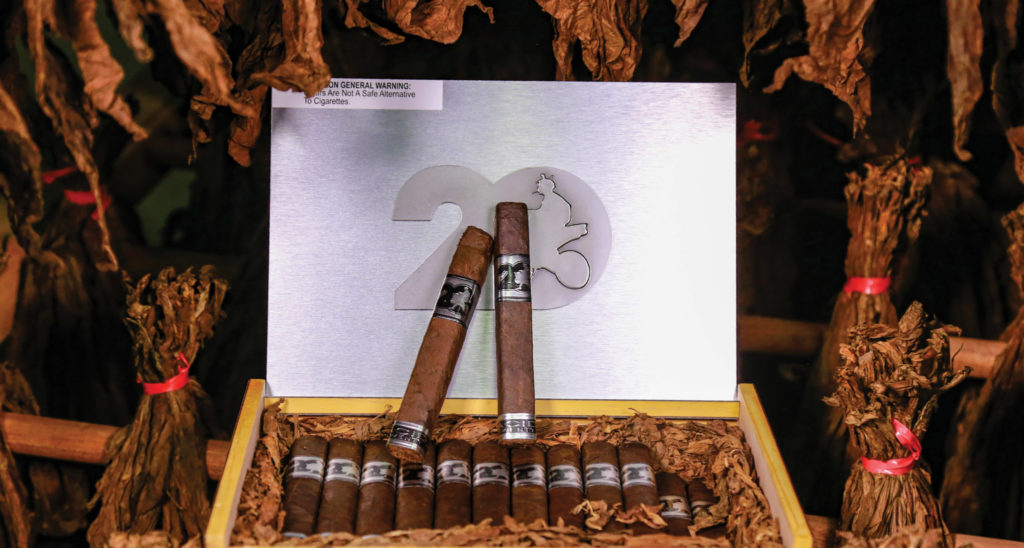 "THE TRADITIONAL PEOPLE WERE TELLING JONATHAN THAT IT WOULD NEVER LAST"

— RAPHAEL GROS BRAND MANAGER
"The cigar industry was very different in those days," James said. "Very stagnant, boring, kind of atrophying a little bit around the edges. The first trade show I went to was in the early nineties in Dallas. Our bathrooms right now at the PCA are much bigger than the ballroom where the trade show was held in those days."
When he discovered ACID at an IPCPR trade show, James says he didn't "understand" the product. But his customers started to ask for it, so he brought it in and gave it a shot.
"It wasn't my thing," he said. "It took a trip to visit Drew Estate in Nicaragua for me to kind of understand a little bit more about ACID, how big it really is, the flavor profile behind it and the passion that Drew Estate put into creating that brand. That they put a lot of thought, effort and energy into making a premium cigar that has a slight bend in the flavor profile. My biggest job on a daily basis is making sure that people don't confuse that with quote-unquote 'flavored' cigars."
When ACID first launched, there were about 18 different blends in the portfolio. Even just that detail is unusual for a brand launch. Adding to the unconventional approach was the fact that vitolas didn't carry traditional names, and different vitolas under the same ACID family might have far more distance between them in profile than smokers were used to. Some of this stuff still gets in the way of some smokers seeing ACID as approachable. Over time, the brand has moved to using color to group their brands together. Still, while a smoker with some experience can take something meaningful from picking up a box and finding words like "Corojo" or "Belicoso" on the packaging, you need to have a little experience under your belt to understand what it means to smoke a Croqueta or an Extra Ordinary Larry.
"At the very beginning, lines had names like Juggernaut, Remi, and Cold Infusion," said Raphael. Many of those original brand names are still a part of the ACID lineup, which comprises about three dozen blends. "So you had a really different feel and talk about herbal, oils, and infusions. We were also trying to educate people without being too descriptive. It was like Coca-Cola; Jonathan and Marvin didn't want to disclose the recipe. And it was really a broad variety because from the start, I think it was almost like a tea approach.You could look for something more herbal, more floral."
Communicating all that makes ACID special is complicated not only by naming conventions and flavors that break from norms, but also by the fact that the specifics of how Drew Estate achieves ACID's unique flavors are pretty well-kept secrets. Whatever that "infusion" process looks like, it's well guarded, and anybody who's seen it in person is pretty tight-lipped about it.
One of the biggest factors working in ACID's favor, though, is the fact that —even if you strip away all that infusion stuff —the core of the product is a quality long-filler cigar. That's why some smokers who tend to light up traditional cigars actually have ACIDs in their regular rotations. Even if they don't always talk about their appreciation of ACID with the people at their neighborhood lounges.
Chris Duque retired from the Honolulu Police Department in 2007. He was a vice cop for eight years, then worked in various detective roles through to his retirement. He's been smoking cigars since the 80s. One of his first was a cigar he smoked on the job, when a mentor handed him a cigar and instructed him to light it up and take a few puffs before walking into a murder scene.
"The body had been there for quite a bit. This thing was ripe!"
Smoking the cigar was a trick to at least mask the pungent smell of the corpse.
Everyone gave him shit about it for a while, Chris said. They'd say he couldn't handle the body, but he insisted it was his lack of experience with cigars and the fact that he'd inhaled. All right, fine, he said. Maybe it was a bit of both. Whatever the cause, that crime scene visit didn't go well.
"I went out, I was dizzy, I was light-headed, and I tossed my cookies," Chris said.
It wasn't until the next decade that Chris got serious about cigars as a hobby. Like James, he spent much of the 90s developing his palate. Then, while on a fishing trip, he was handed a flavored cigar (not ACID) and was intrigued. Once back home in Hawaii, he asked his tobacconist for recommendations and was handed an ACID Kuba Kuba.
"I said, Oh yeah, this is it."
These days, Chris —who does consulting on issues related to cyber crime despite his being "retired" —says he smokes three to five cigars a day. In any given week, about four are ACID cigars.
"I'm loving the ACID 20 and the Croqueta. If I'm riding around, it's good for a quick half hour smoke. And the Blondies, that's a great size. And the tins. I go through a tin a week," Chris said. "Everybody knows I have a bad sweet tooth. The 20th blew my mind."
Note: Croquetas are 2.5 x 50 cigars, so named because they are roughly the shape of the croquettes that are so ubiquitous in Miami's Cuban restaurants. Blondie is a Connecticut-wrapped 4 x 38. ACID's tin-packaged product is a 4 x 32 called Krush.
"I'm one of the few people in Hawaii who enjoys smoking ACID," Chris said. "We have a group and they bust my balls. If they smell ACID, they say, 'Chris must be around here.'"
Chris is a good example of a smoker who has ACID in his rotation, but still enjoys other traditional products. Aside from Drew Estate cigars like the Dirty Rat, he enjoys products from Dunbarton Tobacco & Trust, Padrón, My Father, and Foundation Cigars. And yet, he still works an ACID into the lineup almost every day.
It's a similar story with Samuel "Shaggy" West. The Ormond Beach, Fla. resident has been smoking cigars ever since, about 16 years ago, his motorcycle friends started offering him stogies on their long rides between Ormond Beach and St. Augustine (Shaggy gave up cigarettes in 1999). At first, he was smoking Backwoods and other cigars common in convenience stores. Then a friend offered him a premium cigar (he says it might have been a Romeo y Julieta) and he started to explore premium cigars.
"IT TOOK A TRIP TO VISIT DREW ESTATE IN NICARAGUA FOR ME TO KIND OF UNDERSTAND A LITTLE BIT MORE ABOUT ACID, HOW BIG IT REALLY IS, THE FLAVOR PROFILE BEHIND IT AND THE PASSION THAT DREW ESTATE PUT INTO CREATING THAT BRAND."

— JAMES GEORGE OWNER OF FOGUE AND BATES, TULSA
"A coworker and I were chatting. He goes, 'Why don't you stop over here at this little shop around the corner for a cigar?' So I went to a local shop called Big Smoke and had a cigar with him and met the owners, Vicky and Wes. I was like, 'Wow, this is a pretty cool little place to sit back and hang out with people who smoke. This is pretty awesome.'"
Shaggy's coworker mentioned there was a Drew Estate event coming up at the shop.
"I've always been a social person, so I'm like, 'Sounds great.' And that's when I really became a fan of some Drew Estate brands. I'd had an ACID or two before then,but I really didn't know what Drew Estate was."
At that event, Shaggy learned more about and developed a connection to the Drew Estate brand, including one ACID blend in particular.
"The Kuba Kuba is such an easy smoke. It's mild. It's got that little bit of a sweet taste to it. I really enjoy that cigar," Shaggy said. "To this day, when I'm around people and they're not very big into smoking but want to try it, I tend to hand them a Kuba Kuba. At most, one person has said, "That wasn't for me."
Shaggy was also drawn to the community aspect of cigar smoking.
"I've never been involved with something where I connected with people more because we love something so much than I have been with cigars. And I've been into a lot of different things in my life. Like I said, motorcycle riding, classic vans … We'd take trips all over the state of Florida and sometimes out of state and have these big old rallies. With cigars it blows me away how people are with each other."
Guys like Chris and Shaggy are the best kinds of smoker ambassadors and super fans a company like Drew Estate could ask for. That Drew Estate is positioned to take a nontraditional product and fold it into the routines of brand fanatics who have a foot on either side of the traditional-infusion line is probably a factor that helps make Drew Estate one of the best-selling brands on the market.
"ACID has been a great brand for us," said James, owner of Fogue & Bates, which has three locations in Tulsa. "I don't understand when stores don't carry ACID. It's a huge part of our portfolio as far as what we sell. If you don't have ACID, people will look elsewhere. That's how loyal their customer base is to that brand. It's kind of a quiet giant in the cigar world. If you're in the business, you know how big ACID is. But at the same time, I'm always amazed about how much we order on a yearly basis."
What all that means at a national level is tough to say. At least in specific terms.
"Kuba Kuba is the number-one SKU at the retail level, not just for Drew Estate, but for a lot of retailers. And, it's the number one selling SKU in the U.S," said Raphael, stressing that he couldn't get into specifics about the production numbers for ACID. "What I can say is that we're talking about millions of cigars."
Among the millions of ACIDs consumed each year are cigars that are lit by smokers like Chris and Shaggy –proof positive that loving traditional premium cigars doesn't have to mean taking some hard line against infused products like ACID.
"I had a conversation yesterday about ACID," said James. "I was talking to someone who is a traditional Drew Estate smoker. He had been told to try ACID. I always tell people that if you're [typically a smoker of traditional cigars], ACID is your change up cigar. ACID is something that you go to when you want to break in the afternoon and you want something that is really amazingly easy to smoke. If you've already smoked two or three cigars that day and you just want something to break out of that pattern a little bit, ACID is the one. You're not compromising anything. You're gaining the opportunity to try some different flavor profiles. I don't smoke it on a daily basis, but I'm always experimenting with some of the blends I have not tried in a while."
At the 2019 IPCPR trade show (which, for those of you readers who are not up on this inside baseball stuff, has been renamed "PCA"), the Cigar Snob team had a chance to sample the ACID 20. At the risk of stating something far too obvious, it's the cigar that Drew Estate created to celebrate the ACID brand's 20th birthday.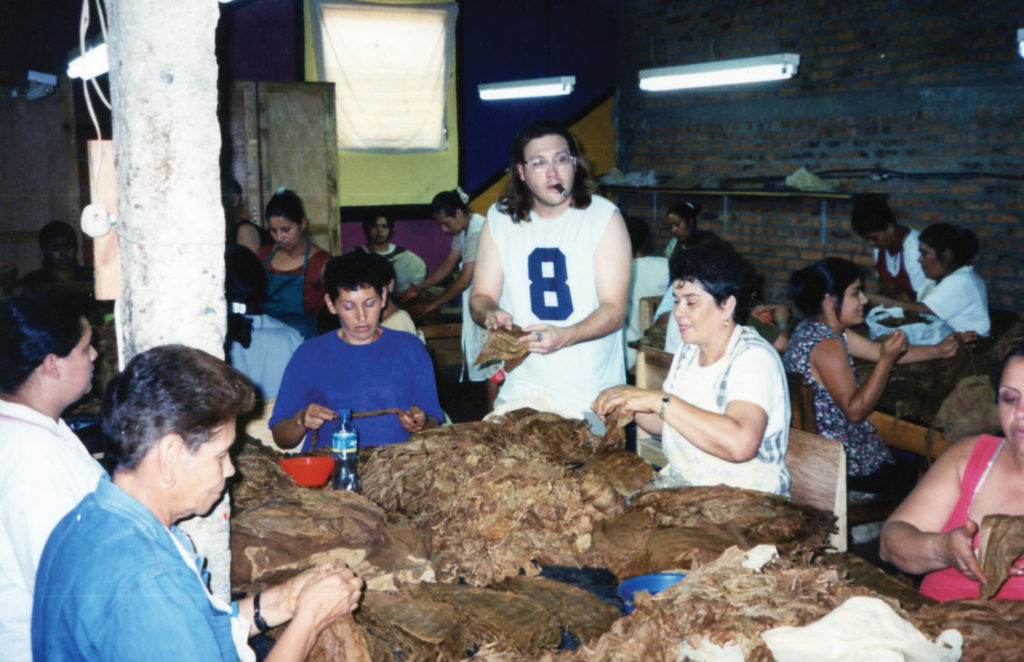 "Next year, ACID is going to be 21," said Raphael. "So I think the brand is now an adult. The brand is more mature. That's what we tried to express with ACID 20. When we started to work on ACID 20 we saw immediately that we wanted to both reward the people that have been smoking ACID for so many years and also find what makes ACID ACID. It needed to have that extra taste, that sweetness and that super indulgent, rewarding moment. On the other hand, when a lot of people started the journey into [traditional] premium cigars, they started with ACID but they want to forget that. A lot of people point the finger at ACID and say, 'Oh, my palate evolved. So no, I don't smoke ACID anymore.' And we wanted to also reach out to those and just bring them back to the brand and say, 'Even if your palate evolved, ACID is also evolving.'"
ACID 20's dark, toothy Mexican San Andrés wrapper is at the heart of that message. Yes, you pick up the infusion –an herbal, floral, sweet layer that sits beside the cigar. But you also can't help noticing as you smoke ACID 20 that, under the elements that the infusion adds to the experience, there's a cigar that's rich and flavorful enough to stand up to plenty of traditional smokes on its own. Mind you, this is coming from me —and I'm generally no fan of infused products —not anyone at Drew Estate.
I, like so many other people, wish I had more information about how Drew Estate achieves this in ACID. But as I mentioned earlier in this piece, the company is famously secretive about it.
"That becomes a very touchy subject," Raphael said. "One thing Jonathan told me was if you enter that room [where cigars are infused], you do not exit that room."
The process, whatever it might be, is clearly important to the success of the brand, and it only makes sense that DrewEstate would go to any length to keep those secrets out of the hands of their competition.
"We always hear, 'Oh, ACID is flavored.' No. ACID is infused and people are always debating about that. I think there is a distinction. When you flavor something, for me, you're trying to artificially hide the flavor of the tobacco. You're trying to hide probably average to mediocre tobacco. When you infuse cigars, I think that you are thinking about the tobacco first because we are using the same premium quality that we're using on all of our other cigars such as Undercrown."
"IT'S DEFINITELY GOT A DIFFERENT PROFILE AND I THINK IT'S GOING TO STAND OUT TO OTHER PEOPLE THAT MAY NOT TYPICALLY LIKE THE OTHER ACIDS."

— SAMUEL "SHAGGY" WEST ACID SMOKER
Raphael added that he knew the Drew Estate team had hit on the right blend for ACID 20 when they started getting feedback from smokers of traditional cigars who were saying they could smoke ACID 20 every day. That also seems to be the experience that other, more seasoned ACID smokers have had with ACID 20.
"The ACID 20 blew me away. I like to smoke that with iced coffee. If I can get some nitro cold brew with sweet cream, that's great with the ACID 20," said Chris.
"I've only had them a couple of times so far, but that cigar is absolutely amazing," Shaggy said. "It's hard to explain what's different about that cigar. I've heard a couple of people who don't care for the typical ACIDs say that they've tried the 20 and they were pleasantly surprised at how much they dig it. It's definitely got a different profile and I think it's going to stand out to other people that may not typically like the other ACIDs."
Twenty years after its birth, the secretive, edgy ACID brand is still a polarizing presence in retail humidors. And yet, even if smokers of traditional cigars never fully embrace the infused smokes, ACID is among the brands that continues to fuel one of the most creative forces in cigar culture. Maybe that's the most significant thing about this milestone and the cigar the company has created to celebrate. At the beginning, nobody expected ACID would be here. And even after two decades of performance that nobody could argue with, these guys aren't giving up on winning new converts and impacting the culture.
---
Click HERE to check out our other articles from the latest news, cigars, travel, etc!
---