Finishing Touch
Maker's Mark recently made waves with a new nationwide limited release, the Maker's Mark Wood Finishing Series
I took a trip to Loretto, Kentucky, home to the Maker's Mark distillery to reconnect with an old favorite, understand a little more about stave finishing, and figure out what the heck RC6 means.
By Erik Calviño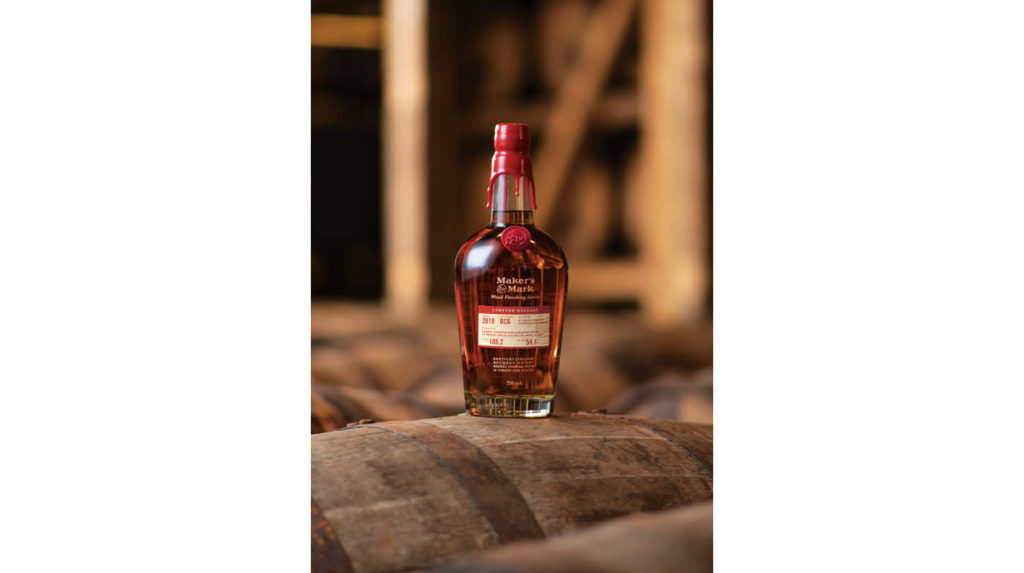 In the early days of my bourbon journey, Maker's Mark was it for me. I'm talking about the late '90s when, as a technology consultant, I regularly found myself in a different town from week to week, with few to no friends or acquaintances in said town. I'd belly up to a bar in small town, USA —preferably a cigar bar but often just a lobby bar in a big chain hotel —and order a Maker's neat. I loved it. Maker's was my warm blanket on the road. That overly nostalgic but 100 percent true story is the stuff that lifelong brand loyalties are built upon. Then I moved to New York City for a long-term consulting assignment.
New York is where I "grew up"; that's where my taste in food, wine, and spirits developed and I dumped Maker's and didn't look back. So much so that since 2006 I have been the editor of this magazine and we've never as much as published a cigar pairing featuring Maker's Mark. So much for lifelong loyalties and warm blankets. To be clear, that omission was not by design, I have no beef with Maker's Mark or the fine people who produce it. It was more a case of "out of sight, out of mind." Fast forward to August of this year, when I received an invite to visit Maker's and be among the first to taste their new release. I was hesitant about how excited I could get about a brand I'd moved on from so long ago. Still I accepted the invite.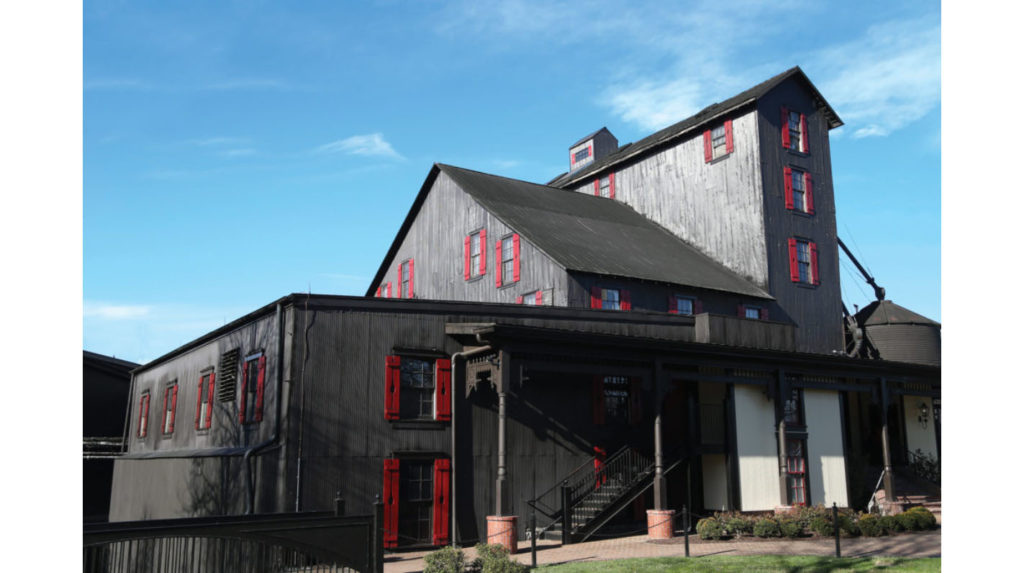 A brief history of Maker's Mark
Bill Samuels, Sr. bought Burks' Distillery in October of 1953 and began distilling by 1954. Bill Sr.'s wife Margie Samuels is credited with naming the bourbon Maker's Mark, hand drawing the label design, choosing the bottle shape, and even coming up with the iconic dipped red wax seal. The Samuels brought their bourbon to market in 1958 and, while Margie deserves all the credit in the marketing world for coming up with that timeless, distinctive, and highly effective packaging, it would have mattered not if the liquid inside didn't live up to it. On that front, Bill Sr. was a pioneer and calculated risk-taker, burning his family's tried and true 170-year-old bourbon recipe and replacing it with a re-imagined, premium bourbon recipe that put an emphasis on "front of tongue" flavors like sweet and spicy-sweet and eliminated bitter and sour "back of tongue" notes.
Since the first square-ish bottles dipped in wax started coming off the bottling line in the late 1950s, Maker's has continued to produce nothing but Maker's Mark from its relatively small operation. I say "relatively small" because as you drive up and down the Bourbon Trail you pass countless distilleries bearing household names, and each one seems bigger than the last. Maker's sits on a sprawling plot of land in the middle of nowhere Kentucky. In fact, you have to go way out of your way to find it. With all of this space and the company's double-digit growth for close to 40 years, an argument to scale up the operation could have been made almost on a yearly basis but that's not the Maker's way. If the proposed expansion plan in any way threatened the quality or consistency of the juice, it was unceremoniously thrown out. Most impressive is the fact that the company has gone through multiple acquisitions and this culture of never compromising quality has more than endured, it's been entrenched.
The family's slow and steady approach was aided greatly by the National Historic Landmark designation the distillery received in December of 1980. In fact, it was the first American distillery to be designated as such while still in active production. The company's deep-seated responsibility to their loyal fans drives them to maintain the quality and consistency of the product, but as a national historic landmark, the company has a responsibility to keep the buildings and structures intact. It's hard to fathom that all of the bottles of Maker's that you've come across in bars and liquor stores all over the world come from this small setup, but they do, and the point is hammered home when you visit the distillery.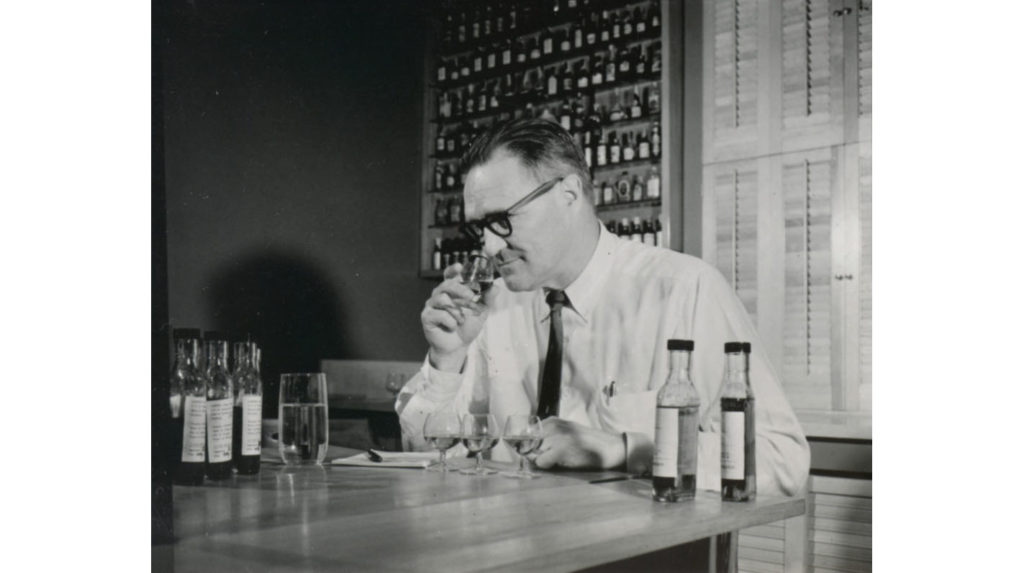 Today, Maker's Mark is owned by Beam Suntory, the global spirits giant based in Chicago with such brands as Jim Beam, Yamazaki, Laphroaig, Knob Creek, and Courvoisier in the portfolio. But it didn't feel that way when I interacted with the distillery's staff; there's a level of autonomy and empowerment that I have not seen from other companies with a similar structure. Unlike the automatons that I've encountered in other large distillers, I got the sense that this staff still worked in a family-owned distillery answering to the old man himself. The distillery takes in over 100,000 visitors each year. With the new visitor's center, which was under construction during my visit, the plan is to accommodate over 150,000 per year after completion.
Legacy Building
Bill Samuels, Jr. had been the head of Maker's Mark for 33 years. His priority from day one was, in his words, "not to screw it up." And he had done far better than not screwing it up; he'd grown the business from a locally distributed product to a global brand while never compromising quality. He'd navigated the acquisition of the company and somehow managed to maintain the distillery's small-town, family-owned culture throughout. But as he was getting ready to hand over the reins of Maker's Mark to his son Rob Samuels, he came to the troubling realization that he didn't want his tombstone to read, "Bill Samuels Jr. –he didn't screw it up." He wanted to leave a legacy —the kind you could drink.
If this were any other distiller, the conversation around a new legacy product would start with the mash bill, the combination of grains that will be cooked, then fermented, and eventually distilled. But not in this case. There is only one thing that comes out of this distillery since its inception: Maker's Mark. And remember that any initiative that even remotely risks an impact on Maker's legendary consistency would be dismissed with extreme prejudice, legacy product or otherwise. The same goes for the yeast strain that's used in the fermentation process. No changes allowed there either. That leaves the maturation phase as the only part of the process with some wiggle room to play, sort of. As it is, Maker's Mark struggles mightily to keep up with an ever-increasing demand so every barrel of Maker's that you allocate to an experimental new product is one less barrel that will be sold as Maker's Mark.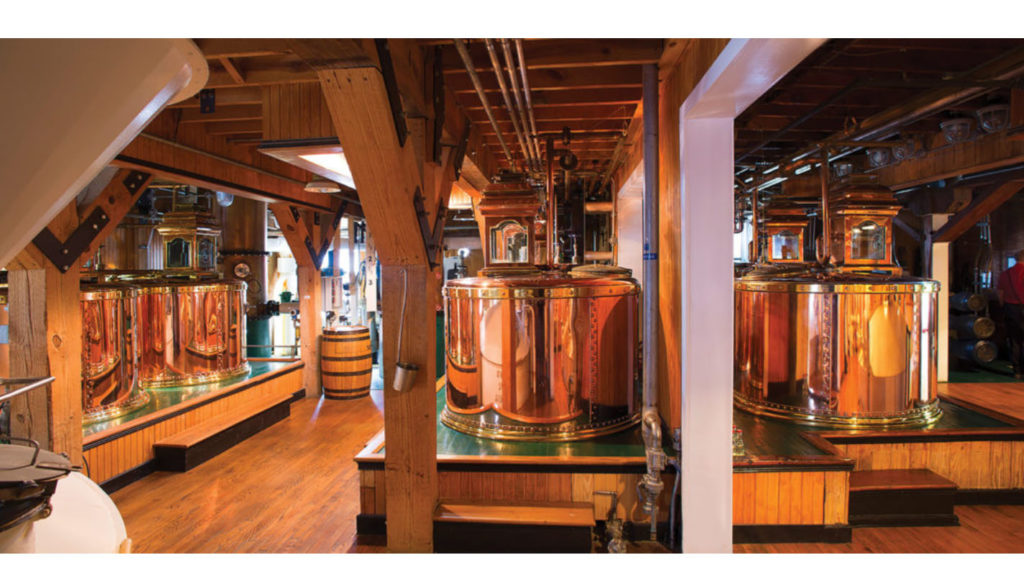 With that risk in mind, Bill Jr. worked with then master distiller Kevin Smith and assistant master distiller Denny Potter and set out to create a product that is still 100 percent bourbon, but had enough flavor difference to deliver a wow factor. Simply put, the new bourbon needed to have cranked up front of the palate flavors, still taste like Maker's, and have a long finish. The team enlisted the help of Brad Boswell of Independent Stave Company, the cooperage that provides Maker's Mark with their barrels, and they experimented tirelessly to achieve this holy grail of bourbon. Through science, creativity, a tremendous amount of perseverance, and perhaps even a bit of luck, they pulled it off.
For the final product they took ten staves of French white oak that had been aging (or seasoning) for 18 months, seared them in an infrared oven, and inserted them inside a barrel of fully matured Maker's Mark for about 9 weeks. It sounds straightforward and maybe even obvious when you read it in a summarized manner, but the fact is that to my knowledge no one else was doing this in the bourbon industry. "We tried about 122 wood experiments," says Jane Bowie, director of the Maker's Private Select & Diplomat program. "It was big barrels, small barrels, chips, towers, staves, cubes, you name it we tried it." The resulting spirit, called Maker's Mark 46 (released in 2010), was the first new product in the 57 years of the distillery. Maker's 46 did more than exceed every taste and sales expectation that Bill Jr. and the team had for it. His quest for a legacy product to "put on his tombstone" introduced a new dimension for naturally enhancing the flavor of bourbon.
Your own personal Maker's
It didn't take another 57 years after the success of Maker's Mark 46 and the stave finishing process to inspire new ideas. So under the leadership of Rob Samuels, the Private Select program was launched in 2015 to let retail and restaurant partners come up with their own stave combinations and personalize their own barrel of Maker's Mark Private Select. If you recall, Maker's 46 employs ten infrared seared French white oak staves, but in Private Select, participants get to create their own taste profile by mixing and matching their ten-stave combination among five stave types; the Maker's 46 stave, Seared French Cuvée, Roasted French Mocha, Toasted French Spice, and Baked American Pure 2. Each imparts a different characteristic so customers are given sample whiskies from each, and with the help of the staff they come up with their own blend. If you've ever been to Corona Cigar Company in Orlando, Florida you've likely seen their Maker's Mark Private Select being poured at the bar. "They were one of our first Private Select partners and they were such nice people," offered Jane Bowie. Jeff and Tanya Borysiewicz had obviously made an impression on Jane. They'd visited Maker's to take part in the Private Select program in 2016 and here we were in August of 2019 and Jane was still carrying around a Florida Sun Grown branded Yeti gifted to her by Jeff and Tanya.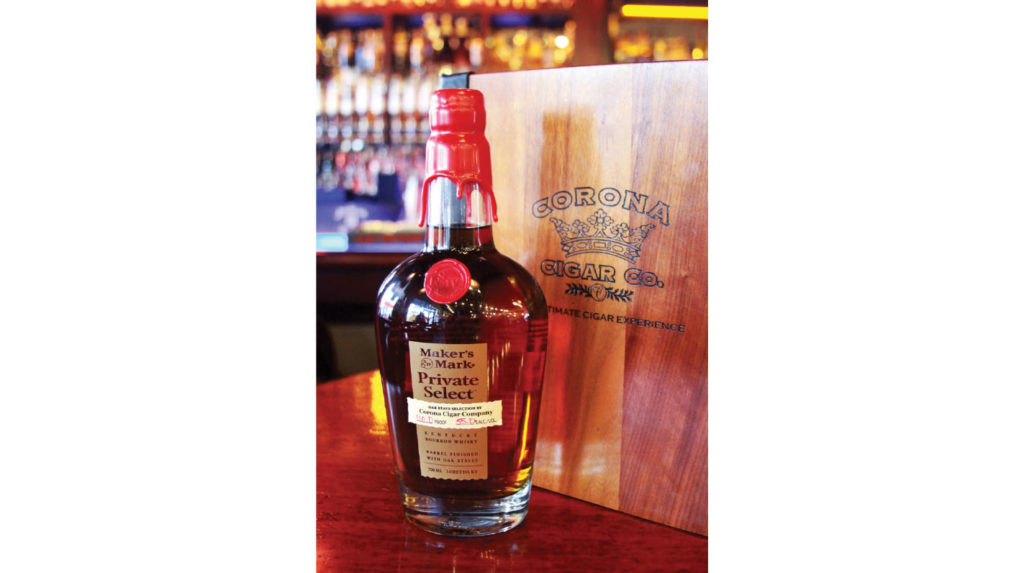 Aside from Jeff's refined redneck charm, Tanya's sharp Scottish wit and piercing eyes, and a gifted Yeti cup, the Borysiewiczes made a lasting impression on Jane because unlike most Private Select customers, they came in with a well-defined taste vision. "Theirs was such a unique tasting because it was such a different point of view," explained Jane. "The goal was to make a completely unique expression of Maker's that would be personalized for the cigars made with the tobacco that he grows." The tobacco she's referring to is Florida Sun Grown, which Jeff grows in Clermont, Florida. The tobacco goes into a cigar that goes by the same name made by Drew Estate.
Jeff and his team at Corona Cigar Company are no strangers to barrel selection programs; they've done more than 30 of them from some of the top producers in the world. "We do a lot of single barrel picks," Jeff explained, "and usually you're cherry picking the best of the best barrels but with Maker's Mark Private Select you're actually influencing what goes into your barrel." The ability to influence the final product so profoundly combined with the Corona Cigar team's knowledge of what pairs well with their Florida Sun Grown created a perfect storm of success for this project.
After hearing all about their tasting from Jane and now deep in conversation with Jeff about the project, I started to salivate and wanted a taste of this magical elixir. I did some quick math to estimate whether there was any of it left: one barrel yields roughly 240 bottles, there are four Corona Cigar locations (three Corona and one Davidoff of Geneva Since 1911 that is owned and operated by Corona), and they'd created their Private Select in 2016, which means each location received around 60 bottles. I'm thinking that my chances of getting to taste this expression are slim to none. "Of course we have it! We don't ever run out of that." Jeff exclaimed when I finally asked him if there was any of it left for me to try. "Because we know what our stave profile is, when we go through a barrel, we go back to Maker's, get fresh staves, and do another one."
On their most recent visit to replenish their stock, the Private Select team at Maker's tried to test Jeff on his recall of his stave profile. They put together a blind tasting to see if he would select a different combination. "It was 100% blind, we had no idea what stave was in what bottle and we spent hours tasting. They thought I was going to pick something else." In the end, blind tasting and all, he went right back to the same profile. "They couldn't believe it because the odds of that happening…" The odds were actually 1 in 1,001. That's how many possible stave profiles you get from five different stave types and ten possible staves. "That's the formula we like because it goes perfect with a cigar!"
First time for everything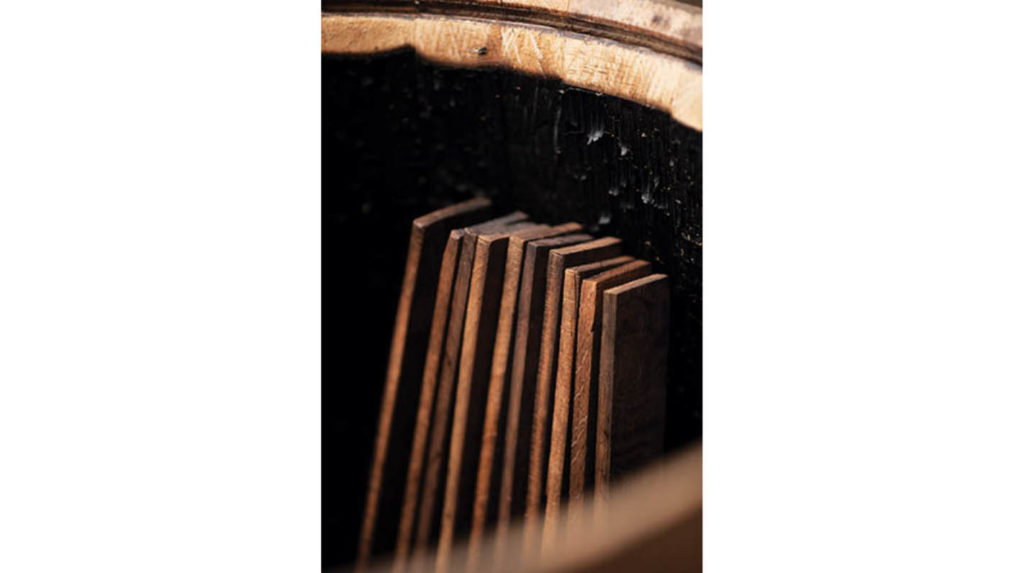 A small group of us sat in a small conference room with a large table in the middle that was covered end to end with tasting glasses, small sample bottles with handwriting on them, and a couple of jugs of water. The water was strictly to keep us hydrated, not for mixing during the tasting. Jane and Denny Potter, the Maker's master distiller, had set this tasting up to introduce us to Maker's Mark Wood Finishing Series: RC6. The product, which at the time was not yet released, was to be the company's first nationwide, limited release. There was a palpable nervous energy in the room. We'd toured every corner of the distillery, seen every stave in the process, and had lunch at Star Hill Provision to get us ready for this moment. We were about to get the tasting underway but I needed to know one thing. "What does RC6 stand for?"
I thought that a company like Maker's Mark, which has such an iconic brand name and packaging identity, would have come up with a snazzy name to represent their first national limited release. But that wasn't the case and I actually loved it. RC6 stands for Research Center 6, as in Independent Stave Company's research center. Having worked with ISC for two years developing this profile, the folks at Maker's decided to name the product RC6 as homage to their longstanding partnership with Independent Stave Company. RC6 is literally how the final stave combination and specs had been labeled at ISC during development. But enough about that, let's get to tasting.
We tasted numerous failed profiles at different stages of development. We even got to taste the distillery's proprietary yeast that has given Maker's the ripe fruit characteristics that have set it apart from day one. Tasting the jug yeast followed by high proof distillate gave me a new appreciation for the straight distillate. I actually enjoyed the straight distillate quite a bit. There was probably not enough water in the facility to keep me upright had I continued down that road but it was surprisingly flavorful for having just come off a still. Then things got really interesting as we got down to the candidate profiles that almost made the cut. I was struck by how many variations we were tasting but while markedly different, they were all still very much Maker's Mark. I kept looking around thinking, is everyone else feeling the same way? When we arrived at the final one, stave profile RC6, I was completely in love. It was 100% Maker's Mark but the flavors were amped up and beautifully layered. The ripe fruit that we tasted in the jug yeast jumped out up front followed by the front of the palate notes of vanilla, caramel, and candied apples. Then towards the end you get the baker's spice layer, which I thought was one of the key differences that separated the RC6 from the other expressions. It was impeccably balanced and complex and I couldn't get enough of it.
On our way out of Maker's, we stopped by the gift shop where I had the opportunity to dip my own bottle of Maker's Mark in wax before I proceeded to buy every Maker's-branded knickknack I could find. For a guy who had abandoned the brand for so long, I fell hard for it this time. I've been pestering local liquor stores trying to buy up every bottle of Maker's Mark RC6 that lands in South Florida. I've returned to the warmth of the Maker's Mark blanket for good this time.
---
Click HERE to check out our other travel pieces!
---