Rocky Patel The Edge celebrates 20 years.
An internet search of the term "the Edge" delivers a colorful assortment of results, from the stage name of U2 guitarist David Howell Evans to a 1997 cinematic thriller starring weapons expert Alec Baldwin.

The bots clearly know nothing; Rocky Patel's venerated cigar line, The Edge, gets nary a mention. But
those who matter are aware that The Edge is celebrating 20 years as the company's No. 1 seller ever since it was conceived in 2002 and two years later graced retail shelves following a vaunted debut at the Retail Tobacco Dealers of America trade show.

The Edge 20th Anniversary cigar as a commemoration hit the stores last year, marking the moment of origin, when Rocky, real first name Rakesh, developed the cigar.

And what a cigar. The Edge that entered the world as a $5.50, naked cigar, packed in then-unheard of 100-count trays that arrived simple and to the point– a little latch at the bottom of the tray dropped to show the cigars, foot out. The Torpedo and Toro, Maduro and Corojo, were nakedly unassuming, except for the fact that unadorned cigars were not a thing at the time.

"We wanted to bring something out that felt like it was right off the factory table," Patel says today. "So you could imagine that you got it right off the table, and it didn't need fancy packaging and labels. We could save that money and sell it for a better price."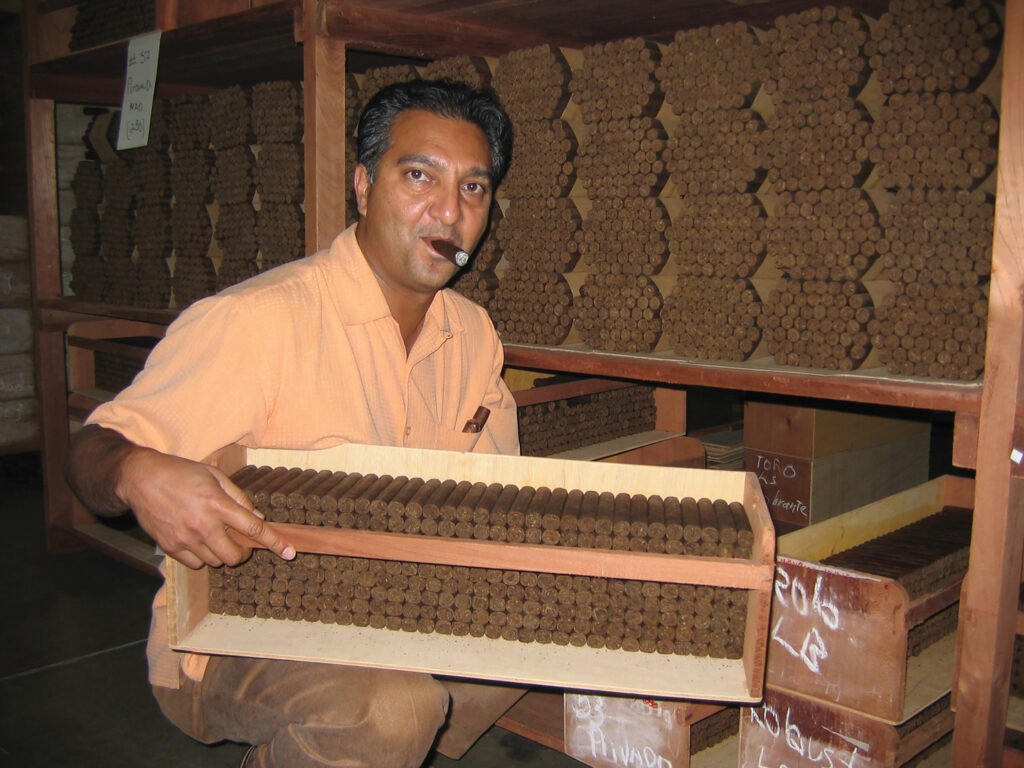 Cigars in 2004 were having a hangover from the booming 90s, even with Nicaraguan cigar sales alone jumping times three from 2003. But entrants from all corners were coming to market on the heels of the mid-90s heyday when cigars had erupted.

And while cigarettes were in the middle of a demonization period, cigars were relatively unscathed as far as regulators and shamers went. The anti-smoking zealots had not made much progress into the cigar world, in fact, and cigars were installed as one more element of the good life, perched next to whiskey, German cars and foodie pursuits.

Rocky Patel, meanwhile, spent the first part of the 90s in California, passing the bar in 1997 after graduating from Southwestern Law School in Los Angeles, alma mater of sports agent Jeff Borris and celeb divorce pro Marvin Mitchelson.

Cigars happened even as he studied and Patel's entertainment law career halted, by choice. Patel dove in headfirst, first with the Indian Tabac brand and then creating the Rocky Patel Vintage Series in 2002.

"I started out of my garage and then in 1999 moved to Naples [Florida] and had a small office with a warehouse with three people," Patel says. "I sacrificed family, friends and relationships for this company, living on the road, out of a car, sleeping on people's couches to get out and build relationships with retailers."

His peers, he said, gave him grief over his relentless ambition; he was showing them up with his road warrior approach to selling cigars.

"I wanted to let people know that I could do things with tobacco," he says. "And I'm still all about this."

His production base was Honduras. He had ideas and nothing was going to be good enough. Patel began to pursue tobacco that had, well, an edge. Something different.


"We had all the groups in Honduras and myself and another rep made some blends using this Panamanian tobacco," Patel says. "I found it very interesting, and I kept working with it. I made between 15 and 20 blends before I came up with what I wanted to go with."

While other brands use Panamanian tobacco, an uncommon country of origin, Patel's was more than unique. At the time, it was hard to get in the first place, "and the secret is in the seed, and the type of seed we use makes it very special."

He admits that "people thought I was nuts," using the tobacco and putting out an unbranded cigar. It was a major step for the still-young brand. But over the years between his start as a lawyer-turned-cigar hero and The Edge, he had acquired, through his own fortitude and curiosity, a solid knowledge of blending and the nuances of tobacco. It was gradual, from moving into the old Swisher plant in Honduras to curing and blending.

Now, in 2002, he was ready for The Edge.

"The tobacco was something that most people hadn't used, and The Edge not only had these tobaccos, but it was this secret cigar that had no branding and came in a corojo and maduro. And it took off." The cigar's arrival for Craig Cass, owner of the Tinder Box of the Carolinas retail stores, was a welcome disruption.

"In the early 2000s, post cigar boom, people were getting more creative with marketing and this was a very different way to go at it," Cass says. 'The first thing you noticed was the rustic trays."

The trays came with two stickers: "Warning: Professional Smokers Only, Smoke While Sitting Down," and "Original Edge, Beware of All Imitations."

As with many establishment affronts, the tray was off-putting to some consumers. But they were also curious and the cigar began to run as more tried it.

"It was selling as a nude cigar and people were coming in and saying 'I had this cigar without a band, what was it?'" Cass says. The stark cigar's lack of hoopla, complete with a bare box, sent a message that was subtly creative, Cass says.

"It was 'The value you are buying is in the raw material; you aren't buying this for a bullshit box but for a good product.'"

The Edge name origin is less colorful. Patel wanted something different, but instead of plumbing his creative depths, "Edge just kind of rolled right off my head, like something edgy, something cool and unique out of the factory and off the table, no band, and this box without labels," Patel says. "Now we call it 'live on the edge by smoking The Edge.'"

He wasn't prepared for the nuances of success, as The Edge sold prolifically and brought in copycats. Bootleggers, the bane of musicians and Prohibition-era law enforcement, came along to copy The Edge and its stark presence. Patel hadn't done any advertising, and the success of The Edge was word-of-mouth. So who was to tell if that unbanded cigar was an Edge or a knockoff?

"A lot of other companies began taking naked cigars and putting them into boxes and saying it was The Edge," Patel recalls. The Edge had to evolve.

In the summer of 2006, The Edge was shipped with a footer band, a new concept and a minor tweak to thwart the bootleggers and imposters.

"We tried to tell [retailers] not to sell the imitations, but some honor that and some don't," he said.

The blend remained; the clothing was a little different but the flavors were still capturing consumers.

"The Edge took off on its own and didn't need a lot of marketing," Patel says. "The 100-count tray, no one had done this and the cigars were great, with lots of flavor, with sweetness, spice, balance, and very distinct from Dominican and Nicaraguan. They just caught on."

The filler blend, the trades were told, was proprietary, "carefully guarded by Rocky Patel himself," said one reviewer at the time.

"We didn't tell anyone what the blend was for six or eight years," Patel says. "Many people asked, over and over. Finally I just spilled my guts after a few cocktails and the word was out."

It was settled; a filler that was split 50-50 between Honduran and Panamanian tobacco.

The Edge has been part of the flow of the cigar industry, Patel notes. The smoker of the original Edge was taking a break from the mainstream smokes that followed the trend of mild.

"The market was mild and medium was a reach," he says. "When The Edge came out, it was one of the richer cigars. At the time, things were not very complicated and there wasn't a lot of character to the cigars. They were like Mediterranean food, light and clean. Then we came in with these layers."

Today's smoker is more advanced and has had more adventures in smoking, with a smorgasbord of flavors in almost every cigar store humidor.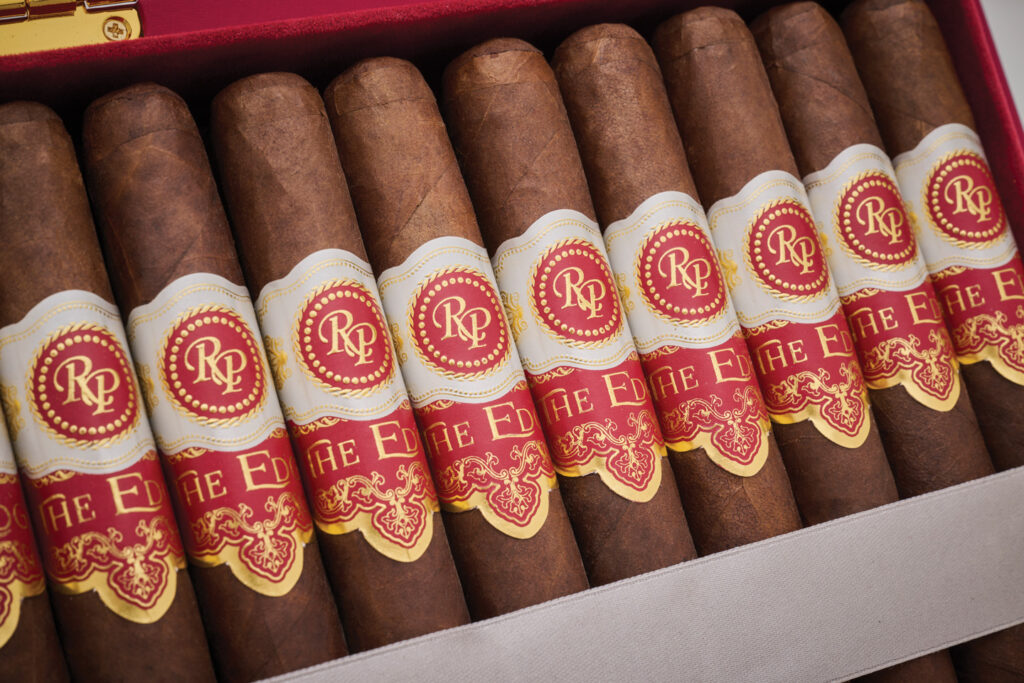 "It's a more sophisticated market, and back then, when The Edge originally arrived, people drank beers and whiskey. Today, they are drinking bourbons and Scotches and craft beers and many of them have been to the factories and are always looking for better quality and complicated taste profiles. "

Over the years, Patel has opened lounges, Burn by Rocky, in five cities and traveled the globe in support of both his brand – now in 90 countries – and the right to smoke, as his crusade against overregulation has seen him speaking out in several markets.

Battling cigar legislation is a passion for Patel, the former lawyer who knows his way around rule books. What The Edge represented in 2004 when it arrived would have been a different proposition with additional taxation – the $5.50 cigar would have been a double-digit cigar, and some of the allure would have been removed.

The same goes today, as federal authorities and states seek to add levies to cigars.

"I've been busy in Washington for the last seven or eight years fighting FDA regulation and overreach," Patel says. He noted the legal victories, led by cigar advocate groups as well as family-owned operations, in fighting regulation.

"It's been around $14 million in legal and lobbying fees to keep this up," he says. "And family-owned companies put in the lion's share of that."

At the state level, states including California, New York and Minnesota have sought to attach large taxes per stick, as Patel and the industry have tried to cap any tax at 50 cents per cigar.

"In every state, we want to try to keep these cigars from being very expensive," he says.

The Edge's evolution, from a mysterious, bare-bones, economy smoke with a marked profile and a dedicated following, to today's wide variety of sizes and blends, speaks to a tenacity from both producer and smoker.

"Right now we have this extensive line," Patel says, ticking off the list – B52, Howitzer, the Missile, multiple versions and other line extensions, and finally, the reason we're here: The Edge 20th Anniversary comes in three ring sizes, is covered with an Ecuadorian Sumatra wrapper, Honduran binder, and fillers from Honduras and Panama.

The deep bench that is The Edge represents two decades of innovation. It might be time to stand down.
"I do think that this 20th anniversary is the best blend yet, but I think this will be it as far as The Edge," Patel says. "Although there are those anniversaries…"