The chairman is taking his breakfast at the back of Rise, a 24-hour diner/deli tucked in a corner of the grand Seminole Hard Rock Hotel and Casino in Hollywood, Florida.
The chairman orders oatmeal, orange juice, two sausage links and coffee, which he takes black with sugar.
"It's the most important meal of the day, right?" he says.
Marcellus Osceola Jr., 49 years old, has been a tribe councilman and a serial entrepreneur with his hands in landscaping, seafood, and limo services.
Today, he is the Frank Sinatra of the Seminole Indian tribe in Florida, known and referred to in conversation as the chairman, after being elected to the position in 2016.
The similarities end at the title. Sinatra was nicknamed chairman of the board due to his reign as the head of Reprise Records in the 60s.
Osceola earned the title when he took the office as head of the 4,300-member Florida Seminole tribe by defeating Jim Billie, an alligator wrestling 'Nam vet who was born on a chimpanzee farm in nearby Dania Beach.
What is so striking is how little Osceola has in common with either Ole Blue Eyes or Billie, who was swept from office amidst allegations of fiscal improprieties.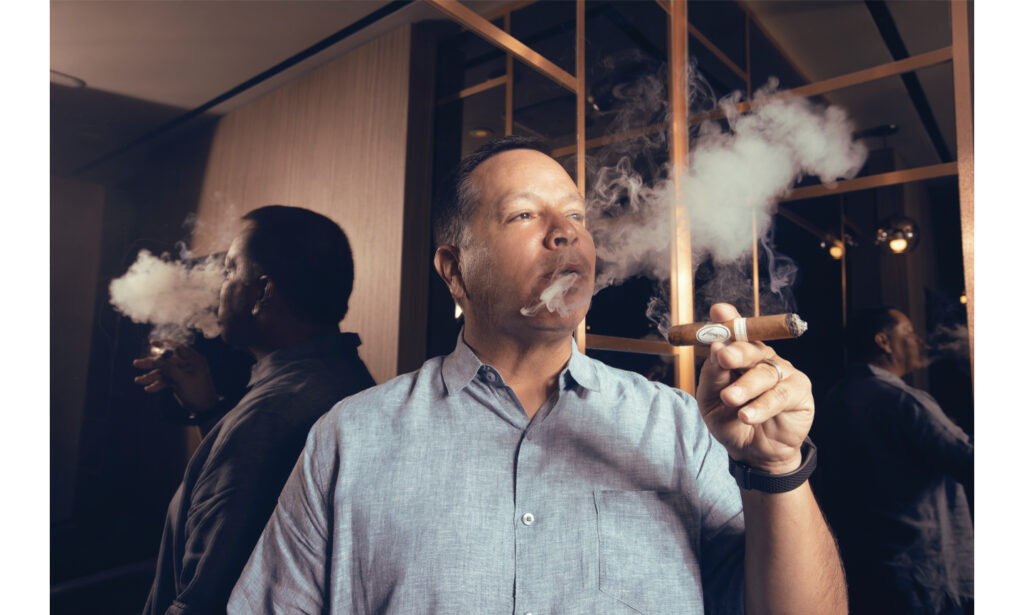 Osceola's lack of flash is glaring. Born on the reservation, he's a stocky, broad-shouldered, barrel-chested man who, with his close-cropped black hair, square jaw and spare smile, could be mistaken for military heritage.
He doesn't drink, gambles little, rises most mornings at 6 a.m. and prefers to be at his reservation home with his family – wife, two kids at home, four out of the nest – than anywhere else. There is little drama or fanfare with Osceola, other than a clear desire to have no fuss made over or about him. And he makes it known, typically, in as few words as possible.
"I certainly don't want to be famous," he says. "And I don't like the public office so much, but I do like to make a difference in our community and the tribe as a whole to make sure it is economically stable."
"I certainly don't
want to be famous"

– Marcellus Osceola Jr.
His one vice is premium cigars, for which he has developed a knowledgeable passion. It's a topic that brings some animation to the proceedings.
"The La Flor Dominicana Andalusian Bull," he says with the quickness when asked of his favorite stick. "I like things that are limited and aged and I keep looking. I like the Montecristo 80th anniversary. I'm a mild to medium guy, I don't like the big bold things that take my head off."
He smokes when he plays golf, which is whenever he can, and he enjoys a smoke at the Davidoff Lounge in the Hard Rock.
Occasionally, he'll take a stick from his humidor and sit in his backyard and smoke. It takes the edge off what is a 24-hour job, keeping the same hours as the flagship casino that mints money to the tune of a reported $579 million a year in gambling revenue alone.
Osceola insists he is not a know-it-all and has no delusions that he does.
"I am still learning about the casinos and everything else," he says. "The day I stop continuing my education is the day I can no longer do the job."
Moving the Tribe Forward
You've seen the smoke shops. The signs at one time blared "tax free" cigarettes for the stations on tribal land, from Nevada to Michigan to Florida.
Osceola had a front-row seat when those establishments were created in the late 70s, because the man pushing those forwards was his father, Marcellus Osceola Sr., a fabled legend in the Native American community.
The elder Osceola, now 76, was a drag racer, a trap shooter, a lover of women (with three ex-wives to testify) and a five-term tribe council member.
His signature was opening the first tax-free cigarette shop on the reservation. It was a simple business platform; buy the cigarettes at wholesale price from the tobacco giants, sell them on the reservation to the public at large, sans state sales tax, as the reservation was exempt, and pocket the proceeds to distribute to tribe members, as well as keeping a bit for the work involved. The first year Osceola Sr. sold more than two million cartons at $4.25 apiece, and he became a pied piper for emerging reservation tobacco outlets.
"We would take family vacations to places like California, New York, North Carolina, and my dad would go to meetings to help the tribes set up their own tobacco shops, then we'd all hang out at night," Osceola recalls.
People lined up outside the lone Seminole reservation shop to buy cigarettes at a price that would cut $2 off a carton.
"Back then, everyone smoked cigarettes," Osceola says. "It was a way to make money for the tribes and it was badly needed."
The outlets drew political heat, though, which led to crackdowns that halted the sale of tax-free tobacco on reservations. It was a lesson the young man took to heart – what the government gives, it eventually takes away.
As chairman of the tribe, Osceola oversees all tribe endeavors and issues, which land on his desk and are pored over by himself and his staff of 14 people.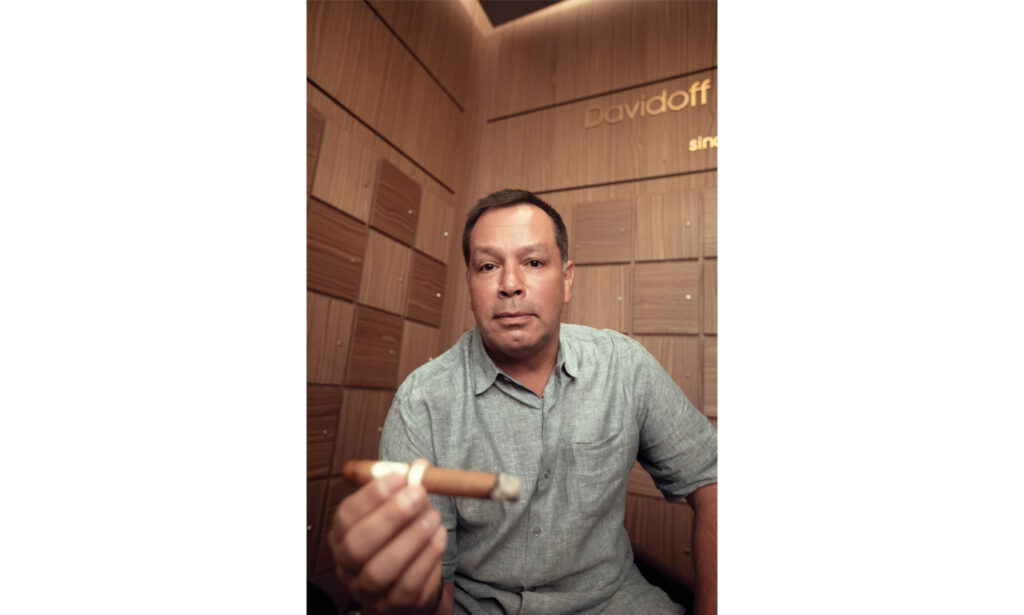 While Osceola is not given to lengthy speeches, he is amenable, even eager, to engage in discussion. Issues are paramount to him, as he makes decisions at every turn in his day.
Those days are a series of meetings, private jet and helicopter treks around the state and country, just like any CEO of a major corporation.
He's smart enough to know when to speak out and when to keep his thoughts to himself.
"The answer to a
cigar in the morning
is yes"

– Marcellus Osceola Jr.
During a two-hour sit down at Rise, he addresses several issues, some with welcome candor.
The name changes of the Cleveland Indians, Washington Redskins and a bevy of high school and college sports teams are usually done without the input of the Native American community at large, he says.
"They used the name without our permission, so why would they worry about our view on it now?" he poses. "White people did that. We're perfectly able to speak for ourselves."
As the Black Lives Matter movement was magnified by the nation's corporate media outlets, Florida State University, home of the sports team the Seminoles, contacted the tribe.
The school in Tallahassee, Florida, wanted a letter from the tribe saying that it supported the use of the name.
The tribe declined, "but we told them we would not interfere," he says.
Osceola goes on with his list of more important current issues, including sovereign rights, taxation, real estate investments, water rights, land use and the growth of the tribe which is currently at 70 members a year.
The big deal, though, are the casinos and Hard Rock International, which in 2007 was purchased by the Seminole Tribe and includes 185 cafes, 27 hotels and 12 casinos worldwide.
Osceola spends about 30 percent of his time on casino business, a sizable chunk.
It's the sexiest issue he has to deal with, a field that garners international interest and plenty of hangers on, as big money will do.
So, Osceola's world becomes one of high dollar lawyers and some of the best lobbyists money can buy, working with federal state and local lawmakers and politicians who want a slice of the casino pie.
"We walk the halls of Congress with our legal counsel and lobbyists every year," Osceola says.
His biggest achievement so far has been a gaming compact with the state of Florida in April, which will shoot a projected $2.5 billion into state coffers over the next five years. The first payment of $37 million was made by the tribe in October.
In exchange, the tribe is allowed up to three more new casinos and offer statewide online sports betting. The betting app went live earlier this month.
Sports betting kiosks are going live by the end of the year, fitted out in a new room devoted exclusively to sports betting, with food service and banks of televisions broadcasting sports.
The compact, signed by Florida Gov. Ron DeSantis and Osceola in a traditional grip-and-grin ceremony, was a compromise.
"This deal wasn't what any of us wanted, but it works for both sides," Osceola says. "But in the end, good faith will prevail. We got what we needed. If one side doesn't get what it needs to be happy, it's going to be a bad deal no matter what, and this was tough. But being able to talk to the governor and his staff and the legislative body in Tallahassee made a big difference, and hopefully we are developing friendships."
Tuning the Guitar
The pool at the Seminole Hard Rock Hotel and Casino looks like a lavishly landscaped putt putt golf course, with fountains and walkways carved in faux rocks topped with palm trees and some tiki huts here and there. The pool wraps around the fountain like a snake, surrounded by chaise loungers.
And this is the baby pool, taking in five acres.
The other is an 11-acre waterpark, a food/booze/sun/swim oasis, outside the Guitar Hotel, a 35-story engineering feat of drama that opened in 2019 and a tribute to the instrument that made Hard Rock famous.
In between the two pools there are the slot machines, gaming tables, eateries and retail stores that make mega casinos the bewitching dopamine dens that bring in billions across the globe.
The poker rooms, high-limit tables and slots, and non-smoking slots all get their own separate space. Hard Rock Live, a 7,000-capacity music venue, books a full slate of pop acts, from the Rolling Stones to Alicia Keys.
The standard Hard Rock entertainment exhibits sit in glass cases around the perimeter of the gambling floor and overflow into the hotel hallways and restaurant entrances.
There's Madonna's leather jacket, and a suit worn onstage by Michael Jackson. Over there is Duane Allman's shirt. And speaking of dead rock stars, there's one of the many custom-made bass guitars of John Entwistle, who put the Hard Rock name in the record books by dying at the Las Vegas Hard Rock in 2002, hooker and eight-ball nearby.
The casino in Hollywood opened in 2004 on a swath of land that Osceola played on as a boy, offering 500 hotel rooms and 85,000 square feet of wagering nirvana. Three years later, demand drove an expansion to 120,000 square feet. Patrons waited in line just to get into the parking garage, and double-digit percentage growth made the $120 million embellishment easy.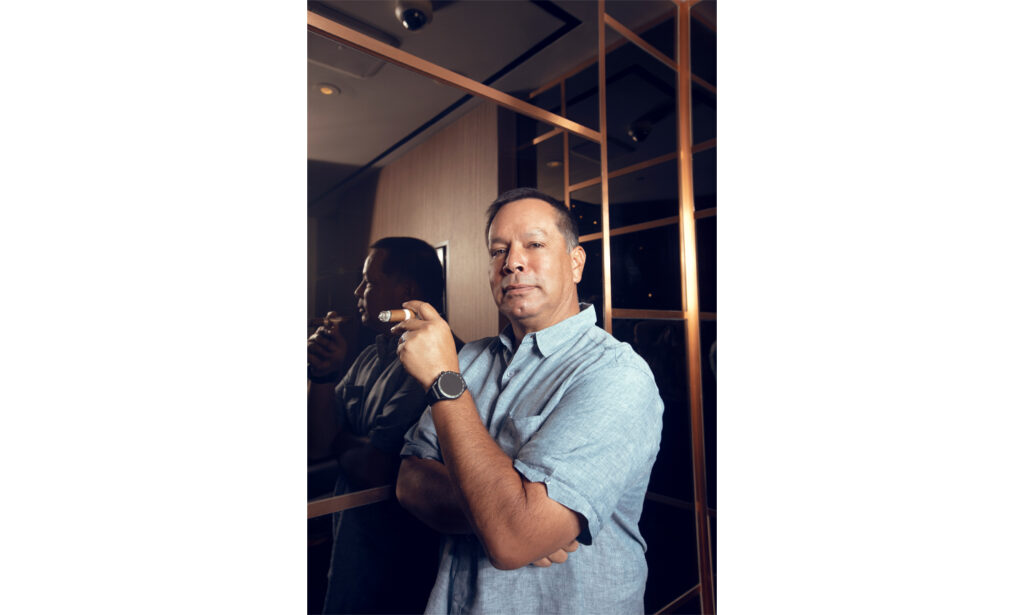 Today, the casino has six restaurants and 140,000 square feet of gaming while two hotels on the property offer nearly 1,250 rooms.
Tucked into a promenade of retail that opened in 2019, which includes a 24-hour Hard Rock swag store, is a small Davidoff Cigar Lounge, which opened early last year.
The storefront is traditional upscale Davidoff, with a smallish humidor offering mostly the greatest hits and an advanced Davidoff line and a formidable accessories selection.
But walk through an unmarked mirrored door at the rear of the storefront and you get a dose of speakeasy, with a full bar and room to hold up to 60 people with leather couches, chairs, and plenty of standing room.
This is the setting for a photo shoot that puts Osceola's usually impassive face into some animated states – as the photo crew prepares the setting, he wears a resigned look of a patient awaiting a firing squad.
This is part of carrying the title of chairman, the work away from the real work, that Osceola isn't crazy about.
In a sky blue short-sleeved linen shirt, jeans and brown suede shoes, Osceola looks more like a linoleum salesman than a titan of Native American affairs. He's ready to smoke; "the answer to a cigar in the morning is 'yes'," he says. "An 8:30 a.m. tee time is the time to light a cigar."
Advised by the producer of the shoot to act natural, Osceola, looking at the lights and camera, says, "That's where I'd like to be, on a golf cart lighting up. That's natural."
Osceola, despite his camera shyness, does fine.
Anticipating a Next-Gen Leader
Where he's going to be shortly after the shoot is Atlanta, where "the chairman" will meet "the general."
His meeting with a commander of the U.S. Army Corps of Engineers combines business with pleasure.
"We smoke cigars," Osceola says. It's easy to work that way, of course, and meeting at Highland Cigar Co. just off the downtown makes this meeting something to look forward to.
Osceola keeps moving because he knows his time in office is limited. Not due to term limits, but because of usefulness.
He replaced Billie, the wild and wooly iconoclast who was recalled twice during his 26 years as chairman. Osceola defeated Billie by 22 votes in 2016, an indicator of how popular Billie was. Under tribe rules, a recalled office holder can run for his own vacated spot.
"Billie was the right guy at the time; he came along in 1979," Osceola says. "At that time, you really had to push the limits, and he's still got a lot of followers."
The strides the tribe has made, from the purchase of Hard Rock International to the recent gambling compact, represent what the tribe has become: A blossoming business entity. The responsibilities of today will change, and Osceola is prepared to make room for someone else when it's called for.
"I represent what the tribe is today, and there will be someone else who comes along to do that," Osceola says. "I won't stay forever, and I know my time is limited. I can only take the tribe so far until the next generation comes along."
---