Michael Herklots remembers his first cigar in far more vivid detail than most of the people I ask. It makes sense that he would. He's not sure he'd ever so much as seen someone else smoke a premium cigar when he was growing up in Danielson, Connecticut. So when he was an 18-year-old college student in Boston and his friend Chris Brown (now a regular at Pittsburgh's Leaf & Bean) suggested they check out the now-defunct Masters Cigars on Newbury Street, the experience hit him like a ton of bricks.
It wasn't necessarily the cigar itself, though. It was everything that came along with it.
"It was like a different world," Mike said. "I followed him and it was like walking through this warp zone into a completely different place and a different culture. And it was incredible. He asked me if I wanted to try a cigar. I tried his; he had an Ashton Classic Panatela. He explained to me how to do it and that you don't inhale. And it was interesting. It was a flavor I'd never tasted. It was a medium I'd never felt. It was a culture I'd never seen."
Out of the quiet corner
The son of a pediatrician father and an art teacher, Mike spent most of his childhood in the northeast corner of Connecticut.
Both Mike and his twin sister developed a passion for performance from an early age. His father's practice was right in their home, and the two would entertain families as they waited for their appointments. Mike got hooked on drumming when he was 10 — and whatever you might think of the idea of having to hear your doctor's kid drum for you while you wait for your appointment, it helped sharpen him as a musician. In high school, he took the drumming more seriously, getting more formal education, learning music theory, familiarizing himself with different styles, attending clinics and even studying things like classical snare drum performance at UConn.
"It was sort of formalizing the commitment to wanting to be a real drummer," Mike said. "I didn't just want to be a guy playing rock who played on stage. I wanted to truly be able to read music, to sight read, to mark charts, to be able to just sit down and play at a moment's notice. So that education really started in high school and then certainly it was formalized to a much greater degree in college."
"I don't want to say a poor area because it's certainly very rich in culture … but it's not a wealthy area. When you think of Connecticut, it is not the Martha Stewart corner of Connecticut down by New York. It's the opposite corner of Connecticut. It's actually called the quiet corner."
After high school, Mike headed to Boston, where he attended the Berklee College of Music. Having always loved working — he'd had jobs at a drugstore and a doughnut shop in his high school years — Mike went into a work-study program right away. But that first cigar must have stuck with him, because his first summer job in college was at a retail kiosk at Boston's Prudential Center called The Humidor. Not long after he started that job, the kiosk's owner sold the small business to a wholesaler "who basically showed up and said, 'I don't have time for this. You run it,'" Mike said. "And so I ran that all through college."
…you can't just listen to jazz for the first time … and understand how they're playing … It takes a certain level of education and sophistication to love jazz. I think premium cigars are the same.

Michael Herklots
Artists aren't good, as Mike notes, at dipping their toes into the water. They go all in. Not only was the cigar world an exciting, foreign culture for Mike to dive into — it was also one in which he saw a lot of parallels with the music he loved so much, along with opportunities to relate to and connect with people with whom he might other- wise not have much in common.
"Imagine, as an 18-year-old kid, it was legally available for me to enjoy the product, being ex- posed to very professional people who had careers, who had income that allowed them to afford this hobby. It was just incredible," he said. "And then, frankly, it was also a bit self-serving because there's a lot that goes hand in hand be- tween the cigar world, the jazz world. I was playing primarily jazz at that time. And so it just made a lot of sense that it was still something I was passionate about. It required a degree of sophistication in how you enjoy the product, not unlike jazz, you know, you can't just listen to jazz for the first time in like a small combo quartet format and understand how they're playing and what the solos mean and how the form follows the tune. So it takes a certain level of education and sophistication to love jazz. I think premium cigars are the same."
The business side of cigars, it turned out, had some things in common with the music world as well. Both are industries in which it's tough to build any success without also building a network of strong, intimate relationships. It's who you know. And Berklee was, as Mike put it, "a microcosm of the real world."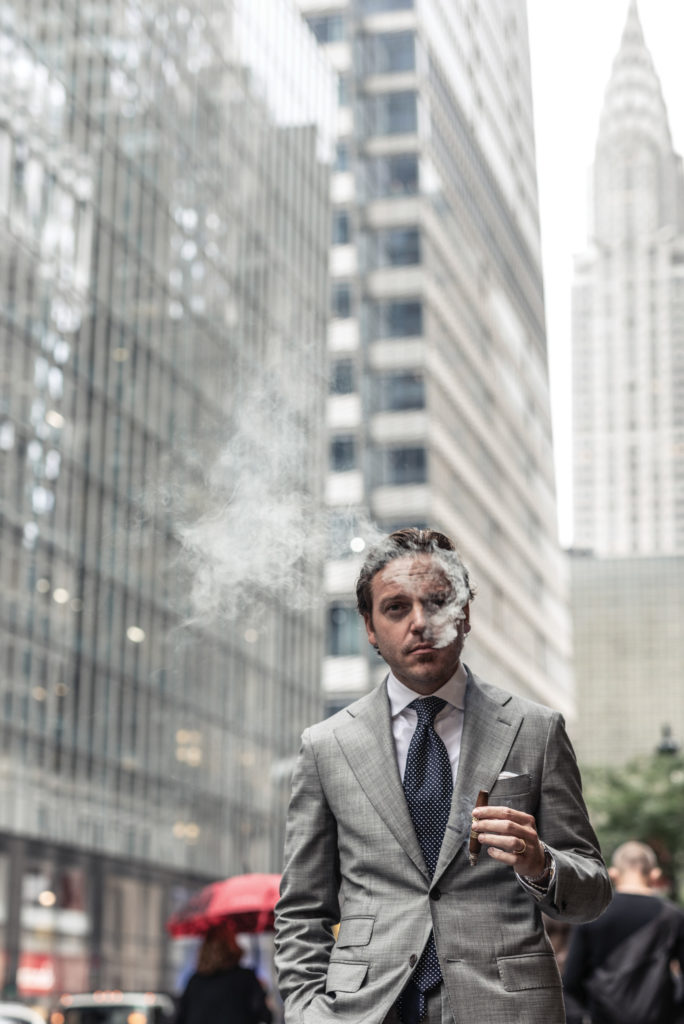 "All the politics that exist in the music industry in a real-life setting exist there. So, you know, you can work and practice and audition and do everything you think you're supposed to do to be recognized and then the opportunity just might not be available because there's someone else who had a connection who was known before they came in and would be basically recruited for a gig before you even had the opportunity to audition and demonstrate that you were as good or better or close. And so, I think that that prepared me for a lifetime of auditioning and trying to demonstrate that I was good enough to be on a stage with a particular band."
It was an awakening for Mike, who'd been accustomed to life in a smaller community, where everybody knew his family (he recalls the first time he ever had to spell his name for someone after moving away from home) and where relationships were a given. It was also an awakening in the sense that, at Berklee, he was a small fish in a big pond of ultra-talented young musicians. The competition was stiff, but cigars turned into an edge that helped (and still helps) him deepen relationships in music.
"You would normally see me behind a small drum set dressed nicely, playing in a jazz club. I also played full-time in a wedding band on Nantucket. Sometimes three or four weddings a weekend. It was absolute insanity," he said, adding that he played every top-40 tune you can imagine. "I think Sweet Caroline was both my favorite and least favorite. When you play live and you watch people enjoy what you're playing, that's a very fulfilling moment. No one gets wild watching live jazz. People get fucking wild at a wedding on Nantucket to Sweet Caroline."
Madison Avenue
When he moved to New York in 2002 after graduation, he continued to pursue music — making a decent living at that — but also picked up a full-time gig at the Davidoff store on Madison Avenue, which was being run by David Kitchens, who'd previously managed a store in Boston while Mike was a student there. In 2006, Mike was moved to the Davidoff shop on Columbus Circle, where he was made GM. And in 2008, when David moved on from that gig, Mike was tasked with running both shops. Just like that, Mike was both an active musician and running two of the best-known tobacconists and luxury brands in New York City.
By the time he was offered a job at Nat Sherman (which, at the time, was still owned by the Sherman family, who sold the company to Altria in 2017) in 2011, Mike had already gotten to the point where he was getting a lot of the fulfillment he felt from music — the interaction, collaboration, spontaneity, improvisation — in the retail cigar industry. He was still playing occasionally, but he was practically all in on cigars. And Nat Sherman represented a whole new set of opportunities for him.
"[The Shermans] were very proud of the company, very proud of its history, but in particular they were frustrated with their ability to grow and win in the premium cigar business. It just wasn't a major focus for them. And they would certainly admit that," Mike said. "So they gave me a lot of leeway to do what I felt was in the best interest of the company and the brand and obviously their family. There was no ego there. What they wanted was a successful business that they could be proud of in all the categories they were in. And so I'm very proud of what we were able to achieve. They're amazing people. They're honest and they're hardworking. They're profoundly generous. And those are really values that they brought into the business, not just in the way they conduct themselves, but how they led the business. Even though they sold the business, those values don't go away. Even today, when I think about our role as a brand and a company sort of carrying on the legacy of the Sherman family, that responsibility to preserve that legacy is as much, if not more important now than it was then."
The move to Nat Sherman and the freedom he was given to build up the premium cigar side of the business meant that not only would Mike be able to put all his experience in retail to work (the Nat Sherman Townhouse is one of Manhattan's premier tobacconists), but also that he'd be able to dive into the product development side of things. Here, the relationships that he'd built while running Davidoff's two New York City stores would prove invaluable. That started with his relationship with the Quesadas in the Dominican Republic.
"Our relationship is almost 18 years old," Mike said. "And it's a profound level of intimacy with that family. Raquel Quesada went to school in Boston and worked for David [Kitchens] there. David used to go down to DR once a year, so he invited me on one of those trips with some other local friends from New York and New Jersey. We just spent time with [the Quesadas] and went to dinners and saw the factory and enjoyed different cigars and that was really an amazing experience. I started going back even more. The relationship just grew organically. There was no preconceived idea of someone trying to get something out of it because there was no real direct quid pro quo. It was an unlikely relationship. I worked for Davidoff. They did not make any products for us. We certainly sold some of their products in our store, but, you know, it was a relationship that was built truly and solely on friendship and caring about each other.
"And probably the biggest leap in the relationship was when the younger generation of the family wanted to develop the 35th Anniversary. It was the first time 'Quesada' would've been on a brand. And they called me and said, 'Hey, we need you to come to the DR tomorrow.' I thought for sure, like, 'Oh my God, Manolo [Quesada] is dead. Something happened. What do we do?' So I get down there, they picked me up. That was even weirder. Like, where is Manolo? What happened to Manolo? And they brought me to where the factory is today. It was a tobacco warehouse at the time.
They had all these bales set up and they said, 'We want to pitch our dad on a brand called Quesada, we want to start with the 35th Anniversary and we need some help. Let's just do it together.' And so we worked really closely on that project and pitched Manolo on the idea. That was an amazing opportunity to build something from scratch with them. And obviously that worked out really well. Our relationship has only thrived since then."
That was all in about 2009. They'd also already been making Nat Sherman's Metropolitan Connecticut and Maduro since the '90s. The relationship made the Quesadas an obvious family to turn to when Mike needed a manufacturing partner to start building the Nat Sherman portfolio two years later. The Quesadas also became the manufacturer behind Nat Sherman's Timeless Dominican (since rebranded as Timeless Prestige), Timeless Sterling, Epoca and Epoca Reserva, along with a number of Nat Sherman's special-edition releases.
Mike had also met the Plasencia family a number of times over the years through the Quesadas, who have their Casa Magna brand manufactured by the Plasencias in Nicaragua.
"Tasked with this idea of rebuilding," Mike said, "we didn't want to just be in one country, one factory. We thought it was important to spread it out a little. And Manolo was kind enough to make an introduction and really kind of vouch for me and say, 'Hey, bring this kid in and let him do what he does.' And so the Plasencias were very, very gracious. It's obviously a significantly larger scale operation compared to the Quesada business, which is a much more intimate factory environment. But the Plasencias were equally gracious and very willing to go all in on this journey with me and and create products that we really believed were quite unique."
Plasencia makes Nat Sherman's Timeless Nicaragua and Epoca Limited Edition.
Finally, there's the relationship with Davidoff. Davidoff makes the Host Series for Nat Sherman out of its Honduran factory, which had been producing that cigar when Davidoff acquired the facility as part of its acquisition of Camacho from the Eiroa family.
"It was a very difficult choice to leave Davidoff," Mike said. "As big a company as Davidoff is, it is a family business and I was fortunate to work closely with the family that owns the company. So it felt very familial. I was actually very excited to be able to preserve and grow the Davidoff relationship by having one of our products made there as well. The Host has been around since the '90s. Their commitment to consistency is as admirable as the Quesadas' and Plasencias'. The Host is a very important product to our portfolio."
Leaving his mark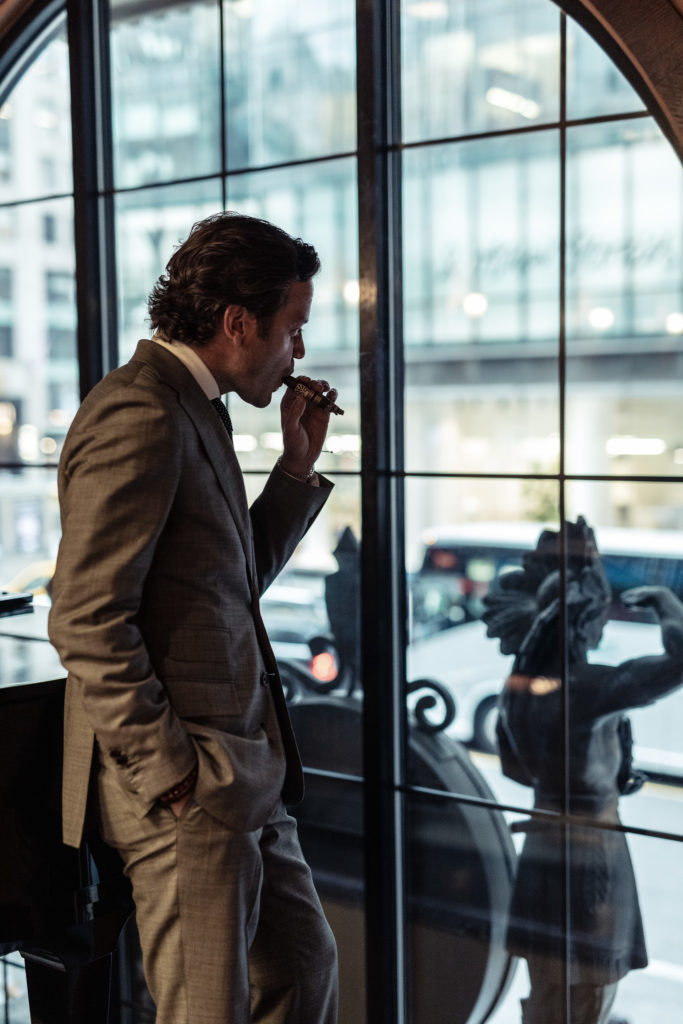 The Shermans trusted Mike with the task of building their premium cigar business for more than just his ability to build relationships, though. He has an excellent palate, which is critically important to the product development process, especially when new product needs to not only be consistent in the sense of having minimal variation batch to batch — but also in the sense of being consistent with the Nat Sherman brand identity. While he's responsible for just about everything at Nat Sherman outside of cigarettes, product development and maintenance is where he spends the lion's share of his time.
"I'm a stickler for consistency," Mike said. "I believe that we have the most consistent portfolio of products on the market today. If there were a stamp from a stylistic standpoint of blending … We don't do anything that's a full-on ass kicker. There are other people who do it and they do it great and better than we could ever do it. It's not authentic to what we do. So stylistically, I think our signature is really about real balance. It's flavor that you taste, it's texture you feel, it's aroma you can smell. Strength, flavor, aroma, and combustion are all equally important. Sterling, for example, which by all accounts is a relatively mild or mellow cigar, still has this rich, full body and creaminess. If I look at the Epoca Limited Edition, it's tremendously full and spicy and bold, but there is still this creaminess and balance to it. And maybe that's just personal preference, but it's certainly proven successful. I don't plan on changing it."
You might not assume that Mike is so engaged in the blending process if you catch him at the Town- house dressed for a day in Manhattan.
"Even though I think most people see me in a suit and tie the most, I'm in one less and less. I'm certainly not wearing a suit and tie in Santiago or Estelí. That's really where I spend a tremendous amount of time," he said.
Whatever he's wearing, the guy seems like he's dressed for success. It must be working, too, because this year is Mike's twentieth in the cigar business. From that first chance cigar in Boston to the driver's seat of one of the most respected American-made brands in the business, he's left his mark by helping to both preserve and evolve the Nat Sherman identity.
"I think I would have said they're crazy," Mike said when I asked him how he might have reacted back in those Prudential Center kiosk days if someone had predicted he'd still be in the game all these years later. "Not because I didn't love it, but be- cause I don't think I understood the bandwidth of the industry. At that point, all I knew was retail. So the only thing I could wrap my head around was retail and the businesses that support retail, like sales reps and those types of things. Those are all great careers, but part of being a musician is that sort of ever changing evolution of how you work and who you work with. I just didn't know that that type of fulfilling work was available in the [cigar] industry. It became very apparent as the years went on that it was still evolving and changing and there was still that newness to the work."
And even as he's been all in on cigars, his role in the industry has meant — as it does for so many in this business — deeper connections with people in other spheres. For instance, there's music executive Tommy Mottola, bassist Christian McBride, and drummer Carl Allen.
"It allowed me to connect with folks on a very different level. Folks who, as a musician, I would've loved to interact with and never would've had the opportunity. Cigars have created that opportunity. As I've found other hobbies, whether it's the culinary world … You know, I don't get to go hang out with Emeril in Hawaii for four days because I like his restaurants, but I have had the opportunity to do that because of my work in the cigar business."
Of all the connections in which cigars played a role, though, there's one that stands out as the closest.
"We met in a cigar event, funnily enough," he said of his wife Tiffany. "I was teaching a cigar tasting class for the American Sommelier Association, and her roommate at the time was the admin for that group. Tiffany worked for Zagat. Her roommate invited her to come over and she said, 'That sounds terrible.' And then she talked to her mom and her mom said, 'Slap on some lipstick and go, you never know who you're gonna meet.' And I took her to lunch the next day."
The couple have two daughters who are too young to start blending cigars, but who Mike says have already inherited other talents.
"Man, they have such good rhythm and they have incredible pitch. I'm super excited and very fearful," he said. Will there be a family band down the road? "Lord, I hope not. But you never know. Never say never."
Mike fell in love with cigar culture from the jump. Over the intervening 20 years, he's been an advocate for that culture without losing sight of the importance of high standards for quality.
"I feel a sense of responsibility in doing that. And I feel like in some way I have contributed positively to the growth of our industry."
---
---
Click HERE for more stories!