This piece was published in the September/October 2018 issue of Cigar Snob Magazine.
On Nov. 14, Old Dominion won Vocal Group of the Year at the CMA Awards.
Old Dominion is catching fire with musicianship, a passion for songwriting, and the good sense to not take themselves as seriously as they take their craft.
The band's star is rising and they're lighting up to celebrate every victory along the way.
In a corner of the upstairs lounge at Detroit's La Casa Cigars, the five members of the ascendant country band Old Dominion contemplated what it's meant to blow up as a band at the height of the social media age after hav- ing enjoyed some success as songwriters and musicians just outside the spotlight. They're right around 40 and are music industry veterans, but it's only in the last few years that they've become famous as recording artists.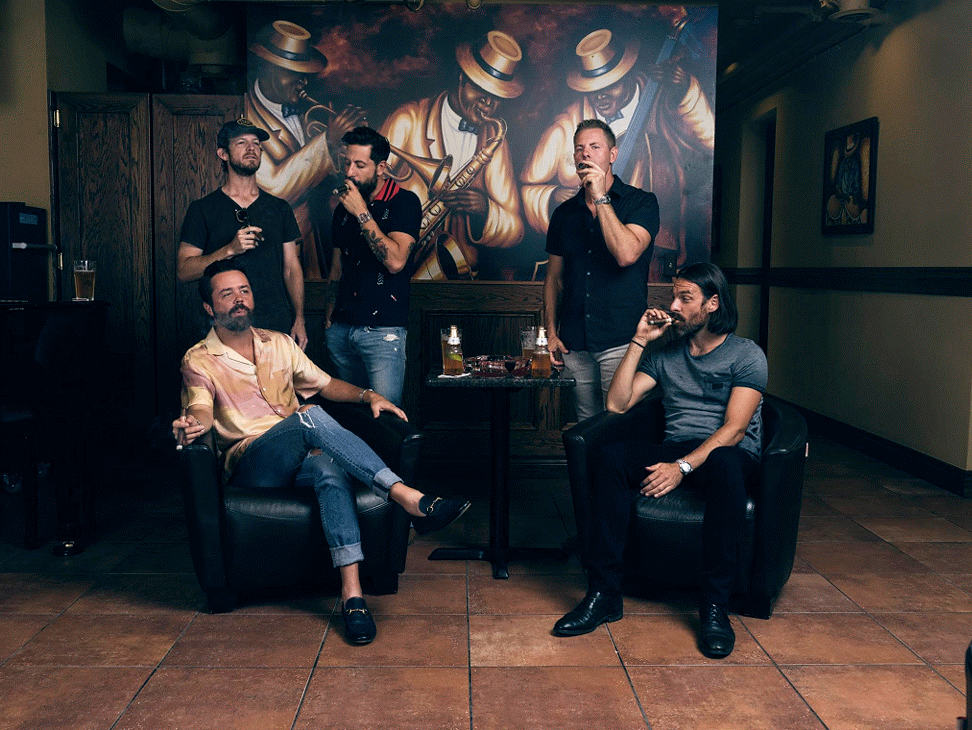 "There's no mystery," said drummer Whit Sellers. The consensus in the room is that Whit is the one who's most weirded out by fame. "You have to give a window into your personal life to get people interested in the music as opposed to being able to have the music stand there on its own artistic merit — which is a totally idealistic idea to have in this day and age."
"As an artist, you're like 'No, man. Care about the song!'," said Matt Ramsey, the band's frontman. "But then you're like, 'Well, I guess we have to take the selfie in order to get people interested.'"
"It's concrete," said Geoff Sprung, the group's bassist. "You take the selfie, you put it on Instagram and it explodes."
"It's like… I don't know what David Bowie does all day," added guitarist Brad Tursi, "And that's what's cool about it. It's like, 'Who is that guy?'"
He hasn't done much talking to this point in our interview, but the subject has Whit fired up. He chimes in again to mock a curious Bowie fan. "I wonder what David Bowie does all day? He must do really cool shit. It has to be so cool."
[Our music] was something we were proud of, but the idea of being a band came from the outside in.


Geoff Sprung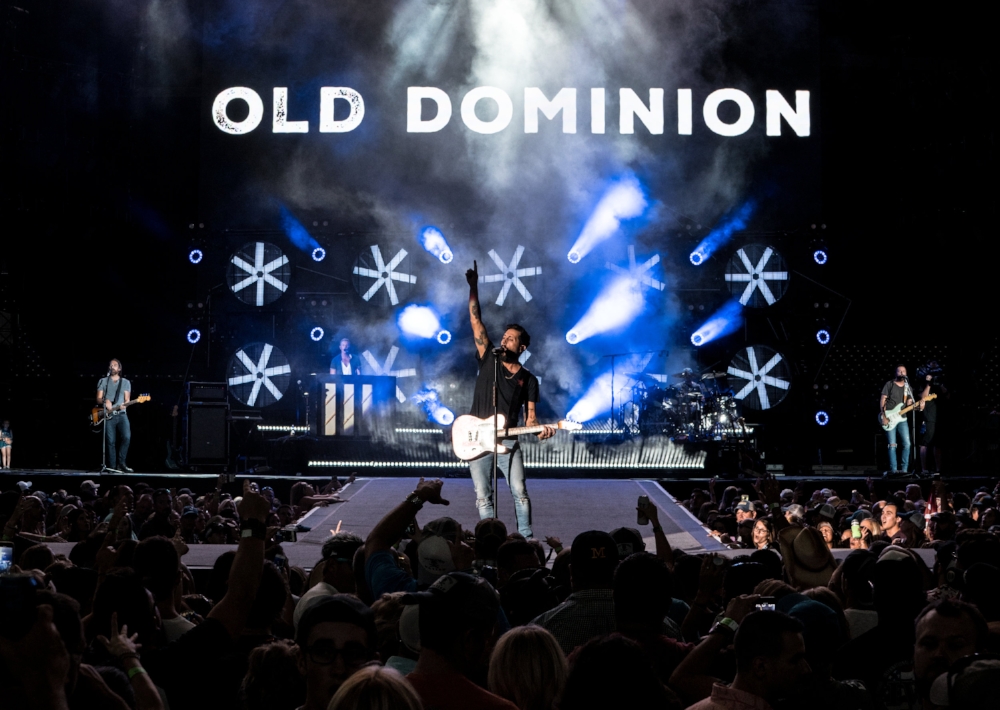 That's when guitarist and keyboardist Trevor Rosen put us all back in touch with ground control. "You know, he's not doing anything right now," Trevor said. We all burst into laughter.
"He's been doing the same thing for a while," said Matt. "He's settled into a routine!"
The lives of these five guys (who took the Virginia state nickname for their band since four of the five members have ties to the state) are many things — but routine isn't one of them. The group came together, as so many country acts do, in Nashville, but it was almost accidental that they came to think of themselves as a band at all.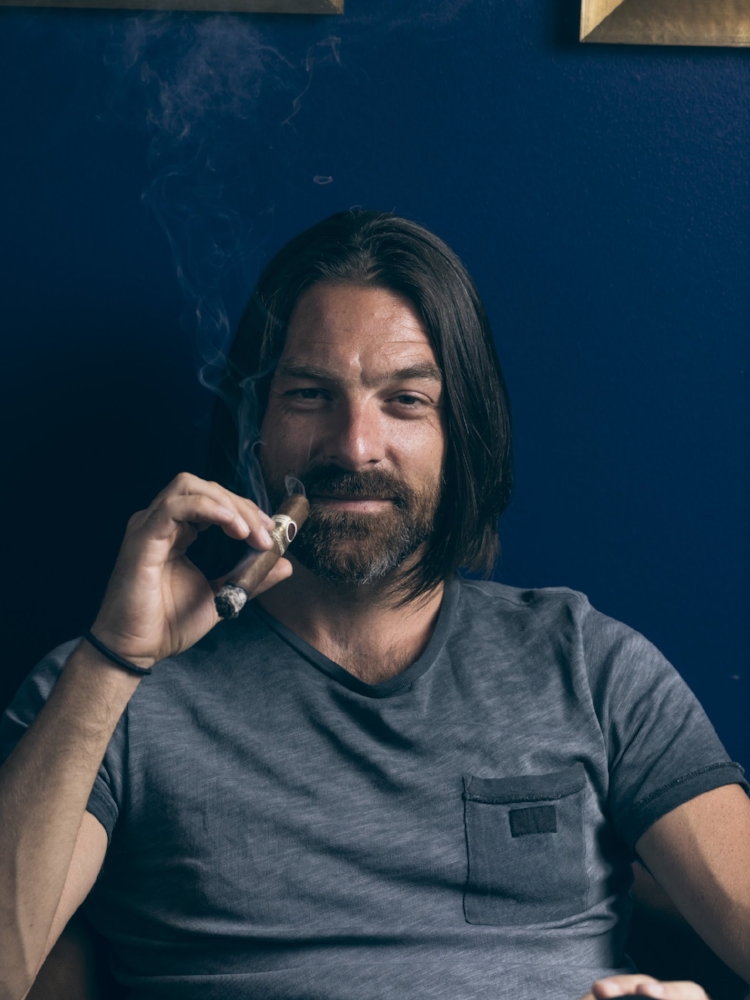 Matt, Geoff and Whit are all from Virginia. Matt and Whit grew up in Botetourt County, about two and a half hours west of Richmond, playing on drumlines at their rival high schools. Whit met Geoff and Brad (a native Connecticuter) when he went off to Virginia Commonwealth University, while Matt was introduced to Trevor (a Detroiter) in 2003 in Nashville, where all five would end up to pursue work as songwriters or musicians. Eventually, the group formed for purposes of working out and performing the songs that its members were writing.
"It was something we were proud of," said Geoff, "but the idea of being a band came from the outside in. People kept saying, 'You guys are a band.'"
"We were just having a good time. The moment where we were like, 'we have something here' was pretty recent," said Matt.
Old Dominion members' writing credits include songs recorded by Luke Bryan, Cole Swindell, Randy Houser, Tyler Farr, Kenny Chesney, the Randy Rogers Band, Michael Ray, Josh Turner, Ryan Hurd, Brandon Lay, Dierks Bentley and Blake Shelton. They've also written songs for the ABC drama Nashville. Trevor and Matt pointed to one song in particular, Wake Up Loving You (which they wrote with Josh Osborne), that brought them attention in country circles and was then recorded by Craig Morgan.
"That was the flag in the ground that we built everything around there for a while, until Craig recorded it and we were like, 'Guess we gotta let that one go,'" said Matt.
"We were writing songs together for years," said Trevor, "but then I remember when we went into the studio, [Matt's] publisher — out of being cheap — was like, 'Why don't you just bring your band in here and we'll just record the demos with your band?' We were like, "This guy's a hit producer. Is he producing us as a band?' That was our first taste of being artists. It opened that window in my mind of, 'This could actually be a possibility.' Because we were already starting to have hits as songwriters. We had just started to scratch that surface. It was like, 'Well, we write hit songs for other people. We sound good. Maybe we can take a run at this too.'"
Old Dominion officially formed and got its name in 2007, though they didn't release their first EP until 2014. The first single on that EP, Shut Me Up, did fairly well. What really got things going was the exposure that another single called Break Up With Him got on "The Highway," a country station on Sirius XM Radio around the start of 2015. The track gives you a good sense of their sound. It's a little pop, a little rock, clever songwriting and just enough of that earnest country flavor to recall the '90s take on the genre, which is what these guys would have been hearing in their teens and twenties.
"We wrote [Break Up With Him] goofing off just trying to make each other laugh, but we really cracked into this thing where it really hadn't been said in that way before, but everybody can relate to that," said Trevor.
The song's lyrics are written from the perspective of a guy who's calling a woman to convince her she should leave her man.
Hey girl, what's up?
I know it's late, but I knew you'd pick it up
Naw, I ain't drunk
Okay, maybe I do have a little buzz but
That song came on and I just thought what harm could come from one little call?
I know you say you're taken, but I say girl you're taking too long
To tell him that it's over Then bring it on over
Stringing him along any longer girl, it's just wasting precious time

— Break Up With Him
"It really hits on something that I think hadn't been said in that way. It's kind of like being a standup comedian when you can find something that everybody can relate to and think 'I don't think anybody's doing a bit on this.'"
"That one had an identity that framed us up," said Geoff. "I think probably still now, when people think 'What does Old Dominion sound like?', Break Up With Him is what we sound like."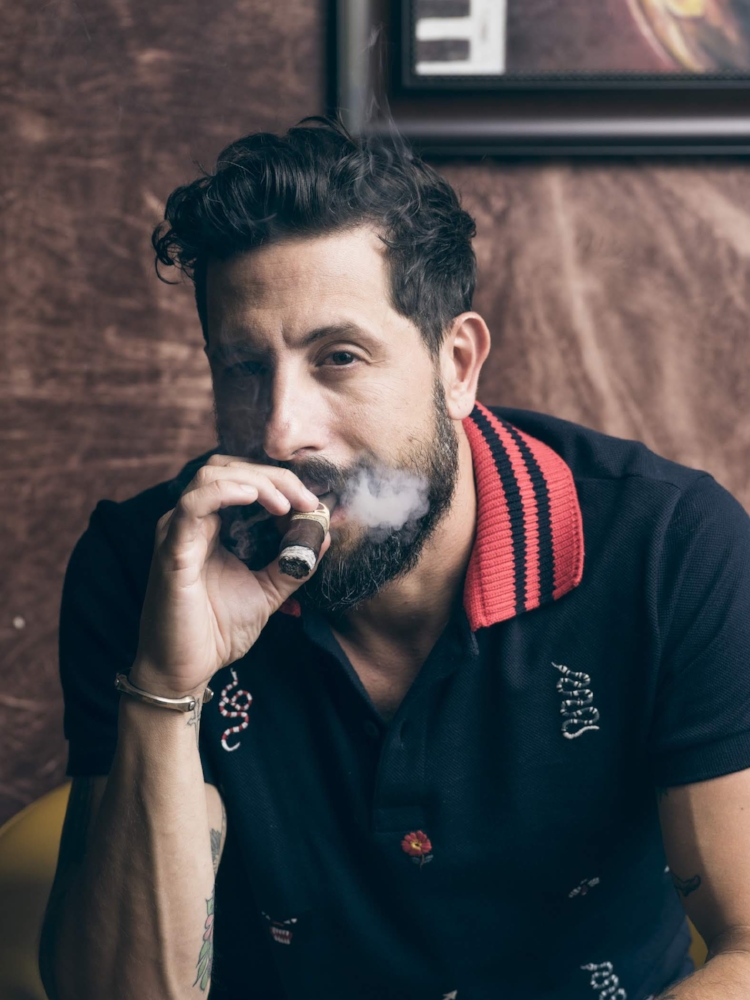 That sound has caught on in a serious way. Over the last few years, Old Dominion has been showered with praise for their work, garner- ing a slew of award nominations and wins at the Academy of Country Music Awards and the American Country Countdown Awards. Most recently, the band took home the ACM Award for Vocal Group of the Year, breaking a streak by Little Big Town and edging out Lady Antebellum.
When the group won the ACM Award for New Vocal Duo or Group of the Year in 2016, they were asked backstage whether they had lost their underdog status. How do you stay motivated and how do the challenges shift?
"We want the whole thing to grow. We're on this tour with Kenny Chesney right now," Matt said, referring to Kenny Chesney's Trip Around the Sun Tour, "and we spend every night watching a stadium full of people. I think that's what we want. With that award it felt like we just sort of broke through. Now we have some attention and we want to create a longstanding career like someone like Kenny has. He has a two-hour set of hit songs and there are hit songs he doesn't play. We would love to get to the point where we have the confidence of a two-hour iconic set."
Thomas Rhett is also a part of that Trip Around the Sun Tour. The Old Dominion guys noted that he's a smoker as well. They got him a box of Joya de Nicaragua Cuatro Cincos.
"He's such a part of the fabric of [his fans'] lives. We've had some people come to us and tell us we're a part of their lives," said Trevor. "He doesn't have 10 or 20 people like that. He has hundreds of thousands. Every town he goes to."
These are lofty goals, to be sure. Kenny Chesney has sold more than 30 million albums and consistently has his singles occupying top-40 spots on the Billboard charts. He's not only country-big. Kenny Chesney is just plain big. The day after my interview with the Old Dominion guys, I was at the Trip Around the Sun's Detroit stop at Ford Field. It was mind-blowing to see a football stadium packed with people — who notably ran the gamut of age — singing along with every single word Chesney sang, including the words to Save it for a Rainy Day, which Matt and Brad wrote with their late friend (and smoking partner) Andrew Dorff. Matt and Brad have been joining Kenny on stage to perform it on this tour.
'Cause the sun's too bright,
The sky's too blue
Beer's too cold to be thinking about you
Gonna take this heartbreak and tuck it away
Save it for a rainy day
Yeah, the music's too good,
My friends are all out
And they're all too high to be bringing 'em down
If they ask about you
I've got nothing to say I'll save it for a rainy day

— Save it for a Rainy Day
"I'm pretty proud of that song," said Brad. "Kenny is such a top-tier artist and he's so great at picking songs that to pick one that we wrote is pretty awesome. And to be able to watch it connect to so many people… It's such a simple idea, when you've had a heartbreak and then you have that moment where you're like, 'Forget this. I'm gonna have fun today.'"
Like Brad, the rest of the guys in this band are proud of their craft, their writing and their musicianship. While they've been around each other a long time, each brings a set of influences to the table that colors the work they put out.
"In the '90s, country was a thing. It had a very specific feel to it," Matt said. "'90s country was always on in my parents' kitchen. It wasn't what I was listening to by choice. I'm from a very small town and that's what everyone was listening to. I was listening to things like Pearl Jam, Soundgarden, but I knew everything about country because it was constantly on. As I grew older, I started to realize, 'Actually I kind of like some of this stuff.' As far as my writing goes, all of that bleeds in."
Anybody who was listening to '90s country on the radio was probably at least also passing through some '90s hip-hop stations to get there. In Trevor's case, growing up in Detroit meant rap and rock played a big role.
"I was a huge Eminem fan. I also grew up listening to NWA," Trevor said. "For me, it's the coolest music. You listen to that stuff and you're like 'We're not that cool.'"
"It's the rhythm in the song too," said Whit. "One of the advantages of country is that it co-opts any genre with no guilt whatsoever.
One positive addition has been the grooviness of hip-hop beats. It's opened up all different types of songs you can have. You don't have to have that same Nashville or country feel. You can get really creative."
Those hip-hop influences might be most vivid in the lyrics and rhythms of Dirt on a Road:
My mama taught me how to treat a lady with respect
But what the heck did you expect with the perfume on your neck
Is smellin' all so good, peaches and cream
You're so fly you make a trout want to jump right out the stream
So, walk those little boots you're wearing
Over here to where I'm standing Let's get to causing a scene…

— Dirt on a Road
"You can't be an adolescent male and not have that part of your brain tickled by hip-hop," added Geoff. "There's a magic to that genre at that age and we all grew up through that."
As true musicians, these guys are also perpetually curious. Whit has been on a Latin kick lately, putting special focus on Cuban music and Caribbean rhythms.
"No Such Thing As A Broken Heart has a Caribbean rhythm it's built on. None of us had any idea we were doing that, but it turns out it's a soca. There's so many different things to have fun doing," he said.
After a pause to think about the possibilities, the country-Caribbean fusion inspiration hits. "You play soca and you sing about a truck… Boom!"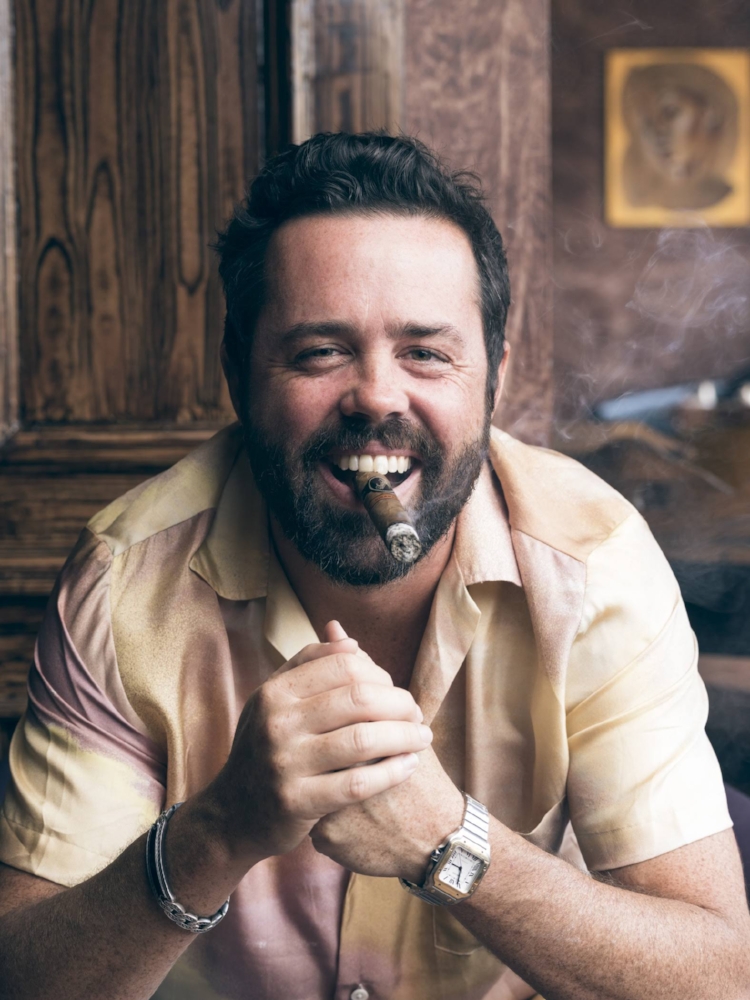 Old Dominion might not have achieved Chesney-level success yet, but they're on their way. In the meantime, there's been a marked improvement in the tour cigar selection.
"I remember [my first cigar] was a Swisher Sweet. With the plastic shitty dipped tip. All my buddies were smoking cigarettes and I didn't really like them, but for some reason I really liked those," Matt said.
These days, Matt's a Padrón guy. He smoked a 1964 Anniversary Series during our interview. He takes the lead on stocking the band's traveling humidor with Brad, who has more eclectic tastes.
"Crowned Heads has a lot of nice stuff, like Las Calaveras," said Brad. "They're also Nashville based which is pretty cool. This Herrera Estelí I really like. And of course the Padróns. Their cigars are by far the most consistently good."
During our sit-down at La Casa, other members of the band smoked cigars by Padrón, 7-20-4, and My Father, among other brands (some of us had more than one). I asked when it is they tend to make time to smoke together.
"I can't think of a specific moment," Geoff said. "It's mostly post-show good feeling. When things feel good, let's just sit and soak it up. And our life is not about sitting down. Our life is about moving."
"[After winning] any award," added Whit. "If an accomplishment is big enough, a cigar celebration is done by default. I probably smoke cigars less than anybody in the band, and that's when I'm thinking, 'I would like to have a cigar right now.'"
This is a change from Whit's initial attitude toward cigars.
"[When I smoked my first cigar] I'd only had experience with a cigar wrapper. Just the wrapper; it wasn't filled with any tobacco, though. Like, 'This isn't just a delivery system? I thought you always took the tobacco out.'"
Well it was down some street we couldn't even pronounce
We were smoking a little from a half an ounce
Tequila was cheap but the flow we were feeling was real
Neither one of us looking for three little words
Unless those three words were Do Not Disturb
Checkout was s'posed to be noon but we slept in 'til three

— Hotel Key
The more time you spend with Old Dominion, the more you realize these guys are having fun. It's constant laughs, inside jokes, stories, and awe at the ride they're on. Smoking cigars is part of the way they make sure they're savoring every moment of it. They also look to their next steps with a clarity that probably comes from having achieved this fame in their late 30s. They're country stars (it would even be fair to call them rock or pop stars considering their crossover appeal), but most of them were family men when they got here.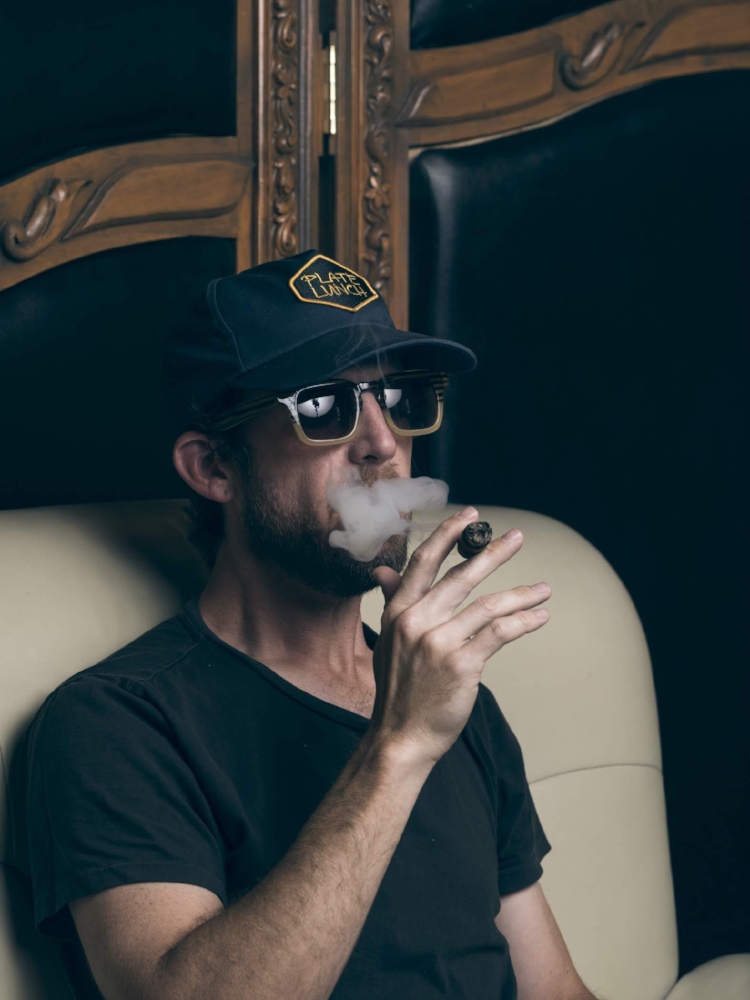 The members all agreed that they preferred to keep their families out of the public eye and maintain all the normalcy they can. Country might be the ideal music genre for finding fame in that regard.
"It's understood that [country artists] are supposed to be more like a regular person," said Matt. "And they're viewed in that way so it's not as eccentric as a pop artist. Walking through the airport you still look like a normal person. The biggest country star is still just wearing jeans, a t-shirt and a ball cap. He might be playing stadiums in that outfit."
And yet, to be fair, country has changed over the years. As I've noted in this piece, this crew has crossover appeal. That can bleed into their wardrobes.
"I forget that we dress differently," Trevor said. "I assume we dress like normal people, but someone will point out to me that normal 40-something year old people who take their kids to school don't wear these skinny jeans."
"It kind of creeps on you," Geoff added, "because our world is insular and there's five of us, so clothing-wise, we're all changing slowly but together. So you look around and what's normal is I'm wearing something closer to these guys, 200-plus days a year. You go back to Nashville and drop your kids off at school, and you realize, 'Oh, I'm not with my four guys…'"
"I look like a jackass," said Matt, laughing.
The flip side of fame is that it's brought these five guys into situations they might never have imagined otherwise. From invitations to stay several nights in Hawaii in exchange for a short acoustic performance to run-ins with the band's sports idols, the gig has come with a lot of perks.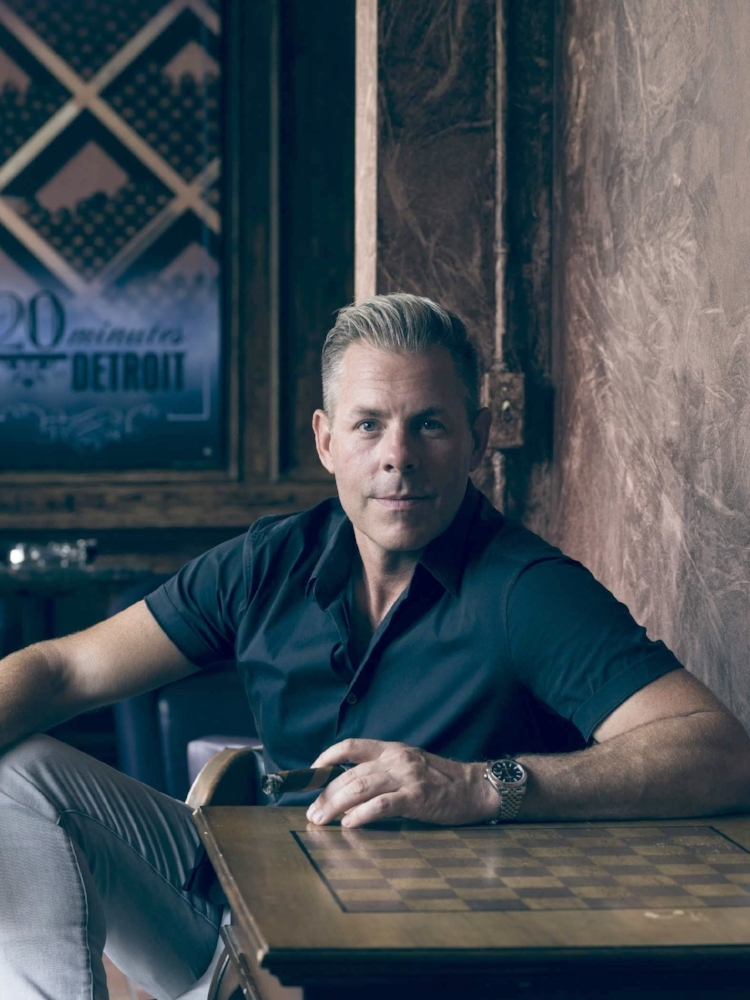 "We played Pittsburgh," Matt said, "and Bill Cowher came and was like, 'Oh, you guys are so great!'" I was like, 'You're Bill Cowher, man!'"
During a stop in Denver, Trevor — who once had hockey aspirations — met some NHL players who introduced him to John Elway.
"So John Elway says, 'Any time you need any- thing in Denver, let me know. Actually, let me give you my number.'"
The room went silent for a moment. Apparently, I wasn't the only one hearing this story for the first time.
Whit was first to react. "You have John Elway's number?!"
Then Geoff. "How long have you been sitting on John Elway's number?!"
A moment later, Whit had already figured out how the band would leverage this. "I have a feeling John Elway can get us a tee time."
While they're journeying toward whatever tee times and packed stadiums are in their future, I left my meeting with Old Dominion convinced that the best thing the band has going for it is the band itself. It's a group of friends who became a band, not the other way around. And that's the kind of thing you need if you're going to put out the kind of tongue-in-cheek, playful, authentic country that will have staying power with country fans and newcomers.
"You hit on something with hearing personality in our music. We're friends and we don't take ourselves seriously. We don't think we're that cool, so we're not going to make music that's putting up that front. So we're just making music that we enjoy," Matt said. "Our identity as a band is who we are as people and that's translated into our recording and our writing."
---
Click HERE for more stories!