Emmitt Smith's résumé is impressive. NFL Hall of Fame, three Super Bowls with the Dallas Cowboys (1993, 1994, 1996), NFL record for most all-time rushing yards (18,355), and even winner of "Dancing with the Stars" in 2006. That's a list many would envy, but there is much more to Emmitt than the player we may have seen on the field, on an ESPN set, or sliding across the dance floor.
Now 49 years old, Emmitt cherishes his role as a father and role model. A passionate business- man, he keeps goals in mind and works tirelessly with his charitable foundation to make a difference in his community. And when he gets a chance, the legendary former running back grabs a smoke, plays some golf, and does some traveling. He's also found a passion for cycling, even hosting the Emmitt Smith Gran Fondo, a bike ride fundraiser for Pat and Emmitt Smith Charities, his non-profit he leads with his wife Pat.
The Hall of Famer met with me at one of his businesses in Dallas, The Gents Place, an upscale barber shop where you can grab a haircut, shave, and maybe a glass of whiskey. Emmitt spoke about his life in football, business, charitable endeavors, and why he's taken to cycling to keep in shape.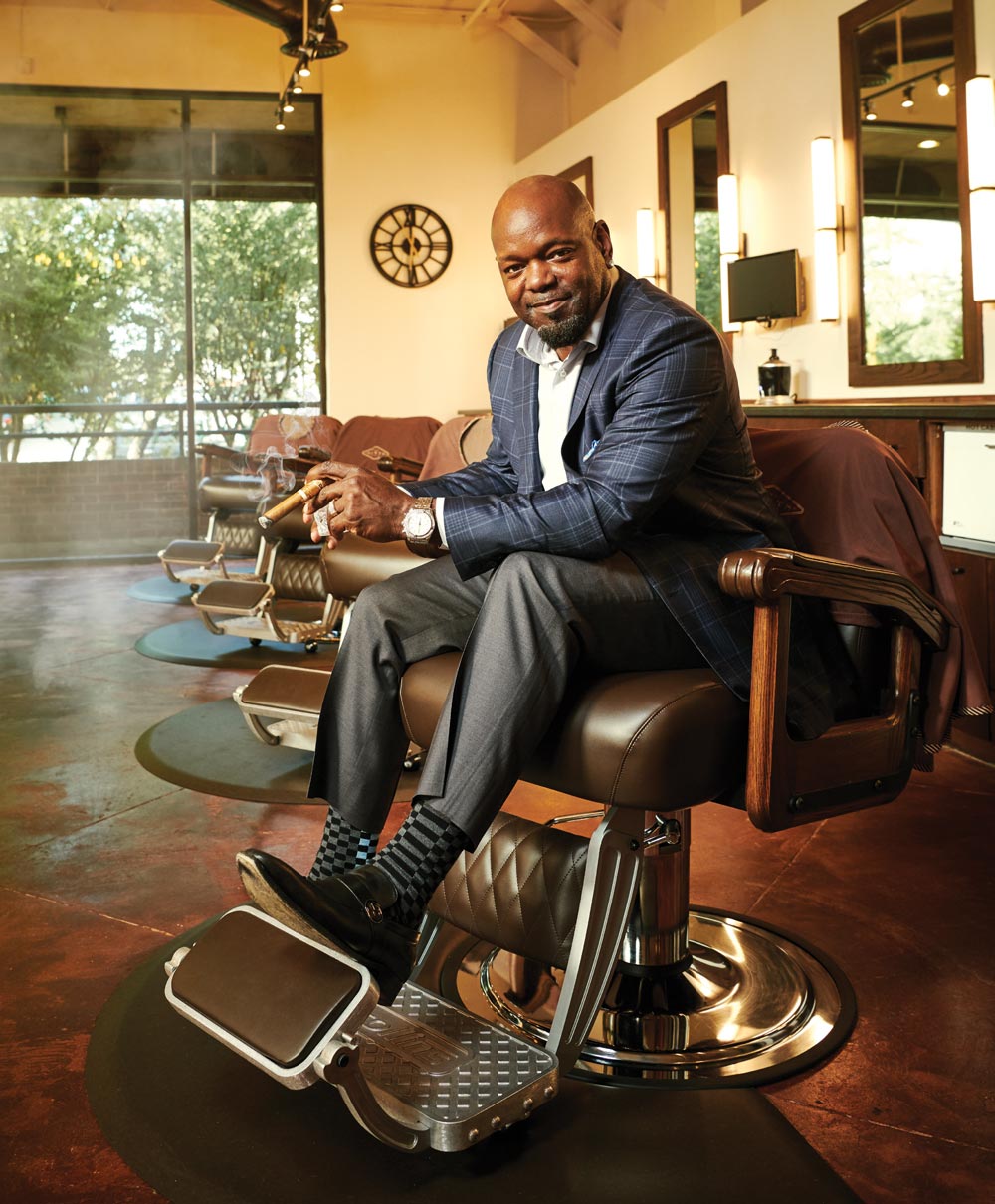 SC: Do you remember your first cigar?
ES: I think my very first cigar occurred on the golf course right around '98. When you're playing golf with Michael Jordan and Charles Barkley and Charles Oakley, and a number of athletes, and they're smoking cigars and so forth, you're like, "OK, I can try this." No one really talked me into it. It was just something that I thought, "I don't smoke cigarettes. I want to try a cigar, I can get into the cigar thing."
I like to smoke when I'm playing golf, just to take away the monotony of focusing all the time on the golf ball. Relax a little bit, puff, puff, let a little smoke out in the wind and just enjoy a walk down the fairway. Of course, if I'm going to be honest, I don't spend a lot of time in the fairway. I spend a lot of time in the rough. [laughs] So having that cigar kind of makes golf a little easier.
I'm usually in the rough too. When you're out on the course, what's the cigar you find yourself smoking most often?
My favorite is JFR; I like the big rings. I like some of the Cohibas with the gold wrapper. La Gloria Cubanas were the first ones that I really started to gravitate to.
I understand your daughter is about to graduate from college. Will there be a cigar celebration?
Yes, my daughter Jasmin's graduating this weekend from Duke University. So we're flying there tomorrow, and when I leave here I'm probably going to go by my cigar spot and pick up some JFRs to take with me this weekend to celebrate the whole entire weekend.
And with those three Super Bowl wins, surely there had to be a celebratory cigar back in the '90s?
No, back in my heyday when I was actually training for sports I didn't do any of those things outside dipping. I was in meetings, which got to be boring because I knew everything that was going on. And I thought if I had a dip in my mouth I wouldn't fall asleep. So a dip kept me awake. [laughs]
You're a businessman these days. What kind of thing are you involved in in life after football?
My major focus is development – real estate services. We're in the real estate business space all the way from front to the end. When I say front to end, my company ESmith Legacy Holdings is the parent company of the many companies that we own. We build mixed-use complexes like what we're in right now that have apartments above retail or retail shop- ping centers that have an anchor tenant, such as a grocery shopping center or mixed-use deals that are around medical facilities like we did at Johns Hopkins University.
So that's my major focus in terms of development. But the other company that we started this year is a new joint venture partnership where we are doing brokerage services, tenant rep business, office, industrial, retail, medical office space, and data centers. We represent clients and tenants who are looking for a new space or looking to liquidate space. Corporate services – those are the things we do under ESmith Advisors.
EJ Smith Construction gives us great construction options to help us manage the cost of the contracts, where we supply materials to ourselves and also materials to others. It's an infrastructure company in the construction commercial space and commercial civil space. So we do both commercial development as well as the civil infrastructure, roads and bridges, parking garages, and a lot of big infrastructure work. From a construction standpoint we're in the Texas space, and growing our footprint to do construction management on a national basis.
And then we have ESmith Horizons, our investment arm in terms of investing in America's infrastructure – roads and bridges, dams, schools, anything that the government may need financial assistance with. So through our partnership there, we have number of dollars that we are able to allocate to these types of things.
I like to smoke when I'm playing golf … I spend a lot of time in the rough. So having that cigar kind of makes golf a little easier.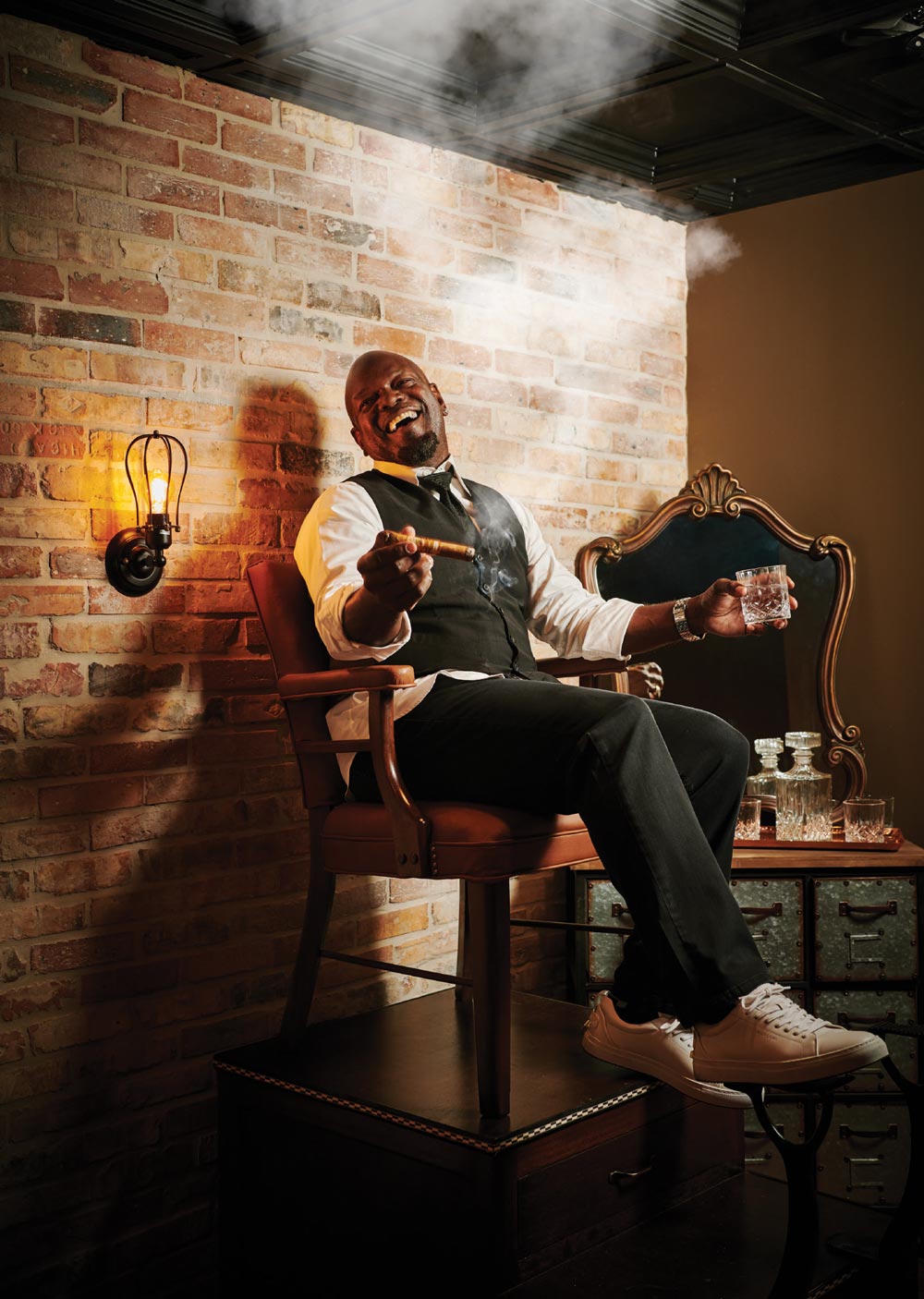 I don't think many people know how much you are involved in the business and real estate world. Has construction and building always been a passion of yours?
Construction is something that I became fascinated with through a coach when I was younger. When I was 11 years old, my coach Charlie Eggert in Pensacola, Florida, taught me how to read blueprints. I didn't know he was in the construction space, I thought he was just my football coach. The reality is he owned his own construction company and taught me how to read blueprints and floor plans.
I was inspired because here you have a young African-American kid that's coming out of meager beginnings who started in a humble spot. I grew up with powdered milk, government cheese, on government services, and food stamps. And here this white man had taken to me as an athlete, started to pour into my life in a way that opened my mind to what the possibilities of life could be like even without football.
I was inspired by his house, which was bigger than where we grew up and thought, "Wow this is fascinating. This is something new." From that point on, I always wanted to make my own way. I always wanted to have a job, to be a provider, and take care of not only myself, but do something that would give me the ability to take care of my family.
On that same note, how do you see your work making a difference?
I love what I do because it affects lives. It changes lives when you start understanding the real estate game from the perspective from which I sit. I come from these urban neighborhoods that lack services. And now I sit here after a 15-year career and living in an affluent neighborhood, and understanding the services that I have the pleasure of enjoying every day and remembering where I came from. I understand the services that are missing; people in the urban or inner city or impoverished areas have to travel to a grocery store that's over five miles from their house. And so I understand it completely now because I understand how the real estate game is actually played.
What are some challenges athletes face moving from pro sports to life after retirement and what advice would you give others facing this?
The challenge is twofold. Number one, the biggest challenge is letting go of what you have done since you were a child. I played football since I was 8 years old and missed only one year. So that was a challenge of letting go after having a 15-year career in the NFL. Yes, I did go to college, but I played football while I was in college and football got me to college. And then football led me to the NFL and that probably led me to other things that I'm doing now. I think the challenge is letting that go because when you've done something so long, it's hard to believe there's something else you could do.
Number two is finding something else that gets you as passionate about life after the game as it did while you were playing the game. You have to have the same courage that allowed you to play football and persevere throughout all those years of hard work, dedication, and sacrifice that you made for your sport. You have to find something to substitute for that and that keeps you competitive, keeps you getting up every morning, and enjoying life, yet excelling in life.
Charlie Eggert instilled in me the entrepreneurial spirit that I have right now. That opened my mind when I was playing the game to be able to ask questions of people here in Dallas-Fort Worth that I've met through football. People like Barry Andrews, who owns Andrews Distributing. People like Mark Cuban, who made his living in the tech space. My owner Jerry Jones, who started out in oil and gas and put all his money in to acquire the Cowboys at a deficit. But yet he turned it around and now they're a $4 billion company. And there were others like Magic Johnson, who took his platform and went from basketball into real estate and private equity. I'm a firm believer that your talent will make room for you. The question is, "Are you really willing to walk through the door of uncertainty with confidence?" Can you learn and be taught and be trained to be good at anything that you want to do?
Since we're discussing advice, what's the best advice someone's ever given you?
The beautiful thing about my life is that I've been around great coaches who have given me tremendous advice. I've been around great parents who have given me tremendous advice, and people from business who have given me great advice. And I was never one of those people who was afraid to ask questions.
My mom shared with me, "Never forget where you come from, always extend a helping hand."
Once after scoring a touchdown against Mem- phis State, I did a dance in the end zone. After the game, which we won, my father said, "Son, what was that you did?" I said, "Dad they were ragging on me so much before the game talk- ing about how I wasn't going to do this and not going to do that, so when I scored I wanted to show them yes I am and you can't stop this."
He said, "Son, the great ones don't do things like that," which left a question in my mind. If the great ones don't do things like this, do I want to be great or do I want to be something else? In my mind, I wasn't thinking about being great. I was thinking about leaving my mark, making an impression. God blessed me with a pretty good talent to do what I was able to do, so my father impacted me.
My high school coaches impacted me – both Jimmy Nichols and Dwight Thomas. Dwight Thomas told me, "It's only a dream until you write it down; then it's a goal." One day after I fumbled the ball three times in practice, Jimmy shared with me, "Son, you cannot play football for me laying the football down on the ground. Not a coach in America would trust you if you fumble the ball the way you did today." So ball security became very important to me because in a roundabout way he said, "You will never amount to anything fumbling the football. The ball is the most important thing on the field."
And then you run into a guy like Jimmy Johnson who had this philosophy: "Some guys are up here, some guys in the middle, some guys in the bottom." He also shared with me that when he gets on his best players, he's sending a message not necessarily to that player. Even though that top performer may think it's about him, it's not. It's about everybody because if they see the top guy getting in trouble with the boss man, that means they need to fall in line and need to measure up. So psychology-wise, I got the message.
My high school coach Dwight Thomas said, "Never become satisfied with anything because the day you do, the growing stops." I don't ever want to stop growing and that philosophy plays out right now in Warren Buffett. Here's an 87-year-old man who has all the money in the world, but yet gets up every day, exercising his brain. And doing it for what? He doesn't need another dollar – and gives most of it away. He's doing it because he's motivated, stimulated every day. He's passionate every day about life and helping people. Those are the leaders that I turned to.
Some of these people in your life really made a difference for you and it seems you and your wife Pat are trying to do the same for others. Can you tell me about your non-profit, Pat and Emmitt Smith Charities, and some of the work the organization does?
We started the charity nine years ago and our motto is "building bridges to open doors." I think it's a tribute to not only our parents – my mom and dad and my wife's mom and dad – but I think it's a tribute to the Charlie Eggerts of the world. People who poured into us at times when they didn't have to. But they did, to give us this sense of awareness of not only our ability to do great things in the world and make an impact in the world, but helping us under- stand we have what it takes to be successful. Through our charity, we feel like we have a sense of obligation to do that for others. I call it "inspiring others to their level of greatness."
I want to open the doors of opportunity for others. Today in society, it's a big push for minority participation on a global basis: men, women, LGBT. All those things are paramount. Equal opportunity is paramount in society in order to alleviate that deficit. I believe we have to have cohesive buy-in to the vision of the United States and that vision has to come from the leader of our country. If that vision does not include the diversity within this homeland, then there are a lot of people being left behind.
Giving back is important to me and it was important for my mom. Every time I achieve a level of success, I always hear in the back of my mind her saying, "Never forget where you've come from. Always extend a helping
hand to people in need." And I don't have to talk about how poor America's school sys- tem really is, and how much lack of support our teachers get. How crowded some of the school classrooms really are. Not to mention other challenges we face as a society – psy- chological challenges and broken homes. All of that coupled with lack of hope.
When you sit in a position where you've come from these places, you have a tendency to empathize with people who have great potential but a lack of opportunities. For me to sit in this place and not to try to bring services to my community, that would be a tragedy. And it's challenging. I must admit, it's even challenging for a guy like myself. Because in this world, I've come to find that if it's not top of your mind, it's not even on your radar. People are comfortable with being successful on their own. And as an athlete, society wants us to be humble. They want us to be engaging.
But at the same time, I say to society, "Have you forgotten where you came from?" I'm a firm believer that nobody becomes successful by themselves. To whom much is given, much is required. That's the message. And if you've been given and have had the opportunity to become successful, sometimes it's better to be connected in the community than to just send your dollars to the community. You might get better rewards in terms of spiritual rewards or open heart rewards when you bring a piece of yourself back to the community.
There's nothing sweeter than winning [a Super Bowl] and having an opportunity to share it with the people you love the most.
Many Emmitt Smith and football fans may not know how much you're into cycling and that your charity now runs a major bicycle ride fundraiser. Can you talk about the Emmitt Smith Gran Fondo and how you got into cycling?
I got into cycling through some brokers I worked with. They were top producers within our company, competitive people. They liked to ride and introduced me to cycling. I bought a bike and I started riding. If I go out and ride my bike for an hour and a half, I can burn 1,000 calories, which is significant for a retired athlete. I also found that my body felt great. My body wasn't as sore the next day as it would be if I was lifting weights or running because I don't feel like I can run anymore.
Wait a second, NFL rushing king Emmitt Smith can't run anymore?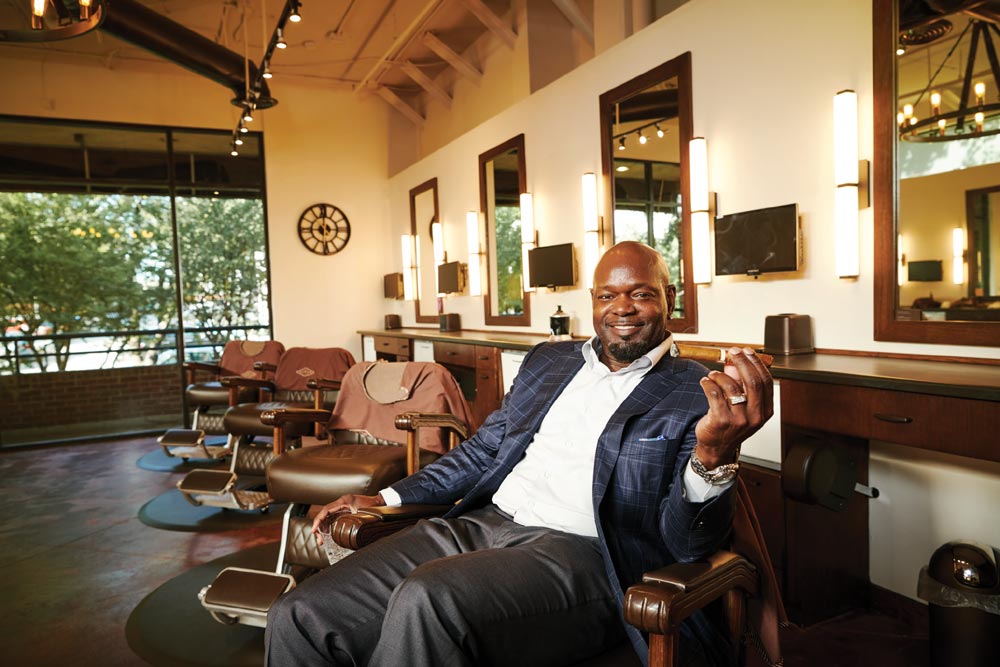 No, I've run the life out of these legs after 18,355 yards and being hit an ungodly amount of times. If I had to get away from something or go save someone, I probably would do it and not think much of it. But afterward I'd be suffering. I found when I got on my bike and rode 20 or 30 miles, I would get up the next day feeling fine and had burned almost 1,000 to 2000 calories and that's a great feeling.
The key now is about being heart healthy and being physically healthy to enjoy the rest of my life. The Emmitt Smith Gran Fondo is a 100-mile ride but within that we have a 100K, a 45-mile ride, a 22-mile ride, and we have what we call a "family ride," which is a couple miles around the venue. Within that 100-mile ride, we have professional cyclists who are competing for a purpose. It's a fun day. It's exciting, and a cool event. It's an event that is constantly growing and I can envision this turning into something that could be a major weekend here in Dallas.
Since we're talking a bit about athletics and sports, let's move on to football. Can you describe the feeling of walking out of that tunnel for your first Super Bowl in 1993?
I was at the Super Bowl in 1987 with my best friend during my senior year in high school. I was named Gatorade National Football Player of the Year, and it afforded me two tickets to Pasadena, California. We watched the Denver Broncos and the New York Giants, and the Giants kicked the hell out of them.
My best friend and I were sitting in the stands in the Rose Bowl. As an athlete you're in an atmosphere that provokes this excitement, this energy like, "Man I want to be on that football field and play." Fast forward six years later to 1993, the Cowboys are playing the Buffalo Bills in Pasadena. That moment just walking out of the tunnel in my first Super Bowl and all my aspirations and dreams are right before me – not knowing what's going to happen on the other side of this game.
The excitement, the energy, nervous energy, being able to walk into that stadium and look up into the stands and see not only my best friend Johnny up there with his dad, his mom, my family, and people that I knew back in Florida. Being able to perform in front of them was unbelievable. So again, my dreams of becoming a professional athlete, a professional football player, playing for the team I always wanted to play for, the Dallas Cowboys, playing in the Super Bowl in the stadium that I wanted to play in, and seeing my people around – there's nothing sweeter than winning it and having an opportunity to share it with the people you love the most.
There are Cowboys fans all over the country, so I have to ask about the team. It's been 22 years since America's Team won a Super Bowl and they have only two playoff wins in that span. What's your opinion of where the Cowboys are headed?
I think the Cowboys are going through a transitional phase, and may be trying to figure out how to accelerate this transitional phase so we don't lose. With the retirement of Jason Witten and the release of Dez Bryant, it makes things a little uncertain. But the game of football is full of uncertainties to everybody.
No matter how you look at it, you could be a team that has a positive impact saying, "Yes we have a chance to go back and repeat," like Philadelphia. Or you could be a team like the Giants where everybody wrote them off last year, but they drafted a running back like Saquon Barkley, and now have all these wide receivers. All of a sudden your season can turn around.
I think the Cowboys are probably in that position to where things can be uncertain, but there is tremendous opportunity. And they have had a way of finding great talent in uncertain places in recent years. So it's going to be interesting to see how our team shapes up and how they accelerate going forward.
What might people reading this interview be surprised to learn about you?
That I'm an introvert in the sense that I don't do well around big crowds. I don't think I do, anyway. I've learned how to be engaging. But it's like too much stuff is going on around me and everybody's pulling you in a thousand different directions. It becomes uncomfortable because it's something that you can never control, and I have no clue how much is going to come my way.
So I think when I get home it's my only place of sanity because I get to zone out and be normal. I get to be dad, I get to be husband, I get to be brother, I get to be uncle, I get to be friend – to people that I'm really close to.
Because when you think about it, it can be 300 million people that I could shake hands with, but number 300,000,001 that doesn't get the handshake is the person that is mad. And that person's then on Twitter talking about how bad I am, how impolite I am. Then all of a sudden this groundswell starts happening. Fame is a double-edged sword.
Every time I achieve a level of success, I always hear in the back of my mind [my mom] saying, "Never forget where you've come from. Always extend a helping hand to people in need.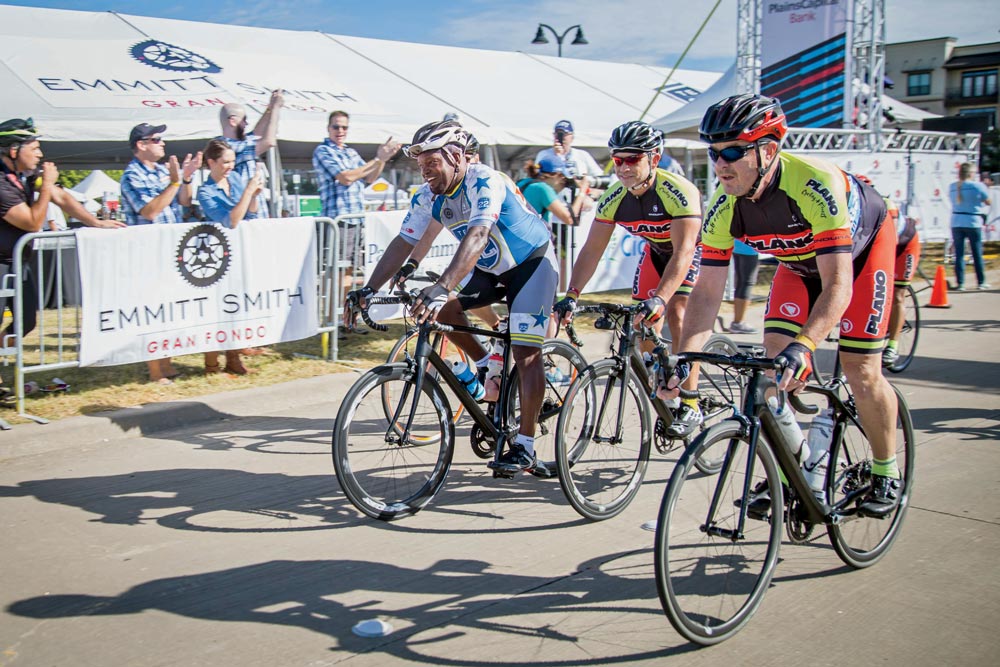 Emmitt Smith has found cycling to be an ideal way to keep in shape in retirement, and even created the Emmitt Smith Gran Fondo to raise money for his foundation's youth mentorship and back-to-school programs.
What's your advice on being a good dad?
I think a good dad shoots straight with his kids. Although the balance is understanding you once were a kid yourself. I tell my kids, "I know the tricks, so you can try to fool me all you want. You can say what you want to say, but I know the tricks because you ain't doing anything new that your daddy didn't do."
I think being a good dad gives you the balance of understanding that they are children and as kids they will make mistakes. But a great dad says, 'I'm going to give you as much information as you can handle because I don't know when God will call me home. I don't want you to live the rest of your life not knowing some information – and here's the information I want to give you. I'm going to give you as much and as often as I possibly can, so you can never, ever say 'my dad never said this.'
You still do a lot of traveling. What are some of your favorite places to visit?
I travel so much, but there's no place like home. I'm like Dorothy trying to click my heels to get back home. But my wife's favorite place is Cabo San Lucas, Mexico, and I've become a big fan as well. California also, San Diego is a beautiful place. I've become very fond of L.A. as well. New York is a tremendous city to visit and has so much to offer. My wife and I really enjoy Rome and Florence in Italy also.
I just want to be happy no matter where I go. I'm open to go places I've never been before just to try it out as long as I have the right person with me, which is my wife. Then it's all good.
---
The Emmitt Smith Gran Fondo will be held Sept. 22 in Dallas. For more information and to register visit www.EmmittSmithGranFondo.com. The event raises funds to provide programming for the charity's TEAM 22 mentoring and leadership development program and the annual Back to School Program.
Sean Chaffin is a freelance writer in Crandall, Texas. His work appears in numerous websites and publications. Follow him on Twitter @PokerTraditions. He is also the host of the True Gambling Stories pod- cast, available on iTunes, Google Play, TuneIn Radio, Spotify, Stitcher, PokerNews.com, HoldemRadio.com and TrueGamblingStories.com.
---
Click HERE for more stories!