Manny Iriarte
This story was originally published in the July/August 2011 issue of Cigar Snob Magazine.
December 7th, 2000, 02:15 AM: He couldn't sleep. His dream was becoming a reality; he had escaped the oppressive clutches of Fidel Castro's Cuba and he was finally in the United States of America. After years of failed attempts, prolonged detours in South America, and numerous risky plane changes, he had made it. He pinched himself till there was no way that this was a dream. He finally fell asleep while his cellmate snored the night away at the Mira Loma Detention Center in Lancaster, California.
Here's a quick lesson on US immigration policy towards Cuban nationals. From the US
State Department Fact Sheet: "The Cuban Adjustment Act (CAA), Public Law 89-732, was enacted on November 2, 1966. The law applies to any native or citizen of Cuba who has been inspected and admitted or paroled into the United States after January 1, 1959 and has been physically present for at least one year; and is admissible to the United States for Permanent Residence."
There's a lot going on in that seemingly simple statement. Distilled down it means that after going through a short inspection and admission process, a Cuban national will be admitted into the US, and that after just one year of living in the country, he or she may become a permanent resident alien. In the complicated and risky world of immigration, this is the equivalent of a golden ticket. What isn't in the above statement but is also part of the deal with Cubans is that they do not need to use a family-based or employment- based immigrant visa like just about every other group. And finally, a Cuban national is not required to enter through a port of entry. In the end, if a Cuban national makes it to American soil, regardless of how he gets here, he or she can legally stay in this country legally and permanently after one year of residence.
Upon arriving in LAX (Los Angeles International Airport), Manny alerted customs and immigration that he was a Cuban national. As part of the standard procedure, he was taken to Mira Loma where he would have to wait for admission into the country. A few days later, he was released into the streets of Lancaster a free man. Free from the tyranny, from the oppression, and from the failed political ideals. The moment was bittersweet on various levels. On the one hand, he was free to pursue a new life while on the other he was far away from family and friends. He had been released and had gained legal entrance into the United States but he was alone, cold, and penniless in a foreign land.
Imagine this recent arrival Cuban with only the clothes on his back, speaking almost no English, hailing a cab in Lancaster, CA. "I will never forget that cab driver," says Manny. "I don't know how he understood me or why he even bothered to fight through this conversation but he eventually took me to a Western Union where I was able to have some funds wired from Miami to pay for the cab, some food, and a flight to Miami. I don't know what would have happened if not for that cab driver."
Manny's a special human being. He has incredible talent and creativity but beside that he has a feeling of the culture, the history, and the passion of cigars which is something to be admired and respected. Another thing about Manny that I admire is his work ethic; he's very serious and hard-working but he's also very responsible. In a short time Manny and I have become close friends to the point that I
consider him like family.

Carlos "Carlito" Fuente, Arturo Fuente Cigars
He eventually made it to Miami where he began a new life. In Cuba he was a swimmer for the Cuban National Team but in Miami, he was just another recent arrival. He worked as a personal trainer taking Spanish speaking clients. When you don't have much, the most insignificant things bring you joy. "I was living in this studio apartment in Southwest Miami and every day I would receive these flyers in the mail for electronic stores. I loved them!" His eyes light up when he talks about these lean times. "I would ip to the camera section and imagine what it would be like to shoot with something from this century." Back in Cuba a tourist had gifted him an old 35mm camera that sparked his growing passion for photography.
Soon he learned to speak English, received a teacher certification for Miami-Dade County Public Schools, and took a job as a physical education teacher in the public school system. "I loved it. Helping kids get in shape and get better at sports was a lot of fun, but at night I kept taking pictures of cigars." He loved smoking cigars and loved taking pictures… it wasn't much of a stretch to put both passions together. "Cigars are so photogenic. People always ask me how I get the smoke to look so real in my pictures." His answer is always the same. "I get the smoke to look real because it is real! You have to smoke the cigars you're taking pictures of; it's one of my favorite parts of my job." It was during one of these practice sessions using natural light that Manny took the shots that he eventually showed me during our very first meeting.
It turns out that the gym where Iriarte worked out daily was the same gym that a dear friend of mine frequented. (Some day, I too will have to join a gym…) The friend in question, Angel Elizalde of A.S.P. Enterprises (www.aspenterprisesinc.com), saw Manny's work and immediately suggested he contact me.
Five years later Manny Iriarte is unquestionably the cigar industry's "go-to" photographer. His work in the cigar industry has opened eyes in other sectors as well. The marketing team at Beck's Beer Latin American division fell in love with his work and commissioned Manny to shoot for their Latin market in-store poster campaign. If you look up Arturo Sandoval's award-winning "A Time For Love" album, you'll find that all the photography, including the cover, are Manny's shots.
Back in the cigar business, however, Iriarte's photography clients needed more than just photos. Logos, artwork for ads, poster designs, shelf-talkers, and even trade show displays are dressed with Manny's work. My Father Cigars hired Manny to shoot all of their product shots and design all of their ads, posters, and catalogs. Padrón Cigars used several of Manny's shots when they recently launched a new website. Oliva Cigars used Iriarte's photography in ads and marketing collateral all over the world.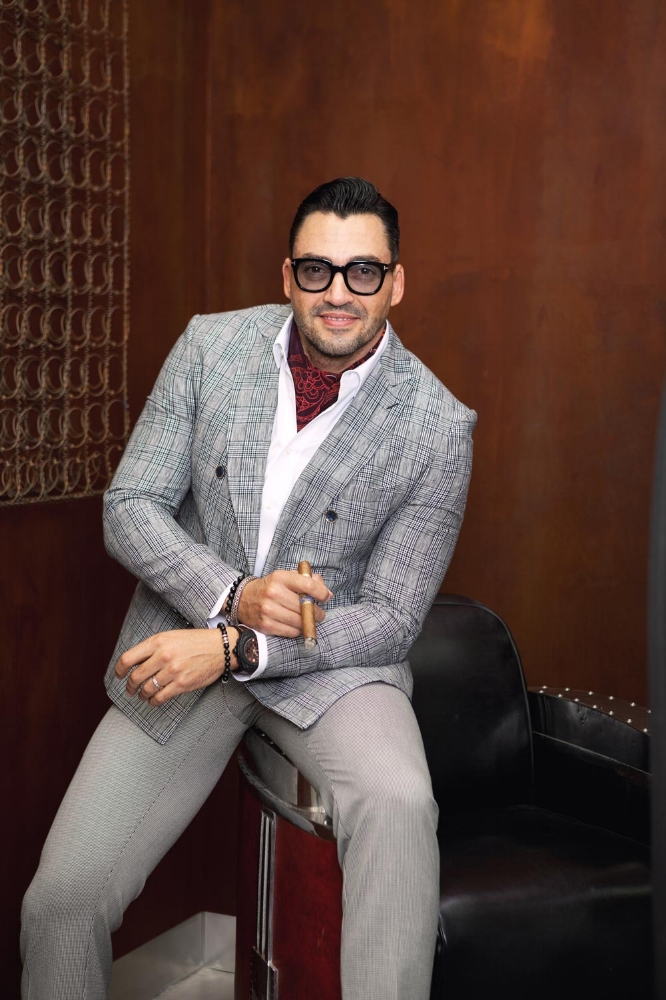 Early 2008: Manny is setting up the studio for a product shoot for J. Fuego Cigars (www.tabacossa.com) while Jesus (pronounced Heh-Seuss), the J in J. Fuego, is thinking aloud about a problem he's having. "I have this new blend that I love, I already have the initial batch of cigars rolled and ready, I have the name for the brand, but I don't have a band design that I like. Do you know someone who can help?" Similar to the tourist who gifted Manny that 35mm back in Cuba and sparked his passion for photography, Jesus didn't know he was playing with a blowtorch in a barn full of hay. "I'll do it. I'll create the label for the new cigar!" Manny designed the cigar label for the 777 by J. Fuego brand. Much like the events that led to this one, this chance request paved the way for the next step in his career.
Over the last 12 months, Iriarte Photography and Design has been hard at work balancing the photography requests with the growing number of design requests. The biggest area of growth for Manny's business over this time has been cigar label and box art design. "I think that in order to stay energized and motivated in life, you need to take yourself out of your comfort zone," explains Manny.
"At first it wasn't easy to come up with designs that worked for cigar labels, but I worked closely with Albert Montserrat and his team at Cigar Rings in Santiago, Dominican Republic and we've been able to come up with some incredible new designs." It has reached the point where Manny's designs are pushing Cigar Rings out of their comfort zone. "We've ordered new machines and new materials that can execute some of the amazing designs that Iriarte Photography and Designs has sent us and we are excited about what we're able to produce together," added Albert during a recent phone interview.
It won't be long before Manny runs into a new medium of inspiration… or perhaps he already has. "I'm working on the most exciting project I have ever worked on. I am thrilled and honored that my company was chosen to create this design to commemorate a major milestone in the modern cigar industry, I can't wait till it's public!"
There he goes again…
---
Click HERE for more stories!