The terrace at the far back end of his New York City store is part of an expansive lounge area he uses to entertain guests at private events. The open-air portion has room for its own crowd to gather and sits almost right against the windows of the Argentinian consulate just off 5th Avenue between W 55th and 56th Streets. We puff away on cigars while we enjoy snacks, wine and coffee in perfect weather, eventually joined by friends and his statuesque Italian fiancée. When he's not here, he's usually at one of his other shops — either in Los Angeles, Miami Beach, or back home in Italy.
By just about any objective measure — to the extent that these things can be measured objectively — Domenico Vacca is living the dream. Specifically, he's living the American dream. The one in which an immigrant comes to America and spins his home country's core values and identity into a business that couldn't have happened back home. The one where opportunity makes all the difference and pairing a clear vision with hard work pays off in the form of big-time success and recognition.
"The famous American dream is getting soft," said Domenico Vacca, pausing to gather his thoughts as he took a puff of his cigar and contemplated the way his adoptive country has changed since he started stitching his dreams together in the fashion industry. "And the point is that we should find a way to go back there."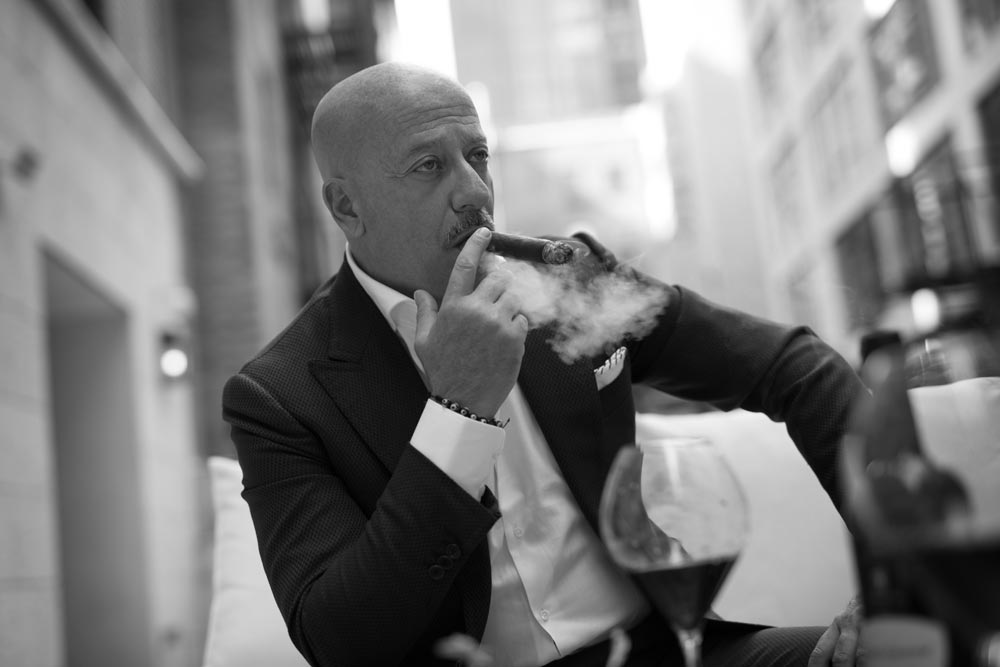 A cathedral of quality
Domenico was born and raised in Andali, a tiny town in the south of Italy. His maternal grandmother had a fashion company and her side of the family included plenty of seamstresses and tailors.
"I grew up on tailor tables," he said.
His family encouraged Domenico not to pursue fashion, though. There'd be no money in it, they said. It was too much work, they said. So in pursuit of other avenues to success, Domenico came to the U.S. 25 years ago and earned an LLM (master's in law) from NYU. He spent time in the corporate world, but eventually, all roads led back to the business that ran through his blood.
"My grandmother had always told me and my brothers, 'Don't do anything related to fashion.' Back then, fashion hadn't gone global. She couldn't have foreseen what's happened with fashion."
Domenico established his brand when he opened his first New York City boutique in 2002. He now has stores of various sizes around the world (Miami Beach, Beverly Hills, Milan), but to call the New York location where we met a "store" is to dramatically understate what Domenico has built in his little slice of Manhattan. The two-story lifestyle "cathedral," as Domenico puts it, includes not only the retail and fitting areas you might expect, but a coffee shop, a barber shop (with a bottle of Scotch at the ready near the barber chairs), a hair salon and the large lounge space where we did our interview. Throughout, the place is packed with a world-class art collection integrated so seamlessly into the space that you could be forgiven for overlooking the fact that that alone is worth the visit.
Every detail is designed to suck you into Domenico's vision for his brand, which isn't about him or his name, but rather an appreciation for the luxury of top-quality handmade goods. That love of craftsmanship is patently Italian.
"What I've learned is that anything you do is about communication. You can make the best product in the world. If you don't communicate it in a way that people can understand right away, then it's not going to be easy to make a point. When you explain that everything that comes from Italy is done by hand, sometimes, you know, even in interviews, journalists say 'Oh, it's made by hand, so you bring it by hand underneath a machine' and I say, "No no, it's completely done by hand."
"If I do a shirt handmade, meaning 90 percent of the seams are sewn by hand, it means you're not dealing with a machine. When the machine's needle goes in and out, you have 25 knots per inch. These 25 knots have nothing to do with one another. They are independent knots. That means that when you wash the shirt and then iron it, you have to press like crazy on a machine shirt — because you have to have 25 knots that are completely independent — to go back and make a straight line. Very difficult to do that. You force the fabric, so after a while you have to throw the shirt out.
What I've learned is that anything you do is about communication.

Domenico Vacca
"On the other hand, when you do it by hand, you have stitches. A seam starts with a stitch, you have a knot at the beginning and one at the end. You've done the seam. In a handmade shirt you pass the iron on top and everything goes back into place.
"Another thing: when you wear your handmade shirt or jacket, it will mold to your body after I put it on you and you wear it three or four hours. That is the sartorial look. Because the garment works with your body because all the stress points are working to go around your body because they have stitches and not knots."
For the sake of analogy, Domenico suggests thinking of clothes in terms of complications, the way you would watches. Of course you could buy yourself a watch that just tells time. But you pay a premium for watch complications, which are functions other than simply telling time. Those complications literally complicate the manufacturing process and the engineering that goes into fitting watch components into a casing and getting them to function properly. Those complications include, for example, chronograph movement, date and month movement, and of course, the tourbillon, which you'll generally find in the most expensive watches.
"If I start talking about one of my suits or jackets, it would take an hour to tell you about all the complications we do that other people don't do," Domenico said. "And they are very important for the final garment."
Clothing is about culture
Those ideas about the value of handmade complications and the appreciation of consistent precision and quality are notions that we cigar smokers under- stand intuitively. It's no wonder, then, that Domenico smokes cigars daily too. When he's not smoking Cubans, his go-to is the Padrón 7000 (which he says is just the right size for gathering his thoughts on long New York City walks).
I've never been a fashionista, but there's another aspect of high fashion — at least the way Domenico does it — that feels familiar to me as a cigar lover. Talk to any cigar maker and they'll tell you that in some way, shape or form, there is an aspect of culture that they're communicating to you with their cigars. If you're smoking a Padrón, for example, you're being told at least a piece of the story of the Padrón family, from Dámaso to José Orlando on down. To the extent that anyone is listening, your appreciation for handmade cigars also says something about what you value and how you live.
In that same way, fashion is a matter of cultural identity and lifestyle to Domenico.
"Clothing is about culture," Domenico said. "It's thinking about the kind of man or woman who wears my clothes. What do they do? What should be the lifestyle? As many of the luxury brands, we are becoming a lifestyle brand. So how do we cover — with clothes — all 24 hours of the 365 days of a year so we understand what is the lifestyle of our clients and we can dress them accordingly to their social life?"
The American fashion market wasn't like that when Domenico created his brand 15 years ago, he said. It was clothes-in-clothes-out. Even brand people associated with Italian fashion, he insists, were adjusting the cut of each garment to appeal to the American market (which generally seems to mean that they made the clothes less form-fitting, especially on men). This was also due to the fact that so many of those brands' revenue models depended on selling clothes to retailers like department stores, which weren't willing to take risks with a more Italian fit.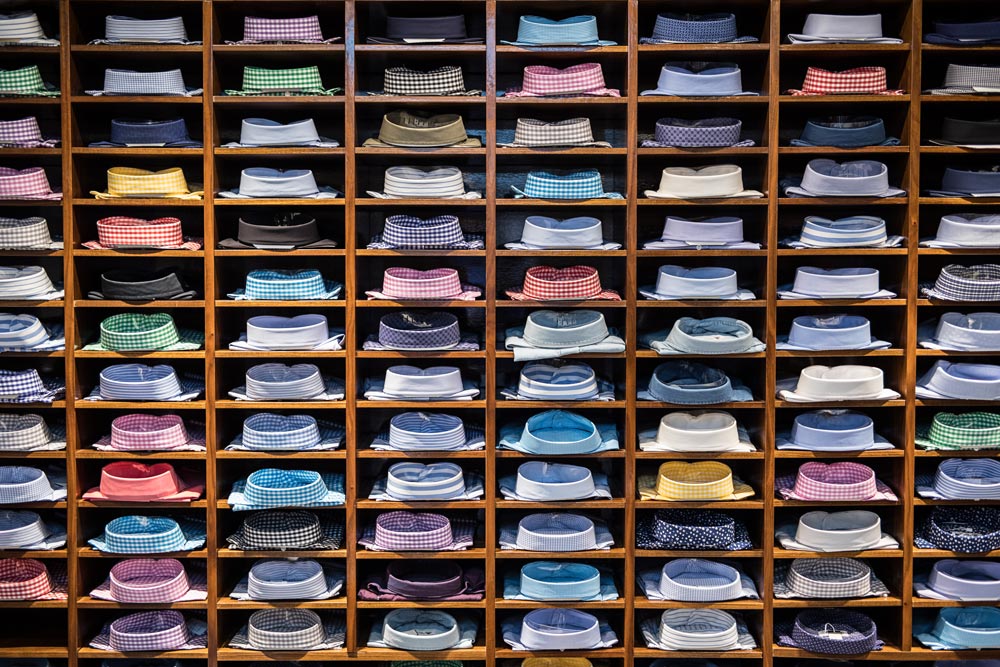 "I don't give a damn about that. I want to educate Americans. I want them to dress the way we dress in Italy," Domenico said. "We were the first to bring that. Taking a risk. I remember when we did our first collections for men and women, but especially men, in the factory they would say, 'Are you sure this is going to work? This is a very Italian fit.' This was the clothes that I was wearing. I said, 'Don't worry about it. If it doesn't work I'll wear it myself and give it to my friends.' That was our winning element."
Turning to analogy again, Domenico brings up food. "Restaurants like Cipriani didn't always exist (in the United States). So you would go to Venice and have an amazing dish at Cipriani, but then you would come here and you would find more Italian American restaurants with pasta swimming in red sauce," Domenico said. "We don't have marinara sauce in Italy. We don't have Fettuccine Alfredo in Italy. It's an invention of the American market. Giuseppe Cipriani came and said, 'OK, the same menu you're going to get in Venice, Milan, Florence, or Naples, you're going to get here.' And Americans went crazy about it because they were ready for that. The same thing happened in clothes."
Importing what he saw as authentically Italian and refusing to compromise it for the sake of broader appeal turned out to be a winning strategy for Domenico. But success has been about more than bringing Italian aesthetics and sensibilities to American shores; it's been about reaching Americans — with varying degrees of subtlety — by penetrating America's popular culture.
Domenico isn't a household name. You might assume that because you didn't know the name or because you'd never treated yourself to one of his custom suits, you don't know his work. You are almost certainly mistaken.
In fact, when you consider how recently Domenico launched his brand — remember, he's only been around since 2002 — it's incredible what he's pulled off.
Domenico dressed Ari Gold, Jeremy Piven's character on Entourage, through all eight seasons of the HBO hit series (plus the 2015 movie). He's done wardrobe for Lucious Lyon, Terrence Howard's character on Empire. He dressed Denzel Washington in American Gangster. He dressed Forest Whitaker for his role as police captain Jack Wander in Street Kings. And that's just the tip of the iceberg on his Hollywood wardrobe résumé.
And then there are the clothes that stars wear when they're not playing roles. At the 2013 Academy Awards, three winners accepted their Oscars in Domenico's clothes: Daniel Day Lewis won Best Actor (Lincoln), Alan Arkin won Best Supporting Actor (Little Miss Sunshine) and Melissa Etheridge won for Best Original Song ("I Need to Wake Up" from An Inconvenient Truth). Ivana Trump is another big customer of his, and she wore his designs when she was all over the press promoting a recent book. All of these tacit endorsements serve to build on the brand's credibility with consumers who look to trendsetters for cues.
"We are able to send the message that Daniel Day Lewis picked Domenico Vacca, and this is a guy who does his own research on everything he does," said Domenico. "It means we are doing something right. If they picked us for Entourage, which is like Sex and the City for guys, it means that we're doing something right." He added that while it's common practice for brands to pay celebrities to wear their clothes, he does none of that.
In the case of the characters he dresses, Domenico says he's involved enough and takes those challenges seriously enough that he has a hand in developing some of the characters you know and love.
"When I walked into Terrence Howard's trailer [to work on his wardrobe for Empire], he said, 'Finally, I'm going to have great clothes!' You want your leading actor to be comfortable. And also dressing that guy, you also keep communicating your DNA, you know? Your lifestyle."
If you've never seen Entourage, it helps to know that the Ari Gold character represents the height of caricature-ish Hollywood deal-making douchebaggery. He's one of those characters so slimy you never want to be him (well… maybe sometimes you want to be him), but just good enough that you find the slime endearing. Ari, though constantly tiptoeing along a thin line between crisis-driven desperation and explosive nervous breakdowns, is always dressed like the sort of person who is in complete and utter control.
"Journalists sometimes ask me how menswear has changed in America in the last 10 years," Domenico said. "And I say 'Go watch Entourage.' From the first episode to the movie, it changes. When we first started, the agent in Hollywood was wearing a black suit with a black shirt with a black tie with a black pair of shoes. Now they dress like Italians. Now, when I go to L.A., I walk out of ICM or CAA (L.A.- based talent agencies) and they are all dressed like they're in Milan. I think we had a little part in that."
Actors like Jeremy Piven and Forrest Whitaker, said Domenico, take things from his designs into the way they play their roles. Ari Gold's swagger and the cor- ruption of Jack Wander are reinforced by the A.G. monograms on the inside of Ari's suit or the gold lining inside Jack's jacket.
"Nobody saw it," said Domenico. "You can't see it on the screen. But they knew. They say, 'Now I know who this character is,' and that's amazing because now you're really participating in the creation of the character."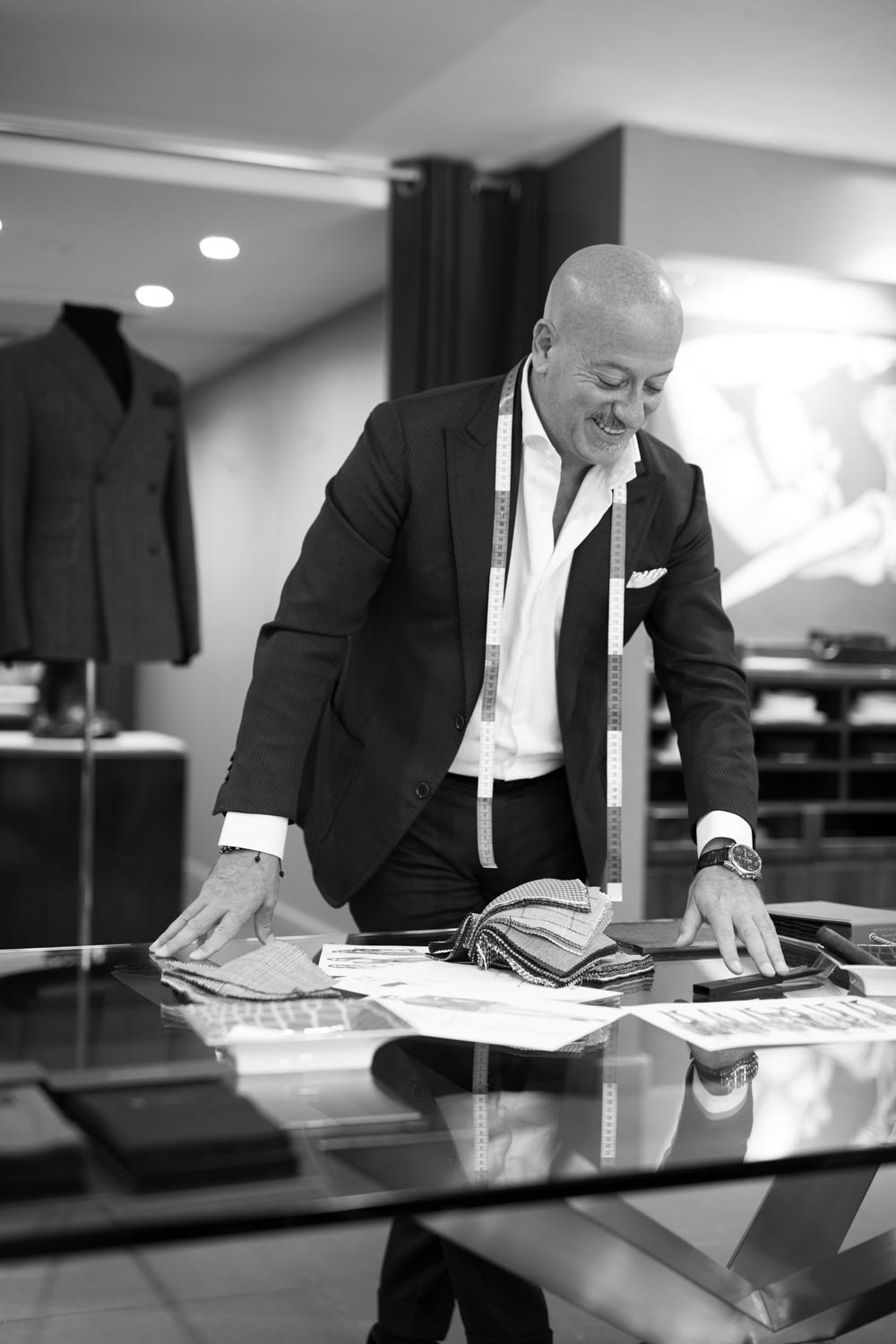 Changing times
When Domenico launched his brand about 15 years ago, the idea of bringing an authentically Italian fit to the U.S. was novel. Ballsy, even. But, like any good idea, this one was duplicated. So what do you do to stay relevant and stand out from the crowd when too many people have adopted your ideas for you to stand on those alone?
"The challenge now is the experience," said Domenico. "It's bringing people back into the stores and in order to do that, my idea was that I want people to come here not only to shop, but they come to hang out. And while they do that, they see something they like and they buy it. Or they become closer to the brand and they understand the lifestyle of the brand."
Hence the salon, barber shop, coffee, art collection and lounge. All those elements of Domenico's Midtown Manhattan "cathedral" for the lifestyle he wants people to associate with his brand serve a clear purpose.
Unfortunately, artificial barriers have gotten in the way of Domenico's vision coming to full fruition. While the lounge area at the back of the building has been used for private events on occasion, the idea has always been for it to be more accessible. But neighbors and local government have put up a fight on that.
Domenico doesn't remember the American landscape being quite so hostile to new things.
"You know, it's painful for me to say it, but when I came here 25 years ago, the American Dream was on full speed," he said. "You could do anything. I was always telling my friends in Italy that here, if you had an idea for a business, everybody will help you. It was always, 'Great! Let's do it. How can I help?' In Italy, it's not always that way. In Italy, you have to come from second and third generations. If you make wine, you have to come from a wine family. If you make fashion, it's the same most of the time.
"In Italy, this would have been impossible for me to create from scratch. Now I can do anything I want in Italy. Now they give me awards. But that's 15 years of fashion and success around the world later.
"Here, 15 years ago, everything was possible. Everyone was gathering around people with ideas. If you had a vision, you would find all the support that you wanted. Right now, not so much. It's becoming complicated," he continued.
Naturally, as a cigar guy, this all sounded very familiar to me. But Domenico sees this all as symptomatic of a broader cultural shift in the States.
"There are too many regulations, too many problems, too much hate. You can't do anything here that is great without people saying, 'Eh, I don't know.' Right now, the country is divided 50-50 or 55-45, if we look at the election. And everybody is against the other 50 percent. Unfortunately, maybe the president or whoever is running the country right now forgot that the best thing you need to do in order to recreate the American dream is to unite people. As long as we're divided, there will always be 50 percent who will criticize anything you do. So that's the status I think of America right now. I hope that, sooner or later, somebody will say, 'Forget about if you are one party or another party. Let's work together to rebuild this country because it needs to be rebuilt.'"
Domenico is an open book — the sort of person who has little trouble relating to people even while speaking his mind frankly. It makes sense that he laments the divisions he didn't see when he first arrived in New York from Italy, and it stands to reason that he would build his business around the idea of bringing people into his vision.
Consider that his product portfolio is broader than just the custom suits that can cost tens of thousands of dollars. A ready-made Domenico Vacca suit generally has a far more attainable price tag — about $2,900. Pants, shirts and jeans cost around $500 — not cheap, by any measure, but that's not the point. These are luxury items made well enough to last you a relative eternity. You're getting the quality you pay for.
Beyond that, his product offering has expanded to include things like belts, sunglasses, and — most recently — tableware. It's all geared toward finding ways for you to be a part of Domenico's world and experience his culture of authentic Italian quality for yourself.
While Domenico takes satisfaction from relaying his Italian culture through clothes, he's found he feels most at home around those who have lived it themselves. It's no wonder that he ended up with fiancée Eleonora Pieroni, an Italian model and actress he met in Miami while he was there for Art Basel events and she had just gotten through filming an Italian TV show.
"Strangely enough, for the last 20 years I had never had a relationship with an Italian woman. But in that moment, I started realizing that it was easier for me to communicate with her, to develop a relationship with her because we were coming from the same place."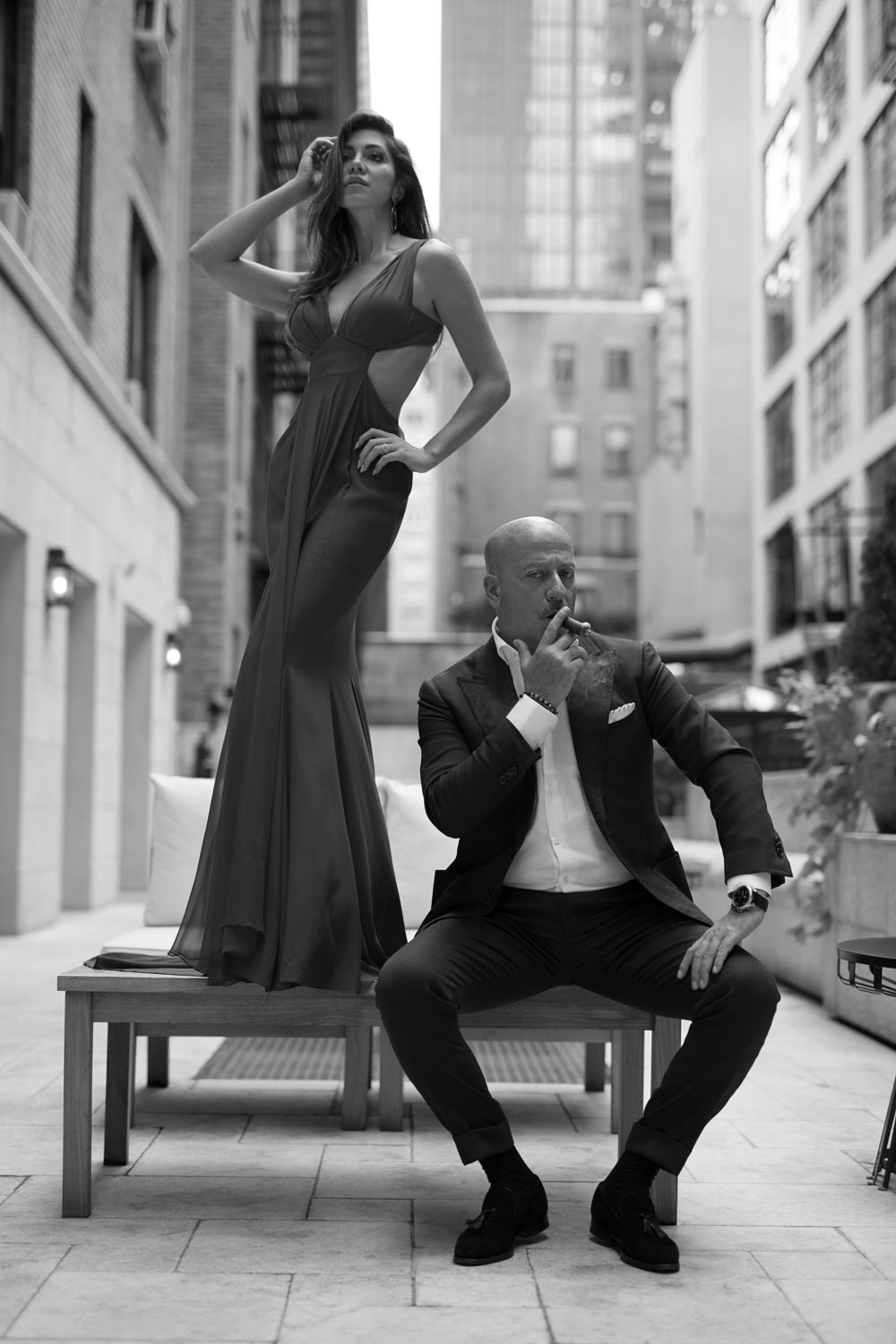 Domenico said their first date happened that week. The two went to a charity event the night they met, with Domenico's friend Mike Piazza and his wife.
"I never thought it was a date. He just invited me," Eleonora said.
Domenico clarified, "It became a date after."
Eleonora is now a part of Domenico's spreading the gospel of Italian style, serving as the face of the brand for women's clothing and even contributing to the design process.
She also shares his passion for spreading other aspects of Italian culture. For example, she was part of a group that took part in New York's Columbus Day Parade dressed in classic 16th century Italian clothing. Not quite what's made Domenico famous, but very Italian, to be sure.
"For me to see her walk down 5th Avenue with 100 people in costumes from the 16th century in the Columbus Day parade — it doesn't get more Italian than that in terms of sharing our heritage — was amazing," Domenico said.
As for his family back in Italy, his parents were able to see much of his success. His mother was around for more of it, even joining him for several store openings and events around the world. She died too soon to see his "cathedral," though.
"We Italians are very proud of being Italians. Most people would say that, but Italians in particular. So to create something like this in New York, to have my name on the building and everything, for me, it's very important. It's a link to my roots, to my heritage, to my friends."
---
Click HERE for more stories!