Alec Bradley Cigar Co. is shipping its Limited Edition Black Market Filthy Hooligan Barber Pole and Filthy Hooligan Shamrock cigars to retailers.
Both cigars are 6 x 50 Toros. The Filthy Hooligan Barber Pole ($11.50) is packaged in a green and black striped 24-count box and the Filthy Hooligan Shamrock ($13.65) comes in a 10-count gray box, featuring a large shamrock on the top of the lid.
Black Market Filthy Hooligan Barber Pole was introduced in 2016 and the Hooligan Shamrock followed in 2019. Both cigars spotlight 'first grow' bright green candela wrapper tobacco, representing the arrival of the spring season. The dual-wrapper Filthy Hooligan Barber Pole receives an additional cocoa colored Nicaraguan Jalapa leaf. The candela leaf on Filthy Hooligan Shamrock is accentuated by Nicaraguan Habano Maduro and Habano Natural wrappers. The wrapper combinations are set atop the same blend of Ecuadorian binder and Panamanian & Honduran fillers, shared with the original Alec Bradley Black Market.
"We only use choice candela," second generation cigarmaker Bradley Rubin said in a press release. "Barber Pole and Shamrock remain limited editions because the bright green tobacco we use needs to stay consistent from one production run to the next. Each year cigar enthusiasts revisit the Hooligan series to experience our candela's natural sweetness and unique flavor profile."
Both Alec Bradley Black Market Filthy Hooligan Barber Pole and Black Market Filthy Hooligan Shamrock are produced at Tobacos De Oriente, Danli, Honduras.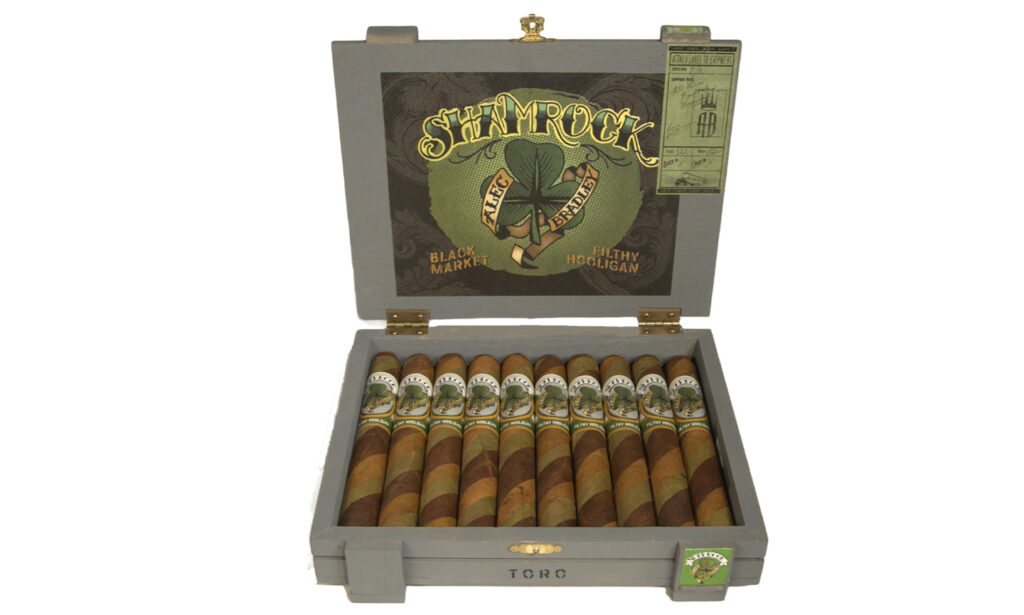 ---
Click HERE for our latest news!