During its May 12 Freestyle Live: Special Edition broadcast, Drew Estate will introduce its newest premium cigar. But customers can score a pack of the heretofore nameless stick at select retailers now. Just don't expect the Freestyler Live Event Pack to tell you the name, as the cigars will come sans-band.  
The pack ($39.99) is a grab bag of goodies, including three of the mystery sticks, a three-cigar case, a cutter and wallet, all Freestyle Live-branded.
Additionally, each Freestyle Live pack will include a badge with a QR code, which purchasers can use to enter sweepstakes that is headlined by a grand prize of a 2022 Jeep Wrangler Sport. Second place prize is a Drew Estate Barrel Bar. And third place? A travel humidor adorned with artwork by Subculture Studios.
Retailers who sell Freestyle Live Event Packs are automatically entered for a chance to win something as well, with the grand prize of $7,500 in Drew Estate credit and two Dreamseat recliners; the second-place prize is $2,500 in Drew Estate credit and a Drew Estate Barrel Bar; and third-place gets $1,000 in Drew Estate credit and one Mega standing ashtray.
To learn the mystery cigars' identity tune in on May 12 from 7 p.m. to 9 p.m. for the next Freestyle Live: Special Edition broadcast, which is available through Drew Estate's Freestyle Live YouTube channel (youtube.com/drewestatecigar) and Drew Estate's Facebook Live page  (facebook.com/drewestatecigar). Participating retailers where Freestyle Live Event Packs will be available can be found at drewestate.com/freestylelive2022 beginning on April 15.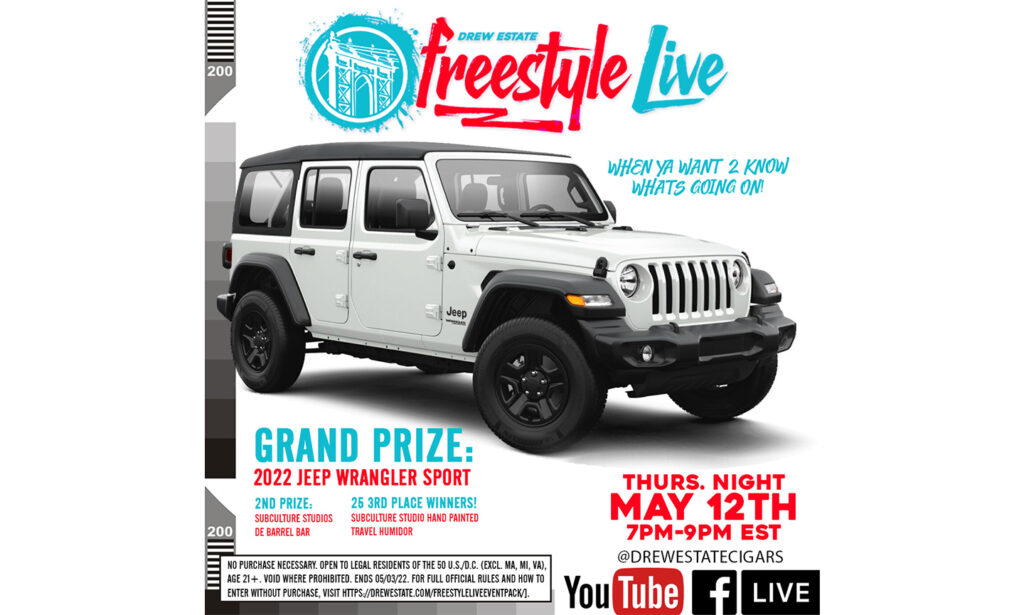 ---
Click HERE for our latest news!