To celebrate its half-century in the business, JR Cigar this year has released a series of limited, special edition commemorative cigars, partnering with many major manufacturers.  
As the milestone year comes to a close, JR Cigar announces its finale – a sampler of the dozen 50th Anniversary cigars released this year.
The JR 50th Anniversary Sampler will include one of each of the following cigars:
-Romeo y Julieta Edicion Limitada JR 50th
-Crowned Heads Mother Church
-Aging Room Quattro Nicaragua JR 50th
-Aganorsa JFR Lunatic JR 50th
-Alec & Bradley Wagyu A5 JR 50th
-Davidoff JR 50th Anniversary
-JR Ultimate 50th Anniversary
-Oliva V Melanio JR 50th
-Foundation El Güegüense JR 50th
-Rocky Patel A.L.R 2nd Edition JR 50th
-Herrera Esteli By Drew Estate JR 50th
-Dunbarton Limited Edition "EM" Maduro JR 50th
The cigars come packed in a custom box, and the magnetic 50th logo on the front is a functioning cigar rest. The sampler also will include a gold plated JR 50th Anniversary lighter. Production is limited to 300 boxes and is priced at $199.95 per box.
It is available exclusively at www.JRCigars.com.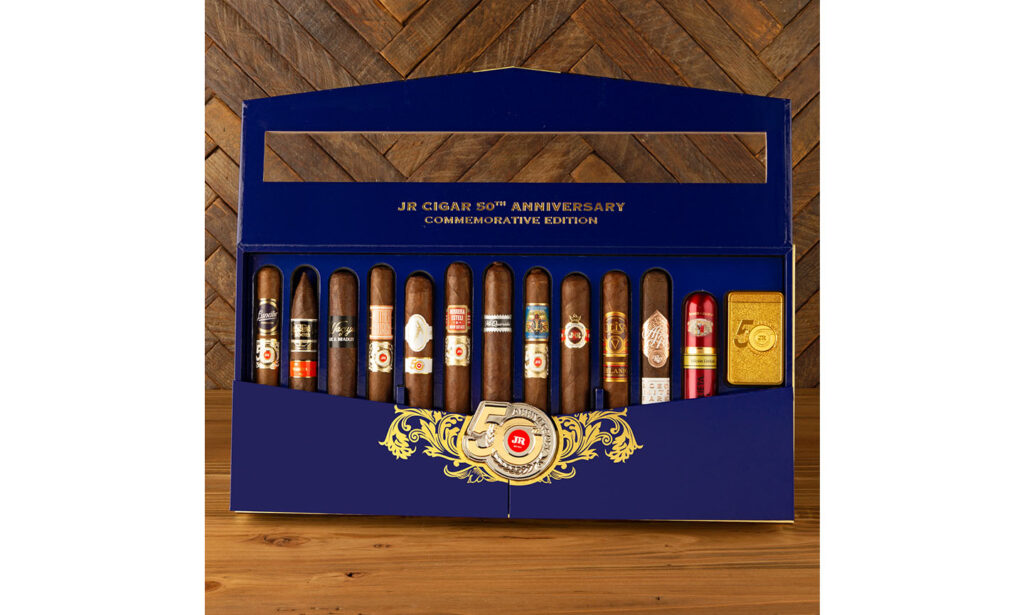 ---
Click HERE for our latest news!