Cigars International will host "Virtual CIGARFest 2020," a weekend of events, special guests, interviews and over-the-top raffle prizes on October 16 and 17.
Events will be broadcast on the CIGARfest Facebook page, where cigar fans can join in and chat with cigar makers. For those unable to watch live, each interview will be uploaded to the Cigars International YouTube channel, once the interview is complete.
The move to a virtual event is a disappointment, Steve McDevitt, director of sales and customer service for Cigars International, said in a statement.
"Let's face it, nothing can replace enjoying a cigar with friends, both old and new, in person," McDevitt said. "But we can get pretty darn close. Virtual CIGARfest 2020 will be the next best thing to the real thing, and we're all ready to make this the premier virtual cigar event of the year."
Cigar celebrities from Drew Estate, Oliva, Altadis U.S.A, Macanudo, CAO, Diesel, Quality Importers, Xikar, Rocky Patel, Perdomo, Room101, and Southern Draw will make appearances during CIGARFest 2020. The events will be interactive, so viewers can ask questions.
The festivities begin at 10:30 a.m. EST on the 16th and 5 p.m. the next day. There are no ticket sales, sign-up requirements or other prerequisites for participating.
A full schedule of events can be found at the CIGARfest Facebook page, as well as special announcements.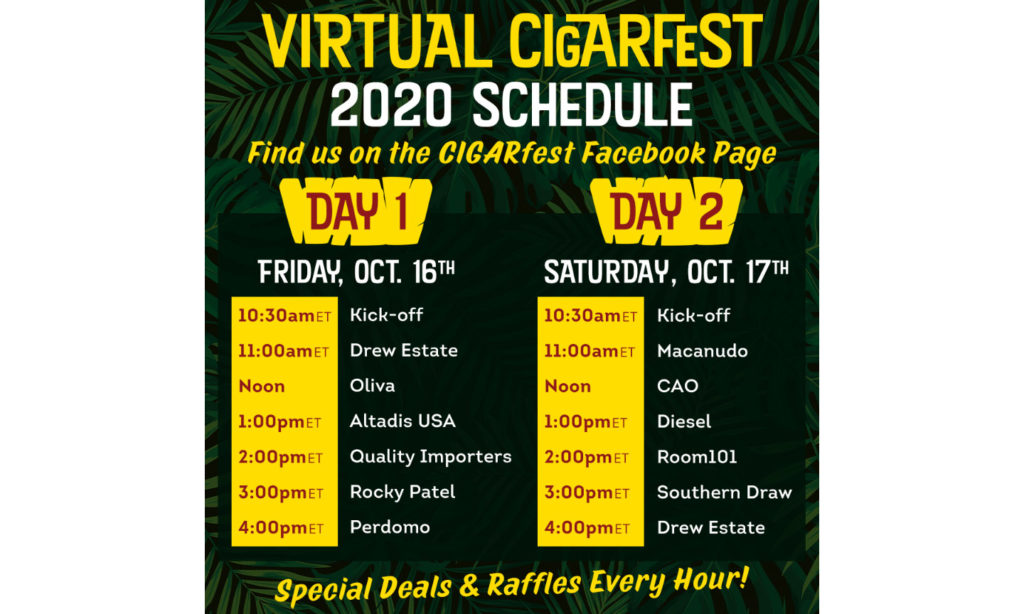 ---
Click HERE for our latest news!