Florida Sun Grown
by Nicolás Antonio Jiménez
This article was first published in the July/August 2015 issue of Cigar Snob
As the barn door opens, Jeff Borysiewicz is beaming. He's got that look that you've seen on the faces of friends who are about to unveil their new sports cars. It reminds me of that look that comes over Old Man Parker in A Christmas Story when he steps outside to admire the leg lamp in his window.
But Jeff isn't showing off a Corvette (or even a leg lamp). Once the door is open, he steps inside and pulls out in a John Deere tractor that looks like it's been cared for as well as anything in a car collector's garage. He brings it out of the barn, and into an open space, maneuvering it deftly — expertly, even. Expertly because back in high school, long before he was the proprietor of Corona Cigar Co., Jeff was the state of Florida's tractor driving champion. Twice.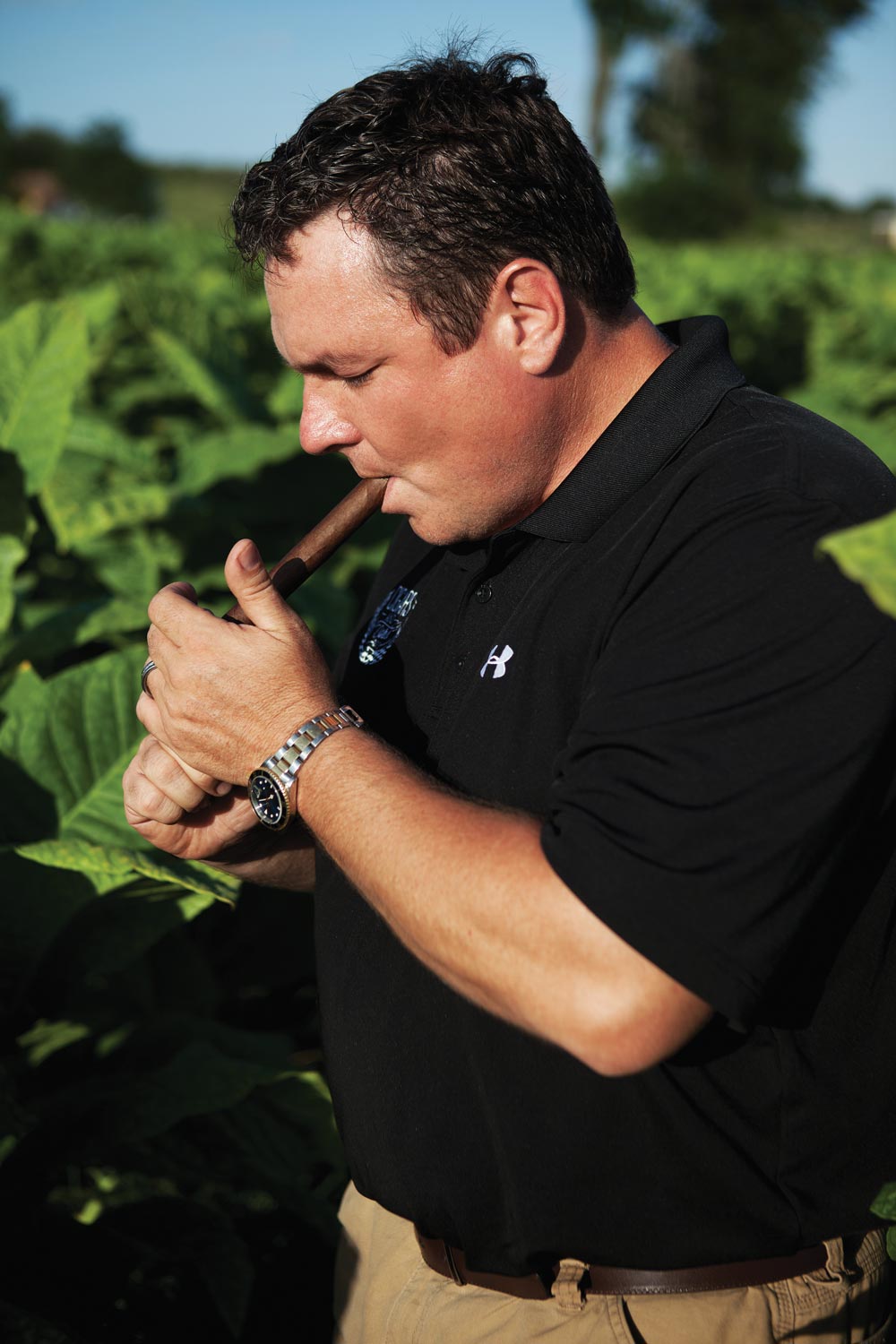 "You know why I only won two?" he asks rhetorically, ready to deliver the nostalgic brag about his teenage tractor dominance. "I was too good. They didn't let me compete anymore."
We've made a lot of road trips from Miami to Orlando to see Jeff. He's always interesting, always humble, always ready to tell you something you didn't already know. He speaks in semi-hushed tones, pausing often to make sure he's doing a good job and you're grasping everything he's says. This time, something's different. Jeff isn't just engaged; he is excited.
Really, really excited.
These days, when Jeff's in the tractor, he's not collecting trophies. He's growing tobacco. That's right; Orlando's top tobacconist now has a foot at each extreme of the cigar lifecycle: one in retail space and the other at his 20-acre farm in Clermont, Fla., where he's running Florida's first premium cigar tobacco harvests in nearly four decades.
"There are states that have cigar shops, but almost every state used to have cigar factories," he said. "Believe it or not, there are quite a few states that used to grow cigar tobacco. Florida was one of those. Florida grew cigar tobacco from the 1800s to the last crop, which was in 1977. I always knew there was cigar tobacco grown in Florida, but I didn't realize how big it was. [Florida] was actually the second largest producer after Connecticut. What I found even more amazing was that Florida was the first to grow shade. So when you hear about Connecticut shade, it was actually started in Florida. Then they implemented it up in Connecticut."
He knew he wanted to reverse the trend that he, like the rest of us, has seen in places like Tampa, where rich cigar history has been relegated to just that — history. He notes that as you drive through Tampa, many of the buildings seem to serve as "tombstones" for the factories that once operated there. For instance, there's the Ybor factory building, which has historical significance not only for Tampa and the cigar world, but for the Cuban revolution, as it has connections to Cuban national hero José Martí's time in exile.
That building now belongs to the Church of Scientology. Unfortunately, cigars don't appear to play much of a role in Dianetics.
"I thought it would be really cool if, in a small way, we could resurrect Florida cigar tobacco," Jeff said. "So I started doing my homework."
Planting seeds
Jeff, who had also been a member of the Future Farmers of America (a national organization for middle and high school students) as a kid, has long been passionate about agriculture. In fact, while you can't yet buy cigars with his tobacco in them yet, Corona Cigar customers are already benefitting from Jeff's green thumb. His might be the only shop in the country with a "Watermelon Wednesdays" special. If you spend $25 on cigars, you'll also go home with a free watermelon grown right alongside the tobacco.
Fusing his longtime passions, he took to the business of learning all he could about tobacco, how to grow it and its history in Florida.
"Agriculture and farming were always passions of mine. When I was 15 years old, one of the jobs I had was working in a commercial citrus grove. But I couldn't afford to become a farmer, because you can't become a farmer unless you have land. Unless your dad had it and died and passed it on, you've got to buy it. Land's not cheap."
During his successful career in premium cigars, Jeff was drawn more to farms than factories. Finally in the position to own the land he needed to join the world of tobacco growers, he now has tobacco growing on 10 of his farm's 20 acres (which he acquired in 2012).
Of course, being one of the country's top cigar retailers also put him in the position to pick some of the brains of the leaders in cigar tobacco. "I have a good network of people who know what they're doing," Jeff said. "I talked to Eduardo Fernandez. He was supportive. He was like, 'Here are the seeds. Try it out.' And then once we started growing I went up to Connecticut and met a few farmers up there. So we have a pretty good network of agronomists and farmers that grow tobacco — whether it's in Nicaragua, the Dominican Republic, Connecticut or even Kentucky."
Still, Jeff is trying to do what nobody else has in his generation. When you're doing something this different, the playbook can't be the same. And everyone who's been there and done that in Florida is either dead or decades removed from the business. There have been challenges on practically every front, so Jeff and others involved in the project are updating and revising Florida's premium cigar tobacco playbook as they confront even routine issues. For example, the pests and diseases in Florida aren't quite the same ones that other tobacco growers contend with. Jeff's farm has a barrier of tall sugarcane around it (among other measures) to keep grasshoppers out.
"The biggest problem we have in America is the cost of labor. That's not just a problem with tobacco. That's with everything in agriculture. America is great when it comes to mechanized agriculture. That's why we're the leader when it comes to growing corn and grains. But when it comes to fruits and vegetables, that's why we have such a hard time. What it costs for a farm laborer in Nicaragua (to work one day) there — it's one hour's pay for us," said Jeff, adding that harvesting tobacco adds layers of complication, since there's more opportunity for error and loss in the curing barns.
Despite that complication, a visit to the Clermont farm at the end of a workday gives you a look into a small but vibrant operation. Workers seem happy with the job and appreciate what Jeff — who is here frequently and has made it a point to get his hands dirty — is trying to accomplish. They even ask for more of the cigars that Jeff is handing out; you don't tend to see that kind of interest in cigars among the staff at many foreign farms and factories.
Fruition
After having given Criollo tobacco a shot with his inaugural crop, Jeff currently growing nothing but Corojo 99, which he says is more expensive to grow since it offers a smaller per-acre yield than Criollo.
"We're sticking with what customers see more value in. If we were trying to do yield, we would grow Habano 2000. But that's not what this is about," he said, putting a flame to a single cured leaf he's pulled from the barn to demonstrate what he describes as the cigar's suede aroma. I hold the leaf in one hand (the other holds some fresh corn I'm snacking on after pulling it right off the stalk next to the tobacco plants) as we walk up and down the field. It burns slowly, steadily, and evenly until there is nothing left of it.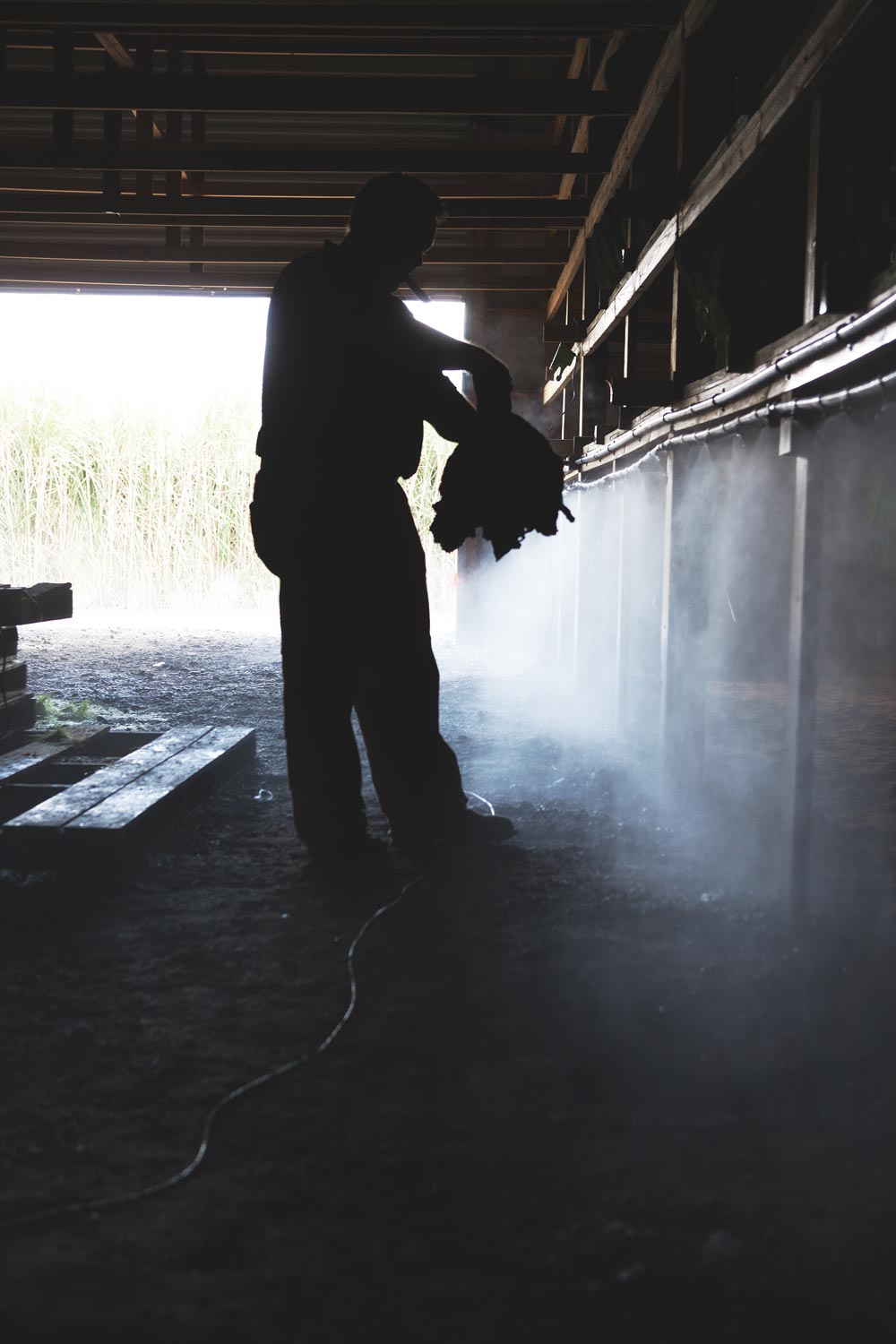 Jeff's tobacco, grown under a new company he formed for this project called Florida Sun Grown (FSG), offers smokers the promise of something new, which doesn't come along every day in tobacco. Jeff is confident not only that the revival of premium Floridian cigar tobacco will — at least in a small way — bring new excitement to cigars, but also that he (and any Florida growers who follow his lead) will be able to do business without running into some of the marketing issues that Connecticut growers have.
"Connecticut never protected the name Connecticut," he said, referring to the use of that state's name to describe certain kinds of tobacco regardless of the tobacco's provenance. "That's the biggest issue they have [is that] they allowed the industry to call tobacco Connecticut shade when it isn't Connecticut shade. It's Ecuador. And I understand why people do it. If you can buy tobacco that looks like Connecticut shade, might even be a little cleaner, tastes similar, why not buy it for half the price? But as a retailer, I see customers don't know whether it's Ecuador or Connecticut."
The Florida Department of Agriculture, according to Jeff, is "actually good" about helping people in the agriculture industry certify to consumers that their products are of Floridian origin. Jeff and other farmers have orange farmers to thank for that. In the '70s, Jeff says, they worked with the state to stamp out products claiming to be made from Florida oranges when, in truth, they were made from concentrate (especially Brazilian) and merely packaged in Florida.
"We get what's called a certificate of origin from the Department of Agriculture that certifies this tobacco is from Florida. That's the lesson that the guys in Florida learned on orange juice that the [tobacco growers] in Connecticut never learned," Jeff said, noting that that's of particular value given Florida's reputation. "Florida's historically known as the cigar state. We've got the cigar city of Tampa. We've got the little factories in Miami. And Florida, fortunately, has a perceived premium value to consumers when it comes to agricultural products."
Jeff's hope is that, some day, we'll see a cigar whose most noteworthy leaf — the wrapper — was grown on his farm.
"Eduardo Fernandez, who I hold in really high regard, says, 'Always shoot for growing wrapper, because when you grow wrapper, you're always going to get filler. But if you're not shooting to grow wrapper, you'll never get wrapper.' So we teach our farm staff that we want only good tobacco going up on the sticks [in the curing barn] to dry," he said. For now, wrapper-quality tobacco remains less likely because the Corojo 99 that FSG is growing tends to be too thick and heavy, especially since none of it is grown under shade.
Absent wrapper tobacco, Jeff would be pretty excited to see his product in just about any part of a cigar. He describes the profile of his Florida Sun Grown Corojo as having the flavor and aroma of suede, "like a pair of desert boots."
Just when we'll see (and smoke) this tobacco in our cigars is unclear.
All in time
For now, there's no word of any product release around a blend that includes Jeff's Florida Sun Grown tobacco. But that doesn't mean it's not on its way. FSG has a twentieth-anniversary project in the works with Davidoff that should incorporate the Florida tobacco, and Drew Estate — thanks in part to Jeff's good friend Jonathan Drew — has bought multiple crops from Jeff.
"We're hungry for that circle to be completed," Jeff said. The eagerness in his voice is unmistakable. This guy wants people to taste what he's been growing. "We want to get cigars back so we can sell them and others can sell them. Once the tobacco's gone, it's out of our hands."
That eagerness isn't only rooted in the raw excitement of a newcomer to the tobacco growing scene. It also comes from a desire to see a return on the investments Jeff has made. Drew Estate — the only company currently buying tobacco from Jeff for anything other than a Corona store exclusive — is taking a more deliberate approach to decisions about the tobacco. Jonathan Drew says that the first batch of tobacco the company bought has been fermenting in Nicaragua (in pilones with Broadleaf) for about a year and a half now and test blends have begun.
The second crop, weighing in at about three tons, was enough to create a dedicated pilón for fermentation. While the company didn't have enough wrapper tobacco in that crop to reach its wrapper goal, they remain optimistic, as it can take a long time to achieve not only quality, but consistently wrapper-grade tobacco.
"You could take a lot less risk by buying tobacco that's already out on the market," said Jonathan in an interview at his Miami office. "It's a very risky proposition what Jeff and Drew Estate are doing. When you think about Drew Estate, our strength is American tobacco. I'm interested in cultivating American tobaccos. Who buys the most American tobaccos of premium cigars? When it comes to American tobaccos for premium cigars, there is no bigger purchaser right now — not Altadis, not General, not Davidoff, not Fuente. I think this will be the third year in a row that we're the largest purchaser of American tobaccos for premium cigars. And the largest purchaser of tobacco from the Connecticut River Valley. We buy the most."
This is Jeff's dream and Jeff's vision. I'm a character in his play.

Jonathan Drew
Clearly, Drew Estate has an interest in purchasing American tobaccos; Jeff's farm might provide yet another way for them to expand their portfolio of cigars featuring American leaf beyond tobaccos from Connecticut and Kentucky. And that's just what Jeff has been trying to do. Further, Jeff has his own passions that his latest project fit into perfectly.
For one thing, he's a Florida guy through and through, and he's deeply passionate about playing a role in reviving the premium cigar identity of the state in which he was raised. For another, the co-founder and former chairman of Cigar Rights of America wants to demonstrate in yet another way that keeping government regulators away from premium cigars is an issue that can benefit all kinds of American workers.
But mostly, when you tour the Florida Sun Grown farm with Jeff, you realize that he's excited — giddy, even — about the idea of making something and having that become a part of his livelihood. From curing the crops to repairing farm machinery, Jeff clearly loves every aspect of his passion project.
"This is Jeff's dream and Jeff's vision. I'm a character in his play," said Jonathan. He makes sure to add, though, that he thinks it's too early to tell whether and how Jeff's tobacco will figure into the industry. "It's like we're in the second inning … It takes six, seven, or eight years before you can say that you have something that's consistent every year."
"What will end up happening is, I'm hoping, that we'll be able to have [our tobacco in] some national brands," said Jeff.
Some things can't be rushed, and yet Florida tobacco's day in the sun can't come soon enough.
---
Click HERE for more stories!