A mockup of the Courtyard area at the Montcristo Cigar Bar at Caesar's Palace (Image: Caesar's Entertainment)
Las Vegas' iconic Caesar's Palace is celebrating its 50th birthday this year. That celebration includes the March 2016 opening of the hotel's Montecristo Cigar Bar. According to a press release issued by Caesar's Palace, the bar's 4,000 square feet will include a walk-in humidor and an excellent selection of whiskeys "small bites," and more.
"Montecristo Cigar Bar is a continuation of this renaissance, and will offer our guests the finest in cigars, whiskey and other fine beverages, while in a contemporary and inviting space featuring a walk-in humidor and cigar store, unlike anything else in the city," said Caesars Palace Regional President Gary Selesner in the press release.
The humidor will include a variety of brands. Among those named as examples in the release: Montecristo, Padrón, La Flor Dominicana, Arturo Fuente, La Aroma de Cuba, and My Father.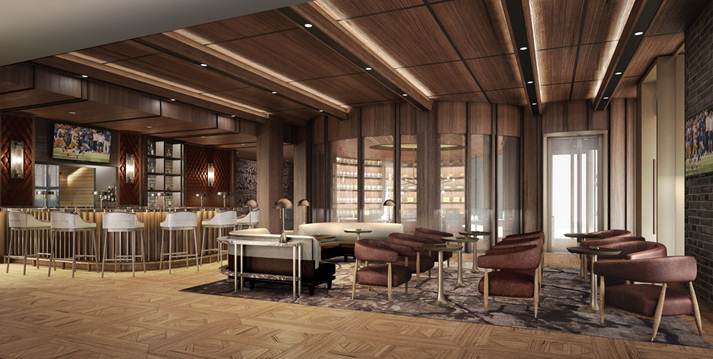 (Image: Caesar's Entertainment)
Partner Michael Frey, who is a well known tobacconist in Las Vegas, was quoted as saying, "The sheer size, elegance and commitment to customer satisfaction will make Montecristo Cigar Bar unique in the Las Vegas landscape."
---
Click HERE for our latest news!