by Nicolás Antonio Jiménez
Photos by Angela Altus
A meal at New York City's The Lambs Club (at the Chatwal Hotel on 44th Street) might give you a good sense for who Geoffrey Zakarian is. It starts well before you even open a menu. The dining room is dripping with sleek, mid-century art deco luxury — from the red booths to the chrome lamps.
That 50s-inspired interior is an immediate contrast with the old-school Times Square architecture on the exterior of the historic landmark building, just blocks from the Nat Sherman Townhouse where Geoffrey is a regular.
When his publicist walks into the private lounge on the second floor, we huddle up to talk about some of the photoshoot basics. Namely, hair and wardrobe.
"Oh, he's ready," she says. Sure enough, when he walks in to join us, he looks like he was sent a memo about an interview with GQ, not Cigar Snob. His clothes say all the same things about him that the restaurant's food and design do. He's all about classic style with a touch of new school flair . It's why ABC's The Chew had him on to make "dapper dinners" with hosts Michael Symon and Mario Batali.
Behind the manicured image — perhaps even driving it — is a humility you might not expect from a celebrity chef wearing a suit jacket, English spread collar and goldenrod pants.
Creating an experience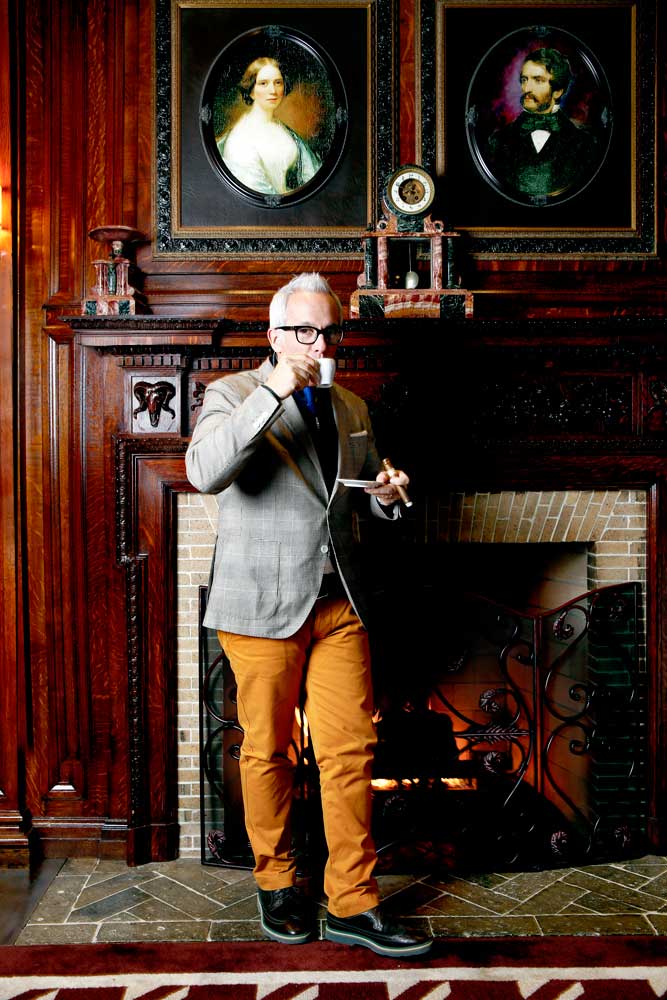 "I'm Armenian. It makes a lot of sense that I would gravitate toward this. Some of the best hospitality professionals are Lebanese, French, Moroccan. They just love entertaining. My love of entertaining comes from my family, so it makes sense to be in this business. I tell people it found me. I didn't find it."
Geoffrey also inherited his affinity for cigars from his family. Like so many other smokers, he smoked his first cigar as a teenager after stealing it from his dad. And, like so many others, he didn't smoke another for a while since the first put him on his ass.
Still, cigars were like food insofar as they were the foundation of connections between the people who shared them. And that remained attractive to him.
"My dad used to smoke cigars that they would package with newspaper. Cheap ones. It was all he could afford. For me, that is ritual. I enjoyed the ritual first, and then I began to learn about the product second. That's probably not the best way to go about it, but the ritual was what attracted me. I saw my uncle and cousins sitting around smoking. I was like, 'This is cool. They're all chatting.' For me, it's still about the ritual."
Geoffrey's father, who died at 96, was a musician, teaching by day and playing gigs at night — all the while imbuing his son with an appreciation of music (Geoffrey plays classical piano). The most visible example of his father's influence, however, might be his sense of style. The elder Zakarian never left home in the morning without a suit and tie, and Geoffrey even remembers his dad dressing up for breakfasts at home.
That's why, when you think of sharp-dressing celebrity chefs (especially male chefs), you think of Geoffrey Zakarian — along with guys like Marcus Samuelsson, Bobby Flay and Gordon Ramsay. He says he never leaves home without at least throwing on a sports coat, and his arsenal of about a dozen pairs of eyeglasses keep him color coordinated no matter what funky color of pants he throws on.
At first glance, it might seem like the kind of gone-Hollywood routine people fall into when they've made it big and become convinced of their own coolness. Talk to Geoffrey for just a few minutes, though, and it becomes clear that's not the case with him. He becomes visibly uncomfortable when you suggest he's a household name. When asked about what role the fame has played since he attained "celebrity chef" stature, he offers a simple, grounded response.
"It goes away fast."
The sense of style he picked up from his dad and the way he presents himself fit perfectly with the presentation of his restaurants and dishes. It's less about him and more about the experience the people around him are having.
"You have the environment, which is very important in a restaurant," he says while taking a puff from a Rocky Patel Super Ligero. He's a fan of Rocky's blends (and knows Rocky personally), but he really chose this one because it was the largest cigar he had to choose from for the photos. "When you're running a startup company or a venture capital company or a digital tech company, you don't worry about what the offices look like. You just want a space to do your business. Our business is done in an environment where people come to you. It has to be perfect. It has to say something. People have to feel like they're being taken care of. They should feel like they're having an experience, so it's almost like a Broadway set."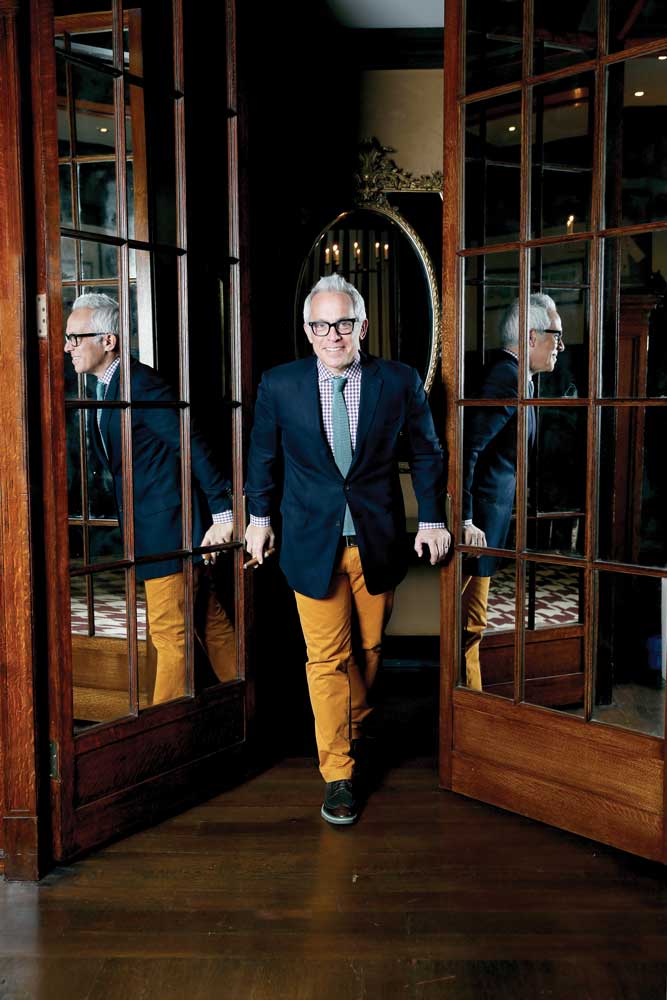 That set is never exclusively of Geoffrey's making. In fact, it's never entirely new. For one thing, he works with extremely talented designers to create experiences like that of a night at The Lambs Club. For another, he's not about off-the-wall concepts or setting new trends. Quite the contrary. His style has more to do with recognizing beauty that's always been there and bringing it to people's attention.
"There's not a direct relationship between what I dream of and what presents itself," he says, explaining how he goes about choosing which projects to tackle. "So, as things present themselves, I jog my memory and I'm like, 'This might fit, this might not.' It's a puzzle. I don't do radical makeovers. There's history at the Plaza with the Palm and the Oak Bar," he said, referring to the world-famous Plaza Hotel on 5th Avenue, where he's the culinary director. "This restaurant (The Lambs Club) is a very relevant restaurant, but it's been here since 1924. I like doing projects like that. It's my wheelhouse. I would never do (something) stark or very modern. I like that, but I feel like it belongs to someone else. Not to me."
The Lambs Club, which is housed at hotelier Vikram Chatwal's Chatwal Hotel, gets its name from the theatrical social club that has since moved to another location. As part owner and executive chef, Geoffrey's presided over the revival and the updating of that historic space. Sure, the food is stellar. And the dining room and bar make you feel like you're cool just for being there. But just as impressive is the fact that, when they needed to create a private event space on the second floor, they took a third floor room and moved it downstairs — from the wood trim and the fireplace to the doors that lead to a small terrace outside. The Stanford White Studio is a halfway Victorian oasis from the hipness happening just across the hall.
There's a similar story with The Plaza. Given all his memories of hanging out at The Plaza over his 37 years in New York City, he jumped at the chance to be a part of renovating its Oak Bar and Palm Court when hotelier Sant Singh Chatwal (Vikram's father) and a group of investors bought a stake in the hotel.
They're all snobs

Geoffrey Zakarian on his three kids' perspective on food
"We really made it a place where you want to hang out. It was never open at night, but it's been very successful. We sort of made it relevant again," he said. "We really highlighted the ceiling, made it more comfortable, and made it a place where you can hang around — as opposed to being a place that was only for tea and was sort of high and mighty."
The tea wasn't scrapped. Instead, even that got the Zakarian treatment. "We reinvented the tea, we reinvented the snacks, and there's this beautiful bar right in the middle. We're very happy with the way it came out," he said. "For me, it's like a love letter to New York. I get a chance to take this incredible space… It's a historic space, so you can't do much to it, but you can change the furniture, the fixtures, and make it relevant. You can change the sort of attitude."
It would take a while to run through all the restaurants and other food ventures that Geoffrey has taken on. In New York, there was Forty Four at the Royalton Hilton; Patroon; Town (at the Chambers Hotel) and Country (at the Carlton Hotel). He worked at Arpège in Paris. He's got The Water Club in Atlantic City. He helmed the kitchen at The Blue Door at Miami Beach's Delano Hotel and, later, opened Tudor House nearby.
Tudor House (which was at the Sant Chatwal-owned Dream South Beach) closed in 2012, but Geoffrey's been keeping his eyes peeled for his next opportunity in South Florida ever since.
"Miami is a great market. Everyone wants to be there, but not everyone has business being there," he said, switching to an AVO Classic, the next biggest in the photoshoot's humidor. "It's a tough market. It's very fickle. They're on to the next thing way earlier than we are in New York City. And there is a definite time where, June through August, it's very difficult to do business because of the fact that it's just so hot."
Despite the challenges of tropical hospitality, he said, "I've always loved Miami. Great things are happening in Miami and I think that the next five years is going to be Miami's turn. Even though a lot has happened in the last 15 years, I think what'll happen in the next five will be really remarkable. Downtown (Miami) is becoming a very viable, very desirable place. That's why I like it. It's starting to turn where it's going to a 10- or 11-month season."
Regardless of whether any of his next projects take him back to South Florida, Geoffrey's reach extends much farther than New York, New Jersey and Miami.
Will work for Michelin Stars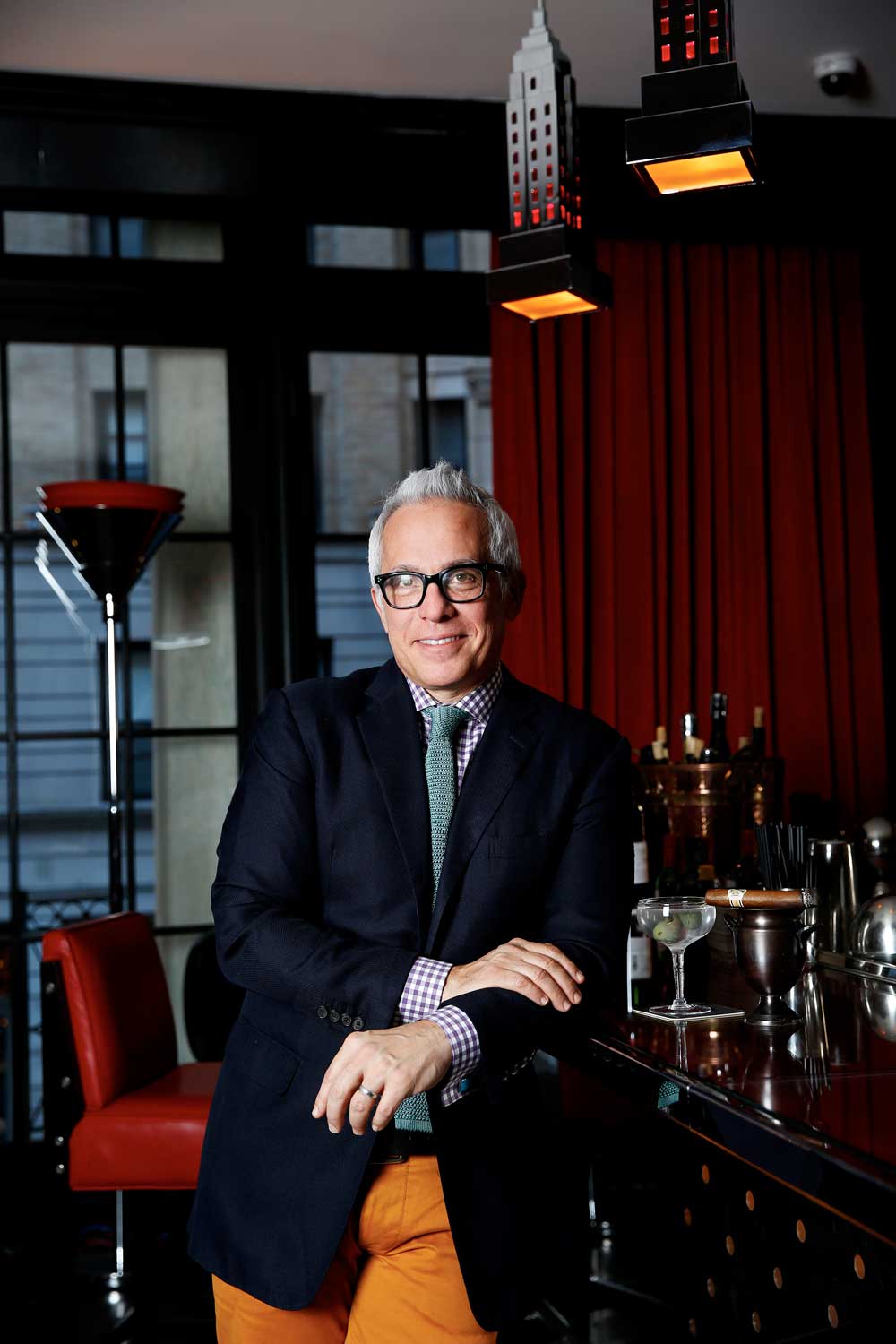 Geoffrey took an unlikely — or at least unusual — path to success in food. The 55-year-old didn't start cooking professionally until after he'd gotten a degree in economics from Worcester State College. He did some traveling, felt a calling to the kitchen, and got an associate's degree at the Culinary Institute of America. He mastered soufflés during a six-month period cooking for free at New York's Le Cirque (then-Executive Chef Daniel Boloud wouldn't give him a paid gig). He was named chef de cuisine shortly thereafter.
It makes you wonder how Boloud (and Zakarian, for that matter) would have reacted way back when if you'd told them that Geoffrey would go on to not only head some of the country's best kitchens, but also write some of America's most popular cookbooks, like My Perfect Pantry and Geoffrey Zakarian's Town/Country.
They'd probably have thought you were crazy if you suggested that Zakarian would become one of the country's most recognizable TV chefs.
"I was a chef for 30 years before I ever set foot (in a TV studio). I got the opportunity and, luckily, it worked. It doesn't work for a lot of people," he said. "But my basis is as a chef and a business person. I don't depend on TV as much as maybe other people do. I say this in the most respectful way, but I don't take it seriously because you're only as good as your next 15 minutes."
He's being modest, of course. By now, it seems safe to say that he can stick around longer than 15 minutes if he wants to. His fans know him on Chopped, The Next Iron Chef, Iron Chef America, Top Chef, Hell's Kitchen, The Kitchen, and Cutthroat Kitchen. In other words, we're well beyond the point where it makes sense to wonder whether Geoffrey Zakarian's TV success is just a flash in the pan.
"I'm blessed to have people wanting to come and say hi and I try to take time with all of them. Because of how wonderful that is. I love what I do on TV. I believe in what I do. I'm trying to teach people and educate them and I think I do from the feedback I get," he said. "Especially from young people — 15 and younger. It's beautiful. The way the world has changed, young people are teaching their parents how to cook. They tell you they watch you constantly on TV. That all they watch is Food Network. I'm like, 'That's fantastic!'"
Surely his stylish personal brand and innovative take on the familiar and approachable has helped endear him to those younger fans. He's in the enviably fulfilling position of having achieved fame for work that kids can actually learn from. "They're learning how to cook," he said. "What's better than that?"
There is one small group within that young demographic, however, that is learning more from Geoffrey than any other. "I cook with them all the time." he said of his kids, ages 7 years, 5 years, and 8 months. "They're all snobs."
Is that his doing? "Absolutely," he said. "I've made them snobs because when they eat good food — a really great steak or good spinach that we make together — when they have it out they say, 'This isn't as good as ours.' So that, to me, is one of my missions in life. To make them so discerning of really good food that that's all they ever want to have."
Of course, they know better than to let other chefs know they like Dad's dishes better. Geoffrey says they've never been exposed to fast food. But that hardly means they're missing out. Want a burger? Dad'll make you one.
The most gratifying thing about being in the kitchen with his kids? Even if they never pursue cooking professionally, he's ensuring that food continues to bring his family together. The way it did when he was a kid in Worcester, where cooking was a daily ritual and his parents brought fresh ingredients home from the market every day.
"If they love cooking and love eating, you pretty much ensure that they're going to do the same things when they have families of their own."
---
Click HERE fore more stories!