Drew Estate
by Nicolás Antonio Jiménez
Sunday, January 29, 1995. Chances are you were stocking up on beer, prepping chip dip, and maybe rifling through your closet for your Stan Humphries Jersey (which you'd learn later that night wasn't all that "lucky" after all). Everyone's focus was on Miami, one of the epicenters of the American cigar industry, but cigars had nothing to do with it. Joe Robbie Stadium would play host to Super Bowl XXIX, in which the San Francisco 49ers wrote the unhappy ending to the San Diego Chargers' Cinderella season.
In New York City, one guy who couldn't have cared less about the game (he's not a sports fan) was heading into the first chapter of his own unlikely success story. That was Jonathan Drew's first official day in the cigar industry, and it surpassed all of his wildest expectations.
"It wasn't Monday yet. I thought, 'This is preposterous. Holy shit. I just made $500," said Jonathan, recalling that day from his Miami apartment in the Wynwood Arts District. He didn't know it then, but his retail cart in the World Trade Center was the start of a journey that would change the way many thought about how cigars are made and marketed. Some serendipitous meetings, a fresh perspective, and a tragic accident all converged to create the Drew Estate you know today.
New York Beginnings
Jonathan attended and graduated from law school, even interning at the Suffolk County District Attorney's office. While he was a law student, he — along with some friends, including Drew Estate cofounder Marvin Samel — made some money with a beach share house on Long Island. They took it upon themselves to offer their tenants some amenities, which meant cooking breakfasts and — more importantly — providing stogies. That last one quickly became a service Jonathan was known for well beyond the walls of his share house.
"I was a cigar smoker and everyone knew I had the good cigars. People knew I was the cigar guy. So everybody in the Hamptons was coming from all sorts of different share houses to stop by and get cigars from me. So sometimes I would charge them what I paid, sometimes I would give out free shit, sometimes I would give out Macanudo Miniatures, or Macanudo Caviars, and I would have all this other shit. That's when I started to think I would open my own cigar shop, because I needed cash. So I opened up my first cigar shop as a retailer at the World Trade Center in Manhattan on the ground floor."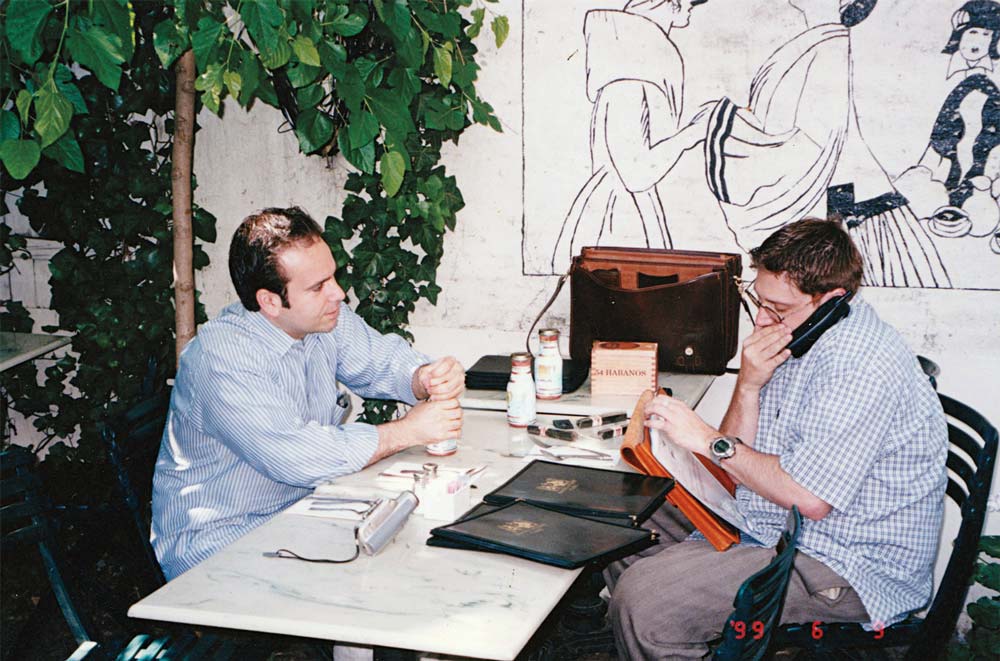 The roughly $500 he made on his first day selling cigars from a cart — keeping fans near the 5' x 4' humidor to keep it cool and getting some help with the setup from his mom and dad — put him on his way toward paying the cart's monthly rent, which he says was about $3,000. It was also the beginning of the formation of the business's identity, which is informed by not only the struggle of its leaders to keep it afloat and innovate, but also by the gritty hip hop culture in each of the places it's called home. That identity developed as the business branched off into different aspects of the cigar trade — namely humidors, as well as cigar sales and distribution for other established brands.
"That was way back in the day. I had the red and black lumberjack jacket with the hat to match," Jonathan said, alluding to the lyrics of Juicy. "It was good times. I was on J Street in Manhattan, and right next to me was Jay Z and Roc-A-Fella Records. They were nobody. In that time period, you had Biggie blowing up in New York, you had Puff Daddy, hip hop was in a transitional period.
And that's really important to the earliest days of Drew Estate. Because one of the things that always distinguished us from everybody else is that we weren't a cigar company. We knew we weren't a cigar company from minute one."
Rather than a cigar company, Drew Estate sees itself as dealing in lifestyle and experiences. It's an approach that separated them from their competition in the earliest days and continues to do so today. In the earliest days, when Jonathan was running things from Dumbo, Brooklyn, just beyond the end of the Manhattan Bridge that's a hallmark of Drew Estate branding, that lifestyle brand approach began to reflect the company's New York City roots. In fact, a year after the cart business launched, the company's first brand, La Vieja Habana, was rolled in New York City by a small company called La Rosa Cigars. And then it wasn't.
"The guy who made those cigars, Antonio Al- manzar, got decapitated," said Jonathan. "They slid in the rain under an 18-wheeler in his car and his head got taken off." The freak accident created a need to find a new manufacturer for La Vieja Habana. That's when Jonathan hooked up with Nick Perdomo.
"Nick was supposed to make them in Miami, but his dad had moved to Estelí," said Jonathan. "So I was going out to Nicaragua every time he did, eight or nine times a year in '96 and '97."
At the time, Jonathan was also considering having La Vieja Habana made by other companies. For instance, he said he came close to going with Ernesto Pérez Carrillo, who was making his cigars in the Dominican Republic. Instead, frequent trips to Estelí brought Drew Estate closer and closer to the next chapter in its story, and Jonathan Drew closer to his next home.
Estelí
"It was very creepy. You would go to Nicaragua and everything was riddled with bullet holes," Jonathan said. "People were not proud to be making cigars in Nicaragua. It wasn't like it is now where 'Nicaragua' is written all over everything."
It's hard enough living under the conditions that seem to come standard in any Central American economic or political system. At the time Jonathan started getting to know the country, Nica- ragua was also reeling from the Contras and the Sandinista National Liberation Front. Goods and services were in scarce supply, and getting a business off the ground — especially as a gringo with more of a cultural gap to bridge than many of the Cuban families whose companies had put down roots (think Padrón, Perdomo, etc.) — wasn't easy.
"No place in Central America is as loving of people as Nicaragua. Nowhere at all in Central or South America is as safe as Nicaragua. Nowhere," said Jonathan. "Including Mexico, Panama, Costa Rica, nothing. But that's not what it was back then. It was rougher. Women couldn't get makeup. Forget cell phones. The roads were bad. Medical equipment and needs were really bad. Couldn't get cars either. Getting a telephone line took a year. I couldn't get a bank account open for almost two years."
At first, Jonathan made the transition to Nicaragua by living in the Perdomo factory. That was about the time that he crossed paths with Jeff Borysiewicz, his longtime friend and owner of the Orlando-based Corona Cigar Company.
"I remember when my supplier of Lars Tetens cigars didn't sell them anymore. I was all pissed off because the rumor was some young lawyer dude from New York named Jonathan Drew was the one doing the distribution. I immediately didn't like him even though I'd never met him," Jeff said.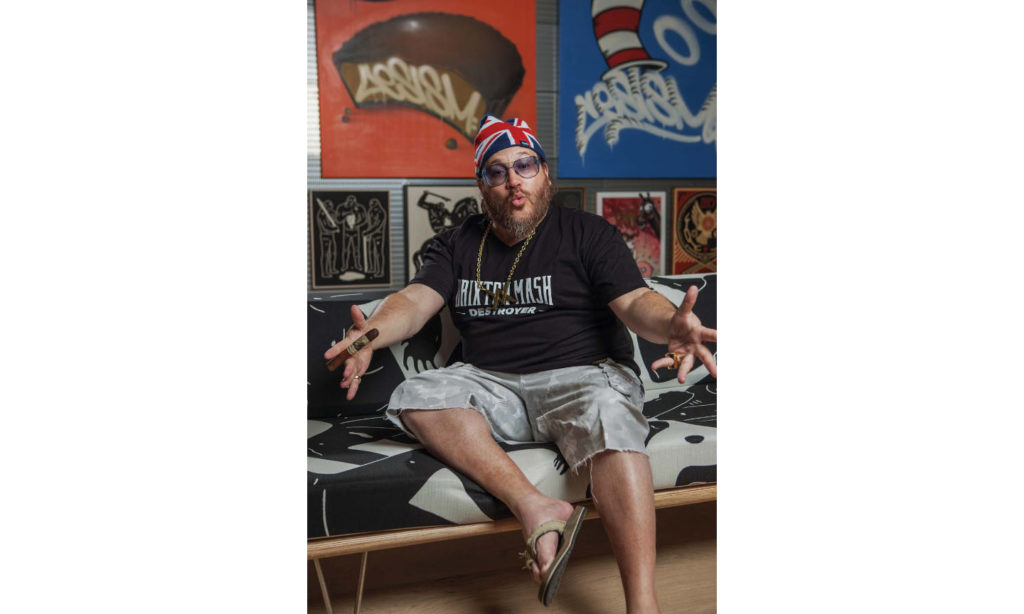 "I was down in Nicaragua with Nick Perdomo, who was making our Cielo cigars. American Airlines had lost my luggage, and while I was over at Nick's office this guy came by," Jeff said. "Kinda looked like a hippie dude. It was Jonathan Drew. I was feeling kinda dirty because it was all dirt roads and working on the farm gets you even dirtier, right? I didn't have any clothes and John said, 'You look about my size. I'll send my driver with some clothes for you.' Sure enough, about an hour later, some dude came by with a backpack and a fresh change of clothes. The clothes weren't my style. John was always wearing that funky stuff that he wears, but that's all right. I had a clean shirt and a clean pair of shorts."
Jonathan's kind gesture had already begun to change Jeff's impression of him. But what he saw later that night was probably what really cemented their friendship. Jeff is roughly Jonathan's age, and Jonathan was proud of the way he'd begun to build Corona — getting minimal sleep on the couch, working long nights from his home, going years without writing himself a paycheck. When he dropped by the Perdomo factory to see Jonathan again, Jeff realized they had a lot more in common than he imagined.
"It was about 11:30 at night. I'll never forget it. He had a bucket of white paint and a roller in his hands — like what you would paint the walls in your house with — and he was painting the wooden boxes for his new brand, Natural. It totally changed my perception. This wasn't some rich, hotshot young lawyer. This was a hard workin' dude who's doing the same thing as me."
The transition from having a retail cart in New York City to sleeping in a factory in Estelí happened in a relatively short time. By 2002, Drew Estate had grown to the point of having more than 200 employees. But the struggles hadn't ended; the company made headlines in Nicaragua when it was forced to lay just about all of them off.
"I'm a true tobacco guy. I lived in the factory for 14 years. I didn't go to Nicaragua once a month, once a quarter, and stay at the hotel near the factory. I lived in it. Me here and the tobacco there," said Jonathan, motioning toward a spot a few feet away. "I was constantly doing the dumbest shit you could ever imagine, number one because I didn't know what I was doing, but also because whatever I did do that was working, there was no one else to do it but me."
You were smoking graffiti, you were smoking hip hop, you were smoking the life and struggle that is now considered a lifestyle.

Jonathan Drew
Just as Drew Estate owes its Estelí identity to the moment the decision was made to have cigars manufactured by Perdomo, it owes its survival to a woman named Candida, who owns an Estelí restaurant called La Confianza. The restaurant's name translates to "trust," and she put two years of it into Drew Estate, feeding the team for that long before they were able to pay the tab.
"These are not rich people," Jonathan said. "So, many years later, when we opened factory 2 across the street (from our main facility), I called Candida to the stage and told the story."
Candida was doing more than feeding a cigar company. She was fueling ideas that, as Jonathan likes to put it, were disruptive in their industry. And that started with an infused cigar brand called ACID.
Disruption
"So you had three market segments: premium, short filler, and flavored. What is ACID? ACID is its own segment. That's one of the things Drew Estate is known for: creating market segments that didn't exist. With the ACID brand, we created a market segment in the infused premium cigar," said Jonathan, noting that tobacco was altered or blended with flavoring ingredients by ancient people long before there was such a thing as the long filler cigar. "That was modern era. We journeyed back in time to where the taste profiles were based with taste and aroma that wasn't straight tobacco. ACID was nothing new, but it was new for the market at our time. ACID was raw. You were smoking graffiti, you were smoking hip hop, you were smoking the life and struggle that now is considered to be a lifestyle."
ACID went on to become (and still is) a monster brand in its own right; it is among the world's best-selling long filler cigar brands and comes in more than two dozen variations. Further innovation in infused cigars came in the form of the company's partnership with the Kahlua brand, which spawned the industry's first coffee-infused cigar. Drew Estate became known for the infused market segments it had created.
"You take an Acid Kuba Kuba, and it looks a thousand times nicer than a lot of the other high-end stuff out there. Appearance, construction, consistency," said Drew Estate Master Blender Willy Herrera.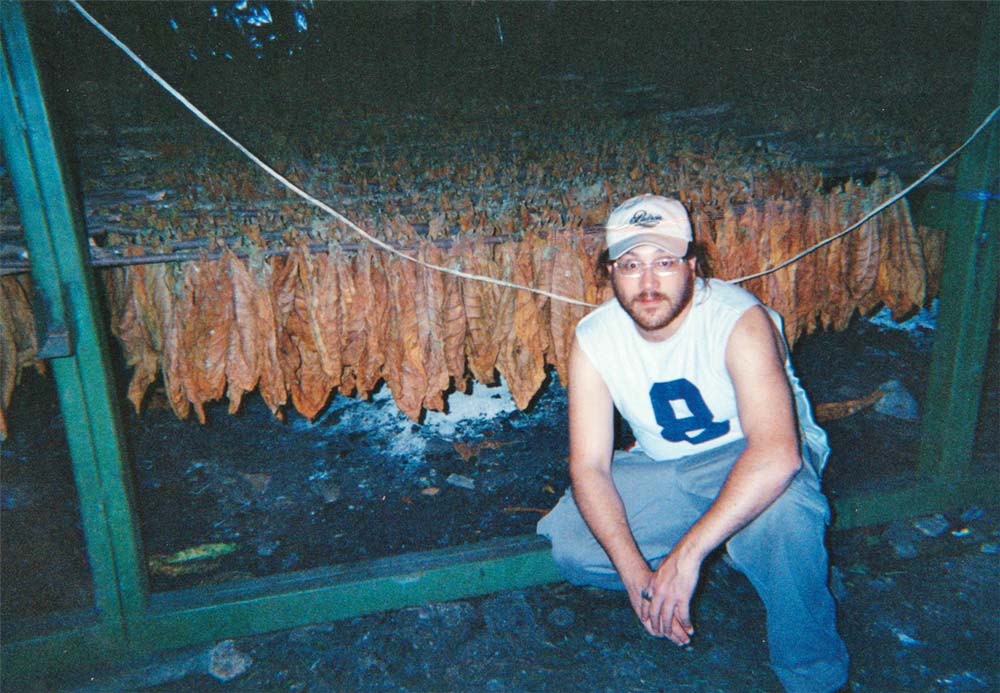 That success brought with it a new set of challenges. As the company looked to expand into more traditional cigar products, it needed a way to challenge the perception that it couldn't possibly compete with companies with more legacy and expertise in that space. As Jonathan points out, many consumers assume that the addition of Liga Privada cigars to its portfolios was enough to pull that off. But the truth is that another, far more innovative project opened the door for things like T52.
"When our transition time came, we weren't known as Drew Estate; we were the ACID guys," Jonathan said. "Think of what happens with a child actor. They're already locked into people's minds as a set value. How did Drew Barrymore transition into becoming a real actress? It's very difficult. Everybody's interpretation is set in stone, so you have to disrupt people's impression and make them decide whether what you stand for fits in their value set. There was something that opened the door for Liga Privada, and that was Cigar Safari."
Considering the state of Estelí when Drew Estate got its start, it shouldn't be surprising that there wasn't much cigar tourism to speak of there at the time. Cigar Safari helped not only to make Estelí a leisure and learning destination for cigar smokers, but also to open their eyes — for the first time — to the idea that Drew Estate could be a credible player in traditional cigars. Cigar Safari hasn't changed a whole lot since it began. Guests still visit the Drew Estate facilities, experiment with creating their own blends, and get to know Nicaragua through a variety of cultural experiences.
"I had never been to Central America before," said Billy Walsh, an Orlando police sergeant and part-time employee at Corona Cigar. "It was amazing all the way around. The only thing was that it was short; it was only like three days. So it felt like when we flew in, we were flying right back out. I thought, 'The next time I come here, I have to spend more time because the country is beautiful.'"
This coming March, Billy will embark on his tenth and eleventh Cigar Safaris.
"In the beginning, I was more of a Padrón and Fuente guy," Billy added. "But after going on the Safari and experiencing their blends … Yeah, that definitely hooked me. I've smoked most of what they make, and it's exceptional to me. I think each Safari reinforces that over time."
Early on, Cigar Safari guests tended to be people with wider influence in the cigar world: retailers, media, that sort of thing. It had at least a somewhat similar impact on them, and Drew Estate had a much easier time of breaking into traditionalists' humidors with products like the ones in the Único Serie. The company has expanded on that experiential marketing model with more accessible (because you don't need a passport) Barn Smoker events, which bring smokers closer to the farms that produce some of the more unique American tobaccos used in Drew Estate products. For instance, one recent Barn Smoker was held at Jeff Borysiewicz's Florida Sun Grown farm just outside Orlando.
"That was where people could see and experience the commitment of everybody (at Drew Estate)," Jeff said of Cigar Safari. "These guys are the real deal. They're legitimate cigar makers."
The next episode
All these years later, a trip to La Gran Fábrica Drew Estate can make it easy to lose sight of where the company came from. The facility that produces Drew Estate products and hosts Safaris feels — especially as compared to other cigar factories — like it's part museum, part theme park, part factory. Jonathan Drew has been at the center of that from the beginning, but he hasn't been alone. Aside from having benefitted from the generosity, example or mentorship of people like Candida, Nick Perdomo, Kiki Berger and José Orlando Padrón (to name just a few), the company has managed to create a culture that generates real buy-in from its employees.
"People feel like they're part of something," Jeff said.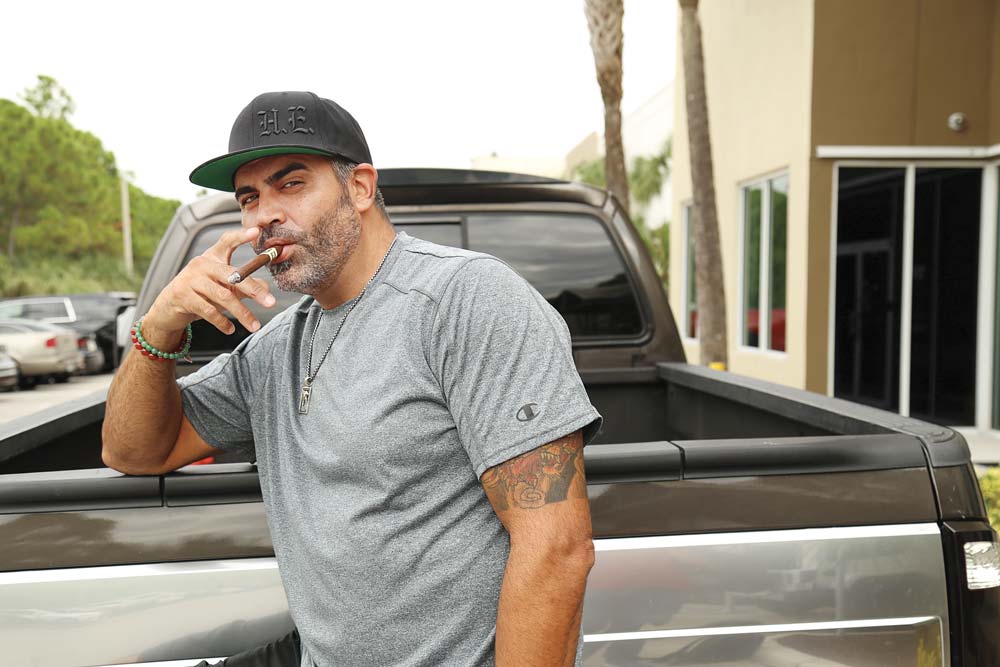 It's why those smokers most familiar with the company know Jessi Flores, who is now the director of Subculture Studios (the arm of the company that produces so much of its custom art and swag), but started out as Jonathan's driver and translator shortly after his arrival in Estelí. It's why Manuel Rubio, who many remember seeing at the Drew Estate factory working a low-level job when he was 18 years old, is now the factory's manager.
And it's why another guy who started at the bot- tom in Estelí, Pedro Gómez, went from manag- ing Cigar Safaris to running around the United States as one of Drew Estate's most beloved ambassadors.
"Everybody is equal in the company," said Willy, who created blends like Herrera Estelí and Norteño. "We bring up from within. All our management in Nicaragua are people who started at the ground level, whether it was stripping veins off of wrapper, or drivers, or as assistant to one of the key people. Those are all in our management now. I like the fact that everyone is happier (at Drew Estate). You go to some other factories where people don't even look up from their tables. Here, you walk into our factory, people are looking and smiling and saying hello."
The team Drew Estate has built now pumps out some of the most respected cigars in the world across a variety of segments, including infused products, traditional cigars, and more recent additions to the portfolio, like Kentucky Fire Cured.
"I would say (the variety) makes things different for me in that, because of all these different branches, I have a much broader audience. So I'm not just dealing with the traditional guy," Willy said. "I deal with the infused guy, I deal with the traditional stuff, the Herrera stuff, everybody. I have a much bigger audience than the guy who just has a brand with two or three lines. I'll talk to a lot of these hardcore infused guys, and by the end of the day they're smoking a Herrera Estelí, or an Undercrown Shade. It's always good because the bigger the audience, the more chance you'll have to introduce something new to them."
The newest addition to their team is CEO Glenn Wolfson, who is a newcomer to the premium cigar industry and is transitioning from a long career consulting for companies like Walt Disney Company, Purina, Kraft, and United Airlines.
I deal with the infused guy, I deal with the traditional stuff, the Herrera stuff, everybody. I have a much bigger audience than the guy who just has a brand or two with three lines.

Willy Herrera
"I've never come across a culture like this in my life," Glenn said. "The thing that makes it really wonderful, wacky, and wild is that it's incredibly familial. The way people pull for each other, the family values, the fact that they really care for each other. We are the brand in many ways. The way we dress, the ink on our arms. It's a creative, innovative organization. We're rebels with a cause. It will forever be Rebirth of Cigars. We'll always be progressive, innovative and disruptive. It's been in our blood since Marvin and Jonathan founded the company."
These days, Jonathan is branching out even further. After the sale of Drew Estate to Swisher, he's launched his latest project, John Drew Brands (expected to launch officially in February 2017), which will introduce a selection of craft spirits to his résumé and present new challenges in terms of how people perceive his expertise and credibility. He knows he's not known as a "whiskey guy," and because of that, he might have an uphill battle making a success of products like his new Brixton Mash Destroyer, which is a four-year Kentucky bourbon mashed with a five-year Florida rum — another instance of Jonathan's insistence on changing the status quo. With the grit and hustle that he drew from after moving to Estelí in the late '90s, along with the help of the institution he's built in Drew Estate, he might just pull off his next disruption.
"John Drew Brands is based right at Drew Estate. They were really great to me, they built out my offices for me and my team," said Jonathan. "If you want to know what the early days of Drew Estate was like, all you need to do is look at John Drew Brands. We're going through those early growing pains that Drew Estate went through when I came into the cigar industry."
---
Click HERE for more stories!