Chimay Grande Réserve
ORIGIN: BELGIUM
Brewery: Bières de Chimay
Belgian Strong Dark Ale
ABV. 9%
Trappist Beer
The most basic explanation is that for a beer to be "Trappist" it must be brewed within the walls of a Trappist abbey. The beers are brewed by or under the supervision of monks and nuns who follow the Catholic Order of Cistercians of the Strict Observance. These are contemplative monks and nuns who live by the 6th century Rule of St. Benedict of Nursia, emphasizing a "marked separation from the outside through silence and true solitude." You may be thinking this sounds holy and silent but when did Trappist become synonymous with amazing, world-class beer? We're almost there. The Cistercian Order, which was founded in 1098, had become far too lax for a group of monks in the seventeenth century. These monks from the French abbey of La Trappe in Normandy focused on Benedict's specific teachings about combining prayer, study, and manual labor, claiming that this way of life would give them a greater respect for the environment and provide a more simplistic way of living. They called themselves "Trappists" after La Trappe. This simplistic and self-reliant way of life resulted in the production and sale of a number of products, among them bread, milk, butter, cheese,
wine, and you guessed it BEER! Today only certified Trappist products can bear the "Authentic Trappist Product" label in the packaging.
The Abbey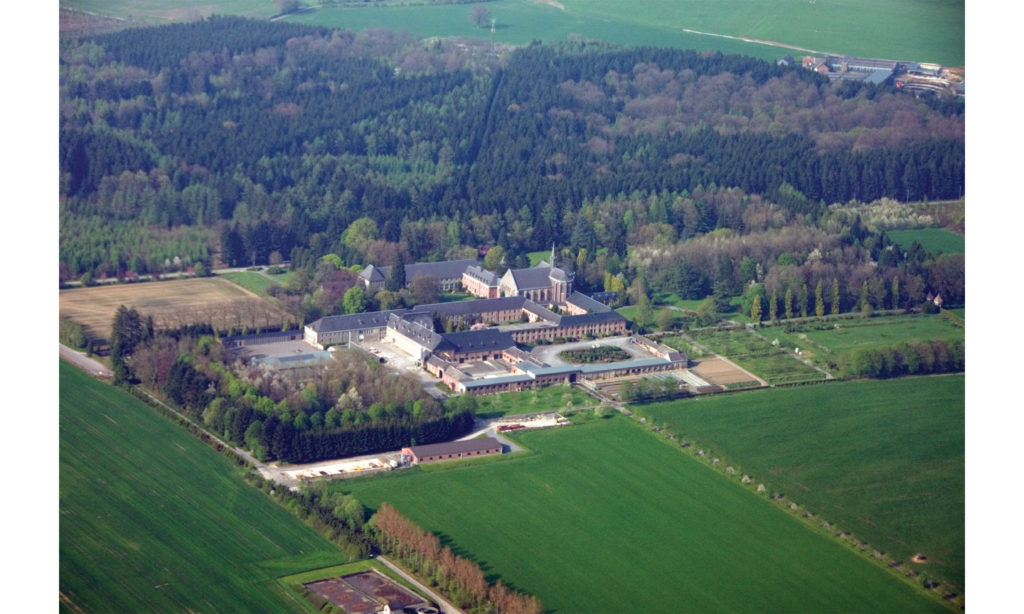 The Abbey Notre Dame de Scourmont near the city of Chimay in Belgium was founded by a group of monks in the summer of 1850. These founding monks traveled to the Scourmont plateau from St. Sixtus Abbey in Westvleteren and they brought with them a love of beer and the knowhow to brew it. They brewed their first ale according to monastic natural brewing traditions in 1862. The real leap, however, came in 1948 when a particularly talented and science-minded monk brewer named Father Theodore isolated the unique yeast strain that became the basis for Chimay's beer from that point forward. Yes, even the Chimay you buy at your local liquor store today is fermented with that very yeast strain. Thank you Father Theodore.
SIDE NOTE: if you ever find yourself with the opportunity to get your hands on Westvleteren XII, don't pass it up.
The Grande Réserve
In the winter of 1956 the monks of Chimay decided to brew a special ale to celebrate Christmas. At that time they were only brewing the Première (Chimay Red) and that year the Christmas Ale was sold as a seasonal release. It wasn't until 1982 that they named it Grande Réserve and began brewing and selling it year-round. It is Chimay's most decorated brew and is available in multiple formats. Starting in 2015 the brewery began barrel aging the Grande Réserve and releasing it annually with a different combination of barrels every year.
Tasting Notes
The Grande Réserve pours out in a dark brown color sporting a tan, thin, almost whipped-like head. The aroma has a base of bread and sweet malt with hints of fruit and chocolate. The complex bready and malty aroma leads you to think the beer will be heavy and full-bodied but in fact it leans more towards a medium body and is incredibly easy to drink. While the aromas are misleading when it comes to body, the flavors are a perfect extension of the aromas. It's a complex and flavorful blend of bread, malt, fig, and a touch of spice.
Cigar Pairing: Mi Querida Triqui Traca
Pairing Notes
The Chimay Grande Réserve and the Mi Querida Triqui Traca is a match made in heaven, pardon the pun. The beer's malt and bread base accompanies the Triqui Traca's dark chocolate and earth harmoniously. The result is a flavor akin to a chocolate covered malt ball like the ones you loved as a child. Chimay Grande Réserve tastes almost purpose built for cigars like this.
---
Click HERE to check out our other Perfect Pairings!