Arguably, Las Vegas is one of the best cities in the world to smoke a cigar. And even though there are now restrictions in most restaurants and some bars, you can still smoke on the casino floors and in most outdoor public places. It's no wonder that a bevy of unique cigar shops and lounges continue to do well in Las Vegas. Just like the diversity of visitors and attractions, there is a cigar shop that appeals to just about everyone.
En Fuego is a comfortable lounge that welcomes anyone to come and smoke a cigar. En Fuego focuses on more boutique blends. For instance, regulars here are big fans of The Leaf by Oscar, which is known for coming wrapped rustically in a tobacco leaf rather than cellophane. They also have a good selection of Warped products. Alcohol isn't allowed at the Sahara Ave. location, but you can bring your own at the Henderson location. Regardless of which location you visit, try the En Fuego house blend, which is rolled on site.
If you want something a little farther off the strip, with a bit more local flavor, then the Cigar Box is a real locals' cigar lounge. Just west of the Strip on Dean Martin, behind Caesar's, this is easy to get to, and you definitely come down a notch from the activity level of Las Vegas Blvd. Recently remodeled, the Cigar Box added a bar, which serves a variety of craft beer, wine, coffee, and soda. While there is an open lounge area, they also have a conference room that can be used for meetings and small events. Like their sister operation, Casa Fuente, they feature a wide cigar selection.
The Havana Cigar Lounge, while only open for seven months, has made an impact on the cigar scene due to the vision of Michael Alexander. What I like about that this establishment is that it's classically comfortable — nice chairs, a 120-inch TV, big pictures and relaxed atmosphere. The humidor has a variety of big brands as well as some things you haven't likely heard about (Santos De Miami, La Rosa De San Diego, and Bariay, to name a few). Just soda, tea, and bottled water, but ample libations and the food is just around the corner. Since it is a mile from the strip, easy to get to and cart some sticks back to the casino.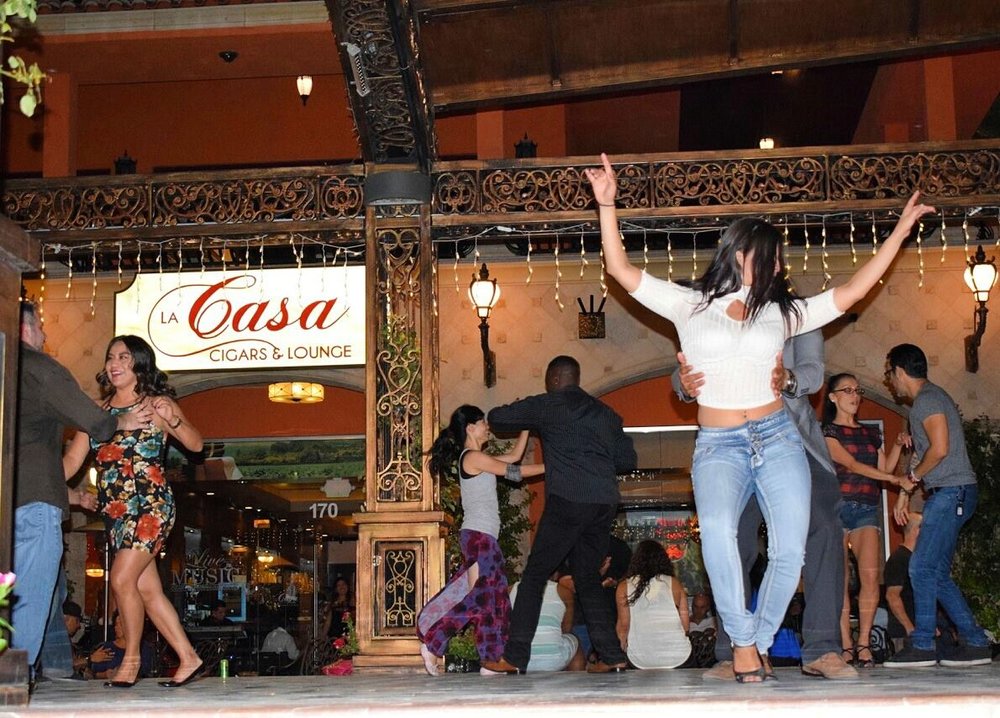 Guests dancing to salsa music at La Casa Cigars & Lounge in Summerlin
La Casa in Summerlin is a high-end lounge that features an incredible spirits collection combined with nightly entertainment. If there was a perfect marriage of a nightclub with a cigar bar, this is it. This operation is located in the Tivoli Village, so shopping and dining is all within an easy walk. The proximity makes for a great evening out of dining, then cigars combined with music and libations. Dance contests also occur regularly. When the weather is a little better, their two outdoor patio areas are perfect for cigars and drinks.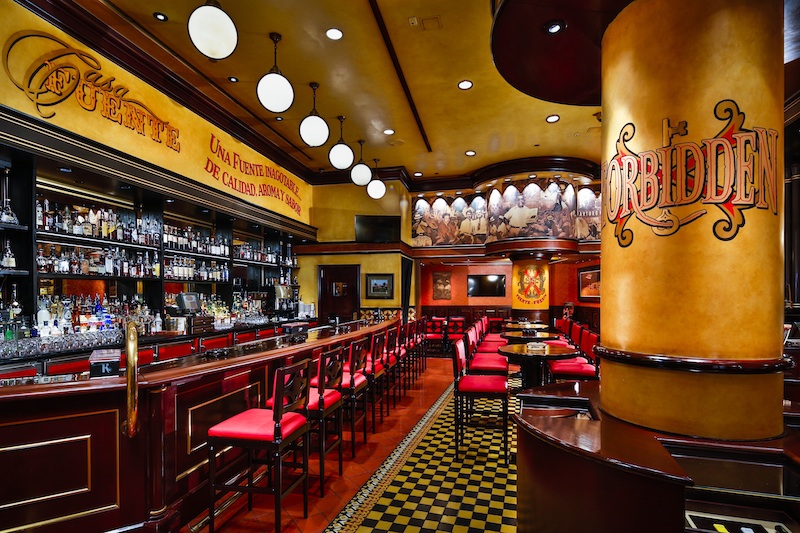 The bar at Casa Fuente
Casa Fuente is one of the premier cigar lounges on the Strip, and it's been here for over 11 years. While others are shopping at the Forum Shops, get your stogie on with a premium beverage. Casa Fuente is home to Arturo Fuente brand cigars and sports two other exclusive cigar lines in the large humidor. This is also among the premier spots for mojitos in the area, and the bar boasts over 100 whiskeys.
The cigar business seems to attract interesting characters, and Paul Vato, a former actor and writer is now the cigar baron of downtown. Vato Cigars is a modest sized shop within a Fremont Street casino with personal service. The smoking lounge is next door, inside Benny's Smokin' BBQ & Brew. Paul Vato does some unique events, such as the cigar crawl, where you get six premium cigars, drink specials and a look inside the cigar history of Las Vegas. Despite the size, Paul has a good selection of premium cigars and also rolls his own. At 18 inches long, the "All In" cigar is sure to keep you going for more than three hours.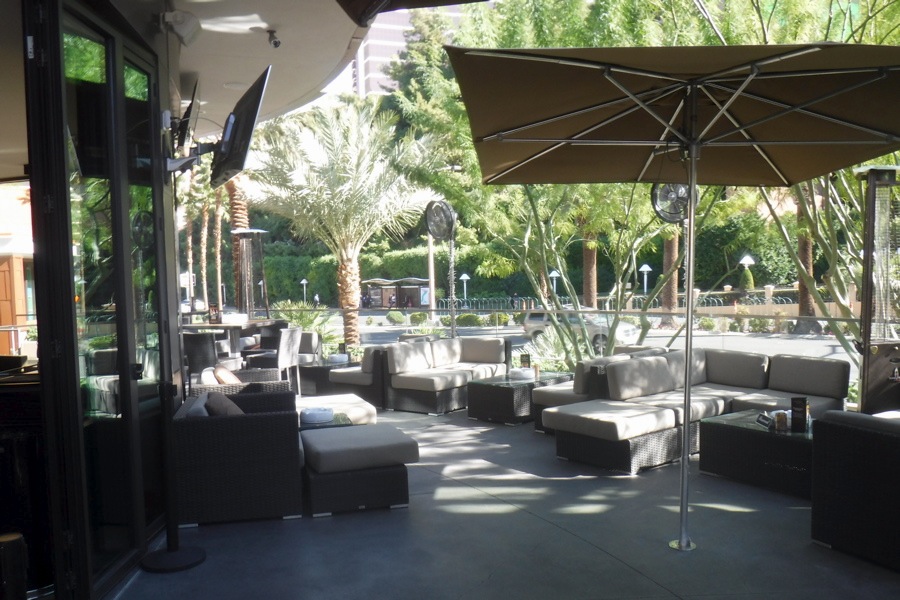 The patio area at Davidoff of Geneva Cigar Bar
If you want part social scene and part cigar spot, the Davidoff of Geneva Cigar Bar is more like an upscale lounge that also happens to be in the cigar business. An extensive open-air patio section with heaters beckons private parties and corporate groups in this location in the Fashion Show Mall. Also, the bar area has a nifty floor-to-ceiling ventilation system, so the non-smoker does not get overwhelmed. The bar pours craft drinks, and the humidor is small but mighty in luxury cigar offerings, from Davidoff Oro Blanco on down.
---
Neil Wolkodoff, PhD, is a Sport Scientist in Denver, Colorado who has worked with golfers over the last 15 years. During free time, he travels to exotic golf destinations to see how golf, culture and local geography mix with cigars in different locales. He has penned articles for Colorado Avid Golfer, Golf Digest, Everett Potter, Travel World and Golf Magazine. In his travels, he has golfed with royalty, tour professionals, the local duffer, and the occasional goat.
---
Click HERE for more stories!